Choosing the perfect gift for your kid can be a delightful yet challenging task. If you have a young cyclist in your life, you're in luck! Biking is not just a hobby; it's a passion that promotes physical fitness, outdoor exploration, and a sense of adventure.
My family has been biking together for over a decade now, from daily commuting and school rides when we were car-free for years to pump tracks and urban trails. Biking is such a terrific way to get kids outside and exploring, exercising, and building their confidence. Plus it's a fun activity for the whole family and could introduce your kids to the supportive and active cycling community in your town.
I also love biking because for the most part and with the right gear, it can be a year-round outdoor activity that's fun (and a bit different) in the changing seasons and weather. We've biked on hot, sunny days in Texas to frigid winter days in Sweden.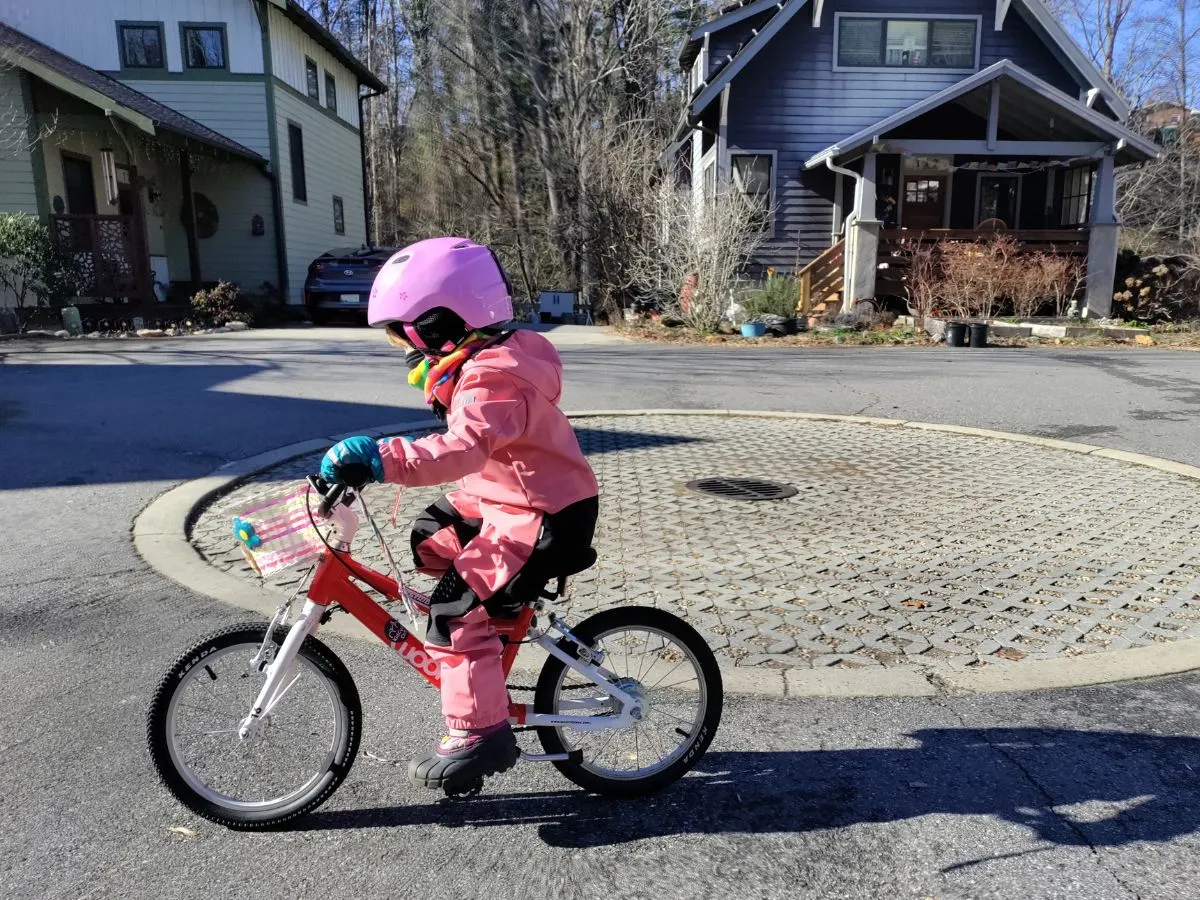 Here are the best kids' biking gifts for kids who love to pedal their way through life! So if you have a little shredder (or an aspiring one!), we have compiled some of our favorite bikes and accessories for safety and fun. From the tiniest balance bikers to tweens riding with confidence and style, we've got ideas for every stage of your family's cycling life.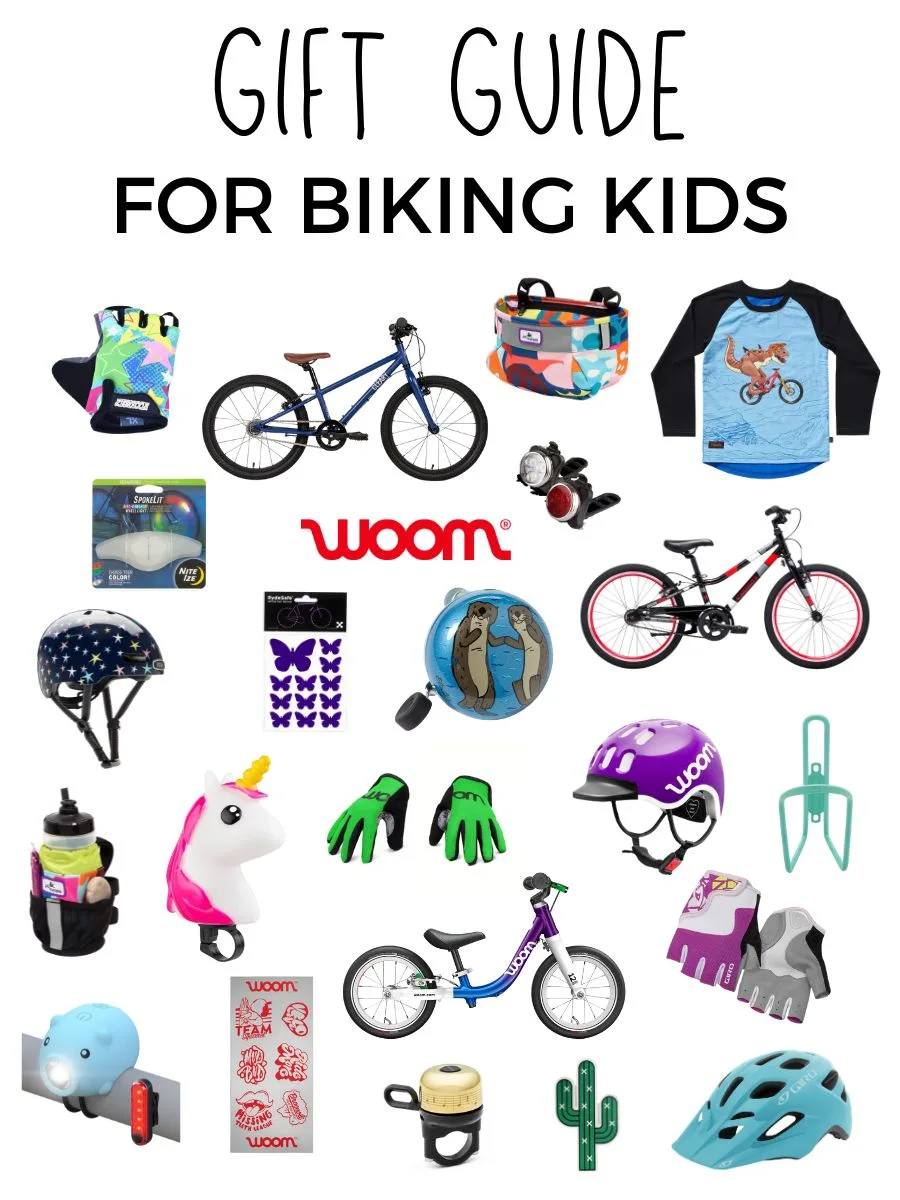 As an Amazon Associate and member of other affiliate programs, we earn from qualifying purchases.
The Best Bikes for Kids
If you're looking to make a grand gesture, consider getting them a new bike! Some of my favorite holiday memories involve waking up to a new bike by my family's Christmas tree.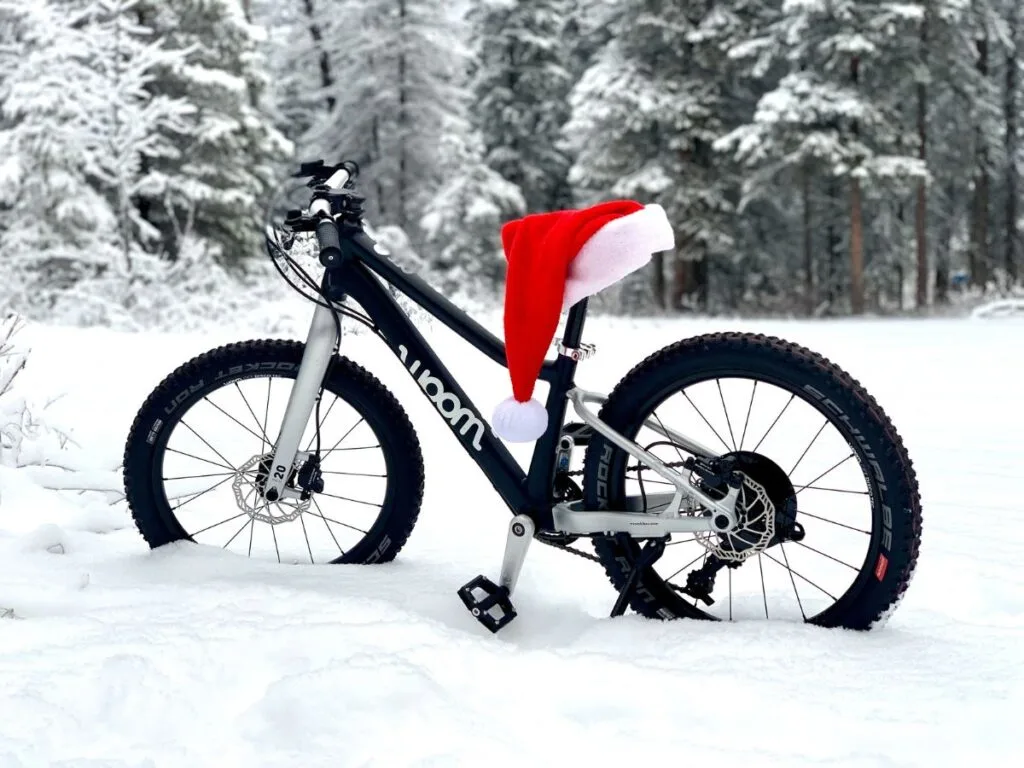 While there are more and more quality options for kids' bikes these days, one of my our favorite kids bikes are Woom. From their balance bikes for the very youngest to high-quality, technical mountain bikes (Woom OFF) and thoughtfully-designed urban cargo bikes (Woom NOW), Woom has a bike for every kid.
Best Bikes for Toddlers and Preschoolers
Learning to balance is the first step to learning to ride a bike. Here at KRB, most of our toddlers have started their cycling journey on high-quality, lightweight balance bikes and are soon pedaling around. Here are a few of our recommendations for the best balance bikes for little ones to learn to ride, along with the step-up pedal bikes for when they are proficient and ready to take off!
Here at KRB, we love the Woom 1 balance bike. It's easy for little ones to handle and comes with handbrakes to encourage younger kids to practice using them to control their speed. For older preschoolers, Woom makes the Woom 1 Plus balance bike. But the Woom 2 is also a versatile option for an older preschooler because you can remove the pedals and use it as a balance bike, then add them back on when your kid is ready.
For the littlest ones, the Pello Ripple balance bike is a solid choice. It has a low step-over height and highly-adjustable handlebars and seat to get the perfect fit for your little one.
Cleary is another favorite brand here at KRB, and they make a 16-inch bike for preschoolers that is super durable and ready for little shredders. The Cleary Hedgehog geometry is slightly more aggressive than the Woom 2, which makes it a good option for more off-road biking on trails or pump tracks.
Best Bikes For School-Aged Kids
There are so many options for bikes for older kids, it can be intimidating to know what to buy them! If your little shredder has moved up from the previous options, there are still lightweight and kid-specific bikes available that will be easy for them to manage and instill a love of riding.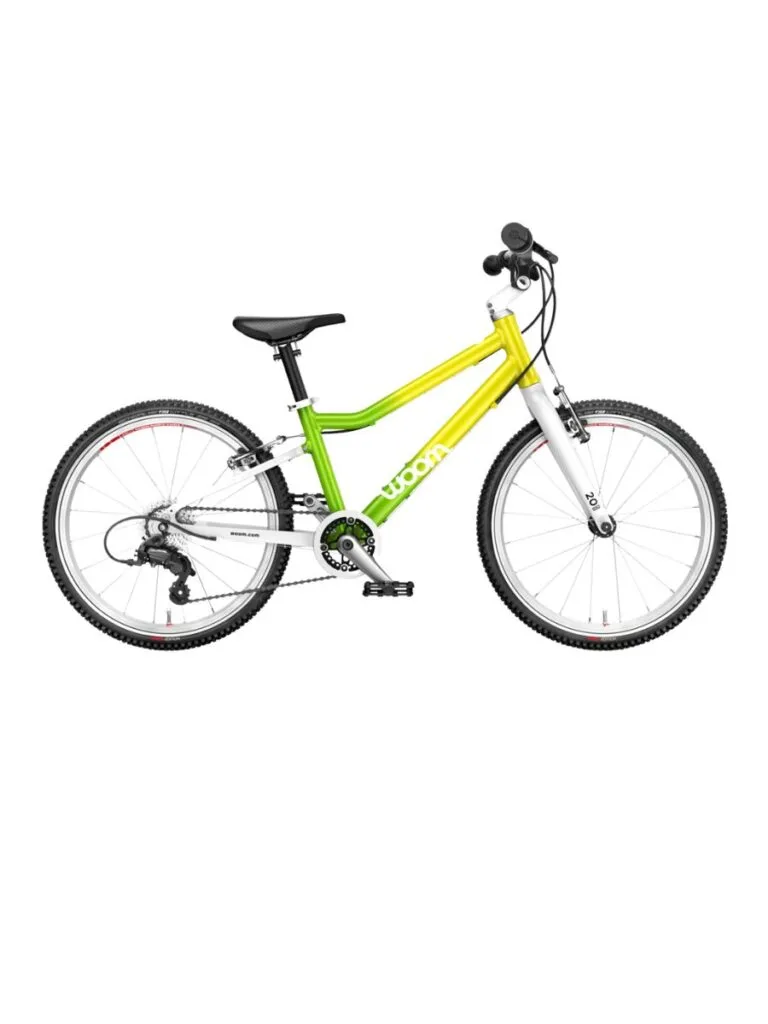 Woom makes lightweight, easy-to-ride kids' bikes of all sizes, and their bikes for school-aged kids are a great choice. They come in fun, bright colors, including some new limited editions like Atomic Neon. the new Woom 3 AUTOMAGIC has an internal gear shifter that automatically shifts up or down depending on how fast the rider is going, helping small kids tackle hills without needing to know how to shift. For slightly older kids, the Woom 4 microSHIFT features 7 gears operated by a kid-specific twist shifter to introduce school-aged kids to the technique of shifting gears.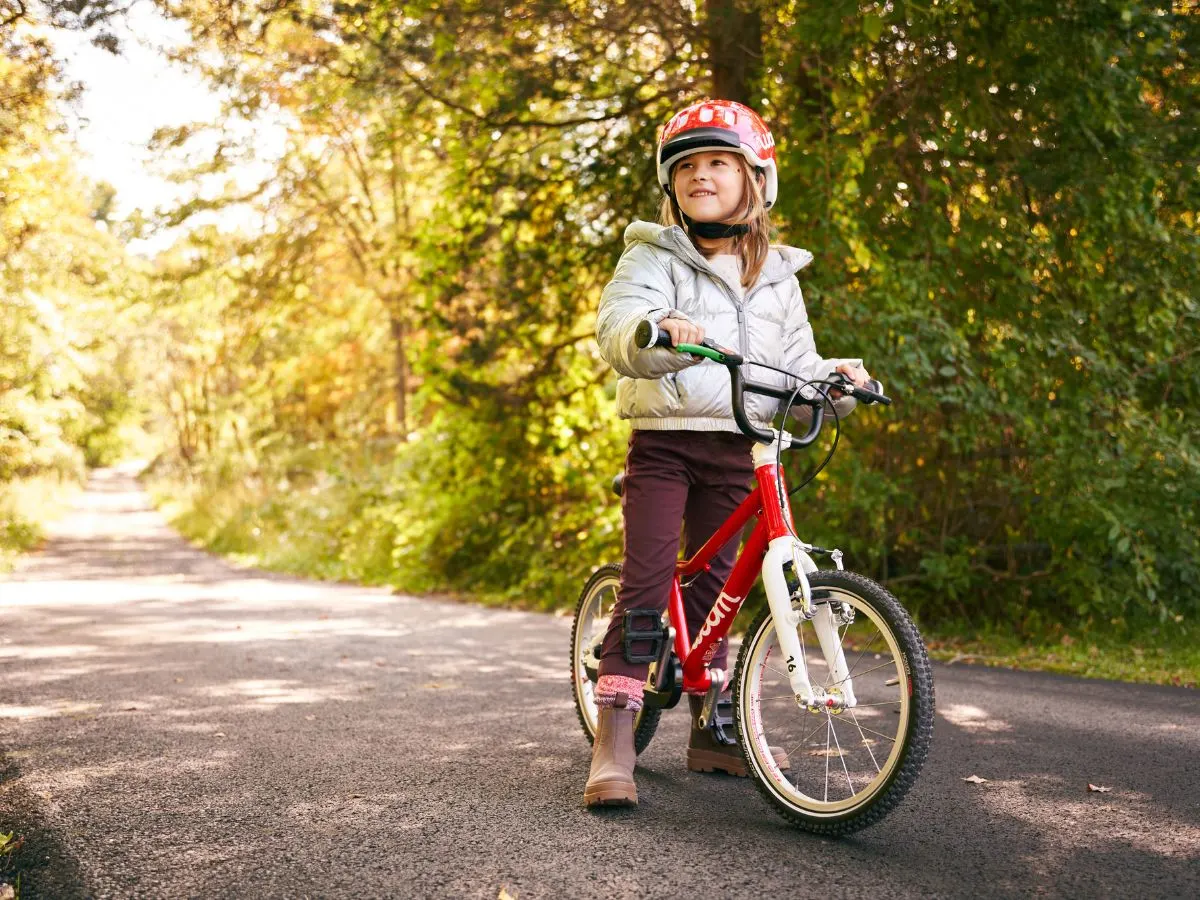 The Cleary Owl 3-speed bike has an internally geared shifter (think: less maintenance!) with a "butter smooth" trigger shifter. It's perfect for introducing younger grad schoolers to shifting gears.
Cleary is another favorite brand here at KRB, and they make a 16-inch bike for preschoolers that is super durable and ready for little shredders. The geometry is slightly more aggressive than the Woom 2, which makes it a good option
Bike Gifts to Keep Bikers Safe and Visible
Before diving into the world of biking accessories, it's essential to prioritize safety. Helmets, lights, gear and more to keep your little rider safe and seen.
Best Kids Helmets for Biking
A well-fitted helmet is a must for any child who rides a bike. Look for helmets with colorful designs and adjustable straps to make safety fun and comfortable.
Check out our tips for how to get your child to wear a helmet if you are struggling with this!
The Woom helmet is a kid-specific, highly-adjustable design in fun colors that match their Original bikes.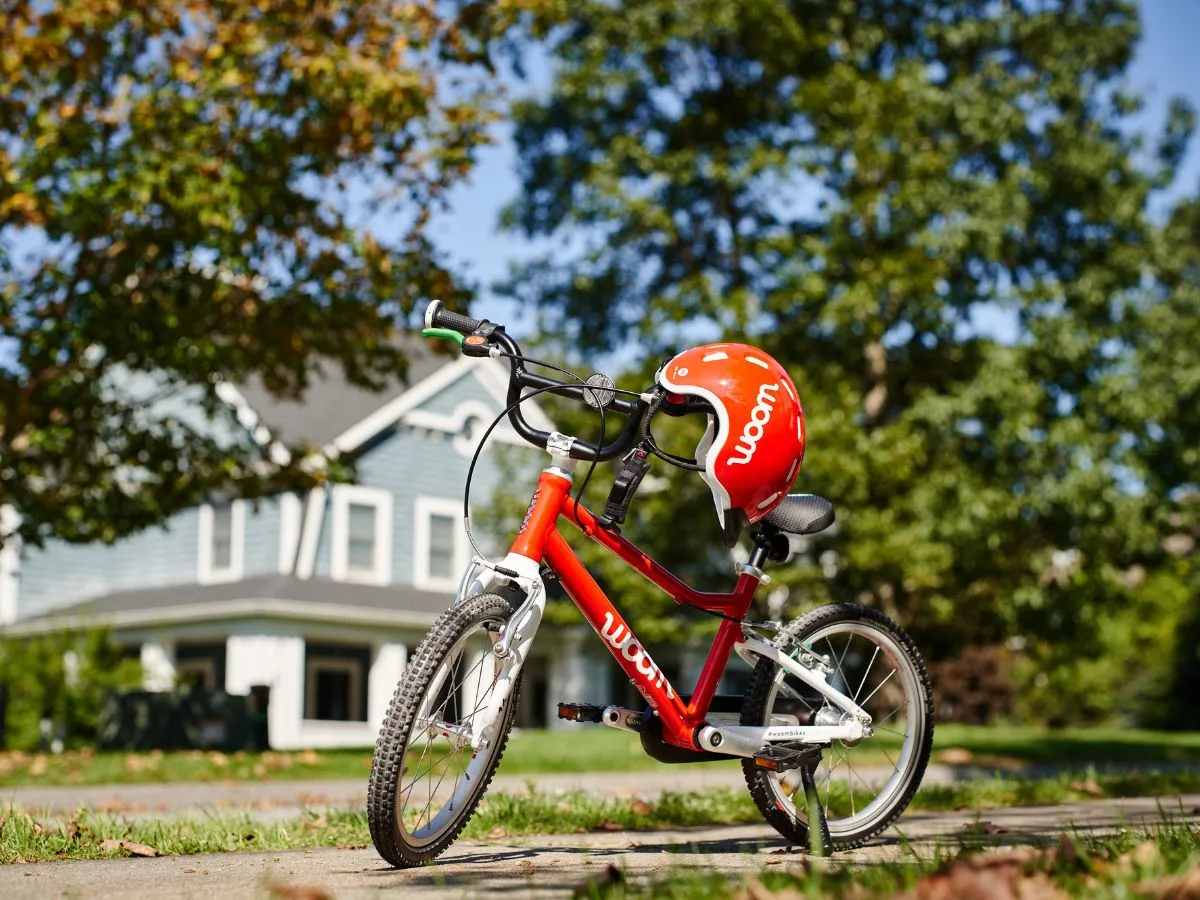 Nutcase helmets are comfortable for kids with fun designs and easy adjustments!
This has been hands-down my favorite helmet for school-aged kids. It fits well and is easy to get the "right" fit. The ventilation is great and we love the colors.
Bike Lights for Kids: Headlights and Tail Lights
Safety is paramount for cycling with kids, and bike lights are essential for riding, especially in the winter when dark comes earlier. While headlights are typically white and tail lights red, you can opt for fun, multi-colored LED lights that kids will love for spoke lights.
Woom's lights are USB rechargeable, making them a great option to reduce the need to buy batteries!
These lights are a fun design and include both a front and rear light along with a horn so your cycling kid is seen AND heard.
Po Campo makes great products for kid biking, including these lights for the front and back of your little one's ride. They are easy to clip on and off for quick recharging.
Kids Spoke Lights for Bikes
Another fun option to keep kids visible is lighting up their wheels! While front and back headlights keep them visible to car traffic in front and behind them, spoke lights keep riders visible to traffic coming on either side, an important safety feature (plus they look so dang cool!)
These mini spoke lights securely clip into the spokes of the bike and turn on by twisting the light. When the wheels turn, the lights create bright circular patterns to help keep your little cyclist visible.
These are similar to the mini spoke lights, but they are rechargeable and color changing!
This string of LED lights is designed to be looped through the spokes of the bike wheel. We received these as stocking stuffers a few years ago and found them difficult to install but once installed they are bright and easy to turn on and off.
Reflective Stickers
Who can say no to stickers? These make fun stocking stuffers, plus they serve a safety function on a kids' bike. Kids love to personalize their things, so why not do it with style AND safety in mind?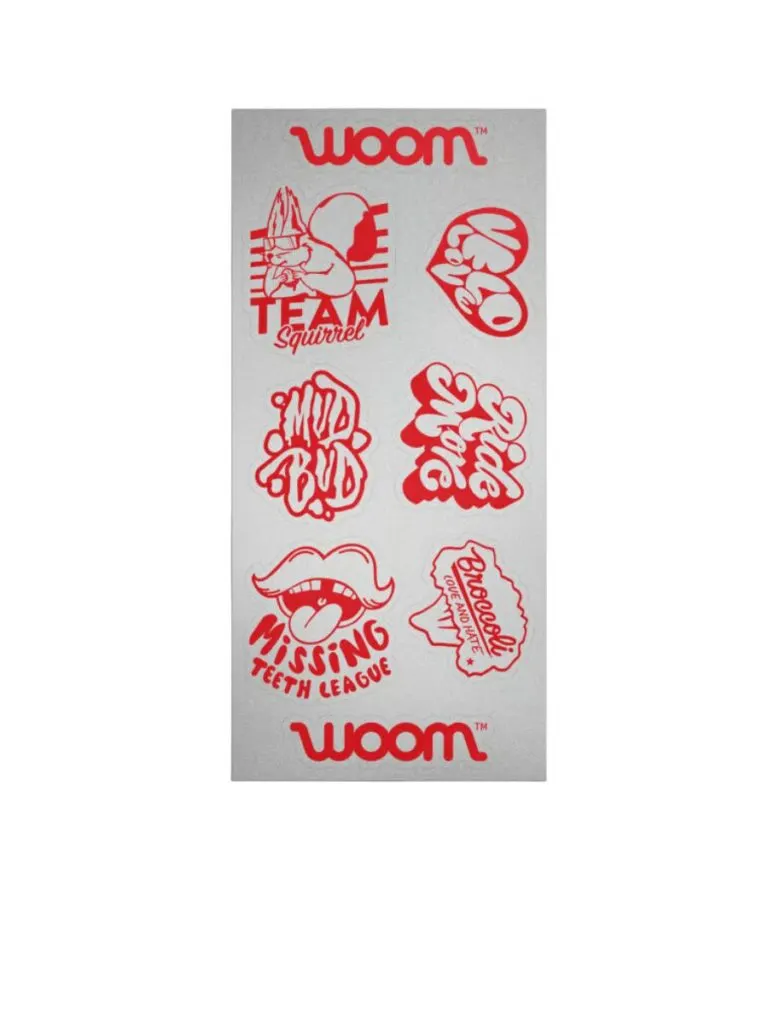 For another cool option, Woom makes durable reflective stickers with funky designs for kid bikes.
Along with lights, reflective stickers can also keep little cyclists visible to traffic. Kids love stickers, so why not gift them ones that will also keep them safe?
The popular helmet brand Thousand also makes large reflective decals in fun designs, perfect for sticking on your child's helmet or bike frame for increased visibility.
Bike Bells
Help your tiny cyclist make their presence known with a fun and attention-grabbing bell or horn. Look for ones with cool characters and fun designs!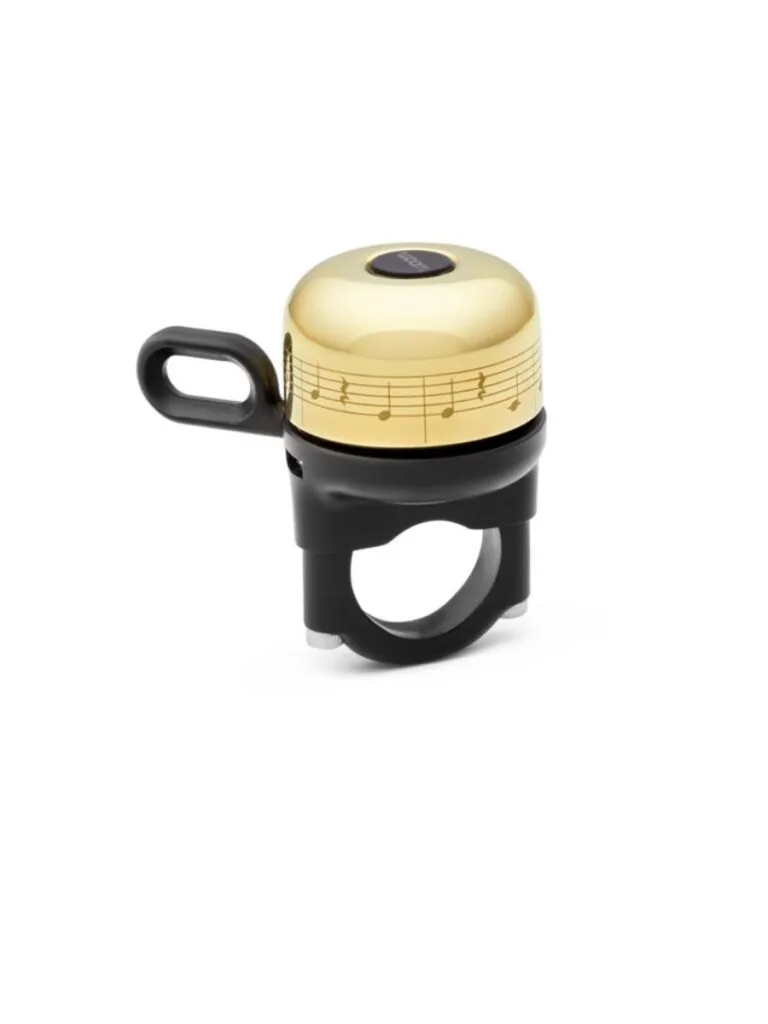 Woom's bike bell dings a pleasant, melodic sound and is perfectly sized and easy to use for younger kids.
Bike bells would make great stocking stuffers! The Electra bike bell comes in so many cute designs too and is easy to attach with a loud ringing sound.
For the unicorn-obsessed kid, MSW's Unicorn Horn sounds like a squeaky toy when squeezed and adds a fun element to handlebars.
Storage Solutions for Tiny Cyclists
What kid doesn't love to carry things on their bike? Whether it's a favorite furry friend, a water bottle, or other essentials, these biking gifts will allow your little one to bike with style and functionality.
Kids Bike Baskets
Bike baskets are an easy and inexpensive accessory to add onto a kid's bike, but the possibility for what to carry in it are endless! Treasures from home or on the trail often make their way into my daughter's basket.
Po Campo makes quality (and adorable!) kid bike accessories and their basket is no exception. Durable and easy to attach, it has a zipper compartment for safe keeping of tiny valuables.
Another soft basket is the Anzome bike basket, which is a more budget option at less than half the price of the Po Campo. It also comes in fun designs and attaches quickly with two velcro straps.
This classic bike accessory from Schwinn is a plastic woven basket with light-up flowers on the front. It's easy to attach to the handlebars and is surprisingly durable for the price.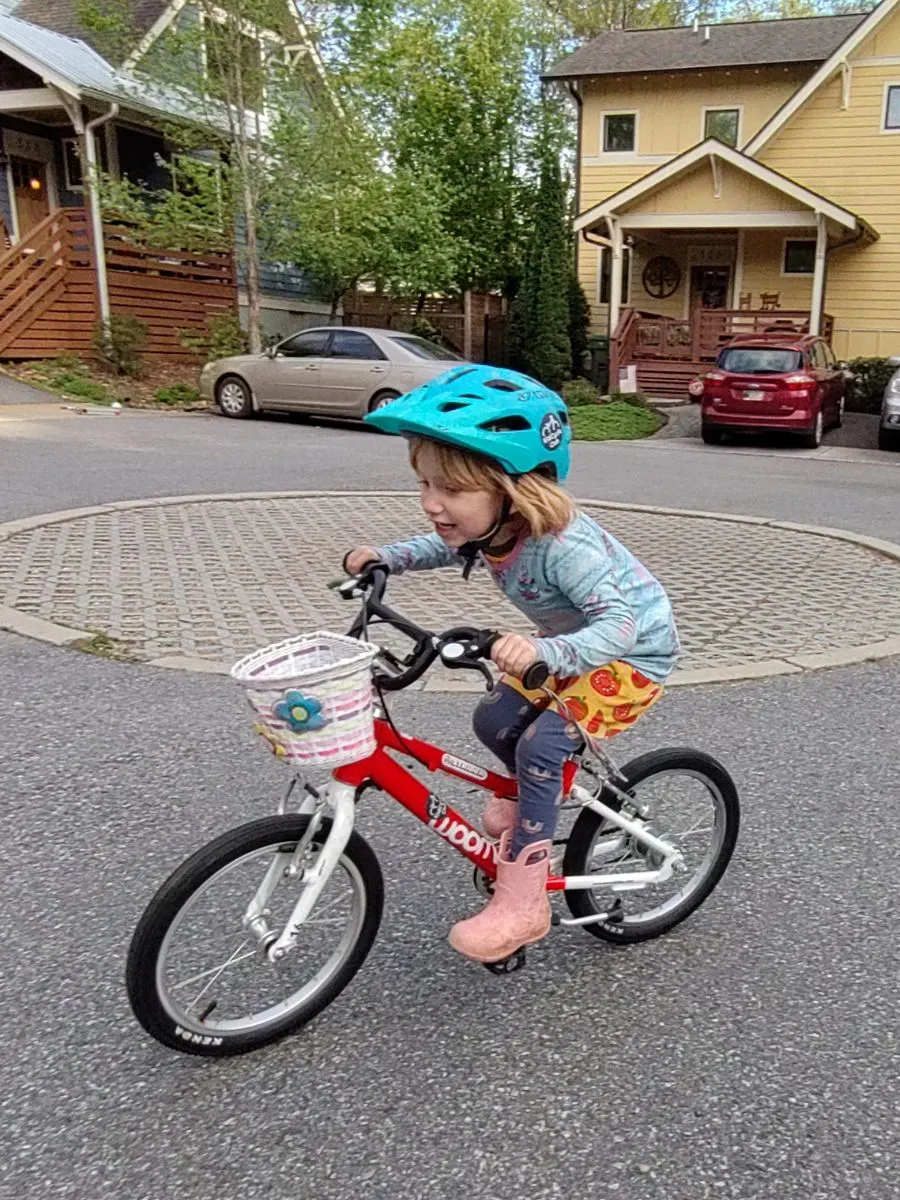 Water Bottle Holder for Kids Bike
Keep them hydrated during their rides by gifting a colorful water bottle and a compatible holder that attaches to the bike frame.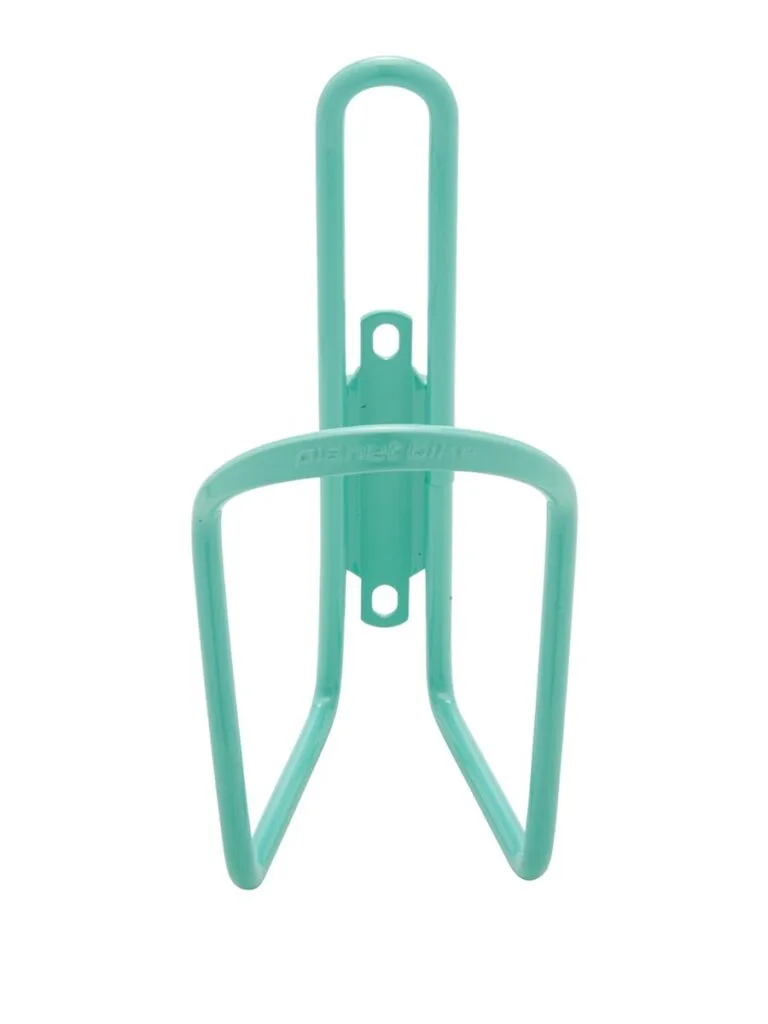 The Planet Bike water bottle cage is inexpensive, comes in a variety of colors, and works with all kinds of different bottles. Most bikes will have a spot to install a water bottle cage on the frame, but double check your kid's bike and sizing before purchasing. Regular size cages may not fit until a 24″ bike.
The Po Campo water bottle bag is a great versatile option, because it does not attach with screws so can be placed anywhere on the bike frame or handlebars (or even a backpack).
This child-specific water bottle and cage mounts to handlebars for easy access and comes in cute designs for littler ones.
Cycling Gifts Kids can Wear
While casual neighborhood bike riders can wear pretty much anything to ride bikes, bike-specific clothing can be a fun (and useful!) holiday gift. Outfitting young cyclists in the right clothing can make a significant difference in their comfort and performance.
Jerseys and Tops
The reflective vest from Woom combines a bit of warmth with safety features of reflective decals, and comes in sizes 4T-14y. Check out all our favorite Woom Cycling Apparel!
These long-sleeved jerseys from the amazing kids' bike seat brand Kids Ride Shotgun features characters from their children's book Shred Til Bed: The MTB Animal Alphabet.
This cute cycling jersey features SPF protection, it's lightweight, and has three pockets on the back to stash snacks and other goodies.
Kids Bike Gloves
Keep their little hands protected from falls and scrapes, while also giving them some major bike fashion street cred with these kid-specific bike gloves.
Woom's bike gloves for kids come in fun colors and have useful features like terry cloth on thumbs to wipe off sweat and embossed silicone for grip. If you bike in cooler weather, make sure to check out the Woom Warm Tens!
Like the adult Bravo bike gloves, the Jr. version are a durable, well-constructed set for young kids. The padded gloves make long biking journeys comfortable for kids.
ZippyRooz bike gloves will keep your tiniest shredder's hands protected from falls while giving them a grippy surface to hang on to their handlebars. My toddlers and preschoolers love bike gloves, especially with fun designs that are easy to get on and off like the ZippyRooz.
Pedal-Powered Presents for Your Biking Kid
Buying gifts for kids who love biking is an exciting opportunity to support their passion while prioritizing safety, comfort, and fun. Whether you choose safety gear, accessories, or cycling apparel, your thoughtful gifts will inspire them to continue pedaling their way to adventure and exploration.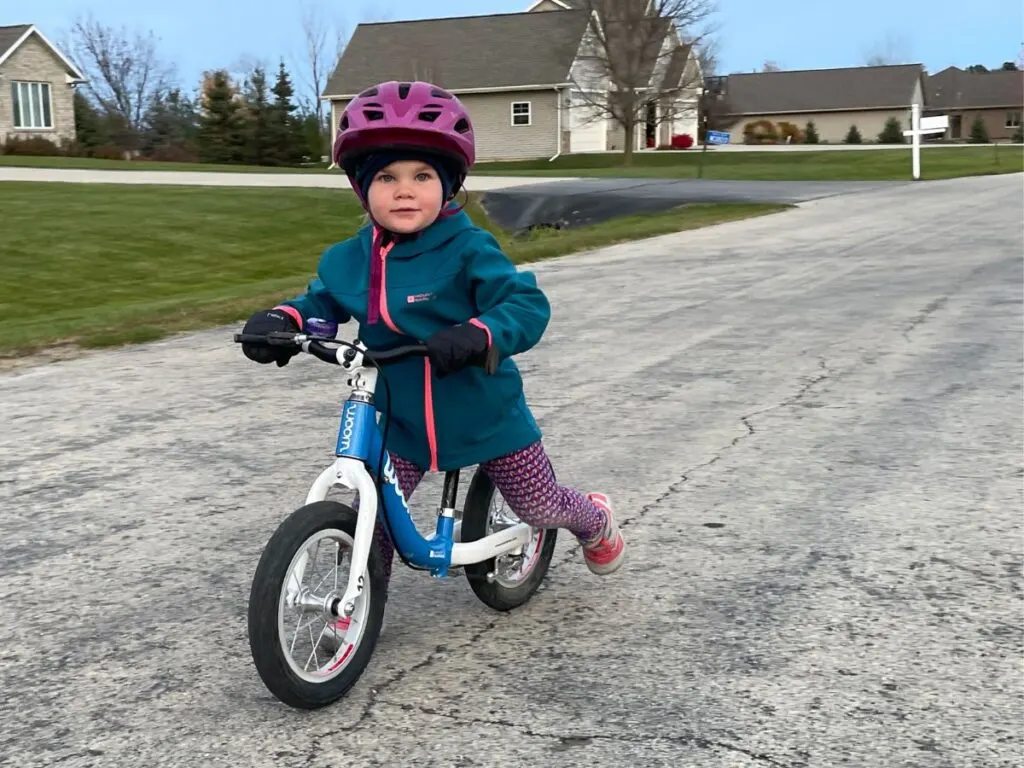 So, gear up and get ready to make the young cyclist in your life smile from ear to ear with a biking-themed gift they'll cherish for years to come!
Related Articles
Best Kids Biking Gifts
© 2023, Kids Ride Bikes. All rights reserved. Republication, in part or entirety, requires a link back to this original post and permission from the author.