Woom OFF Review
Our family has been riding the Woom OFF, Woom's off-road bike, for the past two years on gravel, mountain bike trails, paths and roads. While we were initially skeptical about a mountain bike with no front shock, our son has dubbed it his "favorite bike ever" for most riding conditions.
As a member of Woom's affiliate program, we earn from qualifying purchases.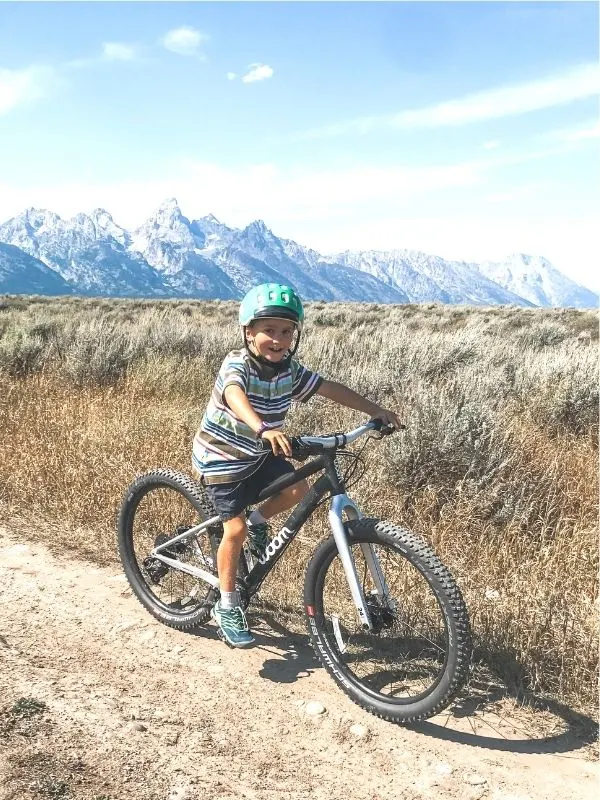 About the Woom OFF
Like all Woom bikes, the Woom OFF is incredibly lightweight (Woom OFF 5 = 18.9 lbs), which sets it aside from other mountain bikes on the market weighed down with a front shock. Weight on kids bike is key for a good riding experience, and this is where we think the OFF stands out above other mountain bikes.
The Woom OFF is available in 4 (20″), 5 (24″) and 6 (26″) models. Our son falls between the suggested 4 and 5 size, but was able to easily ride the larger bike thanks to superior geometry and a kink in the top tube for easy dismount. It's worth noting that most other mountain bikes, he is still solidly in a 20″.
Little sister is also now riding a Woom OFF 4 and we found the same thing with her – the geometry and kink in the top tube for easy dismount means that she can comfortably ride a larger size of the Woom OFF if need be.
Aluminum Frame
Carbon Fork
9 speed
SRAM trigger shifter
SRAM X5 derailleur
OFF DISCO TEC double-chamber aluminum
2.35″ wide Schwalbe Rocket Ron with ADDIX SPEED
Saddle with side protection to help with leaning
Wide handlebars (600 mm)
Hydraulic disc brakes
Flat pedals
Who the Woom OFF is best for
The Woom OFF is fantastic all-around bike for any kids who love to ride on dirt roads, through gravel, or anything off-pavement. Narrower tires would be better on paved bike paths for long rides, but our kids usually ride it for everything.
While the OFF Air is better for aggressive bumpy mountain bike trails, our kids have found that just the wider tires and lightweight frame makes riding so much easier that they don't miss the front shock much. It's also less to worry about maintaining.
What we love about the Woom OFF
The Woom OFF far exceeded our expectations right out of the box. It is not just another bike with fat wheels, but truly focused on providing the best trail riding experience for kids.
Over the past couple years we have taken it on trails in the mountains, trails in the desert, and neighborhood roads. It has easily gone through mud, ice, snow and quickly changing terrain.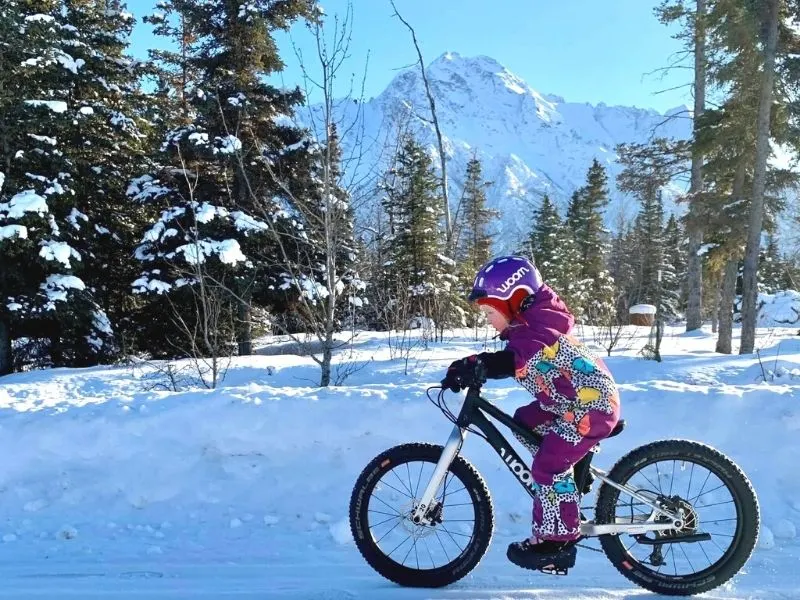 Easy Set up
Like all WOOM bikes, the set up right out of the box is fairly simple and really only takes about 10-15 minutes.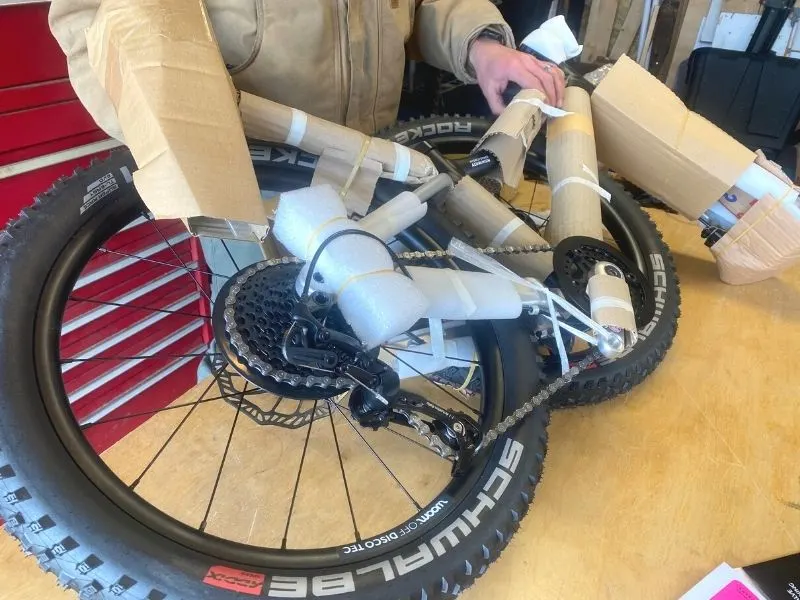 The Woom OFF is stable
Wider handlebars, wide tires and long wheel base keep kids stable and in a comfortable position on the bike so they can focus on riding. This coupled with the fact that the bike is so lightweight makes learning to ride on trails much easier.
Disc brakes
Disc brakes help kids stay safe and in control in all conditions including rain and mud. While testing we ended up on a very wet and muddy downhill trail and was shocked how well the bike continued to stop. It also works great in snow and icy conditions thanks to the brakes and the wider tires mentioned above.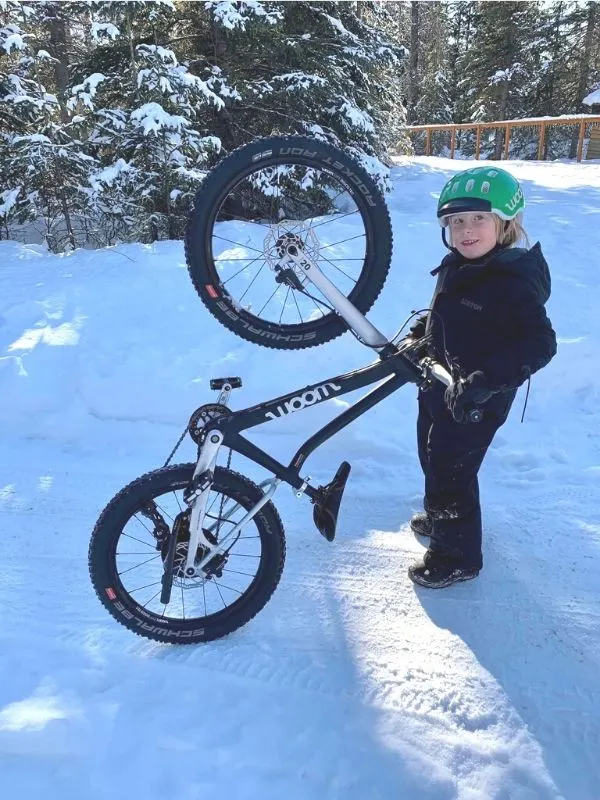 Adjustments for growing kids
The stem can be flipped to adjust the handlebar height. This has not been necessary for our kids, but it's nice knowing there is that option.
Easy customizations
While the OFF only comes in black, customized stickers help make it unique for each child. This helps us quickly distinguish who's bike is whose when we now have three kids riding similar bikes.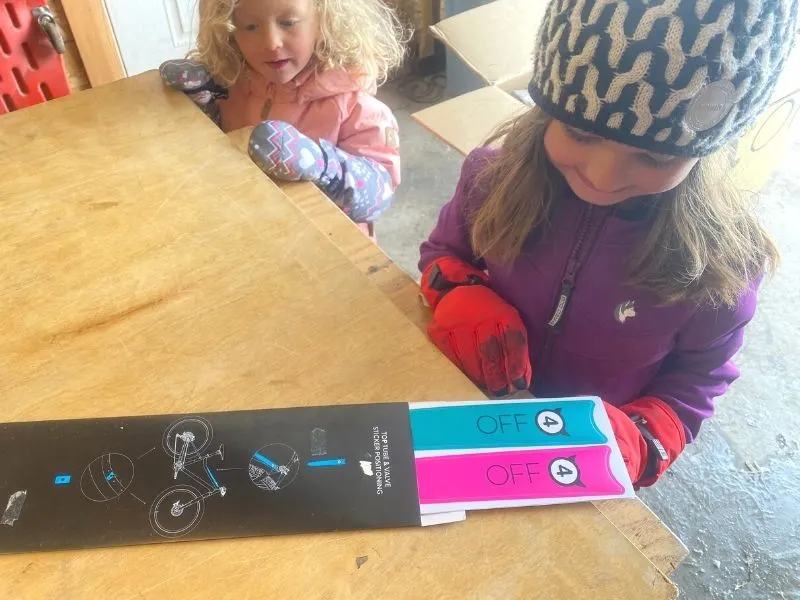 Easy shifting
The grips and trigger shifters make it easy for kids to shift during challenging terrain. While it did take a little getting used to a different kind of shifter than their other bikes have, the process was quick and these work better for mountain bike riding.
What We Would Improve:
There is no quick-release on the seat post which is a huge pet peeve of mine, and one thing I love about all other Woom bikes. While it would add a little weight, I think it's worth it for changing conditions while mountain biking especially.
The Bottom Line:
Unless your child is really ONLY riding paved trails, the Woom OFF is worth the extra $170 (over the regular Woom) to get your child a bike they can use virtually on any surface.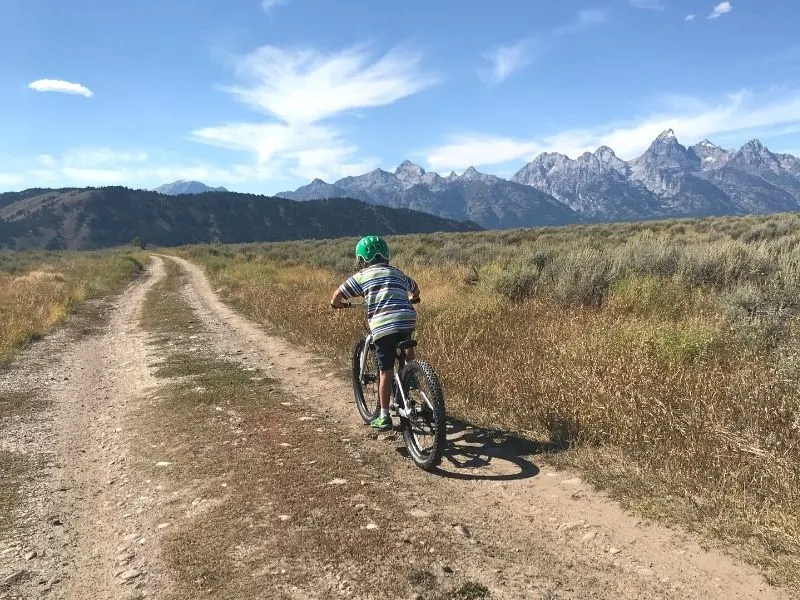 Woom OFF: Where to buy
Like all Woom bikes, they are available only directly from Woom itself.
Woom OFF Review
© 2021, Kids Ride Bikes. All rights reserved. Republication, in part or entirety, requires a link back to this original post and permission from the author.