Earth and Kin MULE Review
Earth and Kin, a New England based gear company is focused on sustainably designed family products that have previously failed to meet consumer expectations. The MULE ATW or All Terrain Wagon was launched after a successful kickstarter in hopes of "reinventing (gear) hauling."
Earth and Kin founders, have a background in design, engineering and mental health. They appreciate developing products that help families get outside easier.
**Use code MTNMAMA to save 15% on any Mule or Mule Accessories.**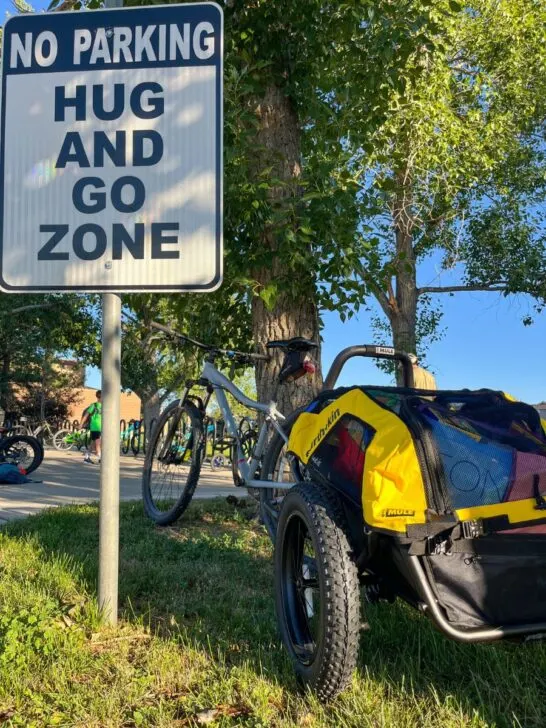 Two percent goes to their non-profit, the E+K Foundation. Their mission is support families mental and physical health using nature as a natural playground.
"Our measuring stick is family and our playground is nature- the two things we will never cease to fight for… Earth+Kin."
Meet The Earth and Kin MULE
The MULE is a pull tow hitch wagon with dual axel technology. It is designed to be pulled by hand, bike or car. The hitch is easy to install and uninstall as well as tow due to a generous axel design.
The MULE boasts beefy all terrain 16" 3-inch pneumatic fat tires. Easily adjustable, adaptable and built to last. The tires pull off easily with the press of a button for easy storage or in the off chance you catch a flat.
The MULE can also be rolled right up to a car hitch and easily installed using a clever docking system without having to lift the trailer. A hitch adapter is sold separately but is a valuable add if you need extra storage outside the car. Be sure to remove the wheels from the MULE before driving.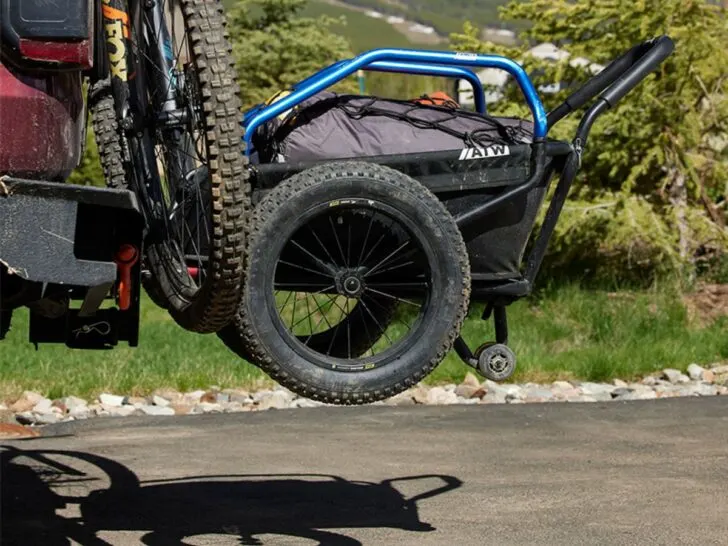 Need a way to get your goods to that secluded spot on the beach? How about carrying your fishing or climbing gear to your secret stash? The ATW MULE should be good for that. Best of all, you won't need to change your load just because you're on foot, on a bike, or in a car.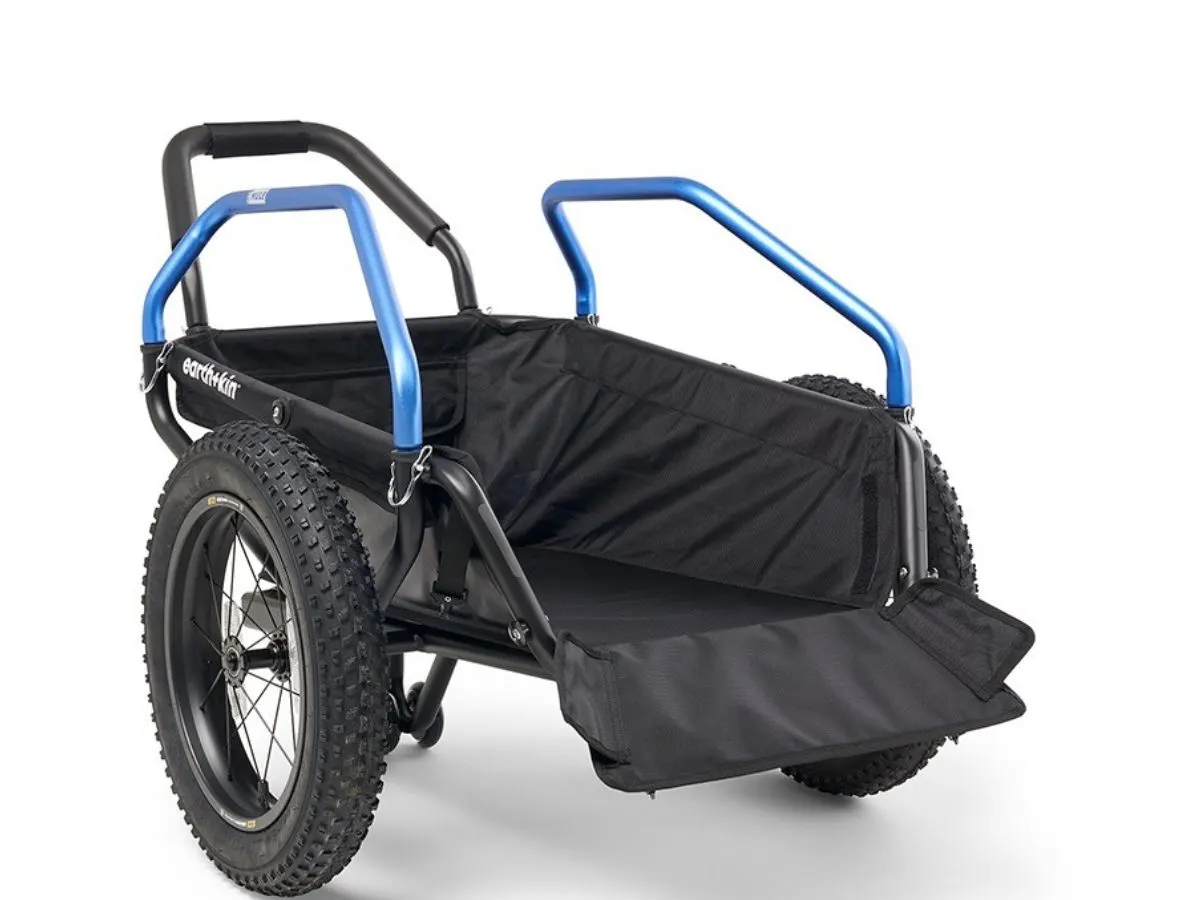 The MULE is perfect for any adventure that requires you to carry a load. Has your family tried Bikepacking? Check out a few family Bikepacking trails my teammates have reviewed. They are sure to inspire adventure.
While I'm all about jumping in head first, if you are new to camping check out Car Camping for Beginners and go for a few simple overnights before adding cycling to the adventure.
A New Kind of Wagon
The MULE showcases a frame that raises high above the storage area. This is because an all weather ballistic nylon cover can be placed over the frame, transforming the space into a sealed-off carrier good for keeping things dry.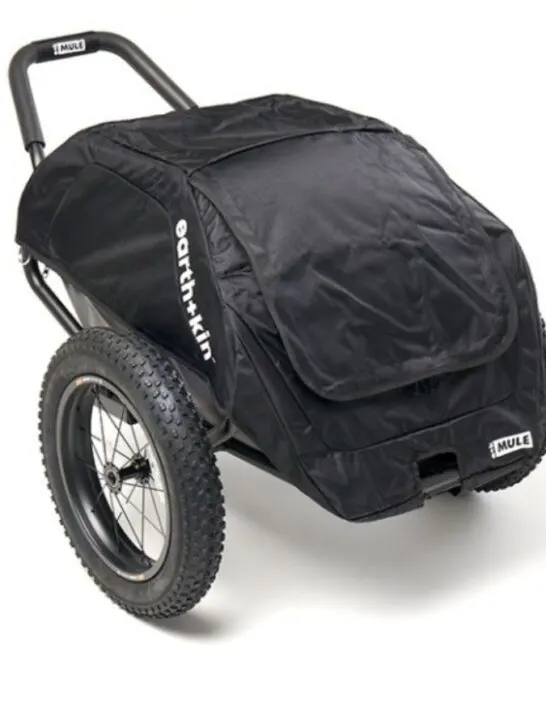 The All Weather and Mesh Covers can be bought together for an extra $75 USD.
We tested the bight yellow mesh cover with our cat Thomas. He stayed inside and was safe. I'm not sure he enjoyed it through. A few rides later and he found his joy sticking his head out the mesh. It freaked me out but he has a harness and a leash attached to the trailer. I guess he's a head out the window kind of guy.
We love our Tom cat but I look forward to using the MULE with a pup one day. I can see this wagon being a great way to exercise a dog without exhausting them. I especially love the bright yellow. I often use the mesh cover simply because I appreciated the added visibility.
We also tested the All Weather cover on our first ever Bikepacking trip. While we beat the rain on the ride in, it rained pretty hard on and off all night. I noticed a puddle had formed on the outside of the cover and the inside was pretty damp. I left the trailer empty over night so our stuff was fine and I had a garbage bag to double bag our gear for the slightly rainy ride home.
I believe our trailer would have stayed drier if the material was flatter over the frame. It would have been easier to make sure the cover was straighter/tighter if I could zip or click the cover on to the wagon instead of using velcro. The velcro is a bit finicky.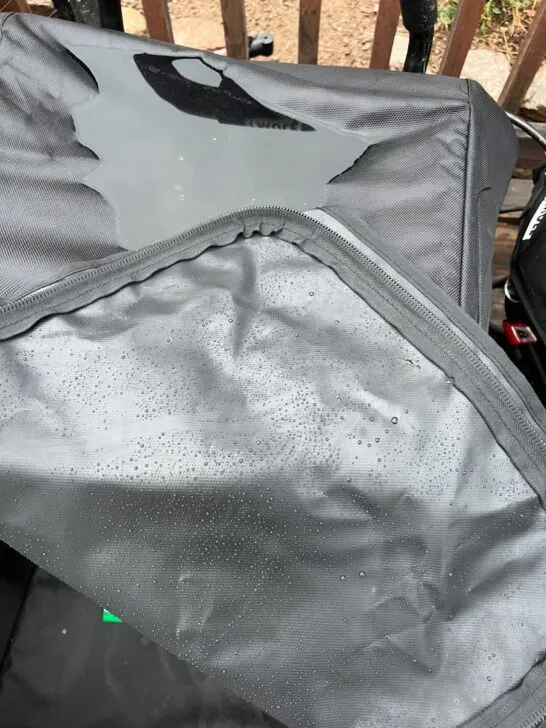 The Nitty Gritty
What comes with the Mule:
One raised rubberized pull handle that can be used both ways
Rear axel tow bar
4 way stretch cargo net
5 cubic feet of pullable or towable storage
120 plus liters of storage and can haul 100lbs by hand, bike or car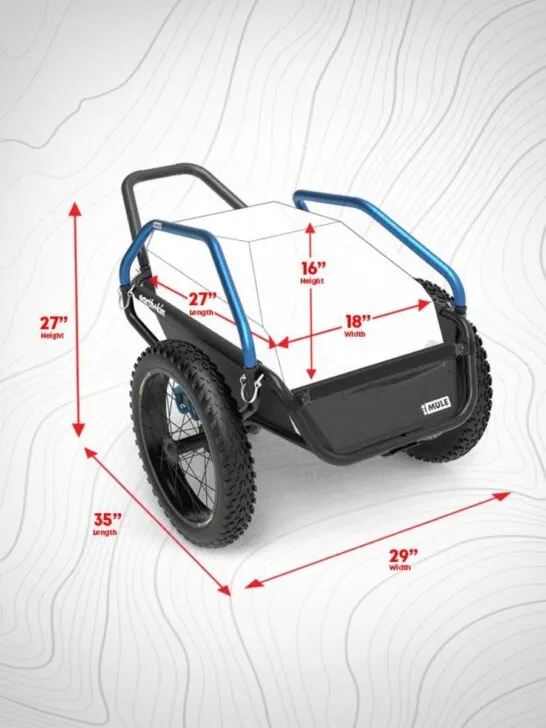 Extras that can be purchased with the MULE:
MULE Mesh cover with two large zippers-good for pets
All weather cover-protects gear in all weather
Vehicle Hitch adapter
An additional extended handled
Assembled product dimensions: 35″"(l) x 29″(w) x 27″(h). Interior cargo dimensions: 27″(l) x 18″(w) x 16″(h).
Built to Last
The MULE weighs approximately 20 lbs. and is crafted from 6063 Aircraft grade aluminum and hardened steel. Simply put the skeleton of the wagon is light but very hard to break. So much so Earth and Kin will replace any broken components under their lifetime warranty.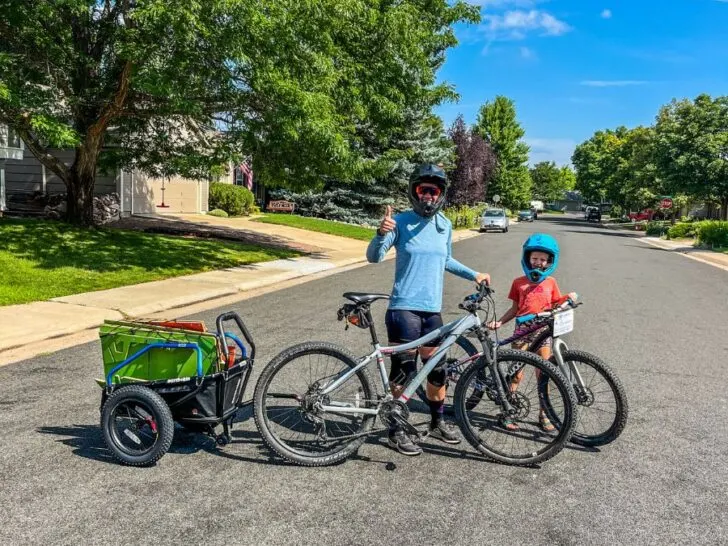 Even better, the wagon is made with 100% post consumer fabrics. Every MULE basket used to be something else. How cool is that?
All components are easily removable and it's shipped without any wasteful plastic using 100% recycled packaging. The MULE is a purchase you can actually feel good about.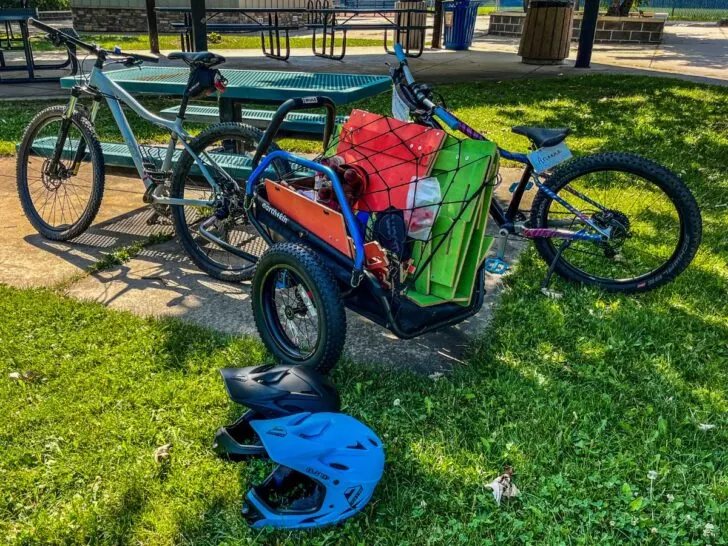 One Wagon, Many Functions
Walk it:
Fat All-terrain tires, clever handles and nice roll.
Drive it:
Extra rear storage for trips that max out trunk space. Can't be a bike trip though if you use the hitch to carry bikes.
Bike it:
Lightweight pull, easy carry and generous turn radius.
Store it:
All of the components, like the handle, side rails, and wheels are attached to the MULE via quick release, making them easy to remove and store in the MULE. The handle, side roll bars and wheels can be held inside using the bungee cord net as a cover, allowing it to be packed flat and hung in the garage.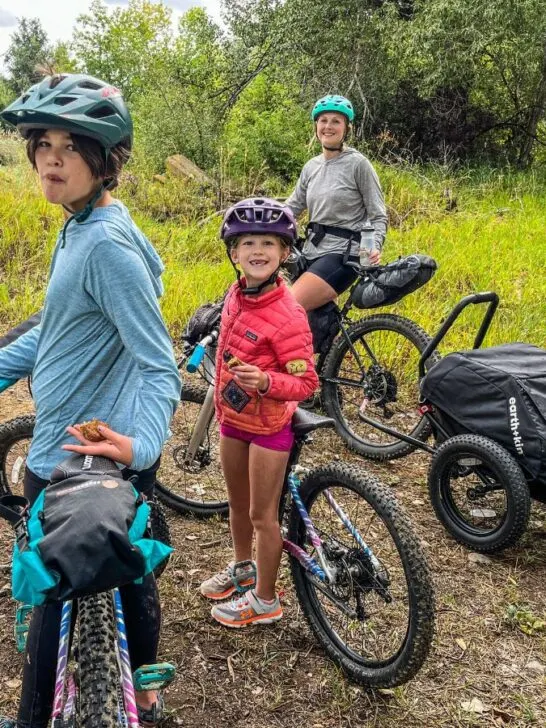 Proprietary Trailering Bracket with Quick Release Mount
The Mule connects to the rear axel of a bike using their proprietary design which is purported to only take a few seconds to attach or disconnect. This trailering bracket slides into a locking receptacle on the wagon's underside with an easy to clamp locking device.
Then the front end of that bracket engages a quick-release mount on the bike's rear axle. The design is efficient and speedy but it is my experience it can take a minute or two to find the right angle for the rod to fit through the holes.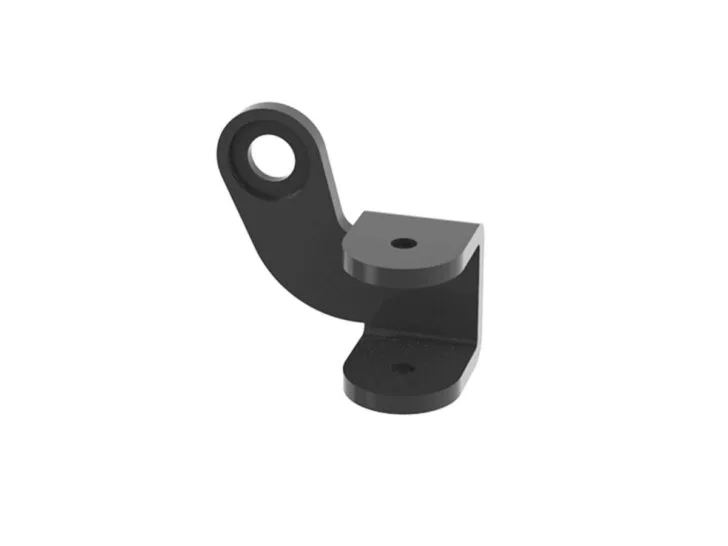 I found the trick is to loosen the rear axel on the bike so the right angel can be quickly found and the rod can slide through the attachment. I then tighten the axel when everything is in place. Make note to tighten the quick release very tight.
I should note that I left the bracket on my rear axel while I flew down a steep rocky descent on local single track. All of a sudden I heard my rear wheel detach from my frame.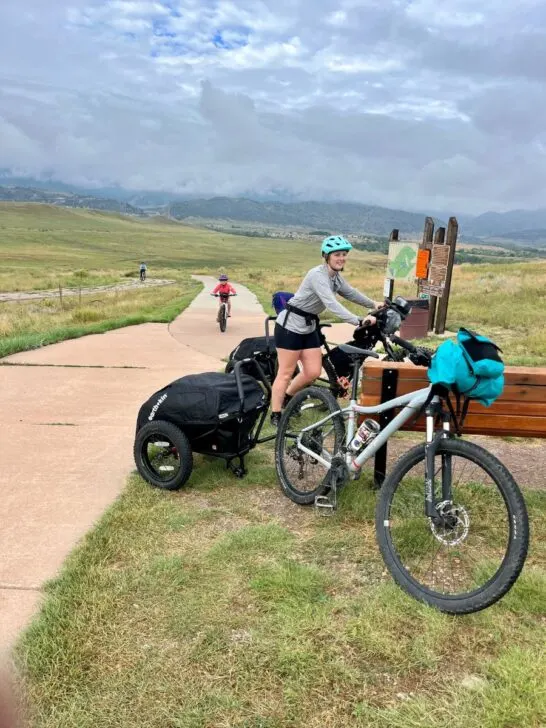 I stopped and was able to put my wheel back on but not without taking off the bracket. Between loosening the axel during install and leaving the bracket on the bike, I set myself up for a possible disaster (especially because I was 8 miles in).
Be sure to remove the bracket if you plan to get rowdy.
Will it fit to my bike?
Having two bike hitch attachment options, the MULE is compatible with most bikes on the market today. The hitch attachments can fit tire sizes commonly found on a road bike (700Cx23mm) all the way to fat tires (29''x5'').
The Bike Tow Bar Assembly comes with a Hitch Plate that can mount to bike rear axle diameters of 5mm – 12.7mm (0.2'' – 0.5'').
If your bike has a less common axle or you need additional mounting options The Robert Axle Project can help you find the right hitch or axel.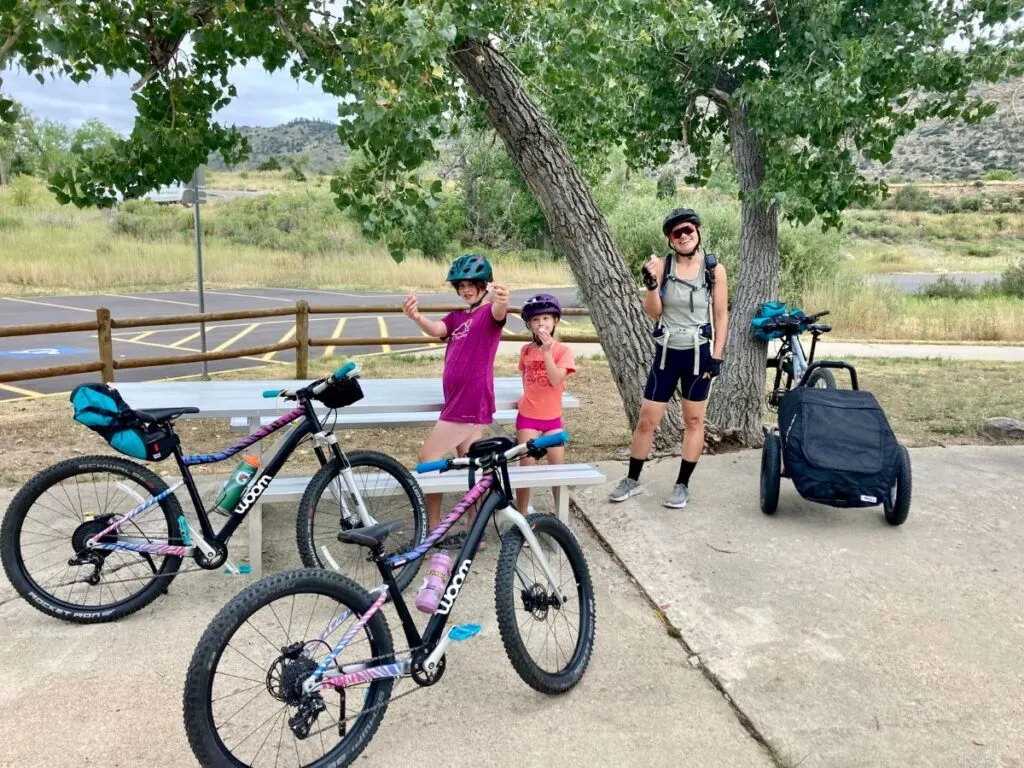 How about my car?
Attaching it to a vehicle is easier, just lift it up and slide it onto the vehicle's trailer hitch – it's compatible with 1.25-inch and 2-inch standard hitches. A small set of wheels in the front of the wagon provide a fulcrum when loading it onto a hitch, plus they add support when it's being pulled or pushed.
How about an Ebike?
OF COURSE! The Mule works very well with e-bikes on smooth, flat roads. The E-bike speed limit for the MULE is 10mph.
Not for Kids, Sorry folks
The MULE is intended to haul up to 100lbs of gear by bike or car and up to 150lbs of gear to haul by hand. The MULE is safe to transport a pet with the use of the mesh cover though a leash tied to the front bar isn't a bad idea while your pet gets comfortable with the ride.
The MULE is also not intended for transporting a child or a pet attached to a car.
What We Love about the Mule
What is there not to love? Earth and Kin is family and community focused gear design company that is committed to zero single use plastic packaging or design. True to their word, the MULE arrives with clever twists and caps in cardboard that can be recycled easily.
The MULE is created with the same dedicated, detail focused design that aims to improve quality and ease of use as their packaging. Strong, easy to assemble, hitch and unhitch and a dream to tow, this isn't your average child carrier stuffed with groceries.
We love gear built to last. I want to buy quality that I can hand down to my kids long after I'm done. If you break it, they will give you a new one. That is why we back all of our products with a 1 year limited warranty and a lifetime warranty specifically for the MULE.
Best Gear Hauler on the Market
It's fun to ride and so practical. Much better than our old kid trailer. The size and maneuverability make it a much more enjoyable to tow. A fat tire that can haul it all, I can't wait to break this beast out in the snow.
Being able to throw our car camping gear into the MULE has enabled our family to Bikepack without buying additional expensive new gear. I am so grateful to overcome this barrier to entry. I imagine enjoying the MULE on many more adventures locally and far abroad. The possibilities are endless.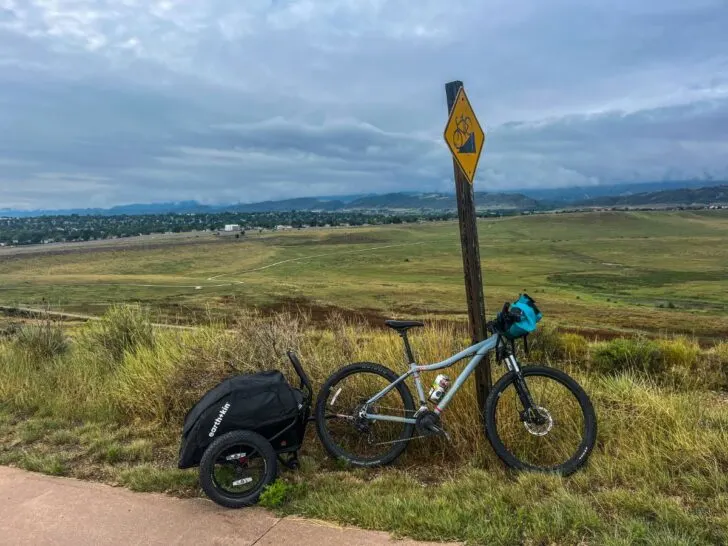 How to Improve the MULE
The MULE is so well designed that I felt I was grasping at straws to find flaws. I would love to either see stronger paint or grip tape on high use areas like the back bottom bar which hits the ground when you flip it over to dump it. We already have scratches but I plan to cover them with decals of all the places we've been.
I'm not crazy about the front wheel as it was hard to install and it's just added weight while bike packing or long hard rides. Earth and Kin has already addressed this issue with a detachable wheel on their new model coming out this month. I'd ditch the velcro attachment as well.
I also wish it had slightly higher side bars that allowed for a carrying an object that might stick out over the tires more like a flatbed. I'd also like to see a small break. I can't tell you how many times the trailer rolled away from me or out of the garage. It's super fast!
Finally, if I could make a dream list, I'd add a ski attachment. It would be an easier pull than a long sled I think.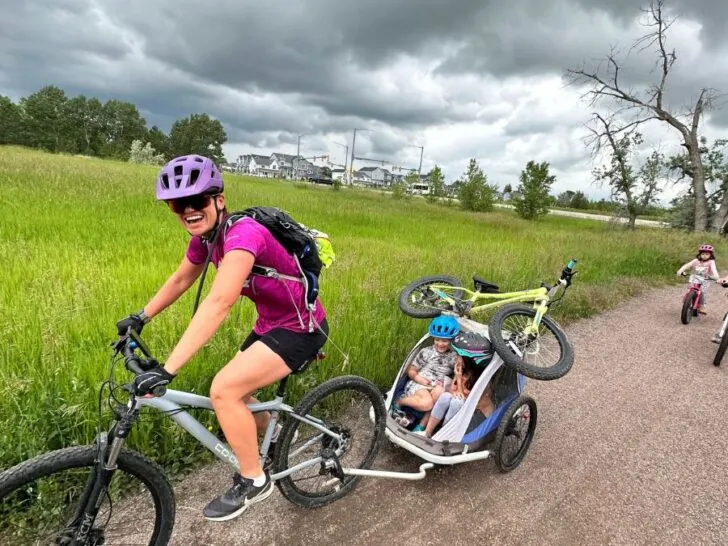 Mule Trailer: Bottom Line
Don't throw out the old kid carrier just yet, the MULE many things and it's great for off roading but it has some limitations for parents. If your family commutes by bike and you need extra space, I would highly recommend Earth and Kin's MULE for all your cargo needs.
Need a kid specific trailer? We've reviewed many and have a clever Choosing a Bike Trailer guide. We also have a wealth of helpful information in Beginner's Guide to Family Biking.
If you dream of bike packing, I'd say this all terrain wagon will serve you well on your adventures.
Pros: Handles anything, attaches to bike or car, heavy duty aluminum is light and durable.
Cons: Lots of deconstruction needed for storage, dual axel rear axel attachment not as easy to attach to wagon as they say.
Want to paddle instead? or add a paddle to your adventure? We cover Canoe Camping here. I've definitely begun imagining how we can add our SUPs to our Bikepacking adventures!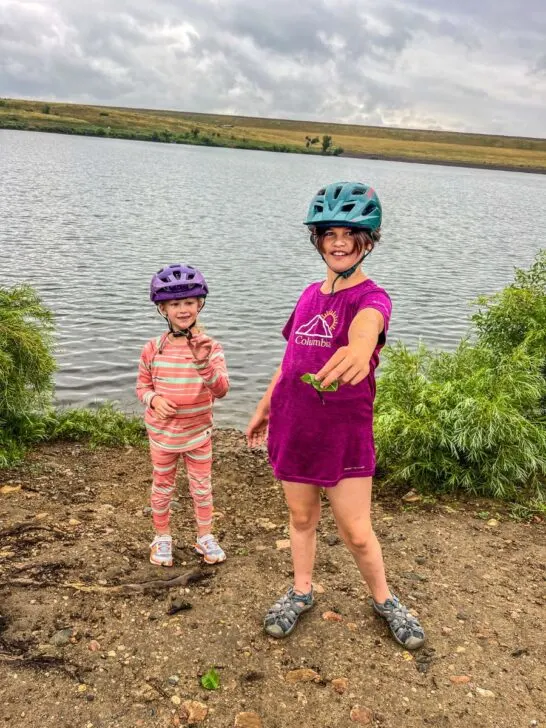 I love how the MULE open doors whether by commuting for our single car family or by adding spice to our off trail adventures. Over the last six weeks we've used our MULE over a dozen times.
Leaving a Legacy
The E+K Foundation dreams of bring families together to experience togetherness in nature. This young 501(c)3 Nonprofit seeks to host events and camps intended to build community by bringing families together, stepping outside of our comfort zones, and experiencing both the challenges and growth that can occur after spending time in nature.
We joined Devan from Earth and Kin on a scouting trip this fall in hopes of guiding other families on a short, accessible Bikepacking trip just outside Denver. We had a wonderful time and totally fell in love with Bikepacking.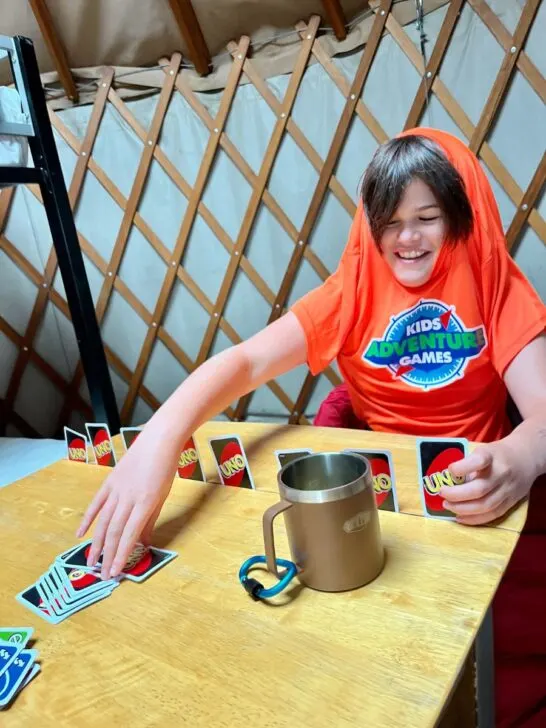 I'm a fan of any gear that significantly helps families get outside, especially less outdoorsy folks. I look forward to watching the foundation grow giving more families like ours the freedom to explore.
Special thanks to Earth and Kin for the opportunity to review the MULE as well as guiding us on our first trip. We hope for many more trips to come.
We have a few more weeks till the flakes start falling but don't let Winter Camping with Kids stop you from getting out there. These tires can handle some gnarly hard pack.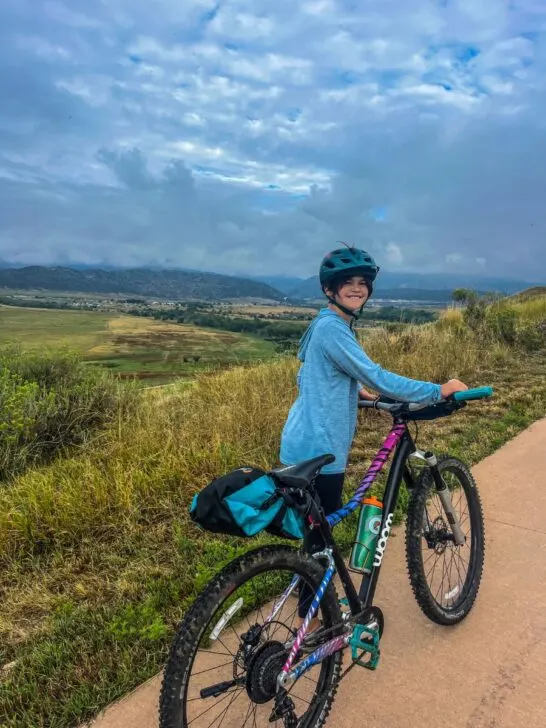 Earth and Kin Mule Review
Related Articles:
© 2023, Kids Ride Bikes. All rights reserved. Republication, in part or entirety, requires a link back to this original post and permission from the author.