Car-Free Life as an Outdoors Family
Living car-free with kids seems like a daunting or impossible task. Especially if you are an adventurous family who loves camping, hiking, and backpacking, a car seems essential to get out and explore.
But for 5 of the 12 years of our parenting life to date, we have lived completely without a car. In the remaining years, we've had one car and have been "car-lite," meaning we only use the car for longer trips or big Costco runs.
As an Amazon Associate and member of other affiliate programs, we earn from qualifying purchases.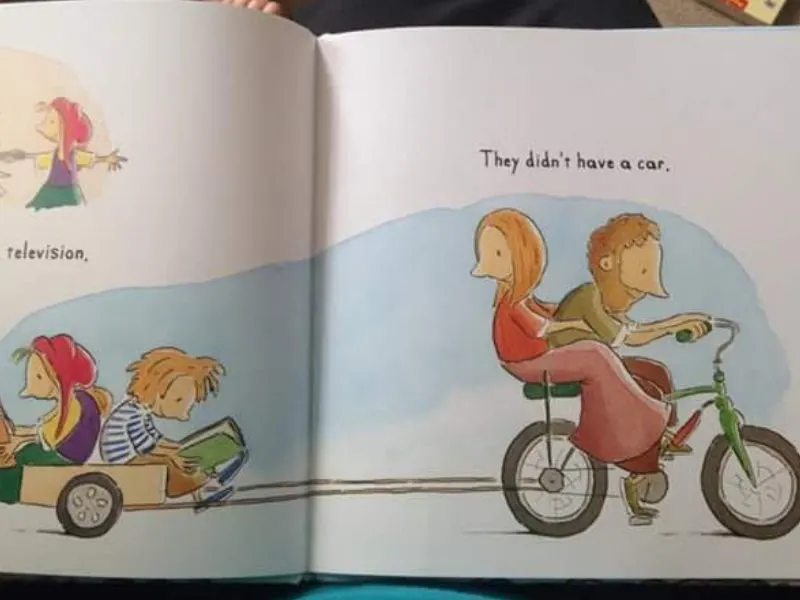 Depending on your location (especially the bike and public transit infrastructure in your community), living car-free or car-lite CAN be possible and incredibly rewarding. It requires a bit more logistical legwork, but we have found it workable in a range of settings: we have lived with our kids without relying on a car in medium-sized cities in Utah and the Midwest; a large city in Texas; and a smaller city in Sweden.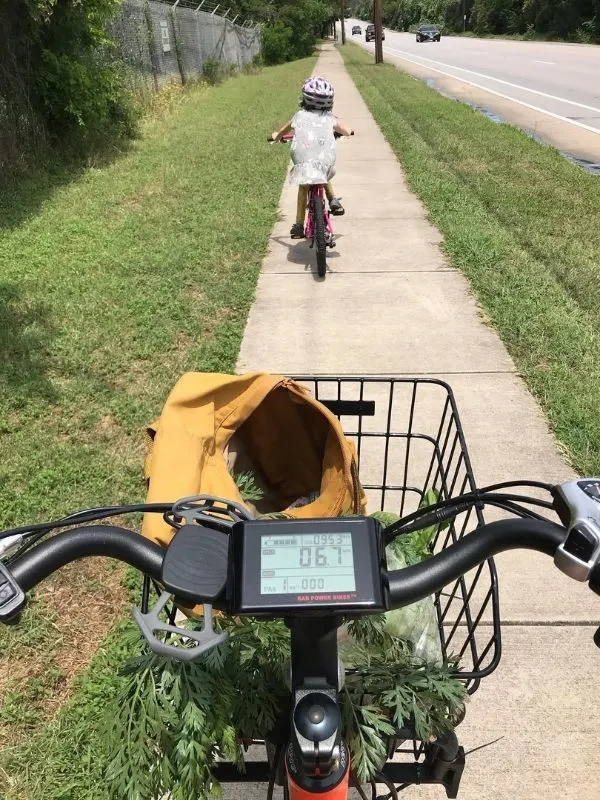 While not having a car does limit a family to a smaller radius of adventuring, there are benefits for kids in becoming intimately familiar with the natural spaces they live in. Returning to the same camping or hiking spot can allow everyone to become comfortable with outdoor activities and closely observe seasonal changes.
Living Car Free with Kids
Biking in the city: Trailer, bike seat, or cargo bike?
School, work, shopping, and everything in between, bikes are our main mode of transportation. While having a cargo bike—especially an electric one—can make car-free life much smoother, it is possible to use a regular bike with bike seat or trailer depending on the ages of kids.
For two years in the Midwest, we had two young kids and used a Chariot bike trailer and road/hybrid bikes as our main source of transportation. Panniers added extra storage space. Grocery runs were a fun and sometimes frustrating puzzle of how much to put in the cart that would then fit in the trailer and panniers.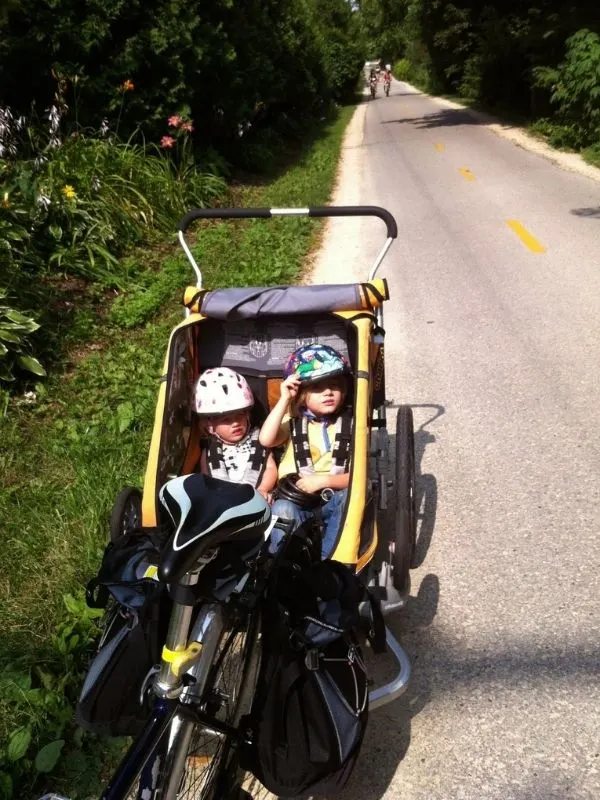 Public transportation and kids
But what about times when biking isn't feasible, and you have no car? We have often relied on public transportation to get around our cities when the weather is questionable, or the bike route will be unsafe or too long. Again, the public transportation infrastructure has varied quite a bit in ease of use and quality, but we have regularly ridden the bus in every city we've lived in.
One thing I love about public transport is you get a feel for the city and its residents in a way you don't when you drive from place to place in a car. And although it can be frustrating when you are running late, miss a bus, a stop is closed due to construction (all have happened to us in the past week!), I think the inconvenience can develop character in kids as they learn that life is not always smooth and easy.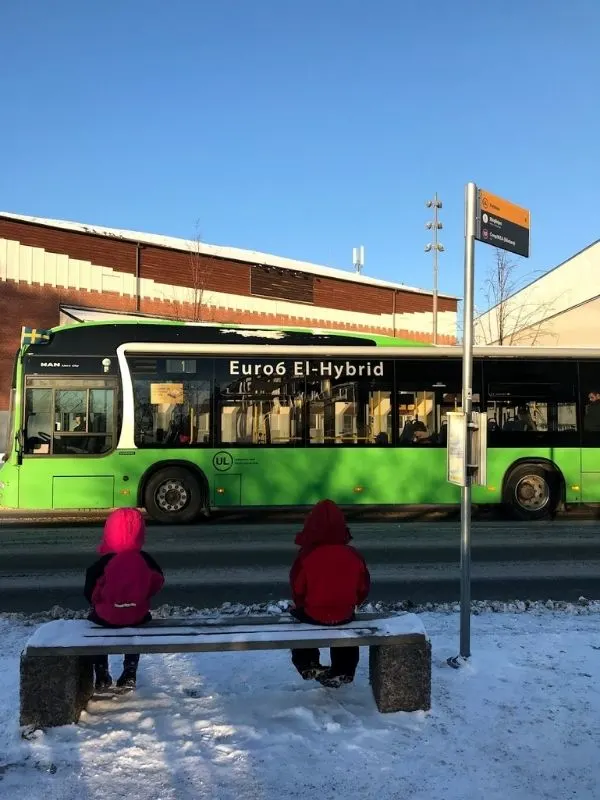 When you ride a bus, just like with cycling, you must pay attention to the weather and dress accordingly since you may be sitting at a stop for a while, which helps kids to be in tune with nature and its rhythms.
Having these small, micro-adventures outdoors walking to the bus stop and then on to our destination gets kids "outside" during the daily routine where otherwise they might go from garaged car to indoor building back to home without the movement or spending much time outdoors.
Car-sharing with kids
Another option that we have occasionally relied on when car-free is car-sharing. This has looked like car-pooling with friends to a group camping trip, riding together with a neighbor for a grocery store or Costco run (which is so much more fun to do as a socializing event!), or even using car-sharing services like ZipCar.
One thing we have found to make these car-sharing rides a bit easier is a lightweight car seat that installs quickly and easily and has a low-profile. One newer option is the Pico Portable car seat, a true "travel" option, weighing just 8 lbs and easy to carry when folded.
But if you are only using occasionally and don't want to spend so much, we have had good luck with Cosco, Graco, or Evenflo seats, which are typically lightweight enough to carry to and from cars and usually not too difficult to install quickly. For older kids, we have used the MiFold booster seat, which also comes in a high-back option (the HiFold) as well.
Exploring beyond the city
Bikepacking
Bikepacking, or bike touring, is become increasingly popular in the U.S., especially in spots with infrastructure like rail trails that extend a city's safe-biking distance further out to areas where hiking or camping is possible.
While we have never felt like official bikepackers since we usually do not venture so far from home, we have loaded up a trailer or cargo bike with camping gear and ridden out to spots outside the city to camp. This was especially the case when we lived for two years in Sweden, where allemansrätten [translated as the Right to Public Access, or even the Freedom to Roam], means that anyone can bike, hike, camp, walk, or ski on any land (public or private), as long as you do not get too close to a dwelling or disturb agricultural land or animals.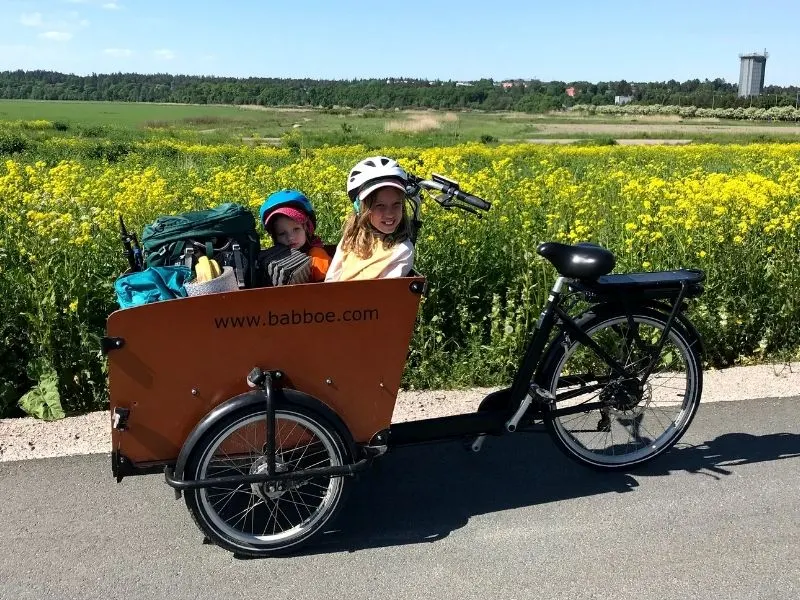 Although we lived in the middle of a city with no car, we could throw our gear in our cargo bike, bike outside the city, hike for a bit, and set up for a night of camping in any surrounding forest – there are sometimes even firepits out in the forests where wood is flown in via helicopter, amazing after a cold or rainy day of backpacking!
While Sweden is dreamy, but you don't have to move across the Atlantic to explore nature by bike. There are quite a few existing rail trails from the East Coast to the West and in many Midwestern spots in between. What's great about bikepacking is once you have a decent backpacking set-up and bikes, you don't necessarily need a lot of "new" or expensive equipment to take on a new family hobby.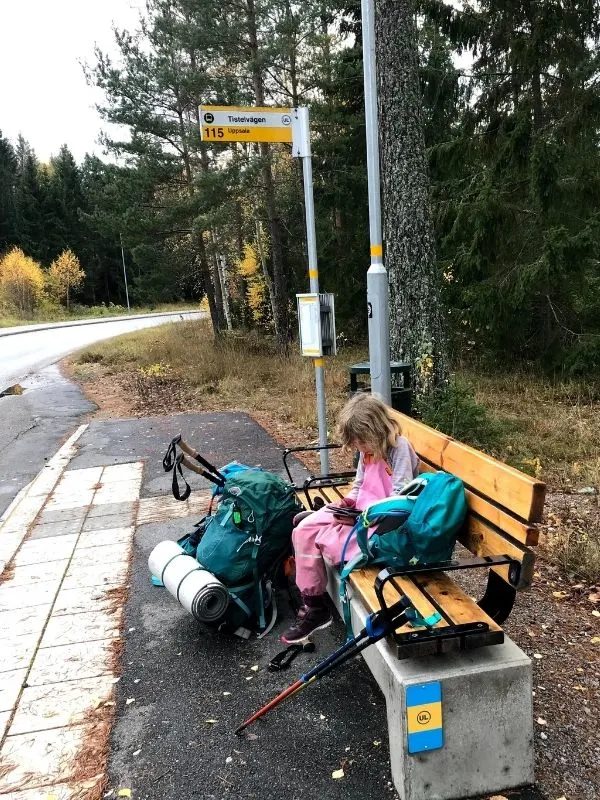 Living Car-Free with Kids
While not always the easiest option, being car-free (or at least car-lite!) with kids does have benefits and allows you to slow down a bit and focus on the journey as much as the destination. It opens up possibilities for microadventures and outdoors time in day-to-day life.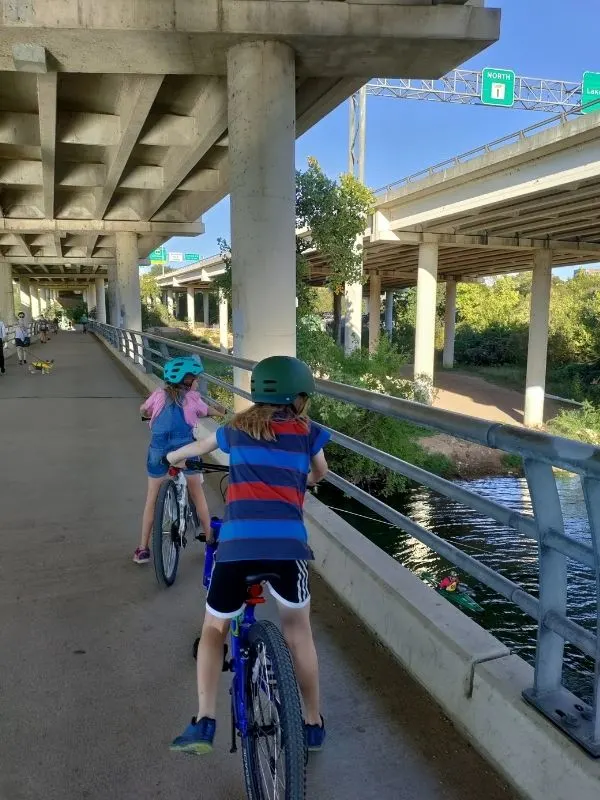 Even as an adventurous family, you can get out of the city and explore the outdoors by bike. The opening up of new rail trails to connect cities to outdoor spaces creates safe cycling routes that you can take to a camping or hiking trip.
If you aren't able to give up your car (most American families aren't, for very good reasons!), try to think about how you can choose to bike, take public transport, or carpool more often. While a bit more logistically complicated, not relying on a car to get places can lead to new ways of experiencing both nature and your community.
Related Articles:
Car-Free Life as an Outdoors Family
© 2021, Kids Ride Bikes. All rights reserved. Republication, in part or entirety, requires a link back to this original post and permission from the author.