Woom 1 Plus Review
Many balance bikes are offered with a 12-inch wheelbase. This works well for most young riders, but not all. Often children outgrow their bike before they want to ride a pedal bike. Additionally, some three-year-olds are already too big for a 12-inch wheelbase and would be less cramped on a larger frame.
Enter the Woom 1 Plus. Woom 1 Plus is a slightly larger balance bike built for young riders who fit a 14-inch wheel size. For these kids, usually between the ages of 3 and 5, Woom 1 Plus offers an awesome riding experience. An experience enhanced by this lightweight bike's many thoughtful, child-specific design features.
As an Amazon Associate and member of other affiliate programs, we earn from qualifying purchases.
The Basic Stats
14″ wheel size
9.5 lbs
Saddle height: 14.8″ to 18.5 "
Stand-over height 13.4″
Feather light SOOPA DOOPA HOOPS aluminum rims
Light and durable aluminum frame
Pre-installed kickstand
Low seat for easy mounting and dismounting
19 mm diameter handlebar grip for a child's hands
Surfboard footrest for coasting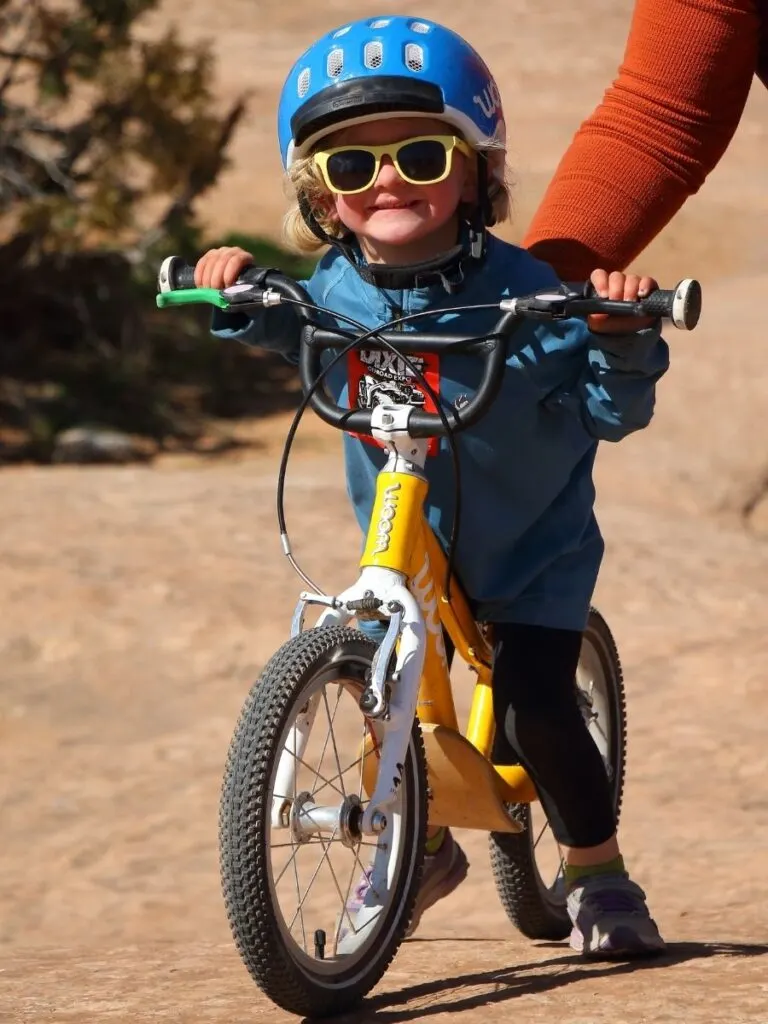 If your new rider has outgrown his 12-inch balance bike but still loves to coast, your child will probably love the Woom 1 Plus. (If you think your child is ready for a pedal bike, check out our reviews here.)
Or if your three-year-old biker is growing rapidly but doesn't have a balance bike, the Woom 1 Plus can be a great first bike.
In our experience, Woom 1 Plus works perfectly for the recommended ages 3 to 4.5 years old. Amelia has tested this bike on several kids under 3 years of age. While these young riders can push the bike along, they struggle to control the larger bike.
Kids older than 5 are often starting to ride with pedals and may be less interested in a balance bike — but not always. Amelia's petite 7-year-old has been known to sneak a few joy-filled rides on the Woom 1 Plus.
Why We Love the Woom 1 Plus
Geometry Built for Kids
Many children's bikes are designed without considering the child riding the bike. Not so with the Woom 1 Plus. Nearly every detail in this bike's design is engineered for a child.
The upright geometry helps a beginning biker feel safer and more confident. Its low entry and seating position help kids learn how to mount and dismount from their bikes without fear of toppling.
Wide handlebars help kids balance more naturally, and the small handgrips fit comfortably.
Handbrakes For Safe Stopping
Handbrakes make the balance bike safer and a better learning platform for young riders. Small enough for tiny hands, kids can easily squeeze the brakes to stop the bike. By learning to use a handbrake early, kids can skip the coaster brakes (which is much safer).
The handbrakes are color-coded. The right green handbrake controls the rear wheel, which can help slow the bike down. The left red handbrake controls the front brake — and gives you a more dramatic stop.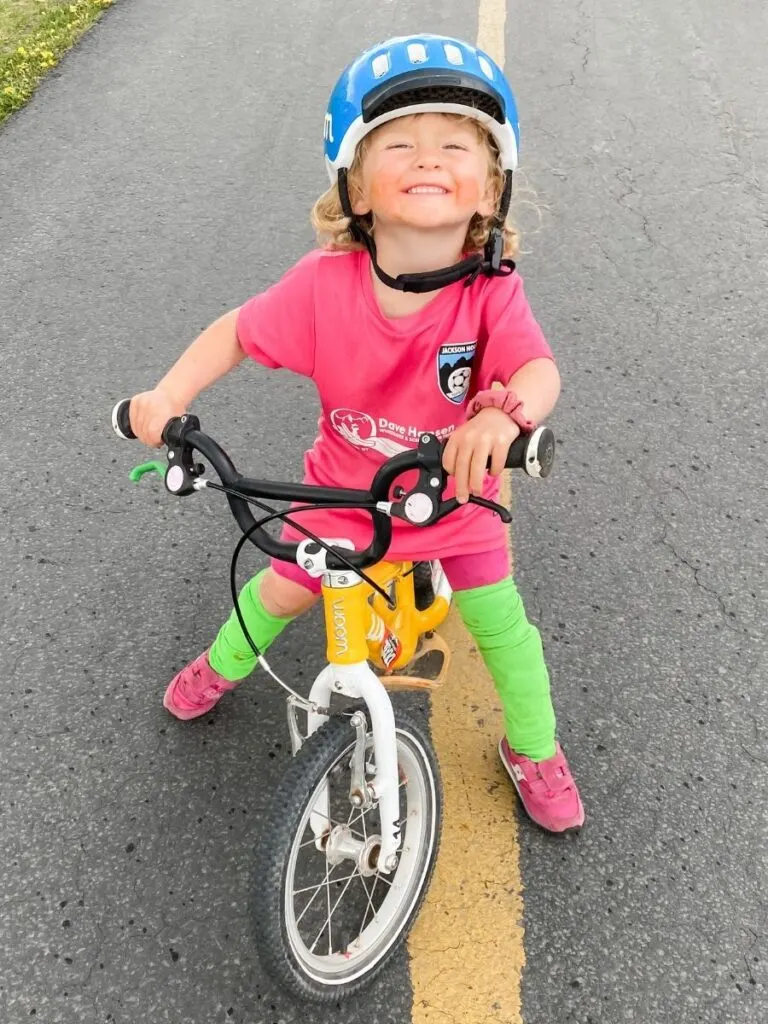 Thoughtful Design
The Woom 1 Plus has several thoughtful structural additions that improve a child's riding experience.
Steering Stabilizer
The rubber, detachable steering stabilizer helps kids ride in a straight line. It prevents excessive wheel turning and keeps kids from crashing.
Lightweight Frame
Woom 1 Plus has an ultralight frame that makes biking easier to master. It's also easier for parents to load or carry when not in use.
Surfboard Footrest
For Amelia's kids, their favorite feature is the surfboard footrest. They love having a place for their feet to rest as they glide.
Quick-Release Seat Clamp
Another feature well-loved in Amelia's house is the quick-release seat clamp. This clamp allows the bike seat to be rapidly adjusted for different riders.
Tires that Can Handle Most Conditions
The Woom 1 Plus comes with all-terrain tires. These tires can roll as well on dirt paths as they do on the pavement — allowing kids to explore riding on different surfaces.
What We Would Change About the Woom 1 Plus
What would we change? Very little.
The surfboard footrest is probably too wide for smaller 3-year-olds. However, Amelia's kids prefer the wider rest because they can comfortably fit their whole shoe on the footrest.
Finally, the Woom 1 Plus is pricey. In our opinion, this bike's quality makes it worth every penny, but some families may find it unaffordable.
For families concerned about the price, Woom offers an upCycling program. This program gives members 40% off a new bike in exchange for their old bike.
Comparing the Woom 1 Plus to Other Balance Bikes
The Bottom Line
The Woom 1 Plus is a sturdy bike with a kid-specific design. Like its little brother, the Woom 1, Woom 1 Plus makes biking easy and fun to learn.
If your child is large enough to be wearing 3T pants, then we recommend starting his or her biking journey with the Woom 1 Plus rather than the Woom 1.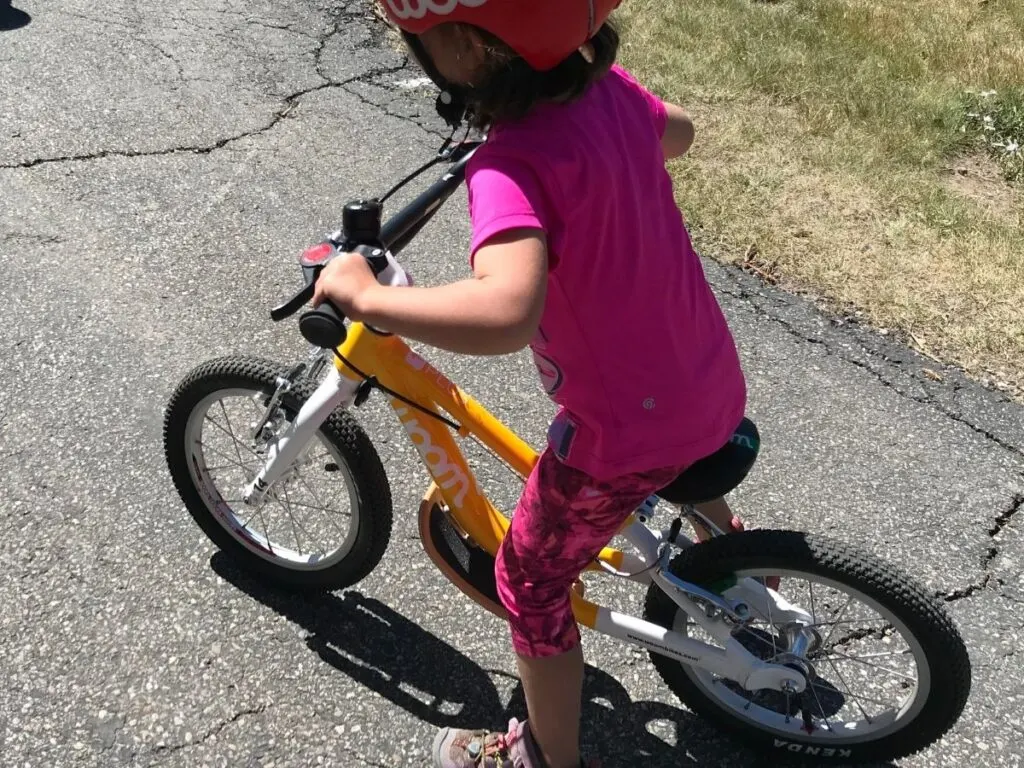 Related Articles:
Woom 1 Plus Review
© 2021, Kids Ride Bikes. All rights reserved. Republication, in part or entirety, requires a link back to this original post and permission from the author.