Bike Gloves for Kids
If you've ever tended to your kiddo's scraped palms or knuckles after a tumble, you know what a pain it is (both literally and figuratively). Band-aids won't stay on, hands are impossible to keep clean, and wounds seem to take an eternity to heal. As a mom, these are some of my least favorite injuries to treat and to have.
If you've ever taught a kid to ride a bike, you know that falling is inevitable. In fact, it's part of the process! It's how kids learn balance and make progress, and it's a messy business.
For more tips on helping kids who are having a hard time learning to bike, check out Sarah's post: Help! My Child is Struggling to Pedal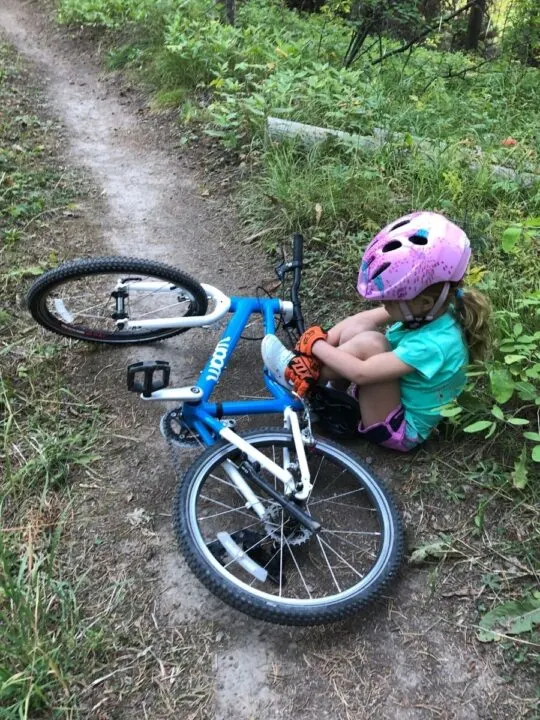 There is no way to keep falls from happening, but there are ways to mitigate some of the damage that can result when they do.
Why Kids Bike Gloves?
If there is one piece of gear (besides a helmet) that I encourage any biker – kid or adult – to invest in, it's a pair of bike gloves. Kids bike gloves provide so much bang for your buck, and there are lots of options out there to accommodate the kind of riding you do as a family.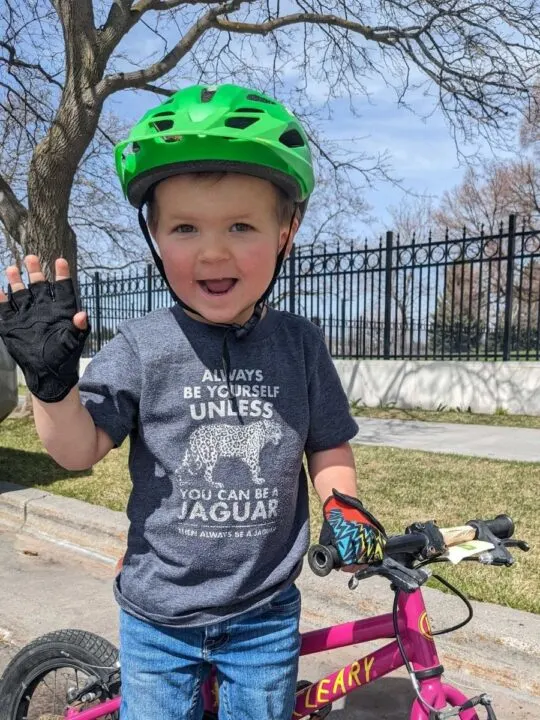 Toddler bike gloves are critical for helping tiny hands get a decent grip on handlebars as they are learning to steer and also for protecting tender skin in a crash.
"Gloves are an essential part of our safety kit. They go right next to sunscreen in my book. Bloody hands are totally preventable."

TMM Team Member Jen Gardner
Kids mountain bike gloves can offer extra knuckle protection, palm padding, and grip on brake levers as skill levels increase and terrain gets trickier.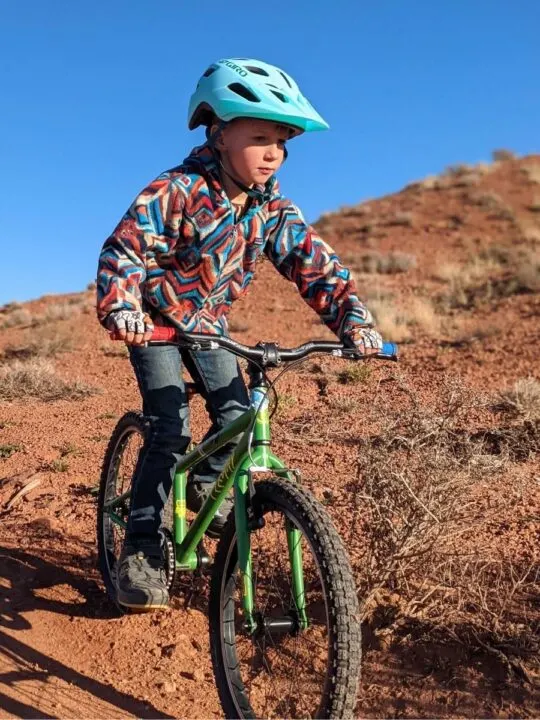 If you have a reluctant rider, youth cycling gloves can add some fun flair to the biking experience that helps get them stoked to keep at it even when they're struggling or frustrated.
And for chillier shoulder season and winter rides, the added warmth of a good pair of kids bike gloves can be an absolute game changer.
Let's break it down a bit more in case you're not convinced! Here are a few of the main reasons why we believe children's cycling gloves are a valuable investment for all ages and types of riders.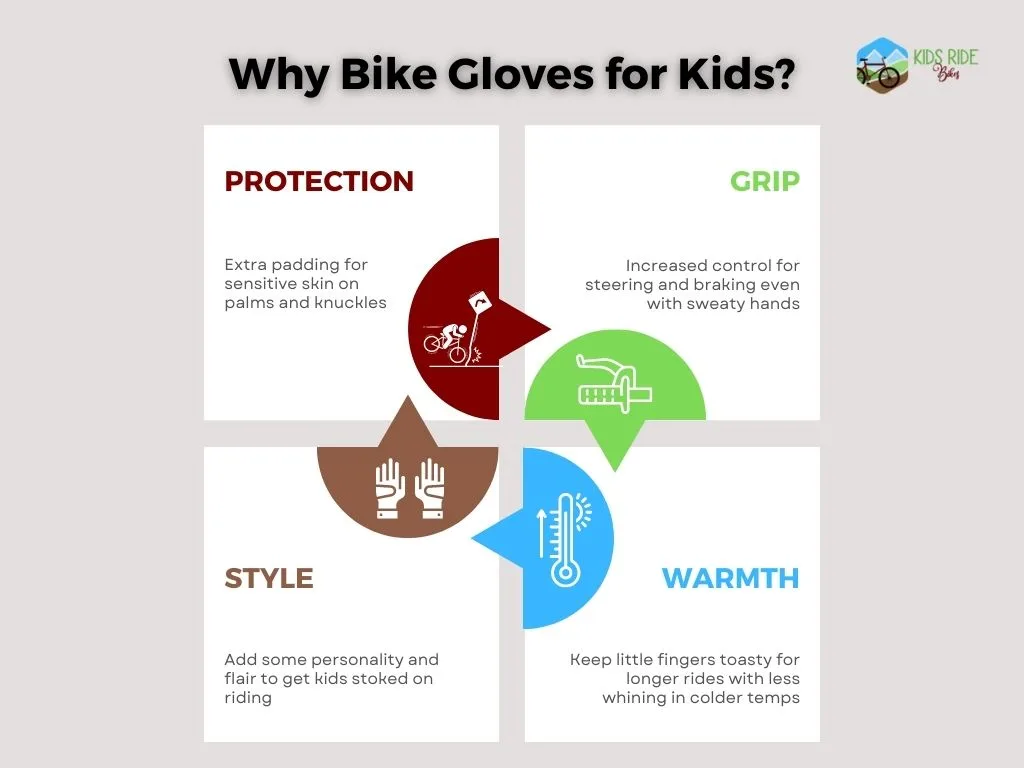 Protection
This is obviously a huge factor for parents. When kids start taking off on two wheels, things can get wild and wobbly!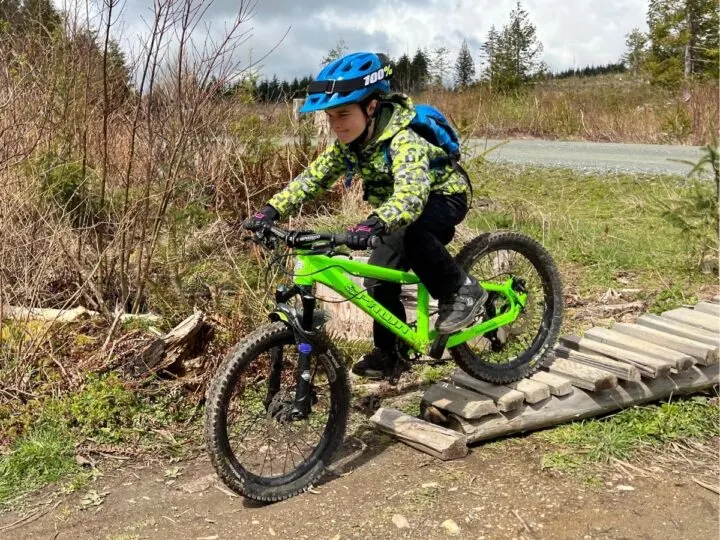 As hard as we try to teach kids NOT to use their hands to break their fall in the event of a crash, the chance of knuckle and palm scrapes is still pretty high if they're out of control. Any extra buffer between skin and pavement is going to mitigate some of the pain and suffering for them.
If your kiddos are more advanced riders or primarily riding singletrack trails, gloves also provide a necessary layer between little hands and stray branches, rocks, trees, or blackberry brambles.
We're strong believers in helmets as a non-negotiable safety item any time kids are on bikes. If you're struggling to get your child to wear a helmet, we have a whole post to help you problem-solve!
Grip
Another huge benefit of youth bike gloves is the added grip they provide on both handlebars and brake levers. Sweaty hands are slippery hands, so if kids are riding super hard or riding in hotter weather it can get tricky to maintain control of steering and brakes.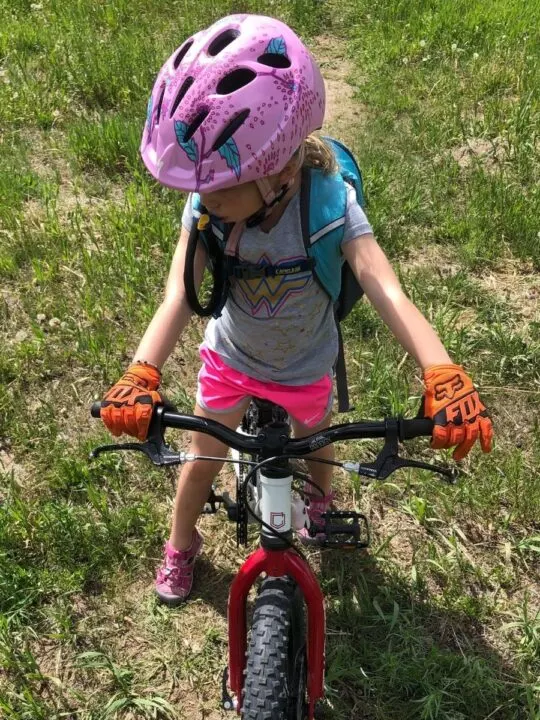 More bike companies are putting hand brakes on their entry-level pedal bikes (and even some balance bikes!), so full-finger bike gloves with extra stickiness on the braking fingers are game-changing for helping little hands maintain control.
Bigger kids will find that increased speed and more advanced terrain necessitate increased braking control as well. Personally, any time I forget to wear gloves on a ride I notice the difference right away!
Style
This might seem like a silly one, but never underestimate the power of unicorns, silly monsters, or bright colors to convince a reluctant rider that maybe biking isn't so bad! Any time a piece of safety equipment can double as part of the fun, it's a huge win for everyone.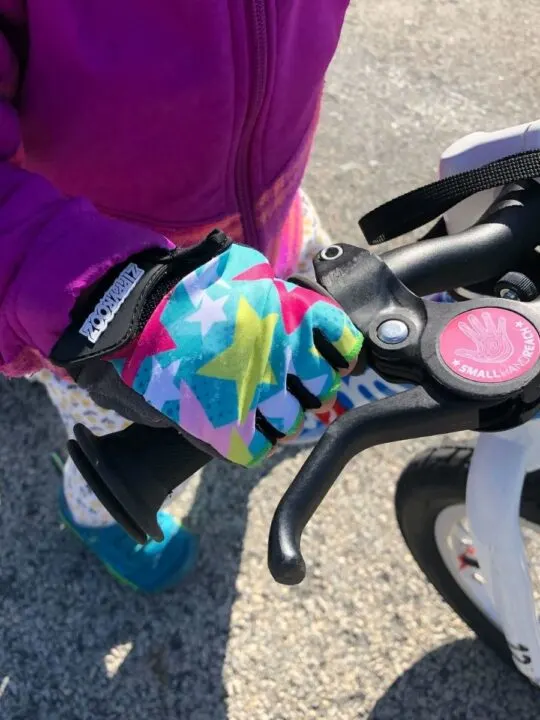 Our kids help choose the designs or colors of their gloves when we buy them, and it makes them so much more excited about putting them on and keeping them on while we're riding.
Warmth
If you've ever tried to bike with kids in cooler weather, you probably know the dreaded phrase: I CAN'T BIKE ANYMORE BECAUSE MY HANDS ARE FROZEN!!! Most regular gloves and mittens don't provide the needed grip and finger dexterity for kids to maintain control of their bikes, which only adds to the frustration.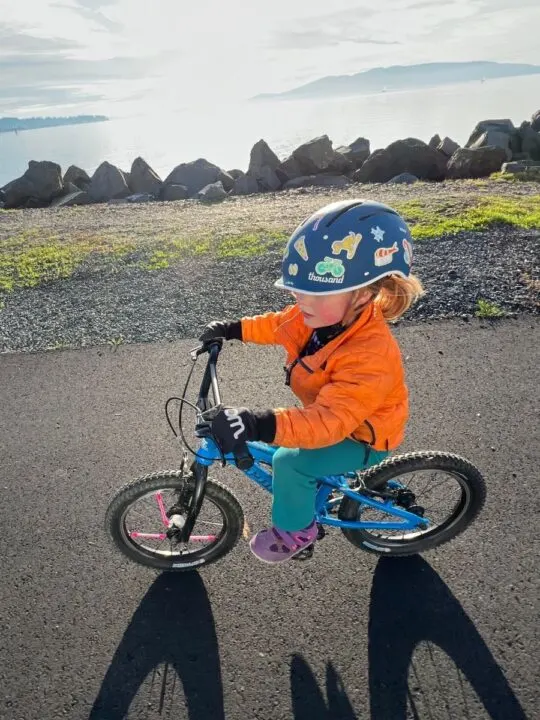 Youth cycling gloves provide a range of protection from the elements, and most will at least take the edge off of a chilly fall morning ride. There are also some more specialized bike gloves that are thicker and insulated while still allowing for excellent hand control and brake grip.
What to Look for in Kids Bike Gloves
Sizing
If you have the opportunity to let your kiddo try on a few different pairs of gloves, that is obviously ideal. Hands come in all shapes and sizes, and a glove that is too big or too small can be more of a hindrance than a help.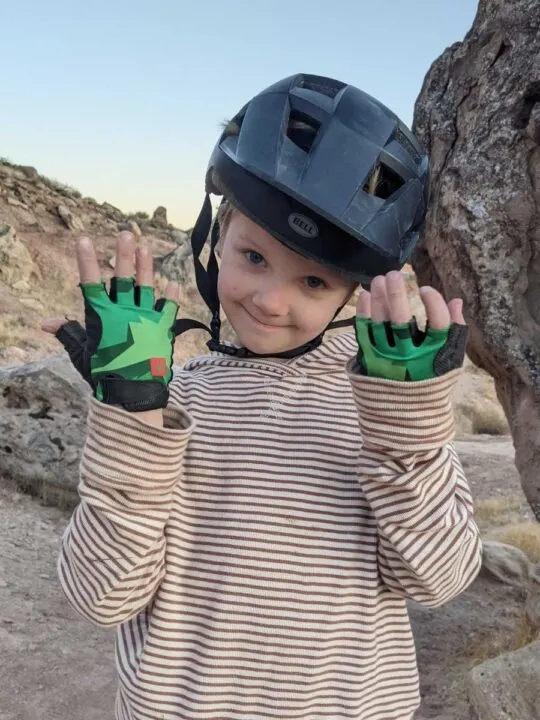 At the very least, make sure to check the manufacturer's size chart, as sizing can very widely between brands. Glove sizing typically involves measuring either the circumference of the widest part of the palm or the length from the base of the palm to the tip of the middle finger.
Full-Finger vs Half-Finger
If you're raising a little mountain biker, or just a daredevil biker who is always looking for obstacles to conquer, you will most likely want the maximum coverage of a full-finger kids mountain bike glove. Full-finger gloves can be a bit harder to get on and off of small hands, but it's worth it if they are riding hard.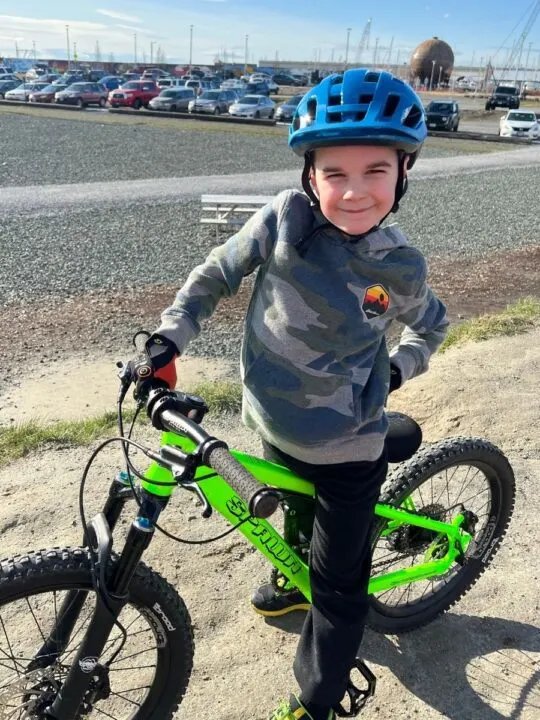 For cruising around the neighborhood, commuting, or toddlers just starting out, you may prefer the increased dexterity and easier on/off of half-finger gloves. Again, it's super helpful to try some on before buying to see how they feel to your kiddo.
Material
Hands, especially small ones, can be very sensitive to the feel of different types of fabric. Most youth bike gloves have a more flexible, stretchy material on the back of the hand and a more burly, slightly stiffer palm fabric.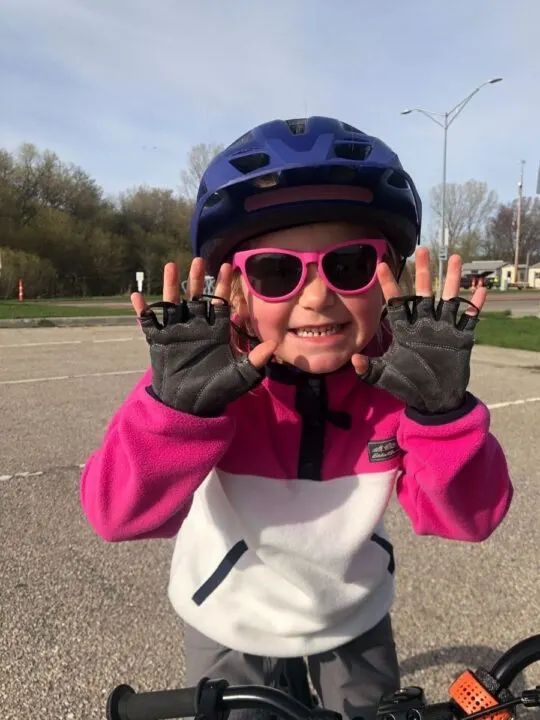 You want to find a nice balance between comfort, dexterity, breathability, and durability. Also check to see whether or not they are machine washable, because gloves have a tendency to get stinky quickly!
Wrist Closure
Most kids bike gloves have some type of hook-and-loop wrist closure, but these are not all created equal. Consider how important it is for your kiddo to be able to put gloves on and take them off independently, and keep in mind how you can minimize frustration.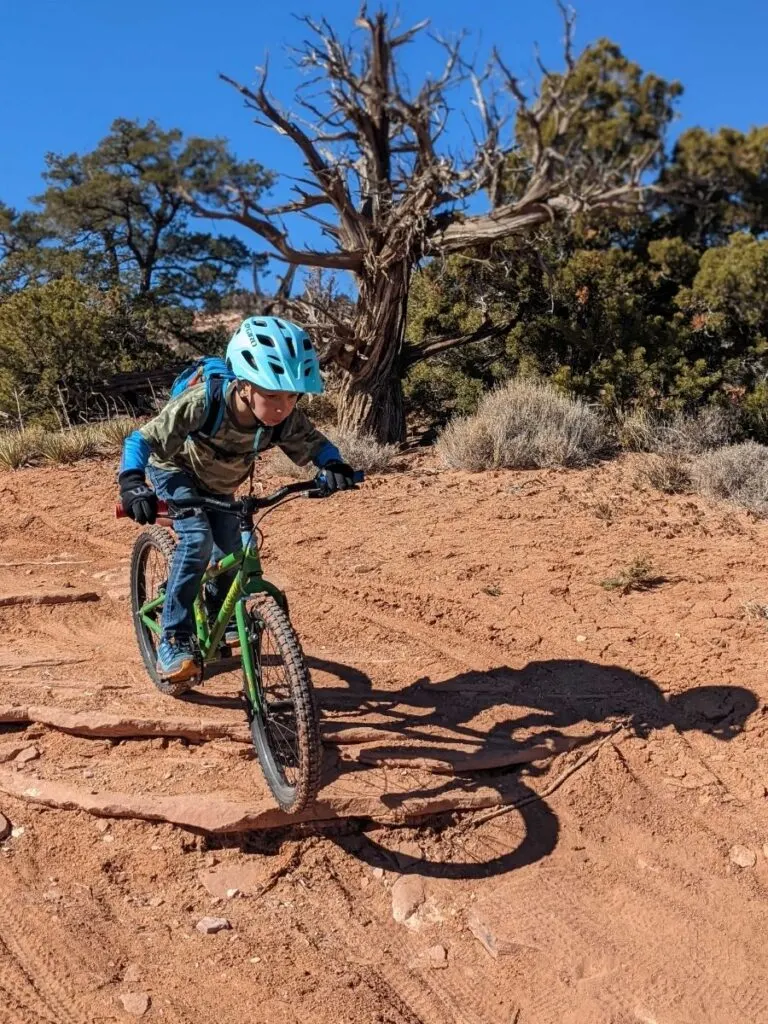 If hook-and-loop isn't your preference, there are a few options out there with neoprene or fabric cuffs. Just keep in mind that those are less adjustable and harder to get on and off.
As an Amazon Associate and member of other affiliate programs, we earn from qualifying purchases.
Full-Finger Gloves for Kids
For maximum protection and grip, or for budding mountain bikers who want to look the part, a full-finger glove is going to be your best bet. These gloves will typically have some type of raised grip on braking fingers, and provide fingertip coverage in the case of a crash.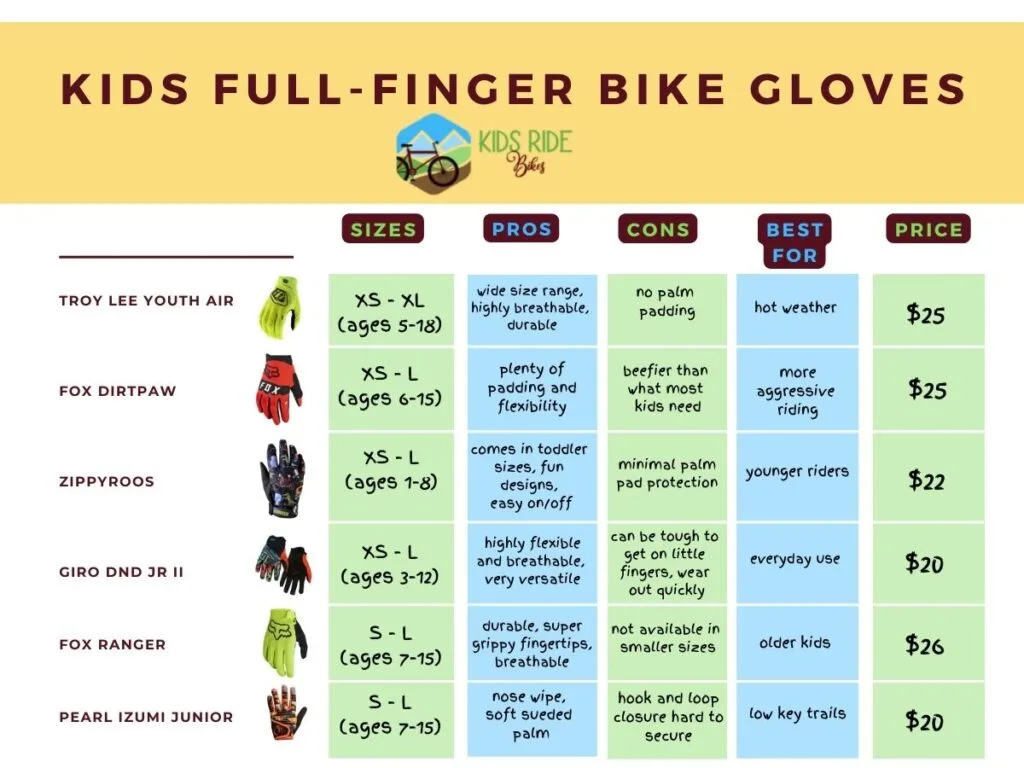 Best Youth Mountain Bike Glove for Hot Weather: Troy Lee Youth Air
The Troy Lee Youth Air gloves are well-made and surprisingly durable for such a lightweight and well-ventilated option, perfect for hot weather summer riding. They have a minimalist feel, so if your kiddo doesn't like bulky fabric on their hands this would be a great choice.
Where to buy: Backcountry (MSRP $25)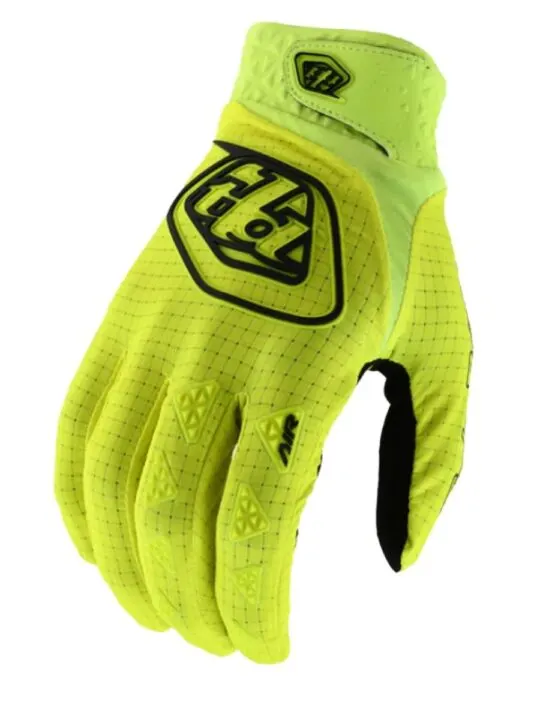 Best Kids Mountain Bike Gloves for Aggressive Riding: Fox Dirtpaw
For more aggressive riders, the Fox Dirtpaw offers solid levels of palm and knuckle protection while maintaining excellent breathability. Touchscreen compatible fingertips also help with brake grip, making this an excellent glove for hard-charging little rippers.
Where to buy: Backcountry (MSRP $25)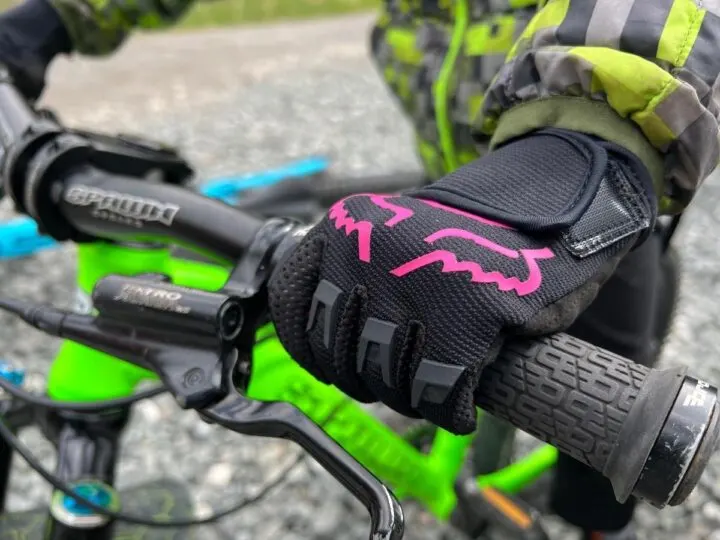 Best Kids Bike Gloves for Toddlers: ZippyRoos
If you have a younger kiddo who needs some convincing to wear bike gloves, ZippyRoos to the rescue! These gloves come in smaller sizes and plenty of FUN designs that appeal to little personalities. They also come with a soft nose wipe on the thumb – a key feature for toddlers.
Where to buy: Amazon (MSRP $22)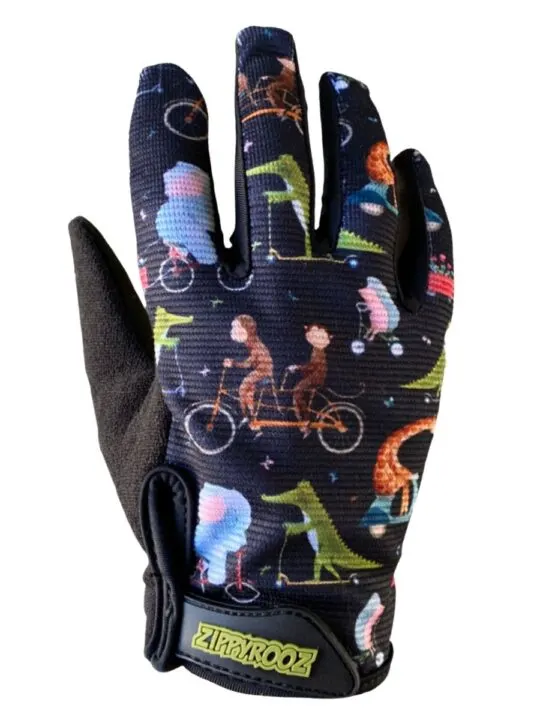 Most Versatile Kids Cycling Gloves: Giro DND Jr II
The Giro DND Jr II is our favorite go-to everyday kids bike glove. These are the gloves we keep stashed in helmets for rides to the park, around the neighborhood, or on the pump track.
They have enough padding and protection to perform well in a variety of situations and conditions, and are super easy for kids to get on and off independently. They also come in small sizes for younger kiddos!
Where to buy: Ready Set Pedal (MSRP $20)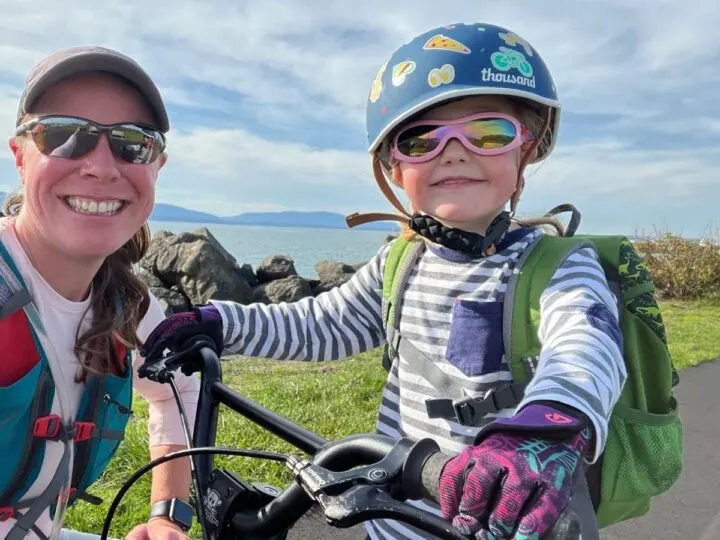 Best All-Around Youth Mountain Bike Gloves for Older Kids: Fox Ranger
A classic MTB workhorse, the Fox Ranger is tough to beat for regular trail riders. Fox has made a name for itself in the biking world for high quality riding and protective gear, and the Fox Ranger youth gloves are no exception.
The fabric is thick enough to provide top-notch protection and durability without being too stiff for smaller hands, and these gloves can withstand multiple seasons of hard riding.
Where to buy: Backcountry (MSRP $26)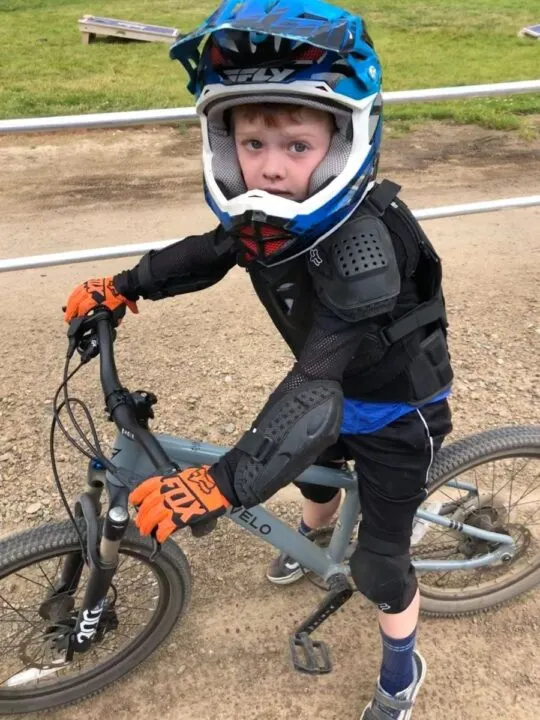 Best Kids Bike Gloves for Low Key Paths and Trails: Pearl Izumi Junior
Another excellent all-around glove is the Pearl Izumi Junior. These gloves run slightly large, so are a great choice for slightly older kids who are doing more everyday bike commuting and independent riding. A great budget pick with a nice low profile.
Where to buy: Ready Set Pedal (MSRP $20)
Half-Finger Gloves for Kids
If your kid is commuting to school, cruising the neighborhood, or doing less intense riding in general, you may want to go with a more minimal kids half-finger bike glove. These gloves still offer some palm protection and extra grip, but are more breathable and easier to get on and take off.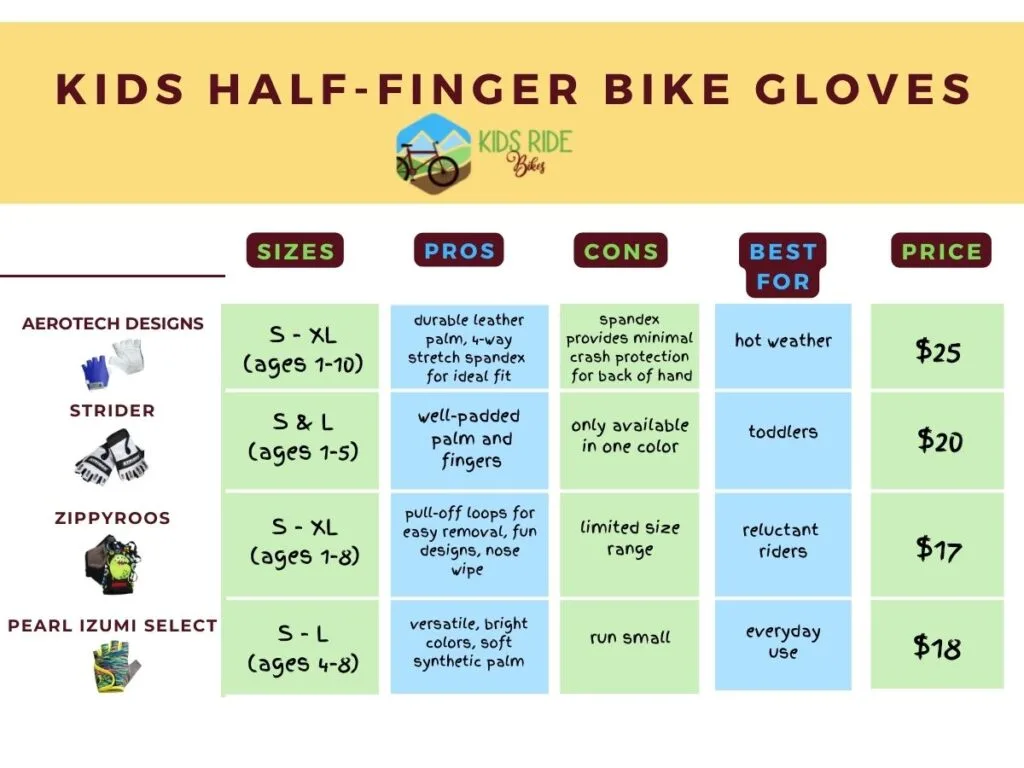 Best Half-Finger Youth Cycling Gloves for Hot Weather: Aerotech Designs
The Aerotech Designs half-finger gloves provide a great mix of durability and secure fit, and we love these gloves when the weather starts to get warmer and fingertips want to breathe.
The leather palm provides superior coverage against scrapes in that super sensitive area, while the spandex backing allows for flexibility and secure fit in a wide range of sizes.
Where to buy: Aerotech Designs (MSRP $25)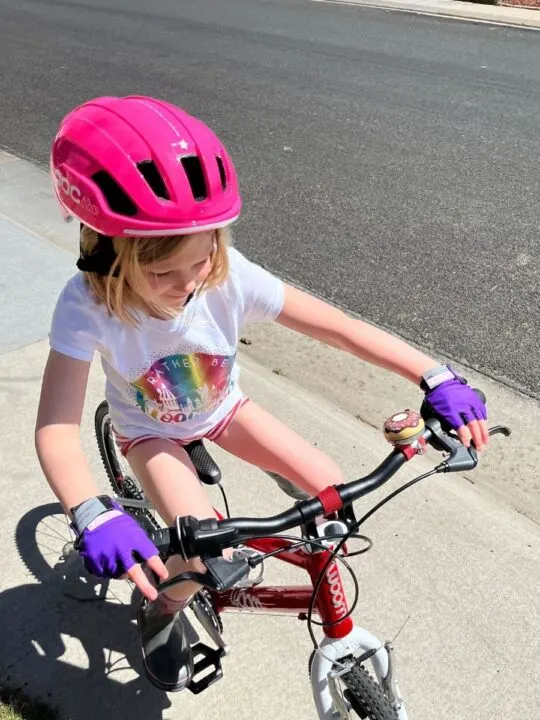 Best Kids Half-Finger Bike Gloves for Toddlers: Strider
Pioneers in the balance bike world, Strider also makes some great half-finger gloves for the littlest riders. These gloves are super simple and solid, with the added touch of extra knuckle protection and a nice wide hook-and-loop closure for easy on and off.
If you are wondering what the fuss is about balance bikes, read our full post on Balance Bikes vs. Training Wheels
For a half-finger glove, the Striders still provide an excellent amount of protection for toddlers.
Where to buy: Ready Set Pedal (MSRP $20)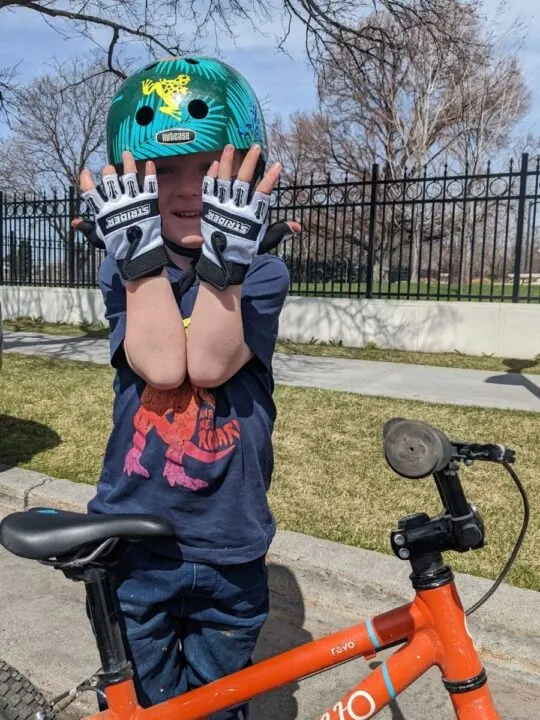 Best Kids Half-Finger Bike Gloves for Reluctant Riders: ZippyRoos
Not only do the ZippyRoos half-finger gloves come in super fun designs like their full-fingered siblings (unicorns! dinosaurs! monsters!), but they are a TMM parent favorite due to the simple genius of two pull loops at the end of the fingers to make the on/off process as painless as possible.
These fun, practical, well-designed gloves are a great choice for little kids who are skeptical about the idea of riding gloves.
Where to buy: Ready Set Pedal (MSRP $17)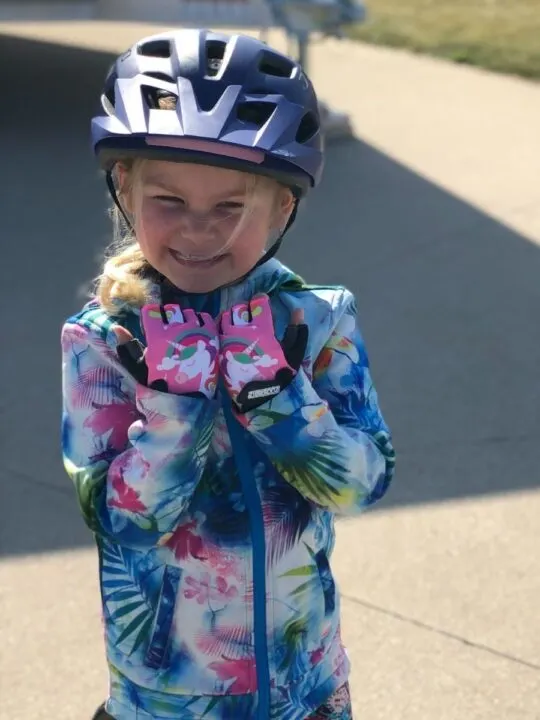 Best Youth Half-Finger Bike Gloves for Everyday Use: Pearl Izumi Kids Select
Another solid durable, versatile, low profile half finger option for kids biking gloves is the Pearl Izumi Select. Brightly colored and stretchy on the back, super soft and durable on the palm, these gloves are perfect for stashing in the helmet or bike bag for all kinds of summer riding.
Where to buy: Ready Set Pedal (MSRP $18)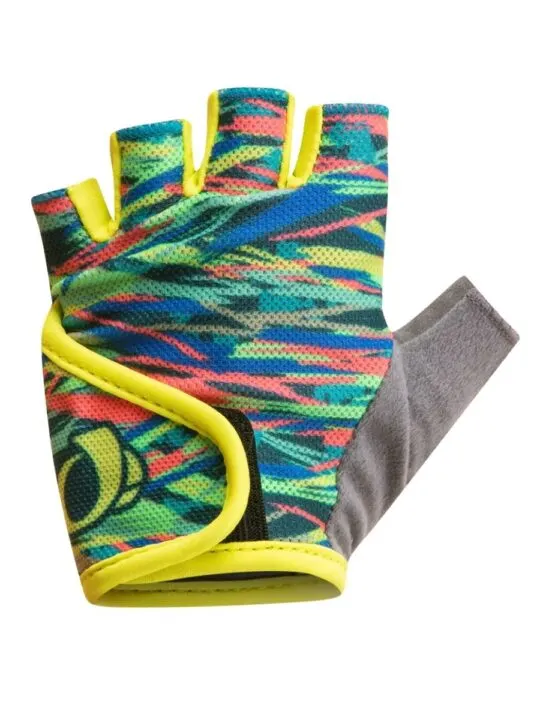 Cold Weather Biking Gloves for Kids
As you can see by this list, there aren't a whole lot of good options out there (yet!) for kids cold weather biking gloves. If you want to keep riding even when the weather isn't ideal, especially in cooler temps where hands tend to get chilly, a pair of these is definitely worth the investment.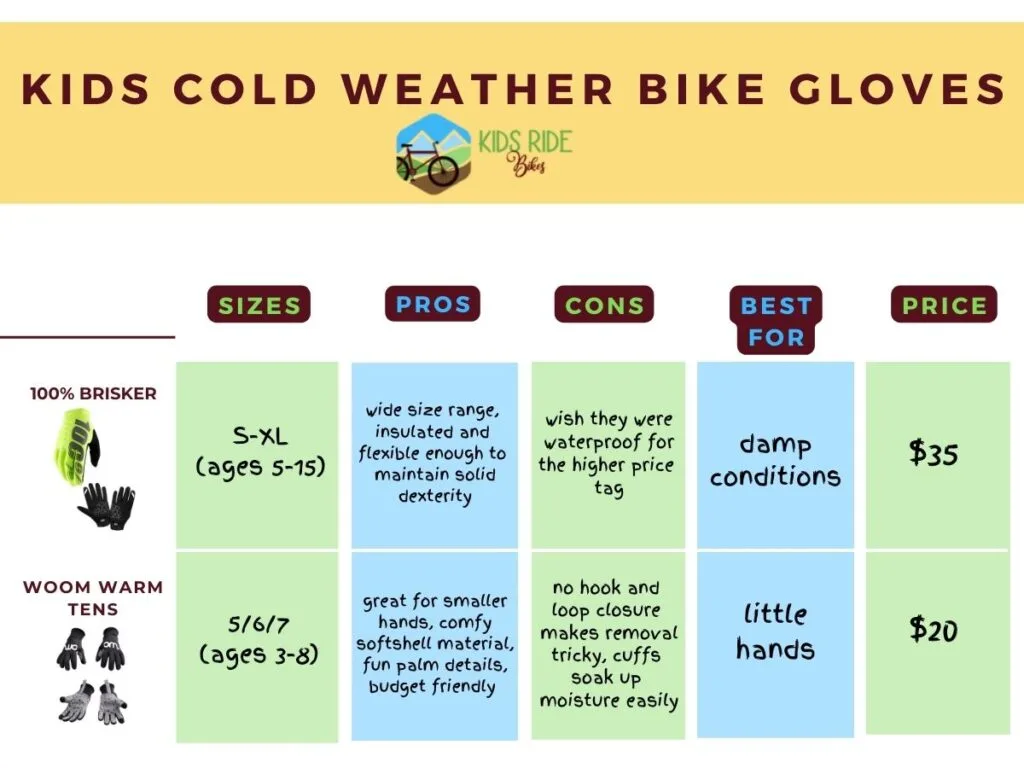 Best Cold Weather Kids Bike Gloves for Damp Conditions: 100% Brisker
The 100% Brisker provides just enough glove to keep hands happy in cooler, damper weather without adding too much bulk. The lightly insulated softshell exterior and moisture wicking interior help keep hands happier longer when the weather is less than ideal.
While these aren't going to provide enough warmth for freezing temps, most kids aren't itching to ride their bikes when it's truly that cold. If it's moderate enough to want to ride, these gloves will do the trick!
Where to buy: Amazon (MSRP $35)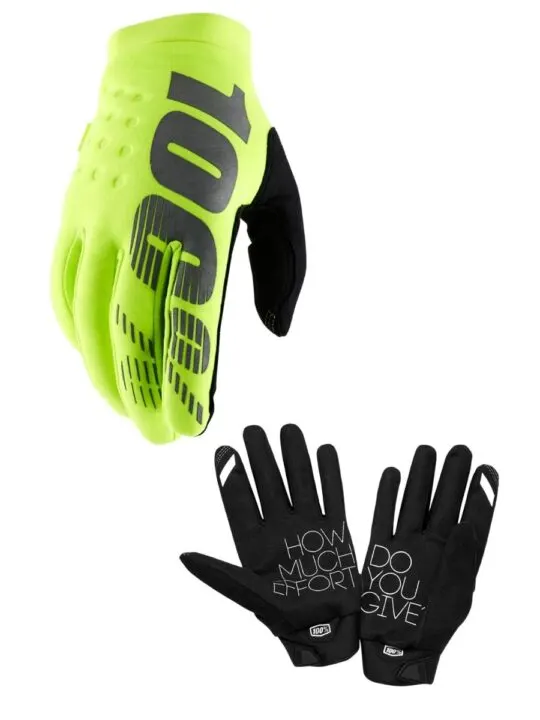 Best Cold Weather Kids Bike Gloves for Little Hands: Woom Warm Tens
For smaller hands and dry, cool temperatures the Woom Warm Tens are also a solid choice. The cuffs tend to get saturated easily in wet weather, but if it's not raining these gloves do a nice job of cutting wind and cold. The fun palm graphics help with grip, and the sizes work well for younger riders.
Where to buy: Woom (MSRP $20)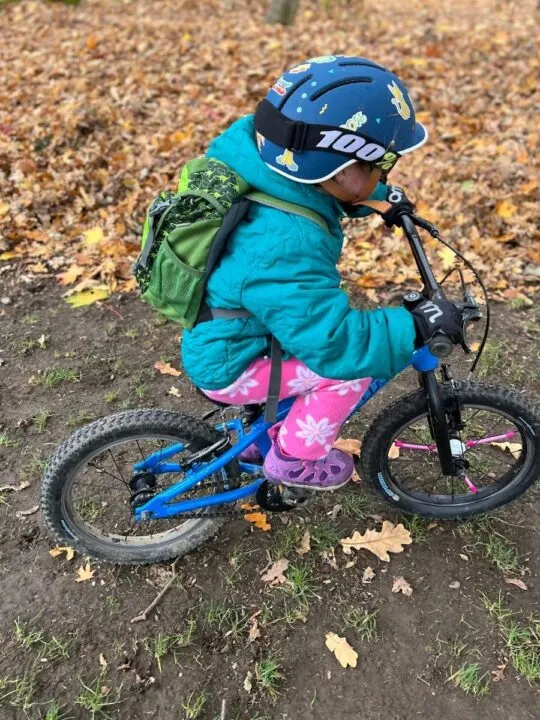 The Bottom Line
Bike gloves for kids are a relatively inexpensive tool to help keep kids moving, learning, progressing, and staying safe on two-wheeled adventures. They provide protection from scrapes, increased grip control, a little bit of style, and breathable warmth for sensitive hands and can help your family enjoy more time on bikes together! Definitely worth the investment.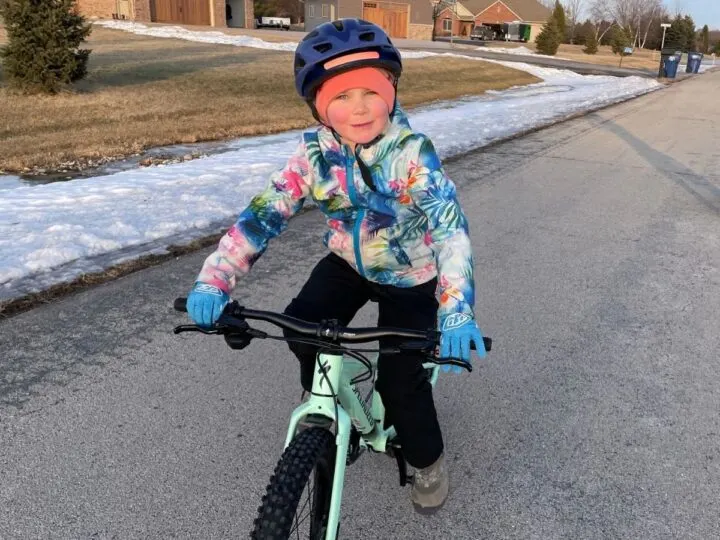 Related Articles:
Bike Gloves for Kids
© 2022, Kids Ride Bikes. All rights reserved. Republication, in part or entirety, requires a link back to this original post and permission from the author.