Woom Cycling Apparel for Kids Review
We have so enjoyed reviewing Woom's apparel and accessory line this summer. My girls have been wearing cycling kits almost everyday over the summer and every week during the shoulder seasons for about 5 years now. We've seen a huge increase in quality and options over the years.
We love our Woom bikes so I wasn't surprised my girls loved almost everything Woom sent us. Below I will lay out what we loved and what we hope will be improved upon. Woom has done a great job at already integrating our feedback into the design process.
Coming in hot in either red or black for $49.00, The PACE cycling jersey is a staple road jersey with all the necessary features to keep your rider comfortable.
My youngest picked out the red jersey to match our local club colors. She loves the breathable silky feeling of the polyester jersey against her skin and I love the long torso cut. The jersey fits really well and stays in place with anti-slip silicone waist.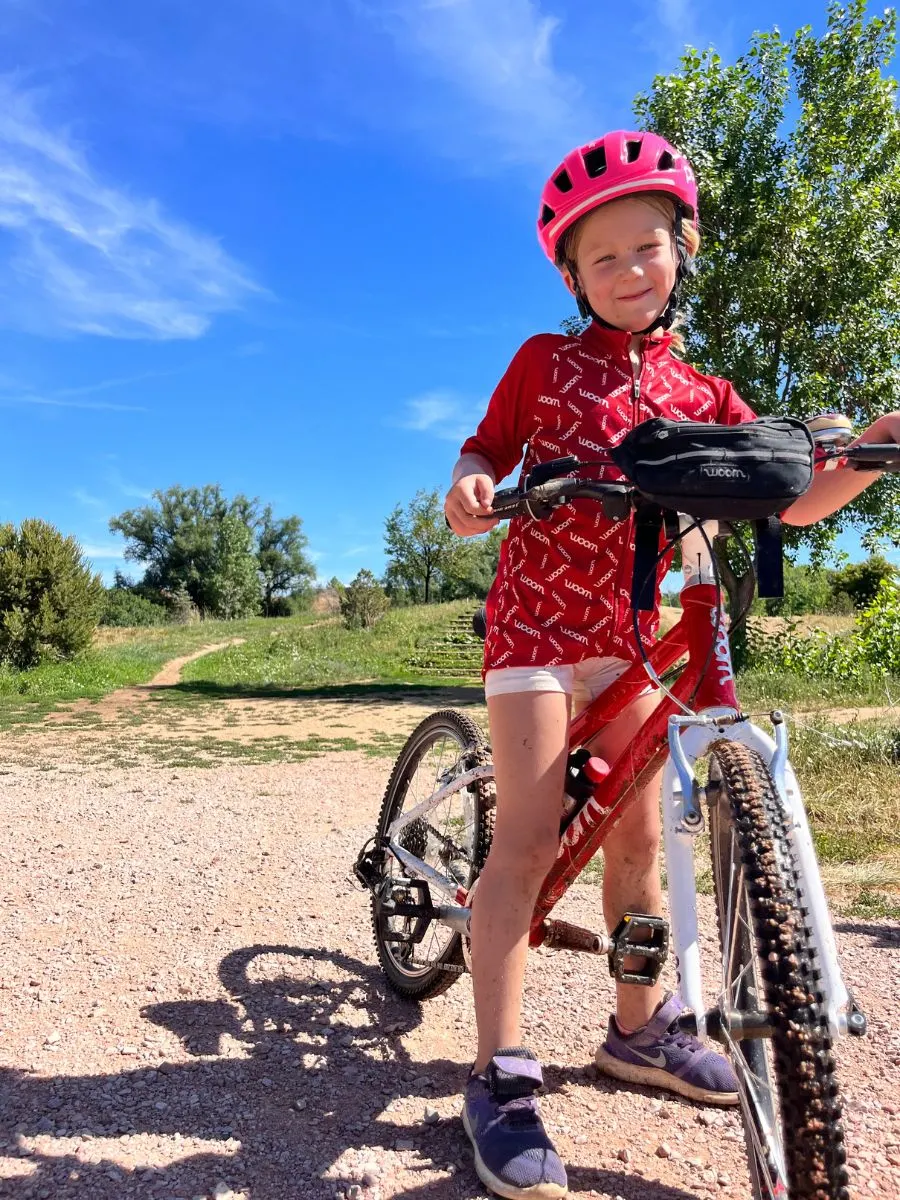 The pockets actually hold snacks and toys as they are deep and well built. She loves the full length zipper most which allows her to regulate her own body temperature while she moves around freely in the relaxed fit.
Most importantly, the jersey has washed really well and I look forward to having it as a steady option in her weekly rotation of kits. For reference she's 45lbs and about 50″ tall. She's wearing the 6-8 years (European sizes 120-130cm).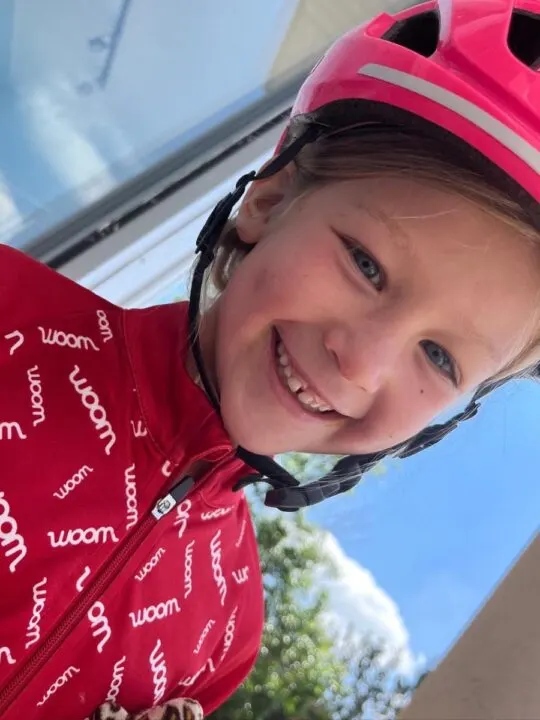 We love how the sizing runs from 4T-6 to an adult XL. Woom does a great job offering parents the opportunity to match their kiddos.
Woom's OFF mountain bike t-shirt retails for $49.00 and is a mix of both comfort and performance. The bamboo is both delightfully soft as well as breathable and anti-microbial. Sized generously, my daughter loves the relaxed fit.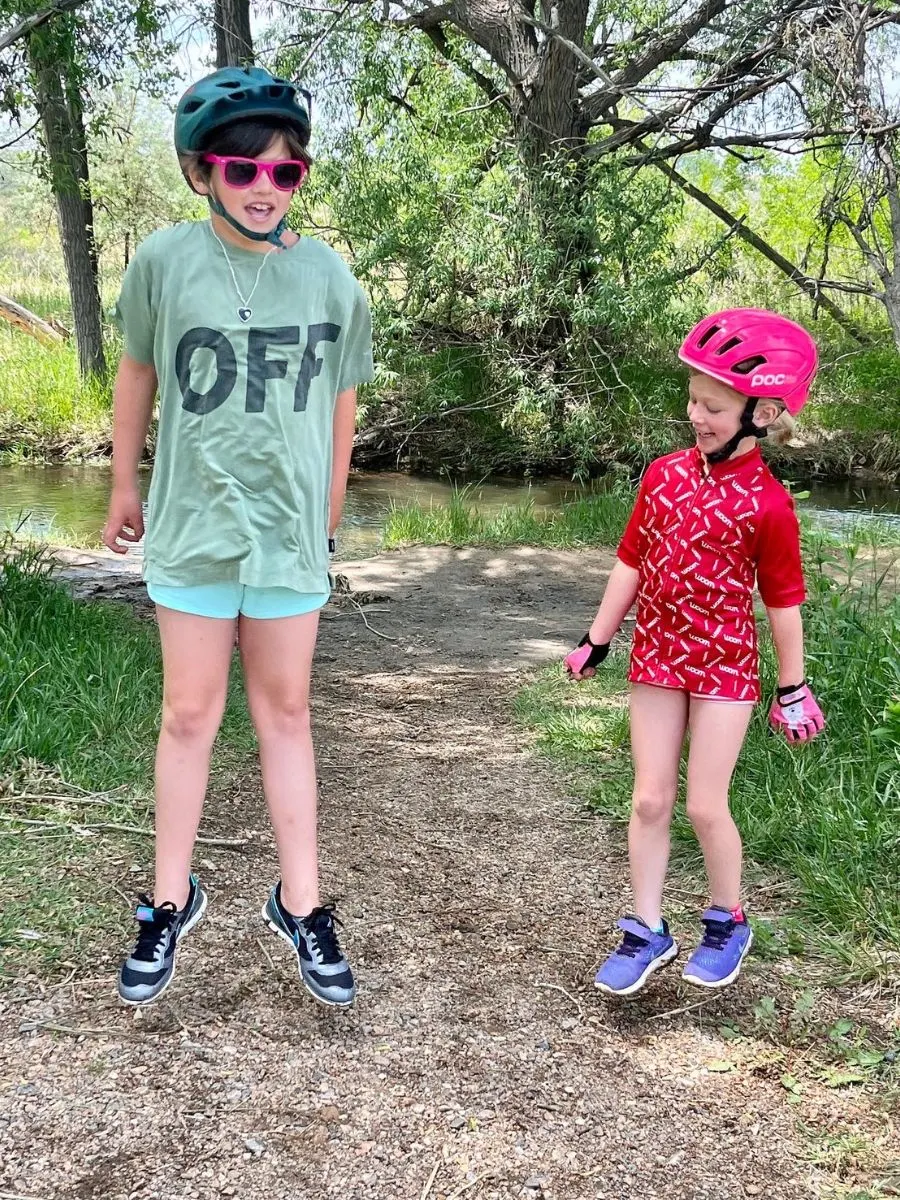 My eldest picked the OFF jersey which has a more mountain bike cut. This shirt is so lovely it's hard to get it OFF her! I wasn't crazy about the fade but the kid likes it. I would love to see a stamp instead of a thick tag and we both could do without the OFF wording across the chest.
We easily cut out the tag and sweet girl has taken to using the OFF to mean different things when kids ask, for example, "please get OFF my bike/nerves" or "I can't wait to take OFF."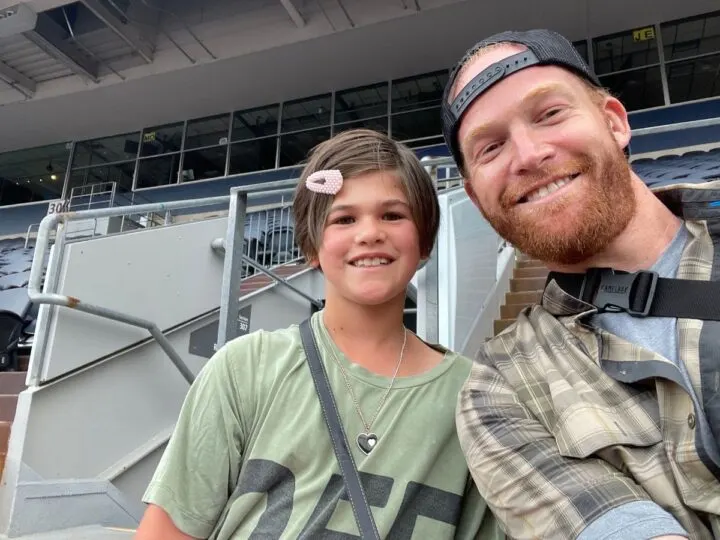 Sizes range from 8-10 to 14+ years old. Again, sizing is generous so downsize for a more fitted tee. My daughter is 60″ and 108lbs, she's wearing the 12-14 years (150-160cm). This size is loose on her but she likes it that way and I like room for growth.
*Be careful cycling clothing isn't too loose. Too much fabric is a recipe for disaster. The shirt is big but not long enough to get caught on the saddle.
Woom's OFF Longsleeve Jersey ($59) is a great mix of moisture-wicking and temperature regulating bamboo and mesh. Both my daughter and I loved the breathability, softness and loose fit of the OFF long sleeve shirt.
Wind resistant coating on the chest of the shirt allows for a rider to stay warm on the decent and cool on the climb. Reflective dots down the sides make sure your rider is seen on the trail as the sun sets on a another great ride.

We didn't get much chance to test the shirt to full capacity as it's been triple digits the last few weeks but I look forward to using this shirt much more during cyclocross season. Having a chest pocket for a quick gel will be great for long practices. More to come on this jersey!
The OFF long sleeve comes size 8-10 through 14+ (sizing is generous). The 12-14 fit both myself and my daughter, though it fits her arms much better.
The Woom OFF mountain bike shorts ($99) are cut loose with a snug fitting waistband with a removable inner liner to keep kids comfortable on long rides.
Carefully placed reflective mesh inserts for ventilation and water/wind resistant material keep body temps properly regulated as well as protected. The long cut allows for extra sun and abrasion protection.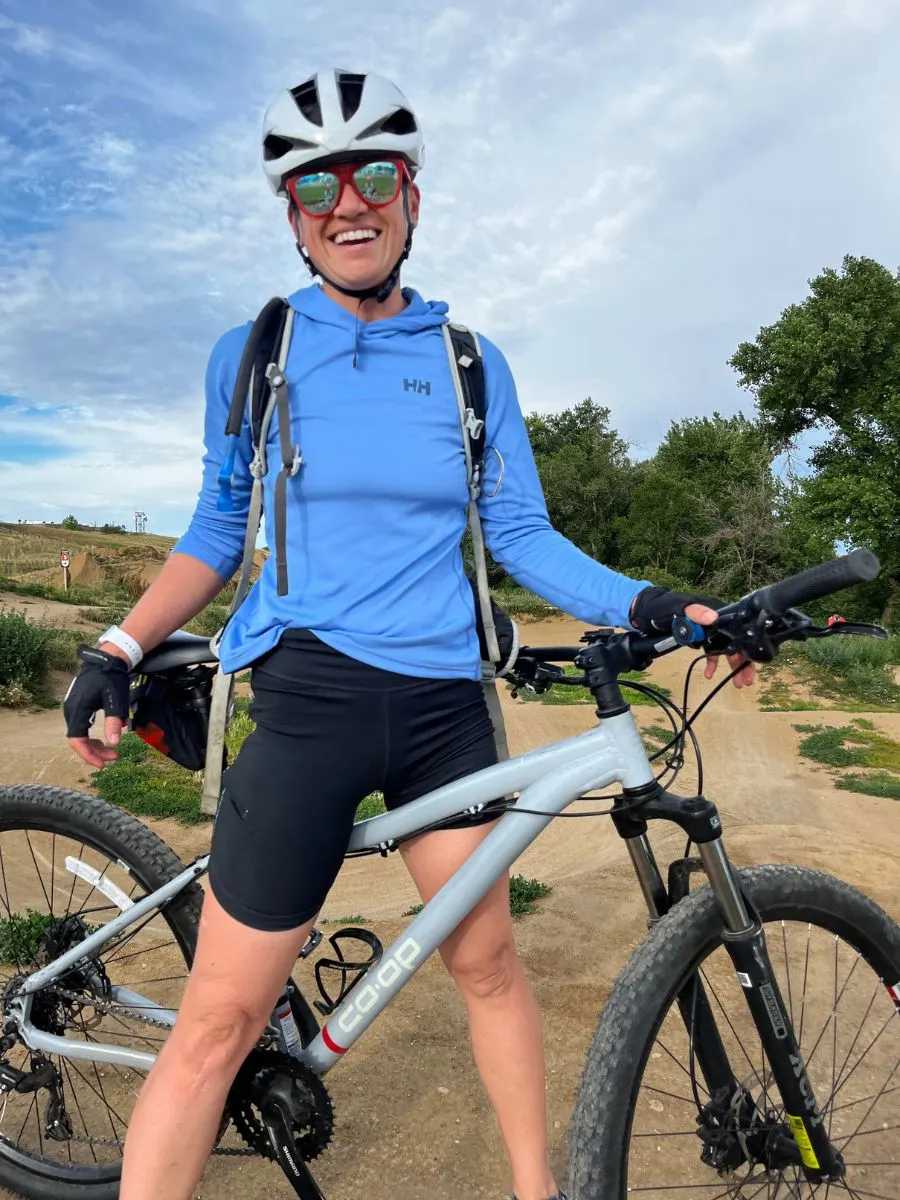 My eldest didn't love the OFF shorts but I did. Unfortunately, the sizes start at size 8 so they didn't fit my youngest. I wore them several times and I noticed each time they got a little smaller. I tried to save the shorts in the wash but my husband often helps out and to him it's all washed on normal and then thrown in the dryer.
I noticed the shorts were getting smaller but when I looked down one day and saw I completely ripped the crotch, I was mortified. If your family is dedicated to a proper washing routine, this won't be an issue. I'd just hate for a kid to rip the seam unexpectedly too!
I loved how comfortable the shorts and liner were throughout the day. I appreciated the silicone lining on the waistband which keeps the shorts in place on my hips as well as the generous padding of the liner. Zippered pockets kept my keys and phone secure while I jumped and chased my girls around the bike park.
Sizes range form 8-10 through 14+ which come labeled in European sizes so we received the 12-14 or 150-160cms. I am about 160cm and weigh about 125 lbs for reference. They fit my daughter who is 150cms and 108lbs as well. She had to use the rope drawstring which she wasn't crazy about as it pressed against her skin too much.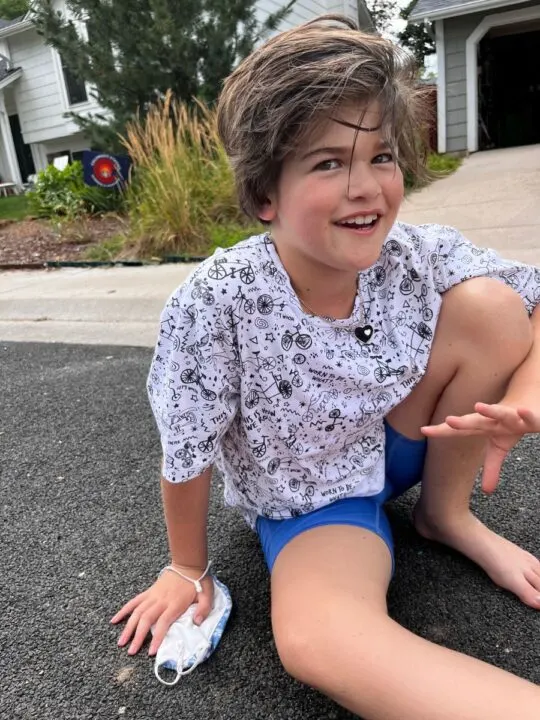 I'd love to see everything for kids be machine washable. The rope drawstring is cool but not the best choice of materials. I also found the chamois pad a little too wide for my adult body, I assume kids sits bones would be smaller but maybe they need a wider pad. However, the wide pad was my eldest's reason for nixing the pair.
I'd love to see a simple spandex short like seen above (a little longer) with side pockets and a thin pad, especially for girls who are more reluctant to wear more traditional mountain bike shorts.
We commute a lot by bike so when I was given the opportunity to test the new Flare series, I was very excited. Shoulder season riding means we are often wrapping up the night in the dark. Having fun and stylish reflective clothing is so helpful for both parents and drivers.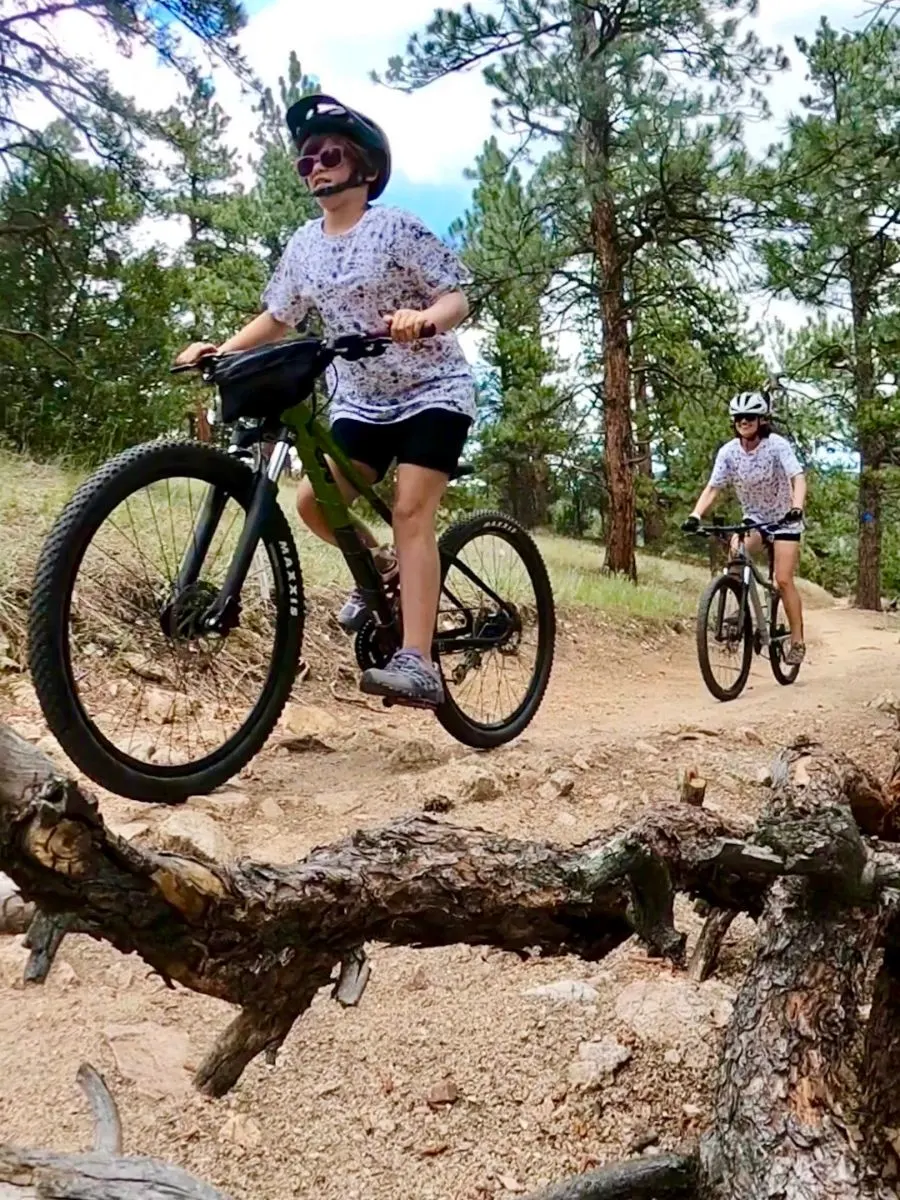 Both the hat and the vest are fully reflective. They are much easier to see at dusk. I love that the Flare Reflective Vest ($59.00) folds into itself for quick and easy storage. The ultra-lightweight water/wind resistant polyester/nylon mix keeps the chill factor down during mild weather. It's easy to overheat on the bike and this vest is easy to layer and peel off quickly. Sizes range 4T-14+ years old.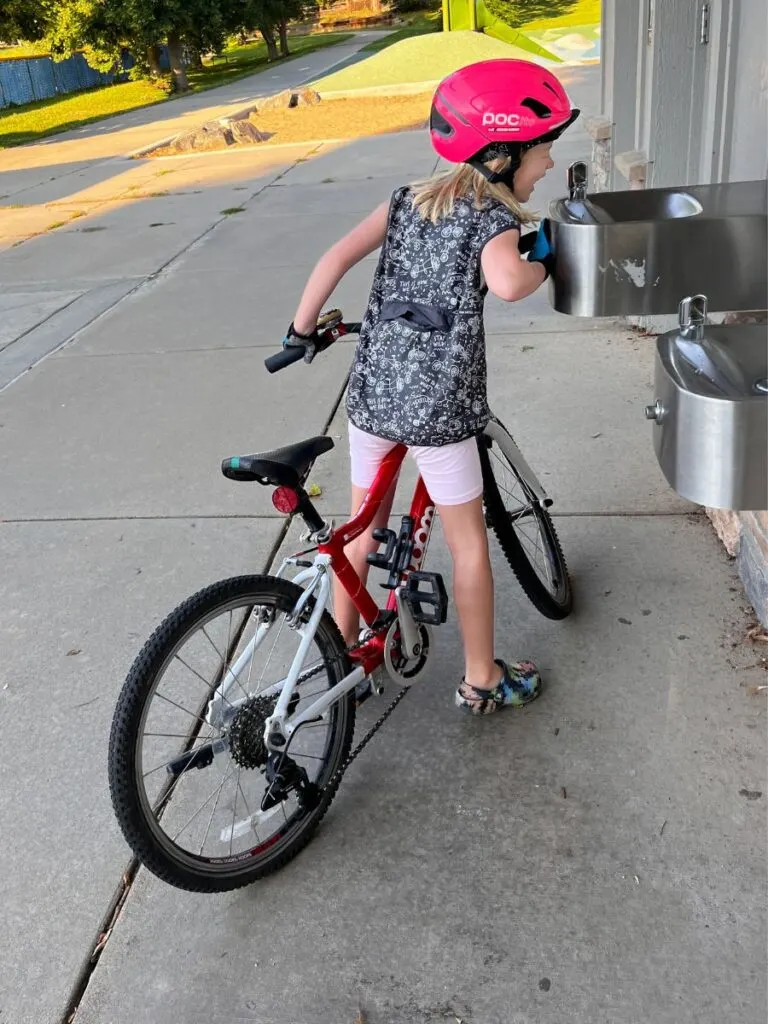 The Reflective Vest also matches the really cool Flare Reflective Cap ($22) which can be worn both under a helmet and on alone. This reflective cap comes with the same hi-visibility bike themed artwork (designed by Woom kids) really does make the children much more visible. The brim is great at keeping sun and rain out of the eyes.
The S/M fit both my girls and the M/L fit my 22″ head.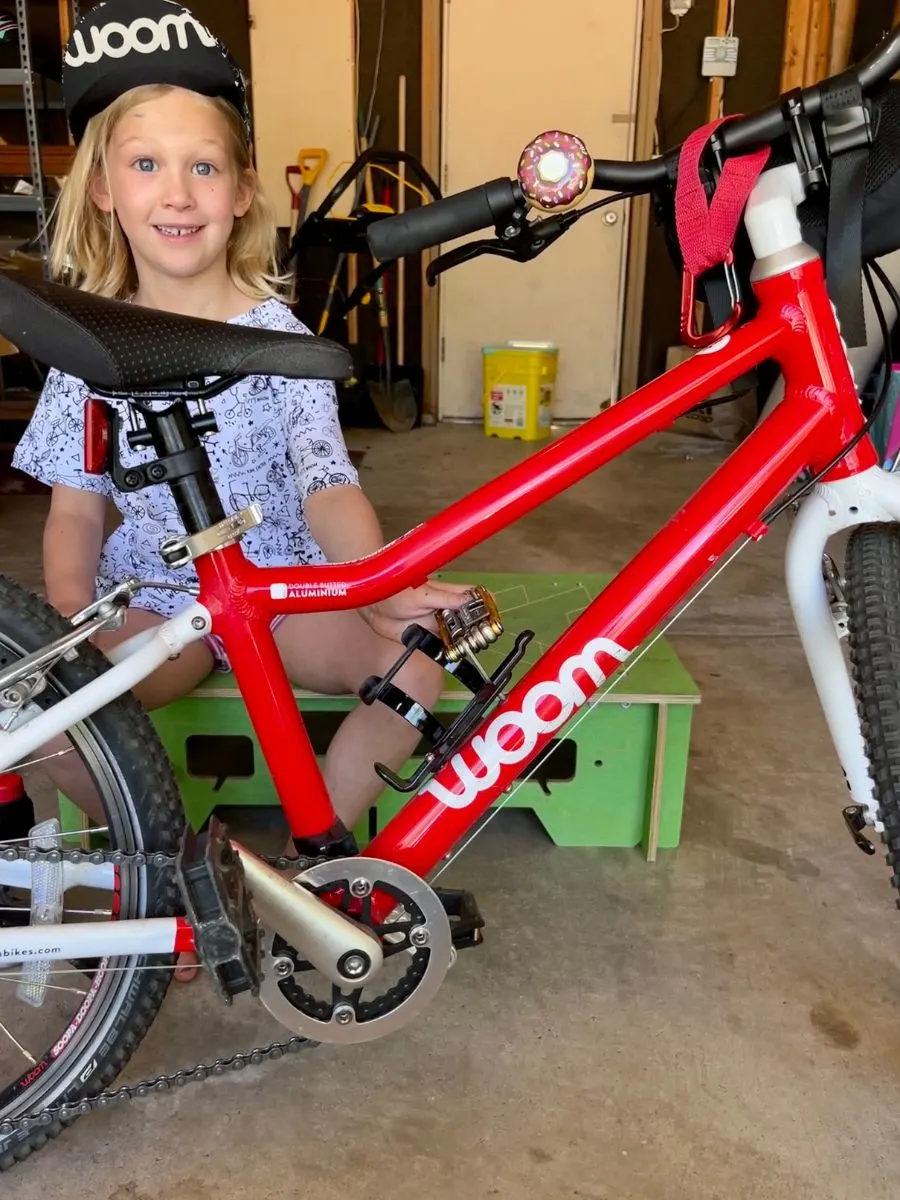 My girls especially loved the Flare T Shirt ($24.00), this is not reflective but it is a great all around adventure shirt. It's very breathable and the light color is great for very bright days when the sun is bearing down. We are all suckers for anything that has a bike on it but I really love the 16 hand-drawn bikes created by Woom kids.
This is by far the most reached for shirt as it's so comfortable and preforms well of the bike though it's cut long so it works for the bike as well. The print is fun and the kids love the "secret" button-up back pocket. Most of all I love the 100% organic GOTS certified cotton is deliciously soft.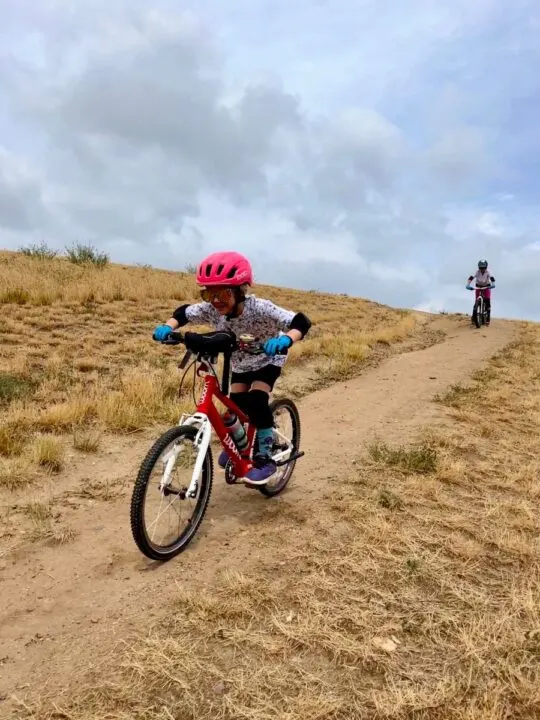 The shirt washes really well and I've been able to get out several stains easily. This might be one of the most worn shirts this summer. It's very good at keeping the body cool and a great value for the low price tag.
Size range from 2T-4 through an adult XL.
We love that the Woom gloves come in lots of bright colors and the grip is fantastic. My kids didn't love the lack of closure on the gloves. It's just a different fit. The more they wear them, the more they get used to the tighter fit.
The gloves provide excellent ventilation due to a breathable 4D stretch material and elastic netting. Terry cloth on the thumbs wipe off sweat (through my eldest would have liked touch-screen capabilities added to the index finger and thumb) and synthetic leather with anti-silicone griping and minimal padding allow for maximum dexterity and comfort.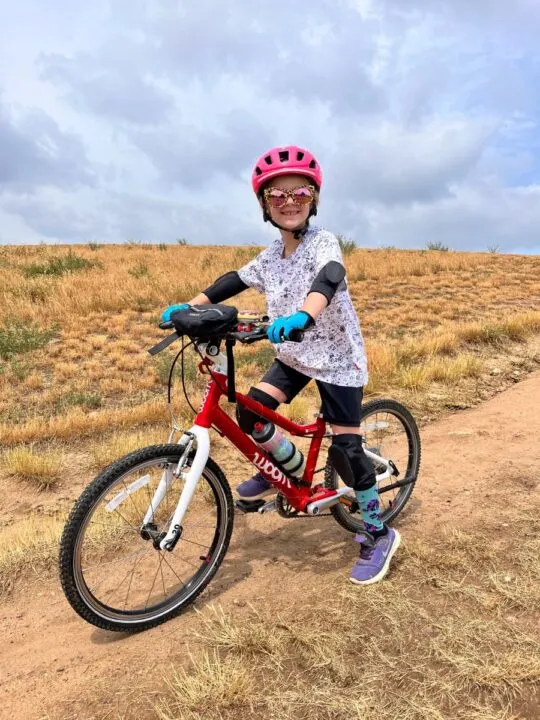 Full disclosure: I had to bribe my girls to try the gloves for an hour. I knew that if they put them on and forgot about the lack of velcro closure, they would adapt and forget about the feeling of a new design. I was right, within 30 mins the girls were fine with the gloves. I believe they will be used quite a bit in the future.
These gloves offer more protection that half-finger gloves but they are not a winter glove. Woom sent us their Warm Tens Bike Gloves which we can't wait to test in the fall. A winter cycling kits for kids post will be published soon.

Woom Water Bottles, Handlebar Bags and Reflective Stickers
We have been loving the Glug Stainless Steel Bottle ($19) on our Woom 4. My youngest enjoyed installing the water bottle cage herself. Woom did put a second set of holes on the bottom of the down tube but I find this location too difficult for young riders but having a second bottle option is nice especially on a small bike.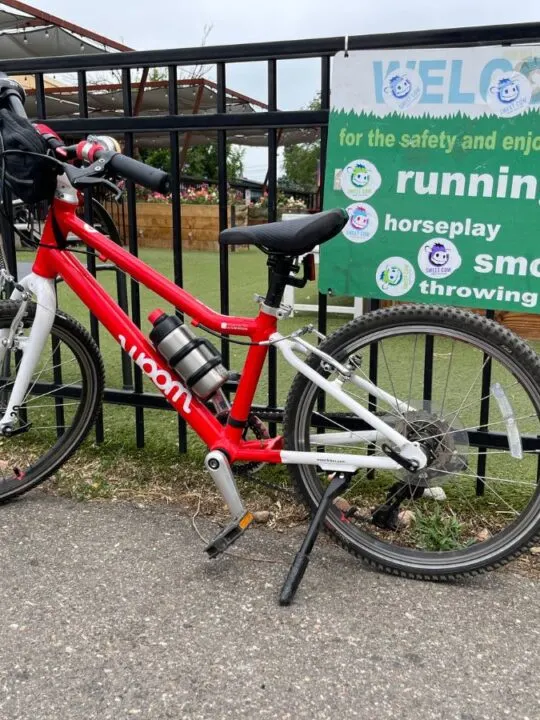 The 17oz Glug is truly fresh and crisp glug after glug. It's keeps drinks nice and cold or warm on cold days. When filling the Glug with hot liquid be sure it's not hot enough to burn your riders hands as it will remain as hot as the liquid inside. Leak proof and dishwasher safe, it's a great bottle for both bike rides and school trips.
If the cap is turn out toward the legs, it may cause the rider irritation. My girl learned to put the bottle in so that the extended part of the cap holder wasn't hitting her leg as she peddled.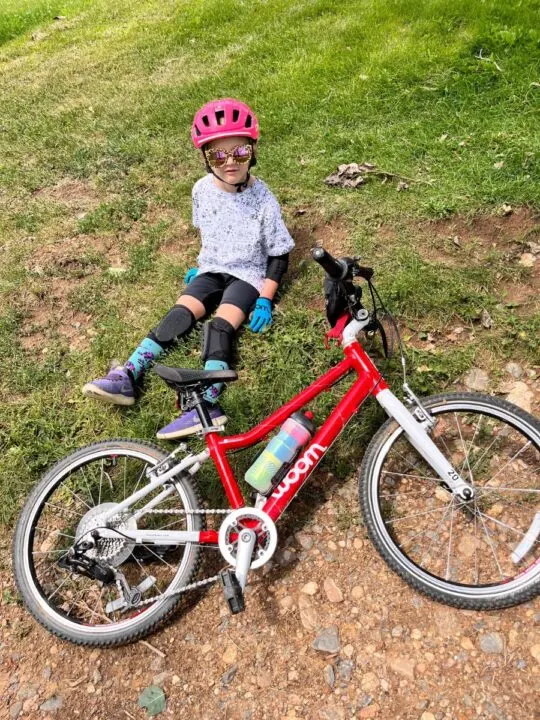 Woom was gracious enough to send both of their latest bike bags. We choose the Amiko bag for my youngest as it fits very well on her Woom 4 and the SlOFF bag for our Woom 5 OFF. This is the bike she will grow into next and is often used by neighborhood kids.
I love that the SLOFF Frame Bag ($39.00 but on sale for $19.00) has so much space, I can store a spare tube, patch kit, pump, a few snacks and a multitool. The bag fits perfectly on our Woom OFF 5 and was very easy to install/uninstall with the hook and loop closure.
This is key as this bike gets jumped often. A solid fit means the bag stays in place through all my kids wild antics. My girls love the classic jean look as it bring style and function while providing pockets big enough to hold everything they would need for a ride without mom holding it all.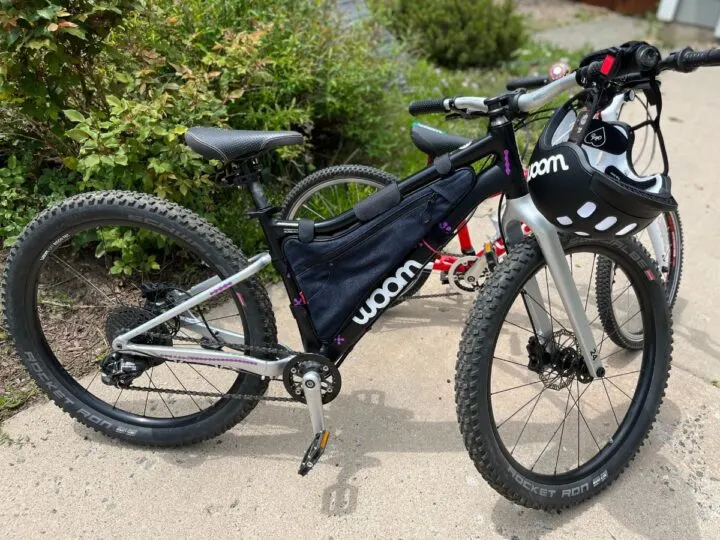 I don't love that I need to buy a cage that can be accessed from the back of the saddle or top tube. Woom did put holes for a cage on the underside of the bike but this is too far for my rider to reach while riding.
I'd love to see holes on the top bar toward the handle bars but this is an uncommon ask.
Fortunately, my kids have finally accepted bladders so I can easily add hydrations options to a backpack or fanny pack. Another challenge is the bag is in the way of loading the bike on our current rack.
I'm saving for rack that hangs the bikes by the front tire so hopefully this isn't a problem down the road. For now, I've been pulling the bag off to load the bike. It's a minor inconvince and I'm excited to make out this bags bike packing capabilities.
Locking the bike is also slightly tricky but easily fixed. I just undue the top strap and loop the lock through the gap. See the picture below.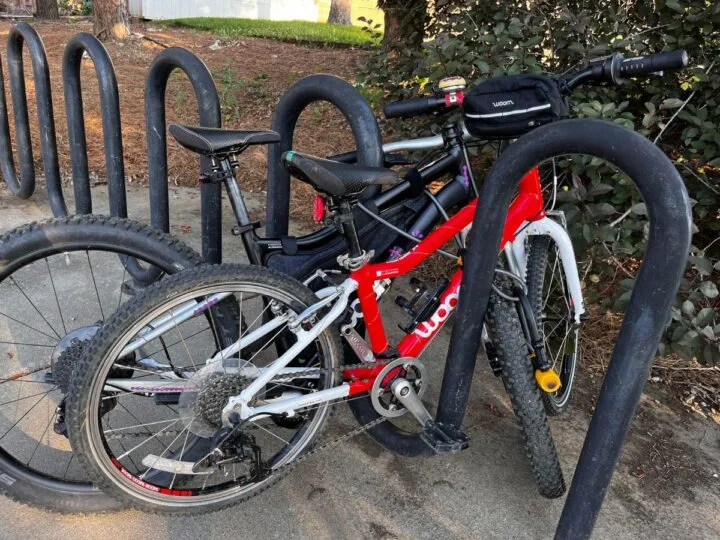 We have been loving the Amiko Active Bag ($34.00) for everyday use. It's has three separate compartments which hold a fair bit both necessities (sunglasses, gloves, bandaids) and random things she finds (change, toys, and most recently her loose tooth). Constructed from durable ripstop polyester fabric and a breathable mesh fabric on the backside so it can be carried as a fanny pack comfortably.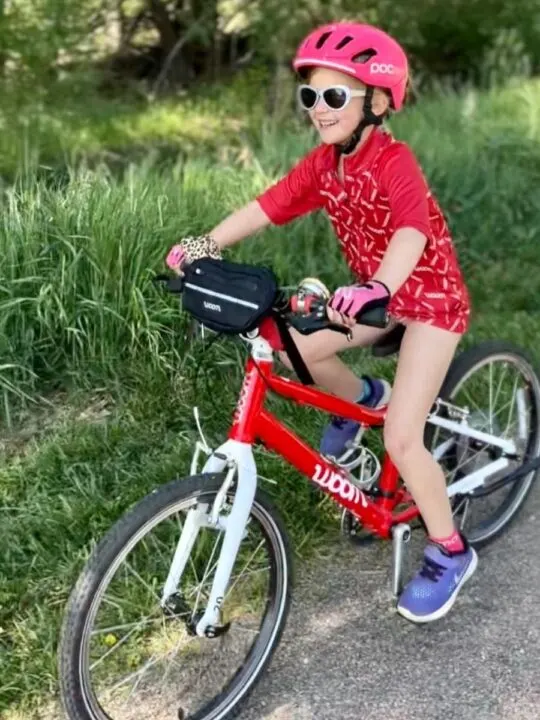 The Amiko bag easily detaches from the handle bar when she wants to use it as a fanny pack. This bag has more than enough space for a handle bar bag and though Woom doesn't specifically state it's waterproof, I'm convinced it is after we've been caught in several heavy storms on the way home.
I've forgotten to clean out food and toys only to find them completely dry after two hours of pouring rain. This is the best surprise of all!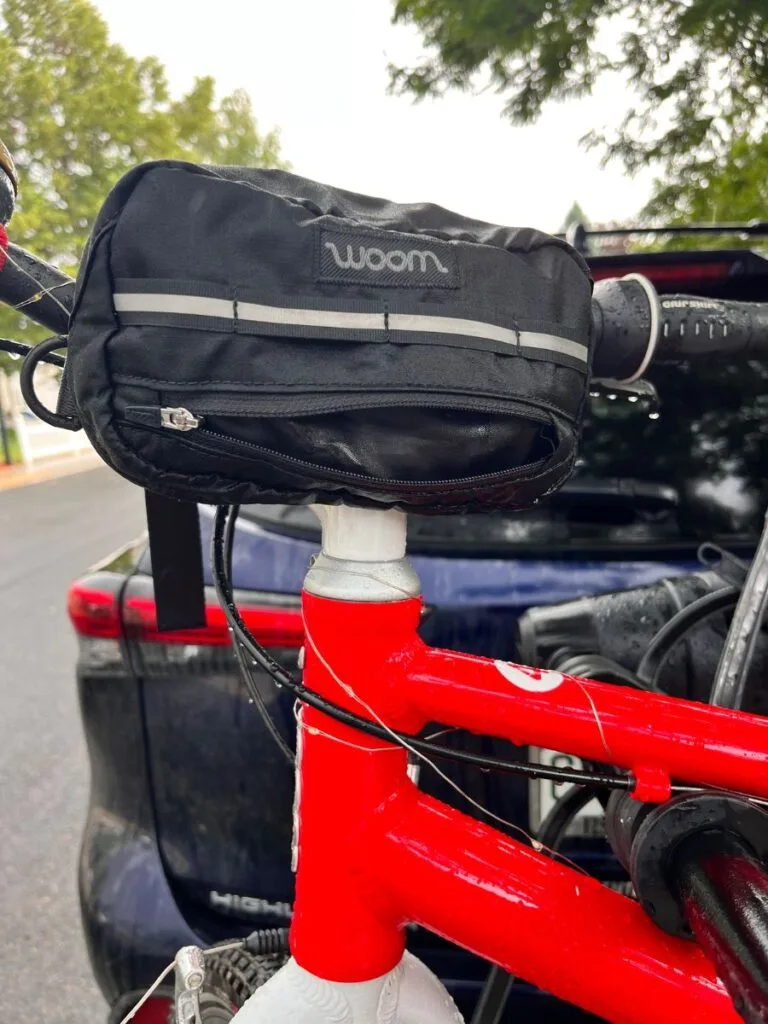 I'm not crazy about the attachment straps as they loosen over time allowing the bag to flop backwards over her handlebars but this is a minor frustration. I could easily add zip ties if I wanted a more secure fit.
The more my kids stay awake long enough to ride in the evening, the more I appreciate anything with reflection. I love the FLARE series and the reflection on the Amiko bag. The more visibility the better so I love that they offer these fabulous kid-approved GLAM reflective stickers that can be added to helmets, water bottles and more.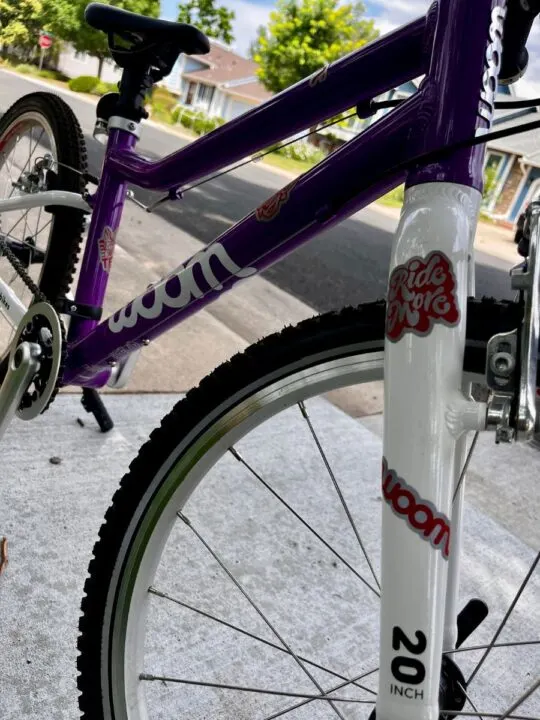 Woom has done a great job re-designing their well loved helmet. As a mom of daredevil kids, I appreciated the extended protection on the forehead, temples and back of the head. Two sets of interchangeable pads and an easily adjustable dial allows for riders to adjust the helmet for a perfect fit.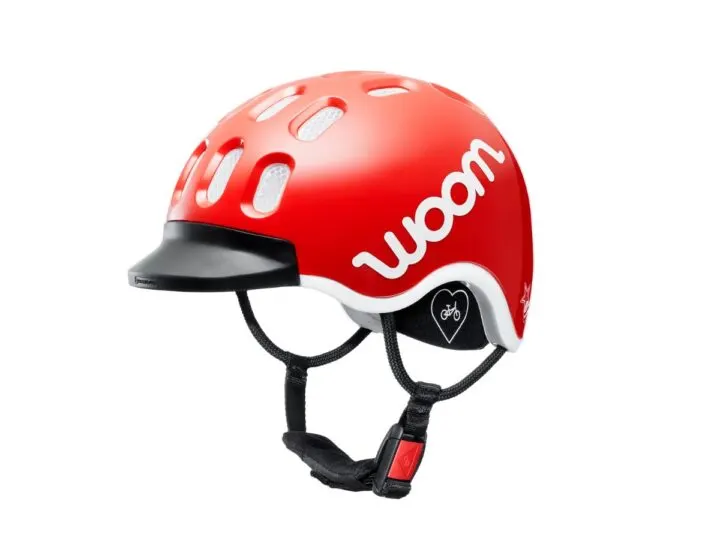 The helmet has some of the best ventilation I've seen on the market. This helmet really boasts all the features with a flexible visor (great for additional coverage) and a magnetic closure even our toddler neighbor could figure out.
My kids didn't love the helmet due to it's shape. The helmet fill all of us depending on which set of pads was used but all three of us felt the helmet was too narrow toward the crown of the head. Maybe we just have wide top heads?!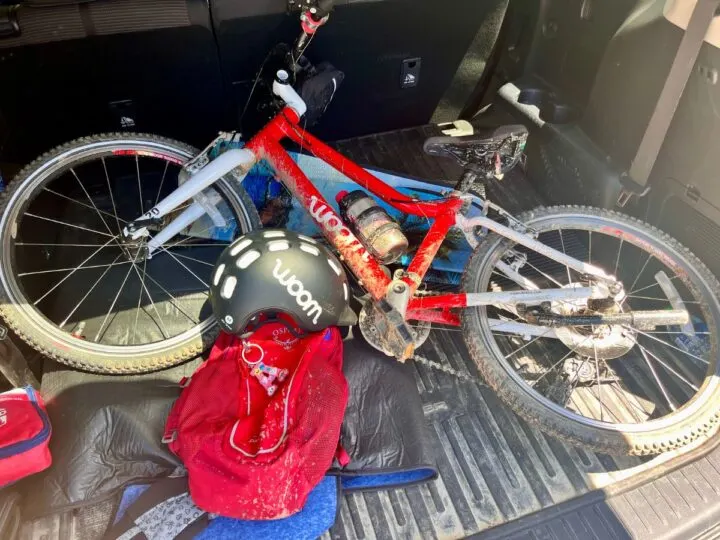 I couldn't handle such a beautiful, well designed helmet go unused so I sent it to my teammate, Mary who's son had just busted his helmet pretty good. To my surprise he had a similar experience with the helmet.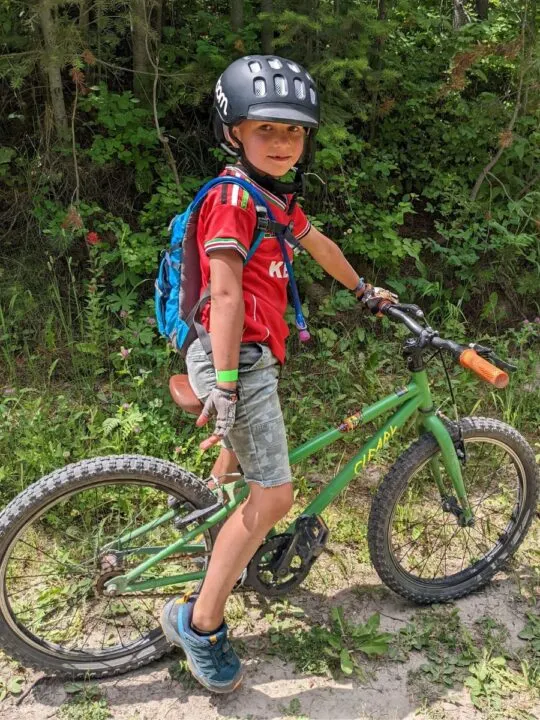 "We like it! It's kind of a funny shape-like it looks like a horseback riding or roller derby helmet it seems big but adjusts the fit ok. It seems like good quality, and Eli says he likes it just a little less than the giro helmets. He says the visor is too small and it feels too round for his head. He likes the ventilation!"

Mary Burton
We've concluded it's a fantastic helmet if it fits the shape of your rider's head (Amelia's kids love it!) If not, it might be a quick return especially for the hefty price tag. That said, the cost is clearly built into the unique, thoughtful and well-crafted design.
| | | | |
| --- | --- | --- | --- |
| KIDS' Helmet | XS | S | M |
| US | 18.2-19.6 in | 19.7-20.8 in | 20.9-22 in |
| EU | 46-50 cm | 50-53 cm | 53-56 cm |
Brand new to Woom's kit are their new mountain bike pads. They are called Kneebows ($39.00) as they cover both elbows and knees. Breathable nylon and mesh allow for moderate flexibility with a large pad protecting the joint that compresses upon impact.
We had a really hard time figuring out the sizing on these but I loved the breathability of the material, the flexibility/range of motion while wearing and the ample amount of cushion.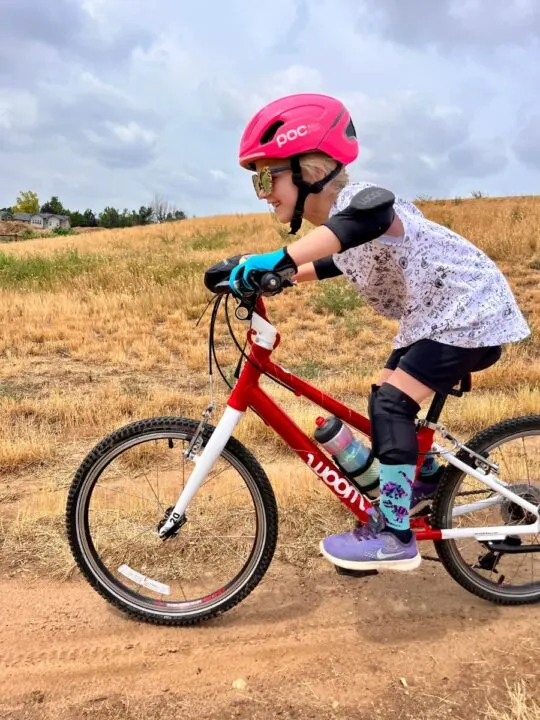 The large pair was just a little too tight on my 9 year old and the mediums knees on my youngest were too tight on the calf and too loose around the thigh.
If you look close you can see the loose knee pads in the pictures. She wasn't a fan.She loves the elbow pads though which is a huge win as this would be the first pair out of 6 pairs we've tried!
The smalls are extremely small is which great for toddlers as there are only a few options on the market.
| | | | |
| --- | --- | --- | --- |
| Knee Pad Set | S | M | L |
| Weight | < 55lbs | < 55lbs | 55lbs -110lbs |
| Knee Circumference | 10 – 11in | 11.5 – 12.2in | 12.2 – 12.5in |
My kids loved the bandaid on the inside of the pad but found them very difficult to put on. The trick to an easy slide on is to fold over the top and bottom where the silicon holds the pads in place. Flip back in place once the pad is in place.
| | | | |
| --- | --- | --- | --- |
| Elbow Pad Set | S | M | L |
| Weight | < 55lbs | < 55lbs | 55lbs -110lbs |
| Elbow Circumference | 7 – 7.5in | 8 – 8.3in | 8.3 – 8.7in |
The pads offer a lot of protection but both kids found they were much stiffer right under the pad, they said it felt like something was pushing into their knee. My kids are pretty fussy about pads so I tried them on the neighbor kids.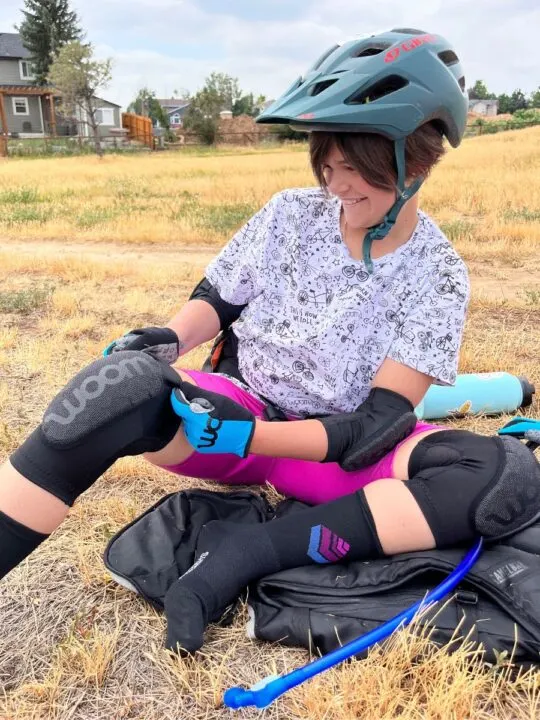 Several kids didn't notice the additional pressure. My kids are coming from the minimal padding of G-form so this might be the problem. Mountain bike pads are tricky, finding the right fit might mean trying several brands. As far as function, these pads do the job!
Pro-tip: order two sizes and see which fits best, measuring the limbs didn't work as well as just trying on two sizes to see which fit best.
Woom Makes a Great Kit!
We have had so much fun testing Woom's new apparel and accessories. There were a few kinks which is common for any new product launch but each product still has the same high quality and thoughtfulness to design that we know and love from Woom.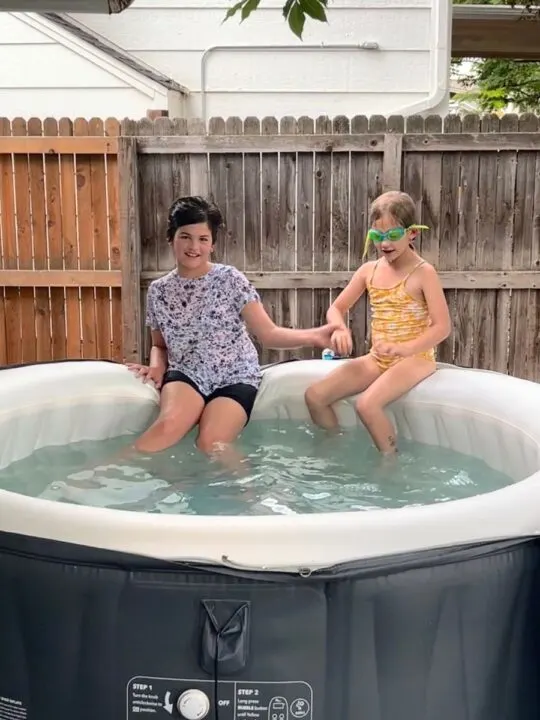 If you love Woom bikes already, you know their commitment to giving kids the best experience on bike, their apparel and accessories are no different. If you are new to Woom, these are just the products to give you a taste of what their brand is all about, more kids on bikes.
Related Articles
Woom Cycling Kit Review
© 2022, Kids Ride Bikes. All rights reserved. Republication, in part or entirety, requires a link back to this original post and permission from the author.