Pello Ripple Balance Bike Review
A quality balance bike really does make a difference in helping toddlers be successful on learning to balance and ride.
In a line-up of balance bikes the Pello Ripple Balance Bike stands out as a favorite for our family. It is a very high quality bike built for helping kids be successful on their journey towards eventually riding a pedal bike.
>>>Check out this post for tips and tricks to get your child started riding a balance bike.<<<
As a member of Pello's affiliate program, we earn from qualifying purchases.
Perfect for ages 18 months – 3 years
Saddle height from ground: adjustable from 11.5-16.5″
Handlebar height from ground: adjustable from 20-23"
Rear handbrake
Bike weight: 9 lbs.
Lifetime warranty on frame and fork
Why the Pello Ripple
While the Pello Ripple is slightly heavier than, for example, the Woom 1 (9 lbs vs. 6.6 lbs.), we have found that it is a go-to choice for toddlers because of the optimized geometry for kids learning how to balance. The weight difference isn't enough to make it harder to ride for toddlers.
Through our last few months of testing, I have been continually impressed on the quality of components, the smooth ride and the ability to modify the bike for a growing child.
The Pello Ripple Adjustable Rotating Handlebars
Changing the angle of handlebars can drastically change how a bike feels to a rider. Balance bikes are no exception.
The Pello Ripple handlebars can be rotated IN for smaller and more timid riders to give them better stability and OUT for taller, older kids who love to ride more aggressively.
This feature alone makes the Pello Ripple our favorite balance bike for kids spanning 18 months to 4 years of age.
What we love about the Pello Ripple
Low Step Through Frame
Especially for kids who are just learning to balance a bike (or balance themselves!), getting on and off a bike can be really tough unless they can step through. The Pello has a low step through frame that makes it easy. This is incredibly important for kids like mine who tend to be ready to ride, but very petite.
Wide Handlebars with Bell
Wide handlebars are perfect for stability and balance. The bell is perfect for motivating little riders. And, believe me, that bell has the potential to work magic!
Quick Release Seat Adjustment
Being able to quickly adjust the height of a balance bike seat is, in my opinion, incredibly important. Not only do kids grow fast, but as a child becomes more confident on a balance bike, the seat needs to go up to allow them to glide.
In our experience, we've even had to adjust the height of the seat depending on what diaper younger kids are wearing (cloth vs disposable).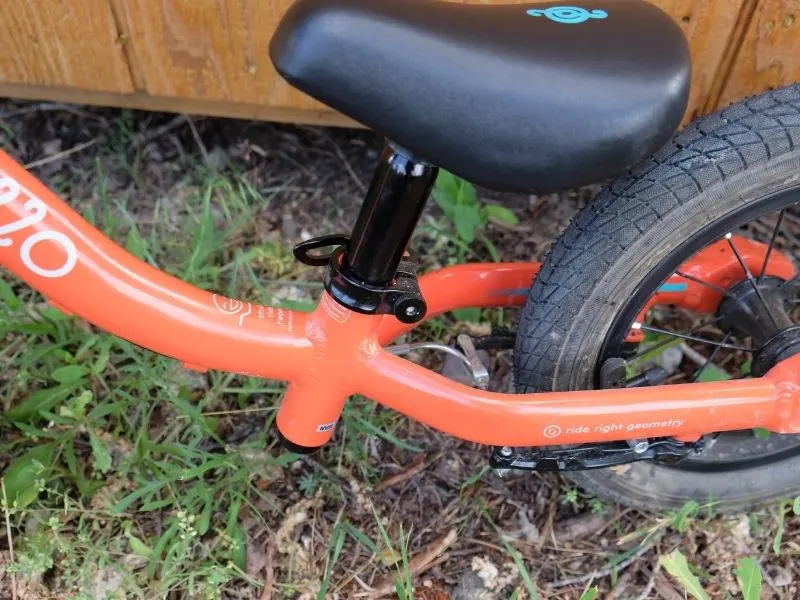 Hand Brake for Little Hands
I really and truly don't think any balance bikes should come without a hand brake. Not only do they help kids stop (if you haven't seen how fast kids can ride a balance bike once they are proficient yet, you'll understand this soon enough), but they also teach great biking skills.
Ideally kids should move from a balance bike with a hand brake to a pedal bike with a hand brake and never touch coaster brakes simply because they are safer. Starting younger to learn how to use them is always better. If you're still on the fence, check out this post from our friends at Buddy Pegs with a section about hand brakes vs. coaster (pedal) brakes.
Pello's hand brakes are made just for little hands and are easy for them to engage.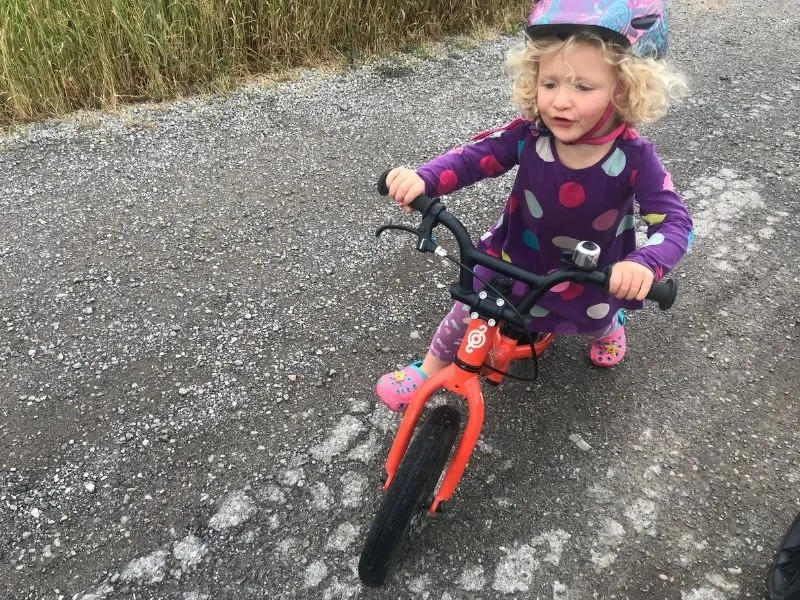 Adjustable Rotating Handlebars
See above – we LOVE those rotating handlebars to make the bike even more customized for growing kids (or even siblings). This makes this bike ideal for riding for multiple years.
Durability
Balance bikes SHOULD last through a number of kids without any issues. However, more often than not we see them breaking down after just a couple kids due to hard use and lack of quality components.
While a price tag of $198 isn't in everyone's budget, the Pello Ripple will outlast any of the cheaper balance bikes out there. You truly get what you're paying for and resell value is high. Kids are meant to play hard…and their bikes should hold up to that abuse too.
What we would aren't as crazy about the Pello Ripple
Slightly heavier than the competition
As mentioned above, the Pello Ripple weighs slightly more than the competition. While our kids in particular have never had an issue with the weight, it could be problematic for a petite child who is just starting to handle a balance bike.
Bottom Line: We LOVE the Pello Ripple
We highly recommend the Pello Ripple and think it is one of the very best balance bikes on the market. It is durable, has excellent geometry and works for kids starting at a really young age and going through toddlerhood.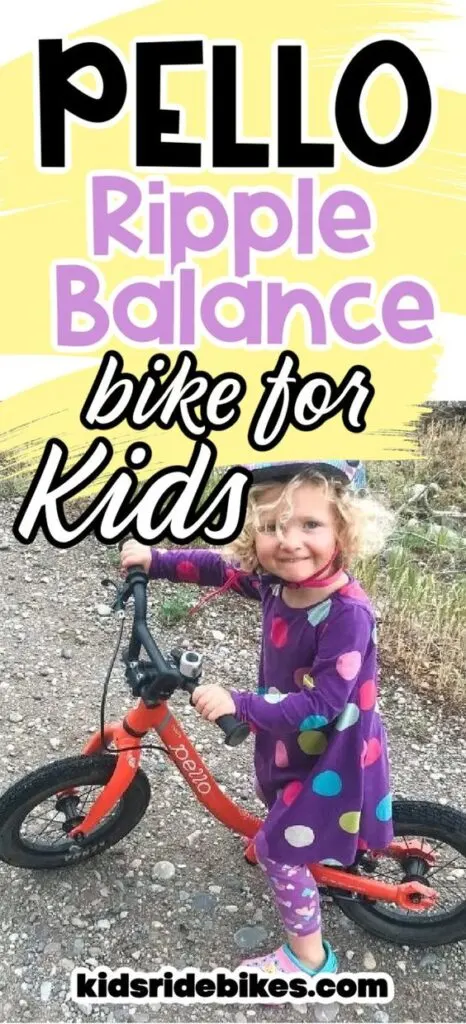 Pello Ripple Balance Bike Review
© 2021, Kids Ride Bikes. All rights reserved. Republication, in part or entirety, requires a link back to this original post and permission from the author.