Shotgun Seat Comparison
Seeking some single-track adventure with your family, but not sure how the bring the toddler along? Look no further than the Kids Ride Shotgun Mountain Bike seats!
As our oldest was getting more confident on her bike, we were trying to figure out a way to do more biking together as a family. Our youngest was almost 2 when we realized the possibility of this with the Shotgun seats!
We got the original Shotgun seat last year right before her second birthday and she spent the summer riding around with me on my bike.
When we went to Bentonville for spring break earlier this year, I finally convinced my husband to put the Shotgun seat on his bike since he has a little more room (he is a foot taller).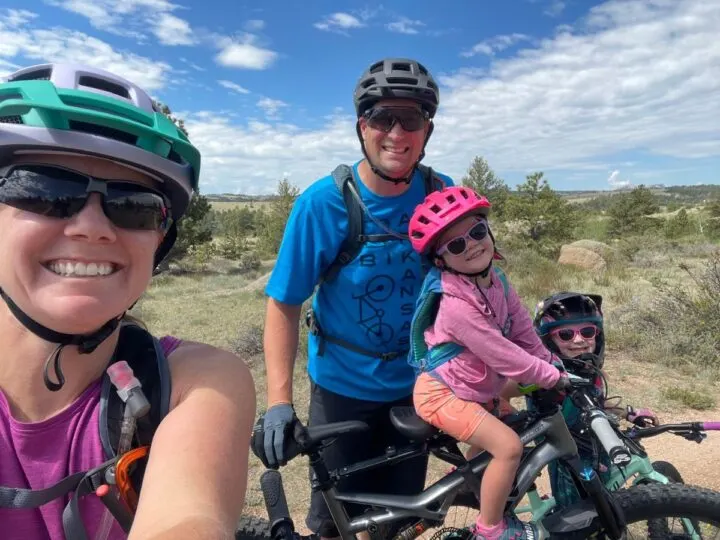 After that trip, we looked into the Shotgun Pro a little more and got one ordered to use on Greg's bike. Keep reading to learn why I can't use the Shotgun Pro on my bike and why the Pro was a better choice for his bike!
Prior to getting the Shotgun seat, it was a divide and conquer technique with mountain biking. One of us would stay with our balance biker and the other could go off solo or with our pedal biker. Now we enjoy single track as a family!
As an Amazon Associate and member of other affiliate programs, we earn from qualifying purchases.
What is the Kids Ride Shotgun Seat?
The Shotgun and Shotgun Pro seats are child bike seats meant for mountain biking adventures. The seat puts the child between your seat and the handlebars. The advantage to this is your little one is front and center for the action.
The seat either mounts to your frame (Original) or the headset and seat post (Pro). Your child hangs on to your handle bars – or mini handlebars if you add those on. The child is not restrained, but braces themselves with footpegs, sitting on the seat, and hanging on to the handlebars.
Our little one absolutely loves riding this seat! She gets to go fast and go over the "jumps".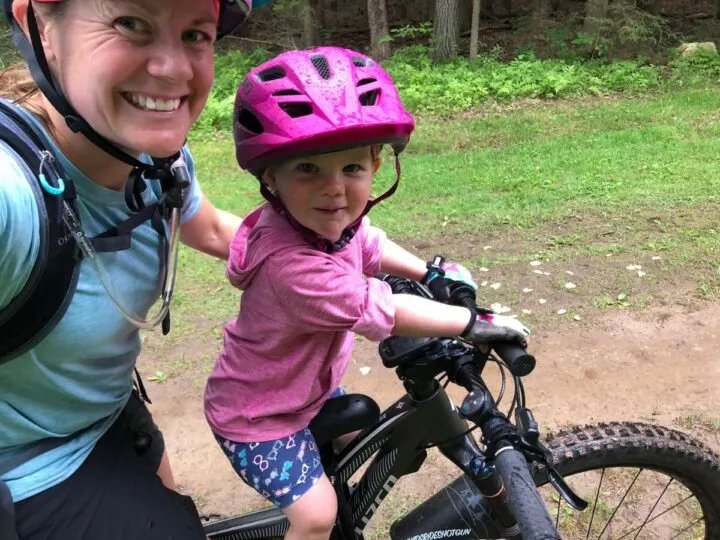 When the Kids Ride Shotgun bike seat first came out in 2017, it revolutionized how families with toddlers can actually mountain bike together!
Based in the North Island of New Zealand, we're a close-knit team of mountain bike parents with a global vision – to raise the next generation of mountain bikers.

Kids Ride Shotgun
The Shotgun seat is a better choice than other types of child seats if your family wants to hit the trail. Rear mount child seats (located behind your seat) are great for younger kids on paved trails but give them little interaction with the ride since they are staring at your backside.
Front mounted child seats (attaches near your handlebars) are also great for younger kids and give them a better view, but not a safe choice for single track as they limit visibility, change the center of gravity and the ability for the biker to adjust position easily.
The Kids Ride Shotgun seats are a mid mount, allowing your child a front row seat to the trail without altering the center of gravity on the bike too much.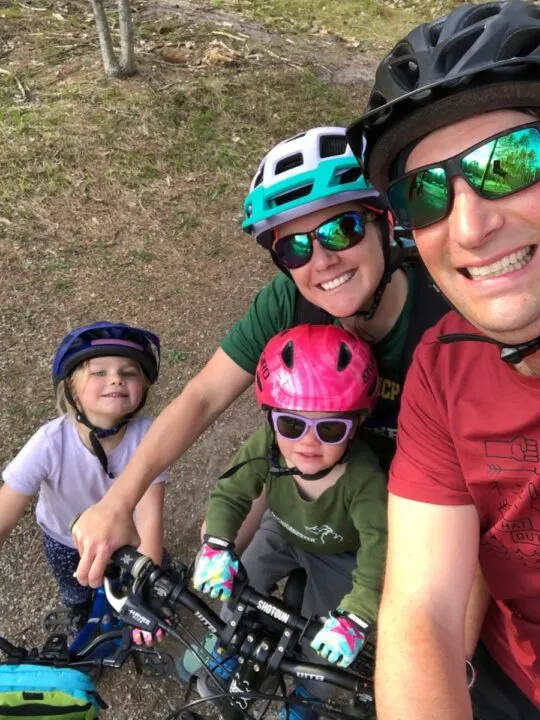 All About the Shotgun and Shotgun Pro Seats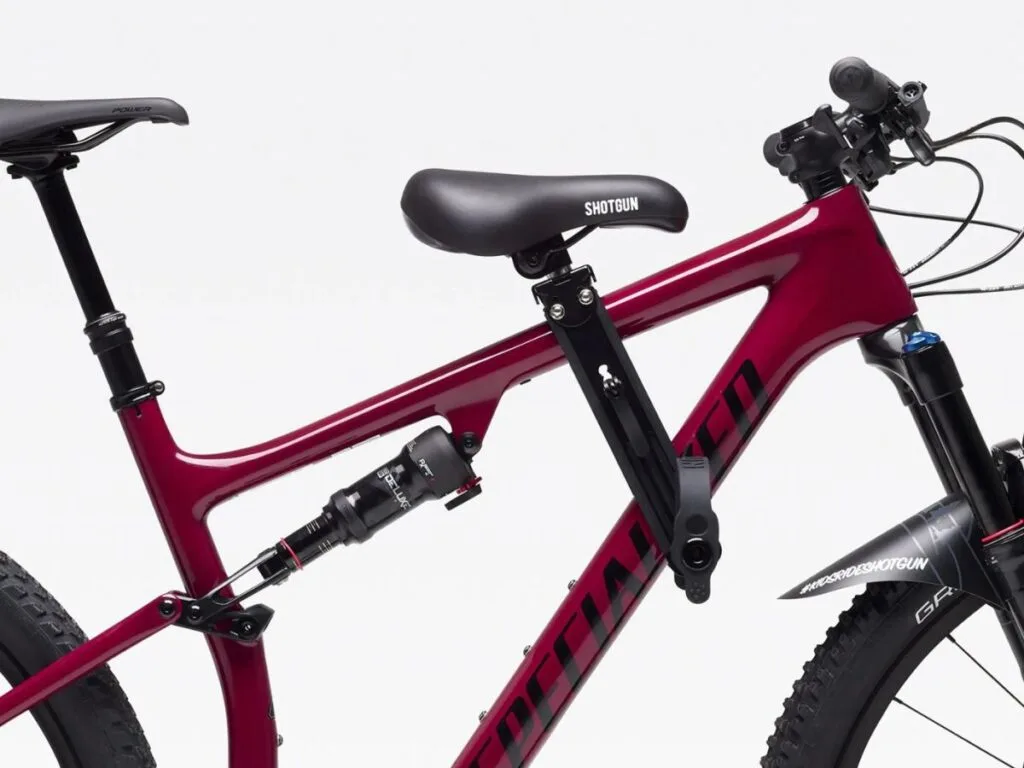 Who the Kids Ride Shotgun Seat is Best For
The Kids Ride Shotgun seat is best for young kids, about 2-5 years old. You could possibly use as young as 18 months old if you child will sit still, follow directions and hold on. The original Shotgun seat will hold up to 48 pounds and the Pro up to 60 pounds.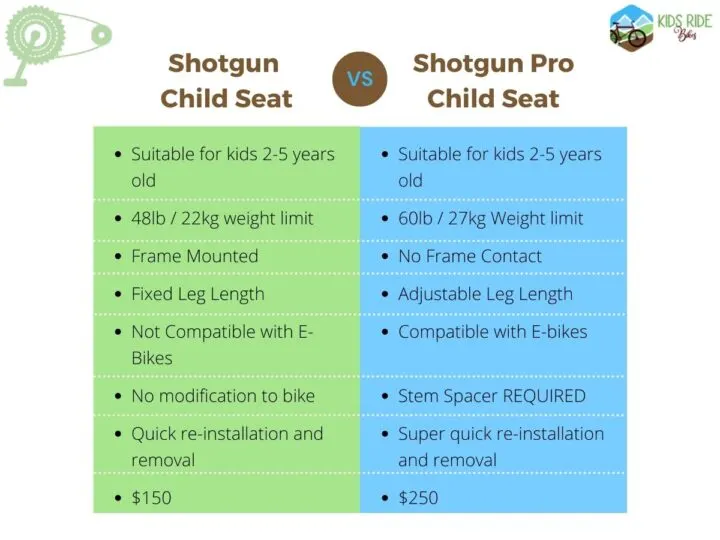 The upper age range is child dependent. If you have a tall child, they will probably outgrow the seat before a more petite child, especially if the adult rider isn't very tall.
These seats are great for families looking to get out on some single track, cruise around town, or even commute. The seats are versatile! They are built to fit almost all mountain bikes.
(The original Shotgun seat) is our 3 yo's preferred seat by far! It's so fun chatting and having him up front. The setup felt a bit funky at first, but we've done xc type mountain biking and town riding with it now. It seemed intimidating to ride with him up there at first but after a few minutes it felt so natural. And safe, because if you crash they're already cradled in your arms. Oh, and the tiny handle bars are clutch because otherwise he tries to steal my grips!

KRB Team Member Mary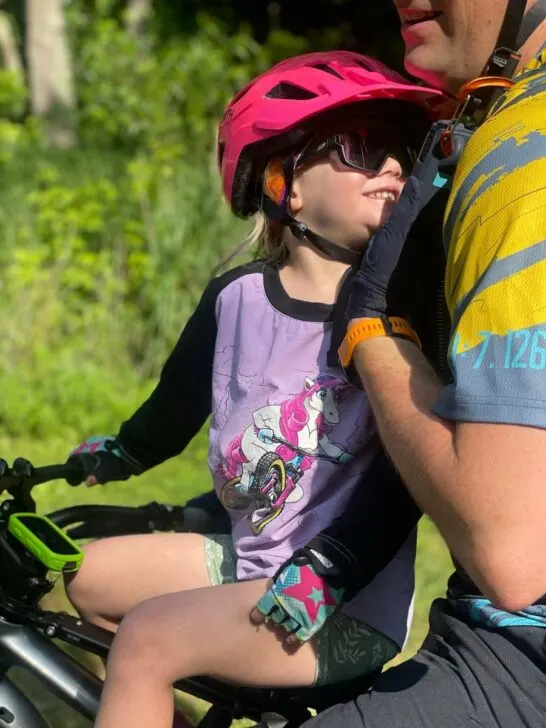 Tip! Pick up some Rocky Talkies to make family biking easier.
Will the Kids Ride Shotgun Seat Fit My Bike?
For the most part, yes, if you have a mountain bike. The Shotgun seats will not fit the following types of bikes:
Road or gravel

– lack of clearance between the front wheel and down tube

Cruiser or step-through – lack of clearance between the front wheel and down tube
Some older bikes where the gear or brake cable runs along the top of the top tube
The Shotgun Pro will work on E-bikes, but the original Shotgun seat will NOT.
Be Cautious – No Restraints
The Shotgun seats do not have any restraints, so it is important that your little passengers can sit still, hang on, follow directions, and NOT fall asleep since there is nothing holding them up (except your arms loosely around them).
We have had a couple close calls where it was getting late in the day and our passenger was getting a little sleepy and it was a race against the clock to get her home!
Practice Before You Hit the Trails!
Riding with any bike seat attached to your bike takes some getting used to. Here are some tips to help get you started on your Kids Ride Shotgun seats!
1. After you get the seat installed, practice riding your bike with the Shotgun seat on, but no child.
You likely will have to adjust your mount and dismount position and maybe adjust your seat height if you don't have a dropper post. If you want some more practice before putting your child on, grab a stuffy or baby doll and strap one on.
2. Add your child!
We found it best to get on the bike and then pick up our kiddo and set them on the seat. Having a partner help you the first few times can be helpful. Talk to your child about the seat, the expectations, and how to stay safe before you start moving.
Dropper posts are VERY handy with the Shotgun seats (my bike doesn't have one, and it's a little more challenging than my husband's bike when it comes to stopping and getting off). Once you are ready, practice biking on a nice easy surface first, like around your neighborhood, with short rides. Practice mounting and dismounting and make sure to encourage your kid to hang on!
3. Progress to trails.
Once you are feeling comfortable mounting, dismounting, and riding easy surfaces, start introducing some nice and easy green trails. Then, progress your trails as you and your child get more comfortable being riding partners!
Pretty soon your child is going to be impatiently waiting for their next high speed run.
Don't forget proper safety equipment like Helmets, Gloves, and padding!
As your child gets older and more experienced on the seat, they will start to learn how to ride with you. Nora now does a great job of leaning back for bumps and "jumps" and is getting better at learning to lean into the corners.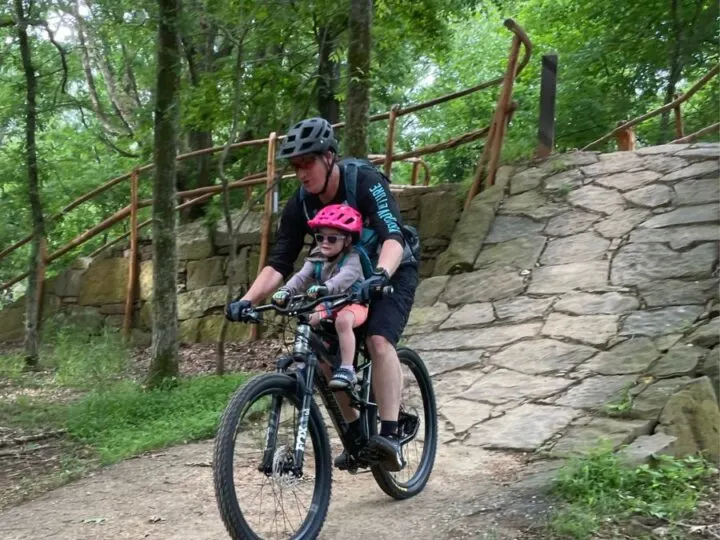 More Family Adventures!
We absolutely love that the Shotgun seats allow us to get out on bigger family adventures. If you want to ride single track with your littles, these mid-mount seats are the way to go.
The Shotgun seats put your little one (almost) in the drivers seat and they get to go over all the bumps and feel the corners. We love watching her "game face" as we ride along.
I attribute some of Nora's pedal biking drive and skill to all her time spent riding the Shotgun seat.
Original Shotgun vs. Shotgun Pro
The Original Shotgun seat debuted in 2019 and the Pro came out in 2021. They both have pros and cons and they each have bikes that they work best for. Overall, we like the Pro better, but the Original has its benefits too!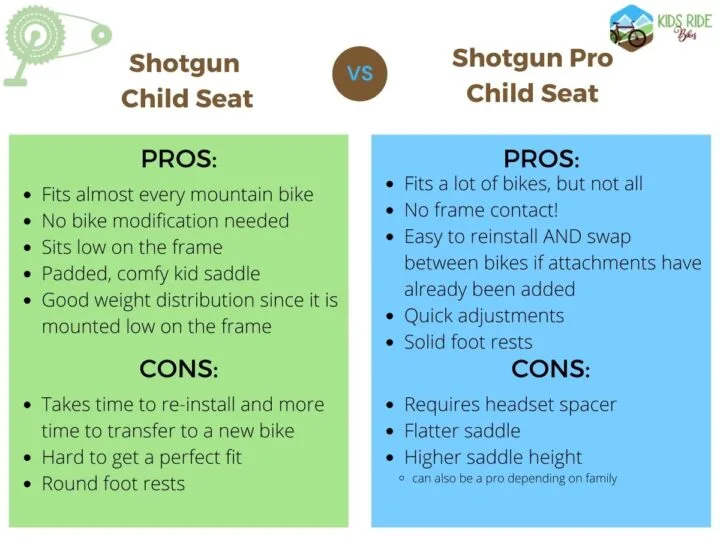 The major difference between the two seats is how they attach. Because they attach differently, the child's seat sits much lower with the frame mounted original compared to the headset/seat post mount on the Pro.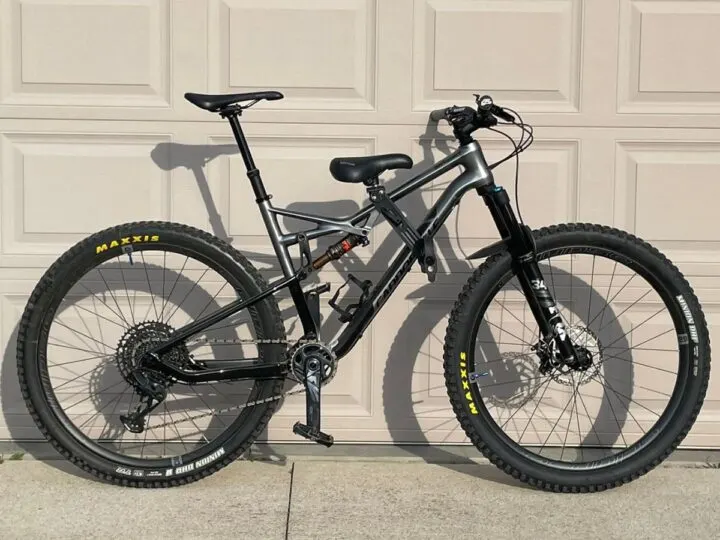 Which Kids Ride Shotgun Seat is Best for My Bike?
In general, both seats should work on the of majority bikes. However, there are some situations where one seat is required or preferred over the other seat.
For me, I have to use the Original Shotgun seat on my bike for a few reasons.
I am shorter and the Pro seat would put my kid too high up for me and make it difficult to ride.
I don't have any spacers on my steerer tube, so I cannot install the pro.
I have an aluminum frame and I am not too worried about frame contact.
We prefer the Shotgun Pro on my husband's bike (and in general) because…
He has a carbon frame bike and doesn't want any contact on the frame.
The quick release attachment makes it a breeze to take a quick Dad run while the kids have a snack, then reattach the seat for more family riding.
Since the Shotgun Pro seat is sitting higher and he is taller, he has a little bit better riding position than with the Original. His knees don't point out as much as with the Original.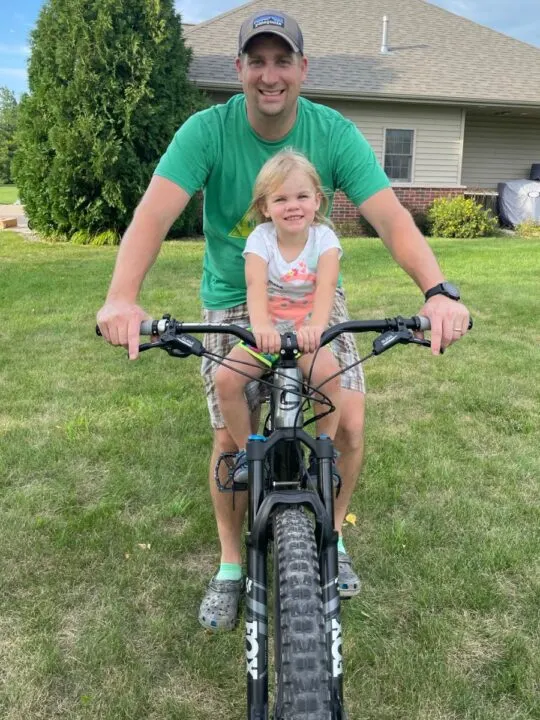 These photos are a good example of why the original Shotgun seat may be a better choice for smaller people and why the Pro could be better for taller bikers. You can also see how the optional kids handlebars would be more beneficial with the Pro seat.
Also look at how Nora's riding position changes between the two seats. She is more upright on the original and has more forward lean on the Pro. The adjustable legs on the Pro also help to keep her from getting too scrunched up.
Which One Should We Choose?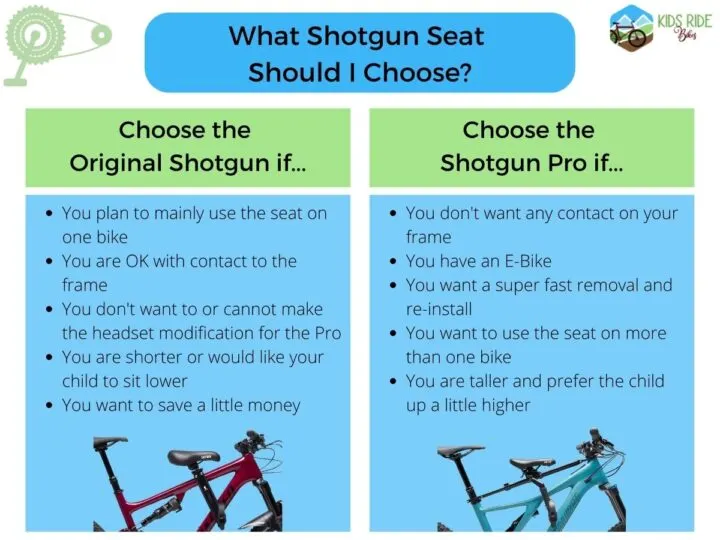 If the Pro works for your bike, I would recommend that one for its ease of reinstallation, sturdy foot pegs and flexibility with multiple bikes. However, if you only plan to use the seat on one bike and not swap, then you can save a few bucks and go with the Original.
We have both and I prefer the Pro just for the ease of on and off – it made a huge difference for us!

KRB Team Member Amelia
Kids Ride Shotgun has now come out with the Shotgun 2.0 Child Bike Seat. It is similar to the Original as it is frame mounted, but there have been some modifications on how it attaches, making it more streamline.
KRB Team Member Emiliy has just finished testing this so you can read her full Shotgun 2.0 review!
With its quick release fitting mechanism, the Shotgun 2.0 is significantly faster to put on and take off your bike. The Shotgun 2.0 also has two foot peg positions to grow with your child, allowing you to start your kid riding younger, and use it for longer.

Kids Ride Shotgun
Original Shotgun Seat
Wide Bike Fit Range
With its adjustable system, we love that this seat can be adjusted to fit almost any bike without any modifications to the bike. No tools required for installation, but you will need some wrenches for adjusting the saddle (provided).
The Shotgun seat can fit top tubes from 30mm-68mm wide and the down tube range is 30mm-100mm wide. Almost all the parts are adjustable to get the best fit for your bike and child.
The Shotgun seat contacts the bike in 5 spots and all 5 spots have full rubber protection to protect your frame.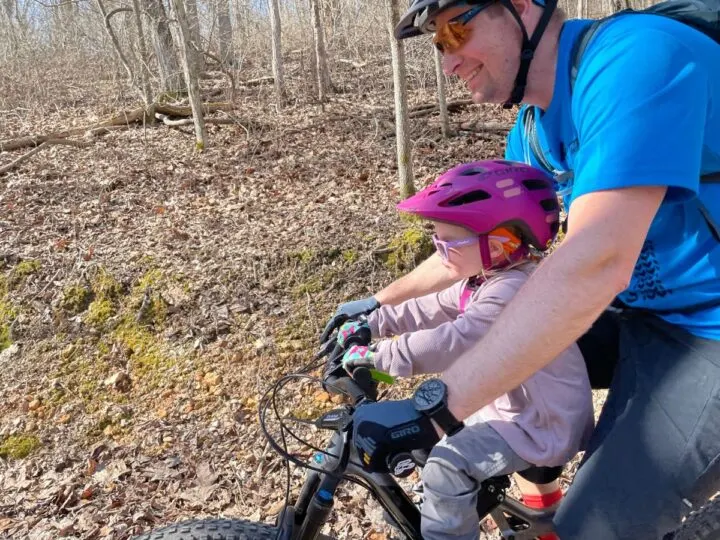 Comfy Seat
This little seat is nice and comfy for little butts. A true kids saddle, we like that our little passenger is comfy.
Good Weight Distribution
Since the seat is mounted to the middle of your top tube, your passengers weight is evenly distributed through the bike not altering your center of gravity too much.
With that, I feel that the child is a little more "secure" as well as they are closer to the frame and you.
How the Original Shotgun Seat Could be Improved
My husband was very hesitant to put the original on his carbon frame bike, but we eventually did. It did cause some damage to his protective wrap after a few days of use, but the frame itself was fine. I have had no issues on my aluminum frame bike.
Fit Can Be Tricky
We have had some struggles to get the "perfect fit" on our bikes. We felt that we really needed to tighten it down hard to get it to stay put, and we were very cautious with the carbon frame. We had some troubles getting it to stay put, especially on bumpy rides it would shift a little.
Doesn't Transfer Between Bikes Easily
Initially we thought it would be a little easier to switch the seat between bikes, but you have to readjust just about everything on the seat when you switch bikes. And then you have to do it all again if you are putting it back on the first bike.
It takes a lot of time to adjust everything to set up for another bike, you have to start from the beginning every-time if the bikes are not the same. We have never got it to be 100% secure and it always seems to move a little.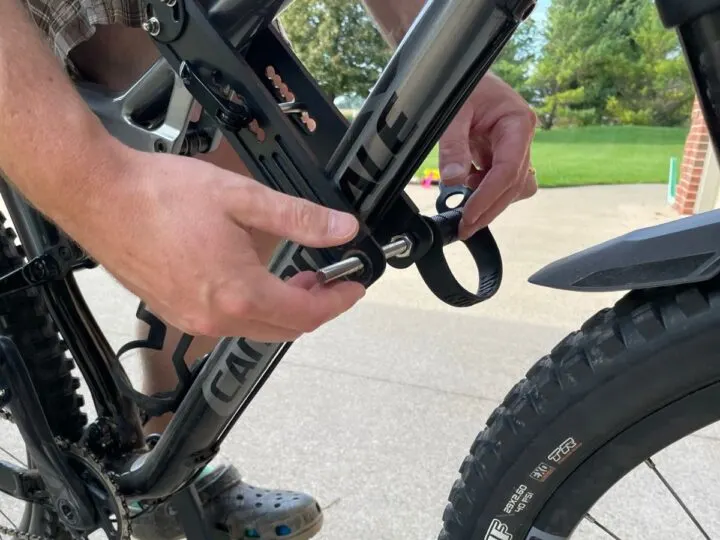 Round Foot Pegs
We have also had some issues with the foot pegs loosening. I think this happens from our daughter pushing on them and moving her feet around which causes them to unscrew.
Shotgun Seat Pro
Easy to Remove and Switch Between Bikes
We LOVE that the Pro installs and comes off in SECONDS after the initial installation. Undo the two quick releases and the seat is free from the bike. When you are ready for your co-pilot to hop back on, just put the seat in place and adjust the 2 quick releases.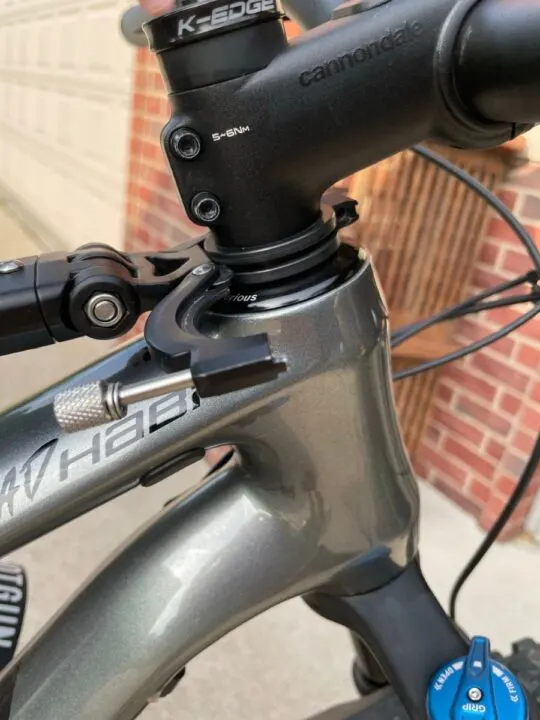 The Pro also comes with two headset spacers for two bikes. This makes swapping between bikes a breeze. You may have to make some minor adjustments to the seat position, but you don't have to fiddle with getting if properly fit on the bike like with the Original.
Stationary Foot Pegs
The foot pegs on the Pro are stationary and have a better design than the Original. We like that our child's foot seems to stay put on them better and they don't slowly unscrew themselves. The leg length is also adjustable which is great for growing kids and getting that perfect fit.
The adjustable leg length would have been really nice when we first started using the Original Shotgun seat as our petite 2 year old barely reached the foot pegs.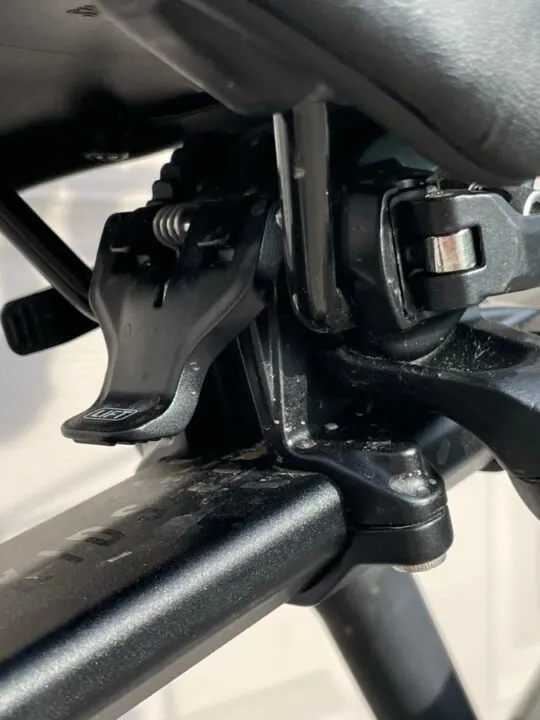 E-Bike Friendly
Although we have not jumped on the E-bike train yet, we love that this seat is E-bike friendly if we ever get one! The Original is not compatible with E-bikes.
How the Shotgun Pro Seat Could be Improved
Foot Peg Angle
We wish the foot pegs could be repositioned a little bit. With the angle of the seat on our bike, our child's foot rests on the top angle of the platform instead of on the flat part. She doesn't seem to mind, but I don't love that she is often pushing in with her feet on the edge.
Note About the Shotgun Pro
The Shotgun Pro will place your child up higher on your bike, potentially several inches higher than your top tube. This defiantly changes the center of gravity on your bike so make sure you are cautious with any "jumps" or curves.
Kids Ride Shotgun Accessories
Shotgun Handlebars
These are great for giving your little one a dedicated place to put their hands and keeping them off your grips, brakes, and buttons.
Since the Shotgun Pro seat sits a little higher, the handlebars are definitely more beneficial with the Pro vs. the original seat.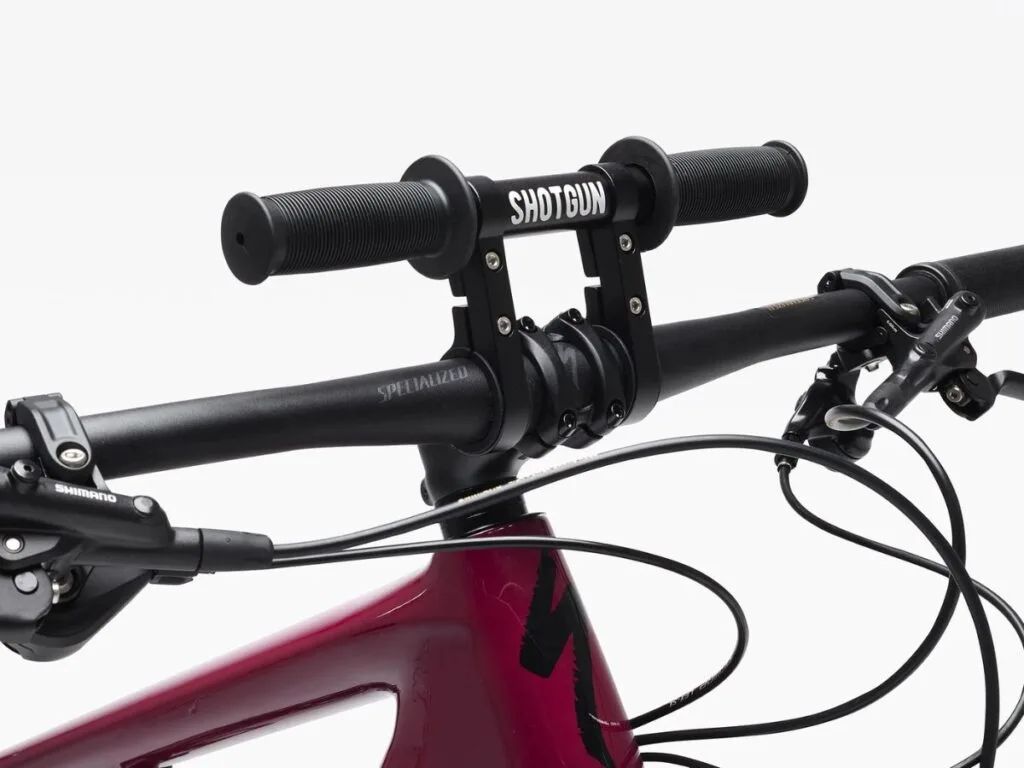 We have had some issues with the original handlebars not staying put and sometimes get pushed forward if our little rider is pushing them too hard, I think the grips around the bike handlebar could use some improvement.
The Pro handlebars utilize a different style attachment and have a quick release making them a better choice. They are super quick to put on and off and definitely stay put better than the Original. We are happy with the upgrade!
We like that the new Pro handlebars have a curved bar, nice grips and a better attachment system with a super fast quick release, hooray for no more allen wrench!
I would recommend the Pro handlebars over the Original handlebars just for ease of removal. As with the seat, they have also added a new handlebar, 2.0 Handlebars. Similar in design to the original, they look like they might have slightly different grips and still use an allen key.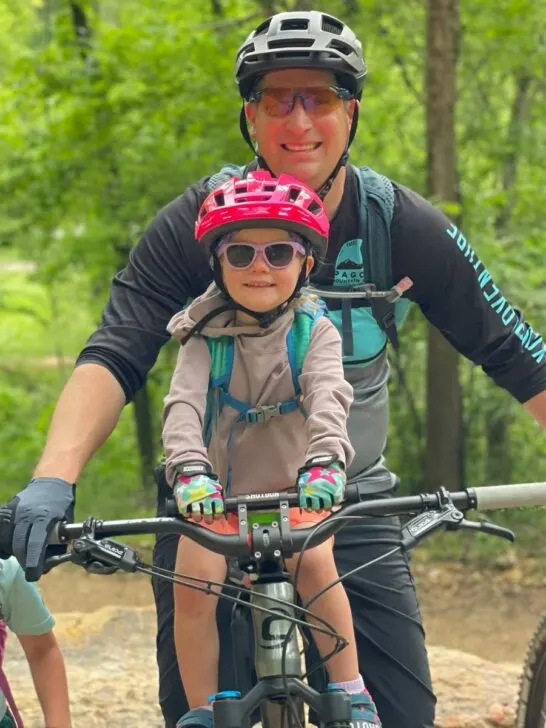 Pogies Handlebar Cover
If you are riding when the temps are cooler, you know the littles hands can get quite chilly. Check out the Pogies hand covers, especially designed to fit with the Shotgun handlebars.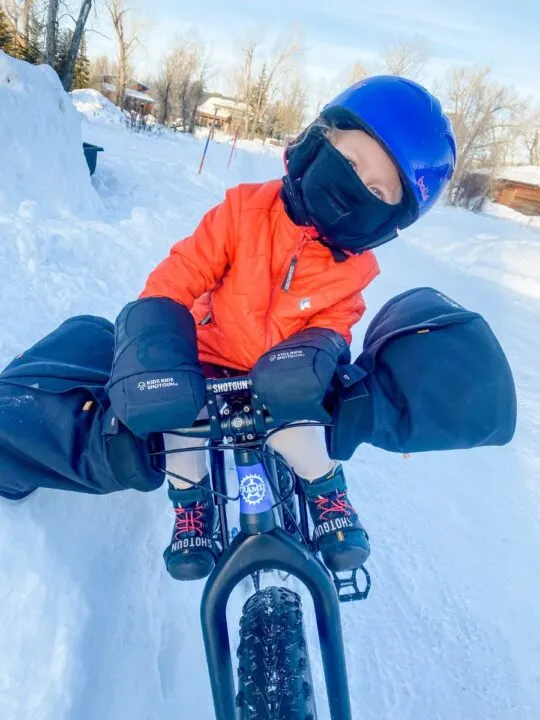 Shotgun Windproof Kids MTB Jersey
Kids Ride Shotgun came out with some pretty cool kids jerseys! We are always stoked when we find pint sized biking clothing, and we have been loving these jerseys! The front has a windproof panel which is great for the passengers who are not working up a sweat.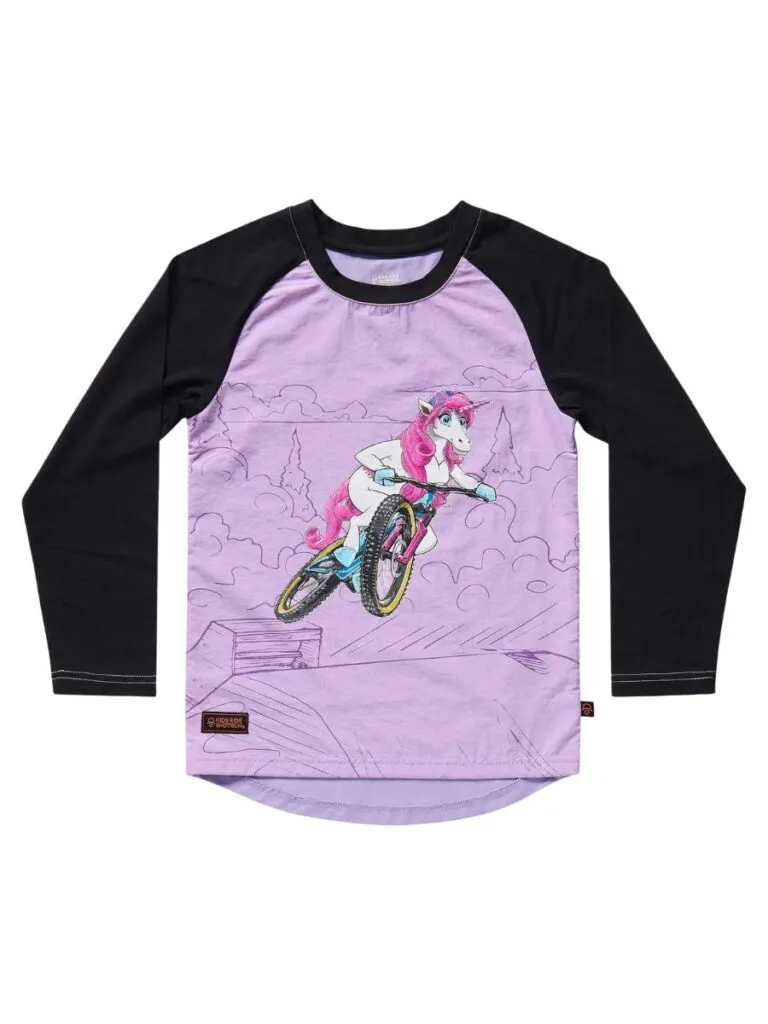 The long-sleeved jerseys come in 3 prints, Upshift Unicorn, Loose Lion, and Dialed Dino! These don't seem too hot either, the girls have worn them on some warmer days without too many complaints. We also love the drop tail hem providing extra coverage in the back.
The girls have got a lot of compliments on their rad biking unicorn jerseys and a few jealous looks from some other biker girls. Oh, and they come with some Shred 'Til Bed tattoos! They also wash up good, just hang to dry. The wind proof panel also acts as a little stain repellant in case a little one was to spill some ice cream or mustard.
Only downside, they have a small size range so bigger kids are going to miss out on this little kid exclusive. My big is going to be sad when she can't wear this anymore as it is a favorite!
These are available in YXXS (2), YXS (4), and YS (6) for $40.
We have the YXS and YS. My 4yo has a little room in the YXS and the YS fits my average sized 7yo good.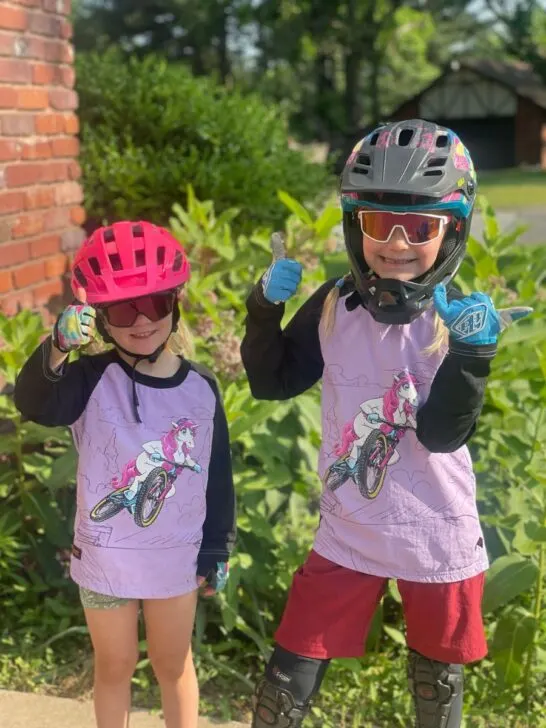 Conclusion/Summary
We have really enjoyed riding with our daughter on the Shotgun seat. We love that she loves it too. The laughs, the wee-woos, and the "Faster Daddy" make it such a fun family activity. Unless you need to have the Shotgun Original due to your size, bike or budget, I would recommend getting the Pro.
The Pro is way easier to take off and reattach. The Pro also comes with two spacers for installation on two bikes. Switching the Pro between two bikes is WAYYYY faster than the Original. If you want to install the Pro on more than two bikes, you can purchase additional headset spacers for $9.99.
Don't forget to check all the seat settings and tightness before every ride to make sure nothing has loosened up or shifted. Then go enjoy the ride with your new co-pilot!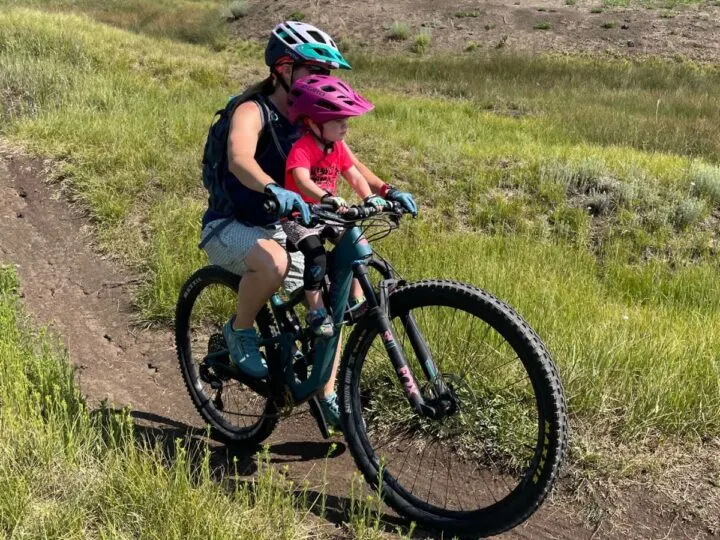 Where to Buy the Shotgun Seats
Kids Ride Shotgun Bike seats can be purchased directly from kirdrideshotgun.com or you can purchase the Pro from REI and the original from Amazon.com.
Related Articles:
Kids Ride Shotgun Seat Review – Original and Pro
© 2023, Kids Ride Bikes. All rights reserved. Republication, in part or entirety, requires a link back to this original post and permission from the author.