Woom 3 Pedal Bike Review
Teaching your preschooler to ride a bike can be tricky and frustrating for some parents. And scary for some kids. Woom bikes make it a lot easier on both accounts; this lightweight 16 inch bike is ideal for timid and beginner riders gaining confidence entering the world of pedaling.
Woom is known throughout the kids bike realm for being the most lightweight and user friendly bikes on the market. They make high quality, good looking bikes that hold their resale value well. Their attention to detail makes them stand out among kids bikes, with features like a steering limiter (no more over-steering crashes), color coded hand brakes sized for small hands, and a comfortable and natural geometry for kids.
Many of the parents here at Tales of a Mountain Mama/Kids Ride Bikes have used and can attest to the quality of Woom and recommend it for first time riders across the board. Most of our kids have learned on them and passed them down to friends and siblings, so I can confidently say my recommendation is backed by a whole team of bike loving families!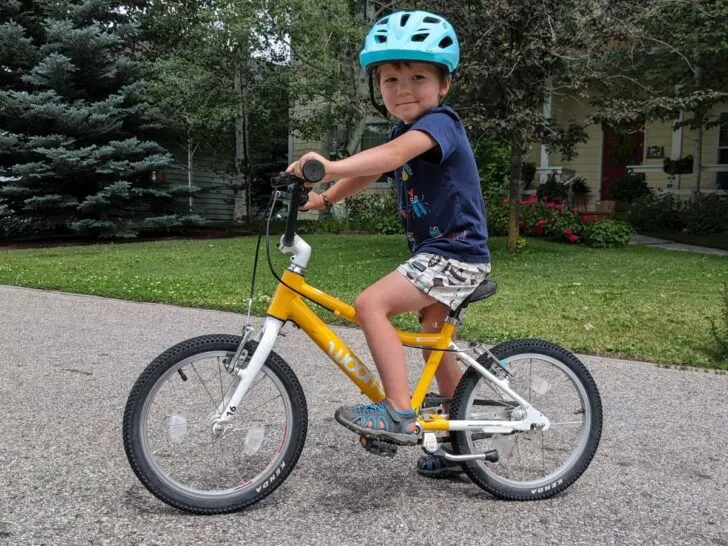 As an Amazon Associate and member of other affiliate programs, we earn from qualifying purchases.
Designed for kids 4-6 years old (around 41-47″ tall)
Saddle height from ground: 19.1-25.2″
Ultralight 16″ Wheels
Bike weight: 13.1 lbs (aluminum frame)
V-brakes with color coded levers, sized for children
Standover height: 16.5″
Child-specific geometry with a low entry/ upright body position
Freewheel hub for easier pedaling
Who Should Ride the Woom 3?
Obviously, any kid in the size range would probably love this bike. It's easy to ride and comes in fun, kid friendly colors. It's ideal for kids on the small side, who might struggle to handle the weight of a traditional kids bike, or who want to go on longer family rides where a heavy bike might tire them out quicker.
"We find the Woom 3 the most valuable as far as learning to ride bikes. The geometry along with being very lightweight means that kids can ride it very quickly and effortlessly." TMM Team Leader, Amelia
As you can see the Mayer family backs the Woom bikes!
Great for Timid Riders and Neighborhood Cruising
It's especially great for kids who are nervous or timid about biking. It is so lightweight and easy to use, kids seem more confident from the get-go on this bike. The long wheel base adds stability to this already easy to ride bike. I find myself always recommending it to parents with kids who have bike related anxiety or struggle to want to ride.
It's a great neighborhood or bike path cruiser, but can handle dirt paths, pump tracks and mellow trail riding. I wouldn't use it for most mountain biking, due to it's upright geometry, but for most of the riding an average four or five year old would do, this bike is perfect.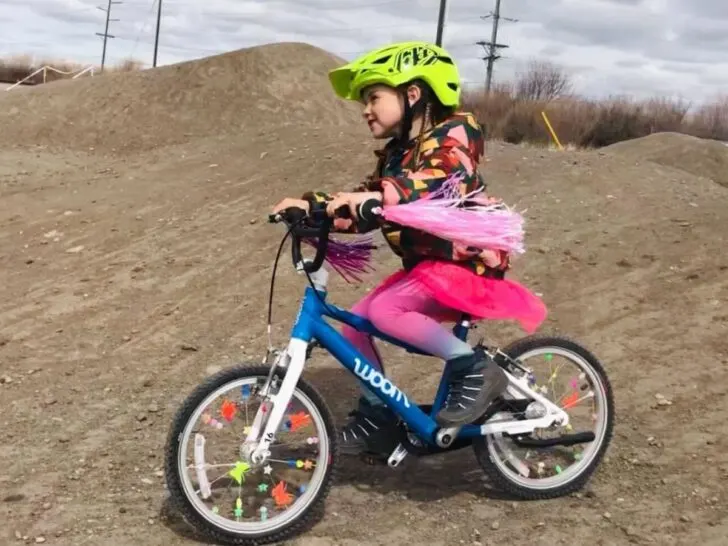 Got a pedal bike and a willing learner? Check out this guide about teaching your child to ride it: How to Teach a Child to Pedal a Bike
What We Love About the Woom 3
Woom 3 is Lightweight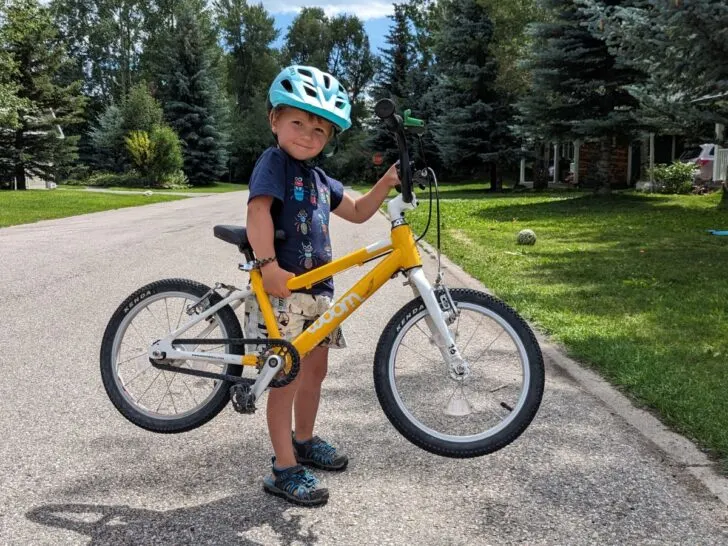 The weight is the standout feature of the Woom 3. At only 13.1 pounds, it's easy for kids to ride, and easy for parents to pack when the kid decides they're done riding half way home from the playground. But they might not give up, because lighter bikes are easier to ride and cause less fatigue, meaning they can hopefully ride further.
Is it really a big deal to have a super light bike? Well, if you were only 35 pounds, how hard would it be to ride a 25 pound bike? Light bikes are easier to control for small kids, and will help them enjoy riding a whole lot more than trying to wrangle a bike 80% or more of their weight. As kids get older and more capable weight is not as big of a deal, but when they're tiny and learning, it really does make a difference.
Thoughtful Braking System
I really love the brakes on the Woom 3. The levers are sized for small hands and adjustable to get the reach just right. They're color coded to differentiate between the front and back. The rear brake is green to help kids to remember which is which.
The braking power is adapted for kids to help 'over-braking' and causing a crash. These features combine to make an awesome tool for helping kids learn to use hand brakes in general.
Ergonomic Touches
I also appreciate the little ergonomic touches- the hand grips and seat are formed to fit little hands and hips, the handlebars are wide and high rise BMX style for comfort. The cranks have a low Q-factor (width between pedals) for more efficient and comfortable pedaling as well.
Fun, Safe, and Easy to Use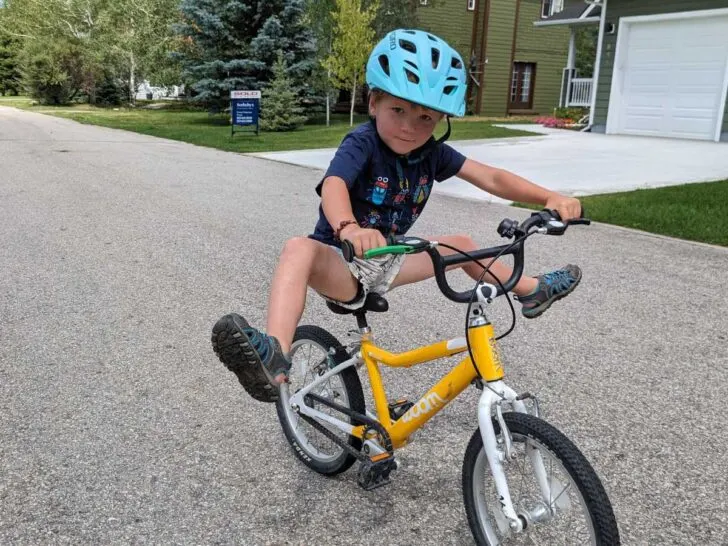 My kids really dig the kickstand and the colors, and that it's just downright FUN to ride! I love all the little touches to make this easier to take care of. The Schwalbe Little Joe tires are tough and resist punctures, and the Schrader valves are easy to service with a regular pump.
There are some great safety features as well- a chain guard to protect little legs and fingers from pinches but adds minimal weight, and a steering limiter. The steering limiter is basically a strap that attaches the stem to the handlebars, preventing kids from jerking the handlebars too far to either side, avoiding those wobbly panic crashes we've all seen.
Quick Release is King!
I'm also a big fan of the quick release lever on the seat post because inevitable every kid wants to try it out and I love that I can raise and lower the seat easily and quickly. Seriously, I think every kid in the neighborhood wants to ride this thing regularly.
Woom 3 Holds It's value
Which leads me to my next love- this thing can be handed down and resold over and over, and it seems to hold up! We just passed our Woom 4 on to it's 5th family and it's still going strong. I fully expect the 3 to last just as long. As long as you take good care of it, you will get your money's worth.
"I love the easy, small hand brakes and the gearing ratio that makes it so easy to pedal. It's almost a downside because my girl learned so quickly and wanted a bike with gears!" -TMM team member Shayna
What We Would Change About the Woom 3
It's Pricey
The biggest push back I hear from people is the price of these bikes. Most average families are not prepared or happy to pay $449 for a kids bike. Especially one they will grow out of so quickly! To be honest, the price held me back from buying Woom bikes for a long time. Luckily, we found one used and became converted.
Yes, I think it's pretty expensive, and I wish these high quality bikes were more accessible to most average families. But I've also watched many families go through the cycle of buying an inexpensive kids bike, then having parts break, and due to the cheap parts, be difficult to repair, thus sending the bike to the landfill before it can be passed down. Then they either buy another cheap bike and start the cycle over or they just stop riding.
Woom 3 – A Good Investment
However, you only have to browse the Woom bikes Buy/sell/trade Facebook page, Craigslist, or other sites to realize these bikes are highly sought after and hold their value. If you look at it that way, the price becomes more justifiable.
Buy it, pass it down, resell it and gain at least half your investment back. The quality is there and you get what you pay for. Plus you are reducing, re-using, and recycling, which is better for the planet!
Things to Be Aware of When Buying Used
Woom bikes have the size number printed in a circle or square on the frame. For example, the 16 inch Woom will have a "3" printed in the circle, while the 20 inch version will have a "4" in the circle.
Be aware when buying used, there are older versions and newer versions of Woom bikes, so if you want a more current model, know what to look for. If the number is in a circle, it's the newer version, while the squares indicate an older batch (pre-2021). The number of bolts in the stem is also an indicator.
The changes are minor, however, there is a recall on a stem bolt which they will resolve, so you'll want to make sure you know if it's older or not. Check Woom's website for more information.
Automagic Option
If your kid is the type to want to go fast or keep up with their older siblings, it may be worth checking out the Woom 3 Automagic, which has automatic gear shifting once they hit a certain speed (7 MPH). You can read about that in our other review: Woom 3 AUTOMAGIC!
Not Ideal for Aggressive Riders
The only other issue we've had is it's probably not the best for the more aggressive rider. Two of my three kids loved it, but my third kid didn't like the upright geometry and preferred a more aggressive bike. It really depends on your kid and the kind of riding they want to do.
Here is a side by side comparison of the Woom 3 and the Cleary Hedgehog. The Cleary has a wider stance and more aggressive geometry, but is great for mountain biking, while the Woom is more upright and great for more casual riding.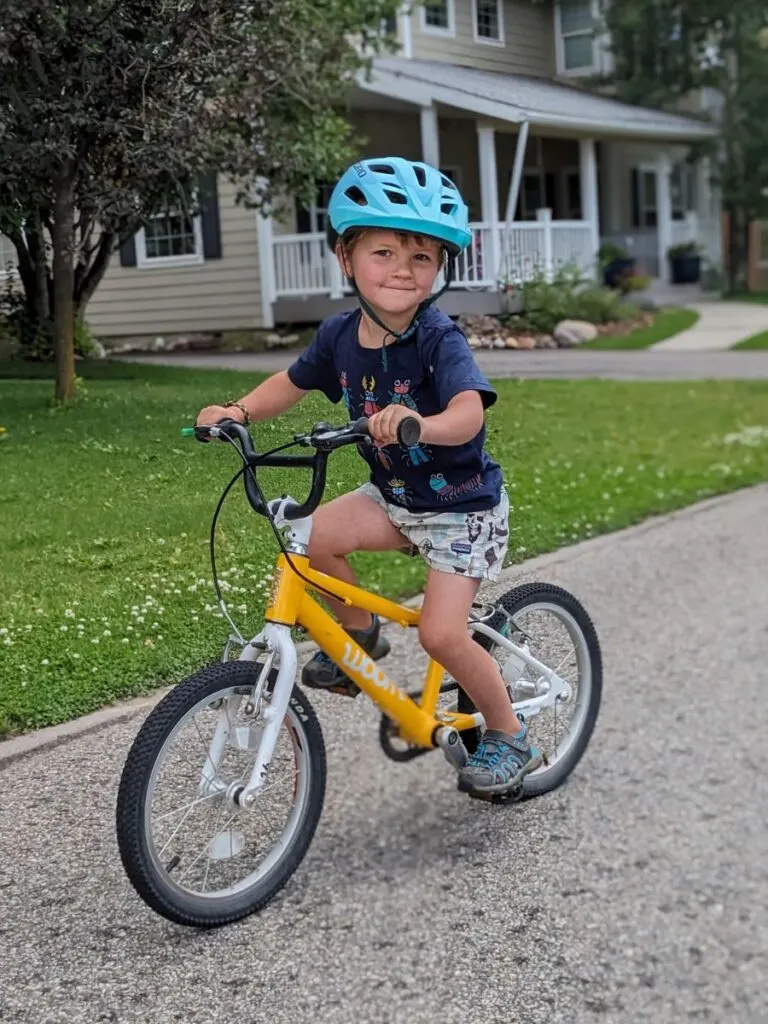 Woom 3: The Bottom Line
There are so many options for kids bikes, from inexpensive 'big box store' bikes with characters on them, to the several kid specific bike brands who cater to cycling families who care about weight and quality. With so many options, it can be tough to know which bike is the right choice.
I have personally tried several different kids bikes, and our collective team has taught countless kids to pedal, so I can confidently say I recommend the Woom 3 as one of the very best bikes to learn on. It's true, the sticker shock is real and these are pricey little machines.
That being said, if you can make the initial investment, it is a great bike and you are very likely to gain back much of your investment re-selling it. It's nice to have a kids bike that will last through many kids and seasons, and won't end up in a land fill.
Related Articles:
Woom 3 16″ Bike for Kids
© 2023, Kids Ride Bikes. All rights reserved. Republication, in part or entirety, requires a link back to this original post and permission from the author.