Woom 1 Balance Bike Review
If a friend asks for a bike recommendation for their toddler, our first suggestion is usually the Woom 1.
Our contributors and their families have tested dozens of balance bikes. Of the bikes that have passed through our families, the most consistent favorite is the Woom 1.
This little bike is carefully engineered for little bodies. Children young as 18 months can ride it! As the toddler grows, this bike will grow with the child until he or she is about three and a half.
As an Amazon Associate and member of other affiliate programs, we earn from qualifying purchases.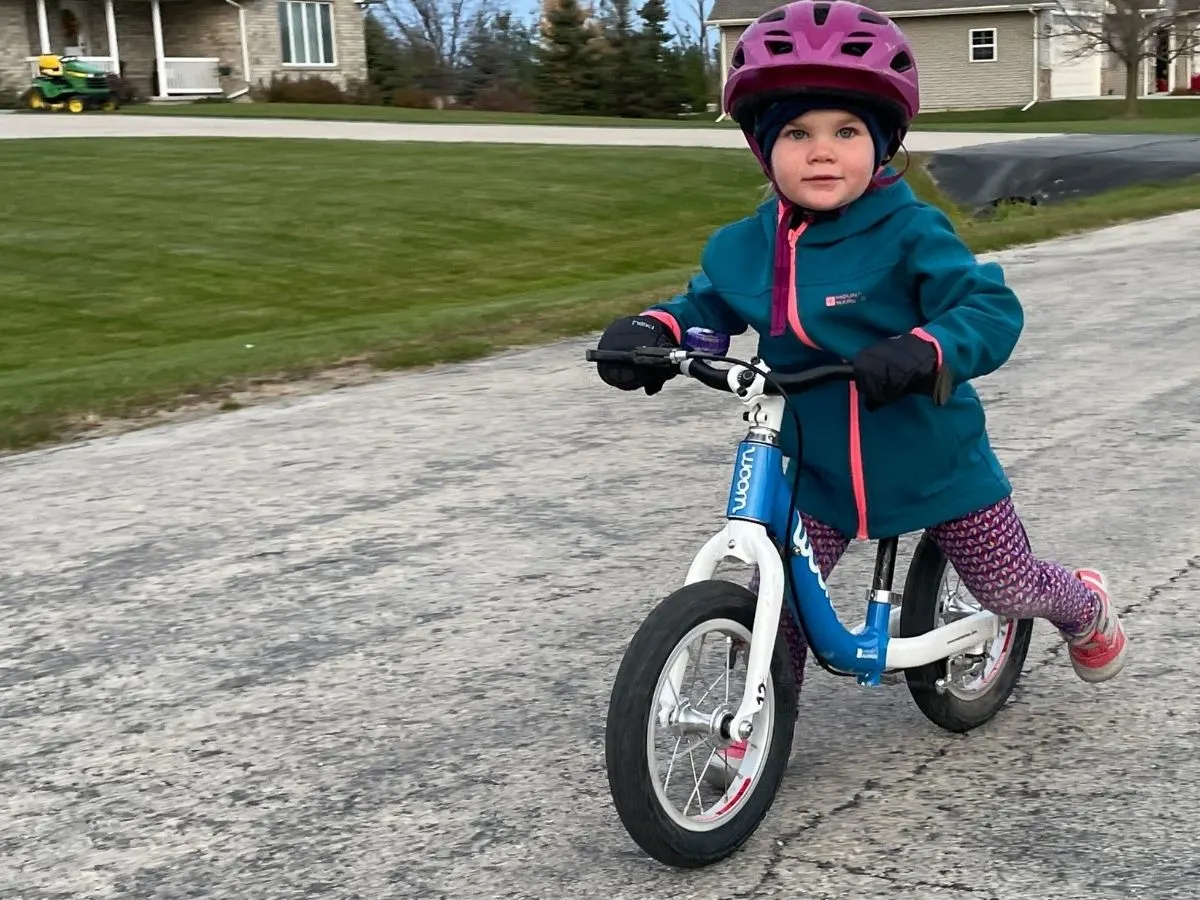 Designed for kids 1.5-3.5 years old
Saddle height from ground: 31″-40″
12″ Wheels
Bike weight: 6.6 lbs
Rear brakes
Child-specific geometry with a low stand over height
Who Should Ride the Woom 1?
This durable lightweight bike is great for toddlers learning and exploring biking. Even petite 18-month-old children can walk with this bike and begin to balance.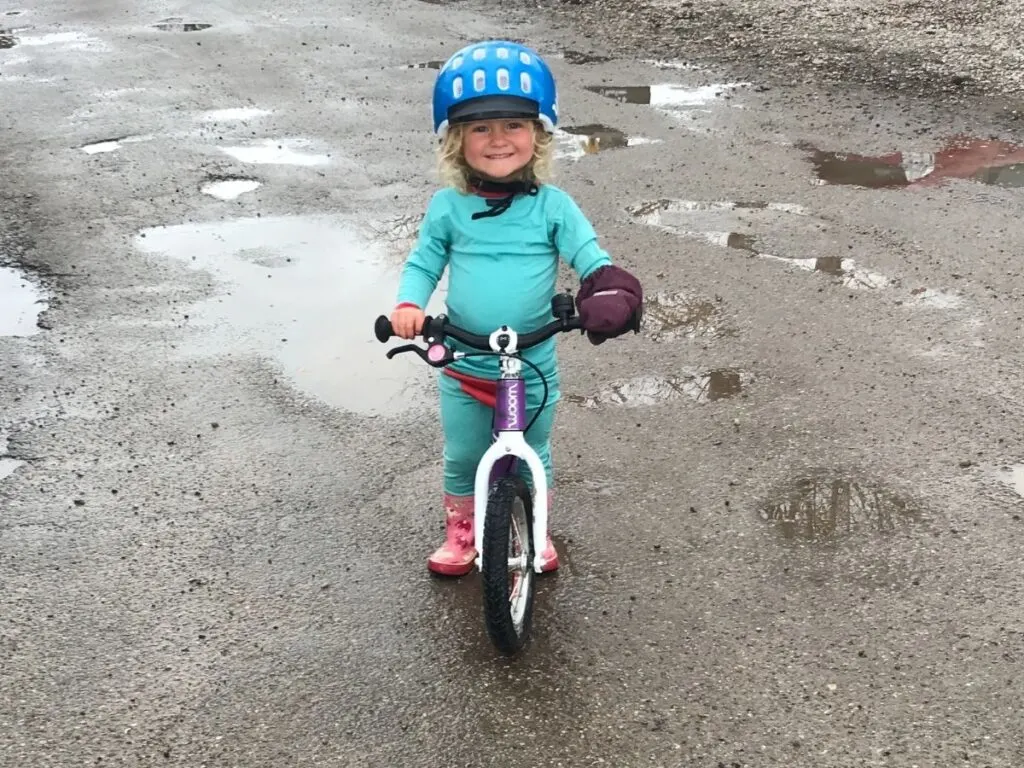 Amelia's small toddler was riding the Woom 1 months before she turned two and under 20 pounds. Not only could she comfortably swing her legs over the bike's top tube, but she could also push it up small hills and coast.
Of the 6+ balance bikes we put her on, she excelled by far on the WOOM 1. It's truly a bike MADE for kids to start on….and then ride for a few years.

— Amelia, TMM and KRB founder
After a child turns three or can fit into 3T pants, they probably need a larger balance bike. For these kids, we recommend the Woom 1 Plus or a pedal bike.
(Check out our pedal bike reviews here!)
The Woom 1 stands out among balance bikes in many categories.
Child-Specific Geometry and Design
Woom has crafted a beginner bike that actually fits children. Let's begin with its weight.
At 6.6 pounds, the bike is just right for kids to manage. Many bikes marketed to children are too heavy for them to manage. (As a bonus, a lightweight bike is much easier for parents to carry when the fun of riding is done.)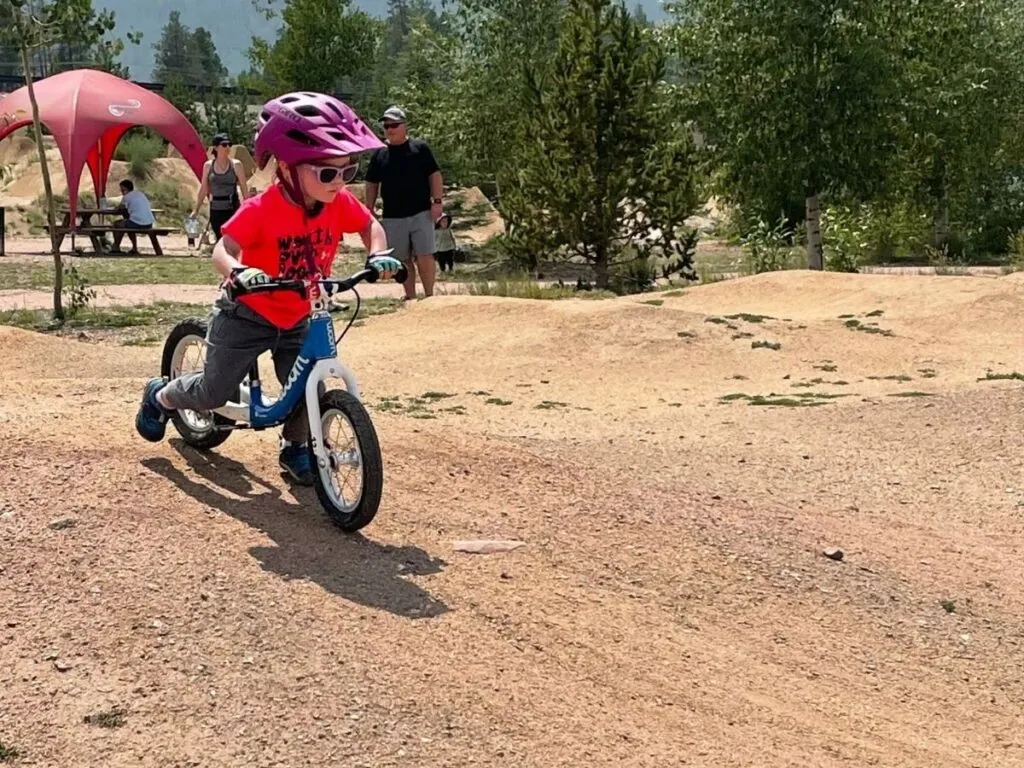 Low Geometry
Woom 1 has a low geometry with a low entry and a relatively long distance between the wheels. This design ensures that tiny people can mount and dismount easily.
Upright Posture
The geometry also forces an upright posture, which helps kids balance more easily than an aggressive forward-leaning posture. Beginners also feel more confident when sitting straighter.
Small Handlebar Grips
Even the handlebar grips have been considered. These grips are the smallest available and allow little hands to grasp the handlebars securely.
Smart Safety Features
Turn Limiter
Woom's turn limiter helps kids ride in a straight line and prevents them from yanking the handlebars from hard left to hard right. If your child has mastered this, then the limiter can be removed.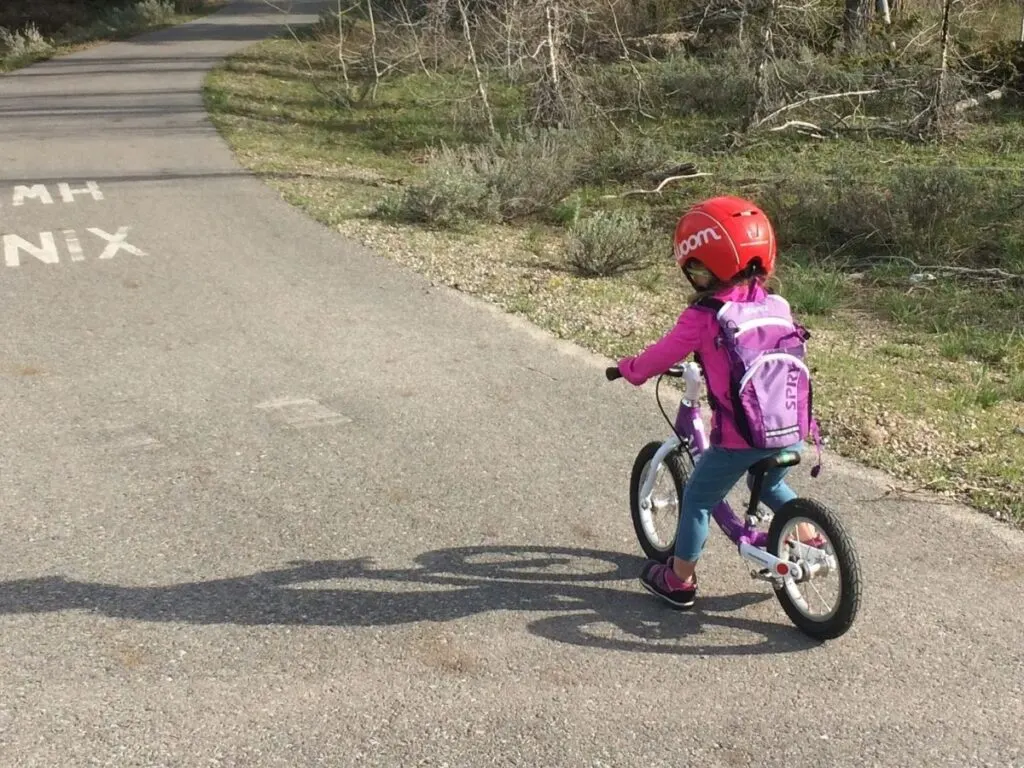 Pneumatic Tires
This balance bike has pneumatic tires that cushion the ride. Little kids can maintain their grip and control over gravel and bumpy terrain.
Reflective Detailing
Reflective strips on the tire increase the bike's visibility. Reflective features on the moving part of a bike improve a driver's chance of recognizing a cyclist and responding appropriately.
Innovative Handbrakes
Handbrakes should be a must on a balance bike!
While many balance bikes have no braking at all, this can lead children to learn bad habits and not be able to stop when they need to.
If a child's only way to stop is by setting their feet on the ground, they cannot come to a stop quickly on a downhill. This increases their risk for accidents and serious injury.
(I ran my fastest mile while chasing a careening toddler on a balance bike without handbrakes!)
Children also learn that the way to stop is by lifting their feet off their pedals. This can become a dangerous habit that is hard to break when the child learns to ride a pedal bike.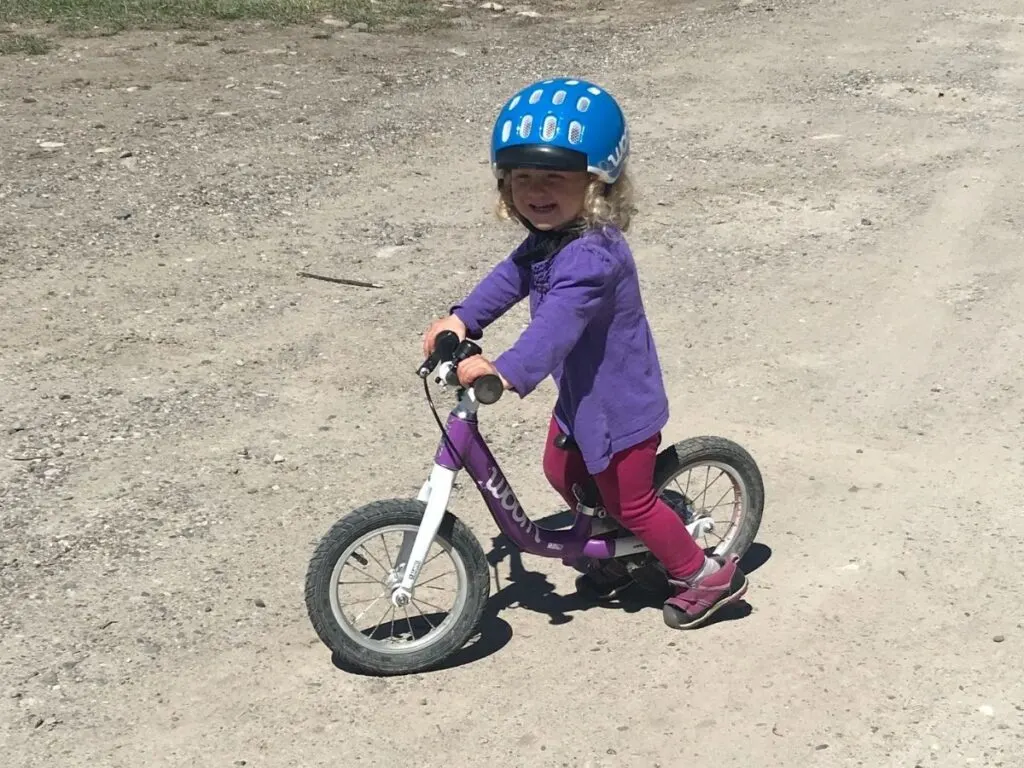 The handbrakes on the Woom 1 provide a toddler with much-needed stopping power and develops smart riding habits.
However, using handbrakes requires learning to squeeze with the appropriate pressure. The handbrake's braking power can be adjusted as children learn how to control their braking. This keeps them from stopping too suddenly and potentially flipping their bike.
What We Don't Love About the Woom 1
While there's not much we would change about the bike's design, we wish it were more affordable. However, in this case, the saying "you get what you pay for" is true.
Fortunately, the Woom 1's higher price tag can be mitigated through Woom's UpCycle program. For a one-time membership fee of $59, members can exchange their two-year-old Woom bike for 40% off the sticker price of a new Woom bike.
Alternately, Woom's strong construction means that it will last. This balance bike can be handed down to younger siblings or resold.
Speaking of reselling, Woom bikes can occasionally be found second-hand on Facebook Marketplace or Craigslist.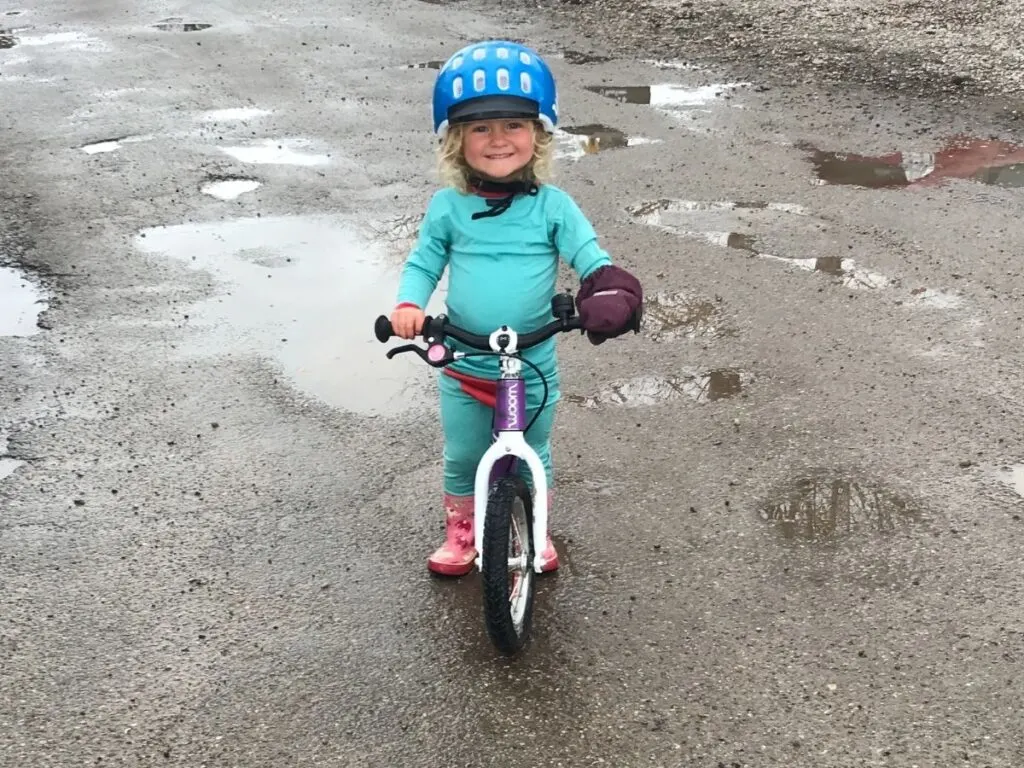 The Bottom Line
Woom 1 is our first choice among balance bikes for toddlers, and it is a solid way to foster a passion for biking.
Related Articles:
Woom 1 Balance Bike Review
© 2021, Kids Ride Bikes. All rights reserved. Republication, in part or entirety, requires a link back to this original post and permission from the author.