Winter Bike Commuting with Kids: Safety, Comfort, and Gear
Bike commuting with kids can be a great way to get outdoors, get your body moving, and (most importantly) have fun! For over a decade now, we have relied on bikes as our primary mode of transportation. We even lived without a car in Wisconsin and Sweden, which also meant biking daily through five frigid and dark winters with our kids in tow.
Winter biking can be more dangerous than biking in mild weather, so it is important to plan ahead and think about safety, especially if you have little ones along for the ride. With the right gear, preparation, and attitude, bike commuting with kids in a cold winter climate IS possible.
As an Amazon Associate and member of other affiliate programs, we earn from qualifying purchases.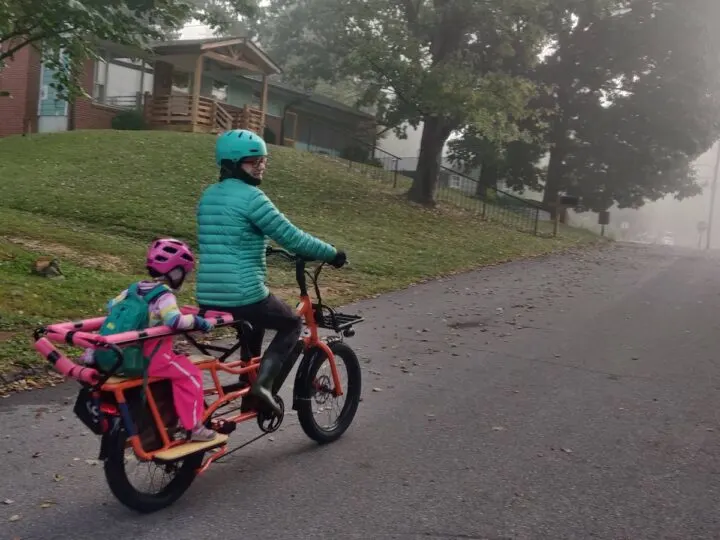 Winter Bike Commuting with Kids Safety
Be Visible: Lights and Reflective Clothing
If you live further north, winter brings shorter, darker days, so visibility can be an issue when bike commuting. For safety—especially if you are biking with car traffic—light up your bike as much as possible!
On the bike itself, we use LED string lights along the frame. If riding an electric cargo bike with a USB post, you can even plug lights like this into the bike panel itself and don't have to worry about charging the lights separately!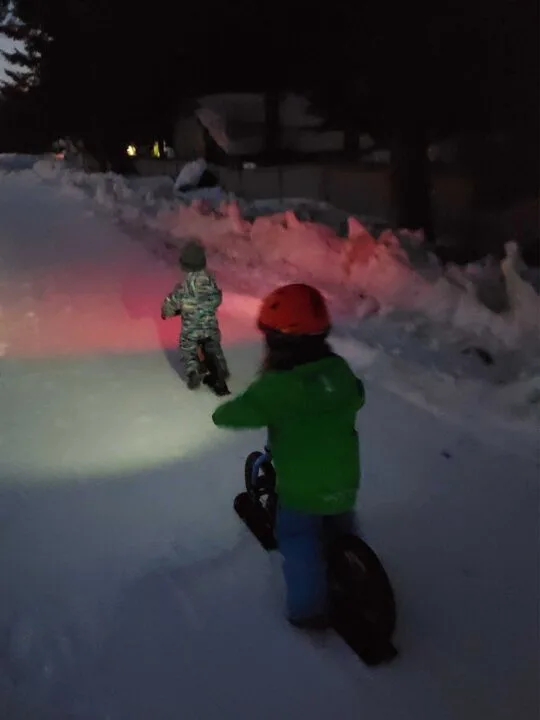 We also use wheel lights, and of course, a bright front light and flashing rear light. Choose lights with at least 200 lumens for well-lit urban streets and more lumens for rural riding or poorly-lit roads and trails. Team members recommend these lights from Nite Rider and Light & Motion (made in the USA!)
Along with bright lights, I also use a couple of these cheap reflectors on the rear and side of our bike setup for additional visibility.
I like to keep myself visible too, and sometimes wear a reflective vest and a headlamp. Reflective vests made for running work great for biking as well.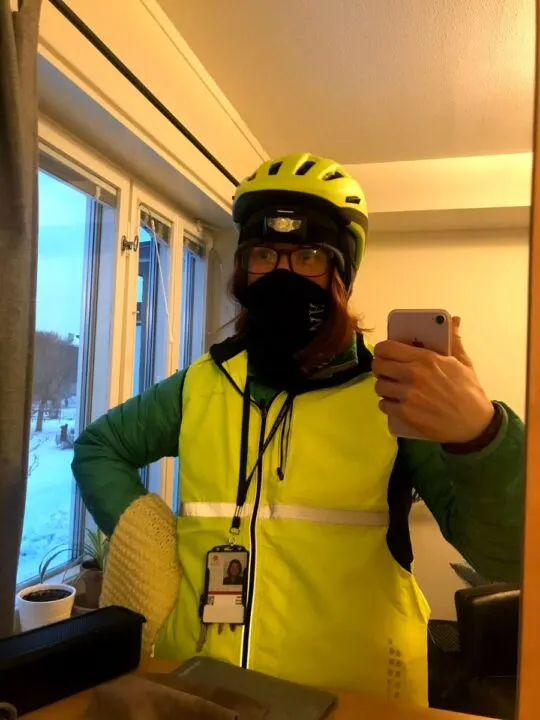 For kids, Woom has a line of kids' reflective clothing, including the FLARE Reflective Vest. Another fun option from Woom is the GLAM Reflective Sticker Set, which can be affixed directly to bikes to add visibility.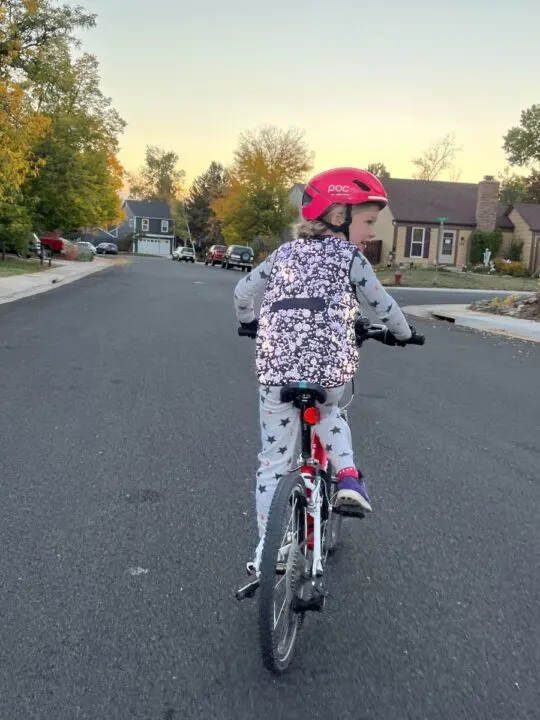 For even more ideas of some of our favorite light up items, check out our Family Winter Play After Dark post!
Stay Steady Over Slick Ice: Winter Bike Tires
Another issue with winter bike commuting with kids is the road and trail conditions during snowy or icy weather. Thinner or smoother bike tires are not the safest option for traction and stability in these conditions. As with a car, if you are living in a winter wonderland and are dedicated to regularly biking during the cold season, you'll probably want to swap out your tires for studded ones.
In Sweden, where most people are biking regularly, switching out your bike tires was a sign of the changing seasons, much like swapping out the winter gear from storage! Bike shops were inundated at the first sign of icy weather with requests for changing out the three-season tires for studded ones.
You'll want to make sure you don't do it TOO early, because riding along on cement or trail on studded tires isn't good for them. It's a tricky balance, but they do make a huge difference in the snow and ice.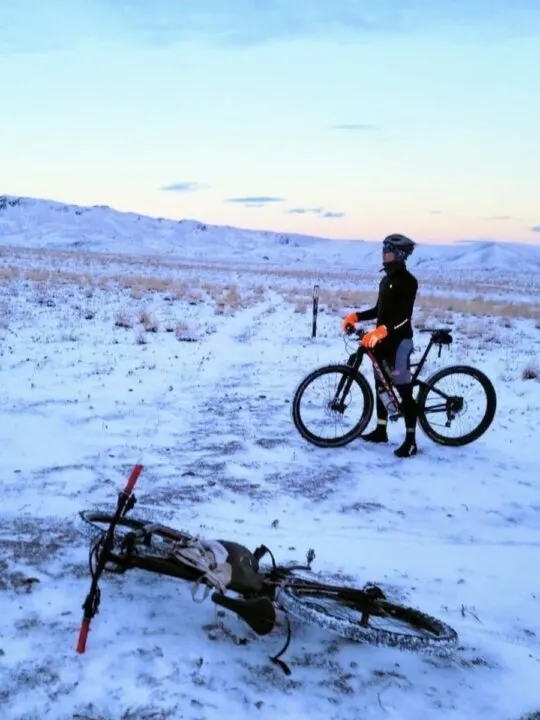 Studded tires are available in a variety of sizes for adult bikes – you can find the size of your tire alongside the outside edge (for example, 27.5-inch, 700cc, 29-inch), where you also locate the PSI (recommended inflation pressure).
Pay attention to width as well, since some bikes (especially road bikes) can't accommodate a thicker tire in their narrow forks. If in doubt, ask your local bike shop! KRB Team Member Jen recommends these Gravdal tires from 45nrth as some of the best out there for winter riding.
Be Prepared: Carry an Emergency Kit
Pack a winter-biking emergency kit and find a place to store it on your bike. This is especially important if your route takes you through a remote or secluded area. If you are commuting through a city with access to shelter or assistance if your bike breaks down or you get surprised by a heavy snowstorm, you can get by with a few less essentials, but you should still carry some.
Throughout the year, I bring along an emergency bike kit with necessities like a bike multi-tool and patches for quick fixes and flat repair. During the winter, consider bringing along additional emergency items, like:
All of these items are lightweight and easy to carry in a waterproof frame bag, but could make a huge difference if they become necessary.
How Cold is TOO Cold?
Depending on your setup for bike commuting with kids, the lower threshold for TOO cold will vary. Kids and toddlers exposed to the wind on a longtail or bike seat is different from a toddler in a bike seat or kids in a bakfiets-style cargo bike or a trike with a cover.
Think about factors like whether or not skin is exposed, if the kid is pedaling on their own and creating body heat for themselves, and the age of the child. When the temps dip into the low-teens, I start to reconsider taking little ones out on a bike. If the windchill drops the "feels like" temp even lower, I avoid biking if the kids will be on a seat or riding on the back rack of a longtail, since cold wind while cycling can not only hurt, but can lead to frostbite if skin is exposed.
But for temps in the teens to right around freezing, it's still possible to continue your daily bike commute with some knowledge, preparation, and the right gear. And if kids are sheltered from the wind in a box bike or trailer, then you could even bike through the colder weather too.
In the next section, I'll break down what I've found works best on different bike configurations. While not everything will be possible or applicable to your unique situation, these are just some ideas and wisdom I've gleaned from my family's years of being completely car-free during the dead of winter in cold, northern climate.
How To Keep Kids Warm While Winter Bike Commuting
In a Trailer or Box Bike
When my older kids were babies and toddlers and we were living car-free in Wisconsin, we first would dress them in their snowsuits, then wrap a thick wool blanket around them in the bike trailer. For the coldest days, I warmed up a homemade rice pack in the microwave and left it at their feet to keep them toasty in the trailer.
Similarly, in our Urban Arrow and Babboe Big-E cargo trike, we bought the waterproof cover for the box, which created a similar cocoon to a bike trailer. During this time, we also discovered down blankets like the Rumpl, which were easy to stow in the box and kept kids warm and cozy when bike commuting with kids.
On a Longtail or In a Child Bike Seat
My kids are older now and riding mainly on the back of an electric longtail cargo bike, which makes keeping legs warm and dry more tricky!
If your kids have outgrown the trailer but there isn't room in the budget for a bike with a cargo box for kids to sit in, you will have a bit more of a challenge keeping kids warm while commuting. But it's not impossible! With some innovation and specialized gear, your kids can keep warm even exposed to the elements.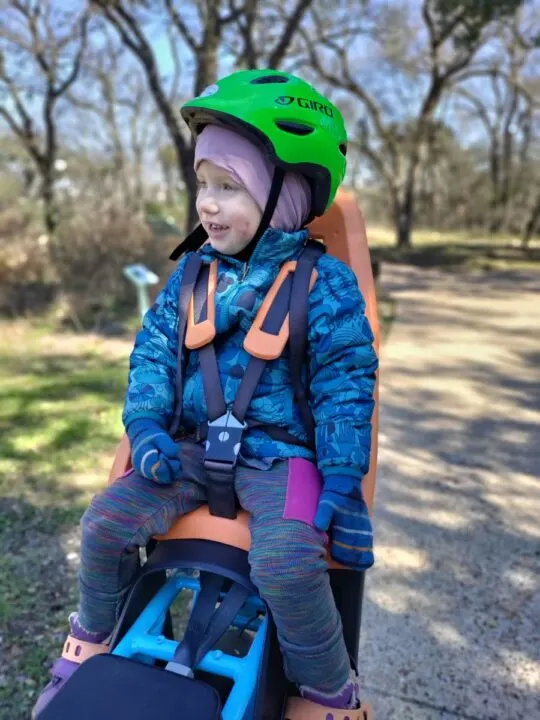 Some longtail cargo bikes are coming out with covers (like the Yuba Pop Top and RadWagon Conestoga) which affix to the bars on the back of the longtail to keep kids out of the elements. These can do a lot to keep kids drier and warmer, but don't cover legs and feet, so aren't the same as being in a box bike or trailer.
Lark's Bike Blankets
With more and more parents commuting by longtail cargo bike or with a kid in a bike seat, solutions for keeping them warm and dry during winter weather have expanded as well.
I was recently introduced to Lark's Bike Blankets, a small business started by a Canadian dad when he couldn't find a good solution to blankets falling off the bike while riding a longtail. They are fleece-lined and waterproof, and would make a great solution for those chilly, wet days taking kids to school or other outings on a cargo bike.
Riding Their Own Bikes
There's less of a worry of kids getting too cold when you are bike commuting with kids on their own bikes. They will be active and able to generate their own body heat. When they are riding along on their own bike, think about the same safety and comfort considerations you would make for yourself and your own bike, including bright lighting and the right clothing to wick away sweat and keep them dry during active cycling.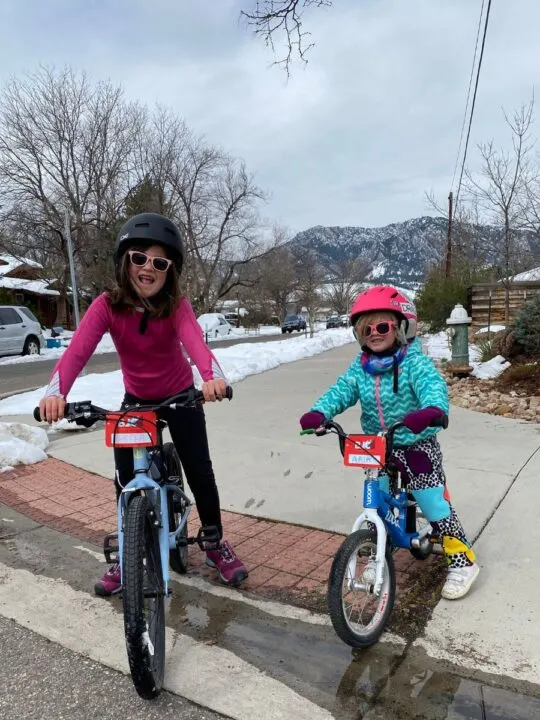 If riding somewhere with a lot of snow and ice, consider swapping out their tires for one with a more aggressive tread. Finding studded tires is near impossible for kid-sized bike tires, but mountain bike tires are wider and have more tread than road or hybrid kids' bikes, and may be the best option for winter biking on their own.
Gloves, Gloves, and More Gloves
Gloves are important whether kids are being pulled along or biking on their own. While kids in a trailer or box bike can stow their cold hands in pockets or under blankets, high-quality, warm gloves become a necessity when they are more exposed to the elements or riding their own bike.
For milder winter weather, bike gloves can keep little hands warm while they are pedaling on their own. Bike gloves offer some warmth and (most importantly) grip to help them keep control over the handlebars. They also offer protection in the case of a spill, important when roads or trails are slick.
For colder and wet snowy weather, we prefer to double-up gloves. We like the synthetic and wool Magic Mittens (or gloves for older kids) from Polarn O. Pyret, which are thin enough to slide under a thicker pair of waterproof mittens like Reima's Askare Mittens. If kids will be riding their own bikes, make sure their mittens aren't TOO thick that they can't hold onto and control the handlebars. Look for grippy material on the palm of the mitten as well.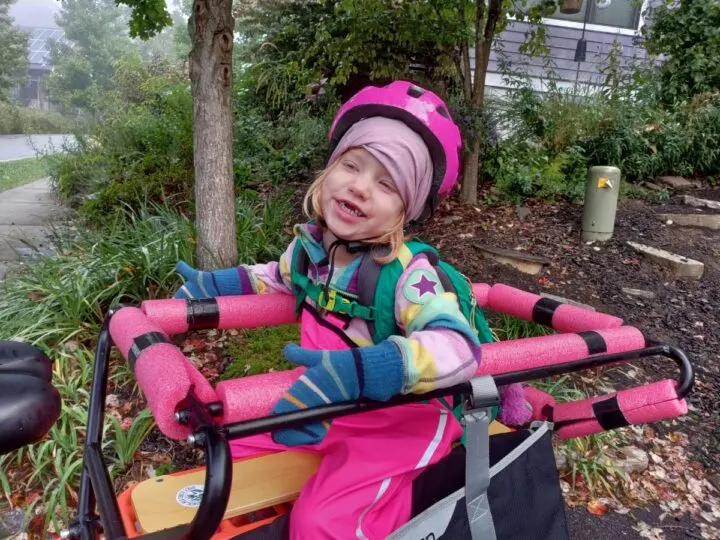 Kids Ride Shotgun Pogies
If kids are riding on a front bike seat (like the Kids Ride Shotgun or Mac Ride seats), you can even get special Pogies (handlebar mitts) just for them to keep hands warm and dry.
What to Wear: Gear for Grownups
Now that your kids are geared up and protected from the elements, the biking adult needs to make sure they have quality, waterproof and warm gear as well. I often get my kids all cozy for a long bike ride, then totally forget to grab gloves or a hat and end up freezing!
Glove and Mittens
Since you as the cyclist can't as easily stash hands in a coat pocket, make sure you have high-quality gloves that are flexible and non-slip. While ski gloves and mittens can work, there are some cycling specific gloves that might be worth the investment if you will be doing a lot of biking in the winter. KRB Team Member Stephanie recommends the POC Thermal Glove:
Those are my husband and mine's favorite bike gloves for winter riding.

– KRB Team Member Stephanie
Personally, I like to have a pair of wool liner gloves inside of warm down or synthetic ski mittens for long bike rides when it's below freezing. Doubling up on gloves allows flexibility for adding and removing depending on how my body is feeling.
I also like having at thin liner inside in case I need to do something with my hands I can't do in the thicker outer gloves (buckling or unbuckling kid helmets, for example), because then my hands aren't completely exposed.
Handlebar Mitts or Pogies
Another great option are handlebar mittens like Bar Mitts, that stay affixed to the bike and can't be lost or forgotten! Also called pogies, these can be absolute game-changers for winter bike commuting with kids, allowing easy access to brakes and gear shifters without the encumbrance of bulky mittens.
Balaclava or Buff for Under Helmet
One challenge while biking in the winter is keeping ears warm without sacrificing protection from the helmet itself. A thick hat can make a helmet fit poorly and compromise that protection.
One great option for keeping ears (and face) warm are balaclavas. A thin wool or fleece one fits snugly under a helmet. For a decade now, I've used the same merino wool Buff – it's held up remarkably well through years of daily use in the winter for bike commuting and hiking! I love that I can wear it as a headband over my ears, over my chin and face, or fashioned into a balaclava.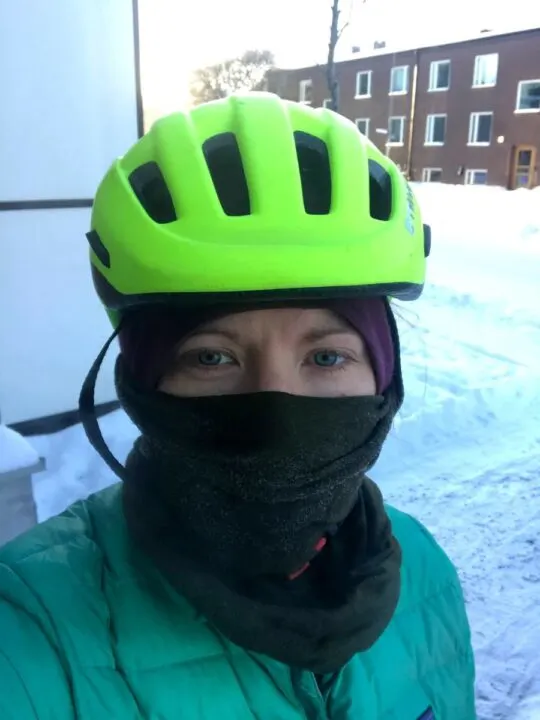 Ski Goggles
When it's snowy and windy, wearing ski goggles can help keep the elements out of your face so you can see in front of you while biking. Choose ones that are anti-fog and UV-protective, like these Smith Squad ChromaPop Snow Goggles, since visibility while biking is super important, especially when biking alongside car traffic.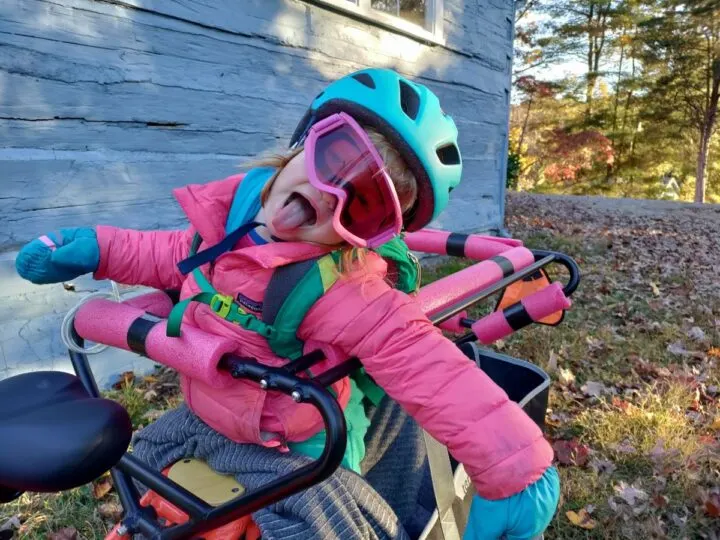 Sweat-wicking Base Layers
Since biking is an aerobic activity, it's possible to generate enough body heat to get pretty sweaty, even in cold weather. Layers are super important to regulating your temperature, as you might be really cold when you first hop on the bike to quite warm after pushing yourself up a hill.
But sweat is designed to cool us down, which could leave you TOO cold if your clothes get wet and don't wick away that sweat from your body. When dressing for winter cycling, choose synthetic or wool base layers that are designed for vigorous activity and won't leave you wet and cold after a ride. Merino wool is a huge favorite, for its temperature-regulating properties – it also doesn't leave you as smelly as most synthetic base layers.
Other Tips for Winter Bike Commuting
Multi-Sport Helmets With Winter Insert
Let's face it: being an outdoors, biking family can get expensive! Although I like to think we save money on gas and car maintenance, nice bikes and all the gear you need to ride safely and comfortably adds up.
Not to mention, a lot of us have limited storage space for ALL the things. I love when gear can do double-duty for multiple activities, which is why I've gravitated to multi-sport helmets for winter bike riding. They keep little heads warm AND can be worn for sledding, skiing, and snowboarding.
When looking for a helmet that could be used for both biking and winter sports, check to make sure it's certified for cycling use and snow sports: not all helmets are created equally!
Bern Macon 2.0 MIPs Helmet
I've tried a number of multi-sport helmets, but my favorite has been the Bern Macon 2.0 Helmet with MIPs. I've been wearing it for a couple years now, and it has been versatile to wear both in winter and summer. I love that there is an optional winter liner that can be added so you aren't always looking for a balaclava or hat.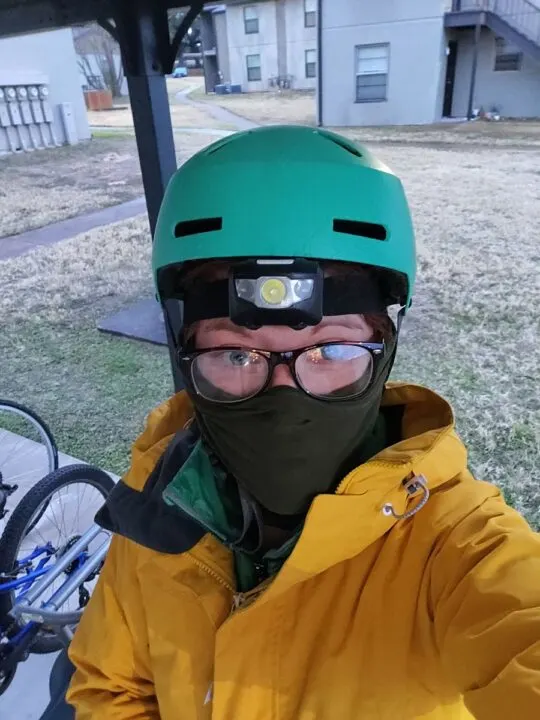 Another great option for keeping your head warm during winter biking is putting something over the helmet, like Burton's fleece helmet hood. It's designed to be worn over a helmet for snow sports, but could work for biking as well!
Rechargeable Hand Warmers
I bought a small rechargeable hand warmer a couple years ago on a whim, and it's been one of our favorite winter items. My kids affectionately call it the "warm egg", and it can be a lifesaver for cold fingers and toes when our and about. I like to stash it in my coat pocket and dunk my hand in when stopped at stop lights (or sometimes alternate one hand in pocket when riding on my Babboe trike!)
Aurora Heat Hand Warmers
Another great option for keeping hands (and toes!) warm while winter biking are Aurora Heat Reusable Hand Warmers. These are warmers made from ethically-sourced beaver pelts: beaver fur is incredibly warm, hypoallergenic, and odorless. Several KRB team members use these and love them! They would be a great option for not only biking but an array of winter activities.
Keep Your Bike Clean
Bike commuting with kids in the winter also brings challenges for keeping a bike clean, safe, and rust-free. The moisture from heavy snow, ice, and slush can cause rust on the chain and other metal components that are exposed to the elements.
Use an all-weather chain lube: my absolute favorite is Peaty's Link Lube, which I discovered at a local bike shop in Sweden. It cleans and lubricates the chain and (bonus) smells amazing!
If you are biking somewhere where the roads and bike paths are salted, you will want to make sure to clean your bike regularly since salt is corrosive on a metal bike frame, chain, and drivetrain. Rinse salt from the frame: this can be done with a garden hose when temps are closer to freezing, or in a shower if you can fit it in there.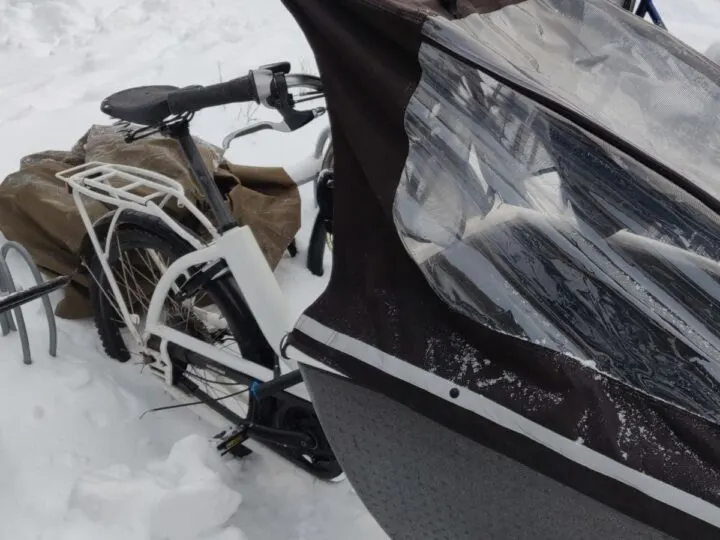 With our cargo bikes that were too big to bring inside, we would use a squirt bottle filled with warm water to clean the frame and drivetrain in the winter. A large sponge (like those used for car-washing) can also be dunked in warm water and used to wipe off salt and other winter road and trail gunk.
If you are lucky enough to have bike cleaning stations installed in your city (as we had in Sweden), you can utilize those regularly to keep your bike in good condition despite the elements.
Winter Bike Commuting with Kids Can Add a Good Challenge
We know there's a lot to consider when bike commuting with kids, especially in a cold, wintry climate. With the right prep work, infrastructure, and gear, it can be possible!
It's not always easy, and there were definitely moments when I wished desperately to buy a car. But I've found winter bike commuting with kids can add a heaping pile of challenge, misery, fun, and satisfaction (you look so hardcore out there!) to the everyday school commute and grocery pickup, and for my family, it's (usually) been worth the extra effort.
Related Links:
Winter Bike Commuting with Kids
© 2022, Kids Ride Bikes. All rights reserved. Republication, in part or entirety, requires a link back to this original post and permission from the author.