Best Biking Gifts for Kids 2022
Tis' the season for gift giving! We are so excited to showcase our team's favorite kids cycling gifts. Big or small, we've searched for the gifts that will surely bring smile to your favorite biker's face.
Gifts are sorted by age and interest as there are many styles of riding. We encourage you to check in with the kid and family to make sure the gifts fits or is helpful to the type of riding they enjoy.
Check out all our other gift guides here!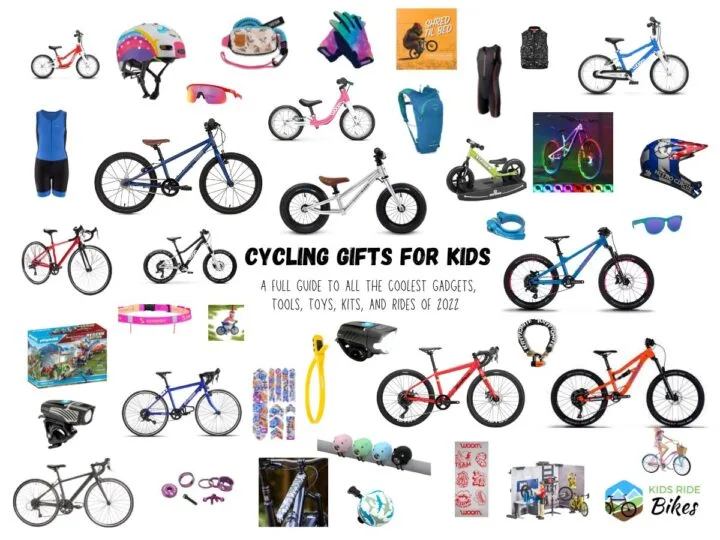 We're all about stoking the flame, even if that means a Playmobil set or Barbie along with a lovely set of riding gloves. Biking gifts are a great way to encourage friends and family to take care of themselves, get outside and play.
Our team has complied a list of the best cycling gifts we've given and received. From stocking stuffers to gifts that wow, we've got your favorite cyclist covered!
As an Amazon Affiliate and member of other affiliate programs, we earn from qualifying purchases.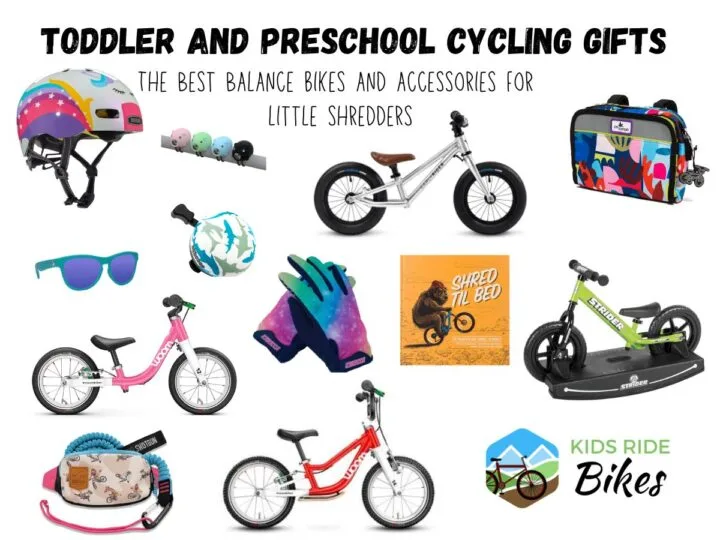 Biking Gifts for Toddlers and Preschoolers
Here are some of our top picks for the tiniest bikers on your list.
Balance Bikes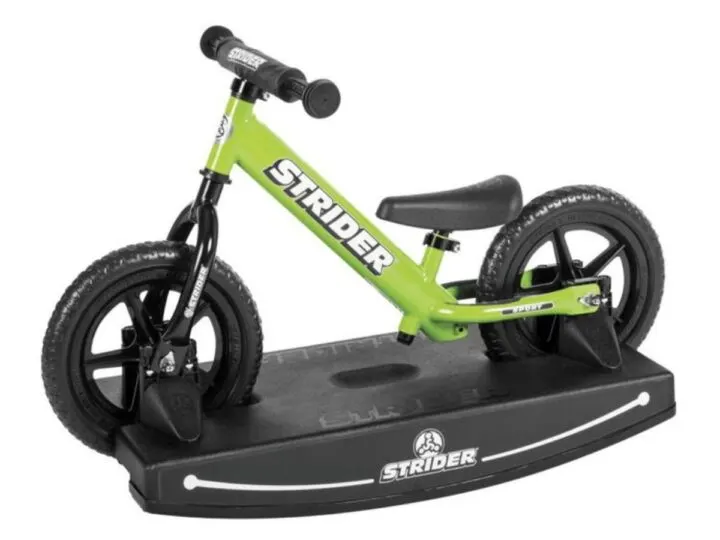 Strider has offered a great mid level balance bike for well over a decade. Great for smaller riders, a rocker base can be added to the bike which allows babies to climb and stand on the bike safely.
Woom is an obvious team favorite with their incredibly lightweight frame. The Woom 1 comes with a 12″ tire and the Woom 1 Plus comes with a 14″ tire. Both come with hand brakes which will save sneakers and teach proper habits. They have a great sizing guide and solid trade up program as well.
Early Rider offers a great light weight balance bike with a more aggressive mountain bike geometry and big chunky tires. Early Rider is a UK brand with a long line of top quality kid specific mountain bikes.
Here are a few tips to set your new rider up for success and a full review of the 5 Best Balance Bikes on the market.
If you have an older child 4-7 years old that still needs to learn to balance, any bike regardless of size can be made into a balance bike by taking off the pedals.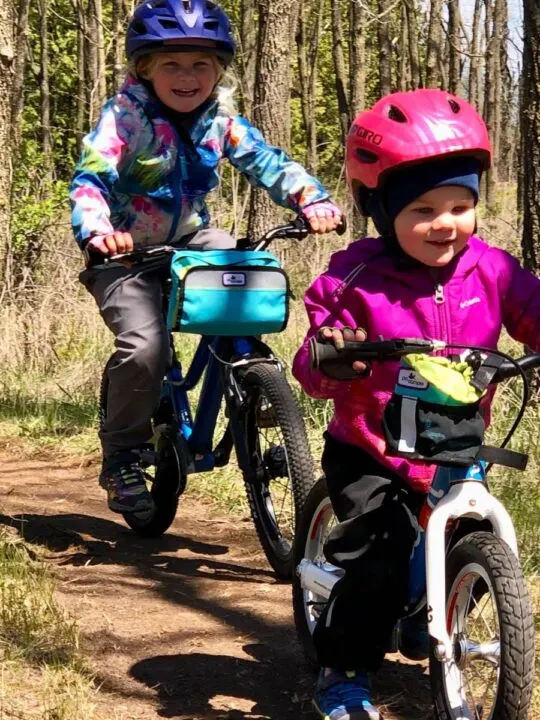 Bike Accessories for Toddlers and Preschoolers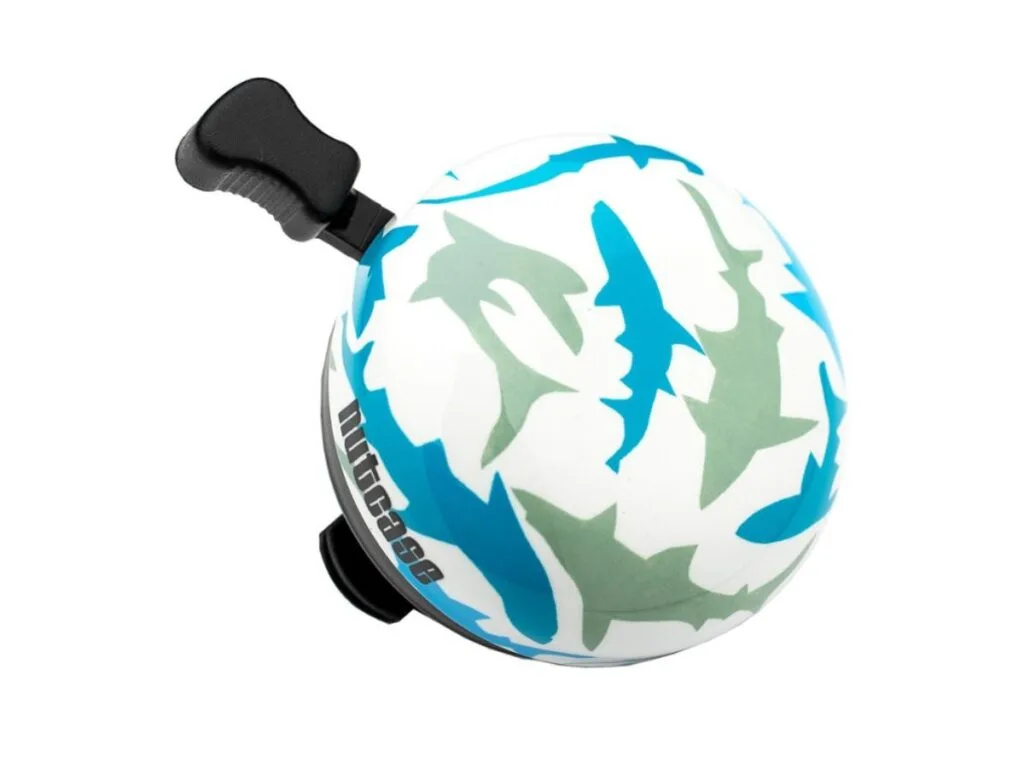 Cute, loud and easy enough to press for the littlest of fingers with an ergronomic thumb arm. Note of caution, make sure to twist it on tightly as it can loosen over time.
These little waterproof lights will give your rider about 300 lumens of light which is just enough to be seen in the dark as well as a loud 120 decibels horn in case they need to be heard as well.
This team favorite is a great addition to any bike. Colorful and easy to use with extra deep pockets for all the treasures, the Po Compo bag is a win for all ages. See our full review here.
Bike Gear for Little Ones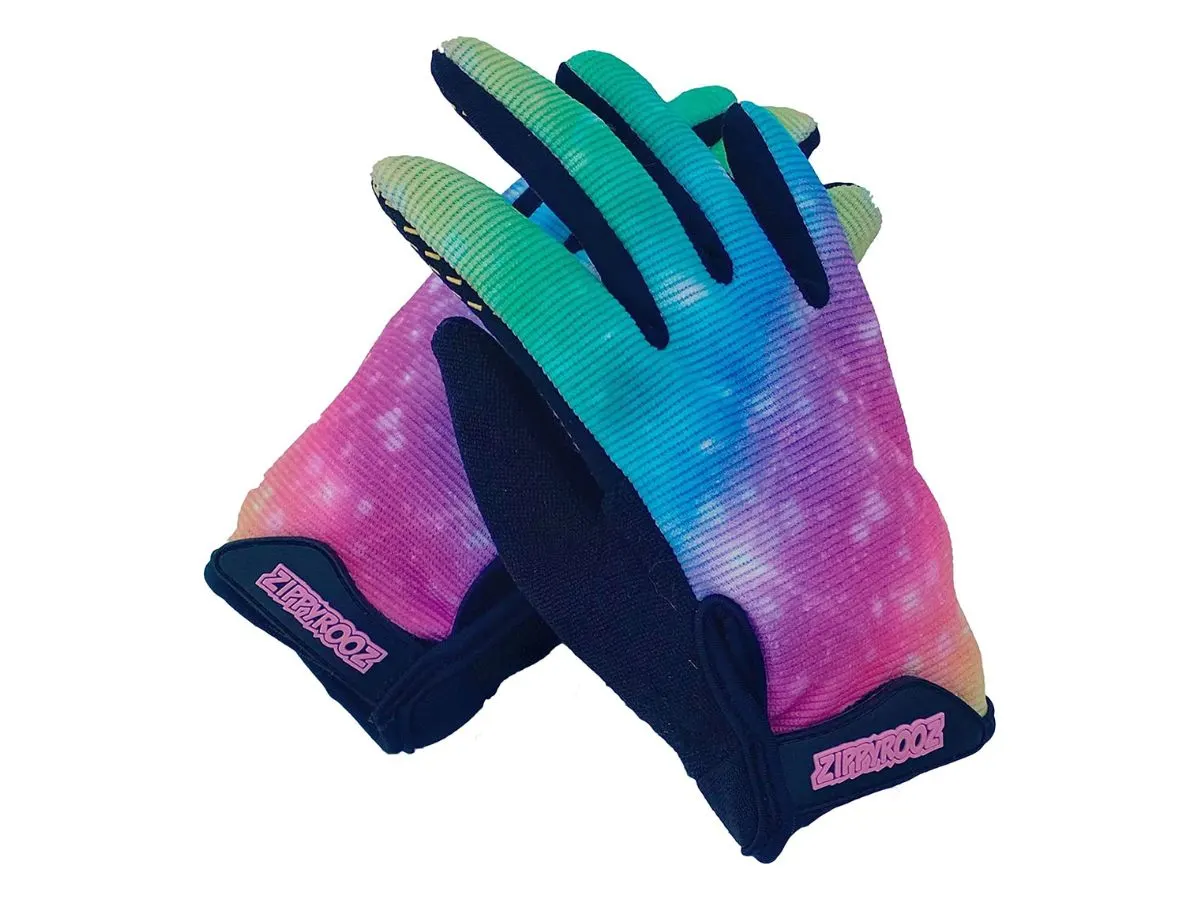 ZippyRooz are a constant favorite for small fingers. Cool designs, solid padding and easy on/off make these little gloves perfect for toddlers.
Check out all our favorite kids bike gloves!
Mini Shades are a solid budget polarized lens sunglasses for toddlers and preschoolers. See our full kids sunglasses review.
Nutcase makes super solid, easily adjustable kid approved helmets. Fun designs and extra coverage makes this helmet a top choice for kids and parents.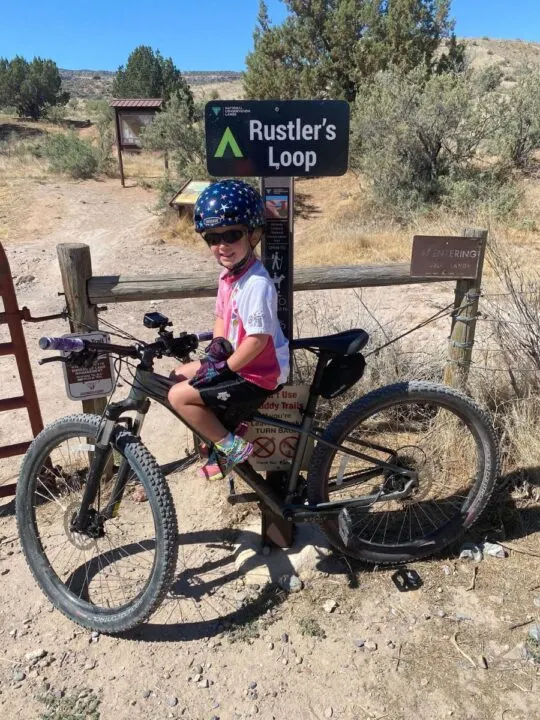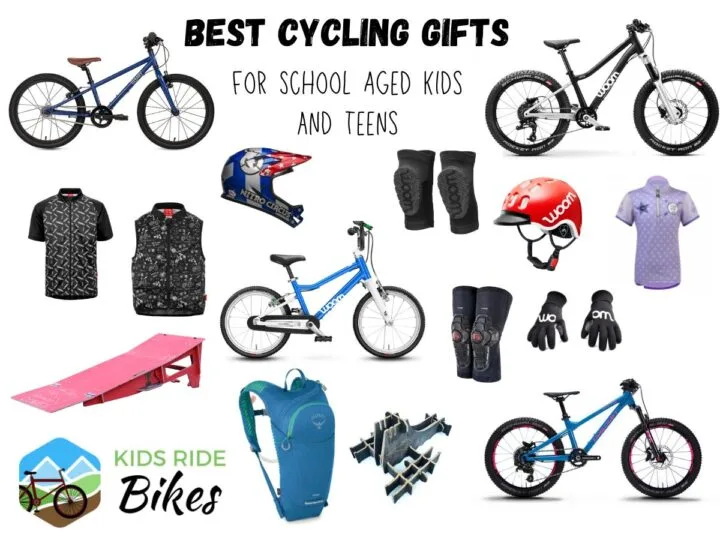 Biking Gifts for Kids and Teens
Park bikes are bikes kids ride to school, the park and around the neighborhood. Most kids are happy with a more relaxed geometry that these bikes offer. Some kids may wish for mountain, road, cyclocross or gravel bikes instead. Below is some of our favorite park bikes and mountain bikes followed by some sport specific bikes and gifts.
Best Bikes for Kids and Teens
Woom Original bikes are a great intro bike. They are arguably the easiest bike to learn to pedal and work well for many different activities due to the kid size geometry and incredibly light frame. We've seen these bikes do well on entry level trails and family group rides on the bike path.
Cleary bikes offer a lovely mid range steel frame bike. Not as light as Woom but a much stronger build. For families who might lean more towards trail riding and touring, these bikes are built to last. Cleary offers a more aggressive riding position as well as a sturdy steel frame that's comfortable on long tours. An internally geared hub makes shifting and cleaning a breeze.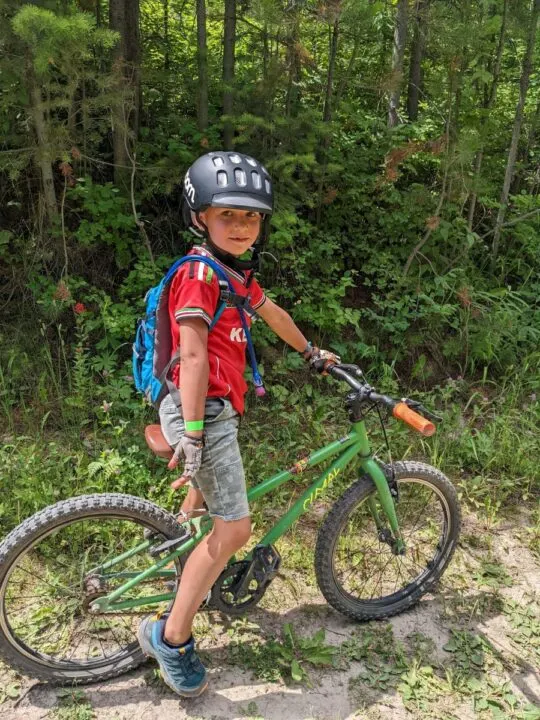 Pello and Specialized also make great park bikes. Each brand has slightly different geometry and sizing so be sure to check inseams and sizing guides.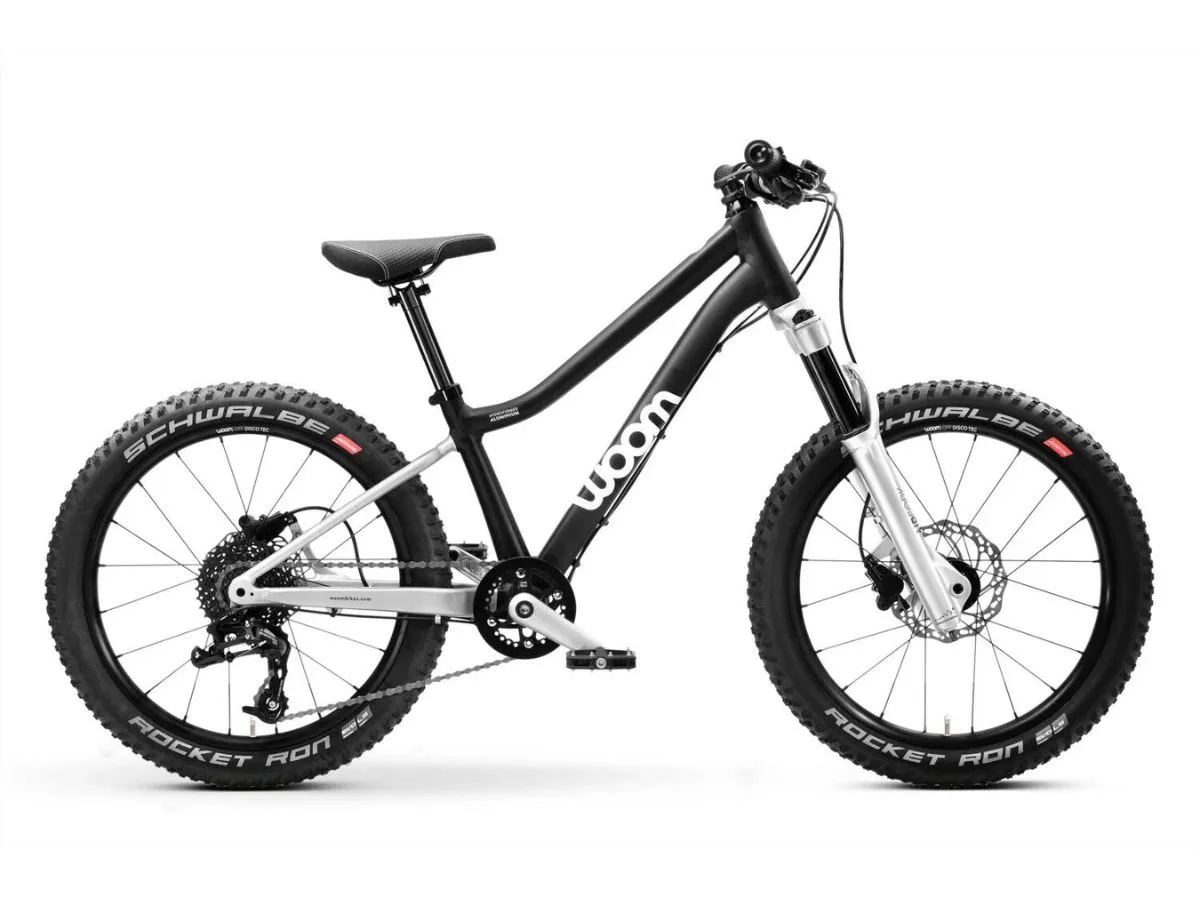 Woom makes great park bikes but they make even better mountain bikes. It's pretty hard to beat the specs of the Woom OFF. From the brilliantly light weight frame to disc brakes, squishy suspension and feather smooth shifting, there isn't much to want more. Throw on a dropper post, some flashy pedals and grips and you've got yourself a holiday winner.
Trailcraft Cycles offers both hardtail and full squish bikes. They are a highly coveted brand in the mountain bike market due the ability to full customize the build, offer some of the lightest build specs and multiple configurations for each build level. Built in Northern Colorado, these custom builds can shed with style.
Check out our most popular mountain bike reviews.
Bike Accessories for Kids and Teens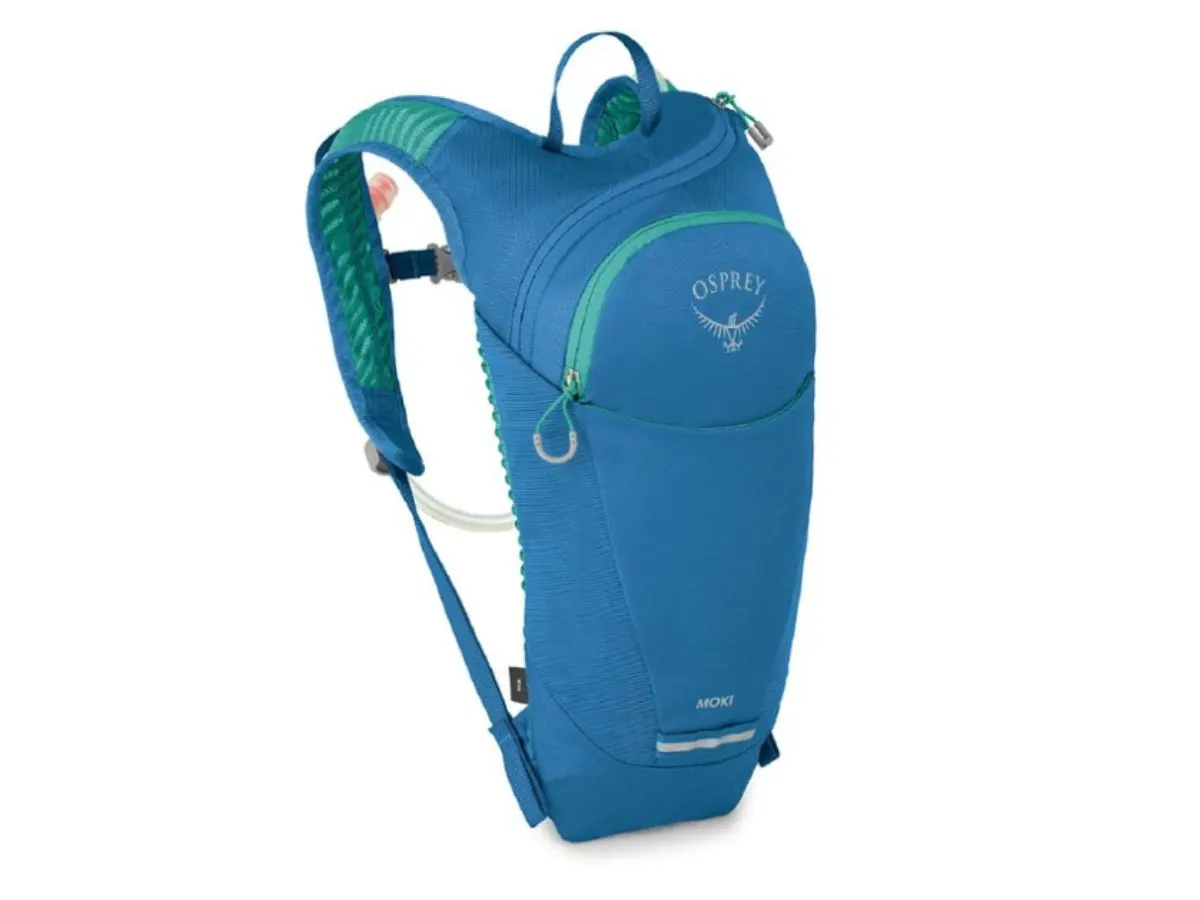 The Osprey Moki is a popular kids hydration pack due to its seamless and thoughtful design which fits even the smallest of riders and has a magnetic clip for the spout to rest carefully out of the way but close enough to easily take a drink.
Shock absorbing rope allows for a comfortable tow for both kid and parent. Tow ropes help parents pull kids up the trail so they can enjoy the ride down. The rope stores nicely in a hip pack when not in use.
G-form makes a high quality kids mountain bike pad. Kids loves these pads because they are thin, breathable and easy to get on and off.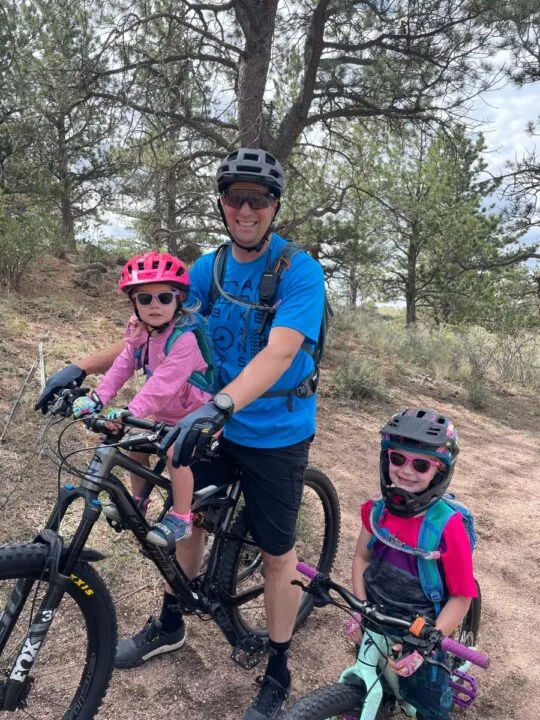 Kids Cycling Jersey and Helmets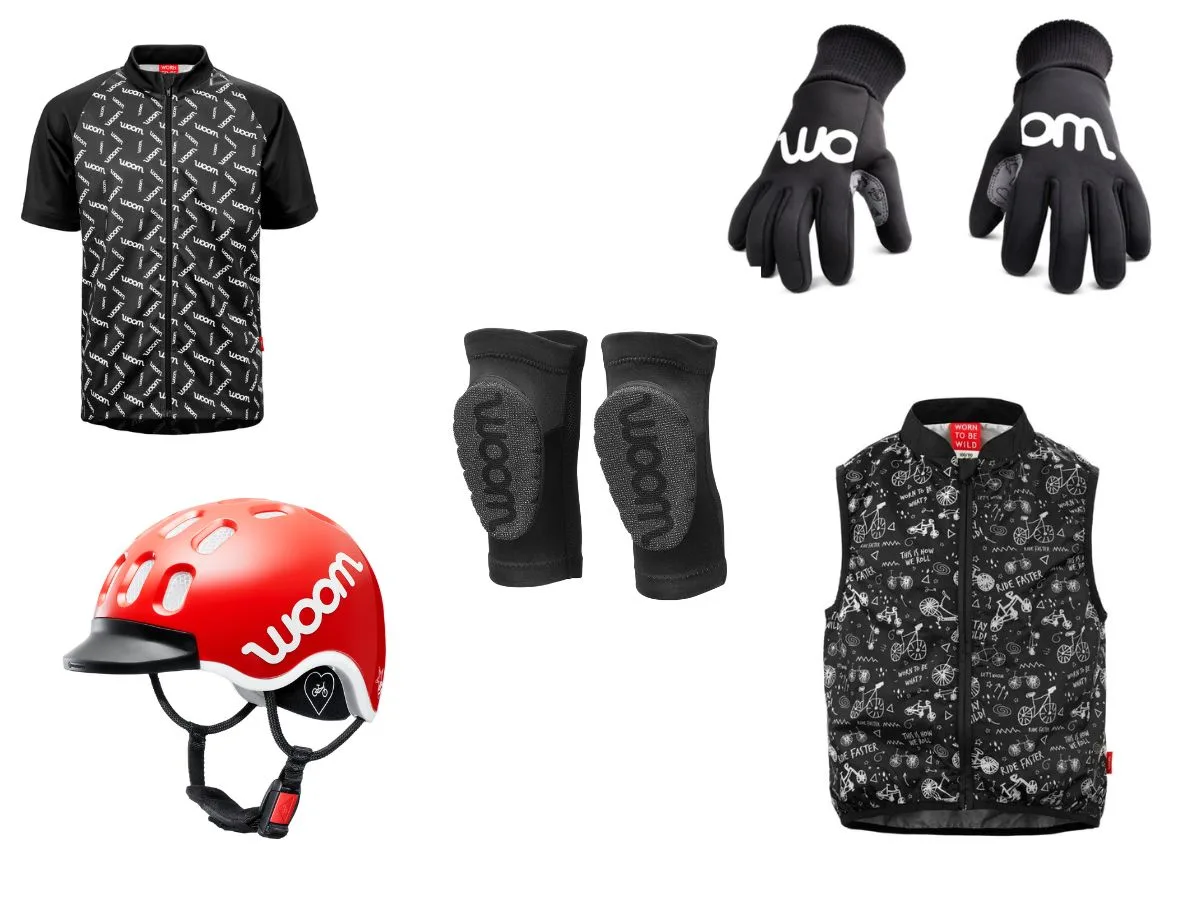 Woom might just be our top kids cycling brand. From jerseys to gloves to highly reflective vests, Woom makes the apparel and accessories your kid craves. Check out our full review.
We love Aerotech cycling kits for kids. Breathable, high quality and affordable cycling wear is hard to come by, this female owned USA made company checks all the boxes. See our full review here.
Looking for an entry-level full face helmet for your favorite down hill shredder? Our team likes the Bell Sanction due to the lightweight, breathable materials that don't break the bank.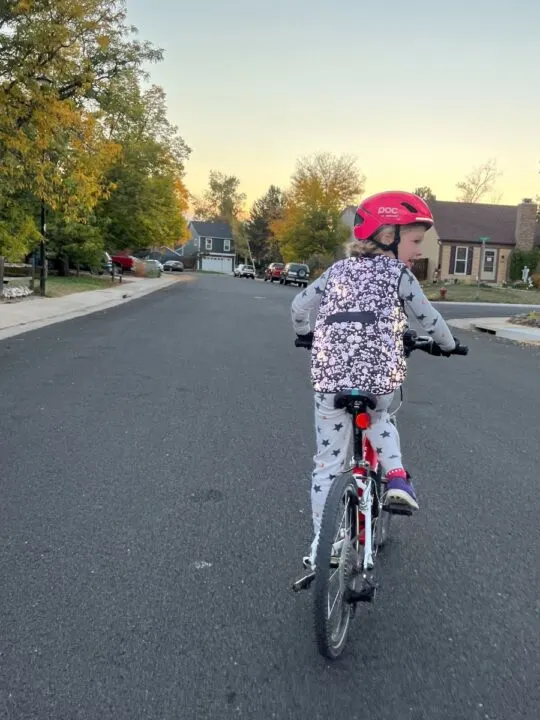 Kids Ride Shotgun Windproof Kids MTB Jersey
New from Kids Ride Shotgun! KRB Team Member Jami's girls have been loving these jerseys! The front has a windproof panel which is especially great for the passengers who are not working up a sweat.
The long-sleeved jerseys come in 3 prints, Upshift Unicorn, Loose Lion, and Dialed Dino! These don't seem too hot either, the girls have worn them on some warmer days without too many complaints. We also love the drop tail hem providing extra coverage in the back.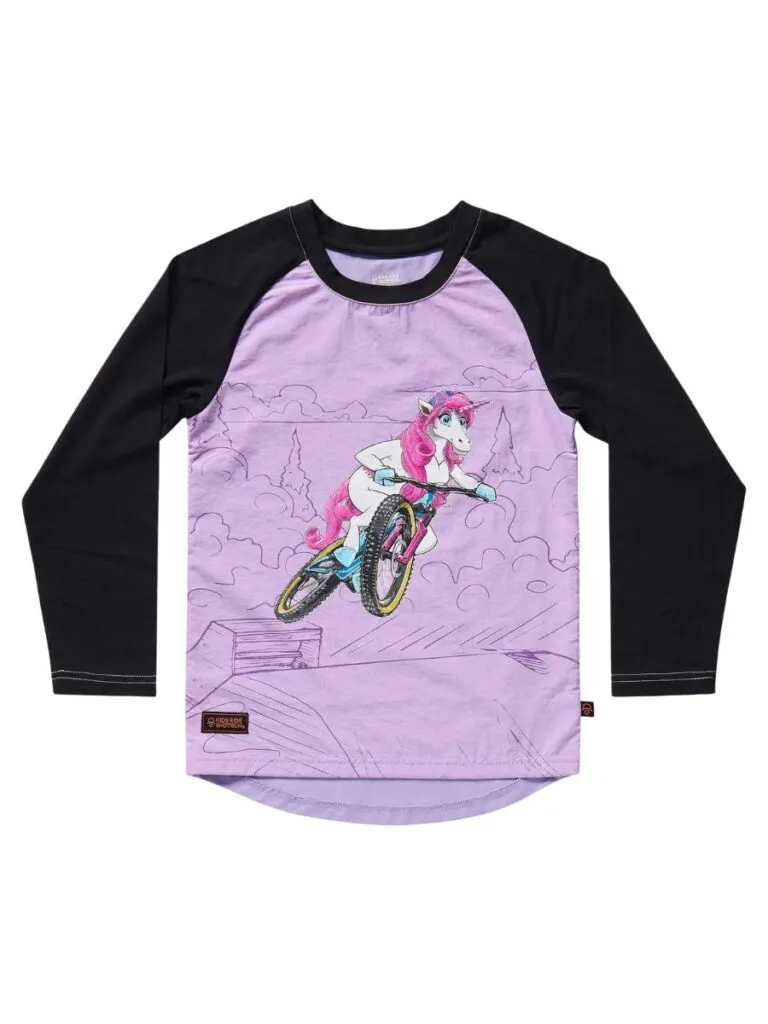 The girls have got a lot of compliments on their rad biking unicorn jerseys and a few jealous looks from some other biker girls. Oh, and they come with some Shred 'Til Bed tattoos! They also wash up good, just hang to dry. The wind proof panel also acts as a little stain repellant in case a little one was to spill some ice cream or mustard.

KRB Team Member Jami
Only downside, they have a small size range so bigger kids are going to miss out on this little kid exclusive. These are available in YXXS (2), YXS (4), and YS (6) for $40.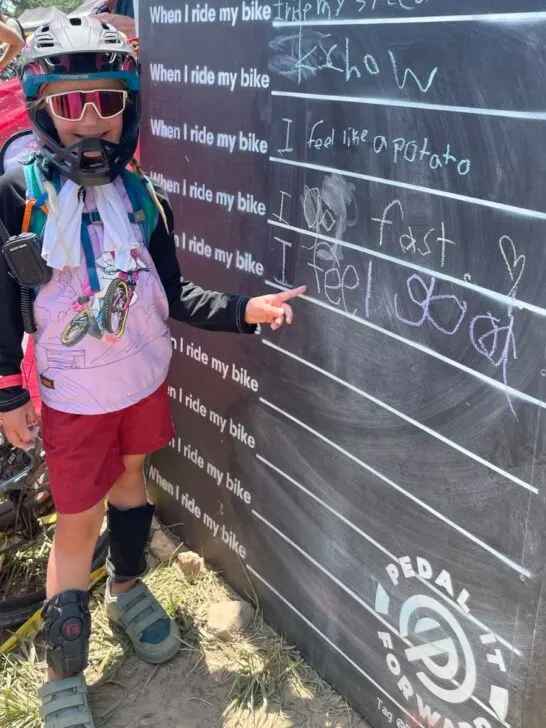 Mountain Biking Gifts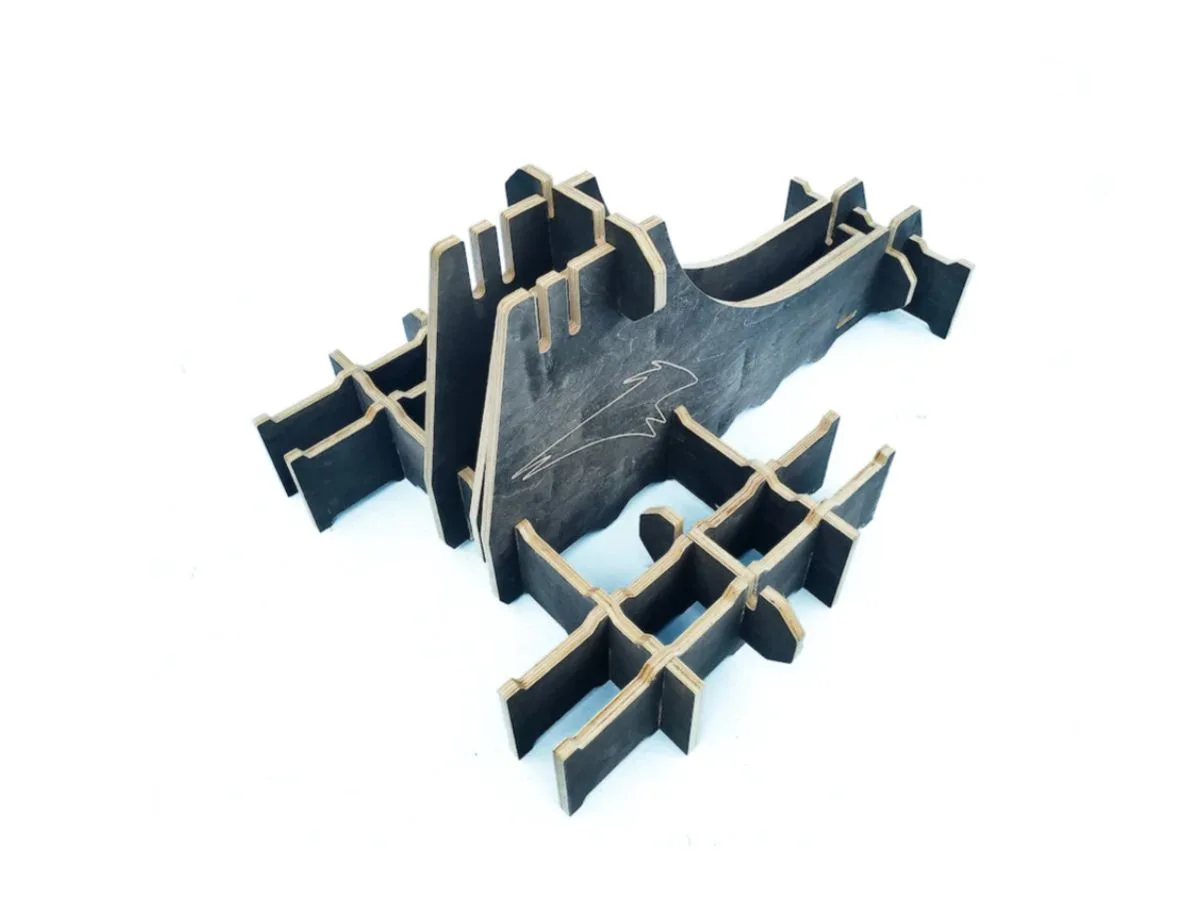 This Ninja Mountain Bike Trainer is top on our family's list. Designed for wheels 20″-29″ big, this trainer will fit kid and parent bikes alike. Learn to pull up into a manual in the living room this winter so you can begin bunny hopping and dropping next spring.
A full squish (front and rear shocks) bike is great for the kid that loves to fly downhill, especially at lift assisted parks. The Rocky Mountain Reaper and Early Rider Hellion have our vote.
Byclex is a fairly new brand to the kid mountain bike market but they are quickly making their impact with affordable bike ramps shipped from Lithuania. See our full review here.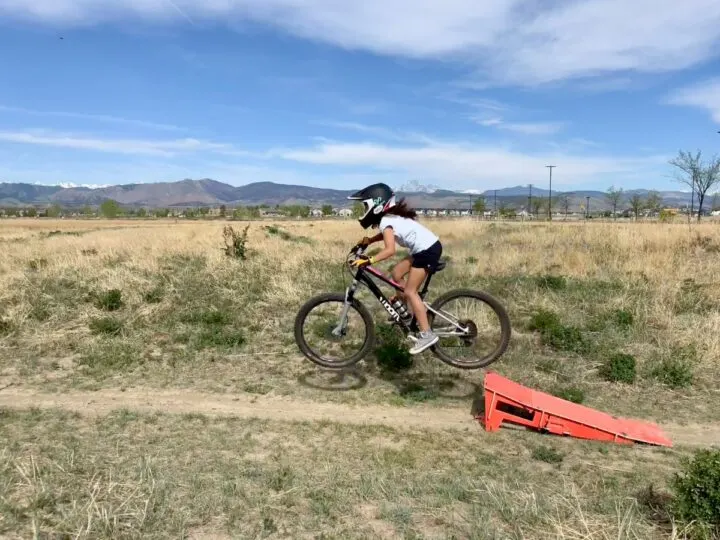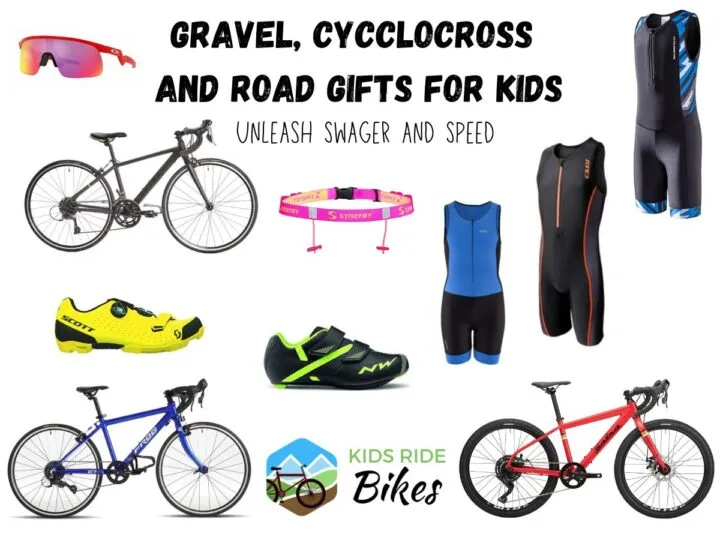 Biking Gifts for Kids: Gravel, Cyclocross, and Road Bikers
Perhaps your family is like ours and your kids own more than one bike. Sport specific bikes are on the rise, especially for the 20″-26″ wheel size.
Many families want gravel or road bikes so they can go for long rider together or cross and tri-bikes so they can race together. Below I've listed some of the top skinny wheel bikes on the market. All the bikes listed below can be customized for a specific style of riding, either by switching wheels/tires or handlebars.
For kids who have fallen in love with racing road, cyclocross, or triathlons there are plenty of thoughtful gifts to light up their season. Perhaps they want to ride just like mom or dad, below I've listed a few helpful items to get them on their way to a great day on the bike.
Kids Triathlon Suits
Swimsuit tops and athletic shirts work fine for the first few races but one will quickly see it's much easier and more comfortable to wear a triathlon specific suit. Swimsuits become an oven on the run and athletic shirts are heavy in water.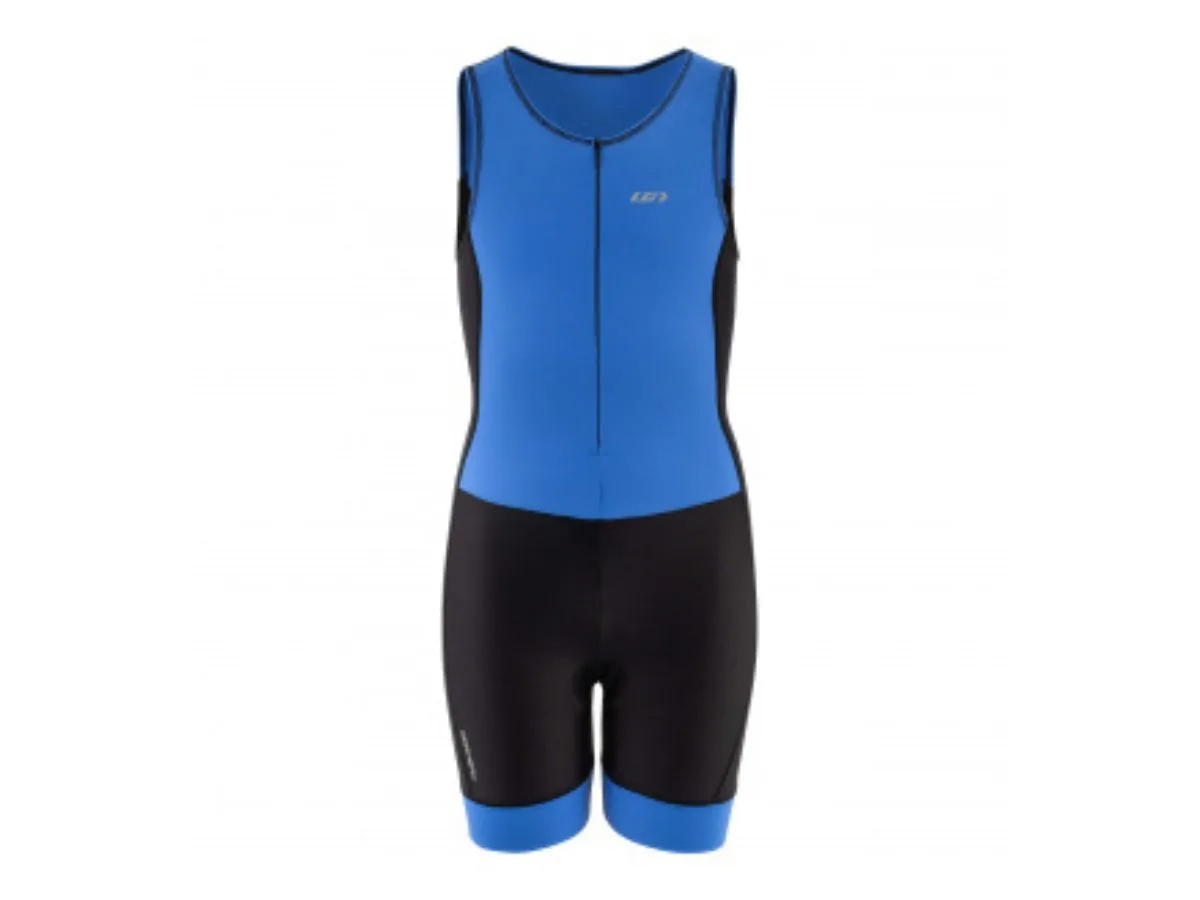 Louis Graneau is a favorite in our household because they make durable, high quality products across the board. This suit is chlorine resistant, breathable and has a deep back pocket for gels and music with a hole for headphones.
A cheaper version with flat lock stitching to prevent chaffing and quick dry fabric.
High quality mid-range suit that offers fleece padding to prevent water absorption and lycra for quick dry. This suit also has a deep pocket and a wide range of sizes.
Cycling Cleats and Bike Accessories for Kids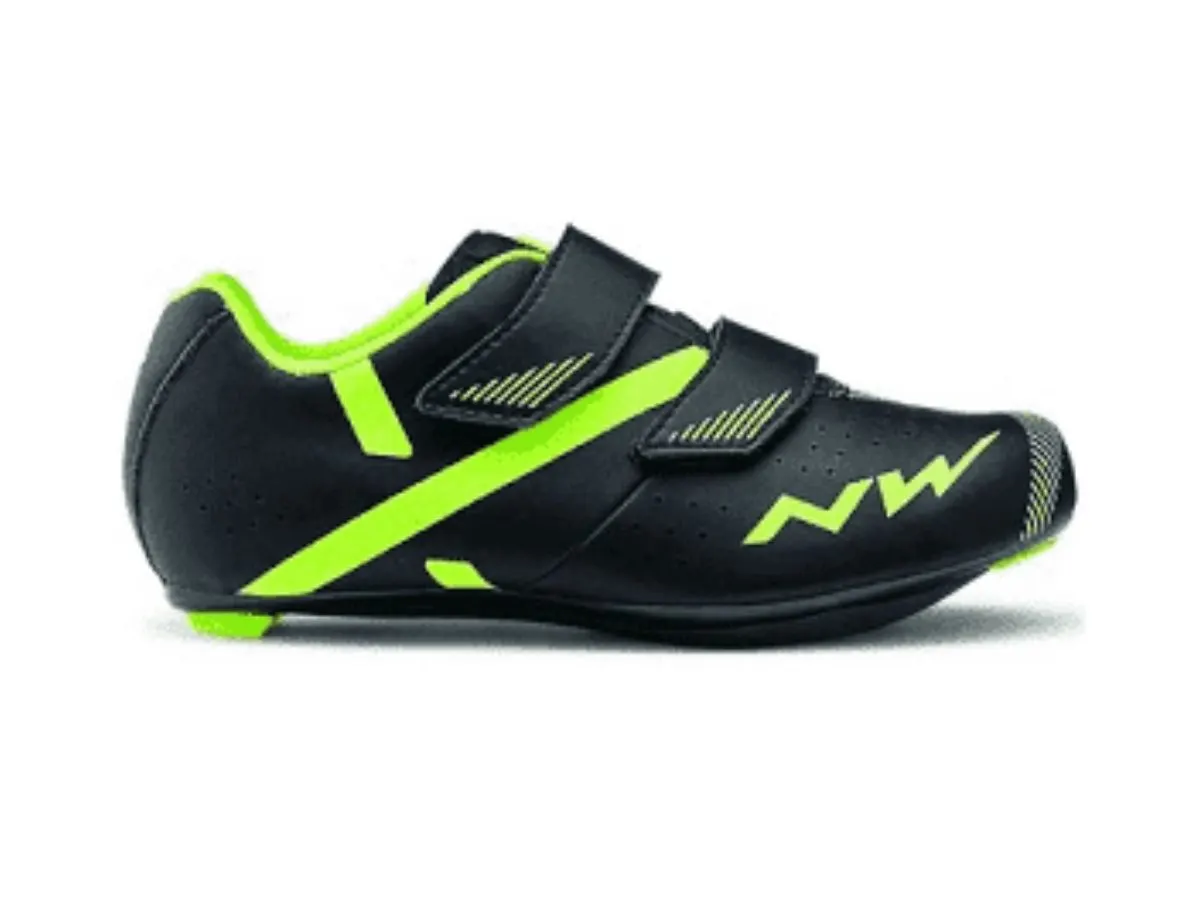 Cleats are a big step which should be considered carefully. Moving a kid to clippless pedals too quickly can backfire. These Northwave Torpedo road shoes are a great entry level shoe.
Having a Boa adjustment is a really nice feature. They are easy to get on and off and come with lifetime guaranty. Many cyclocross athletes prefer mountain bike cleats as they are easier to run in dirt while mounting and dismounting.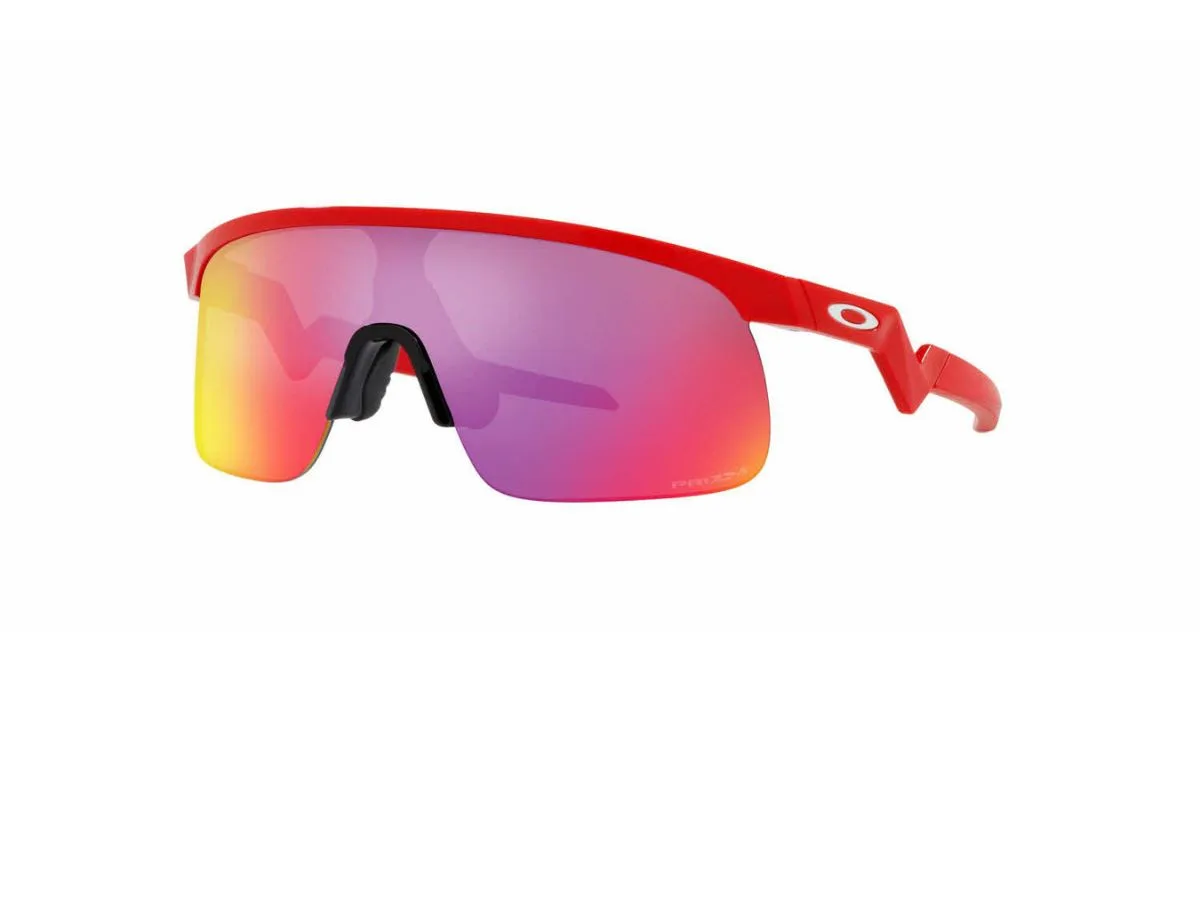 A consistent kid favorite with a very light frame, excellent flexibility and solid impact protection.
For older kids who really want to look like their favorite athlete.
Road, Gravel and Cyclocross Bikes for Kids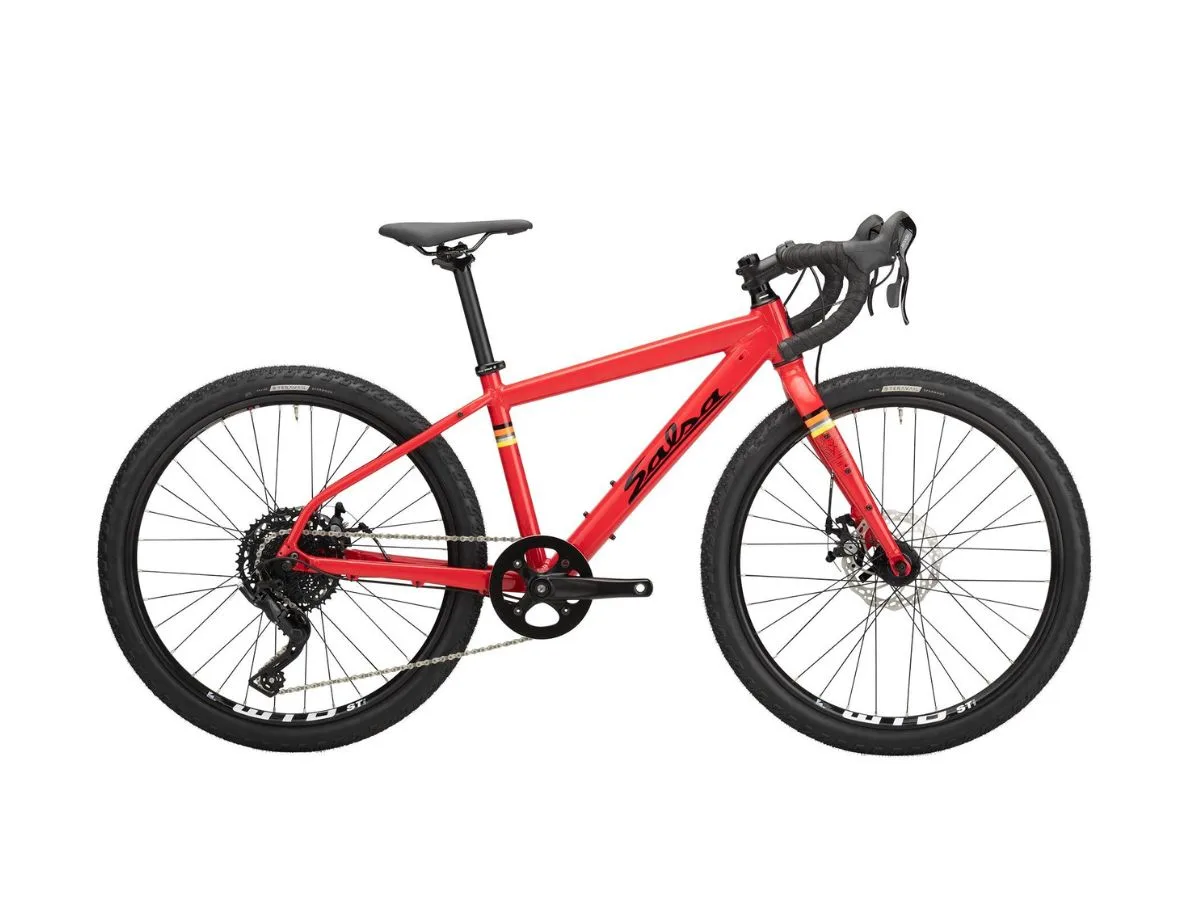 The Salsa Journeyman is a favorite for gravel and cyclocross. This model come in both 24″ and 26″ wheels.
New to the US market is Decathlon's kids road bike. All parts are made by Decathlon's B Twin brand creating an easy to fix low to mid range kids road bike.
This UK classic has been a staple on the kids racing scene for quite some time. A lightweight sturdy frame with kid specific geometry will help your rider take their talent to the next level. Available in 20″ and 24″.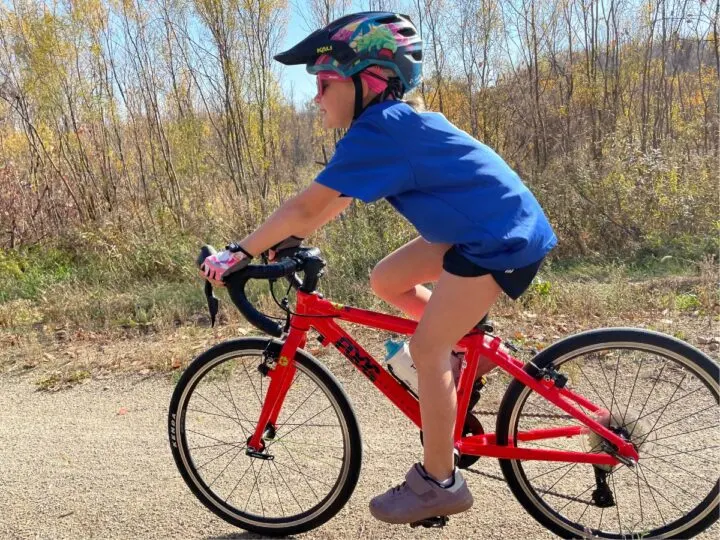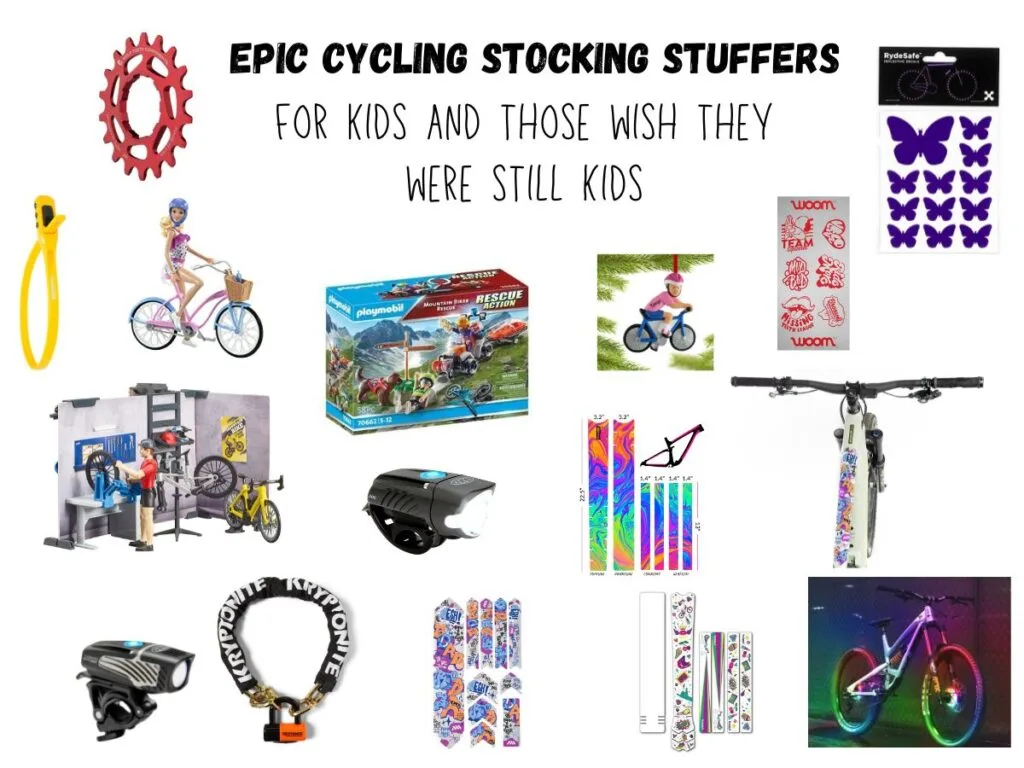 Biking Gifts for Kids: Toys and Gifts for All Ages
Socks, gloves, pedals, droppers and grips are all great small gifts that can be easily added to any stocking or gift basket.
Biking Toys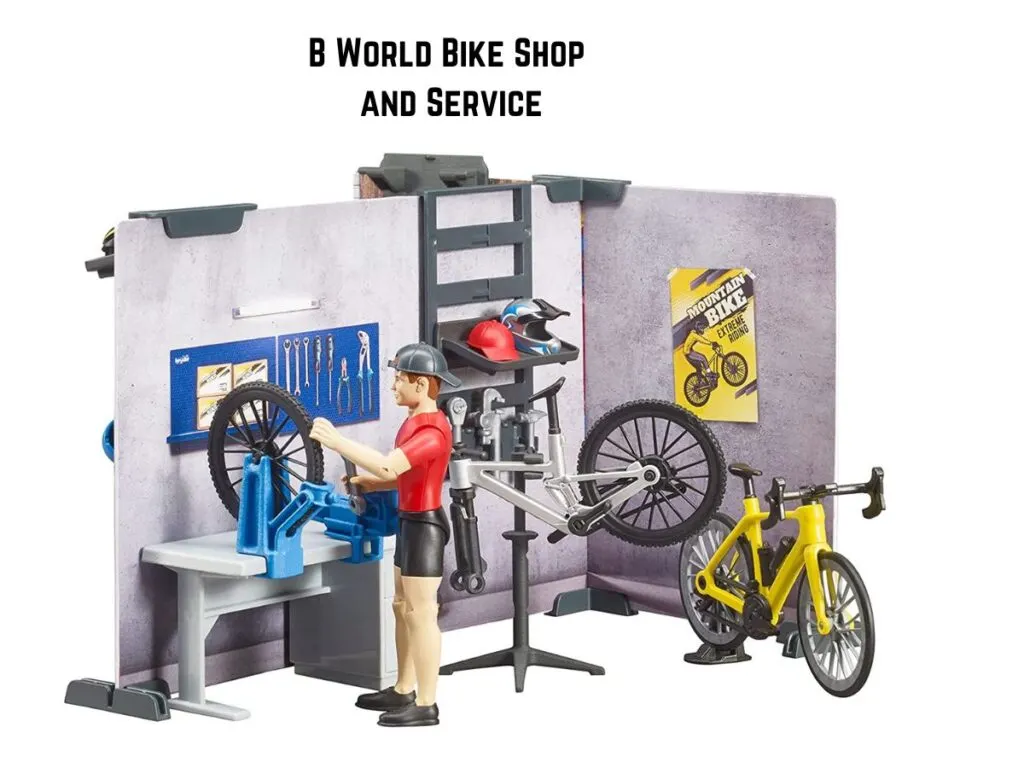 How cool is this tiny bike shop? Some kids just want all the bikes, including the tiny plastic ones.
My girls adore this toy bike and skate shop. They love to play girls night where they make pretend food and cheer on new dolls trying the park for the first time.
This play set is the perfect addition to your mountain bike obsessed kid's holiday surprise.
My kids love how Barbie can really ride the bike after being clipped in.
Biking Gifts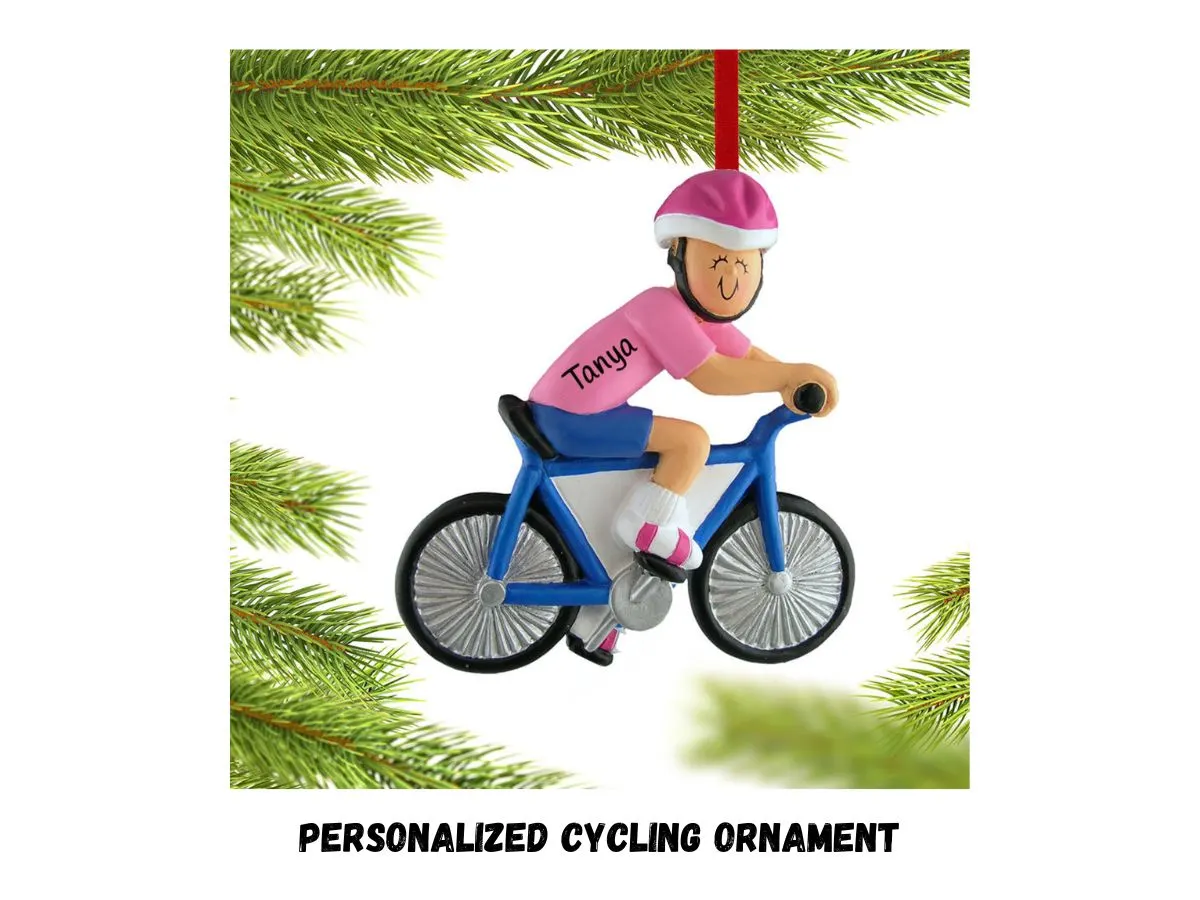 Why not bring their love for cycling to the Christmas tree?
Shred Til Bed is a kids cycling classic. This little book is a great bedtime story to get your shredder stoked on riding.
Frame Protection
Frame guards are a great way to protect the paint on a new bike as well as spice up an old paint job.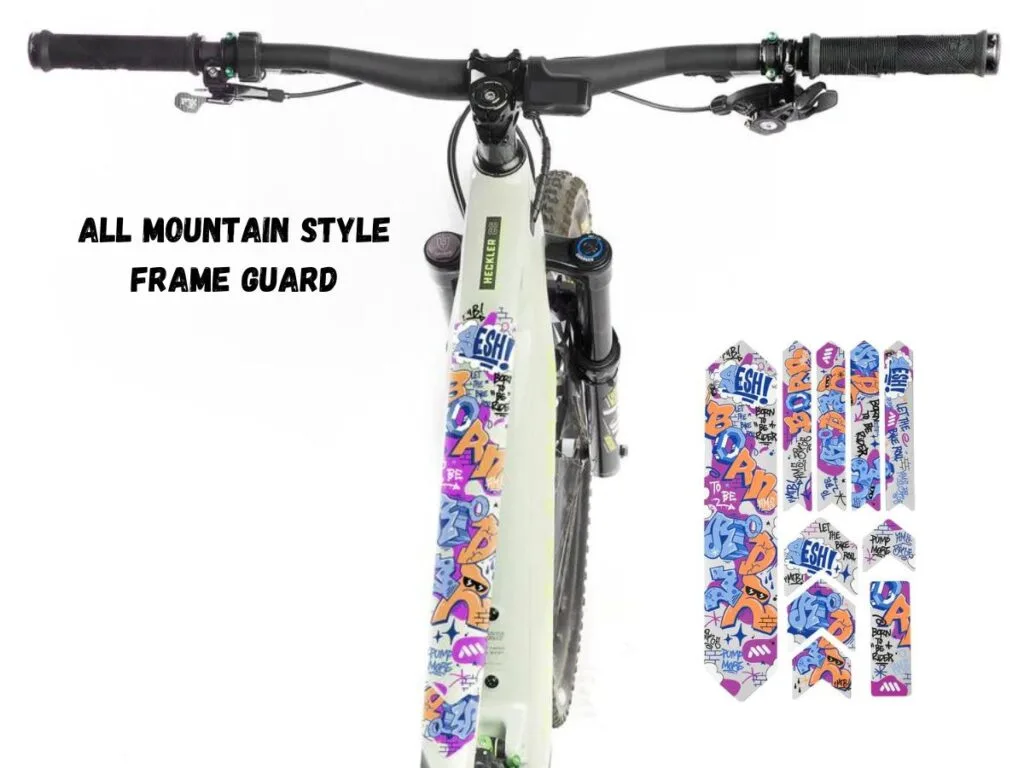 Prevent chips and cable wear on that new bike or give an old bike a look new. Easy to install impact resistant film protects your bike from the elements.
Ground Keeper designs are meant to make your bike stand out. Their kits fit any bike, add flare and a tough layer of protection.
Eight pieces are cut and designed to protect all the important parts of your bike. One size fits all though they have XL kits of bigger bikes.
Bike Personalization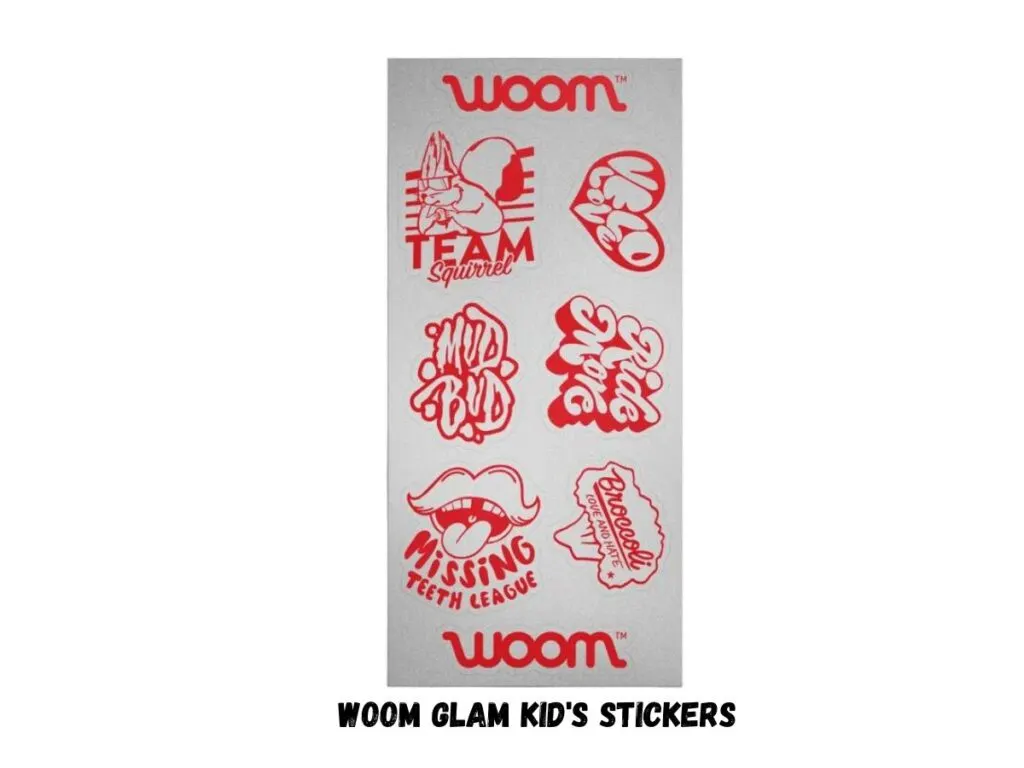 Woom reflective stickers are very sticky but safe on frames. They come in kid approved designs and are highly visible at night.
We have used both the Woom and Rydesafe stickers. Both are good. These stickers are popular with my girls as they appreciate more feminine styles.
Wolf Tooth Components offer color accents to give your kids bike that added pop of color. A rainbow of colors are offered for chain ring bolts, headset spacers, grips and and dropper levers.
Biking Gifts for Kids: Locks and Lights
Bike Lights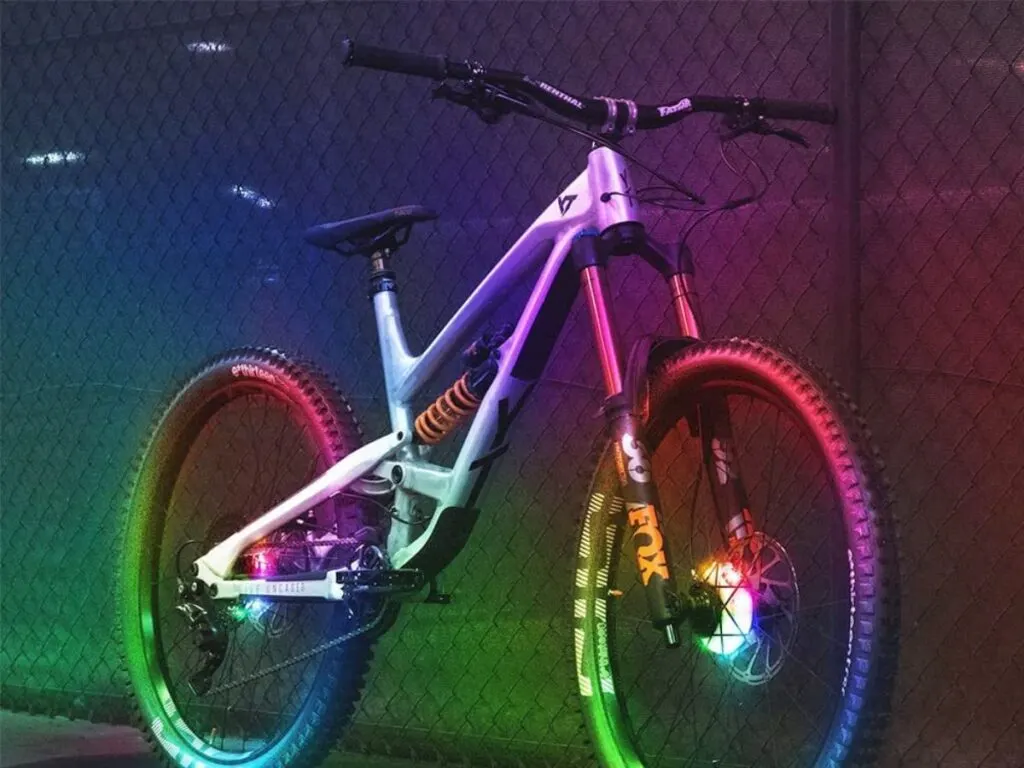 These bike lights are an affordable and fun way of being seen after dark.
My eldest and I are loving the Niterider Lumina 900 for evening rides after dark and cyclocross practice. This level of light is useful for spotting roots and rocks in the dark.
We put the Swift 300 on my youngest daughter's bike. Her light is only used on roads or multi-purpose paths. It is more about her being seen than her seeing very far ahead.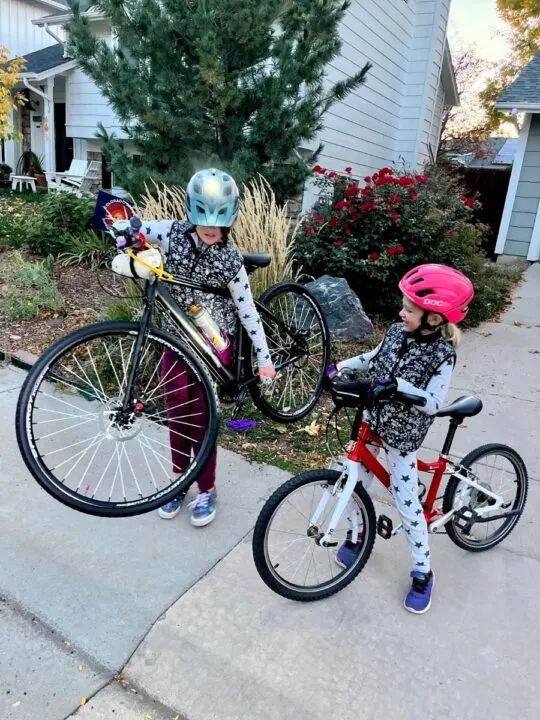 Bike Locks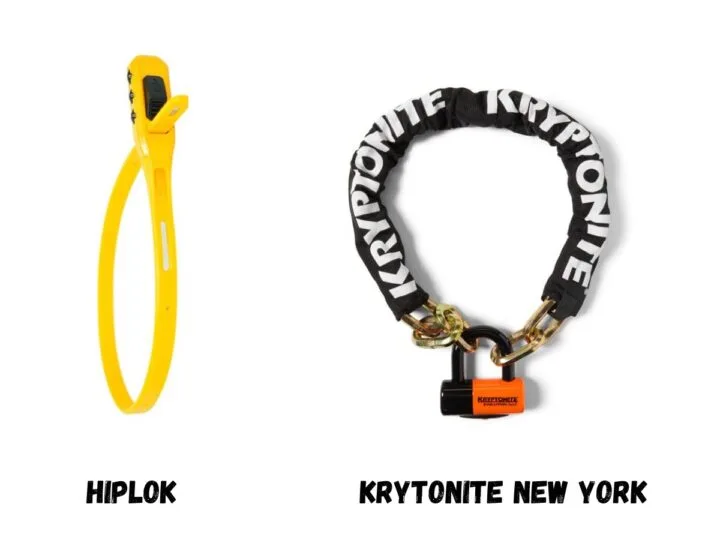 My whole family loves this easy to use lock. It makes a great school lock and works as an addition source of security when employing multiple locks.
This is our go to lock when we have to leave our bikes unattended for long periods of time. Great for high traffic areas where cutting a lock this size would be quite obvious. Never leave bikes unattended overnight.
Biking Gifts For Kids Make Extra Special Gifts
Whether your toddler is whipping laps on his balance bike around the kitchen or your teen is begging you for an E-bike, we can all agree supporting and encouraging cycling is an easy way to foster responsibility, independence and self-care.
There's a gift for every budget that will bring a smile of appreciation.
Related Articles:
Best Biking Gifts for Kids 2022
© 2022, Kids Ride Bikes. All rights reserved. Republication, in part or entirety, requires a link back to this original post and permission from the author.