Family Cycling Safety Tips
In the realm of bike safety, experience and expertise often go hand in hand. With almost two decades of riding the roads of Boulder County, coaching cycling, racing triathlons, and guiding children through the wilderness, I have always considered myself a safe and responsible guide. However, sometimes life takes an unexpected turn, reminding us that even the most experienced riders can be caught off guard.
This post will take you through one of the scariest days of my life, some tips for safe family biking, KRB Team gear recommendations and more.
As an Amazon Associate and member of other affiliate programs, we earn from qualifying purchases.
Surviving a Bike vs Car Accident
One fateful day, as my family and I embarked on our usual bike to school adventure, we found ourselves face to face with an unforeseen danger.
As I approached the intersection, I noticed a truck coming around the bend at what seemed like a reasonable speed. Consciously assuming the role of a cautious guide, I positioned myself in the middle of the intersection, dismounted from my bike, stretched my arms out wide to block traffic and attempted to make eye contact with the driver. It was already too late.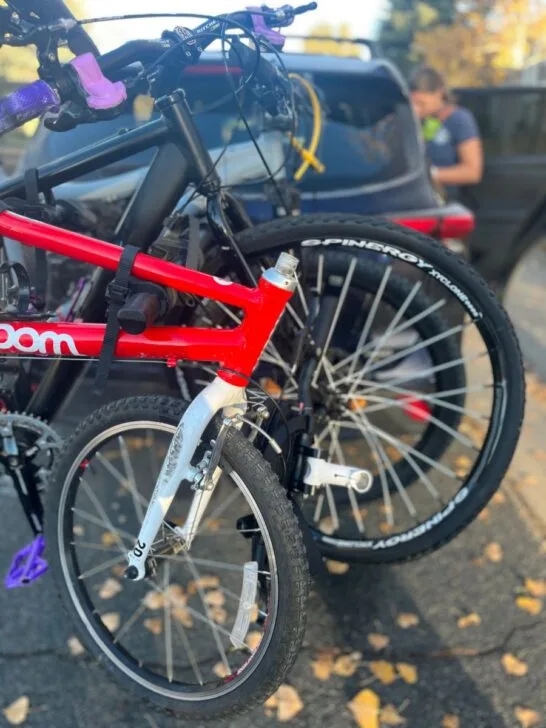 Prior to the accident, I had given clear instructions to my eldest child to take a wider turn, avoiding a thorny bush and joining the sidewalk. Meanwhile, my youngest expressed a desire to ride on the road, staying close by my side. These decisions, seemingly harmless at the time, would soon collide with the unexpected.
In a matter of seconds, the situation escalated beyond our control. There was no time to shout a warning to my eldest, who unknowingly rode directly into the path of the oncoming truck. The impact resonated with a sickening thud, an agonizing sound that will forever reverberate in my memory. As I stood there, frozen in shock, the truck rushed past me, striking my youngest child. Another thud followed, accompanied by the piercing sound of screams.
In the aftermath of the accident, our family found ourselves grappling with injuries and an overwhelming sense of gratitude. Our experience has reaffirmed the urgency of prioritizing bike safety, regardless of our level of expertise or familiarity with the roads. It serves as a reminder that accidents can happen in the blink of an eye, no matter how seasoned or cautious we may consider ourselves.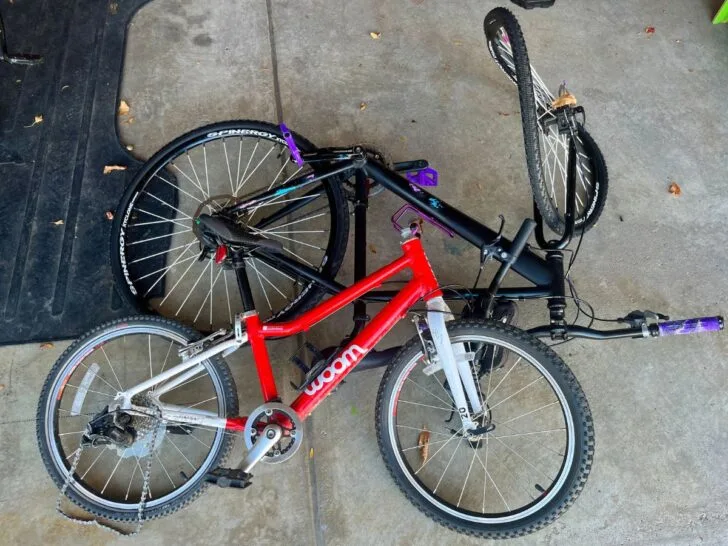 As someone who has dedicated years to promoting safe cycling practices and guiding others, this incident has humbled me and reinforced the importance of continuously advocating for bike safety. It is my belief that by sharing this personal journey, we can raise awareness, encourage responsible riding habits, and help prevent others from experiencing the pain and upheaval that accidents can bring.
I was so confident, I even wrote a bike to school post. I still believe cycling to school is a great way to start the day, encourage self care and independence while protecting our planet.
Embark on this journey with me, as we navigate the complexities of bike safety, and strive to build a future where every rider can pedal forward with peace of mind and a heightened sense of awareness.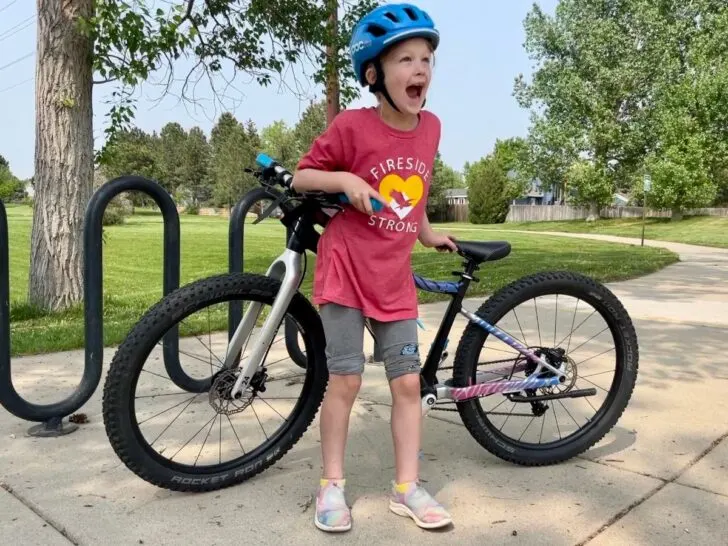 On the Road to Safe Biking
Our current school curriculum has a critical gap that needs immediate attention. It is essential for our children to learn the rules of the road (or path), especially with the rise of e-bikes. Equipping them with early road safety knowledge is crucial to ensure their safety and promote responsible cycling habits.
During our time in England, I observed a remarkable approach to address this issue. Fifth-year students brought their bikes to school for two weeks, focusing on road safety education. This initiative not only encouraged physical activity but also instilled a deep understanding of responsible cycling behavior, emphasizing the importance of protective hi-vis clothing, adherence to road rules, and awareness of drivers.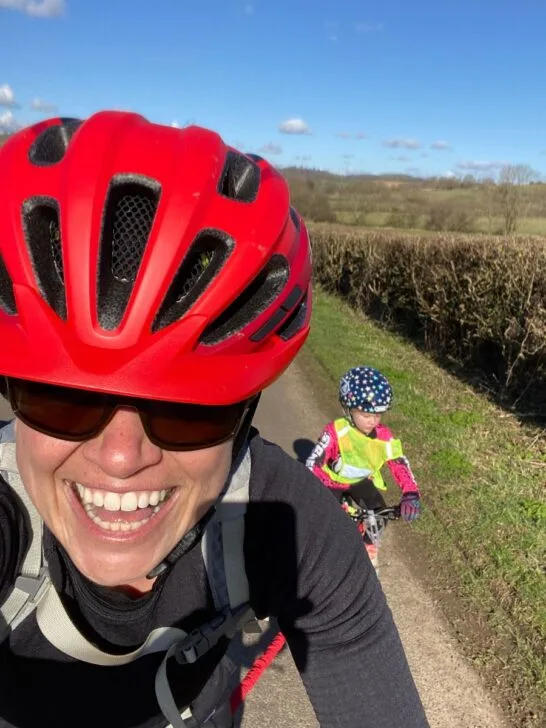 While England may have fewer sidewalks, the level of vigilance and adherence to road safety demonstrated by cyclists was notable. In situations where accidents occurred, pedestrians and cyclists were questioned about their adherence to safety practices.
Incorporating similar bike safety education into our curriculum can help bridge the gap and promote a culture of vigilance and responsibility among our students as they navigate their world on their bike.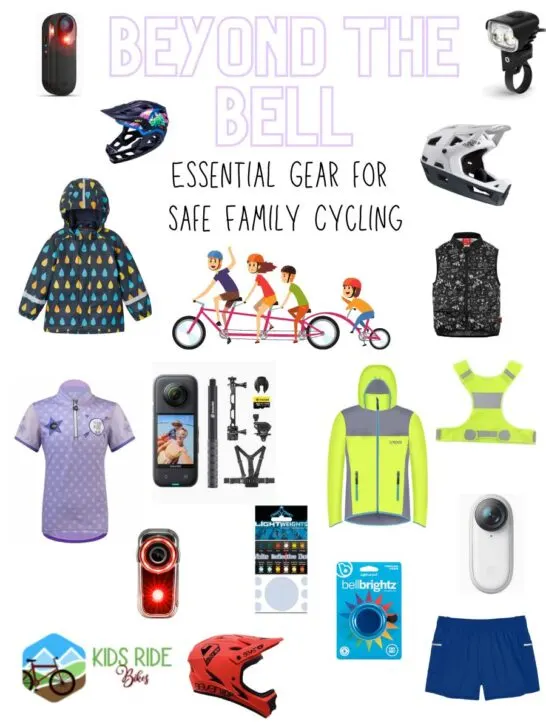 National Resources for Children's Cycling Safety
Safe Routes to School is a national program dedicated to fostering safe, convenient, and enjoyable opportunities for children to walk and bicycle to school. It provides valuable resources and guidance to schools, parents, and communities, aiming to enhance safety for children who choose active modes of transportation.
I'm thrilled to share that we have initiated the grant process for our school, recognizing the importance of engaging with Safe Routes to School. By pursuing this grant, we are actively seeking support and resources to implement this program at our school, benefiting our students and promoting a safer environment for their active travel.
Bike Smart, developed by the League of American Bicyclists, is a valuable program designed to educate children about safe and confident cycling on the road. It equips them with the necessary knowledge and skills to navigate traffic environments responsibly. The program offers a range of resources, including lesson plans and activities, which can be utilized by teachers and parents to enhance bike safety education.
It's important to note that while Colorado ranks 6th for bike safety, this positive ranking can sometimes create a false sense of safety. Despite the state's bike-friendly infrastructure and policies, it's crucial to recognize that the behavior of individual drivers can still pose risks. Distractions and other factors can affect the safety of cyclists, even in a bikeable town like yours.
Therefore, it remains essential for children, parents, and cyclists to stay vigilant, follow traffic laws, and prioritize their safety at all times. Programs like Bike Smart play a crucial role in educating children about safe biking practices, helping to mitigate potential risks on the road. By fostering a culture of awareness and responsible behavior among all road users, we can further enhance the safety of cyclists in your community.
"Bike to School," is an initiative offered by Action for Healthy Kids (AFHK). AFHK is a nonprofit organization dedicated to improving the health and well-being of children by promoting healthy eating, physical activity, and overall wellness.
The Bike to School program specifically encourages students to bike as a means of transportation to and from school. It aims to increase physical activity, reduce vehicle congestion, and promote a healthier lifestyle for students and their families. The program typically includes organized events and activities that highlight the benefits of biking to school, such as bike rodeos, safety trainings, and bike parades.
The Bike to School program, facilitated by AFHK, provides resources, toolkits, and guidance to schools, parents, and communities interested in promoting and implementing biking initiatives. These resources may include promotional materials, event planning guides, safety tips, and communication templates.
By participating in the Bike to School program, schools and communities can encourage active transportation, foster a sense of community, and instill healthy habits in students. It's a wonderful way to promote physical activity and raise awareness about the benefits of biking for both individuals and the environment.
Family Biking Safety Gear
Reflective gear, protective gear, technology and knowledge are all powerful tools to help keep you safe when cycling.
Reflective Bike Gear for Kids
Investing in reflective gear for kids is crucial for promoting safe cycling. Reflective gear, such as vests, arm/leg bands, and stickers significantly enhance visibility, especially during low-light conditions or at night.
By wearing reflective gear, cyclists become more visible to motorists, pedestrians, and other cyclists reducing the risk of accidents. It allows drivers to spot them from a greater distance, providing additional time to react and avoid potential collisions.
Reflective gear acts as a proactive safety measure, giving parents and caregivers peace of mind while allowing kids to enjoy their cycling adventures with enhanced visibility and improved overall safety.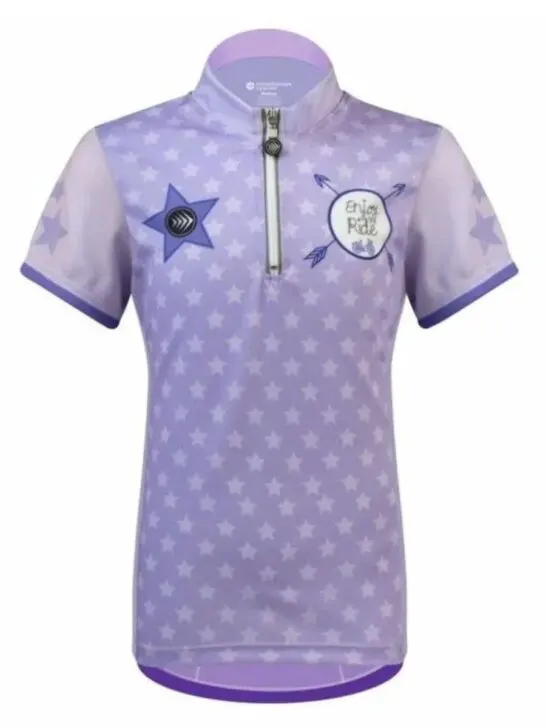 Safety and style in every detail. We're thrilled with the reflective stripping added to their jersey zippers and velcro closures on their kids gloves. The added safety features, along with the fun kid graphics, make them a top choice for us. What's more, they worked with me on a redesign to offer more inclusive sizing. As a huge fan, I highly recommend Aerotech Designs for their commitment to safety, style, and inclusivity.
Check out our full review of Aero Tech Designs Cycling Kits for Kids!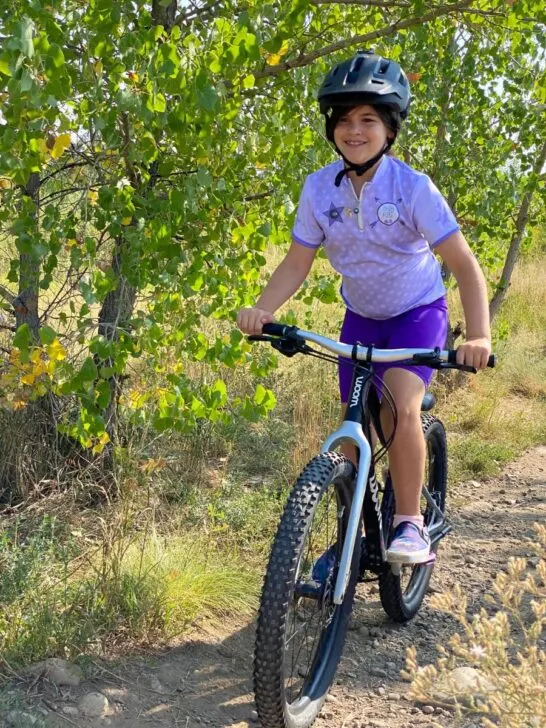 Bright colors, soft designs, and safety combined. We're absolutely in love with Primary's vibrant colors and soft designs. What's even better is that their active wear collection features reflective stripes and dots, adding an extra layer of safety to our little ones' outfits. The long sleeves offered by Primary are perfect for summer, providing excellent protection while remaining breathable and cool. With Primary, we get the best of both worlds: style and safety in one fantastic package.
All of Reima's outdoor clothing has reflective stripes, including their shoes. We've also found Reima socks with reflective dots. Although they may not be readily available for purchase at the moment, it's worth keeping an eye out as we believe they will be back in stock soon.
These socks provide an excellent combination of comfort and safety, ensuring that your little ones' feet stay cozy while also being visible during outdoor adventures. Stay tuned for the return of Reima's reflective socks, and don't miss out on this fantastic safety accessory.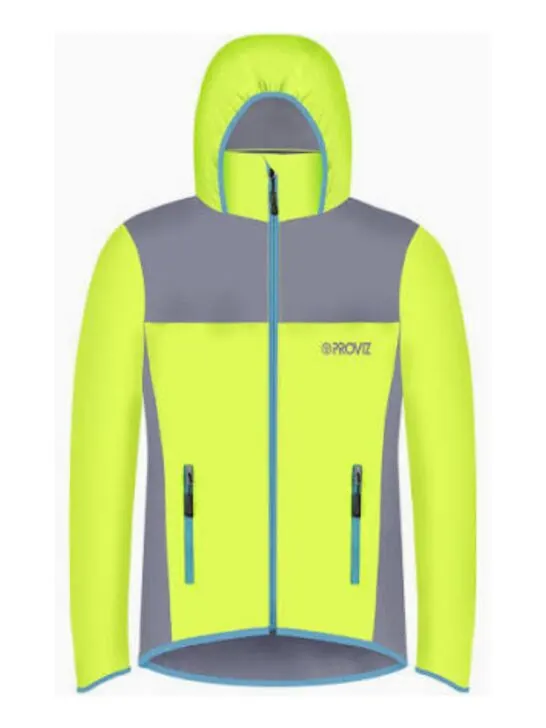 One standout product we adore is the Nightrider Kids' Fleece-Lined Waterproof Jacket. It boasts a brilliant combination of fluorescent material for daytime visibility and retro-reflective material from their popular REFLECT360 range to reflect vehicle headlights at night. We can't emphasize enough how much we value Nightrider's commitment to visibility clothing. Their products are crafted with high-quality materials, ensuring effectiveness and durability. When it comes to keeping our kids safe and visible, Nightrider stands out as a top choice.
The Basic Reflective Vest: Comfort, Visibility, and Customizable Fit. This ultra-light mesh vest keeps your child cool while providing high visibility with reflective bands visible from 200 meters. Customize the fit using the waist sticker for added peace of mind. Stay safe and comfortable with this basic reflective vest.
Woom Reflective Vest: Safety and Style Combined. Designed by kids, this vest catches light effectively, providing peace of mind during low-light rides. It's a must-have for safety-conscious families, ensuring visibility even at the bike park. Ride confidently with Woom!
Biking Lights and Bells
While we often focus on the visual aspects of bike safety, such as reflective gear and lights, we sometimes overlook the importance of having a simple yet powerful tool at our disposal: a bell or other audible device. These unassuming accessories, often referred to as the "bells and whistles" of biking, can make a world of difference when it comes to alerting pedestrians, fellow cyclists, and motorists of your presence on the road.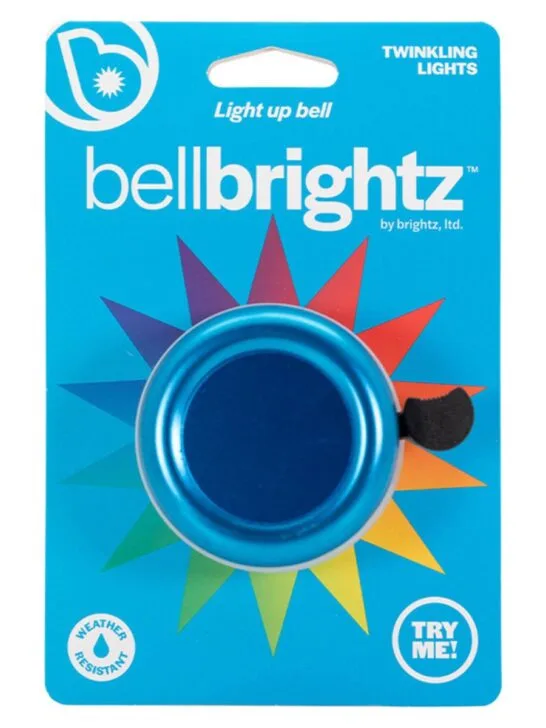 Upgrade your ride with BellBrightz, where a classic bell meets a glowing ring of light. Hear the crisp, clear ring while enjoying the cool glow that can be seen from afar. With a simple push, the twinkling lights come to life, adding sparkle and style to your handlebars. Experience the perfect combination of sound and illumination with BellBrightz.
MJ-906S Light: 4500 Lumens for Maximum Visibility. With its powerful 4500 lumens output, the MJ-906S Light ensures you'll be seen on the road. Designed with safety in mind, it features a vertical diffuser to prevent blinding traffic, DRL and side lighting for increased visibility, and multiple brightness modes. Its warm tint enhances night vision while reducing glare.
With a runtime of 2.5 hours on full brightness and a 10000mAh capacity, it's also a reliable power source for other USB devices. Stay visible and ride confidently with the MJ-906S Light.
Check out the team recommend bike and helmet lights here!
Lightweights Reflective Dots: Assorted Colors for Maximum Visibility, Available at REI. Make sure you're seen with these easy-to-use reflective dots, now conveniently sold at REI. Whether you stick them on helmets, bikes, or water bottles, their eye-catching colors and reflective surface enhance your visibility on the road. Don't hold back – the more dots, the better,
Check out some more of our favorite gear for lighting up in this post.
Bike Rearview Cameras and Radar
Incorporating technology into cycling safety has revolutionized the way we protect ourselves on the road. Utilizing tools like action cameras not only allows us to capture incredible footage of our rides, but also serves as a powerful means of increasing our safety. By recording our journeys, we have tangible evidence in case of accidents or disputes, providing a level of protection and peace of mind.
Additionally, other technological advancements such as GPS devices, smart helmets, and bike-mounted sensors offer real-time data and alerts, further enhancing our awareness and helping us make informed decisions while on the road. Embracing these technological tools empowers us to ride with confidence and ensure a safer cycling experience.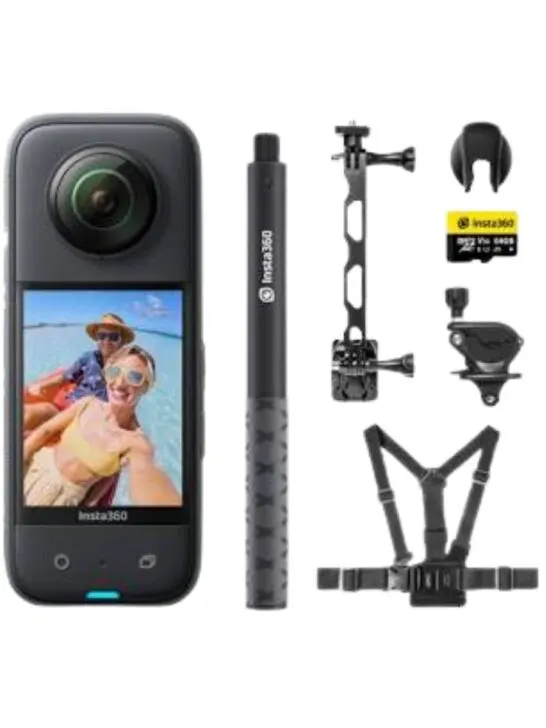 Capture and Protect: Insta360 X3 Bike Kit. With the Insta360 X3 Bike Kit, you'll not only capture incredible footage of your rides, but also have the necessary evidence to protect yourself. Mount the camera effortlessly to your bike and start recording. Rest assured that you have the footage you need in case of any incidents. The kit includes 1x Insta360 X3 camera, 1x 114cm Invisible Selfie Stick for versatile angles, 1x Bike Bundle for secure mounting, and 1x Lens Cap for added protection. Ride confidently and ensure your safety with the Insta360 X3 Bike Kit.
Insta360 GO 2 Bike Kit: Compact and Powerful. The Insta360 GO 2 Bike Kit includes the GO 2 camera, Charge Case, Lens Guards, Magnet Pendant, Pivot Stand, Easy Clip, Type-C Charge Cable, Mount Adapter Bundle, and Bike Bundle. Despite its 2.5-hour shooting time, the small and lightweight GO 2 camera captures the footage you need for protection. Ride confidently and record your cycling adventures with the Insta360 GO 2 Bike Kit.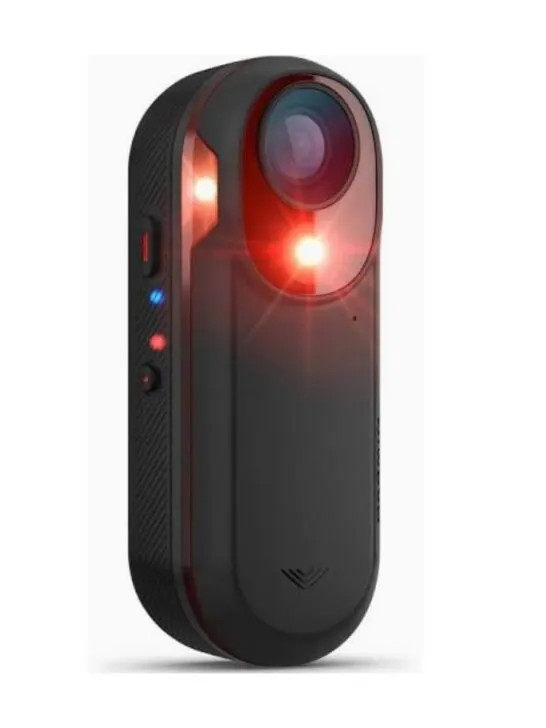 The Garmin Varia devices are like having eyes in the back of your head. The newest versions of the Varia Radar don't even require a Garmin device, just a compatible smartphone. However, the Varia is compatible with most of Garmin's bike computers and watches! There are three options to choose from: Radar only, Radar plus taillight, Radar plus taillight and camera.
These devices simply attach to your seatpost and pair with your compatible device. When you have a "car back" you will hear a little beep and there will be little dots on your display showing the vehicles getting closer to and over taking you.
For a super in-depth review on this awesome device, check out this one by DC Rainmaker.
We love using our Garmin Varia on solo or family road rides. We love hearing that little beep and see how fast a car is approaching from behind on our computer display without turning our heads. It will also form a light network, meaning one Varia will broadcast to multiple computers (just put it on the biker in the back for the best alerts).

KRB Team Member Jami
If you are towing a WeeHoo or bike trailer, make sure the Varia is up high enough on the seat post so it can "see" beyond or mount it on the back of the WeeHoo or trailer. Jami is smaller and the Varia has trouble seeing beyond the WeeHoo when she is towing, but her taller husband has no issues with it on the taller seatpost.
Cycliq Fly 6 is an Australian brand offering a concept similar to the Varia with camera but without the radar. The Cycliq Fly 6 is a rear-facing bike camera and light that ensures your family's safety. With up to 5 hours of continuous recording, you can ride confidently knowing every moment is captured. Stay protected and enjoy peace of mind with Cycliq Fly 6, your ultimate companion for a safer cycling experience.
Helmets
When it comes to protecting oneself while cycling, there are several important tips to keep in mind. One of the most essential safety measures is wearing a helmet. Helmets save lives by providing crucial head protection in the event of a crash. It's important to ensure that the helmet fits properly, with no gaps and a secure strap.
Additionally, look for helmets with advanced features like MIPS (Multi-Directional Impact Protection System) and cone cell technology, which offer enhanced protection against rotational and linear impacts. Remember, your hairstyle should never take priority over wearing a helmet.
The MIPS helmet worn by my youngest child proved instrumental in mitigating both rotational and linear forces, greatly reducing the risk of severe injury. Our accident served as a powerful reminder of the life-saving potential of a well-fitted helmet equipped with advanced features like MIPS.
Check out our favorite team recommended helmets here: Best Bike Helmets for Kids.
Top Kids Full Face Bike Helmets
Although getting a child to wear a full-face helmet on a daily ride to school may pose a challenge, there are instances where the added protection it provides would be valuable.
Full-face helmets have been continuously improving, becoming lighter each year. If you're considering a full-face helmet, here are a few recommendations to explore.
A kids full face helmet round-up will be coming soon!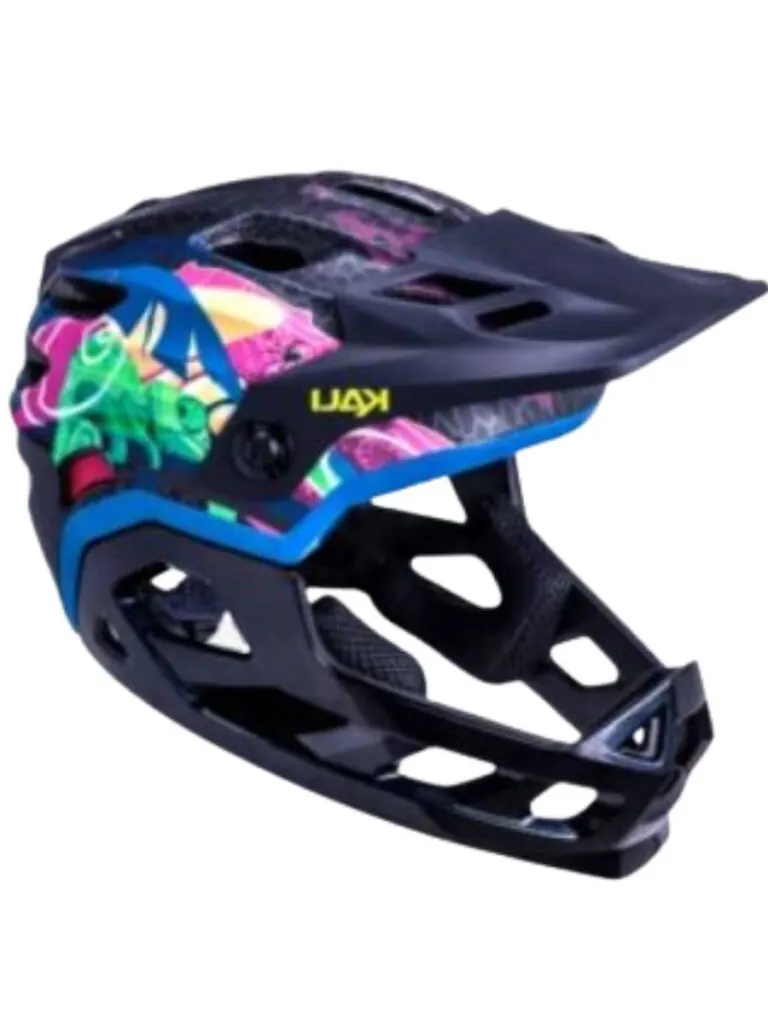 Introducing our favorite lightweight helmet: the versatile option you've been waiting for. This helmet is not just for downhill rides; it's a lightweight trail helmet with a removable chin bar. With just the click of two buttons, it transforms into two helmets in one. The single size option, ranging from 50-54cm, weighs a mere 520 grams, making it incredibly light. It incorporates the same advanced impact protection technologies found in Kali's adult helmets, ensuring top-notch safety for young riders.
Here's another fantastic option to consider. This Full Face helmet a lot of bank for buck. It's lightweight at 840 grams and features a spacious eye opening, providing an excellent field of view. With four sizes available for the little rippers (Youth M: 48-50cm, Youth L: 50-52cm, XS: 52-54cm, and S: 54-56cm), 7IDP ensures a perfect fit.
The helmet provides great protection, a secure D ring buckle, and boasts 17 cooling vents to keep young riders comfortable.
Check out this incredible Full Face helmet, weighing in at just around 650 grams! It's one of the lightest options available. With DH certification and ample ventilation, it's perfect for keeping your young riders cool during climbs and ideal for bike park adventures. The smallest size fits head circumferences of 49-58 cm, making it a great choice for a wide range of riders.
Other Protective Gear
In addition to helmets, riders can explore other protective gear options like bike pads and body armor, offering added protection for vulnerable areas like elbows, knees, and shins. While these gears are commonly associated with extreme or off-road cycling, they can be beneficial for various riding situations.
Check out some of our favorite biking safety gear!
Protecting Against the Unexpected
One of our teammates, Kristine, has had harrowing experiences while cycling. Her parents were unfortunate victims of two separate attacks during their rides. First, they encountered a reckless driver who purposefully tried to run them off the road, putting their safety in grave danger. On another occasion, they were attacked by an aggressive dog while cycling. These incidents prompted Kristine's family to take proactive measures for their protection.
They now ride equipped with a GoPro camera to document any potential incidents, carry pepper spray as a deterrent, and have undergone self-defense classes to better handle unexpected situations. Their commitment to personal safety serves as a powerful reminder of the importance of being prepared and taking precautions while enjoying the sport of cycling.
Safe Family Cycling Tips
Safe cycling begin with the responsible behavior of adults. As parents and chaperons it is essential we lead by example and demonstrate safe cycling habits, starting with putting a helmet on every time you get on a bike! By understanding and adhering to rules and regulations, we can create a safe environment for our children to learn and follow suit.
By creating these habits early on, we empower our children to become responsible, knowledgeable cyclists. We promote a culture of awareness and safety within our family cycling adventures.
Ideally young children learn from parents from the safety of a bike seat or tandem bike until they can be trusted to demonstrate safe cycling habits including looking in alleys and driveways.
Communication
It is important to emphasize communication especially when riding the road. Teaching children to use the proper terms and signals to communicate to fellow riders from an early age instills the language and importance of safe group cycling. Kids can learn how to use hand signals, terms like "car up" and "car back", calling or pointing out obstacles and how to indicate a turn with your arms which ensures clear communication within the group and motorists.
Even the youngest of riders can be taught to alert fellow riders to hazards like gravel, pot holes or dogs and thus ensures they will be cognizant of these hazards as well.
Tips for Biking on the Road
When cycling on the road with children, there are a few important tips to keep in mind. Firstly, choose safe and less busy routes whenever possible, prioritizing bike lanes or paths separated from motor vehicle traffic. Make sure each child wears a properly fitted helmet and follows all traffic rules. Maintain a consistent and predictable pace, allowing for easy supervision and reducing the chances of accidents. Keep a close eye on the children's positioning within the group, ensuring they ride single file and stay to the right side of the road.
Encourage communication by teaching them basic hand signals and verbal cues to indicate turns or hazards. Lastly, maintain a positive and supportive atmosphere, offering praise and encouragement to boost their confidence and enjoyment of the cycling experience.
Family Cycling Safety Tips with a Bike Trailer
Safe family cycling with a trailer, such as the WeeHoo or a bike trailer, requires careful attention and practice. Towing younger children adds an extra dimension to cycling safety. It's important to remember that the wider base of a trailer necessitates wider turns, which may require some getting used to. To enhance visibility and make the trailer more noticeable on the road, attaching pool noodles, flags, signs, reflectors, bells, and lights can greatly help.
These additional safety measures ensure that the trailer stands out more prominently compared to a regular bicycle, promoting safer cycling experiences for the entire family.
Teammate Becky wrote a great piece on how to teach children bike safety, Bike Safety for Kids – The Important Facts.
Promoting Safe Cycling: Teachable Moments and Essential Guidelines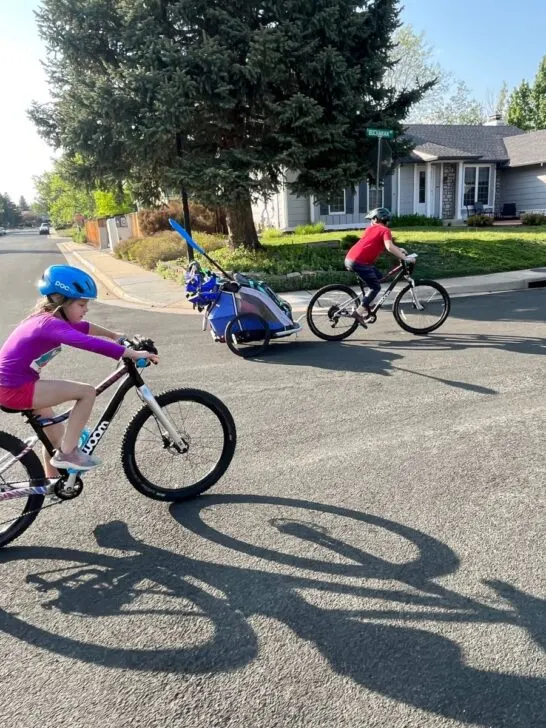 In conclusion, promoting safe cycling practices involves seizing teachable moments and incorporating them into our daily routines. It is crucial to cycle frequently, selecting paths and quiet roads carefully to minimize risks. Riding with friends who exemplify safe bike habits can reinforce positive behaviors and create a culture of safety.
Always assume that motorists may not see you, emphasizing the importance of remaining vigilant and proactive. Lastly, if an unfortunate incident occurs, seeking professional help and support is essential. By following these guidelines and continuously prioritizing safety, we can create a safer cycling environment for ourselves and our communities.
Related Articles
Family Cycling Safety Tips
© 2023 Kids Ride Bikes. All rights reserved. Republication, in part or entirety, requires a link back to this original post and permission from the author.