Woom NOW Review
We have been a Woom family for several years now, and we are huge fans of their smaller-kiddo bikes for learning to balance and then take off on a pedal bike. When Woom announced a new cargo-carrying urban bike, I knew my older kids needed these bikes. And I wasn't wrong, they have been an amazing upgrade for our near-daily commuting around our city.
As a member of Woom's affiliate program, we earn from qualifying purchases.
Most of our biking is "functional" biking, meaning we don't necessarily do it for entertainment or exercise—although we of course don't mind these side benefits—but rather because we live close to downtown in a congested, large city and it's usually easier to get around by bike than car!
We are a car-lite family, having only one car that Dad needs for work several days a week. Biking allows us to get out and around with ease. It gives me and the kids the opportunity to discover a hidden city-within-the-city that drivers miss as they speed past.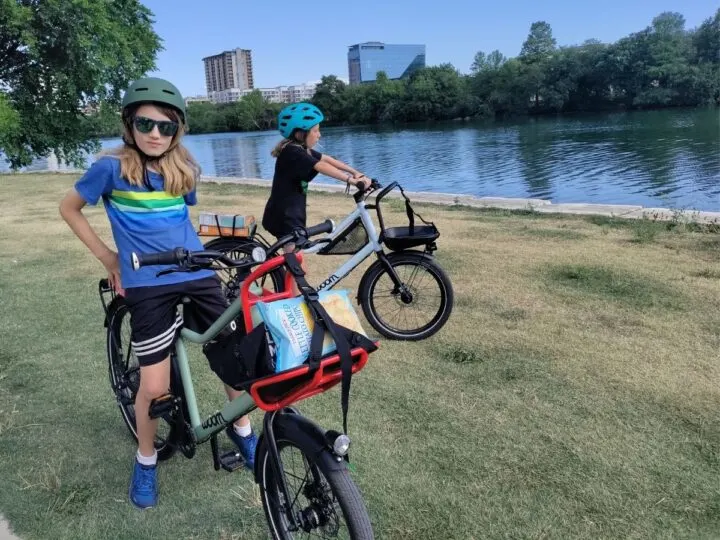 Woom NOW Bike Review
The Woom NOW is an innovative, new line of bikes from the children's bike company, Woom, best known for their incredibly lightweight bikes with child-friendly geometry that get kids riding earlier and farther. They are also a company that consistently and generously gives back to the community, donating bikes to various organizations to get more kids riding.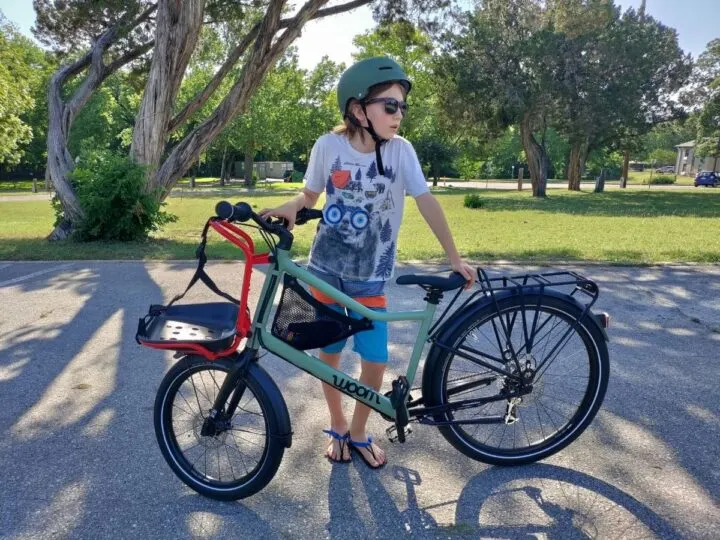 The NOW comes in three sizes: 4, 5, and 6, roughly following the same age and size ranges as the original and OFF lines. My kids are 10 (55″ tall) and 12 (60″ tall) and they are riding a 5 and 6.
As for sizing, we used both height and inseam measurements to choose what size we needed, and we ended up with perfect sizes that fit now with lots of room to grow. I'm 5'6″ and could even ride the Woom NOW 6, though the kid-specific geometry meant it wasn't quite right for my adult body when I tried.
The Woom NOW is available in two stellar colors: moss green (with red rack) and ice blue (with black rack). Though the ice blue is nice, my daughter thought it looked more grey/off-white and wants to liven it up with some stickers. My son loves the moss green and red rack combination.
Key Features
Lightweight, high-quality AA 6061 aluminum frame
8 speed, microSHIFT DS85-8 twist shifter
Schwalbe Big Apple balloon tires with RaceGuard puncture protection
Flat mount hydraulic disc brakes
Specially developed, frame-mounted aluminum front rack engineered for stable handling, even when heavily loaded
Bar-mounted twist-grip bike bell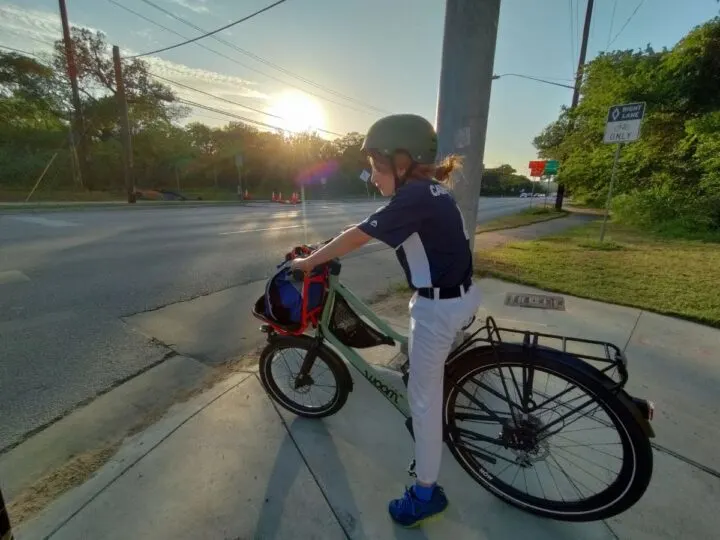 Specs
20-inch front wheel / 24-inch rear wheel
Weight: 26.5 lbs
Standover height: 21.5″
Weight Limit: 195 lbs (cargo + rider)
Designed for kids ages 7-11 years old (49-58″ in height)
Price: $799
20-inch front wheel / 26-inch rear wheel
Weight: 28.3 lbs
Standover height: 25″
Weight Limit: 195 lbs (cargo + rider)
Designed for kids ages 10-14 years old (56-66″ in height)
Price: $849
Things We Love about the Woom NOW
Cargo Capacity
By far my favorite feature, the thoughtfully-designed cargo spaces on the Woom NOW makes it a winner among commuters for kids. The build of the frame with the smaller front wheel (modeled after the European-style "cycle trucks" for adults) is very unique for a kids' bike, but it allows for a secure and heavy front load like a school backpack or grocery bags. The integrated front rack has a weight capacity of 22 lbs, so it can handle a significant load!
Along with the integrated front rack and small frame bag for holding a lock or a phone, the Woom Pickup cargo rack (sold separately) also fits seamlessly on the Woom NOW and is so functional!
From books to (your parents') beer, we have experimented with a range of cargo for hauling on the Woom NOW. The Pickup rack has elastic bands that hold items securely without slipping.
We have been a cargo-biking family for almost a decade now, and our kids have grown up with this lifestyle. But alas, kids grow, and they aren't so easy to cart around on my own bike now. With the Woom NOW, they not only get to ride their own bikes, but they can now help with the hauling too!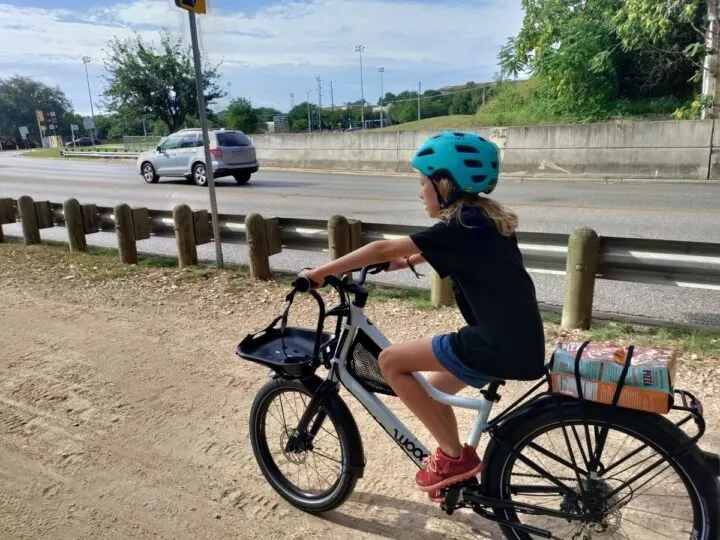 We tested the hauling on trips to the library, baseball practice, and the grocery store. The kids loved being able to carry quite a bit, and I appreciated them taking some of the load off my bike.
We have done a bit of bike-packing/bike-camping as well, and I could see this bike being an amazing touring bike for that purpose too. The front and back racks could carry a sleeping bag, small tent, and sleeping pad with no problem.
Hydraulic Disc Brakes
My heavy, electric cargo bike only has mechanical disc brakes, so I'm a bit jealous of the Woom NOW's hydraulic ones (but so appreciate the attention to safety and detail in Woom's decisions!) The braking is consistent and smooth, and the brakes are quick and responsive. My kids can stop on a dime, a vital bike function when riding alongside traffic.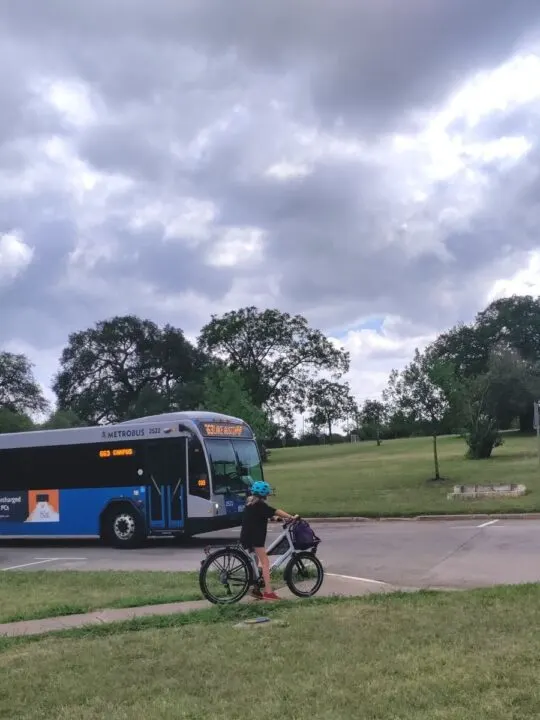 Though we didn't test in rainy or snowy conditions (hello, Central Texas drought!), we do live in a pretty hilly area and they performed great stopping on steep downward inclines and slowing down quickly for pedestrians and cars, which is an important safety feature for urban riding.
Dynamo-Powered Lighting
One of my favorite features! We lived in Scandinavia for 2.5 years, and dynamo-powered lights are standard on many commuting bikes (at least for adults). Not having to worry about taking lights off to charge (and then remembering to put them back on!) or switching out batteries is a huge timesaver and makes biking at night so much safer.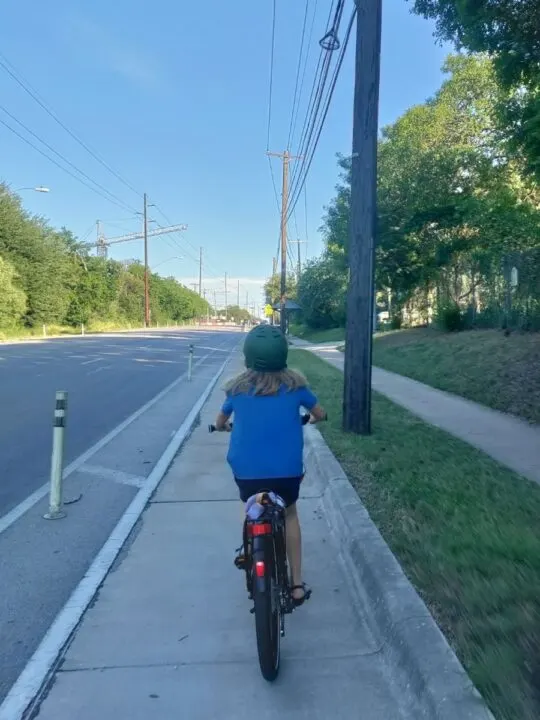 I also appreciate that when my kids are biking without me as it gets dark, they don't have to remember to switch on the lights before they head home.
Trail capable
In our city, we ride a lot of dirt/gravel trails to get around town, which is both amazing and can be hard on commuter or road bikes. Since the Woom NOW has wide, sturdy Schwalbe Big Apple tires (which are also used as a set-up on adult cargo bikes too!), the bike can also handle most urban trails.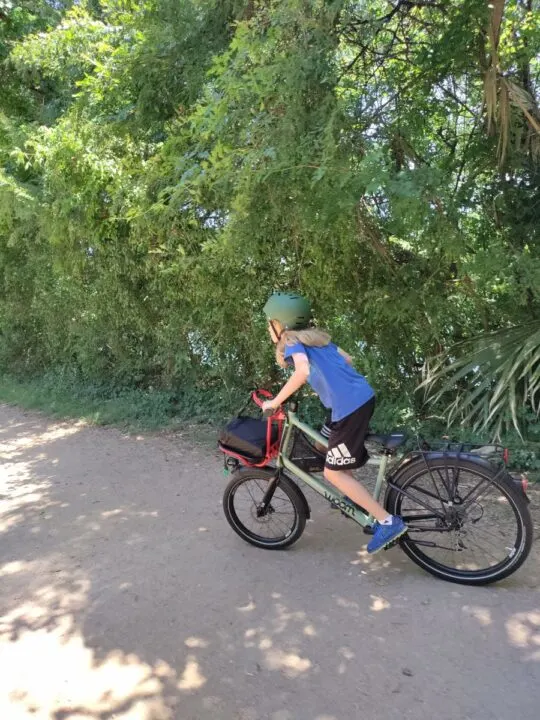 My son is used to going up and down rocks and "off-roading" it a bit on his mountain bike when riding around town, so he did find the NOW couldn't handle *quite* as much as a mountain bike like the Woom OFF.
Downsides to the Woom NOW
While the cons are few and far between, my kids did have a bit of trouble with their Woom NOWs. Riding the bike takes a bit of a learning curve, since the smaller front wheel changes the feel and function of turns and stops.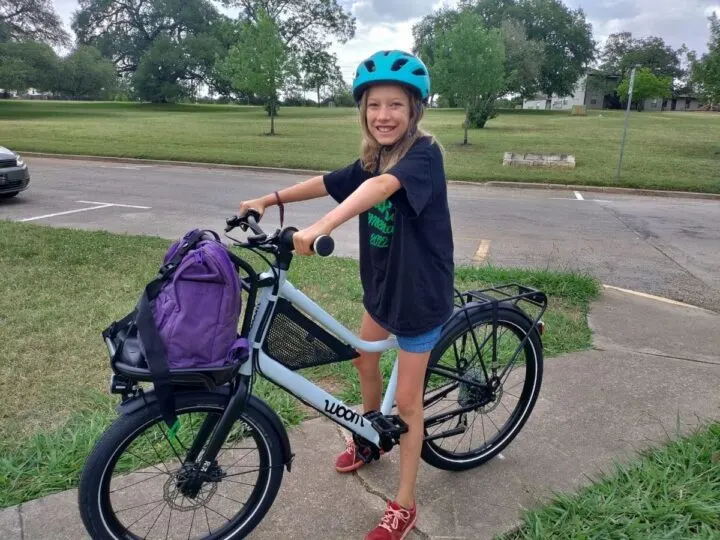 However, after getting the hang of the 20-inch wheel, my son remarked the other day he feels his mountain bike is a hassle to turn because it's not as responsive as the 20-inch front wheel on the NOW.
My 10-year-old daughter also struggled at the beginning with the Woom NOW, since it was a bit more bike in terms of weight and handling. For reference, the Woom NOW 5 weighs in at 26.5 lbs, compared to the Woom Original 5 at a little over 20 lbs. The added weight of the frame and the thicker tires made handling the bike tricky at first.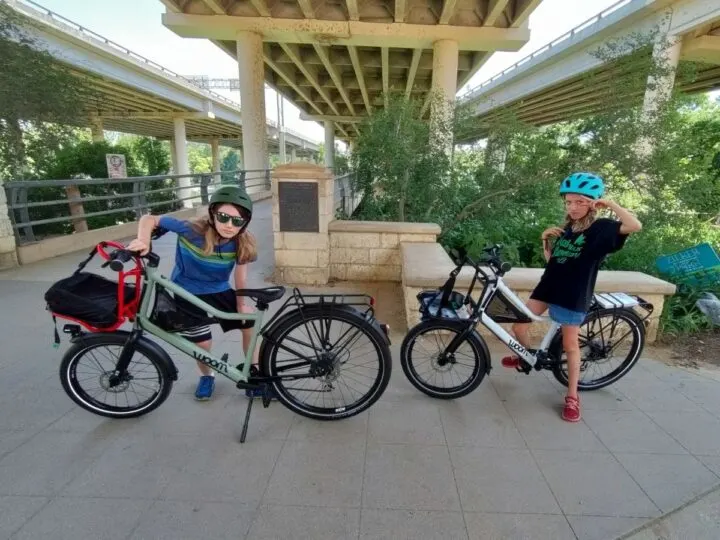 Again though, after riding for a bit, she figured it out and now enjoys riding. She does sometimes struggle with the shifter, especially when shifting into lower gears for hill-climbing. She occasionally needs to stop and have me adjust the shifter, which can be annoying mid-hill when I have my own cargo bike with a preschooler on the back.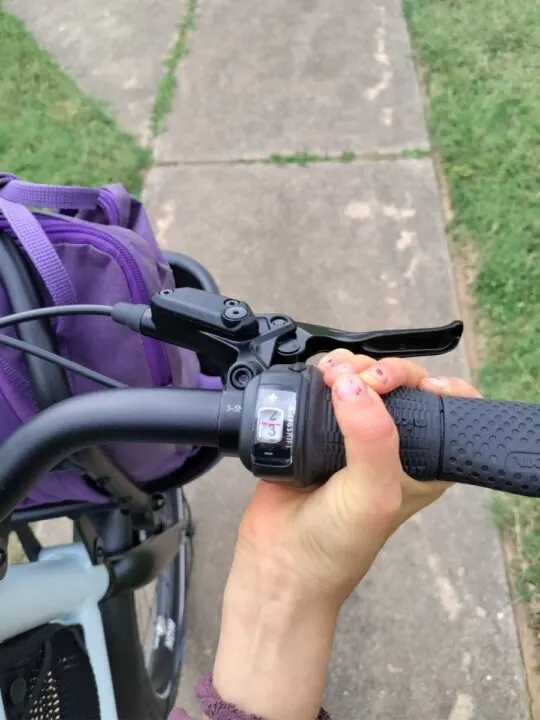 A Capable Cargo-Carrying Bike for Kids
The Woom NOW is an incredibly unique bike that is perfect for older kids, especially tweens and young teens. The additional hauling capacity compared to a standard kids' bike is well worth the cost if you plan to do a lot of city riding and errand running with kids on bikes.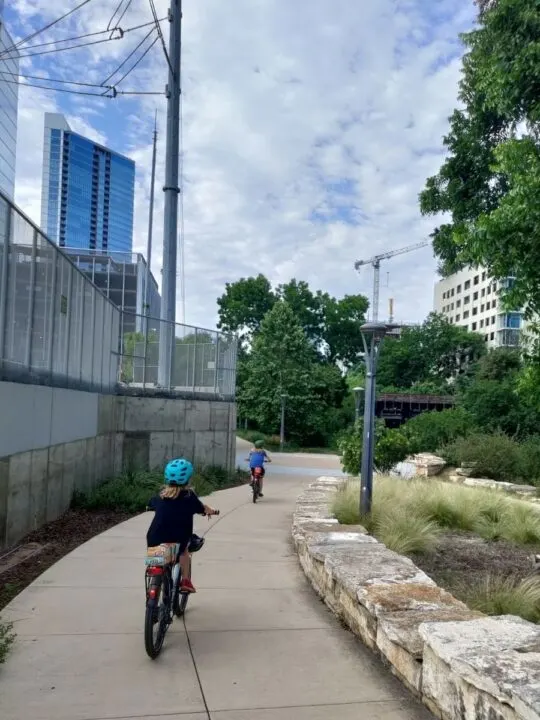 Woom was incredibly thoughtful with designing and executing the special features to make this bike a capable and comfortable urban commuter bike for older kids. These bikes get kids using bikes for functional, everyday activities in addition to having fun or getting exercise. One of my goals as a parent is to get my kids comfortable cycling as a mode of transportation, and I am so thrilled that Woom is facilitating that goal through their amazing kids' bikes.
Related Articles:
Woom NOW Review
© 2022, Kids Ride Bikes. All rights reserved. Republication, in part or entirety, requires a link back to this original post and permission from the author.