Specialized Riprock 20 Mountain Bike Review for 2022
If your little rider is ready to start shredding some single track, the Specialized Riprock 20 is definitely a bike to consider. It's an awesome bike, especially for the price ($650).
The Riprock 20 and Riprock 24 both got a complete overhaul for 2022. The original Riprock debuted in 2016 and not a lot has changed until this year.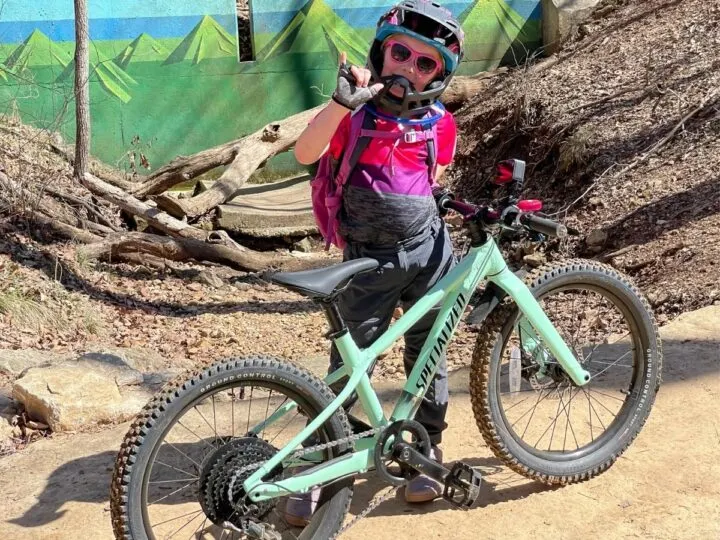 As an Amazon Associate and member of other affiliate programs, we earn from qualifying purchases.
The Riprock 20 and Riprock 24 bikes are almost the same with the exception of the tire size. If you are looking for something with front suspension, you will have to wait until your rider is ready for the Riprock 24 Expert model.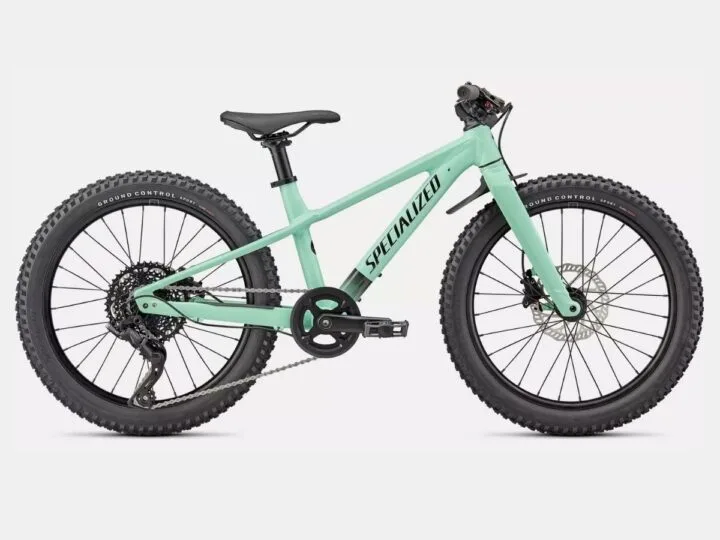 All About the Specialized Riprock 20
What's Updated?
The 20″ Specialized Riprock recently got a total overhaul and we are pleased with the outcome. The older Riprock 20 would have not been something we were looking for, but the current 2022 version is rocking some awesome upgrades:
Removal of the front coil suspension front for a rigid fork – Coil suspension is heavy and not very effective for younger kids
Replaced mechanical disc brakes with hydraulic disc brakes – Better stopping power and typically lighter weight
Overall lighter bike weight – Down from around 26/27lbs to 22.5lbs
Added internal cable routing
Geometry overhaul to a more modern trail riding geometry
Upgraded to a wider gear range removing the 7 speed grip shifter 11-32T for a 11-42T rear cassette with a 9 speed trigger shifter
Narrowed the tires from 2.8″ to 2.35″ – Saves weight while still rolling smooth over bumps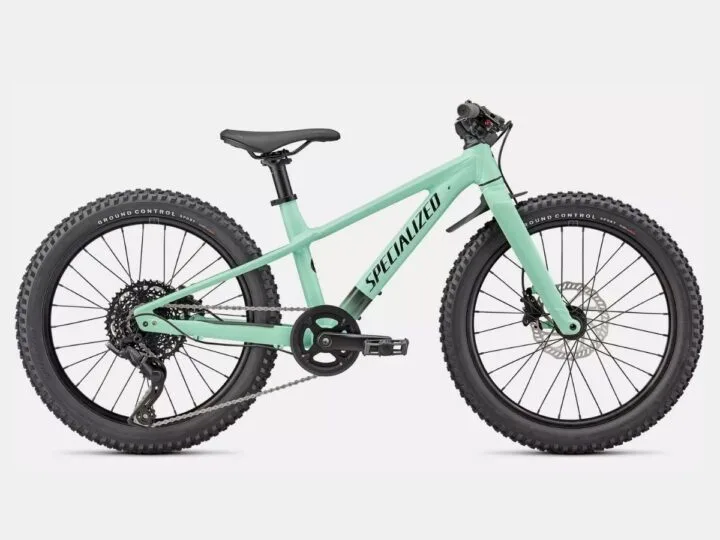 Specialized Riprock 20 Features
The Riprock is loaded with kid (and parent) friendly features. This bike is good for kids about 5.5-8 years of age (depending on height) and is a EXCELLENT pick for a first geared bike.
We think the price point was great for all the features and weight. We also love the color choices. Currently available in a blue, mint, red, and lilac.
Lightweight alloy frame and fork with internal cable routing
Hydraulic disc brakes with an adjustable reach
9 speed trigger shifters with 11-42 tooth rear cassette

Mud fender for the front wheel

Ports for internally routing a dropper post cable
Great geometry for intermediate kids – not too upright and not too aggressive
Water bottle mount – however not very practical as it is under the bottom tube
Specialized Riprock 20 Specs
Weight: 22.5 pounds
Seat Height: 25″-30″

Tires: Ground Control Sport, 20×2.35″ (not tubeless ready)

Head Tube Angle: 68°

Stand over Height (ground to top of top tube): 20.5″

Standard 300mm seat post with a kid friendly saddle
Seat Height: 25.5″ to 30.5″ (can cut seat post 2.25″ to get a minimum of 23.25″ to 28.25″)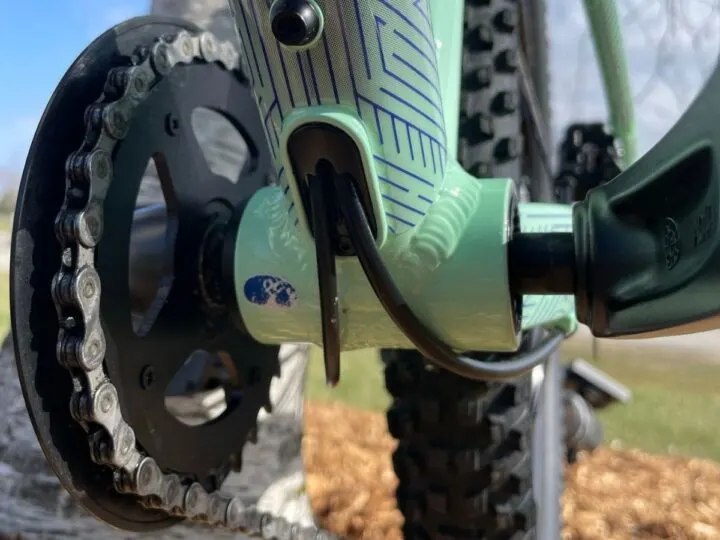 Quick Tip for New Shifters!
If your little biker is brand new to shifting (most are for a 20″ bike), here is a quick and easy tip for you! Simply put a piece of colored tape on one of the triggers.
We just used a piece of blue masking tape. It's much easier to say "click your blue button" or "click your black button" than "shift up" or "shift down" (because there is a good chance I will say the wrong one anyway!)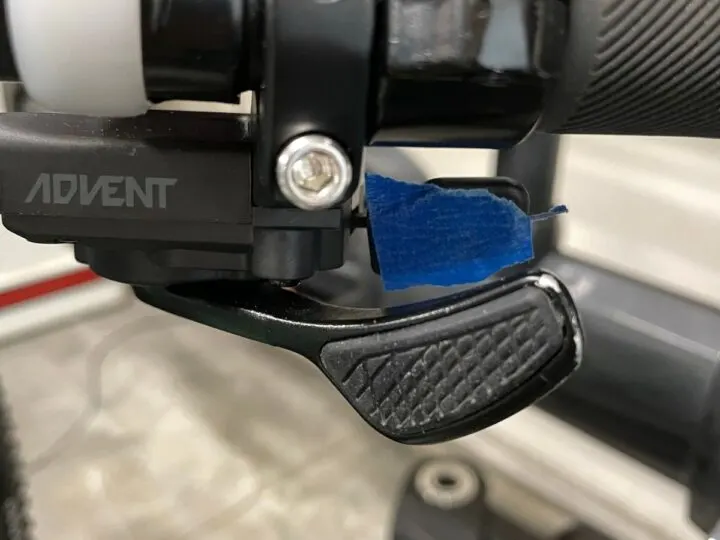 About the Bike Tester
Age: Just turned 6
Inseam: 21″
Height: 45″
Weight: 46 lbs
Riding Style: Developing her love for single track. Also really loves downhill now that she can climb back up easier due to the gears.
What she loves most about the bike: "I love that it has gears!"
What We Love About the Specialized Riprock 20
Solid Kids Mountain Bike at an Affordable Price
Although this isn't the lightest bike out there, we think this is a great bike with quality components at a decent price. We like the upgrade of the wider gear range to make climbing easier for young riders. The removal of the front suspension was also a selling point for us.
The Riprock also comes stock with solid tires ready for the trail. We like the 2.35″ tires width, enough width to roll over roots but not so wide that you are losing speed, having to work harder, or carrying extra weight.
Overall, a quality bike for a young rider and a price that won't break the bank.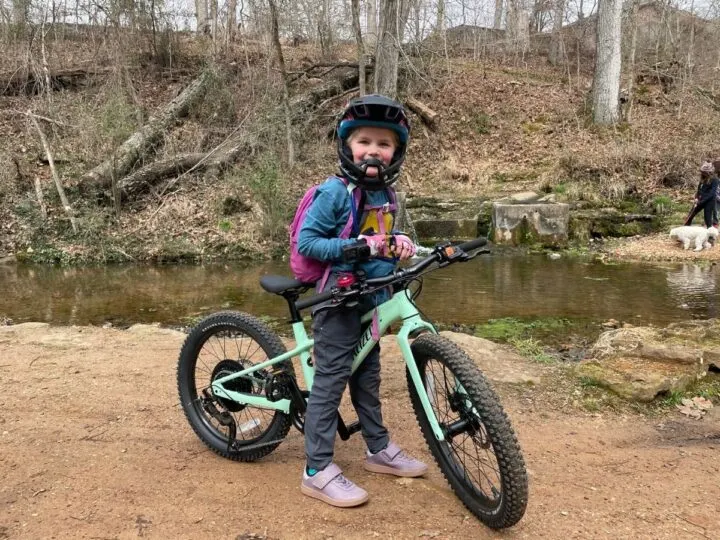 Kid-Friendly Features
We love the easily adjustable reach brake handles and the kid sized shifters. They are easy to reach and use for small hands. The Riprock also has a narrower bar grip (19mm bar end) built for kids hands but a wider handlebar (600mm) for more stability.
The internally routed cables also keep things from getting caught. We love the narrower, comfy bike seat as well. The mini-mud flap is also a great addition since most after market ones wouldn't fit well on the small frame.
The Geometry of Specialized Riprock
We love that this bike has an "intermediate" mountain bike geometry. This bike is definitely designed for the trail so it isn't too upright that it makes trails difficult, but not so aggressive that its difficult for younger riders learning single-track.
The 68° head tube angle is on the more aggressive side, but we didn't find it overly aggressive with the other geometry.
Our somewhat timid rider turned into a single track loving kid on the Riprock on a trip to Bentonville.
Rigid Front Fork – YES!
Yes! For us this is a pro! By not having a front suspension the bike is saving weight on a feature that my kid wouldn't really benefit from.
Suspension only works if you have enough body weight to compress the suspension to absorb the shock. Most riders in this size range don't really fit that bill. Removal of a front shock also saves some weight, sometimes up to 5 pounds (especially since the old Riprock had a coil suspension).
Other benefits of a rigid fork is that little riders learn how to control their bike better by learning how to react to the trail and not having everything cushioned.
It also saves you some money and is one less thing to maintenance.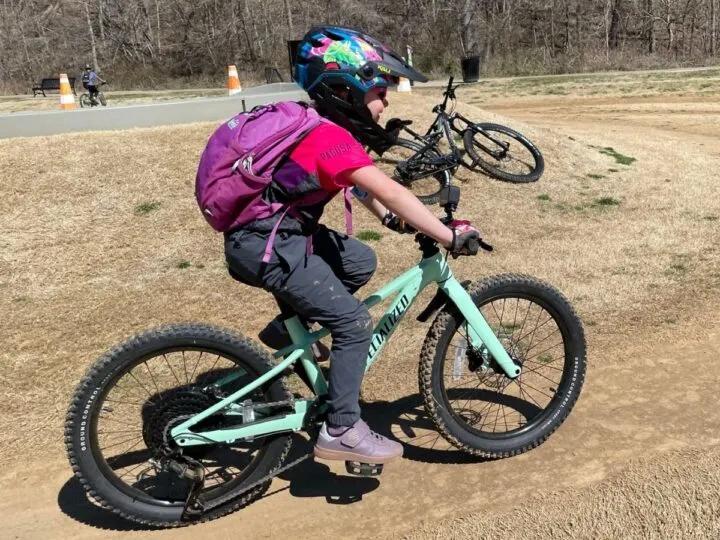 What Could Use a Little Improvement on the Specialized Riprock 20
Sizing and Seat Post Length – Limited Fit Range
According to Specialized, the Riprock 20 is designed for kids 42″ to 47″ tall. Our biker was 45″ tall when we she started on this bike. The Riprock 20 comes with a 300 mm (11.8″) seat post. The lowest seat position is 25.5″ and the highest is 30.5″.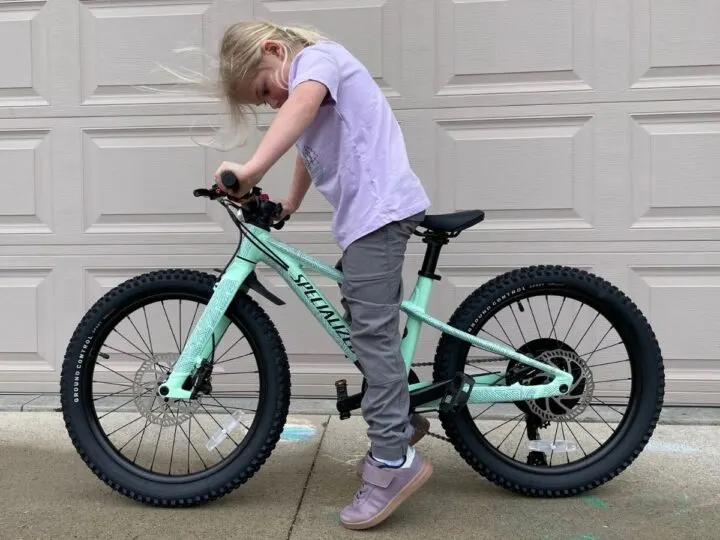 Although she is in the mid-range for this bike at 45″ tall, we had the seat as low as it could go when we got started and she was way up on her tip toes. At the seats lowest position, it sits about 2.25″ from the seat collar and is 25″ from the ground… 4″ more than her inseam.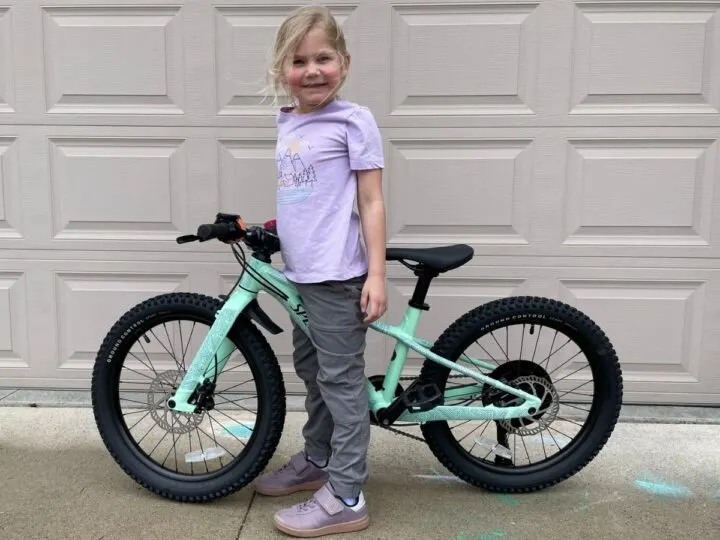 Her seat height when riding looks great, she just is a little short when stopped, but she had learned to tip her bike to get on and off and she still has enough stand over height for the top tube..
For testing, we simply swapped a bike seat with a shorter post to see what we would get. We found a minimum seat height of 22.5″ when down as far as possible. But, when the seat is that low, the rider is pretty close to the pedals, which could make pedaling harder.
However, having a lower seat when we were getting started would have been really helpful until she was comfortable getting on and off as well starting and stopping with the bigger bike. She has adjusted now and does OK at the lowest stock seat height (25.5″).
I would recommend cutting down the seat post 2.25″ to get a lower seat height as you probably wont need the max seat height of 30.5″ on this bike (your rider might be ready for a 24″). The seat is quite a bit above the handle bars at the 30.5″ height as well.
Don't forget to adjust your minimum insertion line after you cut the seatpost.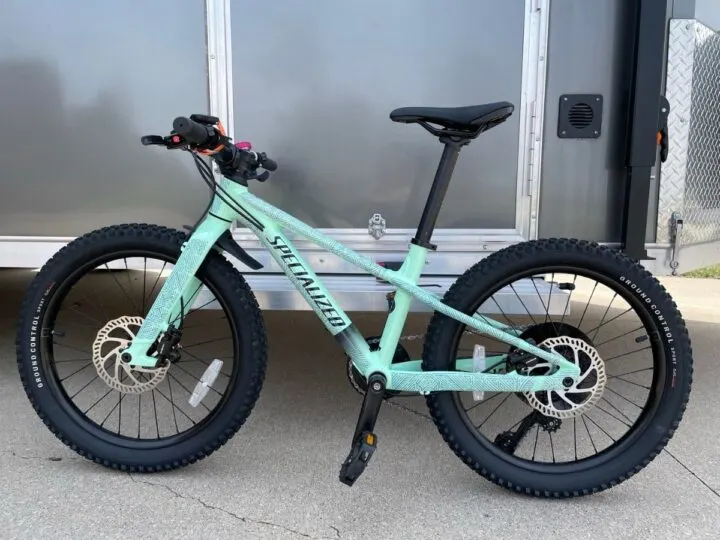 I'm also a little concerned that she will outgrow this bike faster than I wish. I was hoping for 2 years on this bike. Her fit on the bike looks perfect right now, but I will be curious to see how she looks at the end of this summer and next summer after she likely grows a few more inches.
Adjusted size range: With the stock seatpost NOT cut down, I would say the height range for this bike would be 45″-47″. If you cut down the seatpost a little, you could drop that minimum to 43″ or 44″.
Stock Pedals are OK
The stock pedals are fine as we get going, but we will likely swap them for something with a little better grip as we advance. The stock pedals are a nylon platform pedal and they do have some pegs for grip.
They do pretty good paired with our daughters Fiveten shoes, but she slips a little if she is wearing something different.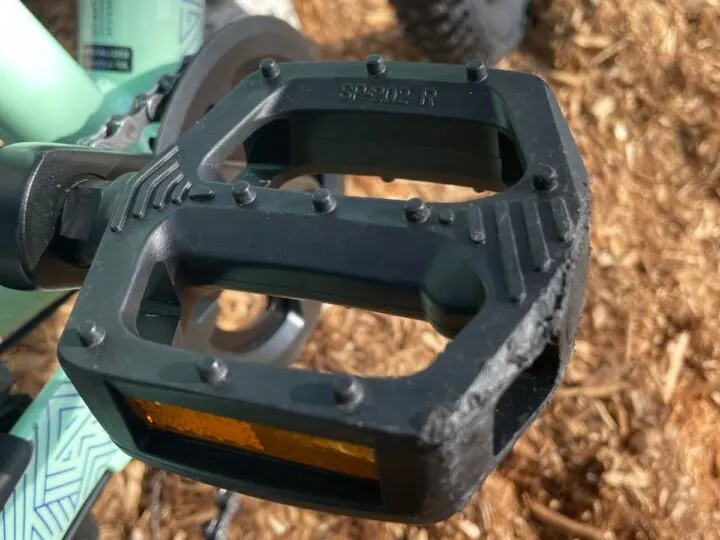 Quick Release on the Front Wheel and Seat Post
Although this 20″ will fit on our Kuat with the adapter, having a quick release on the front wheel would be helpful for those times we do need to take off the front wheel.
A quick release on the seat post would also be handy for quick seat changes when your kid has an overnight growth spurt.
Rear Derailleur Cage is Close to the Ground
Although this is a common occurrence on a lot of 20″ bikes, parents should be aware that when in the lowest gears, the rear derailleur cage could possibly snag a rock or other object on the trail as it sits pretty close to the ground.
I recently read an article that Microshift is coming out with a shorter rear derailleur cage to alleviate this issue. Hopefully that Specialized will consider the Microshift Supershort in the future to alleviate this issue, looks like the Woom Off is already utilizing it and it will be coming soon on Prevelo Zulu.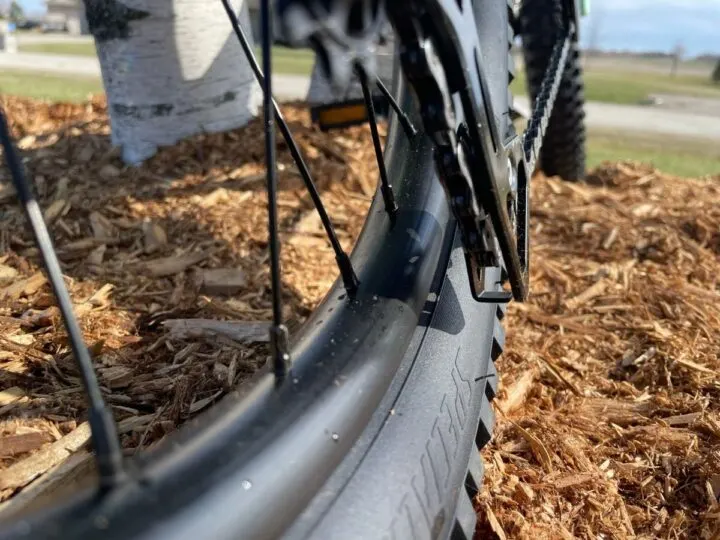 Why We Chose the Riprock 20
Towards the end of last summer our (then) 5 year old was almost too big for her 16" Prevelo Alpha Two. We started looking for her next bike. We were trying to find a good combination of weight, gears, disc brakes, and most of all AVAILABLE. The pandemic was really limiting availability for a lot of companies.
We decided we were looking for a bike with a rigid front fork, hydraulic disc brakes. 2.3" to 2.5" tires, 8-10 speed with a wider range cassette, and trigger shifters were also preferred (but could swap out if needed). The Riprock 20 checked all our boxes.
After a bit of research, comparison and a spreadsheet, we had it narrowed down to the Specialized Riprock 20, Woom Off 4, Cannondale Cujo Race 20+, and the Prevelo Zulu 3.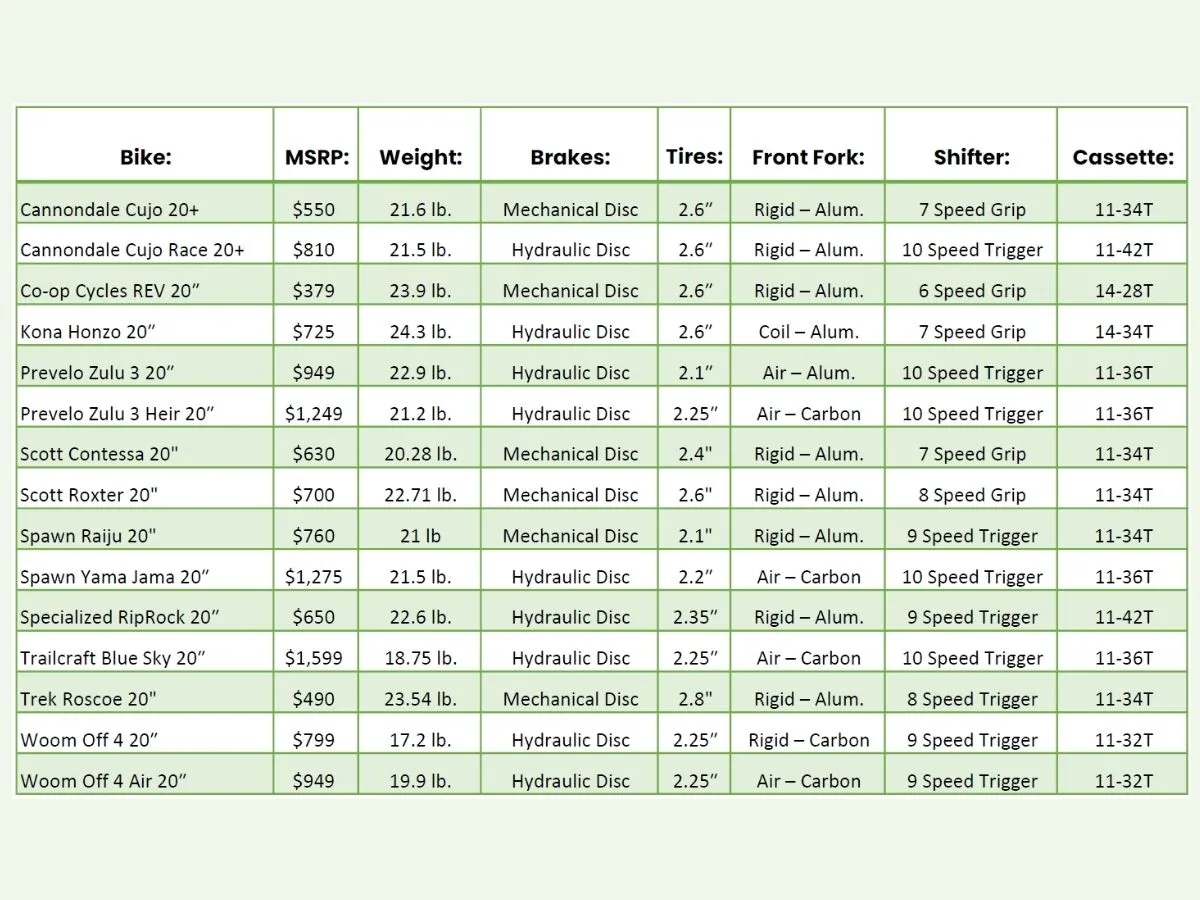 The Woom Off 4 took its self out due to availability. We needed this bike no later than March and there was no sign in sight that they would be in stock and delivered by then. (They are back in stock now and can be ordered.)
The Cannondale Cujo Race 20+ was a little more expensive ($810) and only had a red color option, but otherwise was very similar to the Specialized. Since it was so similar, we went with the Specialized.
The Prevelo Zulu 3 is another solid bike, but we decided against the front suspension, which saved us about $300 and a little weight.
Bottom Line
You will not be disappointed with the Specialized Riprock 20. This a great 20″ mountain bike that will be sure to let your little grom advance on the trail.
We love the 9 speed tirgger shifter with a high gear range that has made climbing hills tolerable for her. Our 6 year old is loving her new gears and is able to climb better and bike faster and no longer complains at the site of a hill.
The biggest downside is that there is a limited fit range where the bike is the "best fit" and I think we will outgrow faster than I would like.
I would recommend cutting down the seat post a little to allow shorter riders to use this bike.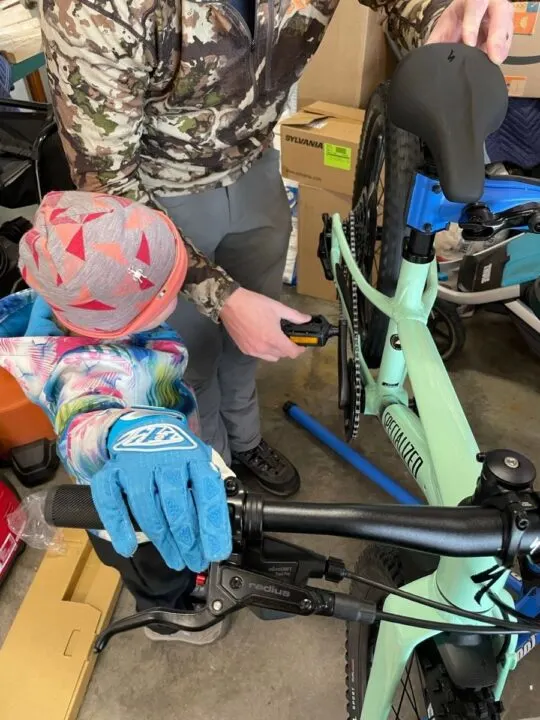 Where to buy the Specialized Riprock 20:
You can check supply of your local bike shop on Specialized.com by clicking the "find in store" button. You can also order direct from Specialized and attach the handlebars and pedals yourself or have it shipped to your local Specialized retailer for assembly and then pick up.
We ordered direct from Specialized.com and assembled at our house since we ordered about 4 months before we needed it (it was easier to hide the birthday bike if it was in a plain cardboard box in our messy garage).
The box had everything we needed to get the job done. Having a bike stand (and my handy husband) made it much easier.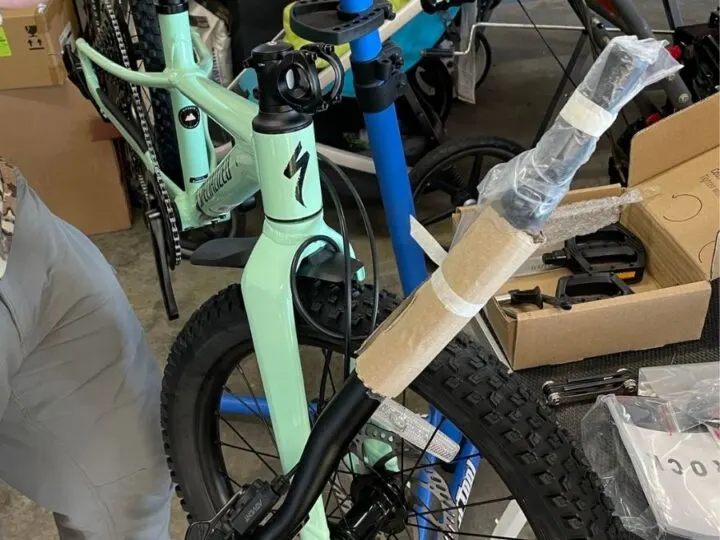 Looking to Protect Your New Bike's Frame?
We know kids are going to crash, but you hate to see those big scratches in the paint. We opted for some Ground Keeper Frame Keeper to help protect her new Riprock 20 and keeping looking good for her younger sister in a few years.
We just ordered the regular "one size fits all" Frame Keeper. Because she has such a small bike compared to what they were designed for, there was enough extra to put on the front forks.
It does take a bit and it is a little tedious to put on, but she loves the personalization and we love the frame protection. We even got her the matching Top Cap. We also had a spare piece that we put on the front over the "S" as the brake cable was rubbing on the paint a little there.
These frame keepers are also a great way to add some personalization to a used bike.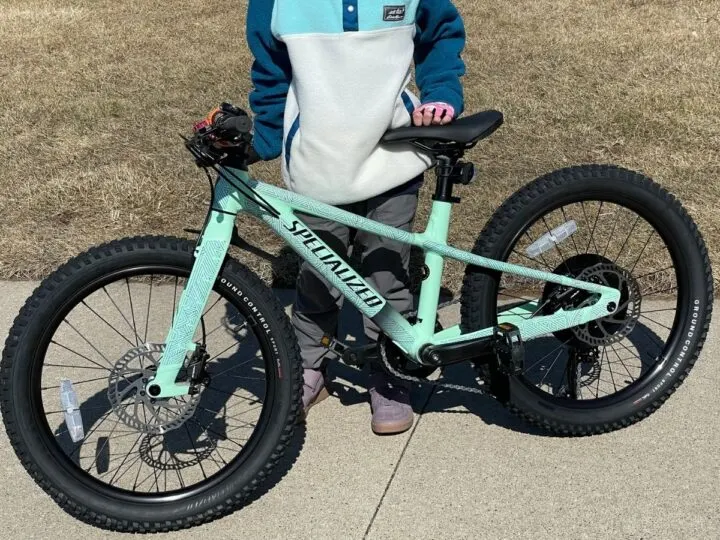 Related Articles:
Specialized Riprock 20 Mountain Bike Review
© 2022, Kids Ride Bikes. All rights reserved. Republication, in part or entirety, requires a link back to this original post and permission from the author.