Most biking families have a simple rule – no helmet, no bike. Helmets are a critical piece of gear for biking and, in my opinion, should be non-negotiable. This post will help you understand how to get kids to wear a helmet, how to fit helmets AND the best bike helmets for kids.
Between everyone on the team here at Kids Ride Bikes, we have used and tested A LOT of helmets. Our children have done everything from riding in bike seats as little babies, up through crushing double black diamond single track on their mountain bikes.
Safety AND comfort are both critical factors when it comes to helmets, because without comfort, no one wants to wear a helmet, but if the helmet isn't safe, it's pointless.
Read on to discover all of our tips and tricks.
As an Amazon Associate and member of other affiliate programs, we earn from qualifying purchases.
Getting kids to wear their helmets
You may have helmet regulations in place in your family, but enforcing the rule is sometimes easier said than done. We started a "no helmet, no bike" policy from the second they could straddle a push bike. There is good data that shows that helmets keep kids safe. But that doesn't mean they never put up a fight.
Hopefully the following tips will help you get your kid to wear a helmet more.
Want more tips on getting your kid to wear a helmet? Read this great post on the best tricks.
Make sure their helmet is comfortable
Above all, make sure the helmet is comfortable. We once picked out an awesome looking R2D2 helmet, only to realize the lack of holes made it completely miserable in the summer.
A lot of resistance tends to be rooted in actual discomfort. Velcro that snags the hair or a poky buckle will make a child want to rip that helmet right off.
Thankfully, we have tested out a enough helmets that we have avoided recommending any with serious comfort issues or design flaws.
Lighten up!
If your kid is resisting their helmet – and doesn't automatically give in when you tell them the rule – try lightening the mood. Find something else to do while they are resistant, distracting them from the helmet instead of making it an issue.
Turning wearing a helmet into a battle will reinforce the resistance in a child–so, just change the subject!
Some families even have fun decorating their helmets with stickers or other additions, which helps children "own" their helmet and hopefully like it more.
Put your helmet on!
Put on your own helmet, even if you're just standing by to watch. Toddlers and preschoolers might find it funny if you "forget" which body part to put the helmet onto. Give the helmet a funny name, or try sticking flowers in the holes.
Wear your helmet to do the dishes, garden, or whatever! If it becomes just another "hat" it becomes less of a novelty and more of a habit.
Be honest about why it's so important for kids to wear helmets
Older kids might benefit from a little honesty – if you've ever gotten in a bike accident, tell them. Kids tend to think they are invincible, and it can be important to remind them (gently) that they're not.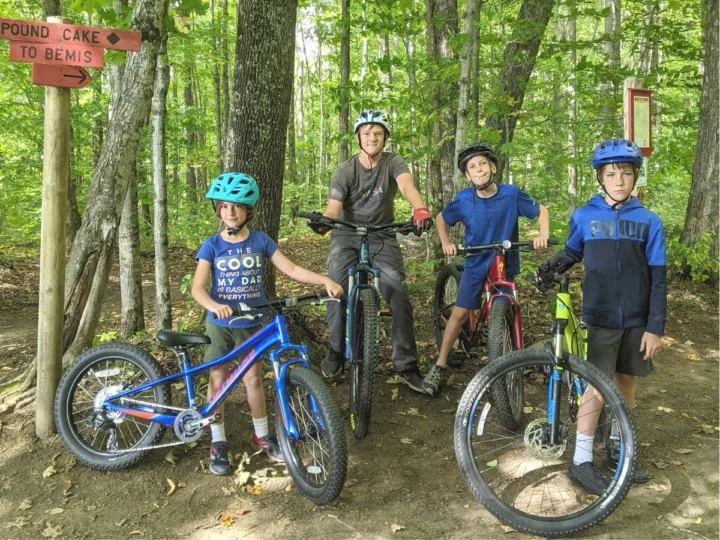 How to pick out a good kids' helmet
If you're looking for a new helmet, there are a few important things to keep in mind. Also check out this helmet-fitting video from our friends over at Buddy Pegs.
Fit of the Helmet
If a helmet is too loose, it won't be effective. If it's too tight, you're going to get resistance from your kid. Make sure the strap fits snuggly under the chin. Don't go solely on ages when buying a helmet – kids have different size heads, and you need to make sure it fits, even if it means going up or down a size.
Good helmets are generally sized in centimeters or inches (and sometimes both!). Measure your child's head with a soft measuring tape to get the right size.
Every child has a different head shape, and different helmet brands have different fits. Trying on helmets in a store such as your local bike shop or REI is a good way to evaluate the fit.
Comfort of the Helmet
If a helmet is too hot, or pinches in the wrong place, or has a visor that makes it difficult to see (or doesn't have a visor and the sun gets in their eyes) – your kid will be less inclined to wear their helmet.
Some helmets have velcro that grabs hair or ponytails–sounds like a small thing, but it could cause a child to refuse to wear their helmet.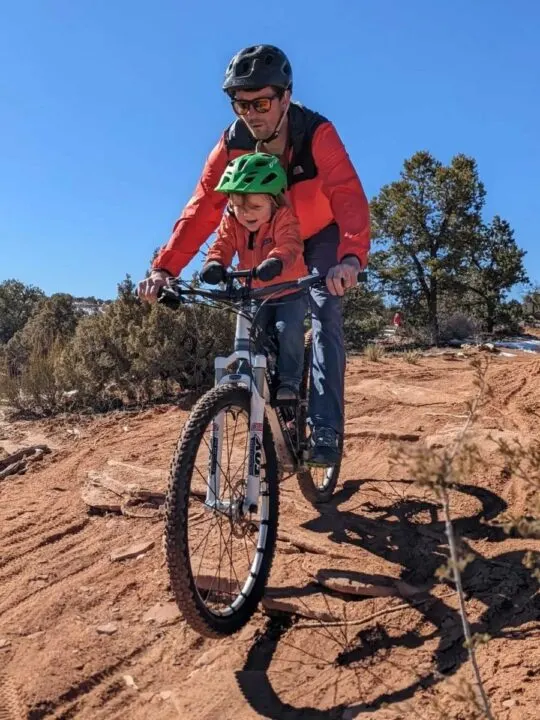 Sport
Not all helmets work for all sports. For example, a skateboard helmet should cover the back of a head. Many bike helmets don't. If your kid does multiple sports, make sure their helmet is safe for every activity.
Style
While safety is the ultimate priority, you'll also get into a lot less fights if your kid feels good about what they're wearing.
Several helmet companies come with cool, kid friendly graphics. Other bike helmet companies send their helmets with stickers that kids can apply themselves.
My children enjoy adding stickers that are personal to them to their helmets–so stickers from places we've been or brands they like. Whatever makes it fun, right!?
There are also companies that sell flair kits just for helmets. Helmet Flair makes all kinds of awesome accessories that attach via magnets.
This post has all kinds of tips for glamming up your gear.
What is MIPS?
You'll notice some kids' bike helmets are labeled "MIPS," which stands for Multidirectional Impact Protection System. MIPS helmets account for rotational impacts to the head, and help absorb some rotational impact.
All helmets have to meet certain safety standards, which currently do not include MIPS technology. Some studies have shown benefits from the technology, but it is an add-on. MIPS helmets are slightly more expensive, at about $15-20 a helmet.
Best Bike Helmets For Kids
When you're deciding what to buy, you need to consider a few things – what sport will this helmet primarily be used for? Is my kid hanging out in a trailer, or going off mountain bike jumps? What is their chief complaint with their old helmet (Too hot? Too pinchy? Visor in the way?) What's your budget?
When you figure out your answers, you'll have a better idea of what kind of helmet you need. REI has a great selection of kids helmets that can help you find something that works for your kid.
Best Bike Helmets for Infants and Toddlers in Bike Trailers and Seats
Kids in bike trailers and sets still need to wear helmets, yet bike trailers and bike seats pose a problem when it comes to bike helmets. Because the child's head it leaning up against a seat, a lot of helmets are too rounded on the back and make it challenging for children to sit back comfortably. Finding a helmet that has a flatter back helps a lot with this.
The Bontrager Little Dipper is a great helmet for babies and toddlers (ages about 1-4) that has full head coverage. It also has MIPS included for maximum protection.
It's never comfortable (or safe) to ride with a squashed ponytail underneath your helmet. The Giro Scamp is ponytail compatible, making for a more comfortable ride. The visor is built in and not removable in this model.
The TMM team has found that this helmet fits MOST young kids very well and is a top choice for our little riders!
Everyone who uses it appreciates that flat back and adjustability
I like the Giro scamp for little kids, especially riding in the trailer and on the shotgun seat since it had a flatter back. -Jami, Blog Team Member
Most team members preferred the non-MIPS version of this helmet as the MIPS version is a hair puller!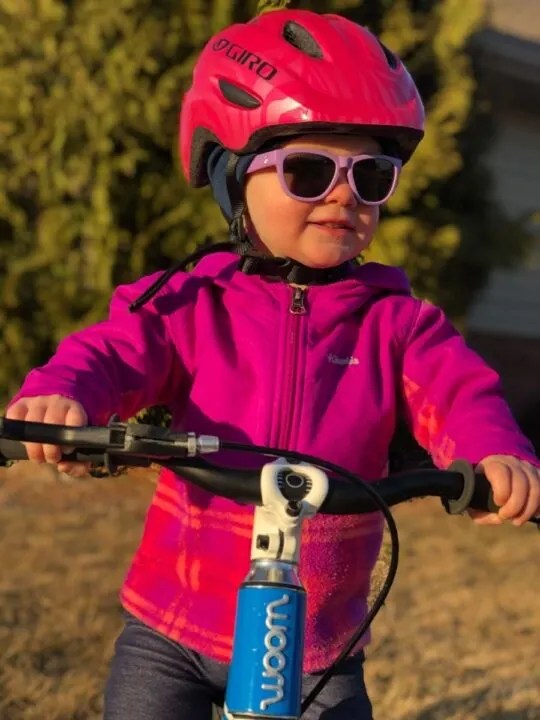 Coming in at only 10 oz, the Nutcase Baby Nutty is a great choice for your little passenger. The helmet comes in extra tiny sizes for small heads, and is designed narrower than the Little Nutty.
The back of the helmet is a little more rounded than the Giro Scamp, but it is low profile enough it will work fine with most seats and trailers.
Best Helmets for Toddlers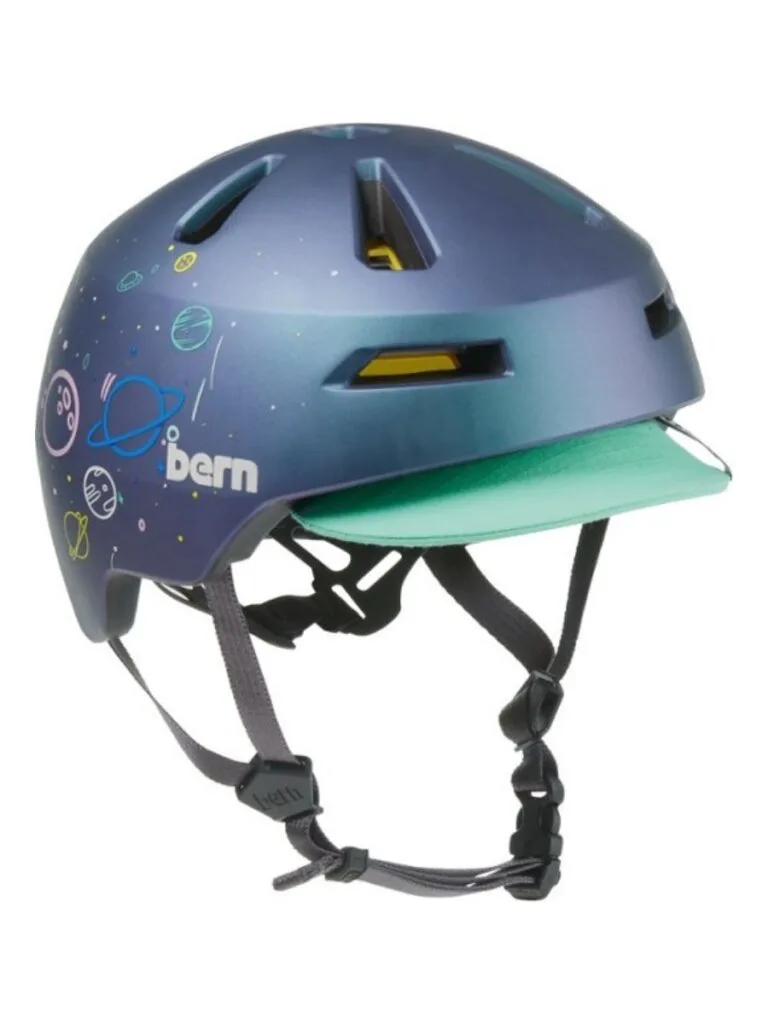 If you are looking for a multifunctional helmet, the Nino Jr. is certified for both bike and snow. The helmet also has a flippable brim. And bonus – the inner liner is machine washable.
The Lazer Nutz Helmet is a helmet designed for comfort and adjustability in mind. Instead of MIPS, Lazer created their own head protection system called Kineticore. This system is built right into the helmet to protect against rotational impact.
The helmet provides temple coverage, and comes down further in the back than other helmets. I like the thoughtful addition of the mesh in the front vent holes which prevents bugs from flying into the helmet.
Because of its adjustment system, this helmet is designed to fit for more than one year.
Nutcase has both MIPS and non-MIPS helmets. Nutcase's helmets features vents in the front that will help keep heads cool. The buckle is magnetic, and means no more pinched chins.
A spin dial in the back makes getting the right fit easy. Nutcase helmets are slightly heavier than others in this lineup, but are fantastic helmets.
See our full review of Nutcase helmets here!
Best Bike Helmets for Kids
My son has been wearing this helmet for 3 years, and never has had a complaint about it. Now his is 12 and it will be too small soon, but it definitely fit him well for longer than we expected. It is lower profile without sacrificing safety. It has a Mips liner, and a dial adjustment on the back for fine tuning the fit.
The Giro Tremor is a mountain bike style helmet with MIPS technology. The tremor has a large brim, and is great for sweaty heads and those who live in hot climates. The Giro Tremor has plenty of ventilation, but without compromising safety.
We like this helmet because it fits oblong heads well, and is easy to adjust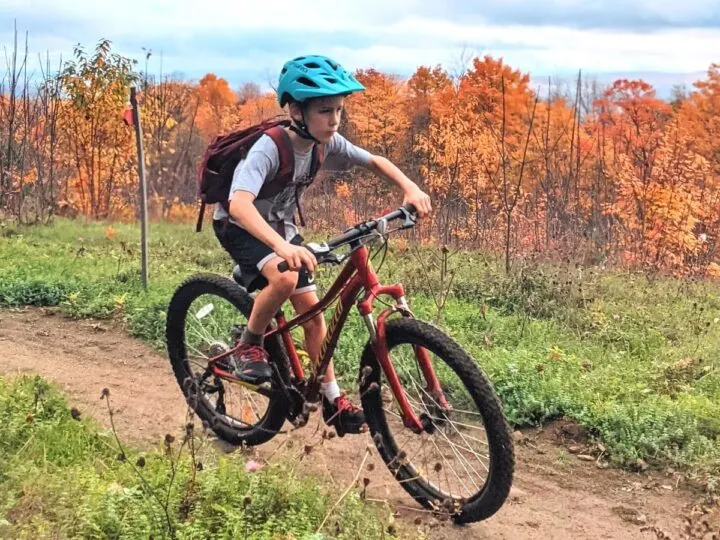 The POCito features SPIN technology. Like MIPS technology, SPIN technology helps protect brains during a impact. This technology lets the helmet turn during an oblique impact, reducing the transmission of force to the brain. Pocito helmets are also made with recycled materials.
This helmet is a good choice for a child with a hard to fit head as it has multiple spots to adjust the fit. It is a pricier option but known to be comfortable.
Many on the Kid's Ride Bike blog team are new fans of Smith helmets. Two of us mamas own the Smith Convoy, and decided to try the Wilder Jr. This helmet fits well, stays snug, and balances well on the head.
This is a good helmet for heads that tend to have an oval, less round shape. It is lightweight, with several vents to keep the head cool. It has a flexible visor, and a great aesthetic, making it great for mountain biking as well as biking around town.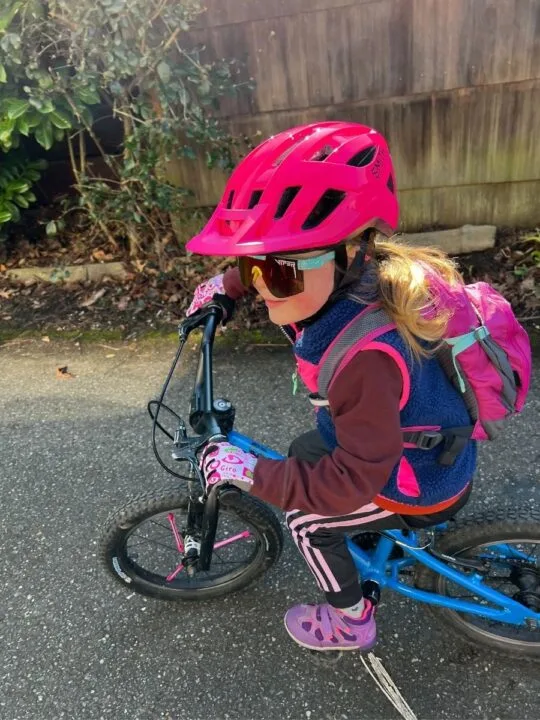 Best Specialty Helmets
The Maya Child's Helmet with Removable Chin Bar received high marks from team member Jami. Her daughter recently used it for several weeks of mountain biking and found it comfortable and easy to wear. Having an added chin bar for progressing riders is a great idea. A chin bar helps protect against ugly, full face crashes.
The Maya is a good bridge between a traditional helmet and a heavier, true full face helmet. It is almost half as heavy as the downhill specific helmets, yet still offers good protection for moderate terrain.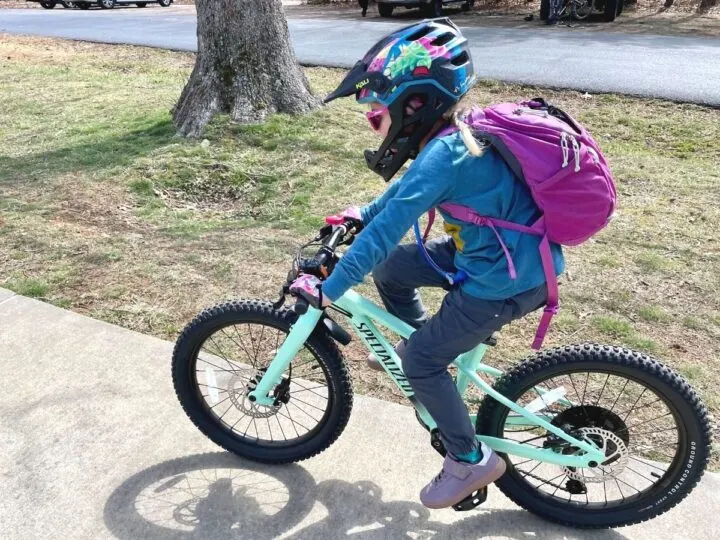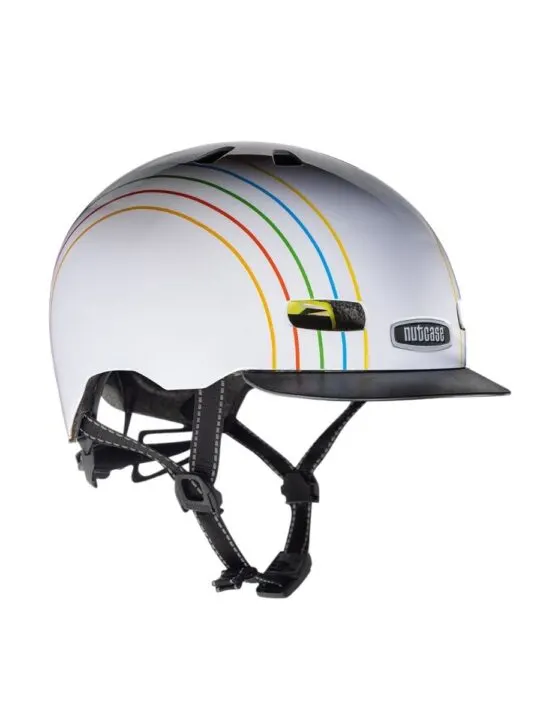 Nutcase is known for the fun graphics, and full coverage designs. They have rolled out a new Street Collection helmets, which are rated to be safe for biking AND skateboarding or blading. This is the perfect helmet for your child who loves biking, but also enjoys playing on a ripstick or skateboard.
Because skateboarding crashes can involve different impact points than biking, it is important to have a helmet that covers as much of the head as possible. The Street Collection does that. This helmet also was designed to promote airflow, and to be easy to adjust for a variety of head sizes.
Tell us your favorite!
Has your family tried any of these helmets? Let us know what your experience has been with them in the comments! We hope you find something that works for you, and keeps your kids safe and happy.
Related Links
© 2022, Kids Ride Bikes. All rights reserved. Republication, in part or entirety, requires a link back to this original post and permission from the author.