Guardian Ethos 20 Inch Large Bike Review
Guardian Bikes started on a mission to build safer bikes for kids after the founder's grandfather went head-over-handlebars and landed in the hospital. They invented SureStop brakes, and designed an overall thoughtful bike for kids.
We got the chance to test out the Guardian Ethos 20″ bike, and for our neighborhood riders, the bike was a big hit. My kids occasionally like to hit up the pump track or dirt trails, but mostly we are riding relatively short distances on roads and sidewalks to school or the playground. The Ethos was perfect for this, and I wouldn't hesitate to take it on longer rides either.
As an Amazon Associate and member of other affiliate programs, we earn from qualifying purchases.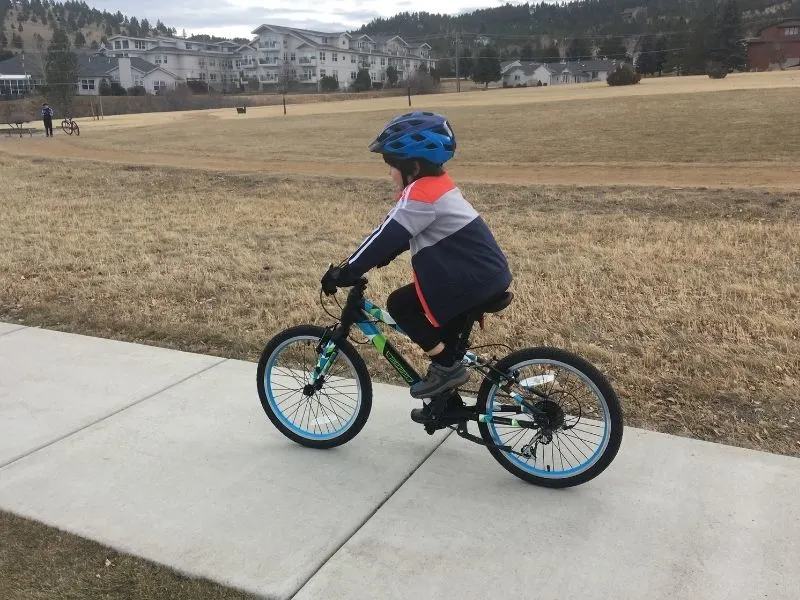 The Guardian Ethos was a big step up in size for my 6-year-old who had learned to ride without training wheels earlier that year, but he adjusted quickly. He also had never used a handbrake before, and the learning period was relatively short with Guardian's SureStop Brake System.
Guardian Ethos Bike 20″ Details
Safer SureStop Brake System

6-speed grip shift

Quick-release adjustable seat
Hybrid bike tires
Rigid center fork
Guardian Ethos: Best for neighborhood riding
The Guardian Ethos 20″ bike is a great bike for kids who want a reliable, all-purpose everyday bike.
Guardian has two models – the AIROS and the Ethos. The 20″ also comes in Small and Large. The Ethos is Guardian's budget version, and has a few less bells and whistles than the AIROS. For our lifestyle though, it suited us just fine.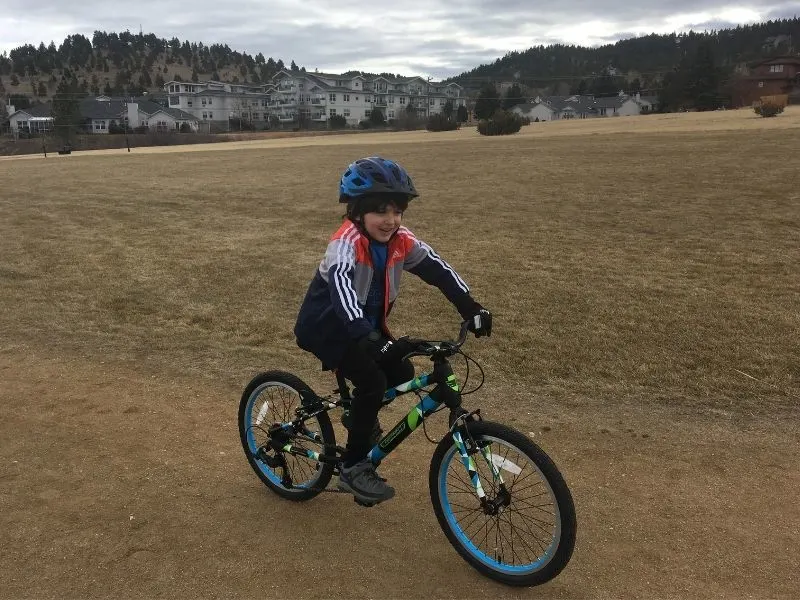 The Ethos is a little bit heavier than the Original – 22.9 pounds versus the 21.2-pound AIROS. The frame is aluminum instead of steel, but besides on some steep hills, we haven't found the extra weight to be too big of an issue.
The Large has 6-speed gear shifter, which was important to us as we live in a hilly neighborhood. Even though my 6-year-old is by no means tall for his age, the large fits him well, with a bit of room to go into.
The Small (which we didn't test) is a single speed bike and has a slightly smaller frame. It weighs in at 20.7 pounds.
SureStop Brake System
The stand-out feature of the Guardian bike company is the SureStop brake system.
The SureStop system activates both the front and back brake simultaneously, with just one squeeze of the hand. This eliminates the chances the rider will accidentally squeeze just the front brake, locking the wheel and sending the rider flying over the handles. But it's also not just the rear brake – without engaging both, the rear wheel could lock and skid.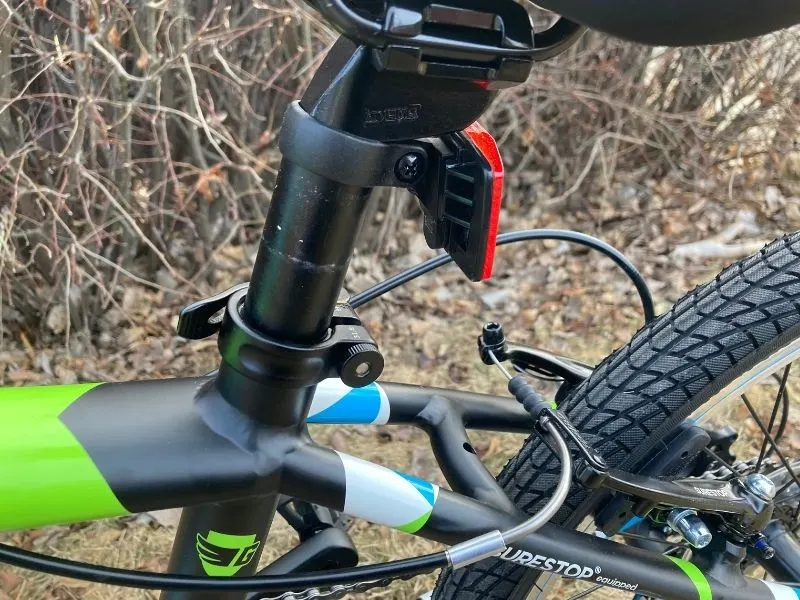 The SureStop allows for a smooth stop that kids don't need to over-think.
My kid's previous bike had both a hand brake and coaster brakes, but he had difficulty operating both of them. The hand brake on his old model was too large for his hands, causing him to rely more on his coaster brake. This one was much more appropriately sized.
Ease of Assembly
The Guardian website blog boasts a 10 minute assembly time, and I can attest putting this bike together was a super-simple process. We assembled it in the living room, and although it took us closer to 30 minutes (I let the kids get involved in the process), it was stress-free.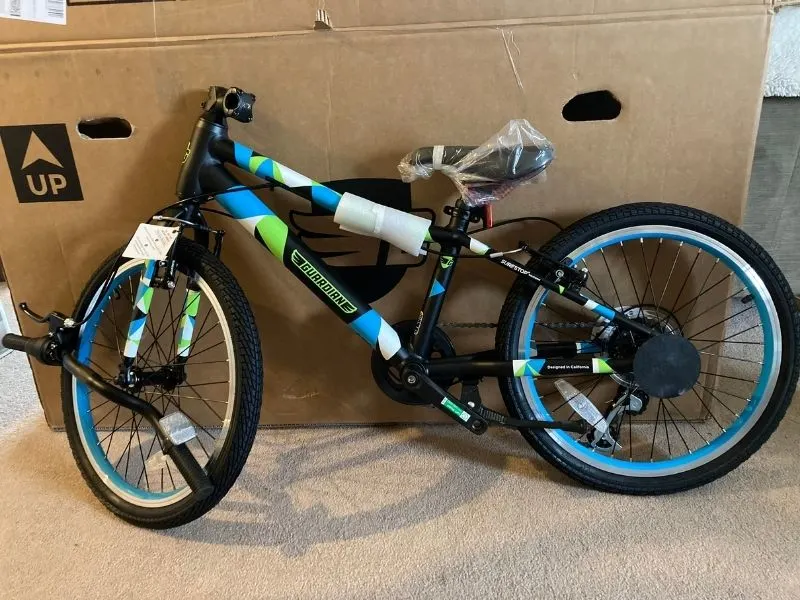 Basically, your only job is to install the handle-bars and the pedals. The brake system and the wheels are already fully assembled, so there's no stress of wondering if the important parts will fall apart as soon as your kid starts riding.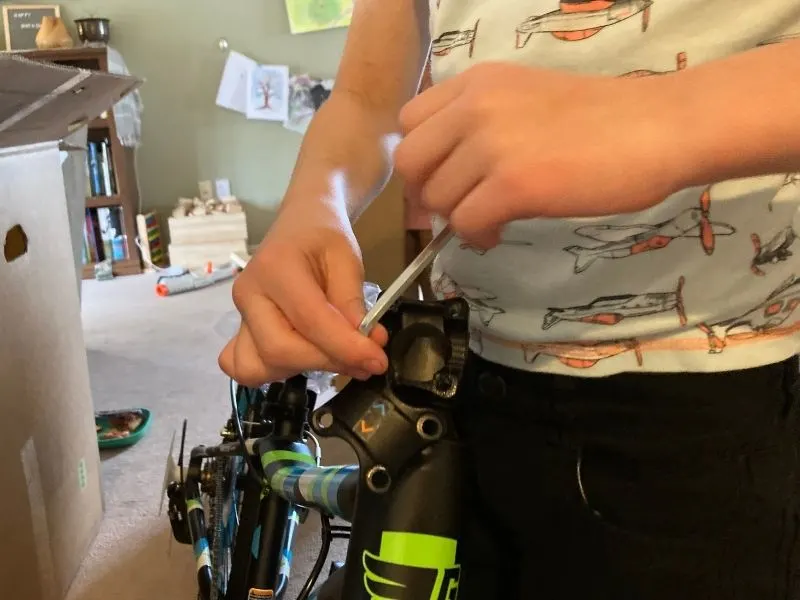 Thoughtful design – Kickstand, adjustable seat
Overall, I am happy with the thoughtful design of the entire bike. The kids are thrilled with the flashy design. The kickstand is pre-installed, and although it adds a few ounces, it is an important feature for my kids.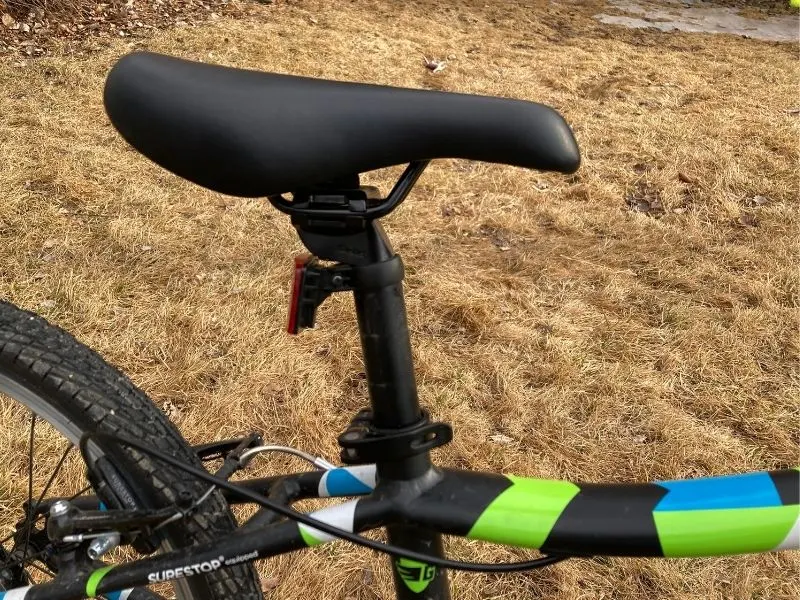 The seat is an easy, quick-release. When your kids shoot up overnight, it's nice to able to adjust it easily or even teach them to do it themselves.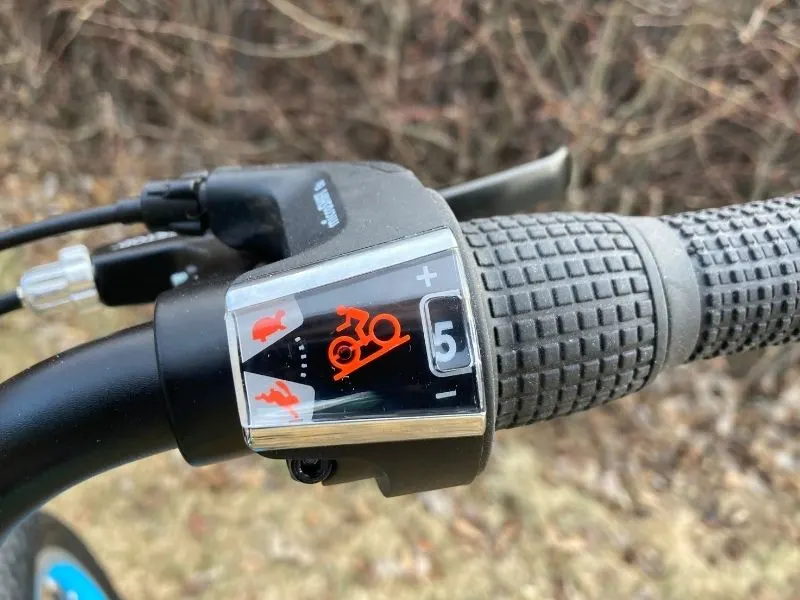 I also love the design on the shifter. Even though I've been biking for years, I have to stop and think about which direction to turn my shifter. The rabbit and hare are cute, and picture of the hill also helps the kids figure out which way to turn their shifter.
Guardian Ethos: What We Don't Love
Let me be clear – there's nothing we really didn't love about this bike. But there are a few things I wish were slightly different, or at least think are important to note.
The SureStop Brake System
Overall, I find this breaking system to be a huge plus. But because you activate both breaks at the same time, you can't really use the breaks to adjust your speed. It's a pretty quick stop, although not so quick it'll throw you over. My kids haven't complained about this (it's also possible my kids have never tried to slow down). And some point they'll have to learn to use a two-break system, but I think it'll be an easy enough transition.
No Water Bottle Holder
My kids aren't complaining, but I definitely wouldn't mind if they could carry their own water. There's not a spot to install one either.
The Price
You can definitely find a cheaper priced bike. If your family rides a lot though, it could be worth the investment. But if you are a big biking family and want the lighter weight and easier shifter, you may find the Original to be worth the higher price tag.
That being said, we didn't think the Ethos lacked anything we wanted out of a kids bike. We're fairly budget conscious, and the price tag on the Ethos is definitely more than our second-hand finds. But our kids are also less frustrated, and I'm finding myself having to do far less tinkering.
If you're looking closely in price, keep in mind 20″ Large has 6-speeds (versus one in the Small) for $50 more dollars. The Original runs $100 more. Because my kid was border-line size wise, $50 more gears versus $100 more for a lighter frame was the more economical way to get an easier ride.
If you are looking for a high quality, safe bike for kids who want to do spend a lot of time on wheels this summer, but you don't want to dish out the high end dollars, the Ethos is perfect. We definitely recommend it for kids who do a lot of neighborhood riding.
Guardian Ethos: Where to buy
You can buy the Guardian Ethos 20″ on Amazon ($359). It is also available directly from the Guardian Bikes website for the same price.
Related Articles:
Guardian Ethos 20″ Bike Review
© 2021, Kids Ride Bikes. All rights reserved. Republication, in part or entirety, requires a link back to this original post and permission from the author.