Visit Bentonville for Family Biking
2.75 acres of pristine asphalt with various wooden rollers and berms and difficult ratings from your most advanced rider to your tiny toddler grom make Runway bike park in Bentonville, Arkansas a hot cycling destination for the whole family.
Road Trip Stop or Final Destination?
Bentonville has been a kids biking bucket list destinations for a few years now. I've joyously read about the millions of dollars the Walton family (via Walmart) has put into the surrounding trails.
Our family had already planned a trip to the east coast for work, so a stop on the way out of Denver was up for negotiation. It was a few hours out of the way but I was excited to check out all the parks and trails. Then my sweet grandma needed me on departure day and we lost a day but decided to for ahead and make the best of it.
Check The Weather!
Unfortunately, we can't plan the weather and Arkansas mid May is all about rain. I had planned two trail rides and a stop at the coolest bike park around but it rained cats and dogs almost the whole time we were in town.
I thought about crying into my fruit loops that we had driven all this way and only had one day to play, but instead I decided we would find pavement and ride in the rain. We just spent the last year riding in through cold English rain, warm rain couldn't be so bad, right?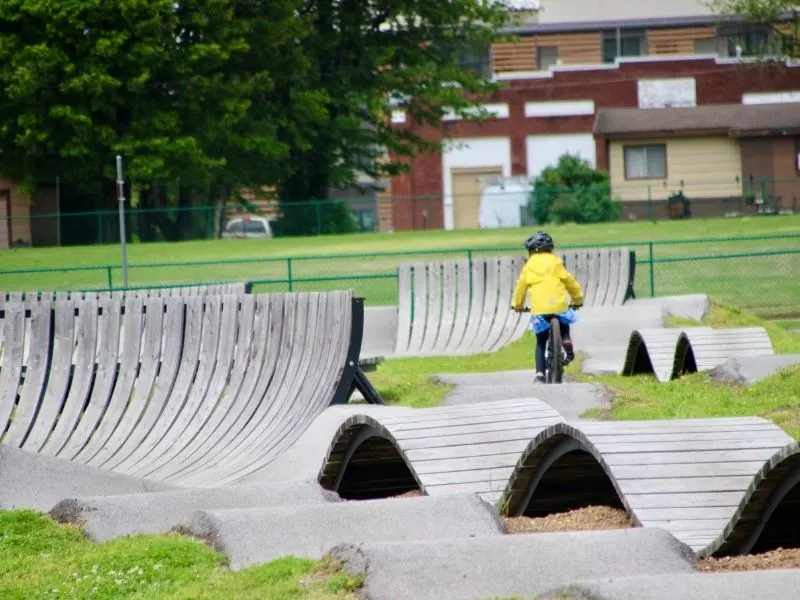 When It Rains, Ride Pavement
We started at the Kids Bike Playground on the east side of town but within minuets my youngest was in tears and covered in sticky clay mud. Even a little off roading wasn't going to work so we headed for a fully paved bike park.
Check trail conditions ahead of time for area specific Facebook group pages give up to date trail information. TrailForks also offers trail info/conditions for cross reference. Local mountain bikers are invited to ride and report trail conditions on local Facebook groups.
When in doubt, stick to pavement and respect the hard work that goes into trail maintenance.
Getting There
There's plenty of local camping with Hickory Creek Park along the shores of Beaver Lake which is closest to Runway Bike Park. Camping at Coler Mountain Bike Preserve sounds really cool, I think we will shoot for this next time. A full list of local camping sites in Bentonville can be found here.
Visit Betonville also offers a list of bike friendly hotels. I unfortunately didn't think to check this list and ended up wheeling each bike up to our room at 1am. Also, if you are driving east from Colorado, leave early so you're not driving on pitch black roads through Kansas and Missouri in hurricane wind and rain. I'm learning to add at least two hours to each Google maps estimation.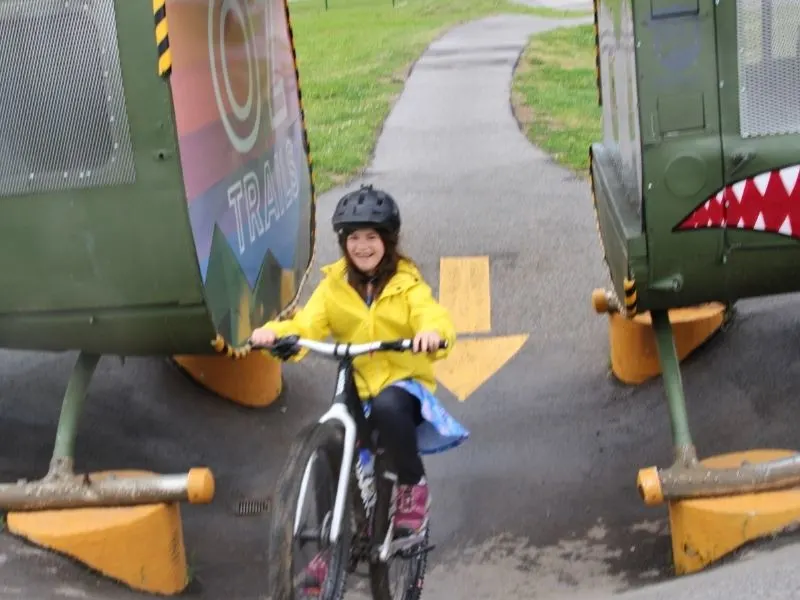 Renting Bikes
Does traveling with bikes sound overwhelming but you're going to be in the area and want to check out a few trails? Here's a list of local bike rental shops. Taking small steps to get outside and explore with you family is a great step in the right direction.
Navigating The Park
Runway Bike Park is about 30 mins outside Bentonville in a suburb called Springdale and it's well worth the short drive. Unfortunately, getting there by bike from a Bentonville hotel isn't possible with kids, but the park itself is easy to find and offers ample space and parking.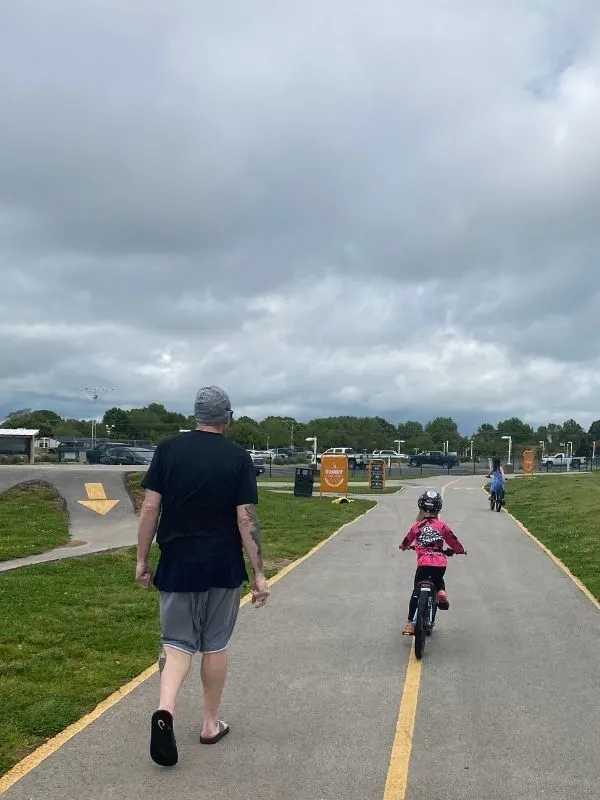 Check out Runway's Facebook Group for up to date information on weather, closures, and upcoming skills clinics and races. It looks like there is a hopping community of riders of all ages gathering for weekly events at the park.
While in town check out Buddy Pegs Playdates, you might get lucky and be able to catch a group ride or event while in town.
Runway is next to The Jones Center, a recreational facility with bathrooms, an ice skating rink, a fitness center and pool. A whole day could easily be made out a trip to the bike park and a post ride swim and shower. The parking lot is huge and offered plenty of space for big rigs.
There are three well defined areas to Runway Bike Park, a bike skills area, a pump track and a toddler balance bike area. The park is surround by fencing and has well marked paths to each area. It's a perfect place to learn to ride a bike or take it to the next level. Huge berms are right next to tot size bridges, there is plenty of space and everyone can play together.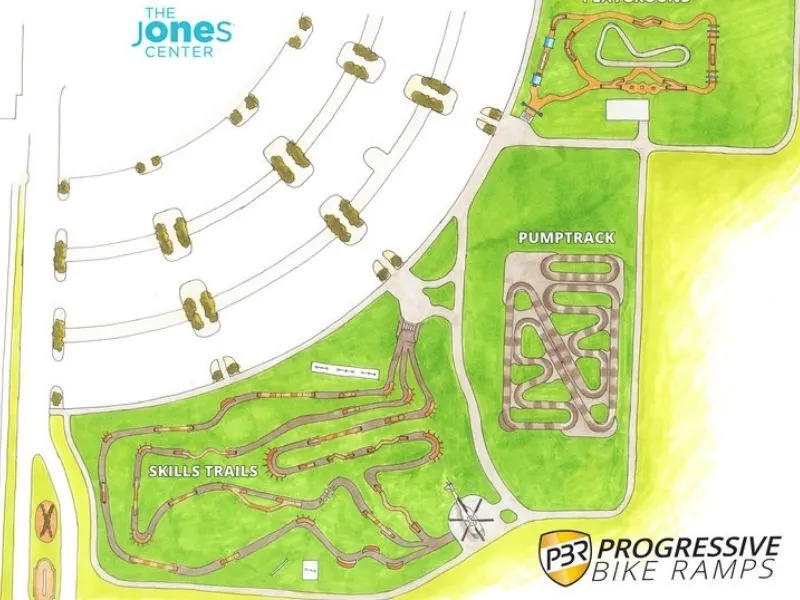 Bike Skills Area
When walking into the bike park, the first thing you see on your left is a large sections of paved pumps, wooden berms and a awesome helicopter to ride through at the end. This section starts in one spot with three very well marked levels/tracks. My eldest struck to the easiest or green line and happily rode through the helicopter at least 10 times.
Fun For All Ages!
This section is great because little kids can practice right next to big kids and watch their lines. From one spot I could watch both kids doing different things in the park. My youngest had just moved up from 16″ wheels to 20″ wheels and wasn't keen to try the skills area but happily played around on her new bike nearby.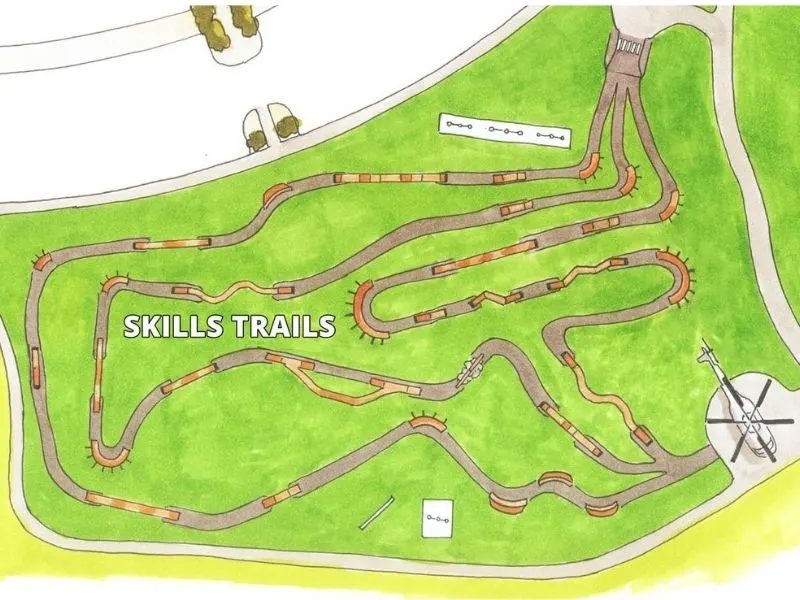 An international move, a change in bike size and a 12 hour car drive were all factors in allowing my youngest to approach the day at the park however felt comfortable to her. The bike park is really cool and it's really big which I think overwhelmed my little rider.
Raising riders means they won't always want to ride. It's okay. We will be back. Exploring isn't always about conquering. Sometimes just getting to the destination and having fun (even off the bike) is really all that matters.
We are all about persistent exposure. If I push too hard now, she may not want to ride later but I'll keep offering her the opportunity in really neat places. Team member, Sarah, just wrote a great article on teaching the reluctant rider.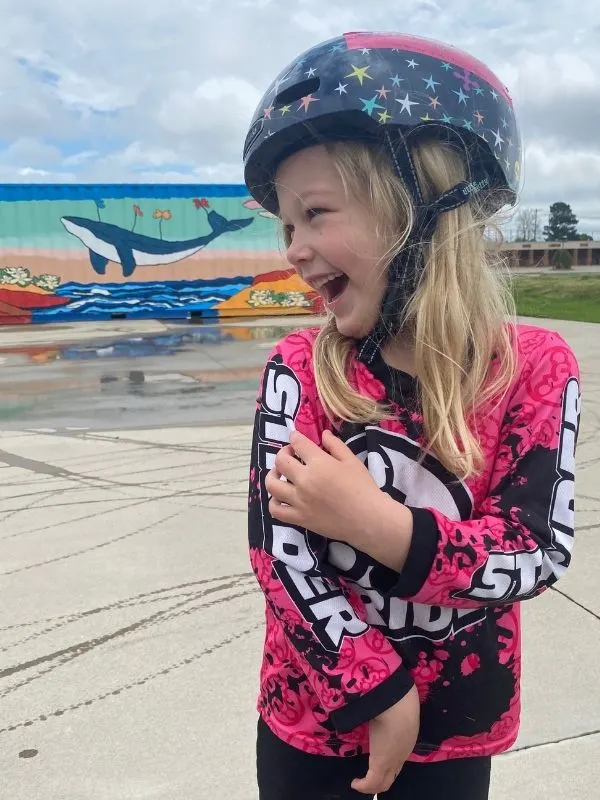 New riding spots can cause trepidation and anxiety in our crew so I let go and let her catch ladybugs and play bike games on the beautiful flat cement riding area. Just a flat, safe space for my youngest to get to know her new big bike and practice changing gears was great. The whale mural made a lovely backdrop to bike games.
Velosolutions Pump Track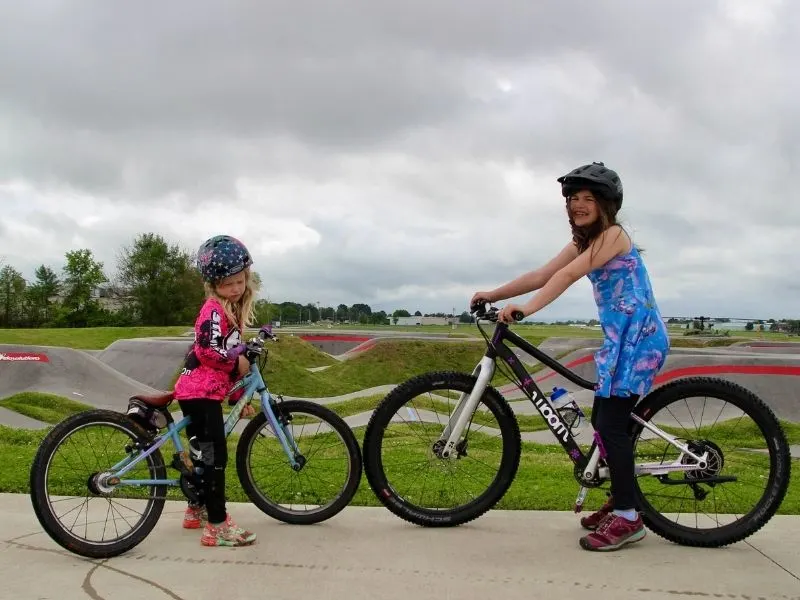 The Velosolution pump track claims to be one of the largest in the country. It's big, open and lots of fun. I really liked the flow of the track as well as the fact I could section off a smaller circle of small pumps for my more resistant rider.
My eldest loves pump tracks and this beautiful little track was no exception. This little asphalt pump track has a BMX feel to it but is great for all things on wheels. Bring the skateboards and scooters as well, there's something for everything.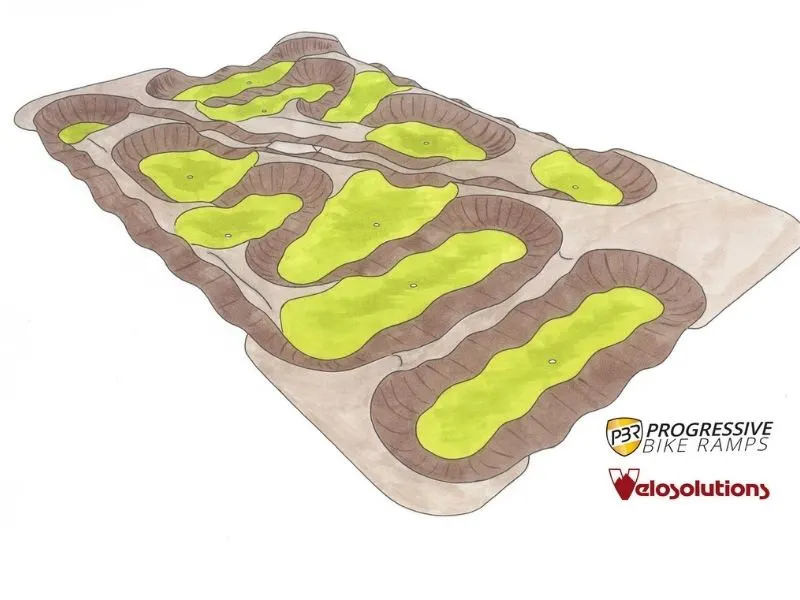 "By combining rolling jumps with turns they are accessible for all. Teaching the basic skills of carrying momentum, balance and speed by using your arms and legs to pump your bike/board/scooter around the track. As you get better the tracks are designed to provide more challenges for you with no changes to the construction. A feature that a 5 year old can roll through can be used as a gap jump for a professional."

From The Jones Center website
We've heard it can get busy here but on a weekday we were only one of three families. My only qualm would be the track isn't directional meaning a crowded day could get tricky/chaotic.
Bicycle Playground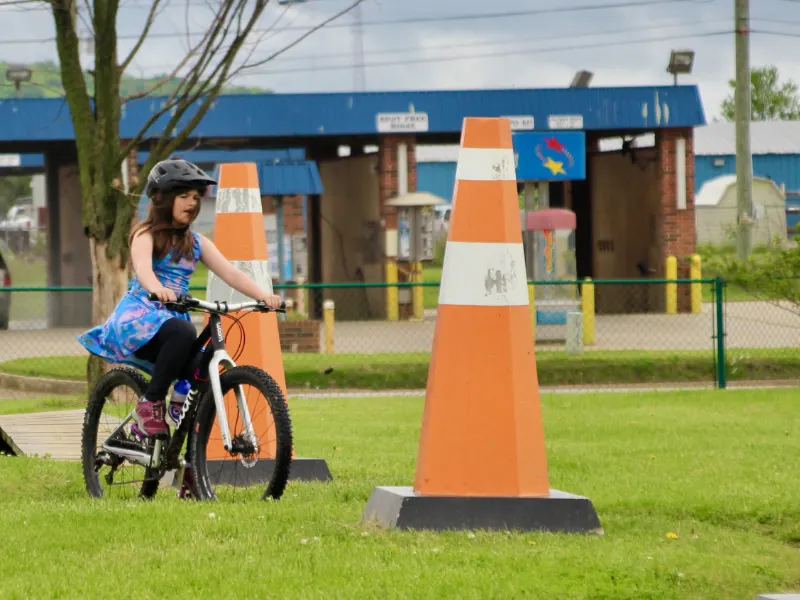 Finally, off to the right of the main entrance is a toddler bicycle playground. This area was supposed to be easily accessible but did have dirt trails intermittently which made riding through the clay mud tricky. My youngest was having a hard time on the cememnt pump tack so her sister gave it a go and took a hard fall.
The rain plus a fairly tight corner and lack of speed allowed for a tire slip. I understand they were trying to make the track small for little riders but the geometry didn't make sense to me. I noticed this style at another bicycle playground on the east side of Bentonville as well.
In order to get around the turn, you need to be going pretty fast which might be easier on a balance bike to get the needed speed. I've read that many tots find the ultra-low features too easy, luckily there is plenty of options for a level up.
This section is great of the ultra-beginner and is located off to the side where is calm and quiet.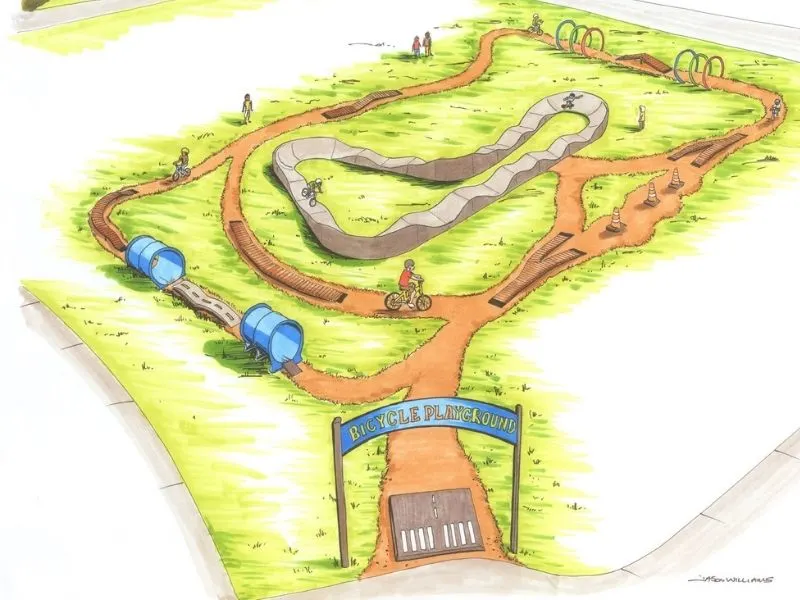 The upside is the track is small and isolated from bigger riders and perhaps my eldest's 24″ tires were just too big or the rain was too much. Either way, we will still be back to give it another go.
Bottom Line
Driving several hours out of the way only to visit a bike park wasn't exactly the plan but it worked out and we had a great time. The girls were able to spin their legs and have a little fun before another 8 hours in the truck.
I'm learning bike trips require a lot more planning, flexibility and patience. Rolling bikes in and out of hotel rooms is a lot more work and a bit more anxiety but it's so worth it. I can bring my bike on vacation? That's amazing!
Exploring a new destination by bike is a great way to get outside, move tired bodies and spend quality time together as a family doing something we love. If you have never taken a bike vacation, I highly recommend it. Start small and local. Find a system of loading, storing and maintaining the bikes on the road that works for your family.
Please, never leave your bikes locked up in a hotel parking lot. This is a sure way to ruin a nice vacation. It takes seconds to break a lock and snatch a bike. Call ahead (or check above list of bike friendly hotels) or ask your choice hotel if they have a storage closet you can safely store your bike when not riding. We have stayed at Marriotts the last few weeks and with one exception, we've found safe bike storage every time.
We are a big hotel points family but a VRBO or Air B&B would have been easier to store and work on the bikes over a hotel. More space, more relaxed environment, no tiny elevators means having your own space on a bike vacation is an added luxury.
Bike insurance is also a good idea if you are going to be traveling a lot with bikes. Check you current car or house insurance provider for a quote. Velosurance also offers bike insurance to cover the unexpected.
Endless Bike Trails For All Abilities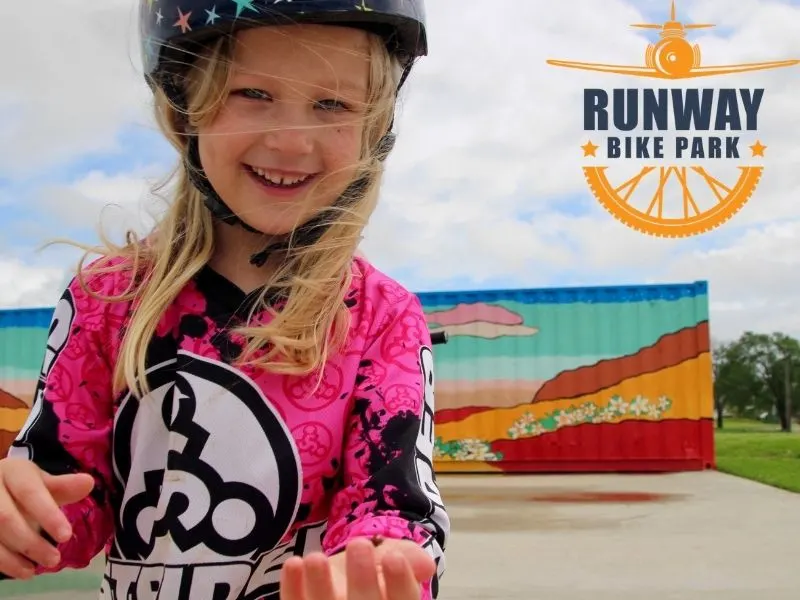 Make no mistake, we will be back to ride Slaughter Pen which is a set of easy to navigate family friendly trails on the east side of town and hit the several other local bike parks. What I learned about Bentonville is that there are trails everywhere.
We could spend a few weeks here and there would still be more to explore on another visit. Coler Mountain Bike Reserve, The Railyard Bike park and paved paths out of town and around several lakes are all on my Bentonville bucket list.
The Disney Land of Cycling
Literally everywhere you look there is a bike trail in and around Bentonville. With endless single track, several bike parks for all abilities and gentle paved paths connecting water play, playgrounds and an array of restaurants, what more could you ask for on a family bike vacation?
Runway Bike Park wasn't the main destination but it surely didn't disappoint. Thank you Walton family for investing so much in the OZ trails system. Bentonville is a great example of what can be done to improve family and local riding in an area that wasn't already a mountain bike or road bike Mecca. Build it and they will come.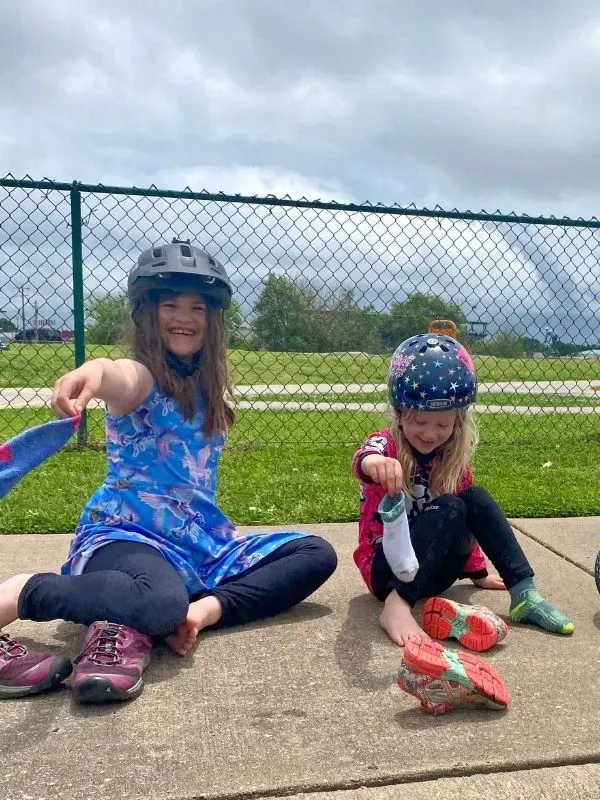 Interested in another awesome family biking destination? Check out St. George, Utah or The Katy trails in Missouri. Or up your family biking game and try bike touring – we've got your covered!
© 2021, Kids Ride Bikes. All rights reserved. Republication, in part or entirety, requires a link back to this original post and permission from the author.