Spawn Cycles has set a new standard for kid-specific mountain bikes, and their focus on equipping young riders for a positive experience on the trails is definitely evident in the Yama Jama 20″. This bike is built with quality components, thoughtful geometry, and an eye for detail that makes it one of the best youth hardtail bikes out there right now.
We have been amazed at how this bike has helped our son progress in his riding and navigate trails that he had to walk a good portion of on his 16″ Spawn Yoji. The gearing is superb, the air fork is top-of-the-line, and the bike is super lightweight especially considering what it is capable of.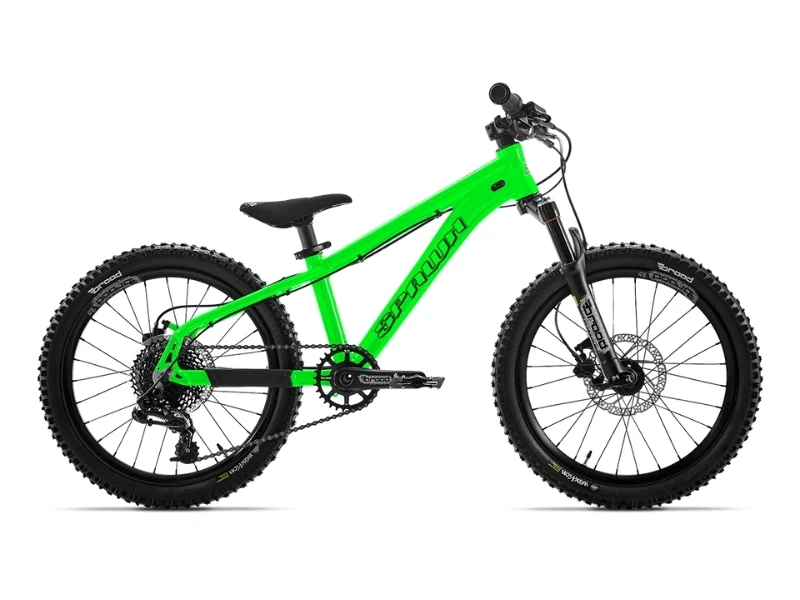 Weight: 21.5 lbs
6061-T6 alloy frame using hydroformed and double-butted tubing
Internal routing option for dropper post
Brood Bike Co. Eldorado fork with 80mm travel
Brood Bike Co. Styx 130mm crank
SRAM GX derailleur and shifter
11-36T 10 speed SRAM cassette
Tektro Auriga hydraulic disc brakes
Tubeless ready rims and tires
The Spawn Yama Jama is ideal for kids ages 5-7 who are interested in expanding their mountain biking skill set and capabilities.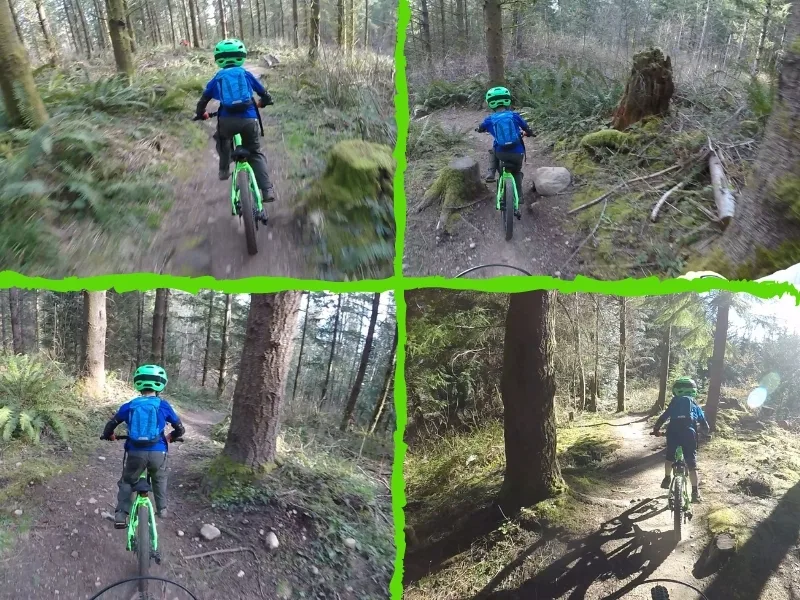 If your kiddo is ready to tackle more difficult trails requiring gearing and suspension, and you spend enough time on bikes to warrant investing in a high quality trail machine, this is an excellent bike to consider.
It's geared really well
The 10 speed SRAM cassette performs incredibly and has a wide enough range (11-36 teeth) for kids to climb independently even on steep terrain. When paired with the 30 tooth front chainwheel and shorter 130mm crank arms, the gearing on this bike allows even youngsters with lower muscle mass to ascend and descend significant hills.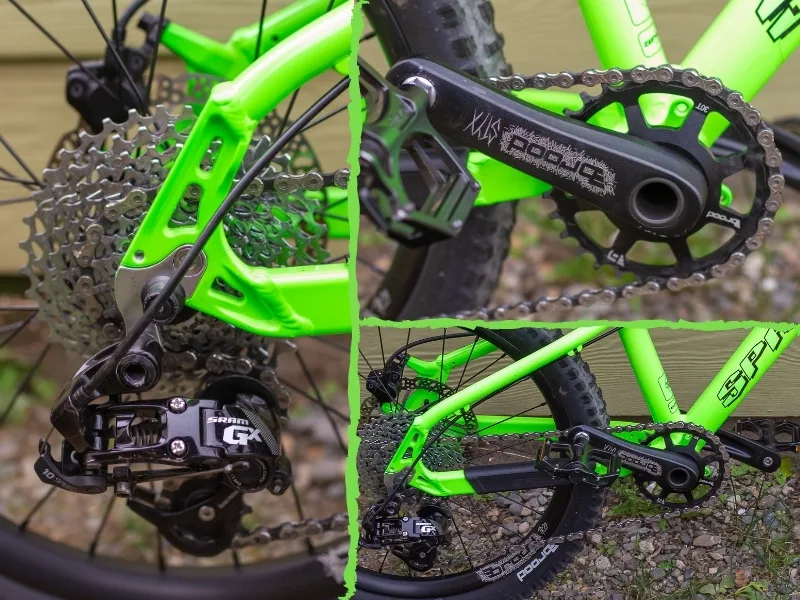 Our local mountain bike trail system requires a steep gravel road climb to access most of the trails, and we still tow our 5-year-old up the road even though he could definitely pedal it on his own. He is a pretty small kid, so we want to conserve his energy as much as possible!
Once we unhook the tow rope, though, he rarely has trouble making it up anything. And towing him uphill is so much easier now that he is doing most of the work on his own.
Thanks to the Yama Jama's gearing, we're able to explore a whole new world of fun terrain as a family. And our son can keep up with his riding buddies who are bigger, older, and more experienced now that he knows how to make the bike work for him.
The suspension is dialed
We have been so impressed with the Brood carbon air fork's 80mm of squishy travel. Not only is it super light and fully adjustable, but it works well even with light kids. It also has a lockout to make climbing easier.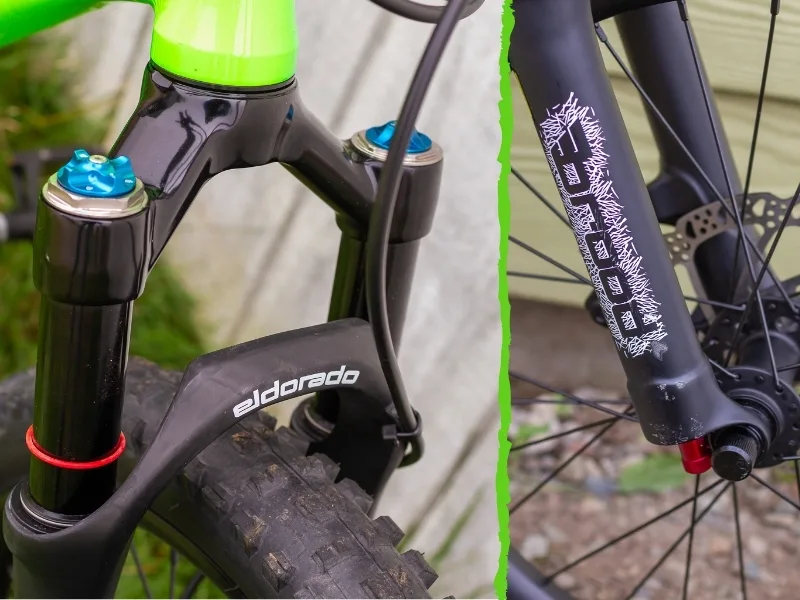 Well-performing front suspension is key to keeping learning riders on their bikes and helping them gain confidence rolling over rocks and roots.
Front suspension also allows for younger kids to spread their wings on smaller jumps and drops. It hardly took any time at all for our son to realize how much this bike could help him challenge himself, and for him to start looking for new obstacles to conquer.
Top-to-bottom quality build
We could go on for days about the impressive aspects of this bike. From bigger things like the low weight and hydraulic disc brakes to the details like the quality of the grips and pedals, Spawn has not missed a beat.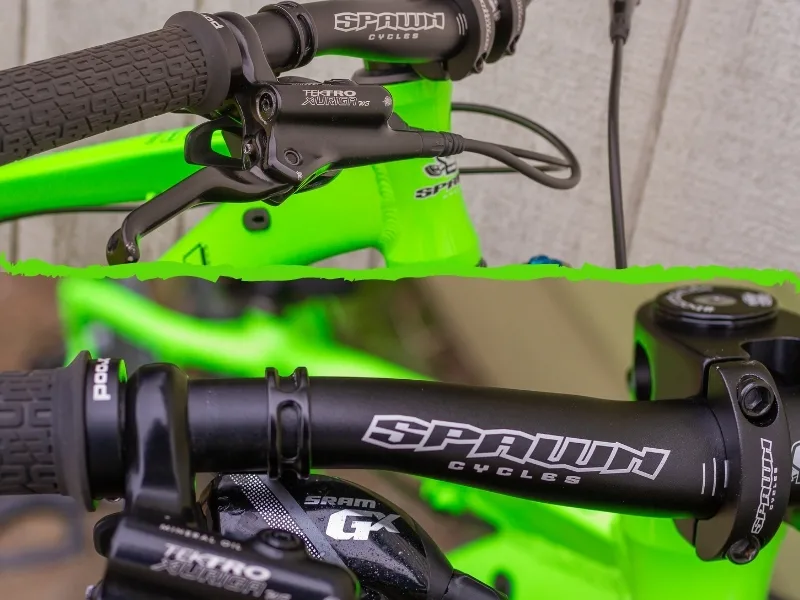 The rims and tires are tubeless-ready if you prefer to go that route, and there's even an internal routing option for dropper posts. There isn't a single stock component that we would consider replacing, which is pretty rare for a kids bike.
Availability
Because Spawn is based in Canada and only ships bikes direct-to-consumer, it's tricky to check the bikes out in person and/or put your kid on one before you decide to buy. Used ones tend to get snatched up quickly, so unless you know someone who already has the bike you'll have to buy it sight unseen.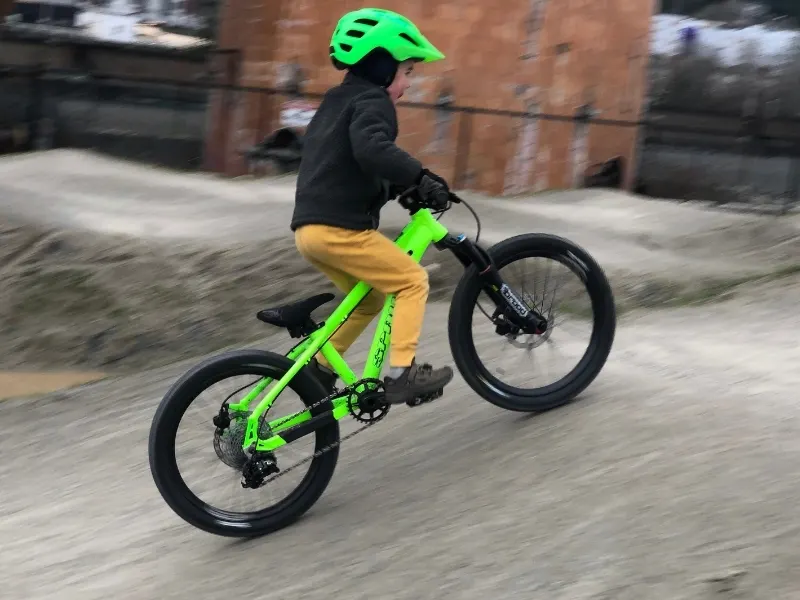 That being said, the quality of Spawn's entire line is so consistently solid that you can be confident that you're getting an excellent bike from this company. It's just a bummer that they're so tough to find.
We miraculously scored our Yama Jama used (but in like new condition) after scouring the internet for months. If you know you're interested in a previously-owned Yama Jama 20″, we highly recommend looking well before your child really needs to step up and be ready to jump on a deal if you see one.
Price
It's hard to list this as something to be "improved" because you really do get what you pay for, but this bike is definitely an investment. MSRP is $1275 and you're not likely to find one used for much less than that, so it's not a bike you would likely choose if you're just trying out mountain biking or it's not really much of a priority for your family.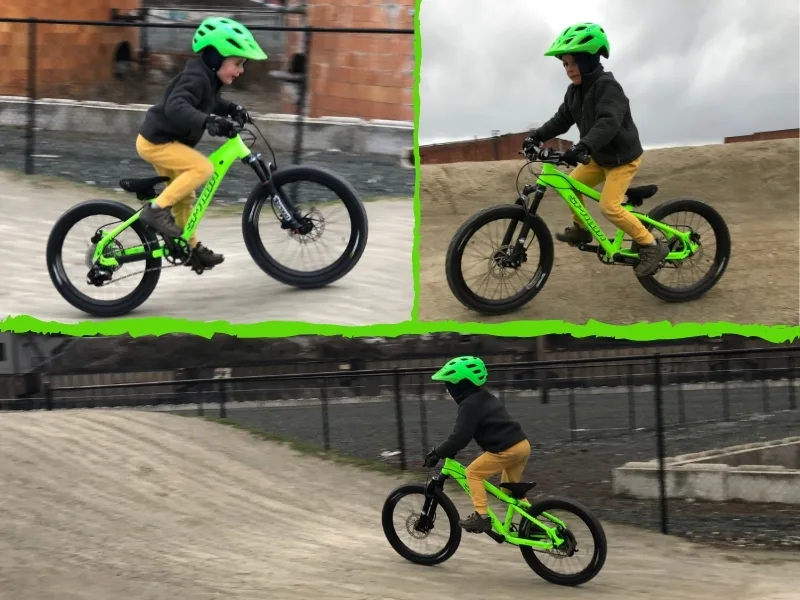 These bikes do keep their value, though, and they are built to last. If you keep it well maintained, you should be able to recover a significant portion of the cost when your kid or kids have outgrown it.
The Spawn Yama Jama 20″ is a top-of-the-line hardtail for kids ages 5-7 who are ready to take their mountain biking to the next level. Built specifically with younger riders in mind, this bike will allow your kid's skill set to expand and open up so much more terrain for you to explore together as a family.
Like all of Spawn's bikes, the Yama Jama 20″ is only available directly from Spawn Cycles.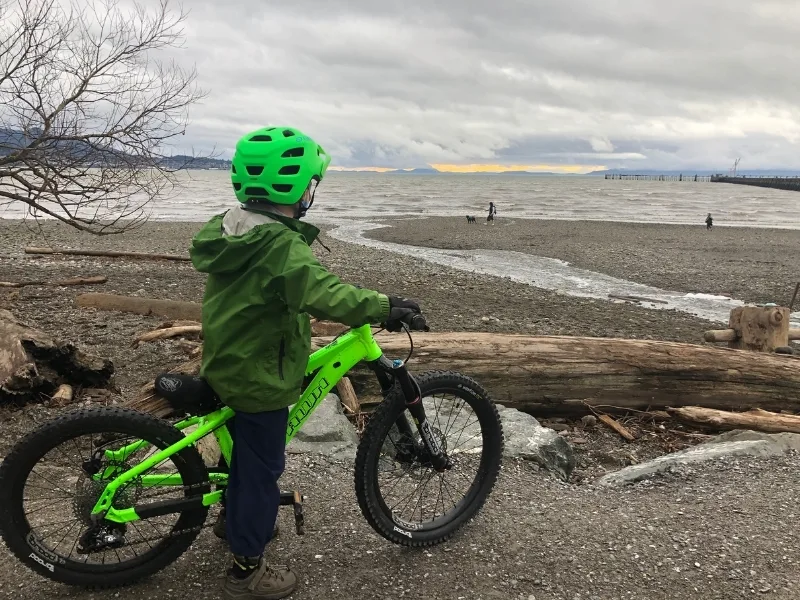 Related Articles:
© 2021, Kids Ride Bikes. All rights reserved. Republication, in part or entirety, requires a link back to this original post and permission from the author.