6 Steps to Becoming a Woman Who Mountain Bikes
If you would have asked me a couple years ago if I had any interest in learning to mountain bike, my answer would have been a resounding NOPE. No way, no how.
My first exposure to the sport was watching my brother-in-law in a downhill race shortly after I met my husband. After hiking up the race route at Dry Hill in Port Angeles, WA I couldn't help thinking to myself, "people ride BIKES on this?!?"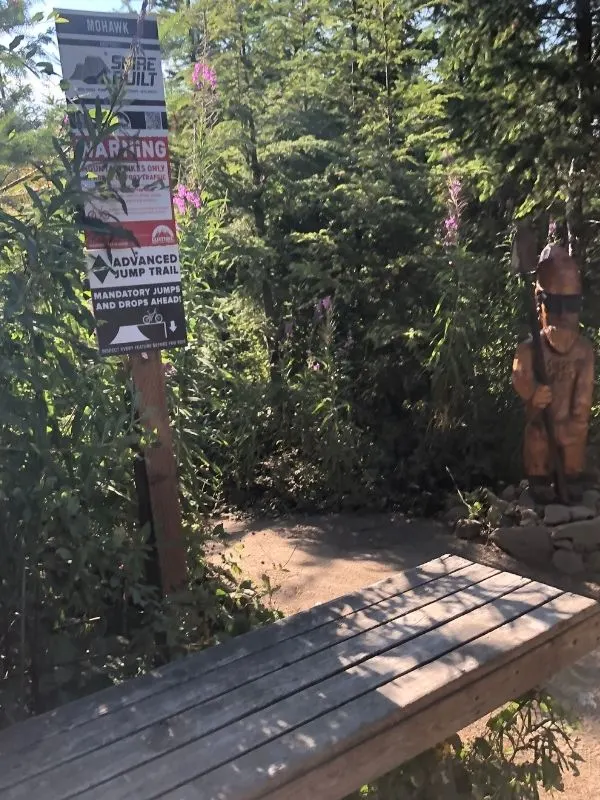 I then watched one of the professional racers fly straight into a tree and break his collarbone.
Yeah, no thanks.
Mountain biking runs deep in my husband's family, though, and he kept working hard to convince me that not all mountain biking is akin to downhill racing. And eventually, as our kids grew, they showed interest in learning.
As I talked them through their early stages of frustration and exhilaration, I started to feel a pull to at least attempt to keep up with them for a few years.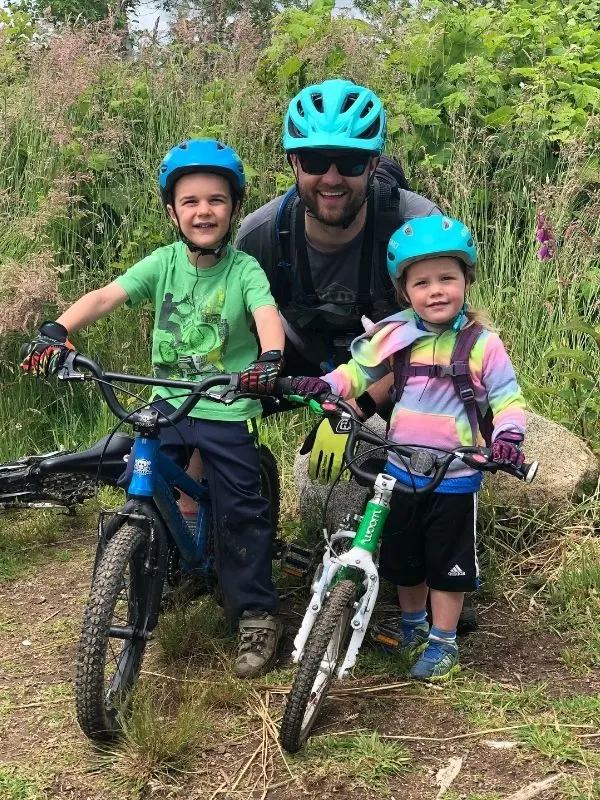 I wanted this to be something we could do together as a family. So my husband made some adjustments to his 2006 Specialized Enduro, and off I went on my first ride.
A great bike made a huge difference and I haven't looked back since.
If you're like me, perhaps motivated to learn to mountain bike because your kids are getting into it or perhaps because you just desire a new challenge in your life, here are a few tips for getting into the sport and finding some serious joy along the way.
Looking for more ideas for how to get your whole family into biking together? Go read Michelle's fantastic Beginner's Guide to Family Biking for some awesome tips and inspiration!
Mountain Biking for Women Step 1 : Acknowledge (and Challenge!) Your Internal Barriers
Let's face it: learning something new as an adult can be hard. Not only are our bodies less resilient than they once were, but most of us have some mental roadblocks as well. If you didn't grow up mountain biking, you may have found yourself saying something along the lines of…
That looks terrifying!
I'm too old for this.
I don't want to hurt myself.
I'll never be able to keep up.
It's too expensive.
I don't want to slow anyone else down.
Mountain bike culture is annoyingly exclusive and I'm not into that.
Personally, I've said all of these things – either out loud or to myself.
I live in a community where mountain biking is hugely popular, and before I started riding it just seemed like everyone was so good at it. I was intimidated by not knowing the right terminology, not having the right gear, not feeling like I could ever keep up or fit in.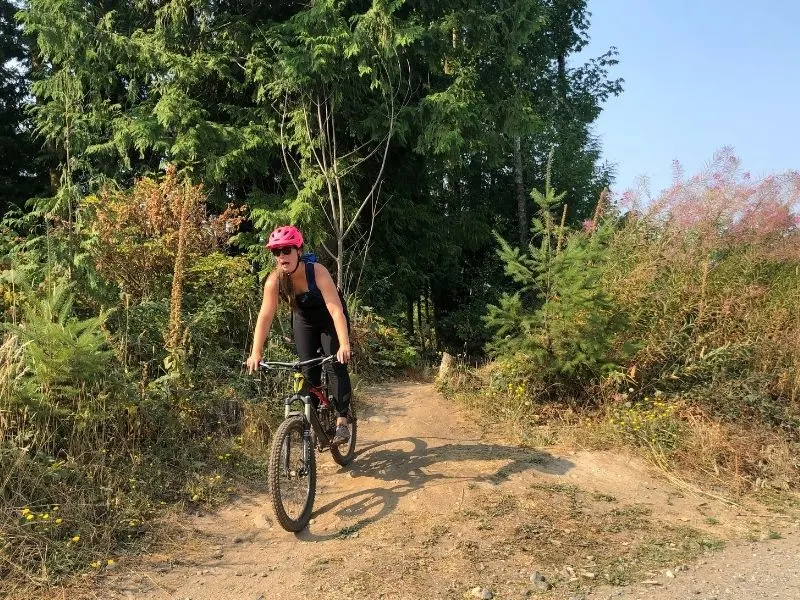 To be clear, there is truth behind all of these statements listed above. It's not like any of them are entirely irrational or unwarranted.
There are real possibilities of getting hurt (just ask my friends who are first responders in the district where our local bike hill is located). The cost of entry into the sport is significant. The learning curve can be steep and you will most likely be very slow when you start.
So the struggle is real, AND it doesn't have to be the end of the story.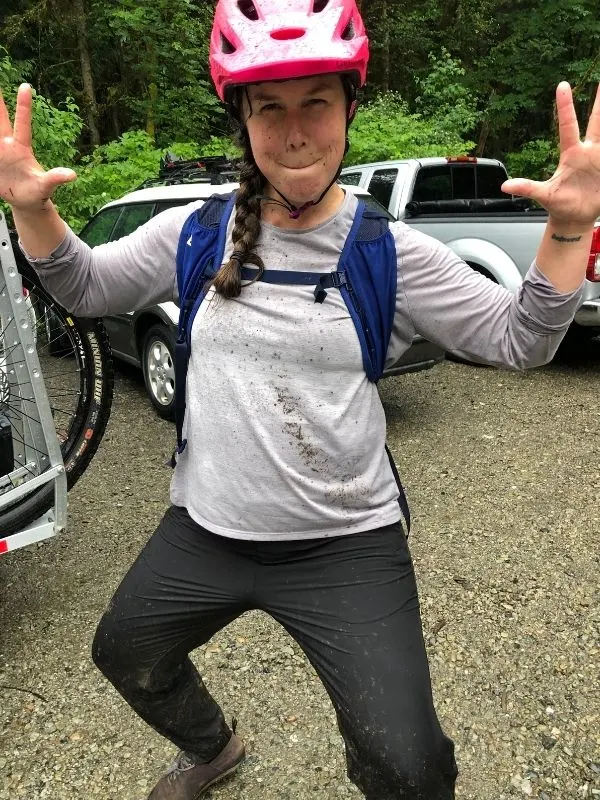 Some of these barriers require a little bit of creativity (like borrowing a bike or scouring thrift stores for used elbow pads). Some require mental gymnastics (like acknowledging that old moms can, indeed, learn new tricks).
Some require active resistance against systemic access issues and the support of a larger community (like looking for – or starting – a group in your area dedicated to improving equity and accessibility).
Whatever internal obstacles you're facing, it's worth it to take stock of those. Write or type them out so you can look directly at them and ask yourself if you're willing to confront them – even just a little bit. And don't be afraid to ask for help if you need it!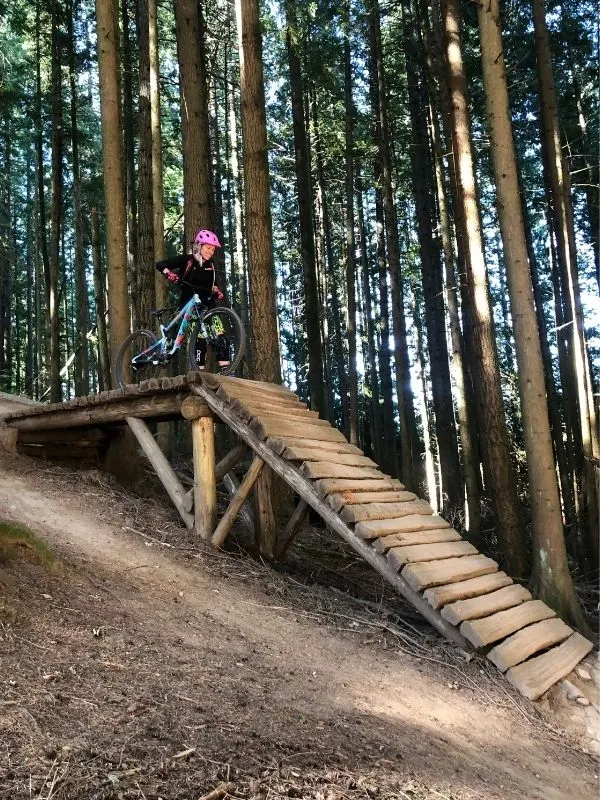 Mountain Biking for Women Step 2: Find a Friend (or two or twelve!)
One of the things I love about the mountain biking community where I live (Bellingham, WA) is that there are several grassroots organizations that are specifically focused on empowering folks to build community and get out on the trails.
The mission of the Joyriders Club is getting female-identifying individuals on bikes and having fun. The Vamos Outdoors Project offers free mountain biking programs to Latino youth and English language learners. Just across the border in Canada, Colour the Trails leads subsidized outdoors adventures for people of color and builds community through group rides and skill sessions.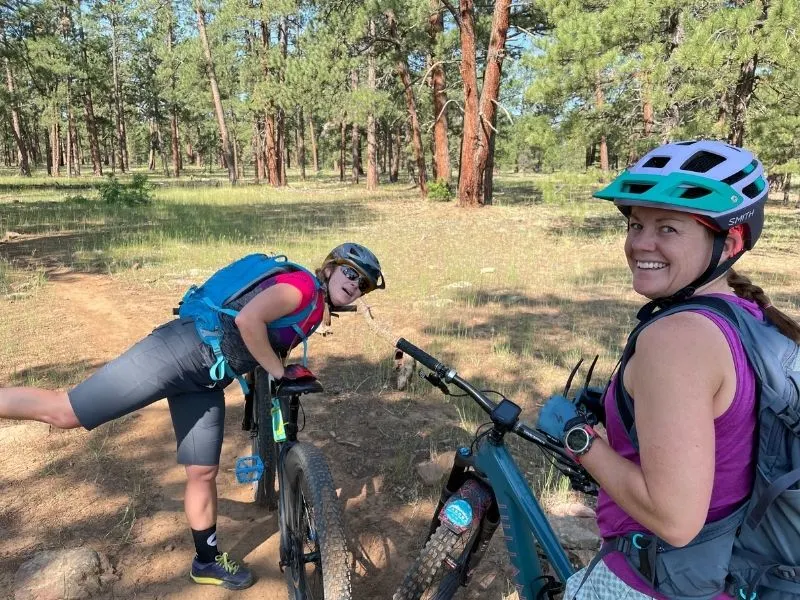 The greatest joy I've found in learning to mountain bike is connecting with other mamas. The first time I got on a mountain bike, I did so because a friend of mine invited me out on a chill ride after sharing her own experience with learning to ride as an adult.
I trusted her enough to know that she wouldn't push me too hard, and I could relate to her story about resisting biking for a long time because of fear and insecurity.
Being out on a ride with peers was so fun and empowering. I was able to challenge myself a little bit, walk up hills when I needed to, and utilize my friend's secret stash of duct tape when I had an awkward fall that broke my shifter.
After that first ride, I felt much more inclined to say "yes" when other invitations came along. And I eventually settled into regular outings with a couple of friends who were motivated to learn.
As we continue to build our skills, encourage each other, and celebrate all of our progress along the way, we've discovered something so much more than just a new hobby. We have come to treasure this time together and wouldn't trade it for anything.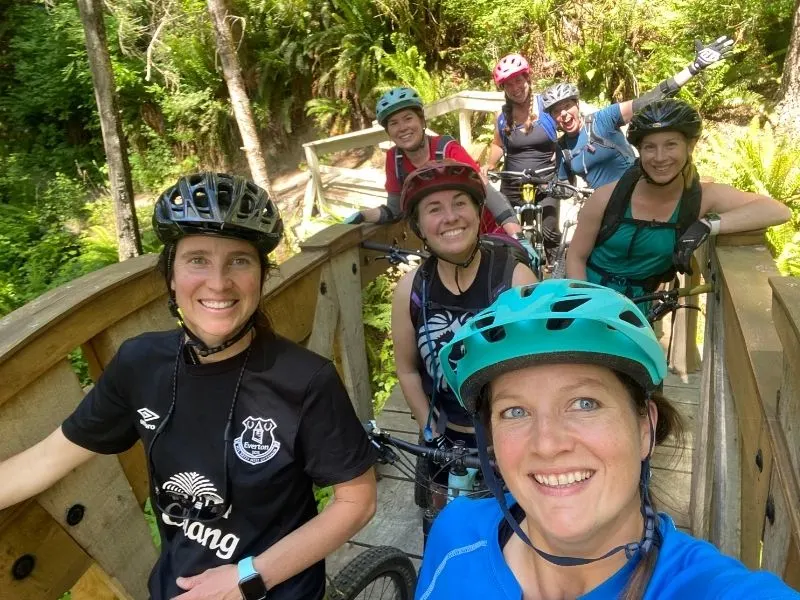 Mountain Biking for Women Step 3: Build Confidence in Your Bike
This was (and is) one of the hardest parts of learning for me. It is incredibly counterintuitive to look at a rock or a root cluster or a steep section of trail and say with confidence, "I should ride right over this and trust that my bike can handle it!"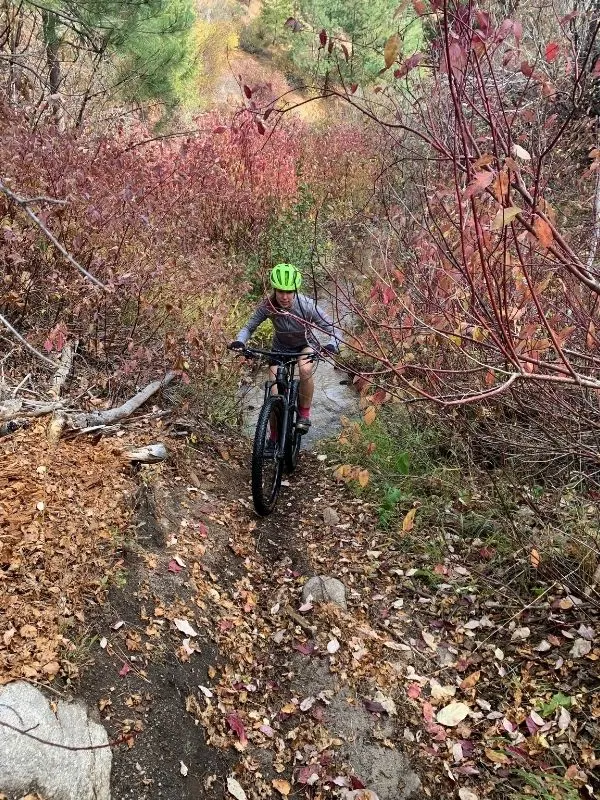 I'm a pretty cautious person by nature, and my survival instincts kick in super hard when I'm confronted with something unfamiliar or scary. In spite of how many times I've been told that speed is my friend, my mind still screams at me, "FOR THE LOVE OF ALL THAT IS GOOD, PLEASE SQUEEZE YOUR BRAKES AS HARD AS YOU CAN!"
Spoiler alert: when I listen to that scream, it does not end well.
One of the ways that I pushed myself in this area was to utilize the little obstacle course we built for our kids. We had a few small jumps, skinnies (long, narrow bridges built from 2x4s), a see-saw, cones, and some scrap wood that we used to mimic the feel of a larger root.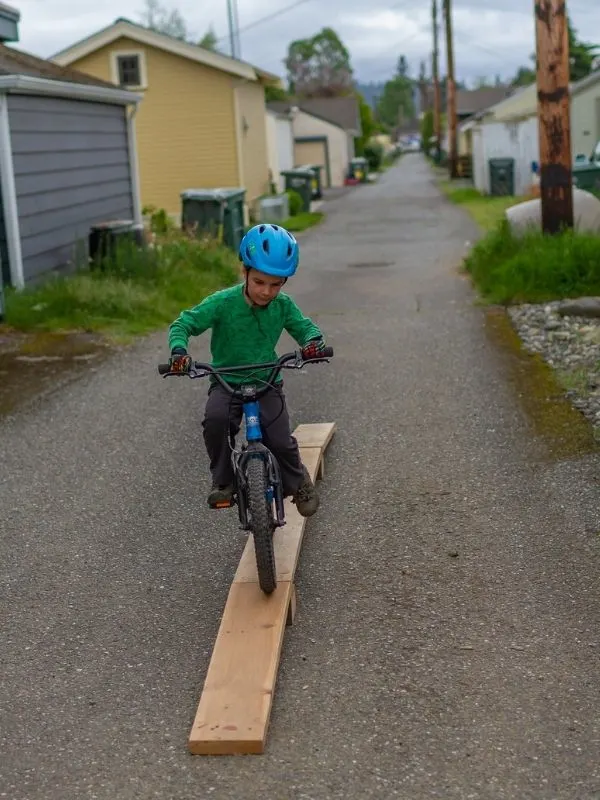 All of these obstacles were close to the ground and relatively low consequence, but they still allowed me to get a feel for what my capable bike could (and couldn't) do.
I also had a good friend who took me out to a local city park, where we went on a test ride going over smaller logs and stumps on some flat ground. My husband took me to a parking lot and had me roll over curbs so I could feel what my suspension was capable of absorbing and learn how to position my pedals.
Having these experiences in what felt like "safe" settings (i.e. not at high speeds on narrow trails down steep hills) really helped me feel more comfortable with what my bike could do.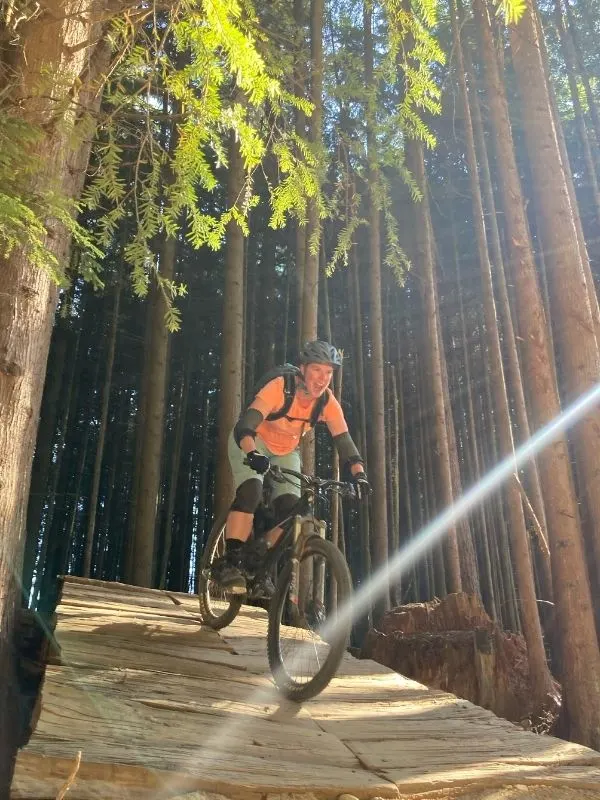 If you want to become familiar with how to keep your bike running smoothly, check out this awesome post by Valerie White on Bike Maintenance for Families!
Mountain Biking for Women Step 4: Practice, Practice, Practice!
The best advice I have been given, and the best advice I would give anyone who is just starting out, is to just keep getting on your bike. Even if it's hopping on and off of the curbs around your neighborhood or finding a short section of trail in a local park that is bike friendly, keep at it!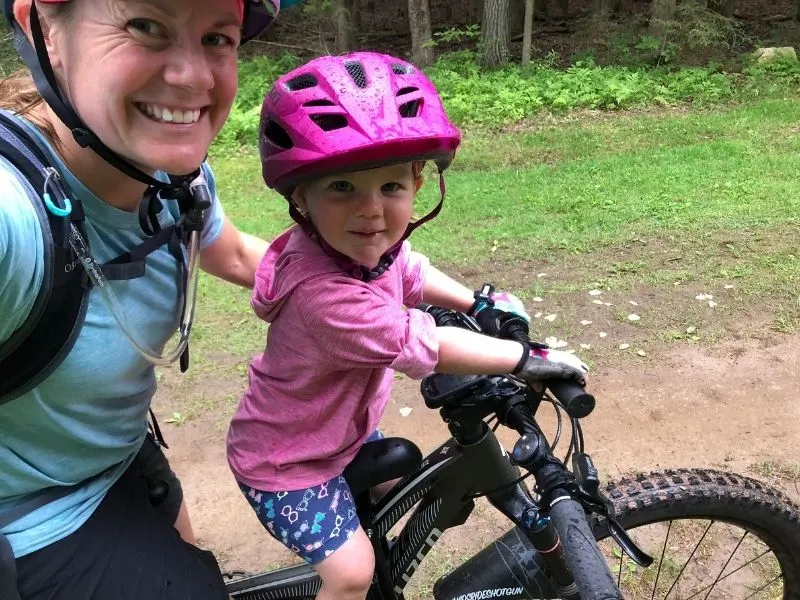 Consistency increases confidence. Confidence increases comfort. And comfort increases FUN!
For me, the best way to practice was to go on regular rides with my friends. For some people, it might be more your style to sign up for a class or workshop with an experienced instructor.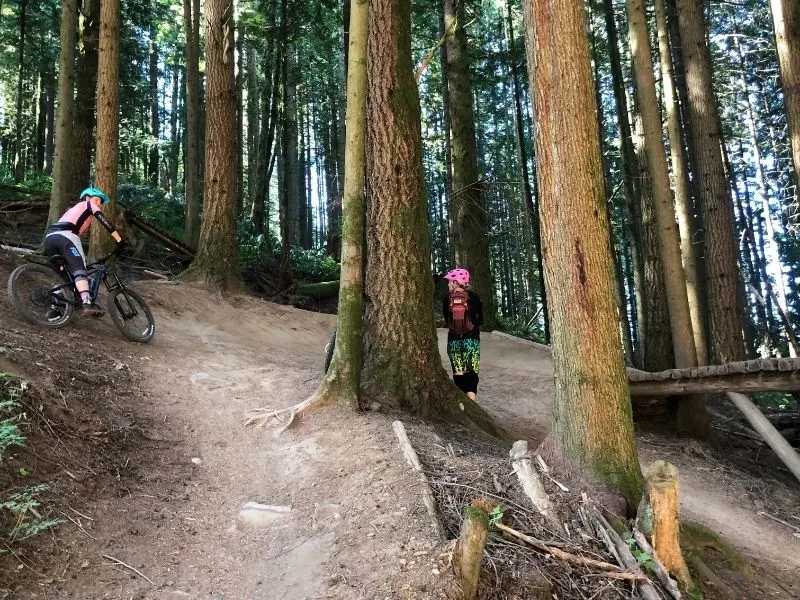 If you don't have anything like this available in your community, a simple YouTube search will yield countless ideas for ways to hone your skills. There are also several classes you can take online, such as Marley Blonsky's Back in the Saddle: Adult Biking 101 or Biking for Big People.
If you have the means, you can even treat yourself to a mom-cation at a women's specific skills clinic or camp! Several of these camps are available in locations across the country, including those put on by Liv Cycles' Ladies AllRide, Better Ride, or the Trek Dirt Series. Going to events with lots of female participation are so much fun AND help you build some fun role models too.
Mountain Biking for Women Step 5: Learn to Fall When Mountain Biking
This has been the biggest surprise for me – falling is actually ok! And it is somewhat inevitable if you're riding consistently and exploring new terrain while trail riding. Even familiar trails can feel completely different when they are super wet or super dusty. It's the beauty of singletrack trail.
I've been fortunate enough (and slow enough!) to not have any major injuries thus far in my mountain biking journey, other than a torn calf muscle that actually happened while hopping off my bike to go around a large root on an uphill section.
I've had plenty of bruises and scrapes and banged-up shins (if you know the pain of a mountain bike pedal to the shin, you KNOW). I've also had a lot of slow motion falls that didn't hurt at all, and a few epic awkward crashes that have been caught on video by my friends.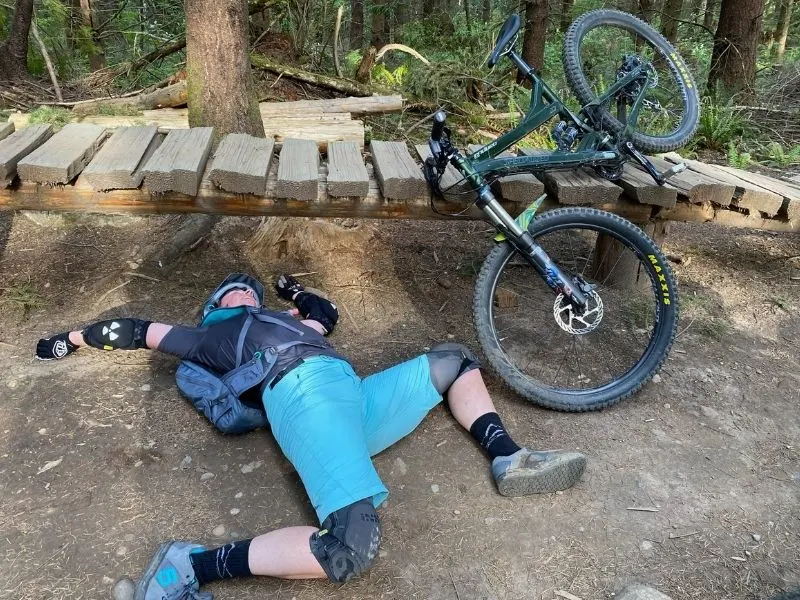 Most of these falls have turned out to be hilarious – an added bonus of having riding buddies that you don't feel any need to impress.
I could write a whole additional post about all the life metaphors that mountain biking has provided me, and this is a big one. As much as our instincts might tell us to avoid falling at all costs, sometimes falling is the best way to learn. There is actually an art to it!
Every time I've fallen it has helped make me a better rider and a braver human.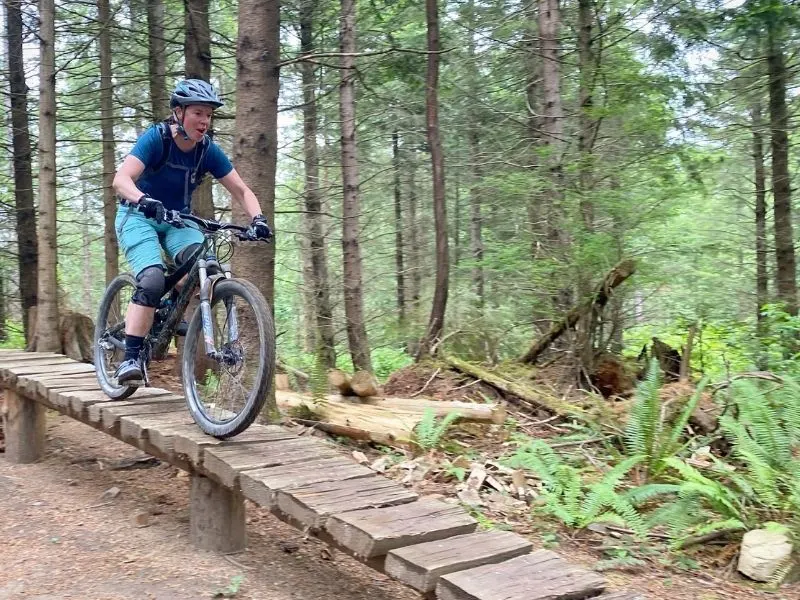 Mountain Biking for Women Step 6: Have Fun!
This is definitely the most critical piece to remember. Whatever else you do, make sure you continue to have fun!
For me, this sometimes means trying something hard and new and exhilarating alongside my friends and squealing with delight while we celebrate each other's bravery. Sometimes it means meandering around the bunny trails with someone that is newer to riding and watching them find a taste of the joy I've found in this sport.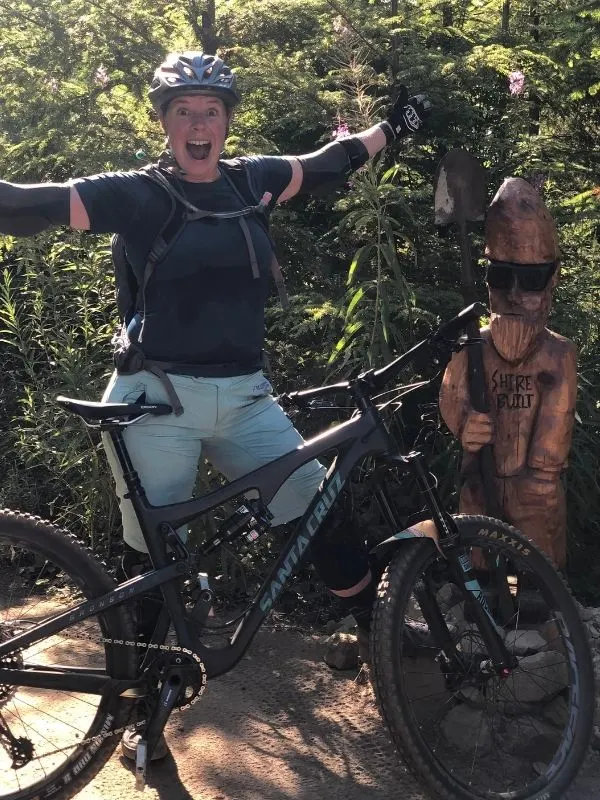 No matter what, having fun involves not taking myself too seriously or falling into the comparison trap.
When I watch stronger, more experienced, more skilled riders fly past me or catch big air I can appreciate their skill while knowing that what I'm doing is equally awesome. When I see a 5-year-old rip down a trail that I'm terrified to even try, I can cheer them on as I head off in another direction.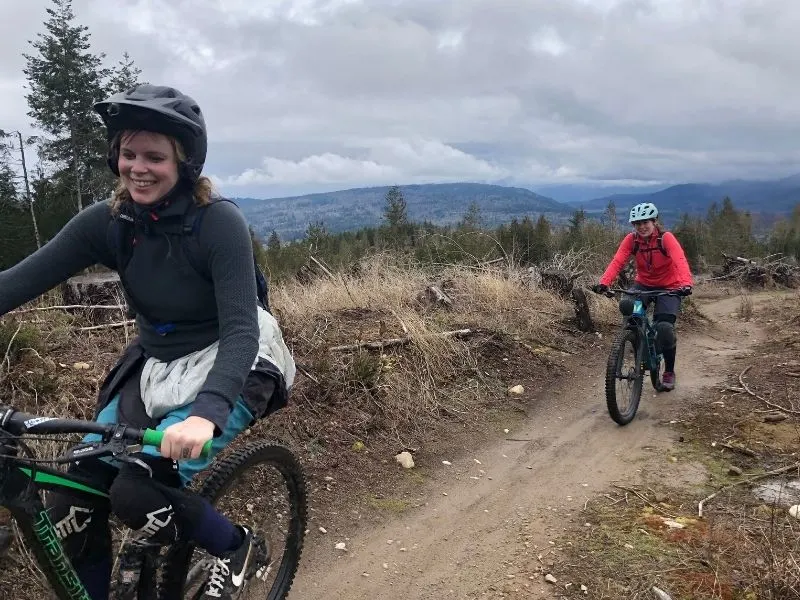 Enjoy the opportunity for conversation that comes along with the uphill slug (once you're in decent enough shape to be able to talk while you're riding, that is). Enjoy a post-ride meal or beverage with your friends and recount the parts of your ride that were especially fun, rewarding, or confidence-building.
Let your journey be your journey, and not anyone else's.
Becoming a Mama who Mountain Bikes: #moremomsonbikes!
Mountain biking can be an incredibly intimidating sport to get into. And while the culture as a whole has a long way to go in terms of promoting accessibility and inclusivity, each of us has the ability to set our own course and contribute to the kind of atmosphere we want to be part of.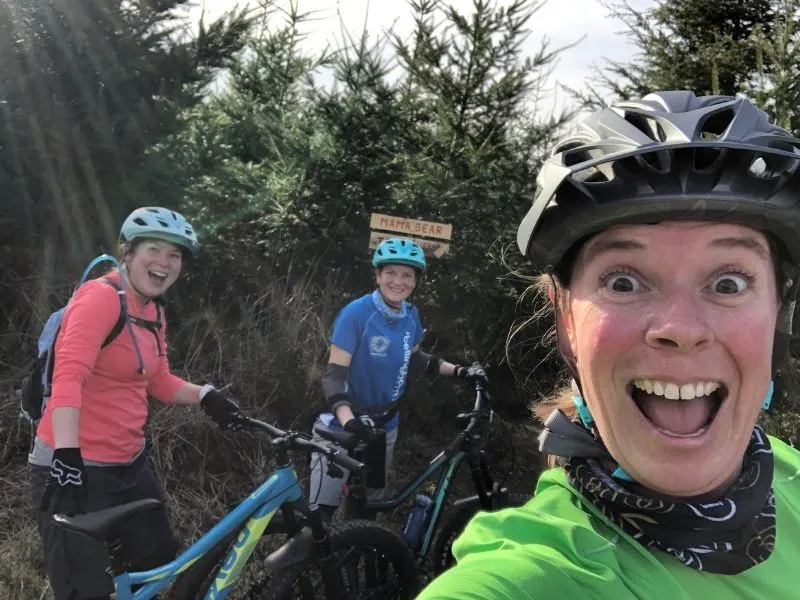 As I've gradually pressed through my fears and insecurities, I've found an unexpected source of joy and wholeness and growth and connection.
The more joy I find on my bike, the more I want to share it with anyone and everyone who has ever considered trying it!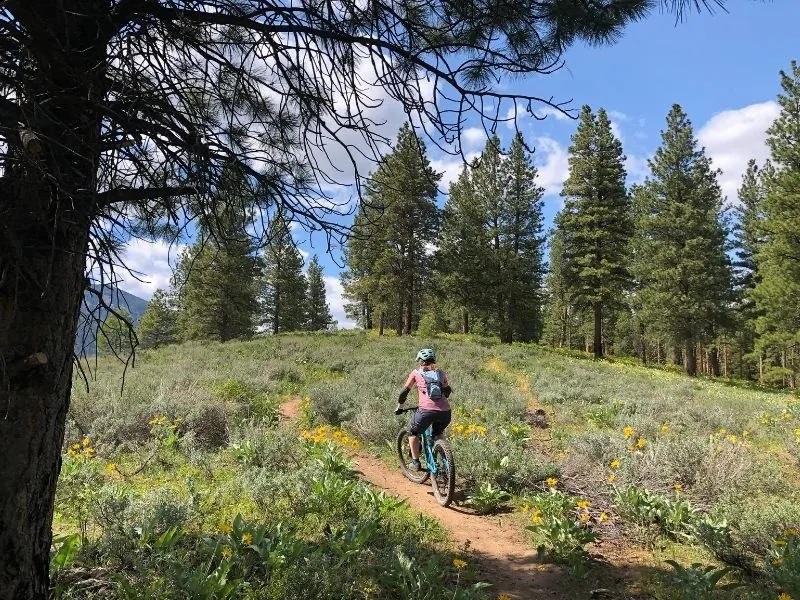 It has been especially life-giving for me have other moms in my community getting out on the trails with me – on borrowed bikes, checking maps every 5 minutes so we don't get lost, laughing at ourselves and hooting and hollering all the way down the hill.
I'm on a mission to get #moremomsonbikes because of the way my mountain biking journey has become a critical part of my self-care rhythm.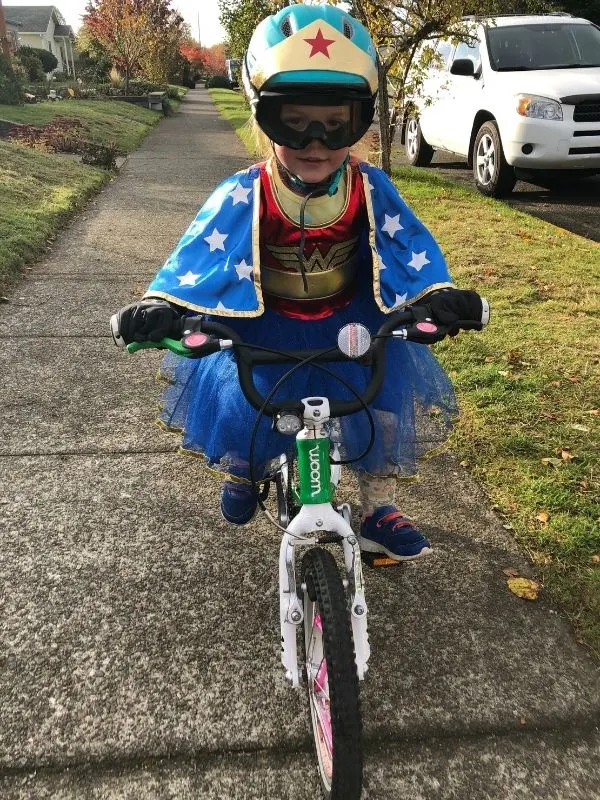 Becoming a Mama who Mountain Bikes: Creating Space on the Trails for Everyone
In addition to challenging myself and my immediate community, I want to support organizations that are working hard to expand equitable access to this incredible sport. If I'm looking around as I'm riding and primarily seeing folks who look, think, and believe like me…that tells me we have some work to do.
I want to support and amplify organizations like Friends on Bikes, which is fostering community for women, trans, and gender non-conforming BIPOC (Black, Indigenous, People of Color) on bikes.
I want to stand alongside Black Girls Do Bike, a community focused on representation in cycling and addressing barriers to entry into the sport for Black women and girls.
I want to listen to, be changed by, and act upon the wisdom shared by the team at Diversify Outdoors that is out there building connection and advocating for an outdoor recreation culture that really is welcoming to and inclusive of everyone.
I want to see the trails filled with a whole bunch of different folks from a whole bunch of walks of life with a whole bunch of different body types and backgrounds and stories and gifts to contribute to the community.
Want to join me?
For another perspective from a much more seasoned mountain biking mama, check out Valerie's Day in the Life of a Mountain Biking Mama post!
Related articles:
6 Steps to Becoming a Mama who Mountain Bikes
© 2021, Kids Ride Bikes. All rights reserved. Republication, in part or entirety, requires a link back to this original post and permission from the author.