5 Best Bike Trails for Little Kids in St. George
Here in Northwest Wyoming the snow is melting and I've got bike riding on the brain!
It's no secret that the St. George, Utah area is premiere mountain biking destination. But in addition to world-class singletrack, it's home to awesome trails for kids on balance bikes and beginner peddlers! This post includes the best bike trails for little kids in St. George.
Family Bike Trails in St. George, Utah
If you are an outdoor family who lives in the Mountain West region you've surely heard of St. George, home to Zion National Park, Snow Canyon State Park and epic mountain bike trails like Gooseberry Mesa.
But have you heard of Cryptobionic Trail? How about the Snake Hollow Bike Park? If you are a family with very young kids, or any kids who are on a balance bike or new to peddling, these trails are a must if you're in the area.
The trail map app that I like the best is Trailforks so all the links go to that site. But all of these trails are on the popular sites such as MTBproject and Alltrails if you prefer something different.
As an Amazon Associate and member of other affiliate programs, we earn from qualifying purchases.
How old do kids need to be to bike the trails in St. George?
Of course every kid is different, but my opinion is that once your child is gliding and rolling comfortable on a balance bike they're ready for the trails below.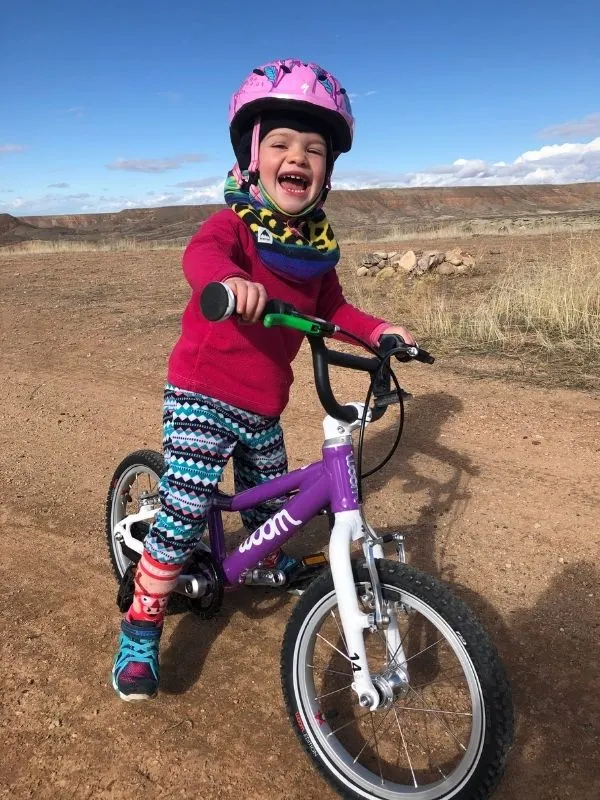 Our first trip to St. George was in early April and our kids were three and five years old. My three year old learned to pedal her Woom 2 bike literally the day before we left for our trip. My 5 year old had just upgraded to a 20″ bike with hand brakes, the Woom 4.
Click here for our Woom 2 bike review and here for our Woom 4 bike review. Looking for a balance bike? Check out all our balance bike reviews here.
If you ask my kids what their favorite bike trail is they will tell you Cryptobionic. In my opinion this is the easiest, most beginner trail in the greater St. George area. Got a toddler on a balance bike or a brand new peddler? This is the trail for you!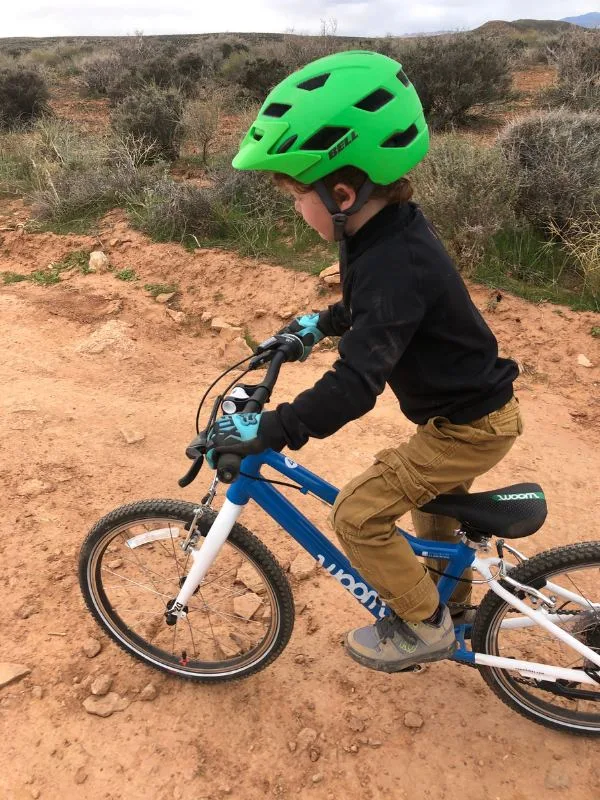 Located in the Hurricane Bluffs area outside of Hurricane, Utah, Cryptobionic Trail is the newest addition to the larger JEM trail system.
The entire area is managed by the BLM and there's dispersed camping everywhere (which is a fancy word for camping not in a campground). We actually parked our camper about 20 feet from the trail. The kids could literally hop on and ride from our site.
This trail is about 1 mile long and it's an out-and-back route as opposed to a loop. It can be ridden in either direction. Here is the link to the Trailforks detailed map which includes directions on how to access the trail as well as detailed stats.
Cryptobionic trail is surrounded by cryptobiotic crust, that delicate soil made up of algae and bacteria. If stepped on, this crust can take decades to re-grow. You may see signs that say "Don't Bust The Crust" along the trail. Keep this in mind if you're walking/running behind your bikers, or helping them on the trail.
This trail is smooth singletrack with the exception of a couple very mellow rocky sections. It would be considered fast and flowy for the intermediate or experienced biker (my kids are neither fast nor flowy…yet!).
The trail does provide some optional steeper hills and more technical spots. But again, these are mellow. After a few days on the Crpytobionic trail, my 3 year old was riding one such "drop" confidently and my 5 year old was riding the technical sections.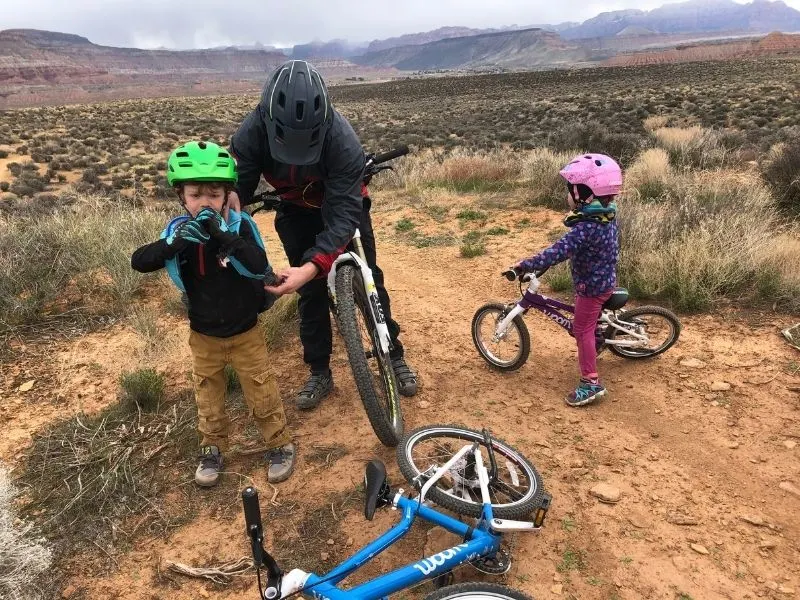 Honestly if I were to choose one spot to camp and bike from for the entire trip, this area would be the spot.
The little kids can ride Crypto and the adults or more intermediate level kids can easily access the Jem Trail system, which includes great trails like Goosebumps, Jem Trail and Deadringer.
The Bearclaw Poppy trail is an excellent option if you are staying in the actual town of St. George. The ride is about 3 miles long. The entire Bearclaw Poppy trail is a figure 8, but for young riders it's best to stick to the southern loop.
Bearclaw Poppy is just a 10 minute drive from St. George in the Bloomington area. The easy way to ride this trail is to start at the Bloomington Trailhead. There's a large parking lot and pit toilets there (although my kids are terrified of these kind of potties).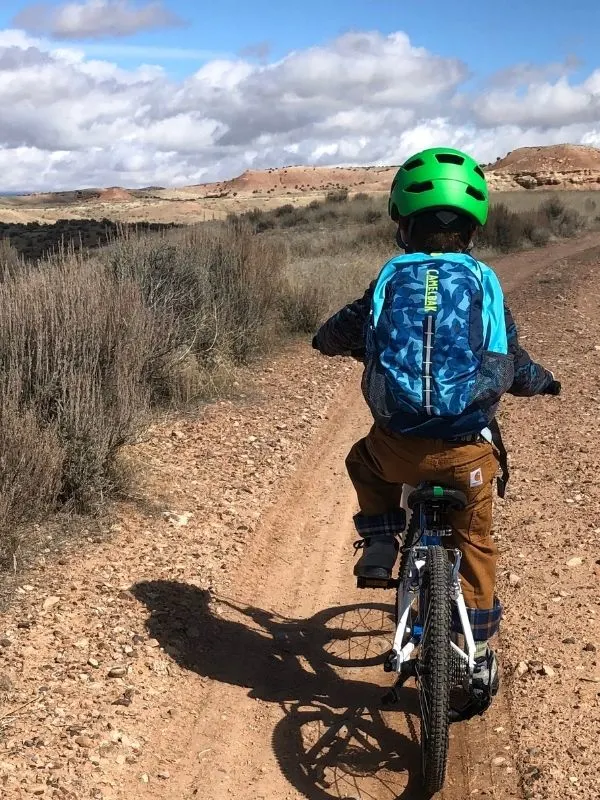 The climbing is very gradual, and the singletrack is buffed out and smooth. If you have one kiddo who is older or is on a geared bike, and one who is younger with no gears, it's a good idea to have a tow system.
Our favorite towing system is the TowWhee. Check out how TMM team member Valerie uses the TowWhee while mountain biking with her young kids in her "A Day in the Outdoor Life: Mountain Biking Mama" post.
The descent is so fun – it's like a singletrack roller coaster! There are some advanced descents in the area but they are very clearly marked.
When we rode this area I was worried that my 5 year old would get to far ahead and end up on a black diamond downhill. We agreed on the rule that he could go on ahead as long as he stopped every time he saw a trail sign.
The Jem Trail system is sprawling and there are many options for riding in this area. There are loops but we usually just do an out and back with the kids (ie: ride as far as we can then turn around).
Jem Trail is located outside Hurricane, Utah. The Cryptobionic Trail is part of the larger Jem Trail area. This is a great one to do if your kids have mastered Cryptobionic and they're ready for something different.
If your kids are on very small bikes, or bikes without gears, I'd recommend riding this trail from South to North. This way, it's mostly downhill on a flowy fast trail.
If you opt to ride it North to South, there is a large gravel parking lot at the trailhead with pit toilets.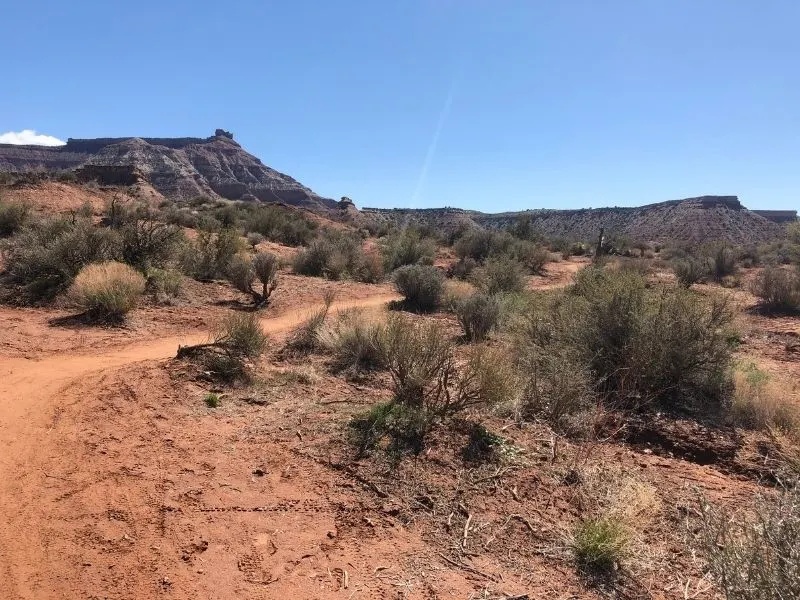 There's also connector trail from Jem to Cryptobionic (where most of the camping sites are located). So if you camp in this area you have easy access to several trails without having to drive anywhere.
Gooseberry Mesa trails are generally very technical and not great for very young kids. But the Practice Trail, as well as the slick rock surrounding many campsites, can be a super fun place for kids to ride.
Gooseberry Mesa is a good place to plan to spend the whole day. It's abut 30 minutes from St. George, and 15 minutes from Hurricane. Most of the drive is on well-maintained dirt roads, but it's slow going to get there.
The Practice Trail starts out on a double track dirt road with some ups and downs, but nothing technical or dangerous. Then the trail turns onto the slick rock where you follow the white marks painted on the rock.
There are a few steep parts and some pot-holes that could definitely gobble up a front wheel of a 14″ or 16″ bike. But as long as kids are paying attention and following an adult or older kid, they'll be just fine.
The super fun thing about slick rock is that it's not slick for bike tires. My kids love feeling like Spiderman glued to the rock.
In early spring, some of the potholes still have water in them and kids will love looking for tadpoles and other creepy-crawlies. This is a good ride to bring plenty of water and snacks and plan to spend some time off the bike exploring.
In addition to the Practice Trail most of the dispersed campsites have excellent riding right around camp. Everything from slickrock to doubletrack can be found right out your camping backdoor.
Full disclosure: My family has not yet checked out the Snake Hollow Bike Park. But we have so many friends who have been here and all my intel comes directly from them.
Snake Hollow Bike Park is a new, state-of-the-art 80 acre bike park on the West side of St. George. If you are staying right in the town of St. George, chances are good you can ride one of the (many) paved bike paths right to the park.
The bike park has a large gravel parking area, bathrooms, water fountains and miles of trails for every skill level. There's a toddler & balance-bike friendly pump track just off the parking lot.
Once the kids have mastered that pump track trail there's another pump-and-bump loop that is super fun and a little bit longer. Snake Hollow also offers tons of options for more advanced riders, like a practice skills loop which is great for kids who are ready to get on some singletrack.
There's a wonderful website called mtbwithkids.com that has the best map of Snake Hollow Bike Park (that I could find). This YouTube video from the St. George City Parks Website gives an excellent idea of all the options for riders of every ability level.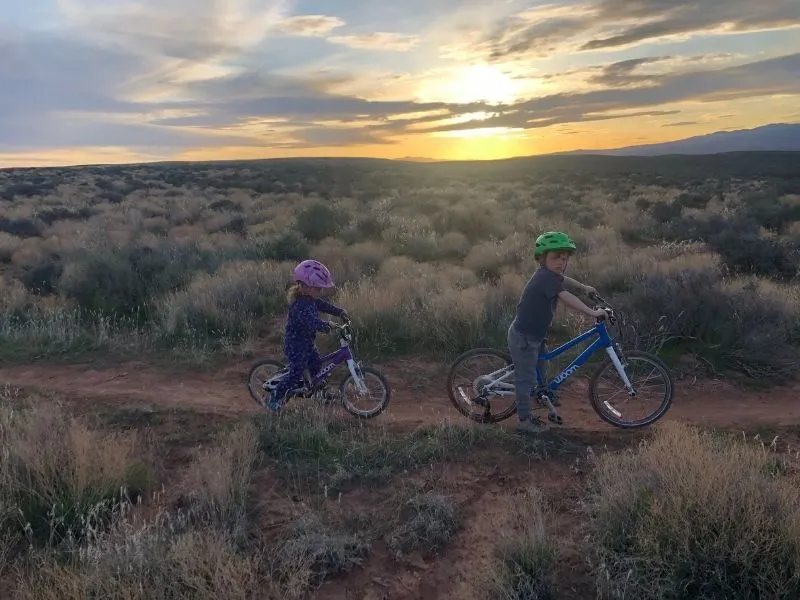 The mtbwithkids.com page has detailed directions and maps on how to get there, information on how the park was built and funded, and plans for future expansion.
If your springtime plans include a family mountain bike trip to the desert, St. George should be at the top of your list.
Other popular biking destinations like Sedona aren't nearly as kid friendly. And the great thing about this area is there's so much more to do than ride bikes (because if your kiddos are like mine, they're not going to ride bikes all day every day).
Related Articles
5 Best Bike Trails for Little Kids in St. George
© 2021 Kids Ride Bikes. All rights reserved. Republication, in part or entirety, requires a link back to this original post and permission from the author.