Hamax Outback Review
Over the past year we have been putting the Hamax Outback to the test with our kids (and some friends too). The Outback is a multi-sport child trailer (available for 1 or 2 children) that allows you to stroll, bike, jog and ski with your kids.
As an Amazon Associate and member of other affiliate programs, we earn from qualifying purchases.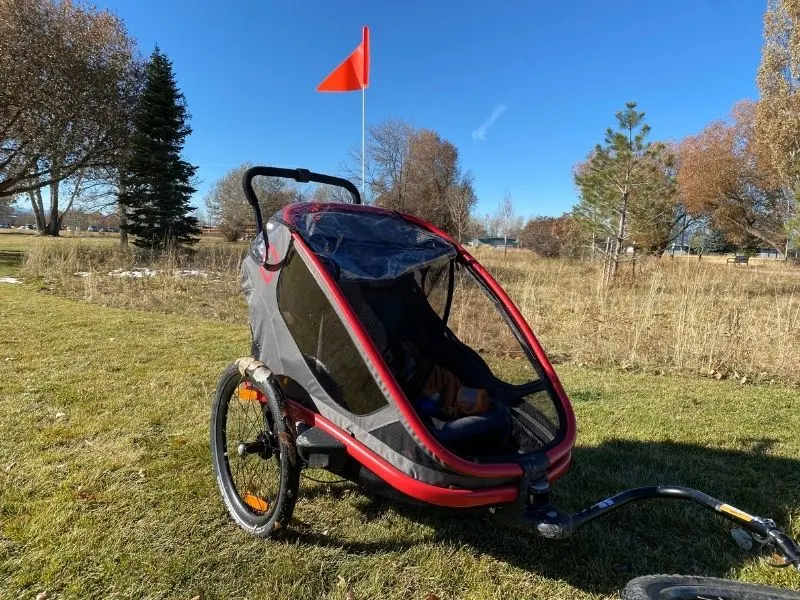 Hamax Outback: Durable, Smooth & Functional
In general, we were pleasantly surprised with how much we love the Outback. While it is a bit heavier than other models we have used (most noticeable when loading and unloading it from the car), the incredibly smooth setup, ride, and easy of transition between accessories easily makes up for it.
Safe connection points
The Hamax Outback has a unique "Safe Connection Point" which uses a locking switch to attach the bicycle arm, stroller wheel, jogger wheel and skis. Just like on toddler-approved Paw Patrol, green means "go," so the connection point displays a green field when mounted correctly and a red field when unlocked.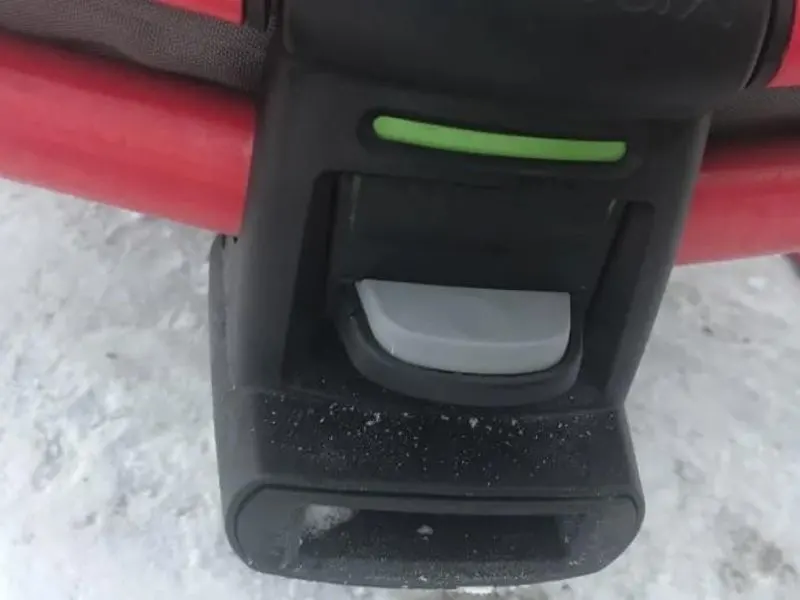 This connection point is fantastic for all modes except the ski mode, and only because snow tends to get in it blocking a complete attachment (and then icing up when we finally get it in). We're working on being more cautious with that one, but it's hard in the pow pow!
NOTE: If you store your stroller outside, you may need to warm it up inside sometimes in the winter when changing the attachments. The connection point did start getting tough to use when the temperatures plummet below freezing, but an overnight in the mud room solved the problem. If you have a garage that stays above freezing, you should be fine!
Huge windows for easy viewing
The Outback has huge windows and vents on all sides and on top for viewing, a large, comfortable interior complete with a rubber floor, and a fully adjustable handlebar (which I LOVE especially for hauling little skiers behind me).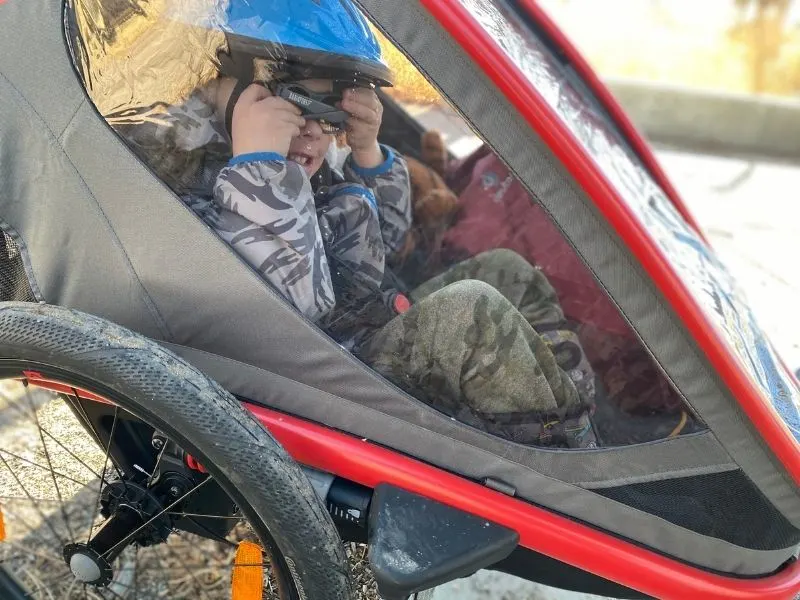 Outback seats are safe and comfortable
The seats use a safe 5-point harness, and have a 3-point reclining system with a simple adjustment. The trailer is ASTM safety certified, and the beefy frame leads me to believe it would keep your child safe in an accident (we don't want anyone to test that theory out, if we can avoid it!)
The Hamax Outback is easy to break down and store
Much like the incredibly smooth ride, breaking the trailer down to fit in the car, is incredibly smooth and easy with the Outback. That big circular frame just smoothly extends and clicks into place easily. No fussing with two sides and fighting with buttons. To collapse the trailer, it's just a button and simple tug on two sides.
Storage is ample
The storage space on the Hamax Outback is like a giant black hole. You could fit a whole extra kid in the back almost (not that we would, when there's so much room up front). It's great to be able to throw in a backpack or two, diaper bag, or your child's balance bike, without it poking them in the back during the ride. The trunk is accessed with full-length zippers, which makes it easy to get what you are looking for without digging.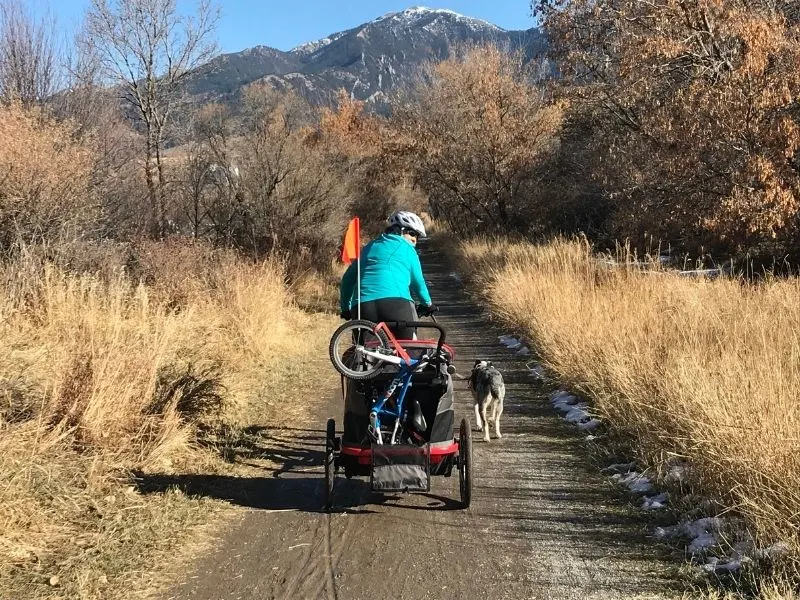 Hamax Outback Different Modes of Transportation
Bike with the Hamax Outback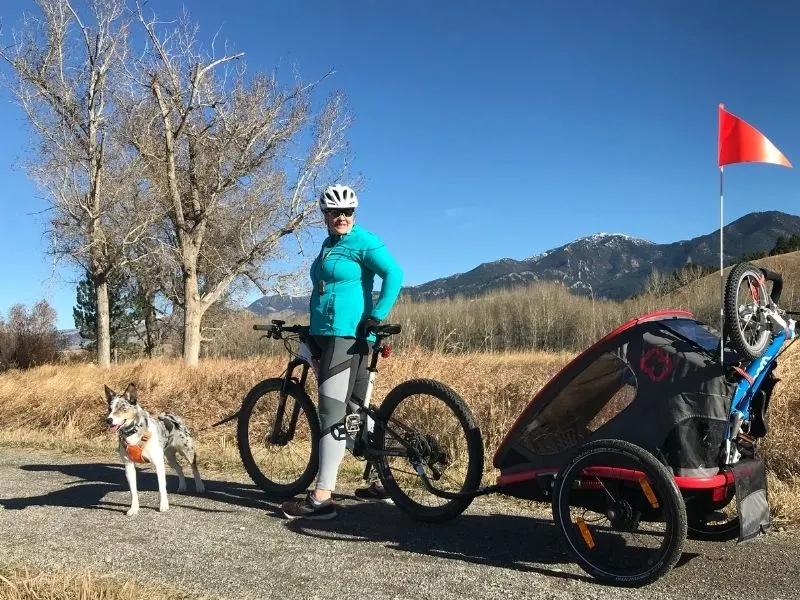 Like all modes with the Outback, switching to the bike mode is super smooth and easy. The point is secure and the ride is incredibly smooth.
The hitch does require getting it in the right place for the pin to go in when connecting it to the bike. It's not a huge deal, but we tend to be big fans of "ball and socket" hitches that align themselves without having to fiddle with them.
Stroll/Jog with the Hamax Outback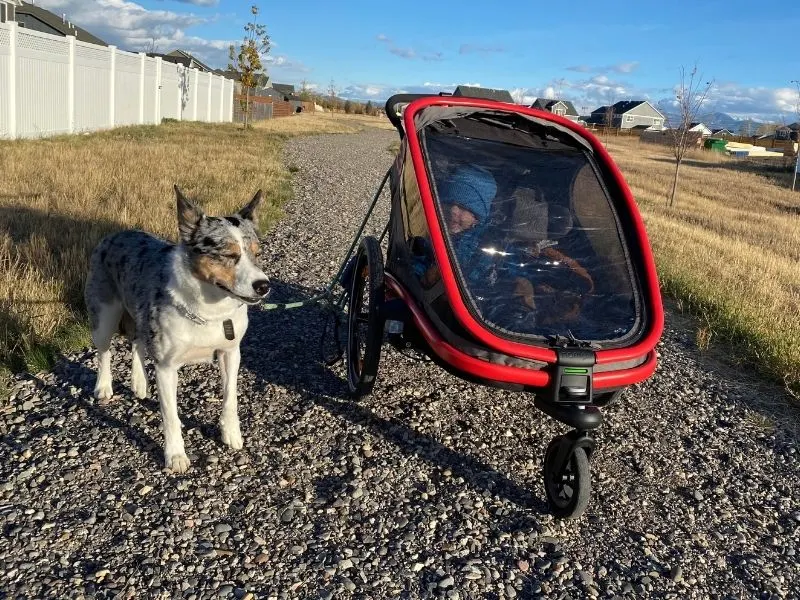 I love the strolling attachment and use it more than any other summer mode. The wheel is just large enough to allow for a smooth ride, swivels well and is sturdy.
I often throw an extra kid in there and the strolling wheel handles it no problem.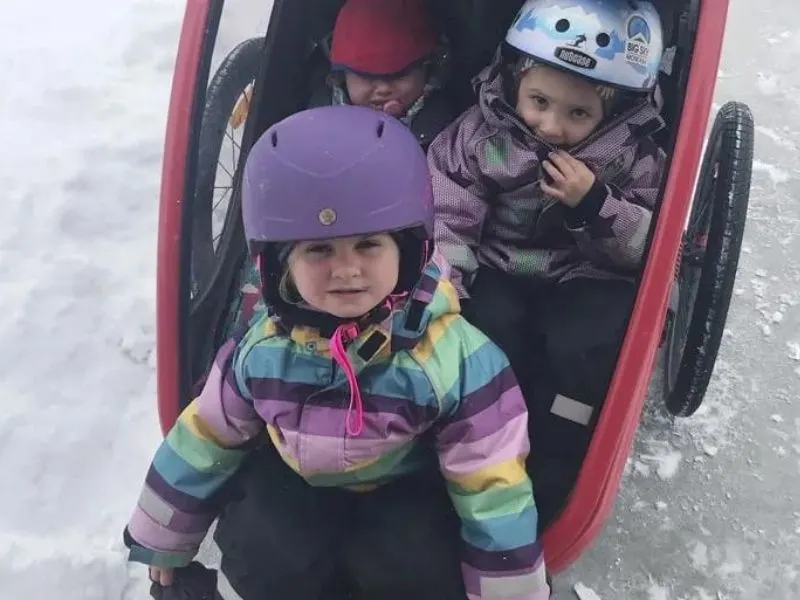 The jogging attachment comes with a hand-powered disc brake making it great for rougher terrain or hilly runs. I always tend to struggle a bit with disc brakes and getting them aligned just right.
This one is no exception, so I do end up adjusting it more than I prefer. That said, if you're walking or running trails, this attachment is essential.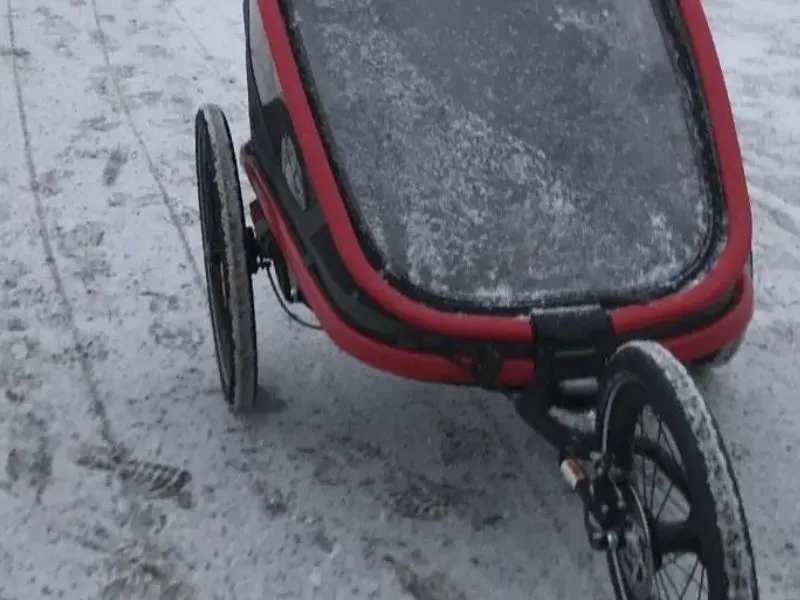 Ski with the Hamax Outback
The ski attachment is the most exciting for me because it is slightly different than any others we have used. Like others, you can hook it up to a harness with poles (which we wish were adjustable to different lengths) and pull it.
As mentioned above, the switch to ski is very easy though it's important to not let snow get into the place where the harness attaches to the Outback because it must be removed before you can get it locked into place.
What sets the Hamax ski attachment aside from others, is that the skis lock into the Outback in two different places. The skis are not on a pivot like most trailers and can stand freely on their own, which means the trailer won't pitch the rider forward when you unhitch. That also means it can be used to PUSH with skis on too!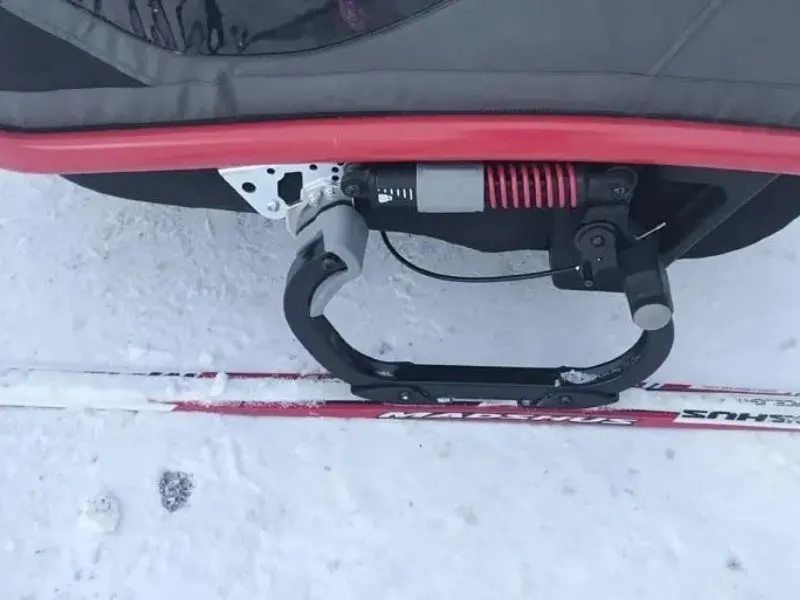 It has been incredibly handy to go from a ski to pushing it through snow or around a festival, etc. The skis are skinny with no fish scales so it slides very easily. That said, because those skis attach without a pivot, the kids get bounced around less, but the puller gets yanked around a little more during normal ski movement.
The harness is made so it can go under your jacket, ideal when you anticipate needing to peel layers. The shoulder straps are removable, but I do like having the weight not just on my waist when pulling.
What we love about the Hamax Outback
The change between different modes literally takes only a few seconds. It is the smoothest of any multifunctional trailer/stroller I have used
The cockpit is large, tall and wide, easily accommodating two children plus gear. In fact, to be honest, we often throw a third child in there and it totally works for strolling….there's that much room. This is the only one I have seen that larger children are comfortable in.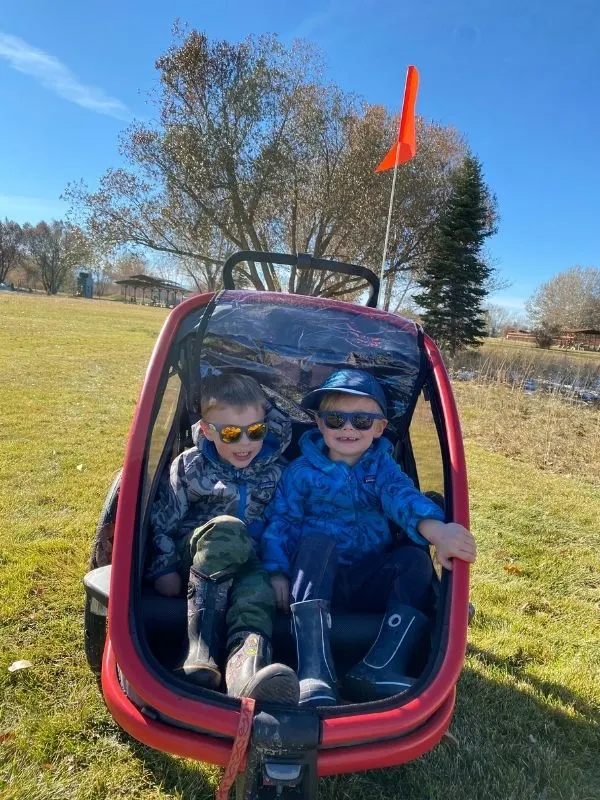 The strolling wheel is THE best I have ever used, even on bumpy roads. Usually kids are thrown all over the place and it's hardly worth pushing on dirt roads with a strolling wheel, but this one is totally different. In fact, I prefer it to the jogging wheel for my every day use.
The handlebar is fully adjustable (twist to lock it into place), which works great for all heights of caregivers AND siblings who love to help push. Note: When new, the lock is much harder to use (and requires a strong grip), but gets easier as it is broken in.
Rubberized floor means easier clean up (you know…when you find a full meal of Cheerios in the bottom of it…)
Great ventilation and huge windows
Gigantic trunk space with easy access, for storing all the things
Large top viewing window lets me see very well what's going on inside
Adjustable suspension
Easy-to-use footbrake. I don't know why this is so huge for me, but I am a stickler for a good foot brake and this one is fantastic!
The skis (sold separately) lock into place so it can be used as a stroller with kids (other brands like Thule and Burley pivot and so would need a front ski too to keep them up).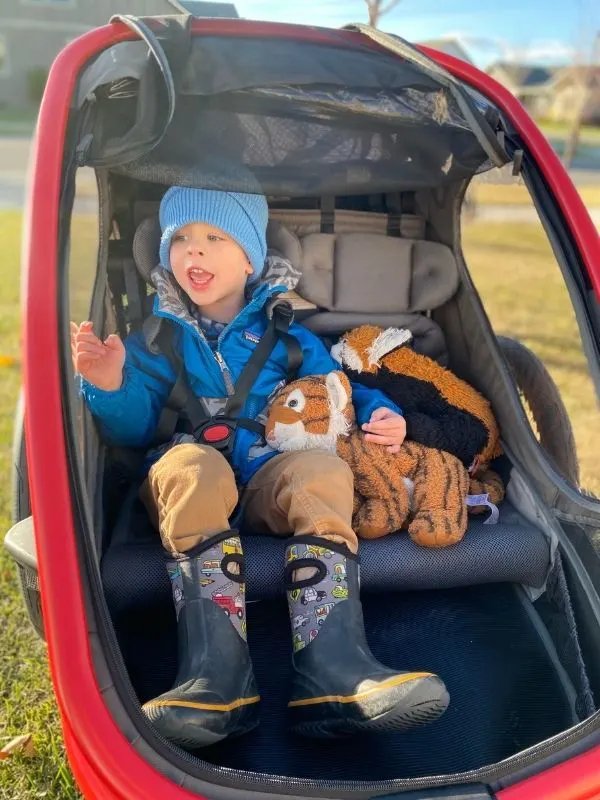 What we would like to see updated about the Hamax Outback
The jogging kit comes with a disc brake….which I found was more hassle than it was worth to get it working correctly. Personal preference….but not something I need for a place that is not super hilly. I wish it (the hand brake option) was sold separately.
The sun shade and rain cover rolls up into a pocket at the top of the Outback that secures with Velcro. I would love to have a strap included to keep them in place better….they do tend to slip out on me sometimes
This is maybe something I shouldn't even admit, but SO often I end up throwing gear on TOP of our strollers. Kids, small bikes, packs, etc. It totally doesn't work on the Outback because of the angle of the supporting part of the stroller (believe me, we tried!) Luckily, the storage space is huge and zips open, which helps.
The infant sling was different than any I have used, but all babies (newborns and babies truly too big for it) found it really supportive and comfortable. That said, I would love if the side head supports were slightly more moldable/supportive for tiny heads.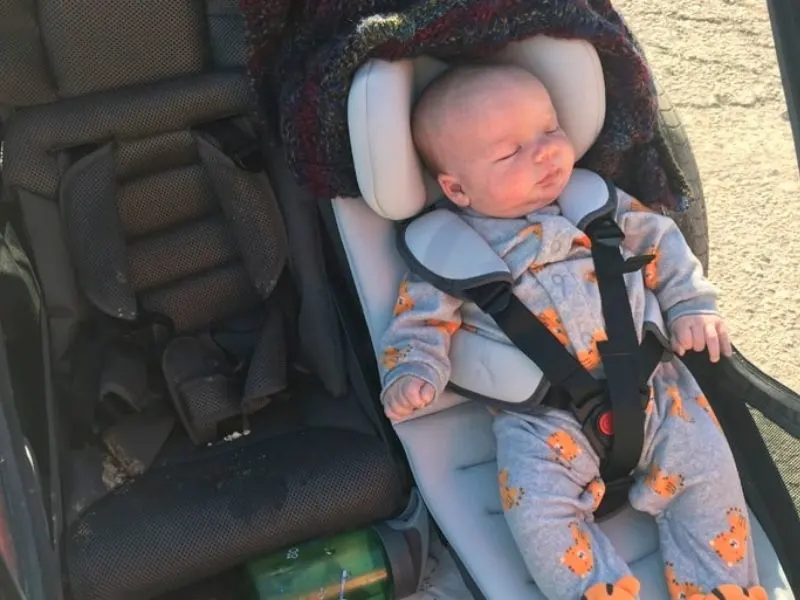 This doesn't actually need changed, but required a bit of a learning curve for me: When you have the rain cover on, along with the mesh cover, I get the zippers so they are not in the same place which makes it hard when I am just trying to open it up enough to throw in a snack, paci, etc. I learned (sadly not as quickly as I should have) that it's best to keep all zippers meeting at the bottom 😉
In the winter the Safe Connection Point easily fills with snow which makes it tough to use if you let that happen before you get the harness attached.
The ski attachment bars going between the rider and the puller are not adjustable for different lengths (handy when in different conditions than groomed trails
I wish the connection point wasn't affected by the cold!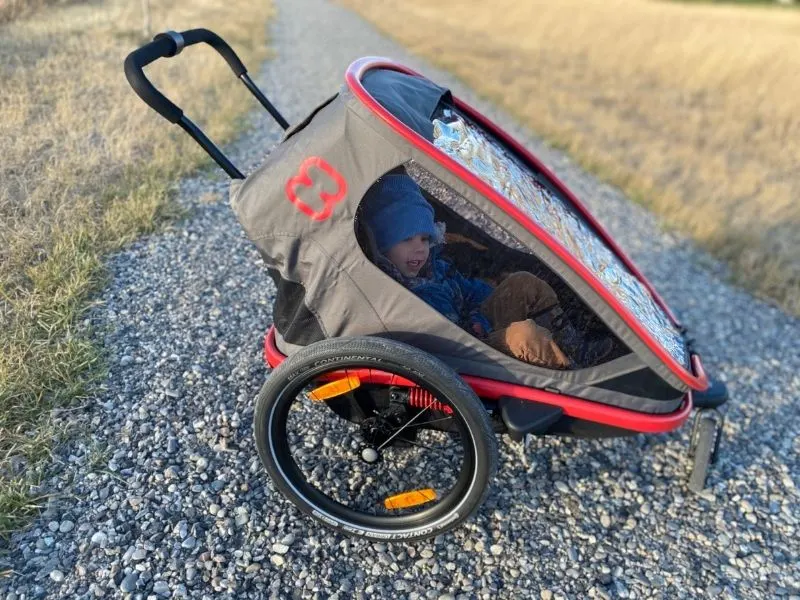 Bottom line, I have grown to really love the Outback. It is incredibly easy to use, has tons of room, is super solid, and rolls very smoothly. While it is heavier than the Thule Cross or Burley D'Lite, it feels very safe and substantial. The ONLY time I notice the weight is when I am loading and unloading it.
© 2021, Kids Ride Bikes. All rights reserved. Republication, in part or entirety, requires a link back to this original post and permission from the author.