What to do if your child struggles with riding a bike
Let me start by telling you all that I live in a mountain town with 60 miles of paved bike paths and 400 miles of single-track trails.
In the wintertime, I snowboard. In the summertime, I float the river, hike in the mountains and mountain bike single track. I guess you could say i'm an outdoorsy mama.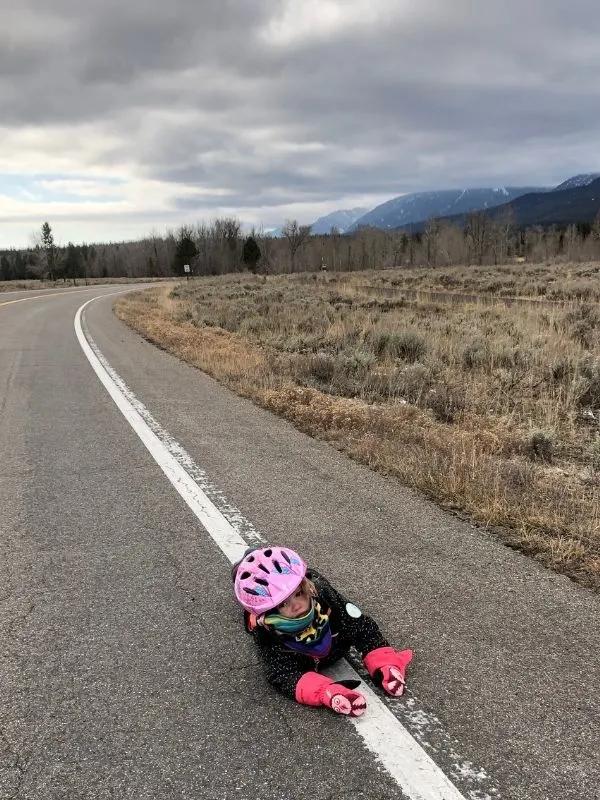 I just assumed that my kids would naturally pick up biking. I'm not sure why but maybe because that's what we do – we ride bikes. But if there's one thing i've learned over my seven years as a mama it's that kids come to things on their own terms and we just have to accept that.
My journey parenting a reluctant biker
My daughter was given her brother's hand-me-down balance bike when she was about 18 months old. She tried walking it once, tipped it over, and wanted nothing else to do with it.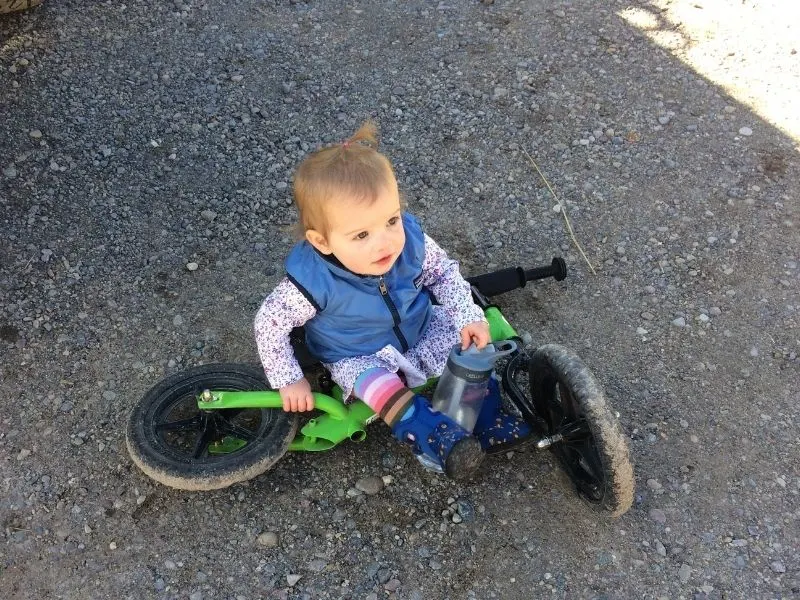 We kept encouraging her to try the bike throughout the summer she turned 2. We cycled through several hand-me-down bikes of every variety. We even tried a little red tricycle with streamers on the handlebars. She wasn't having any of it.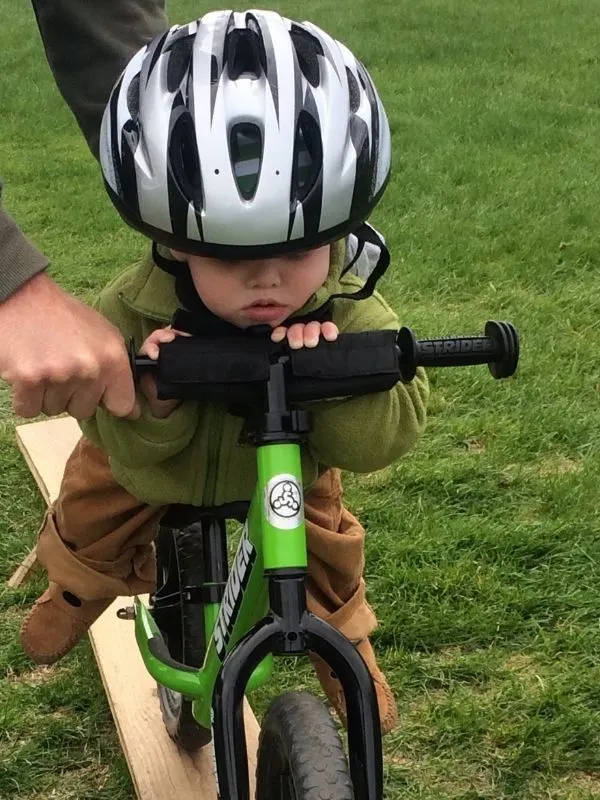 We continued regular exposure to our growing inventory or balance bikes with no luck. She was completely uninterested in riding and was content to ride along in the Chariot.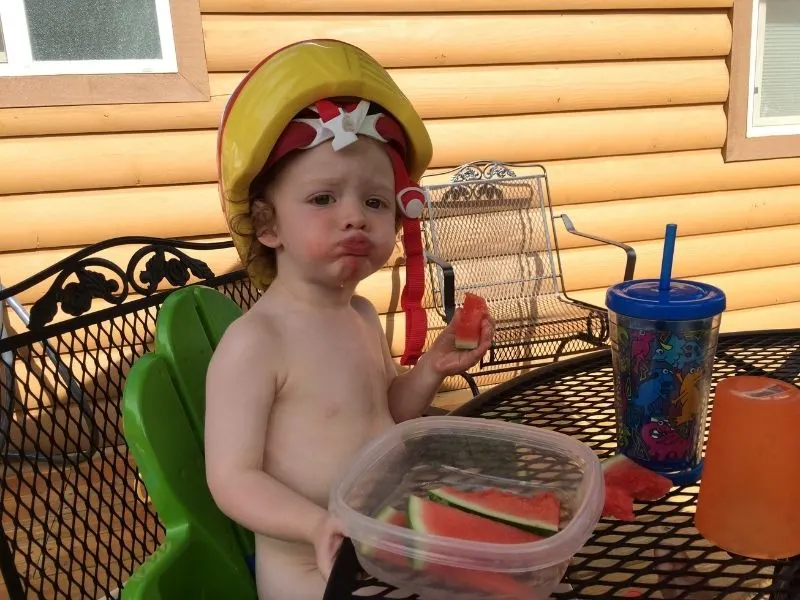 Before turning 3, I bought her a sparkly Elsa & Ana bike with training wheels, a basket on the front and sparkly beads on the wheels. She quickly announced it was "too wobbly" and that was the end of that.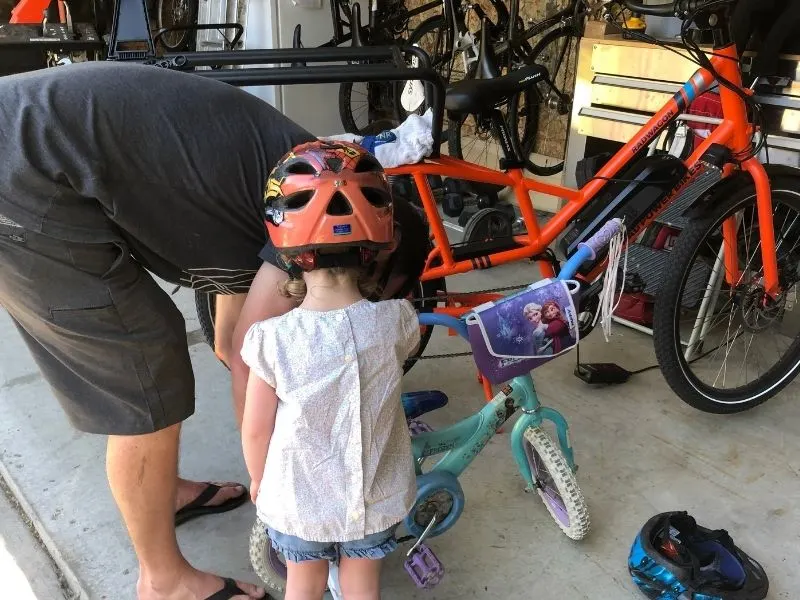 I have to admit I was so bummed out. My five-year old was cruising around on his two-wheeler with ease, and we had a biking trip to St. George planned for Spring Break. With my non-biker child.
Before our desert biking trip I had ordered my son a Woom 4, and despite the expense and the fact that my daughter hated bikes, I ordered her a Woom 2. You know, just in case she all of a sudden had a change of heart.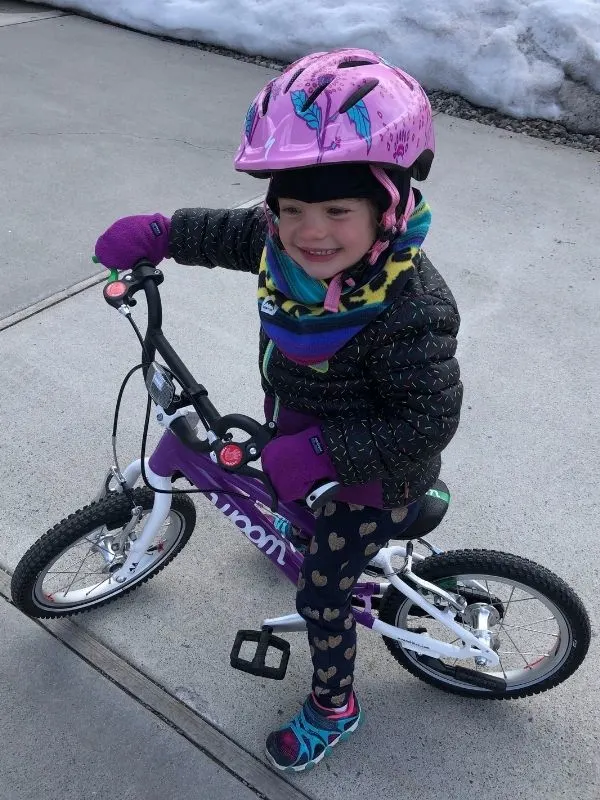 And I kid you not that's exactly what happened.
Her new bike came in the mail the night before we left for our trip. She immediately loved that it was purple. She helped her dad and I assemble it in the garage. And then, she got on. and. peddled. down. the. driveway.
All by herself.
Check out our full review of the Woom 2 and the Woom 4 by clicking the respective links.
Some time on our trip, when she'd been pedaling for maybe a week, I remember asking her why she didn't like riding her old bikes. She said,
My Strider bike was too green and it doesn't have brakes. My Elsa & Anna bike (with training wheels) was too tippy."

– Harper, age 3
So there you have it. In true Goldilocks fashion, one bike was too green and the other was too tippy. And the Woom 2 was just right.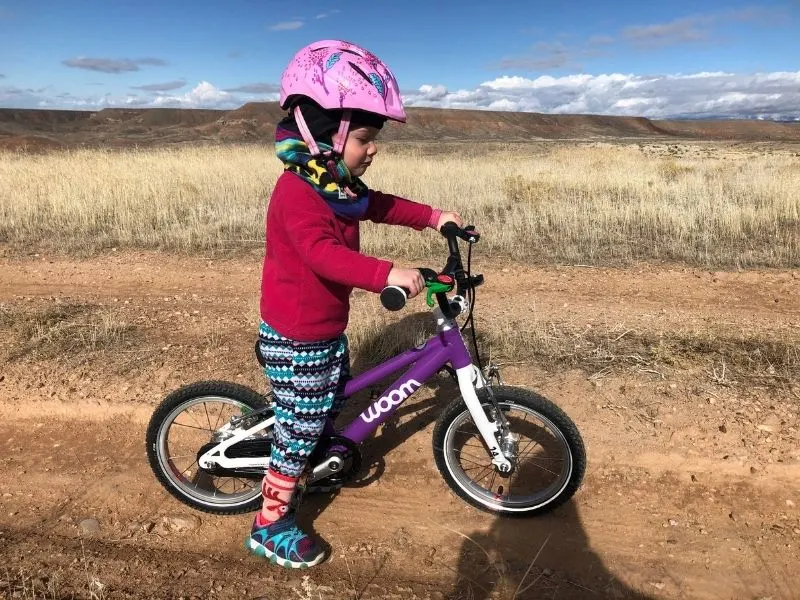 I want to make this very clear: A new expensive bike was not the sole reason that Harper finally found success. I think that the bike helped, but I also think she just had to decide that it was something she wanted to do.
Here are a few tips that helped our daughter become a confident bike rider.
Looking for more teaching tips? Check out our related posts: "Teach a Child to Pedal a Bike" and "Starting a Toddler on a Balance Bike – Tips and Tricks".
Speed Management.
Knowing that the balance bike scared my daughter because it had no brakes, I made sure to teach her how to use the hand brakes to slow down and stop. We played red light, green light on a flat, smooth part of the driveway and I taught her how to squeeze just a little to slow down, or a lot to stop.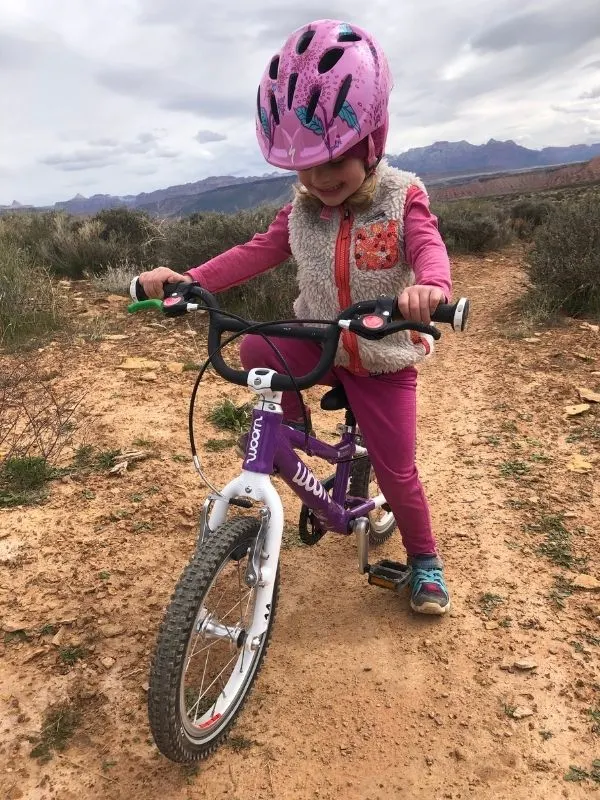 The hand braking took some time to figure out. We wore out the toes in a pair of sneakers before she truly got the hang of using the brakes instead of dragging her feet to stop.
Persistent Exposure.
Although we knew she was not interested, we kept the various bikes in the garage and we would bring them out and give her the option to maybe check one out. We also tried lots of different bikes (balance, tricycles, and yes, even training wheels). It's important not to push too hard, but don't give up, either!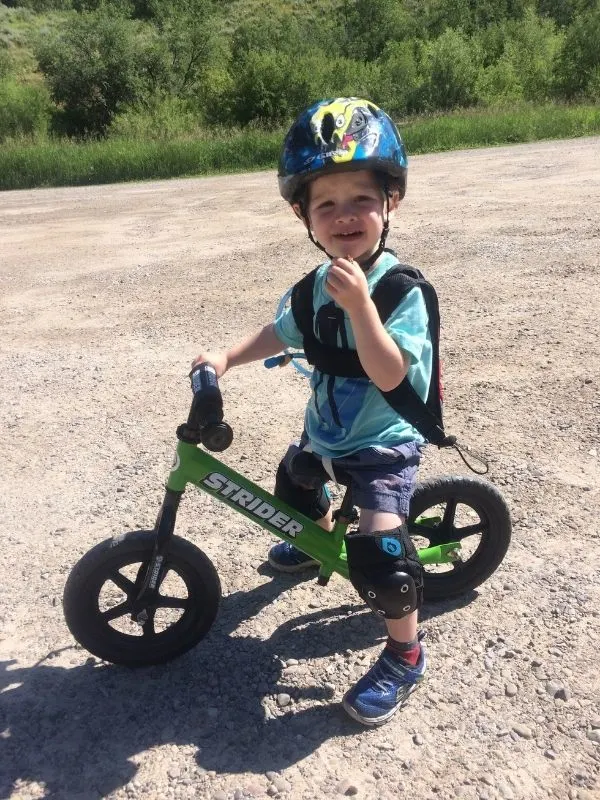 New Biking Destinations.
Right after my daughter learned to pedal, we spent two weeks camping and biking near St. George, Utah, with about six other kids, most of whom were older than her.
When the other kids got excited to check out new trails, Harper jumped right on the bandwagon. She loved the "shuttle" to the top of Kessel Run in Fruita – simply because she got to ride in the back of the truck with the other kids.
I truly think that seeing the "big kids" hop on their bikes and ride around camp pushed her to do the same. By the end of the trip she was able to ride her bike on mellow singletrack, stop and slow down, and get going from a stop.
Keep Things Fun.
This goes for every kind of outing with kids, whether it's biking or skiing or hiking – make it fun!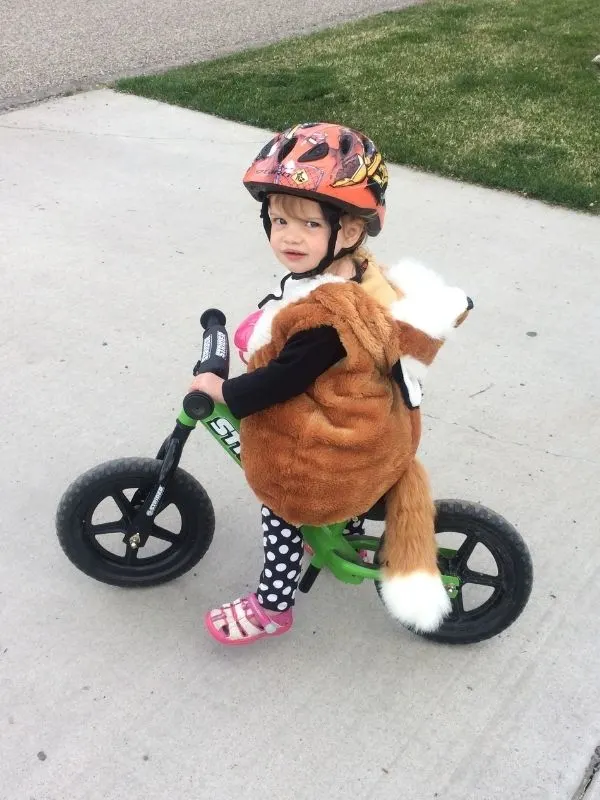 Sing songs, take turns being the leader, stop in the middle of the trail to check out cool insects or rocks and don't be afraid to get off the bike and explore, too.
I know every family has different ways of motivating their kids, but I shamelessly carry a baggie of "power pellets", i.e. gummy bears, when we go biking. It's hard not to have fun when there's treats involved!
Go With Friends.
In general, my kids last longer, whine less and have more fun when friends come along.
One suggestion is to go with friends who are of similar biking ability. The last thing you want is for your child to feel like they can't keep up and get discouraged.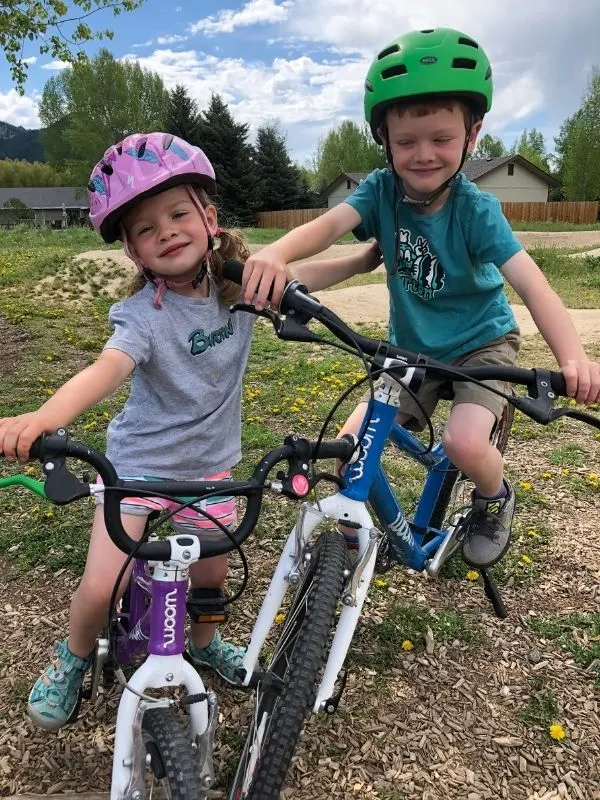 Embrace the process of teaching a reluctant rider
I have a friend whose kid was sending it down a steep ramp on a bike when she was just two years old and I have to admit I was a little jealous of this. I have another good friend who's child is 7 and is still not comfortable on any kind of bike, and believe me, they've tried them all.
The most important piece of advice I can give is to adjust your expectations and have patience!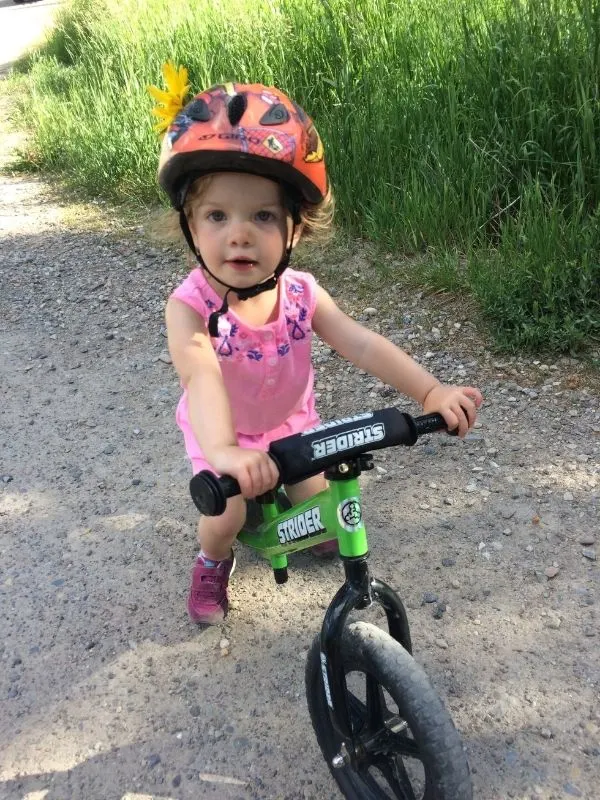 Related Articles
What to do if your child struggles to ride a bike
© 2021, Kids Ride Bikes. All rights reserved. Republication, in part or entirety, requires a link back to this original post and permission from the author.