Mountain Biking with Kids in Fruita
Fruita, Colorado and the surrounding area is home to some of the world's best mountain biking trails for grownups and kids of all ages. If you have a Spring Break bike trip planned, here are our recommendations for the best kids' and family-friendly biking in Fruita.
For our best tips on teaching kids to bike, check out our Learn To Bike section here.
Fruita and the Grand Junction, Colorado area is hands-down my favorite place to mountain bike (and i've ridden bikes all over the country in some really amazing spots).
Now that I'm a mom to two young kids, I've discovered it's also a rad place for the kids to bike.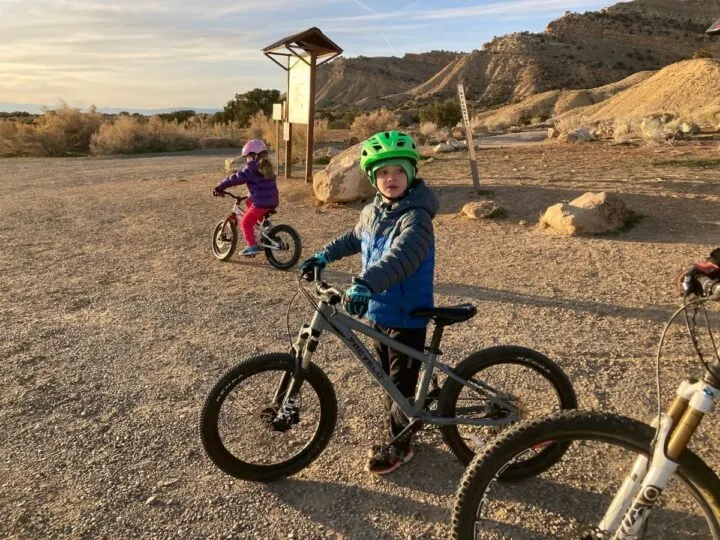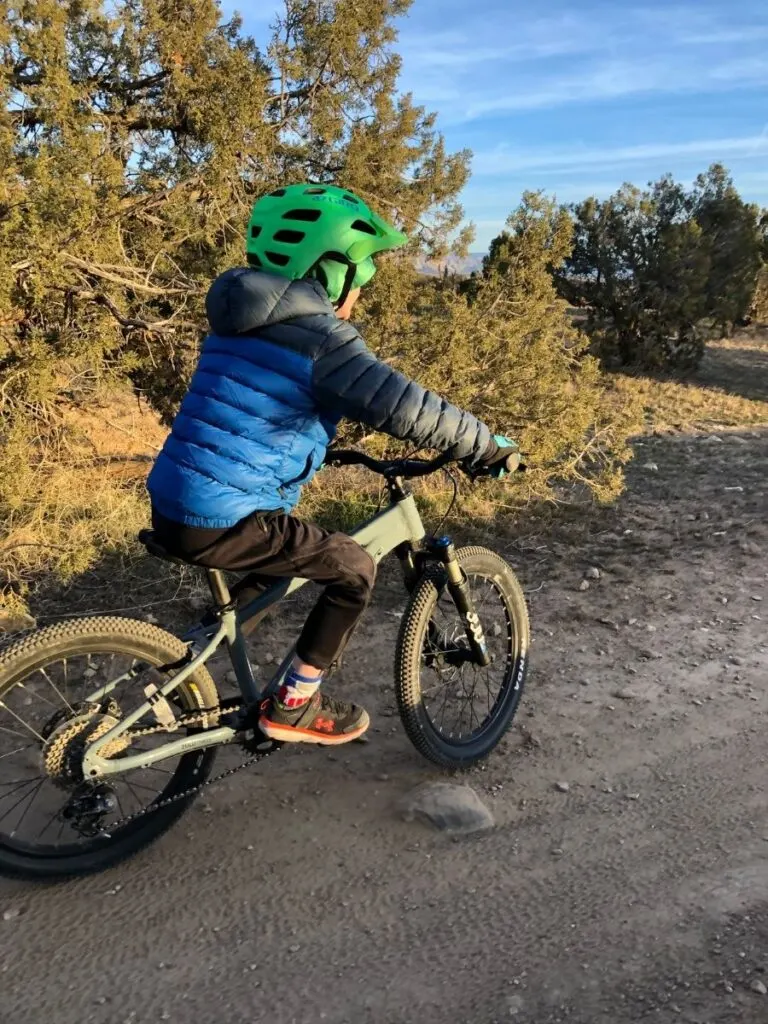 I grew up in Grand Junction and I learned to mountain bike on trails like Rustler's Loop and Kessel Run and the Lunch Loops trail system. So of course when I take my kids on these trails I get nostalgic and point out all my favorite views and tell stories of long ago (which my kids are like, "Booooooring Mom!").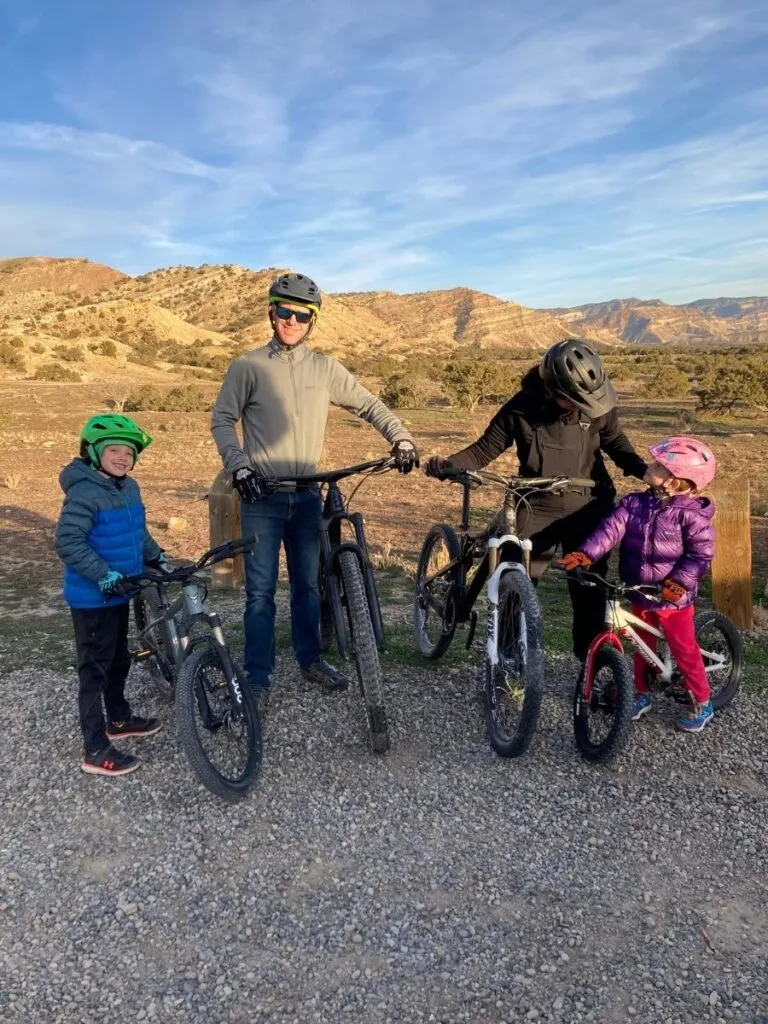 A Trail for Every Age and Stage
The first bike trip I took my kids on to the Fruita area was when my daughter was 3 and my son was 5.
My daughter learned to pedal her Woom 2 bike the day before we left for the desert, so she was a very new pedaler. My son had been riding a 2-wheeler for several years but he had just upgraded to a 20″ Woom 4.
Wondering what kind of bike to get for your child? We can help! Click here for balance bikes, here for pedal bikes and here for mountain bikes.
Of course, every child is different and parents should assess their kids' ability level before unleashing them on singletrack. But here are some general suggestions on which trails could be a good fit for different ages and abilities.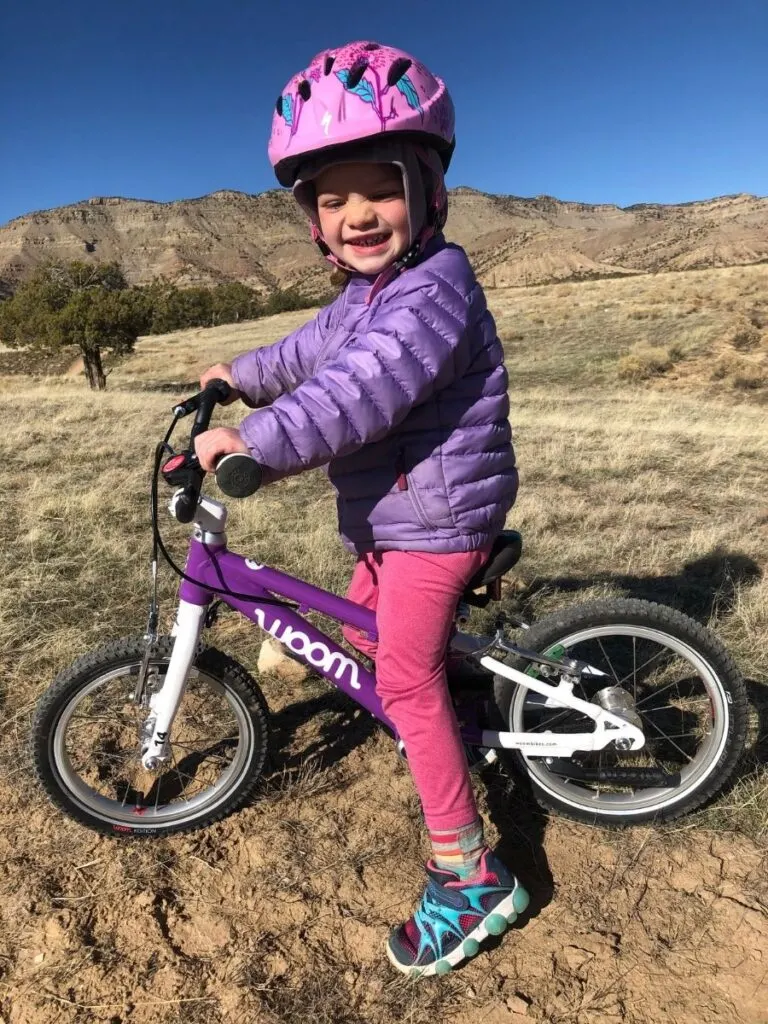 Best Trails in Fruita for Balance Bikes
Best Trails in Fruita for Kids New to Pedaling
Best Trails for a Kid Who is Comfortable Pedaling at Least a 16″ Bike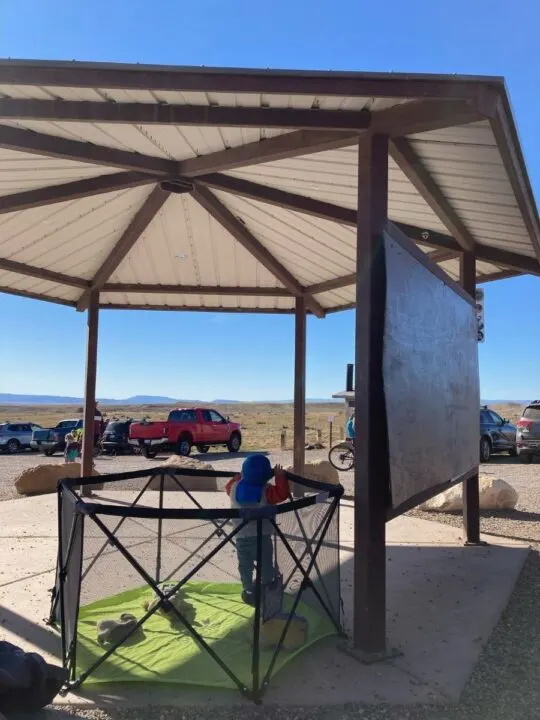 The Best Kids Bike Trails in Fruita for Families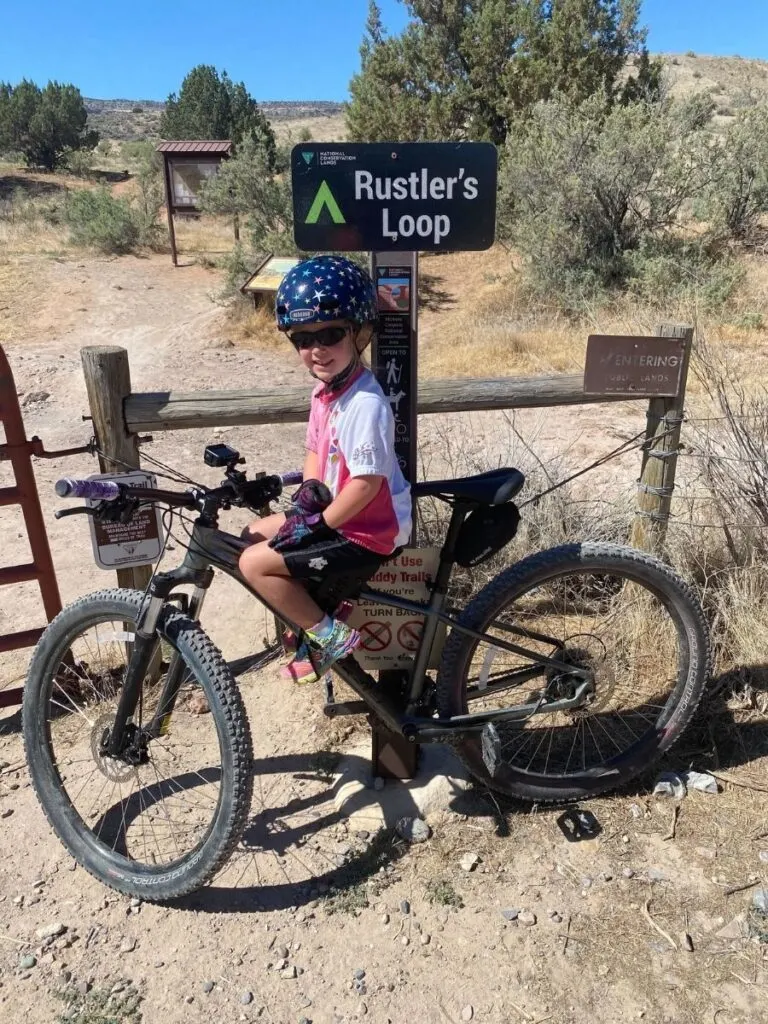 This trail is good for kids who have mastered riding on flat dirt trails. There is some uphills and downhills, so a bike with gears and hand brakes (and kids who can use them) are a must.
Rustler's Loop is part of the Kokepelli trail system and it's the best beginner cross-country loop! The views of the Colorado River are spectacular (but don't worry – the trail is far enough away from the edge).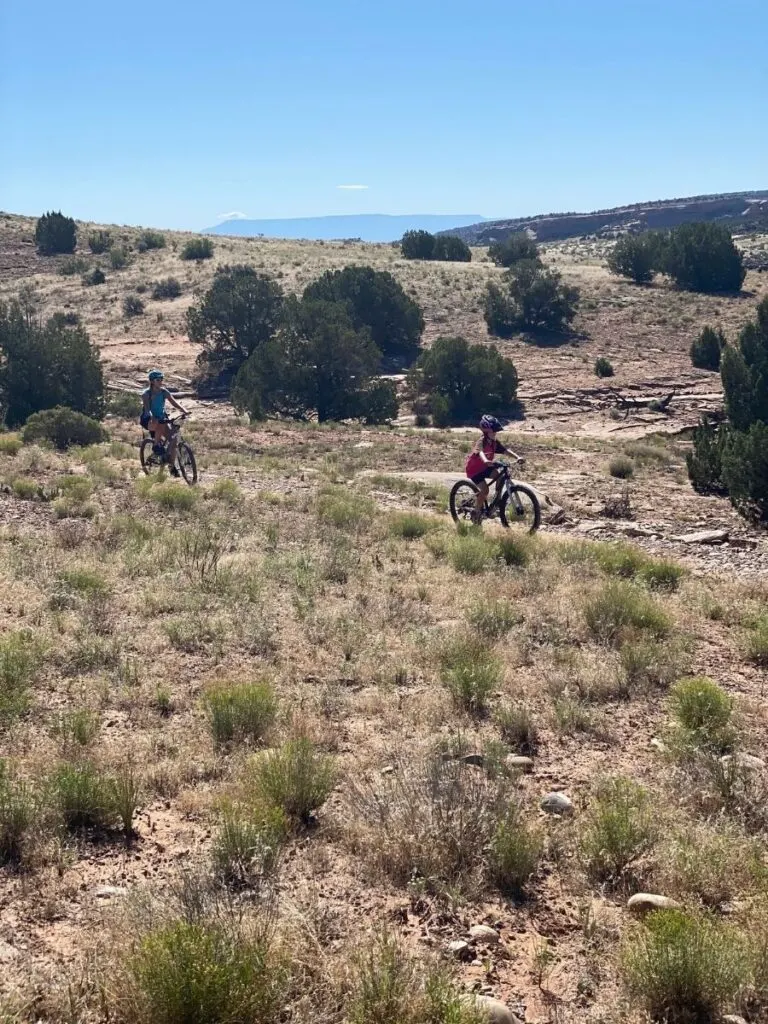 You can park at the main Kokepelli trailhead, but then you have to ride a very steep dirt road up, and down, to Rustler's Loop. I recommend driving up that dirt road and parking at the designated Rustler's Loop trailhead.
Kids will love to stop at the trail signs strategically placed along the way. The signs educate riders about things like how to corner, climbing skills, local ecology and trail etiquette. If you're riding with kids of varying skill levels. The signs are also a great landmark to ask your faster riders to "wait for me at the next sign".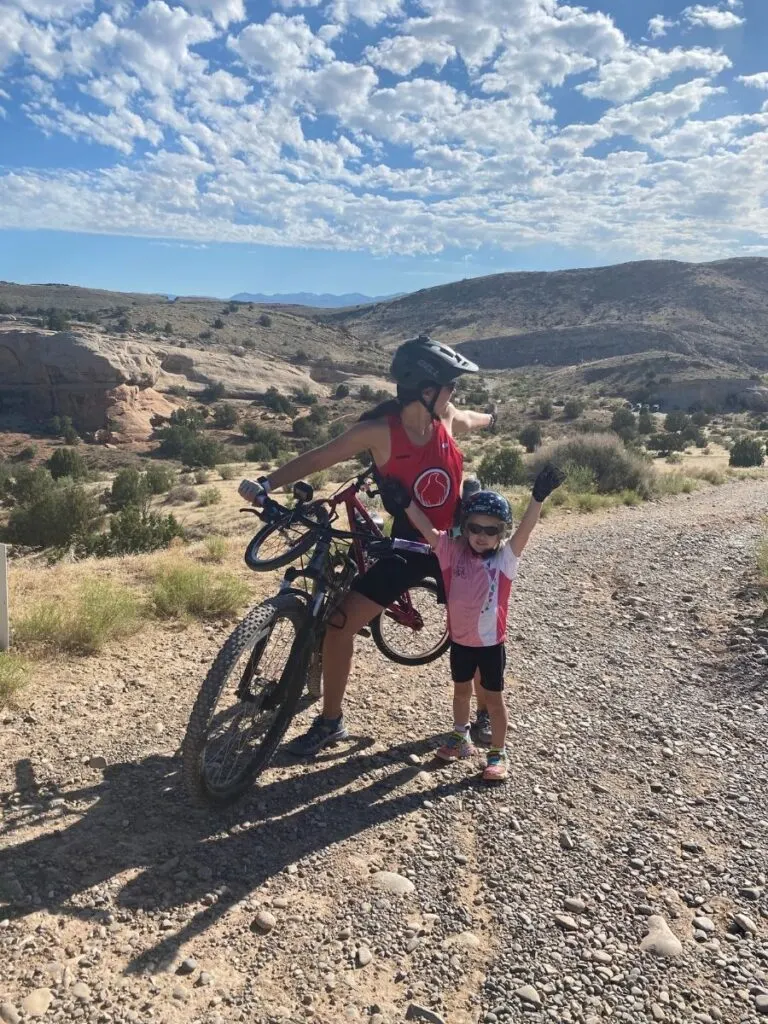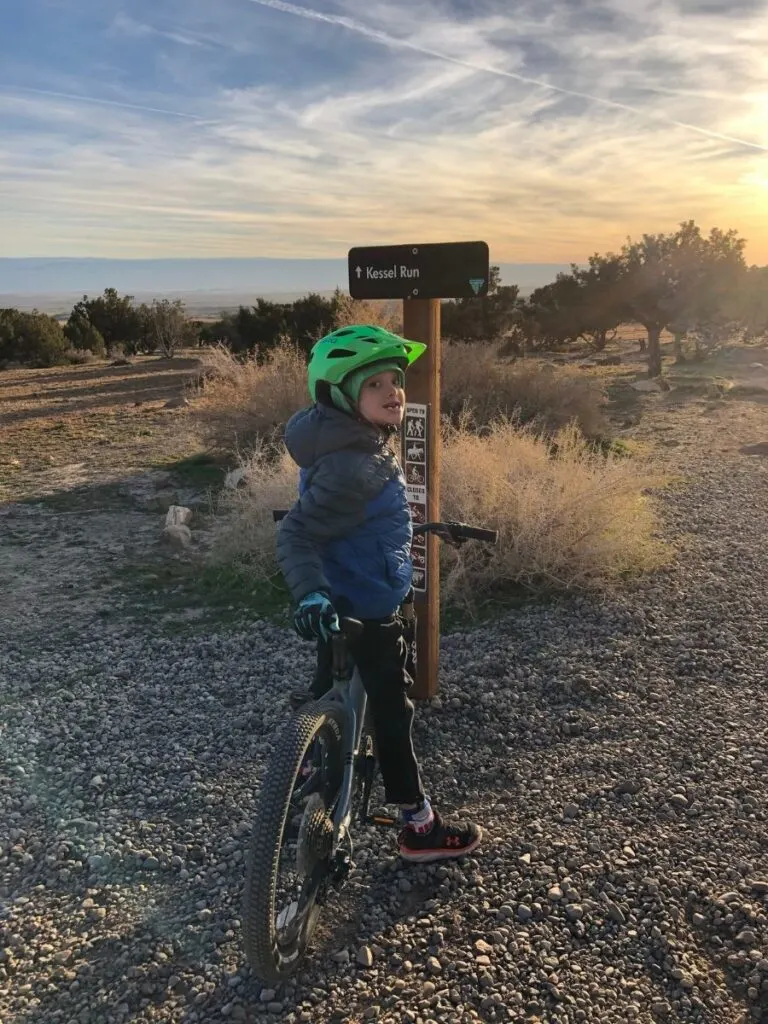 Ask my kids what their favorite bike trail is and they'll tell you, Kessel Run! This was the first real mountain bike trail that they ever rode and to this day it's their favorite. When we visit the Fruita area it's hard to talk them into riding anything but Kessel.
Kessel Run is part of the 18-Road trail network, and the trail starts at the upper-most parking lot. The 2 mile downhill singletrack sweeps through the trees, winding around a few steep and rocky sections (that can be easily avoided).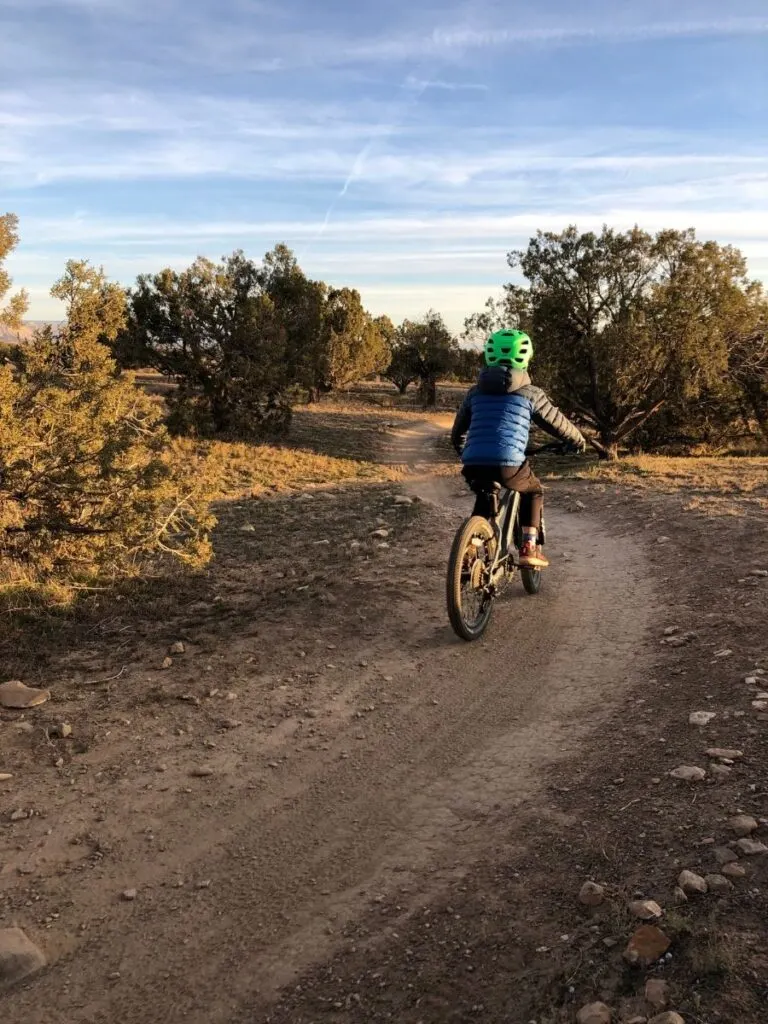 There is no climbing on this ride whatsoever, making it great for kids who don't yet have a geared bicycle. But since it is all downhill, you'll want to make sure your child has hand brakes that they know how to use!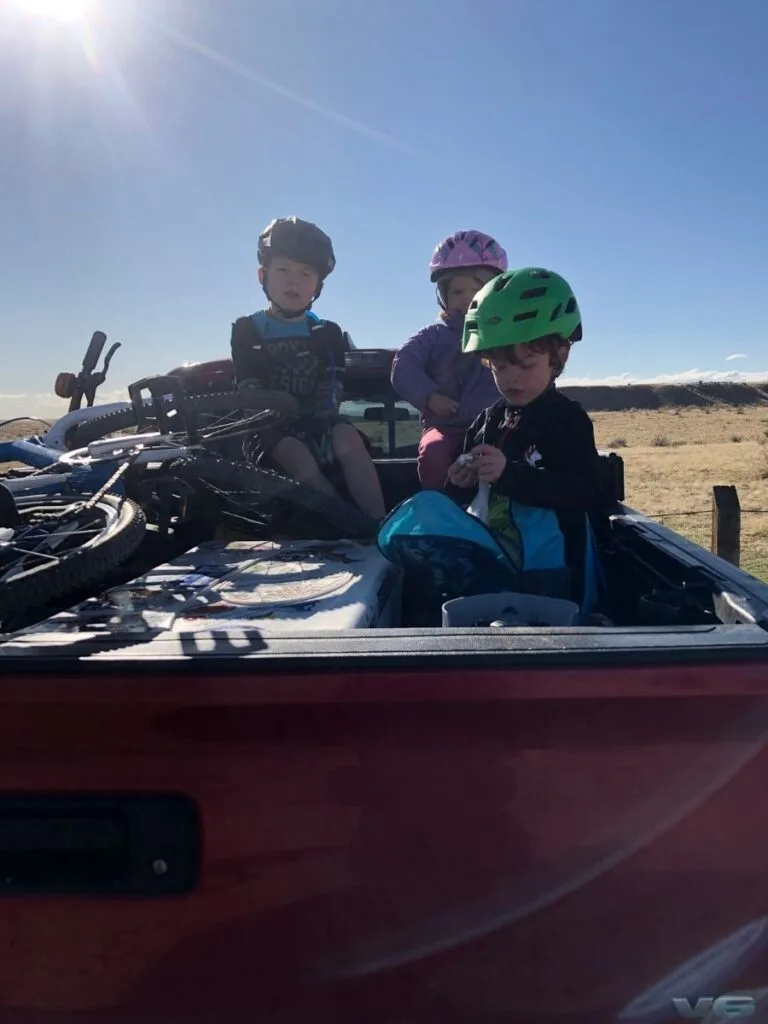 The trail ends at another large gravel parking lot, and we like to shuttle back to the top, although you could ride the gravel road back but it's a bit of a grind.
Nor Easter to Big Sister trails are located in Grand Junction in the greater Lunch Loops trail system. Nor Easter to Big Sister is great for a child who is very comfortable shifting gears, climbing short hills and descending. Once they've mastered Kids Meal, this is a great next trail.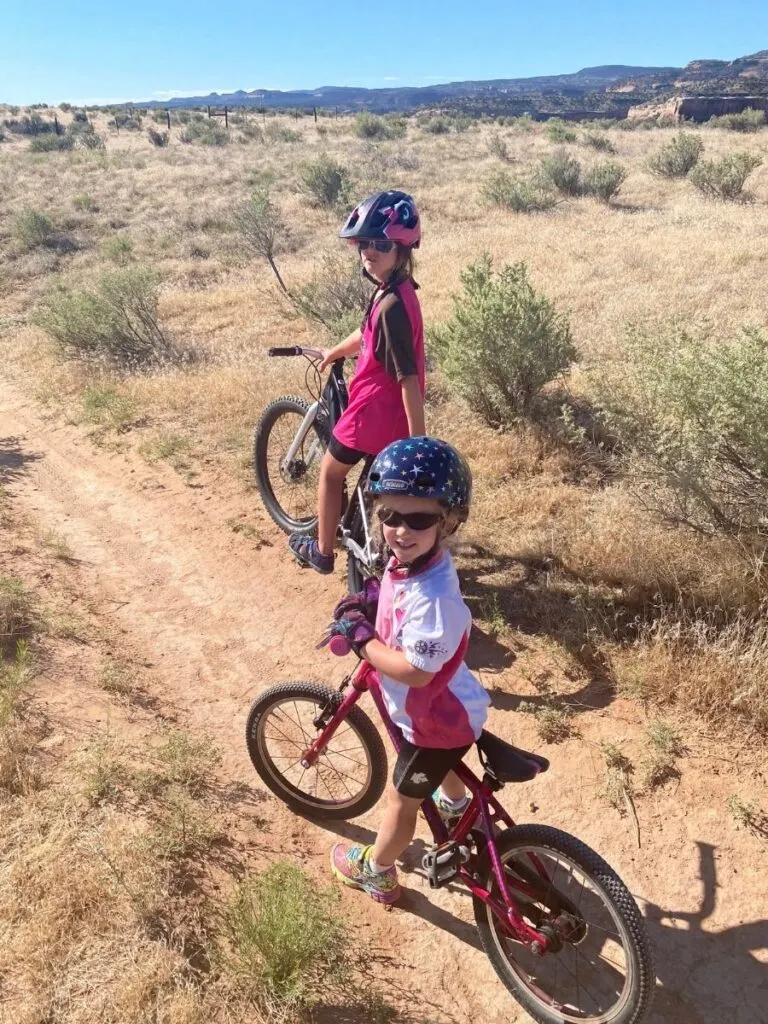 There are easy climbs and descents on this trail, so a bike with gears would be best in this area. There are a couple of technical rocky sections that could be easily walked around.
Nor Easter is a smooth and flowy single track trail with just just about 100 ft. of climbing. After about 3/4 miles, you can hop on the Big Sister loop, which is more of the same flowy singletrack for about 3/4 mile.
This area is a maize of trails so it's good to have your favorite trail app handy so that you don't make a wrong turn and end up on the Widowmaker or Lemon Squeezer! If you're going to bring your phone and use a trail app, this would be the place to do so to ensure you don't get turned around.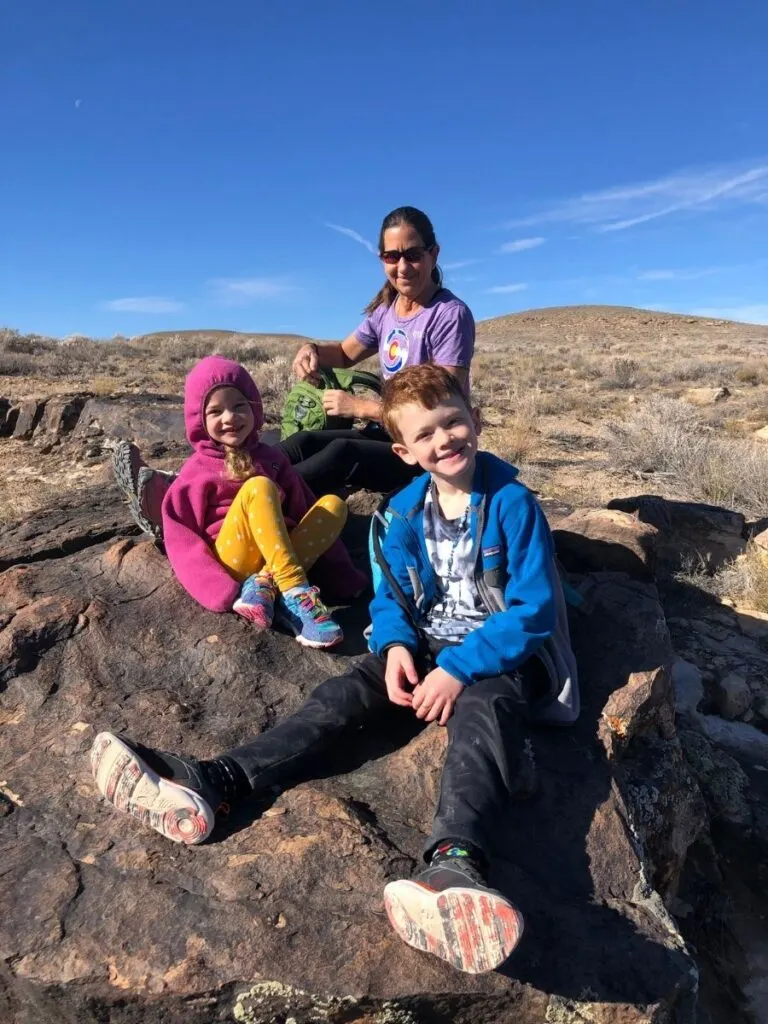 Gunnison Bluffs trail is located off Highway 50 outside of Grand Junction. The trail consists of mostly double-track road with minimal climbing and descending. This is a great trail for riders of all abilities including kids on balance bikes.
The views of the Colorado River are spectacular and there are dozens of great snack-break spots. There's tons of cool rocks to scramble on, as well. Last Thanksgiving we biked this trail and both of my kids filled their pockets with trail-treasures like quartz and arrow-shaped rocks.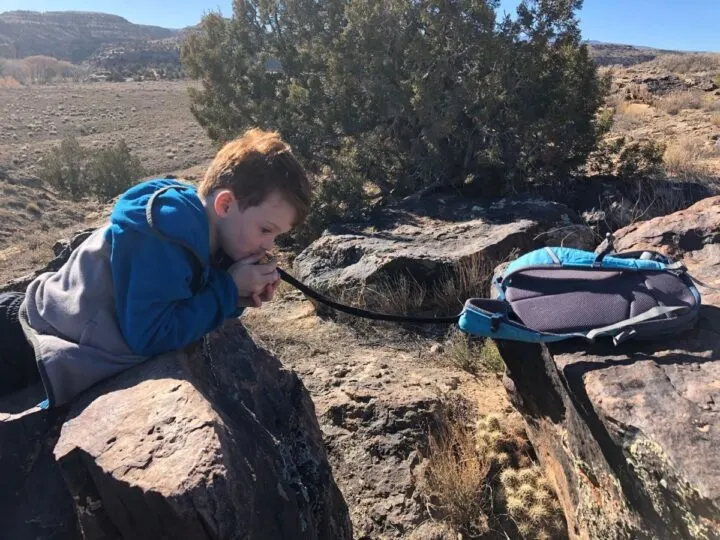 This spot would be perfect for a family who has some bikers – and some hikers.
This trail is less busy that 18-Road or the Lunch Loops area, making it perfect for a whole-family outing. The area is very wide-open, so make sure to bring a jacket in case the wind picks up (especially in the early spring or late fall). We rode here at Thanksgiving and layered a wind jacket over a fleece.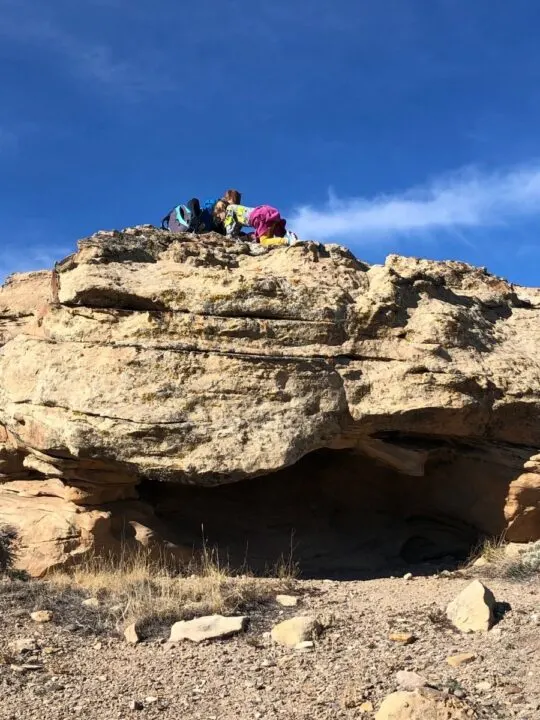 We've been to a lot of bike parks and this is hands down the coolest one i've been to. There's something for everyone – big kids and little kids alike.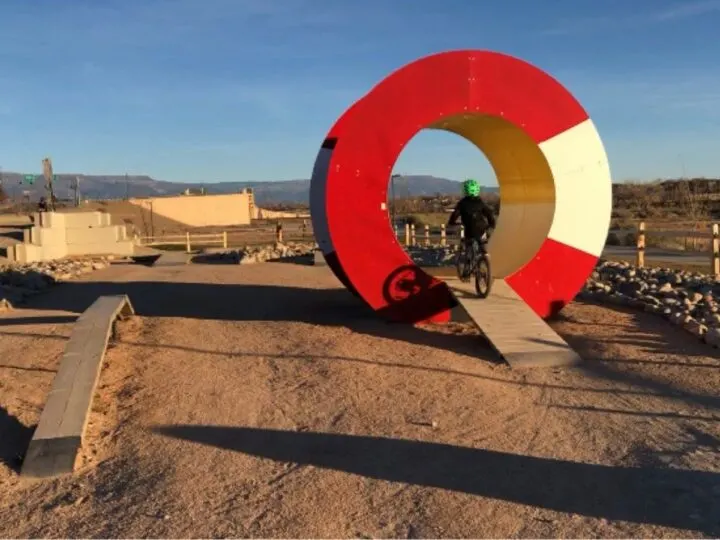 My 7 year old loved the steep ramp and the big table-top jumps, and my 5 year old liked the low wooden ramps (that are wide enough for beginner riders to navigate). There's also a very cool "C" that the kids loved riding through.
There's tons of parking, a great picnic area, and lots of paved bike paths nearby. It would be a great place for older kids to ride the bike park while younger kids on balance bikes pedaled on the pathway nearby.
Kids Meal is located in Grand Junction and is part of the Lunch Loops trail system. This is the most beginner-friendly trail at Lunch Loops.
Kids Meal is a smooth, flowy easy singletrack trail. There's fun and educational signage along the way (similar to the signs along Rustler's Loop).
This trail has very little uphill or downhill, making it a good option for kids who aren't using a bike with gears yet. My daughter had a great time on Kids Meal when she was 3 years old and had just started pedaling her bike.
Best Time of Year to Bike in Fruita
Spring and fall are the best times of year to bike in the Fruita area. My favorite months are April-May, and September-October.
The summertime months are very hot with daytime temperatures reaching 100 degrees and higher. If you do plan to bike in the summertime, you will want to hit the trails very early in the morning (before 10am) or in the evening (after 6 pm). Even then, you can expect temperatures in the high 80's and 90's.
In the spring and fall, daytime temperatures are in the 60's and 70's with cool nights. It's the perfect biking and camping weather in my opinion!
Family Mountain Biking in Fruita
There are plenty of great options for a desert mountain bike trip- places like St. George, Hurricane, Vernal and Moab. But if you plan to bring the kids, Fruita really is the best option! And when you go, be sure to tag us in your adventures @mtnmamatales – we'd love to see your adventures!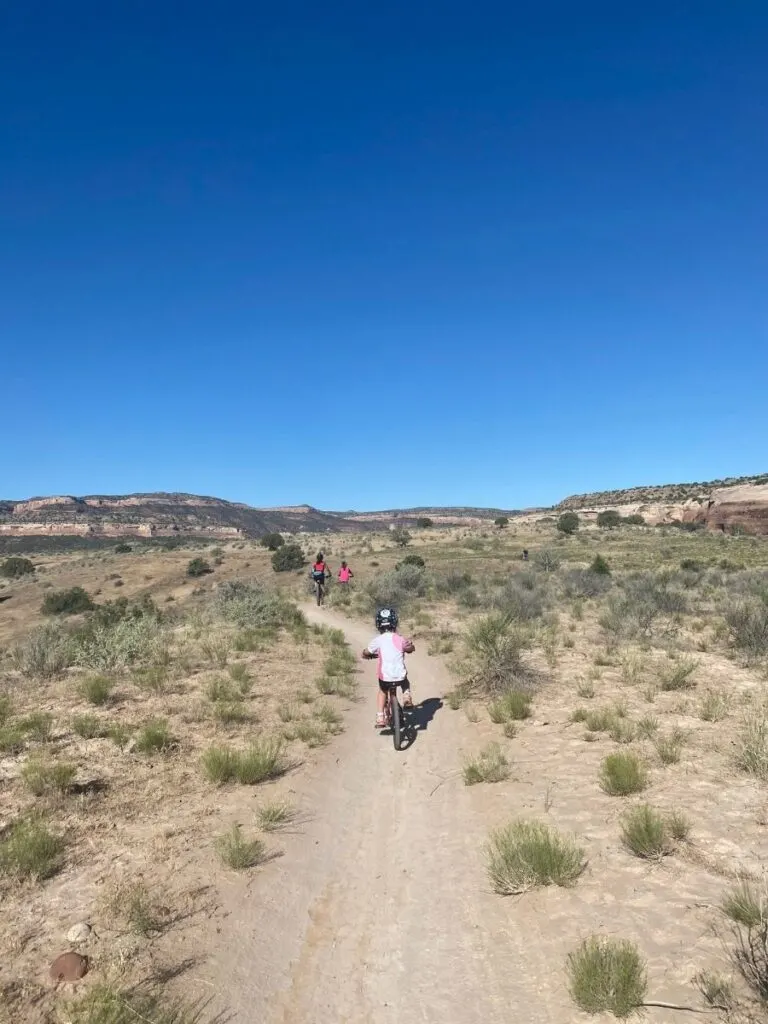 And just a reminder that biking with kids isn't all smiles – there's a fair amount of this, too! For some great tips on mountain biking with your kids, check out this post.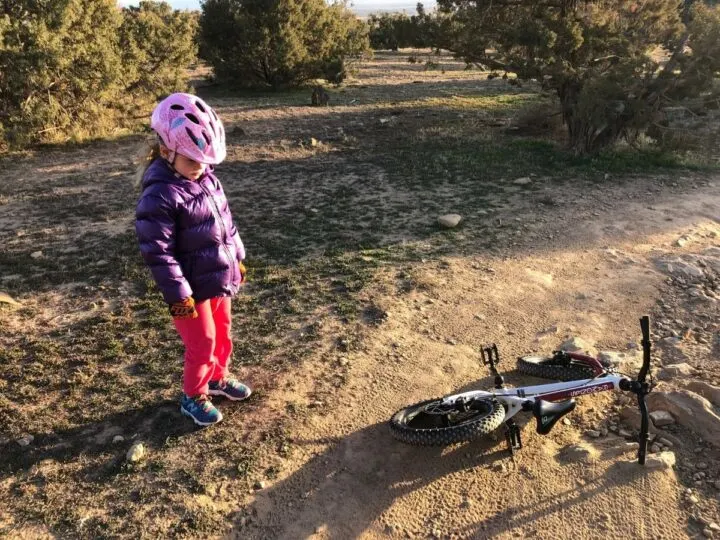 Related Articles:
The Best Kids Biking in Fruita
© 2022, Kids Ride Bikes. All rights reserved. Republication, in part or entirety, requires a link back to this original post and permission from the author.