Why kids should bike to school and how to make it happen
Kids biking to school can be both fun and liberating. It's also never been a better time to try. There's been an explosion of creative and practical kid's cycling products that have hit the market allowing your family to find the right perfect set-up.
No doubt bike commuting requires some planning, patience and perseverance. Add a few little kids to the mix and a short commute can make even the most devoted environmentalist hesitate.
My hope is to demystify and debunk your worries in order to help your family crack the commuting code.
As an Amazon Associate and member of other affiliate programs, we earn from qualifying purchases.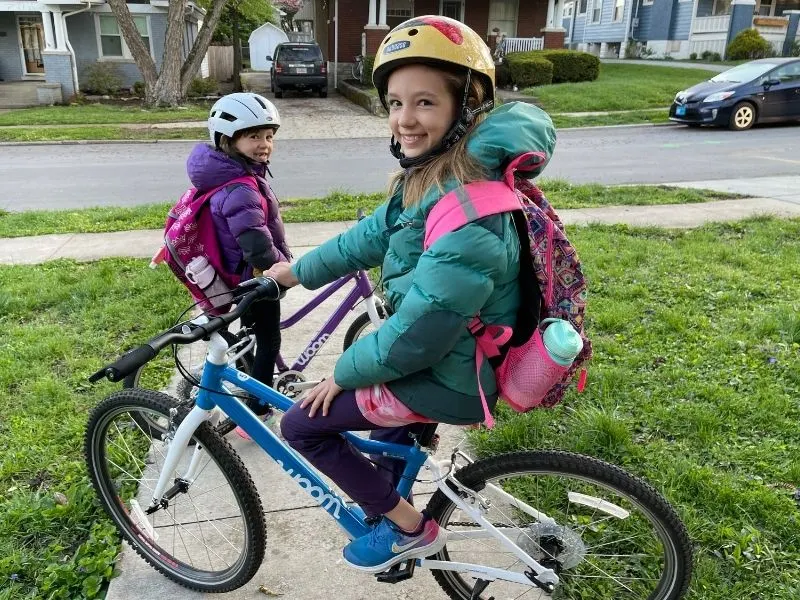 Commuting on bikes with kids
There are many stages commuting with kids. I've gone from pulling both kids to pulling one and chasing one to allowing my eldest to lead while teaching her little sister the rules of the road. Each stage might require different gear. It's a marathon, not a sprint. Take your time and enjoy!
Studies show that kids who bike or walk to school have higher concentration rates than kids who commute by bus or car.
Kids who struggle with attention and hyperactivity can benefit even more from an active commute. I've seen first hand how an active commute has increased stamina, attention and mood during school for our special-needs daughter.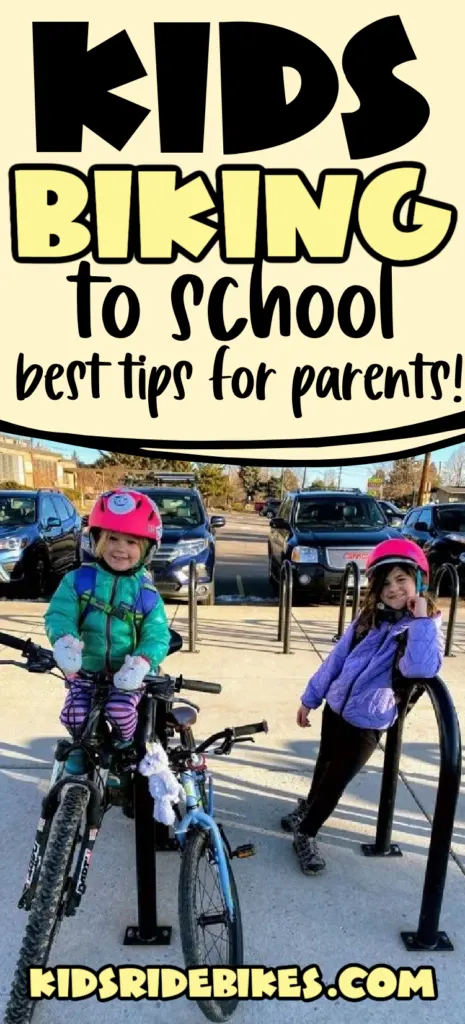 Start the day mindfully by riding your bike
In a car I'm paying attention to traffic and thinking about my day. I may be talking to my kids but I am not fully present. The old adage, "getting there is half the fun" doesn't really apply to car commuting but it sure does apply to bike commuting!
On a bike I am focusing on the kids 100 percent. I am looking ahead, listening and processing everything around me while simultaneously engaging and encouraging my kids to stay focused. By the time we arrive to school everyone's mind is up and running.
New to family biking? Check out our Beginner's Guide to Family Biking.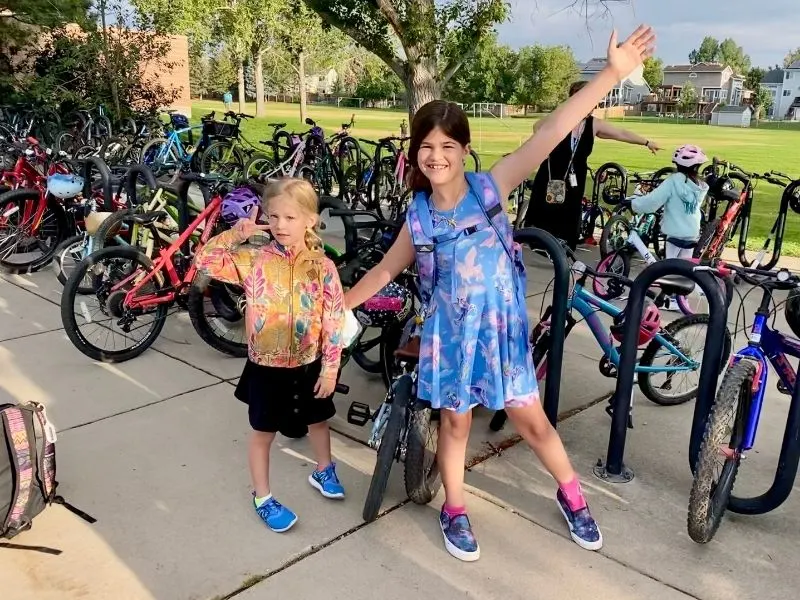 A few minuets of gentle peddling can transform even the most grumpy morning risers. It make take a few weeks to get into a routine but the results can be quite affirming.
In this post we will cover planing a good route, checking the fit and function of everyone's bikes and packing first aid, food, fix a flat tools, tubes and a lock.
Small steps like making sure everything is packed the night before can ease the burden of trying to remember everything as you're walking out the door. Once all the bike equipment is packed and the bikes have been inspected, it's just a matter of remembering backpacks, food and water.
What age can kids start riding bikes to school?
Start Young and Keep it Fun
My eldest started on training wheels and didn't pedal till she was 5.5 years old. This meant she rode in the trailer for several years when she could have been scooting and learning.
We highly encourage using a balance bike from the start as training wheels delay development and impede a riders ability to learn to balance. Any bike can be made into a balance bike by taking off the peddles.
Practice riding to school on a balance bike. The more practice the better, also kids that scoot along first may feel more comfortable later when peddling the same route.
Have a reluctant rider? Check out this piece on what to do if your child struggles to ride a bike.
Plan your biking commute
When planning your route to school try walking/scootering it first, biking it without kids (so you can spot obstacles and distractions without a current distraction) and finally biking during high traffic times and if possible in poor weather. It's good to know if a section gets flooded or has a lot of exposure.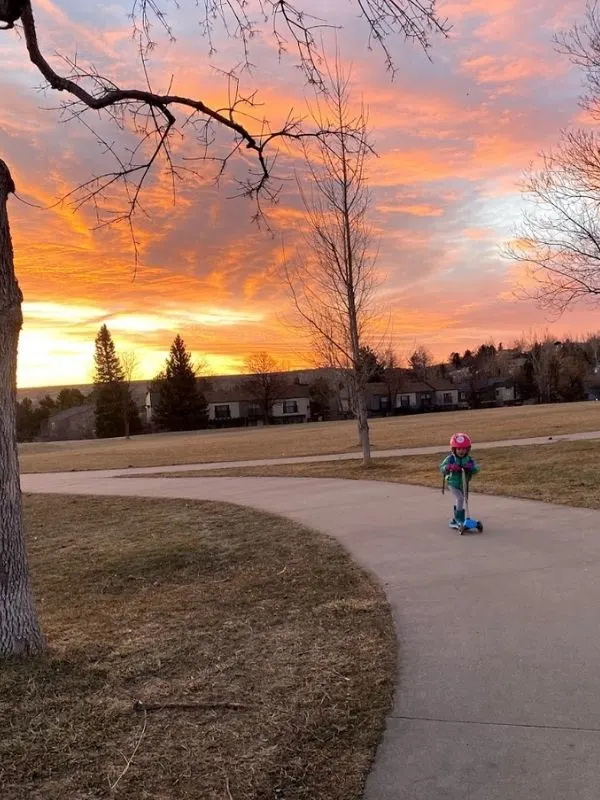 Use Apps, City Maps and Crowdsourcing
Opt for quieter side streets, green belts or multi-purpose paths and guarded bike lanes when possible. Make sure wheel and tire size matches terrain difficulty, fatter tires are more helpful in snow and sand. Consider changing tires with the seasons if ice/snow is an obstacle.
Often I will find great alternatives to the main road when I'm scouting a route that can't be spotted on a map. I start with google maps as well as look where others have biked on Strava, MapMyRide and Bikemap.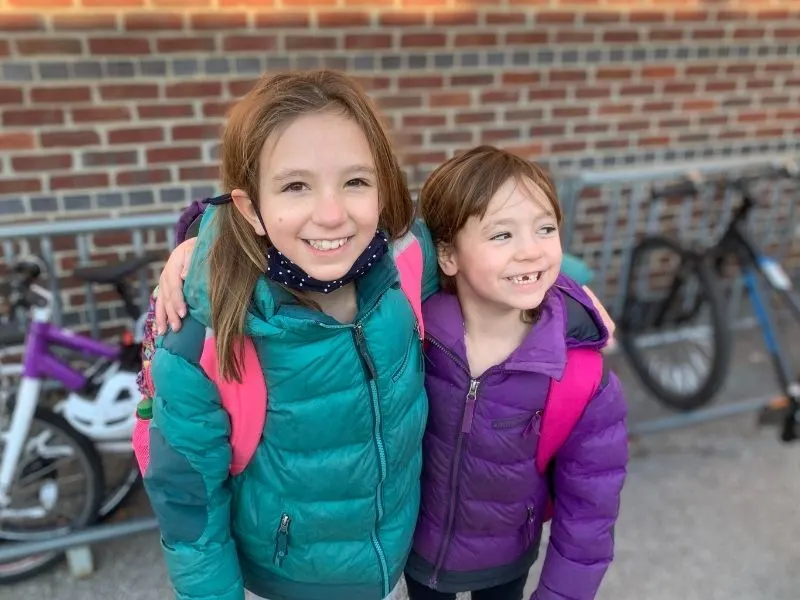 Don't be afraid to tap into the wealth of knowledge from other cycling parents. Several months into our commute we heard about a underpass that cut out the most dangerous crossing on our journey. The kicker was that the bridge wasn't on any bike path nor was it near a main intersection.
Check out local bike maps and find local Facebook groups focused on cycling families. These groups offer great suggestions, opportunities to score free hand-me-down gear as well as grassroots advocacy for safe cycling.
Biking to school takes longer so plan ahead
Our school year commute often looks like arrive 30 mins early on the first day and 10 mins late on the last. I've never had an administrator tell me off for being late because we biked/walked to school. My kids arrived rosy cheeked and ready to learn.
I do my best to leave plenty of time and often encourage my littles on cold days with a hot cup of hot coco at the halfway point. If we have a bit of extra time we might search for a nearby geocache or check out the turtle at our favorite pond. I hear Pokemon Go is also a great game to play while riding.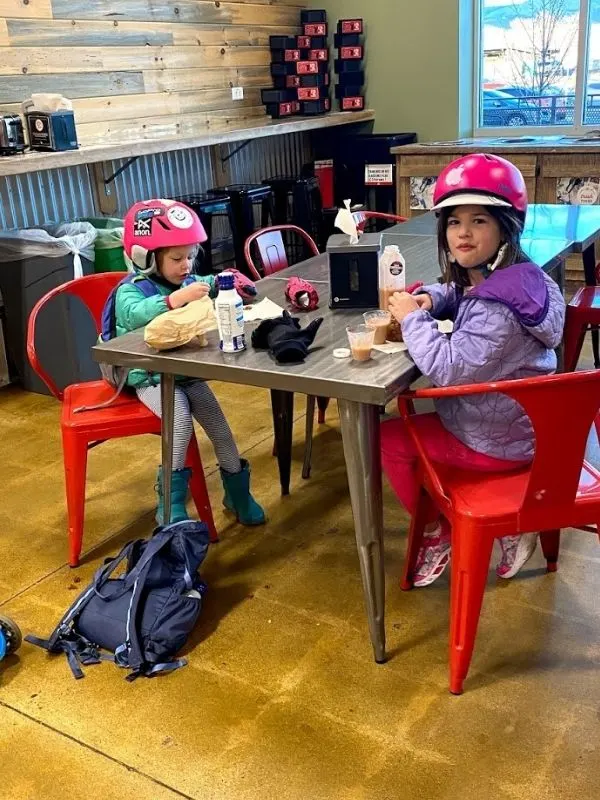 Help promote safe biking to school
If biking safely to school isn't a possibility, problems might be addressed by the National Safe Routes to School Initiative. Your concerns may lead to safer routes to school for several children and greatly benefit your community.
At the very least park a few blocks away and walk or bike a little with your kid. This slow transition from car to school is still beneficial.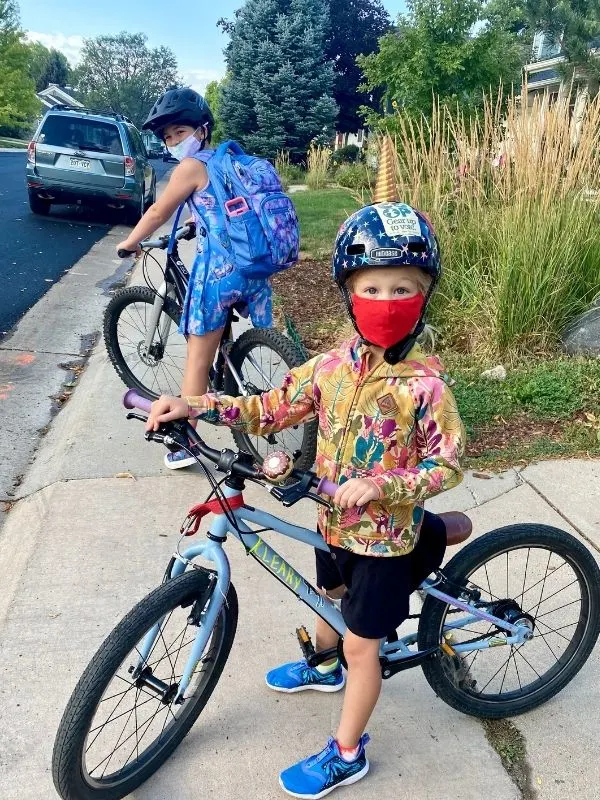 Check with your school about reward programs for active commuting. Even better get your school to offer a rewards program.
Create A Safe Ride
Add fun reflective stickers to helmets and bikes, wear hi-vis vests, arm and leg straps. Bright clothes, blinking lights, flags, and hoops are all ways to make you and your little commuter safer.
Do what you need to do to be seen. Use an old hula hoop or noodle so cars have a visual of how far to stay away.
My girls love to bike in tutus and jewelry, have you seen our Raising Girly Girls in the Great Outdoors? Just be careful of loose clothing and always wear closed toe-shoes. Preventing injury is 70 percent of the game.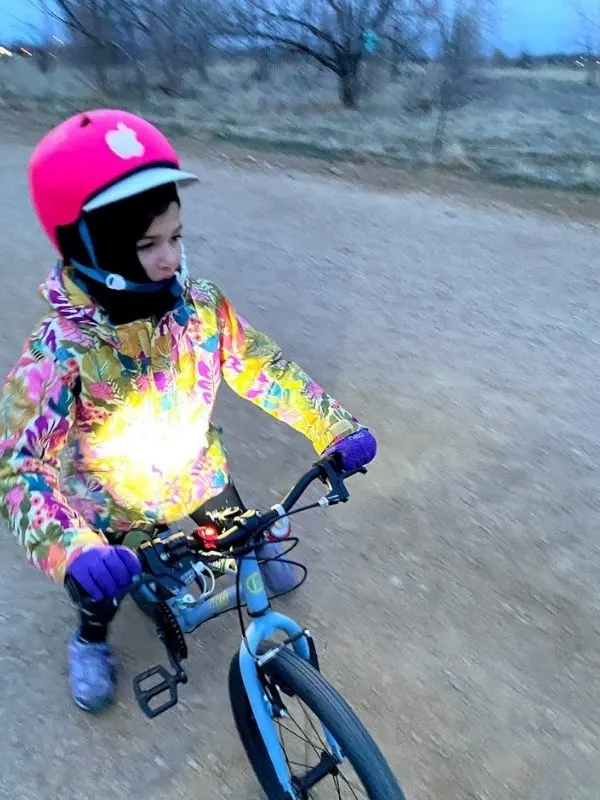 Teammate, Jami has written a great post rounding up our team's favorite Bike Accessories for Kids.
Teammate Ginny's son, River loves these bright Walmart lights on his bike. He can easily be seen from the side as opposed to front and rear light systems.
Most importantly, Helmets are NOT optional! Need a little encouragement getting your kid to wear their helmet? Check out my Girly Girls Guide to Blinging Gear. There's accessories for the boys in there too.
Here's our list of best bike helmets for kids.
Our favorite all time bike accessory are our Helmet Flair horns. These rad magnetic horns transform any helmet into cool kid status. Use code "MTNMAMA" to save 5%.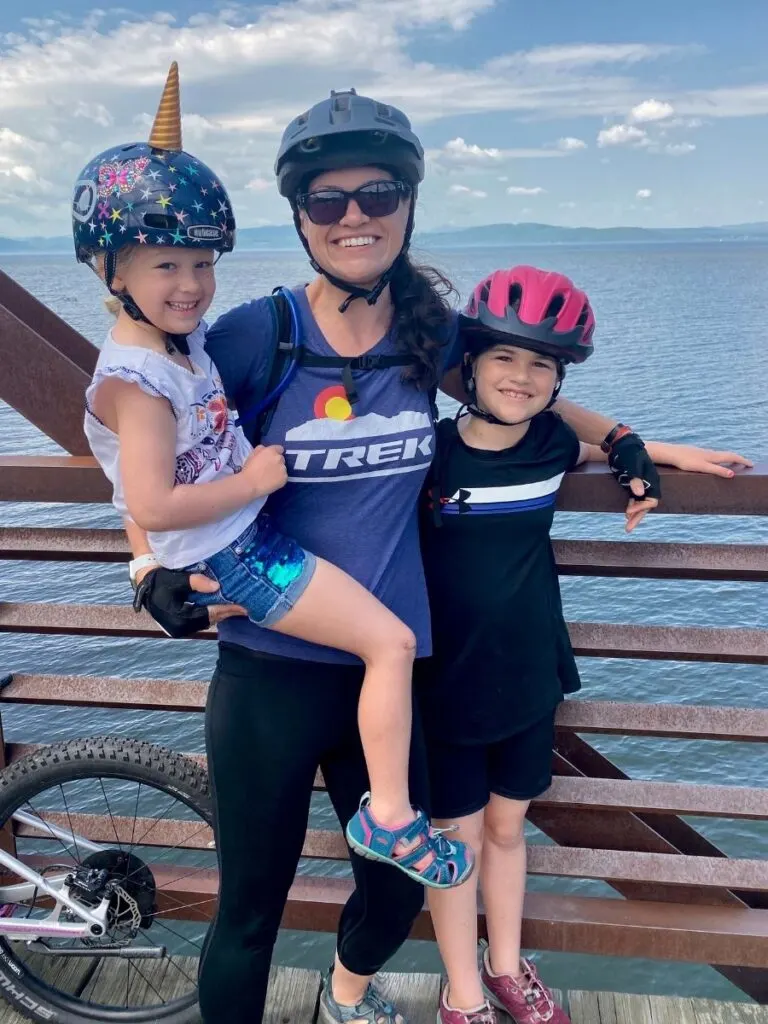 Form a Bike Train
There is always safety in numbers, if you are nervous tag team with another parent. Have one lead and one "sweep" monitoring from behind. We did this enough that my eldest knows how to lead now. I do the sweeping. Some parents feel more comfortable leading and letting the eldest kid sweep.
Learn The Rules of The Road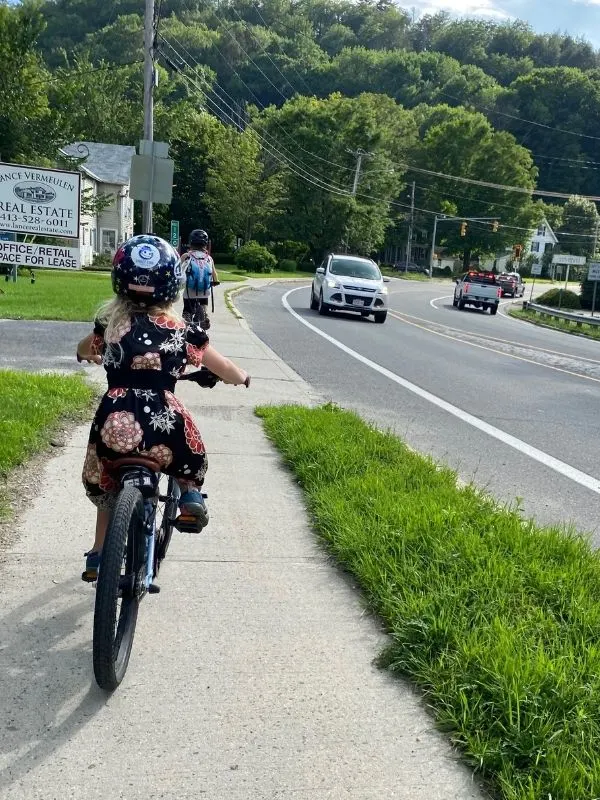 Eyes and ears focused on the road. Watch for cars.
Yield to pedestrians.
Ride single file.
Ride on the right.
Take caution at intersections, crosswalks, alleys and driveways.
Make Inspection Part of the Routine
Teach your child to preform a "ABC check" every time they ride. ABC stands for checking air pressure, squeezing brakes and inspecting the chain.
Teaching your child to clean and maintain their bike fosters a sense of respect and ownership. These skills lead to more independence and lifetime freedom.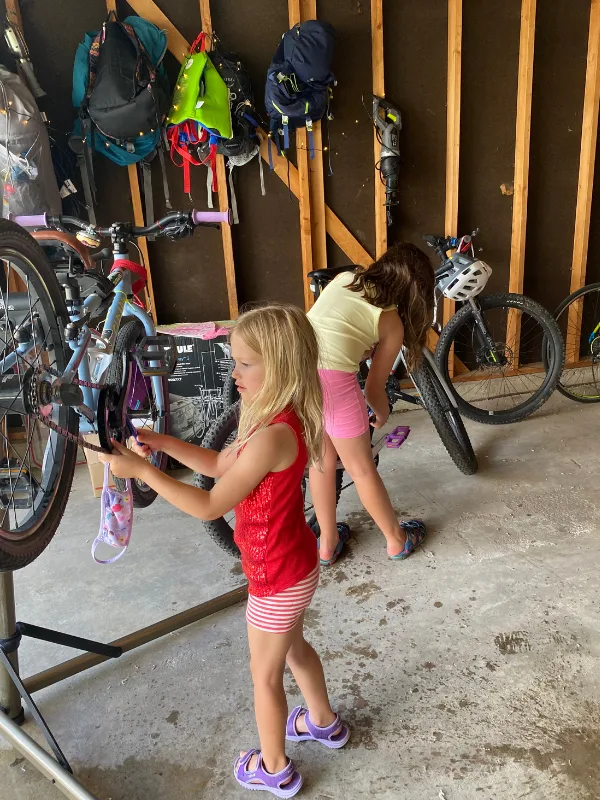 Team mate, Valerie has written a great post on Bike Maintenance for Families. Faulty maintenance can impede the safety of your kids bike.
When in doubt, have it checked out. I've accidentally put the spring coil backwards on the axel of my kids front wheel making the wheel loose and dangerous. I was grateful when a mechanic pointed out my mistake. It's always a great idea to have a second set of eyes.
Invest in the Right Gear
An ill fitting bike is recipe for disaster especially for a kid. A too big hand-me-down will overwhelm and discourage your ride. Shift through all the gears and check for rust and cracks.
The possibilities are endless when it comes to adding kids to your bike. We bought and sold a few tandems, trailers and tag-along bikes along our commuting journey. I am often able to sell a piece of gear exactly what I bought it for second hand.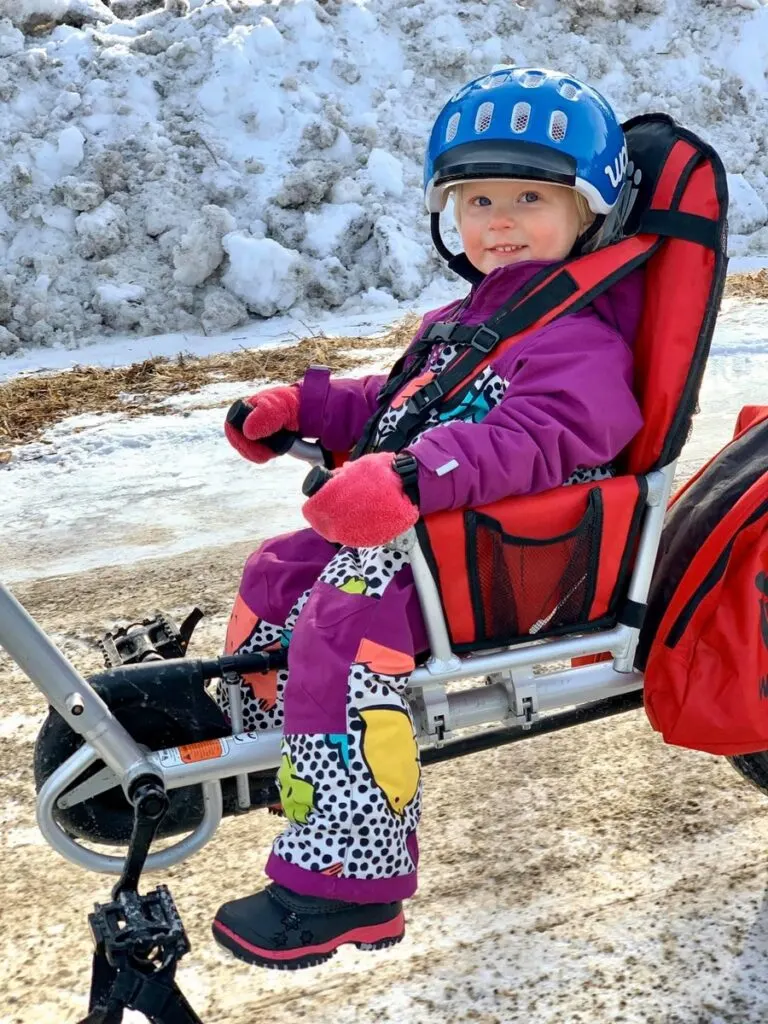 Local shops may offer a chance to rent a long-tail, electric cargo or bakfietsen (big bin for multiple kids up front). Handling on these bikes can be tricky so testing out whether you like the feel of the ride is a good idea.
Pro-tip: Put the heaviest kid closest to the rider for greater stability.
Check out our guide to cargo bikes in our post Another Way to Bike with Kids.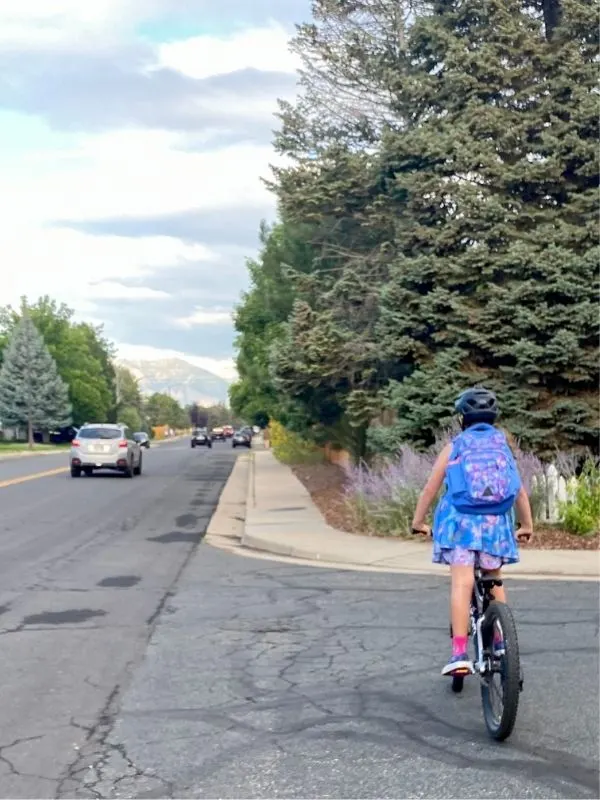 We've reviewed a few baby bike seats including the DoLittle Kids seat, the Burley Dash, and I have had great success with the Thule Yepp Maxi.
Don't Forget a Patch Kit and a Lock
Flats are inevitable when commuting. Always bring a portable tire pump, a tire patch kit, tire levers, and a spare inner-tube (for each size bike). My kids carry their tubes strapped to their bike and I carry the tools.
If tire size allows consider going tubeless or replacing tubes with ones filled with slime (reducing chance of a flat).
Register bikes with the city or police department and always lock up bikes when not in use. If possible thread lock through both wheels and the frame.
The thinner the lock the quicker/easier it is to clip. Check out this video on how to prevent bike theft.
Put Mini First Aid Kits in Each Bag
We use several store bought first aid kits with extra bandaids. I try to keep a small one in each of my main backpacks (school, cycle, hike). This year both kids requested their own mini kit with bandaids, clotting spray and wound wipes. Teammate Rita wrote a great post on what should be in your first aid kit.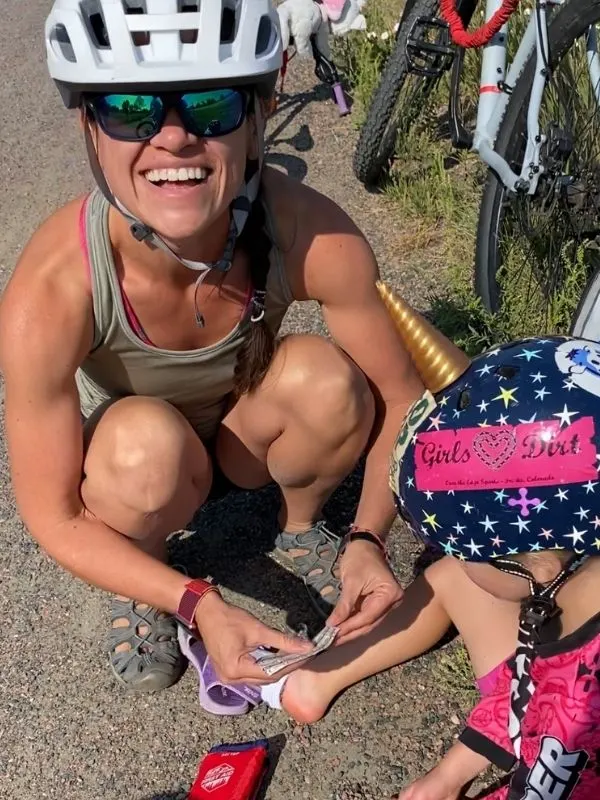 Little legs can't keep up?
If your little biker isn't ready to stay focused and ride safely near traffic, attach their bike to yours with FollowMe Tandem or a tow bar like the Trail Gaitor or our favorite the Burley Piccolo. We've found these options are better for preschoolers as the drag of the trailer is heavy and cumbersome and kids can't be heard as well from a trailer.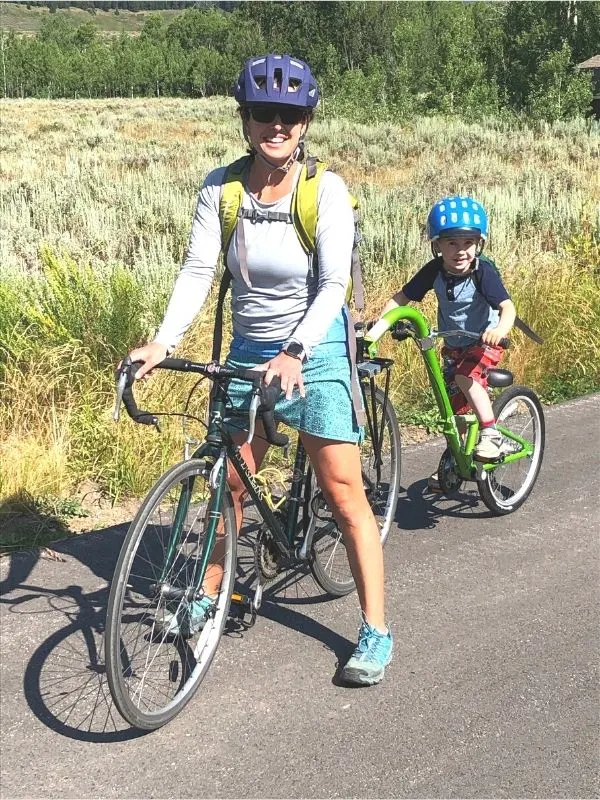 We love our Towhee and have used it to pull a 3 year old up hill to school. It's fine if you're only going uphill and your kid listens carefully to starting and stopping together but hooking and unhooking the rope is cumbersome if you are heading downhill or negotiating street crossings. It is very light and easy to store however.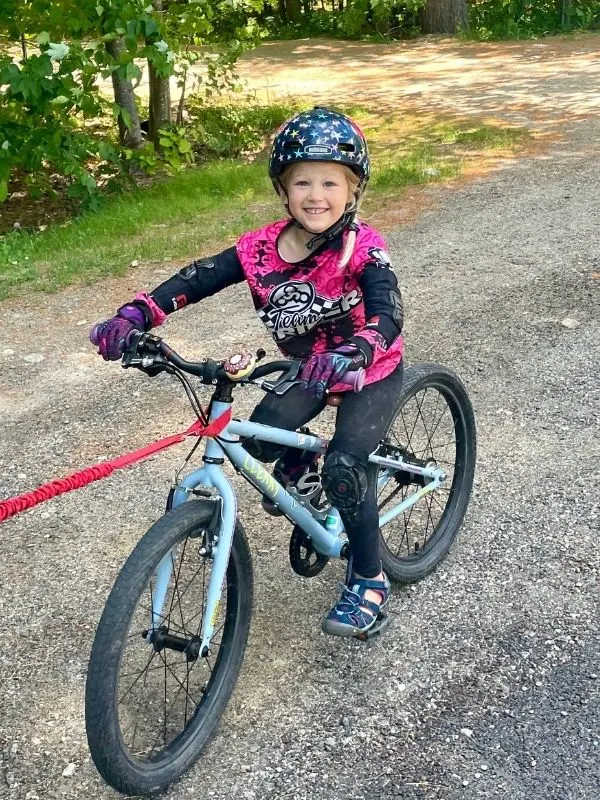 Either way, practice towing when not commuting first. Towing a kid takes some practice for both parent and kid. Start on grass and offer clear directions for your child to follow.
We use climbing commands. Ari on tow. Rider ready? Ari ready. Mommy biking. Ari biking. I then might need to remind her to stay right behind me. Finally, Mommy coming to a stop. Mommy stopping. Ari stopping.
The Follow-Me Tandem offers a stiff attachment between parent and child bike (up to 20″ tires). This is a good option (though pricey) if you want to tow you child closely through traffic.
Bike trailers help haul a ton of gear too
You don't need a baby to justify owning a trailer. Having a trailer is incredibly helpful even if you child has grown out of it. A trailer can easily carry backpacks, snack, water and if absolutely neccesary an injured kid.
Here's how to choose the right bike trailer for your family.
Amelia wrote a great review of the Burley Flatbed Cargo Trailer, this is a great option if you hope to haul large items (like coolers, sports or music equipment) on a super light bed.
Have a backup plan to your backup plan
What happens if we need a car? If we have commuted by bikes and an emergency arises or someone gets sick, we have a few options.
Our first is to call the other parent or family with a car (and hopefully a rack) to come get us. Another is to lock the bikes where they are and call an Uber to pick us up.
Having a back up bike for both kids and parents is very helpful in case unexpected mechanical issues arise or a bike is stolen. Thrift shop bikes are fine for this purpose as long as they are safe to ride.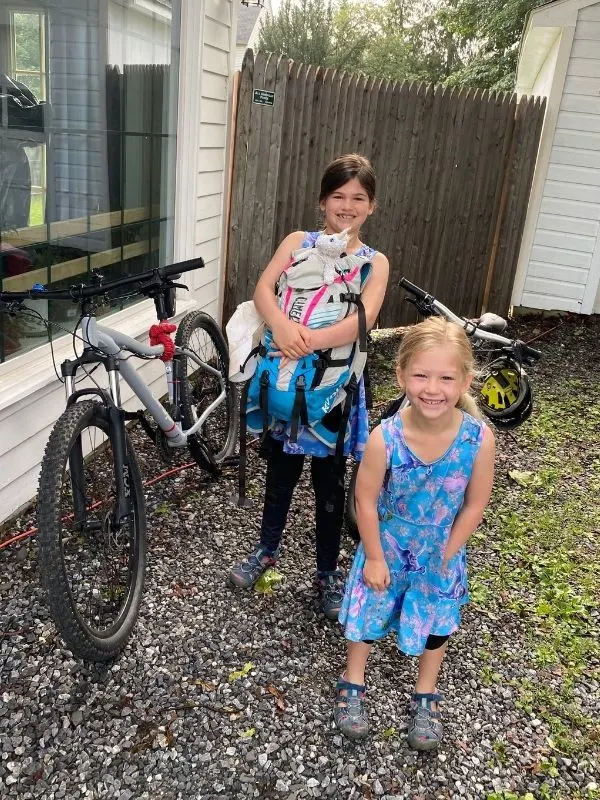 Celebrate that milage
My kids biked and walk to school all year with the exception of a few freezing rain/icy days and a few sick days. It came out to about 200 miles just commuting (double that for me), not bad for 3 and 6 years old. I can't wait to see what we accomplish this year!
It's practice not perfection. If you manage to active commute even once a month we still celebrate with you. Each ride is a step closer to creating life long habits of wellness and sustainability. Each ride is a step closer to understanding what set-up, route or routine works for your family.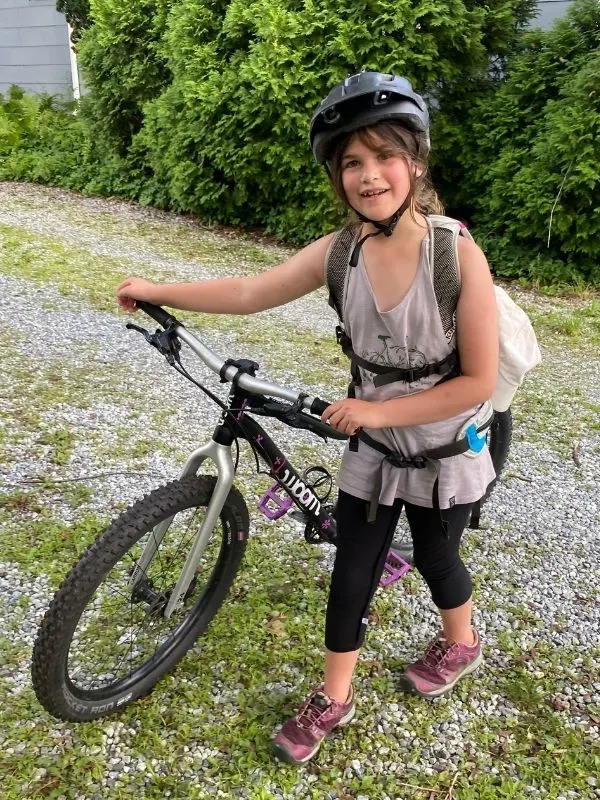 Where to take kids biking
As we become more comfortable biking as a family we have been able to explore new places on our bikes. My kids are now comfortable biking around busy traffic, can follow directions and understand the rules of the road even in a new city or country (look up bike etiquette for new country).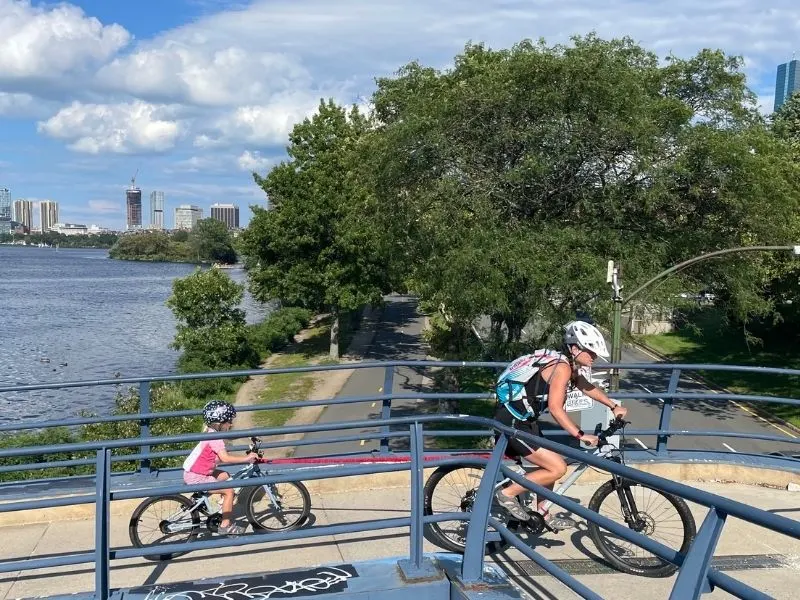 I get it, biking commuting with little kids can feel overwhelming and impossible. Small steps, lots of snacks and lots of patience go a long way. Just keep trying, you will find your rhythm.
Bike commuting gives kids independence while building the skills to be safe and responsible young adults. The goal is to plant seeds of independence, sensibility and stamina each day till then.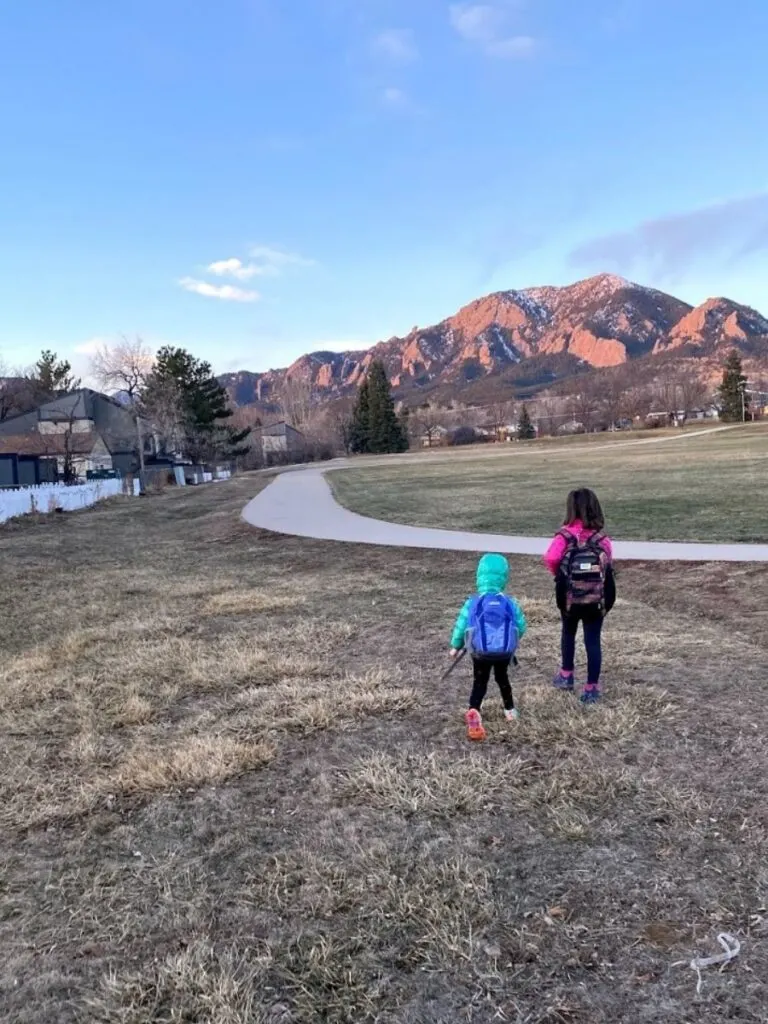 © 2021, Kids Ride Bikes. All rights reserved. Republication, in part or entirety, requires a link back to this original post and permission from the author.