Frog 40 Bike Review
We recently tested Frog's smallest pedal bike, the Frog 40 (14 inch wheels). Thanks to balance bikes, kids are ready for pedals younger and younger these days. And small kids need small, lightweight bikes to learn on. Luckily several companies have stepped up to the challenge, giving you lots of great options.
The perfect first pedal bike
This little Frog was perfect for our 3.5 year old's first real pedal bike, and I definitely recommend it! It's so light, well built, and easy to ride; he's really taken off and had great success on it. It seems pretty efficient for how small the wheels are, and he's able to ride 3-4 miles at a time with little fatigue. Plus it looks like a 'big kid bike' which he thinks is important.
Frog Bikes
Frog bikes is a company out of the UK, but thankfully Ready Set Pedal has them available in the U.S. They're thoughtfully designed, lightweight, and great quality bikes for kids. If your kiddo has mastered the balance bike and can use (or is ready for) hand brakes & pedals (more on that here) , this bike is a great tool to progress on two wheels.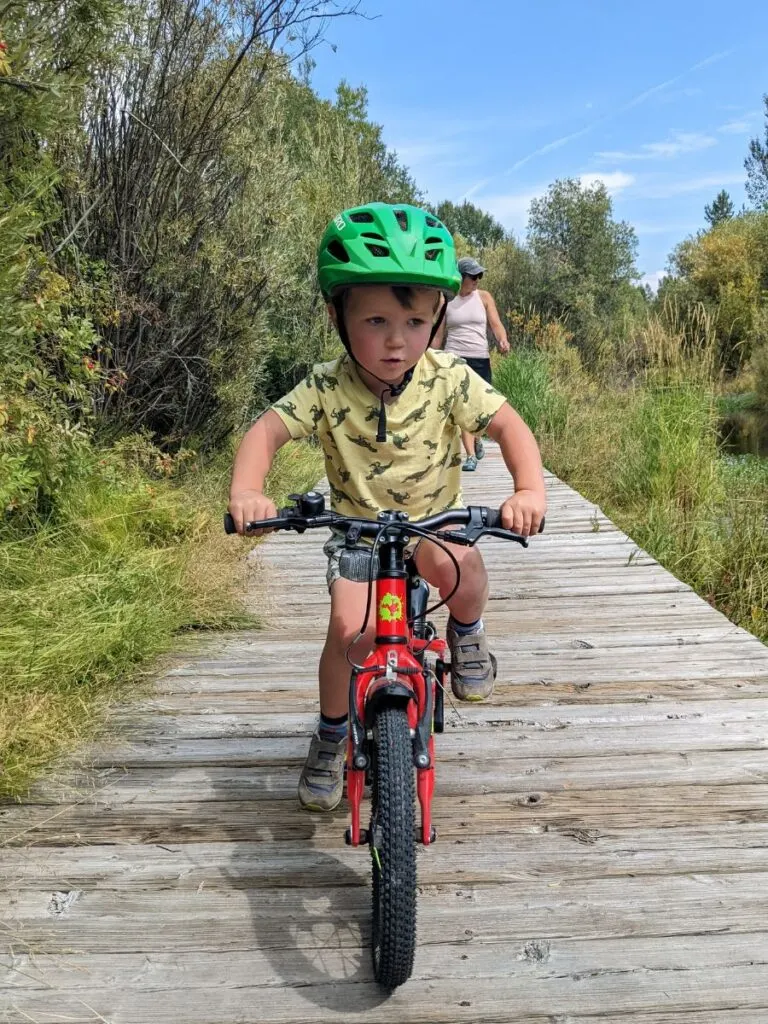 As a member of affiliate programs, we earn from qualifying purchases.
Our Favorite Key Features
Lightweight aluminum frame (14.2 lbs!)
Comfortable child specific geometry and design
Reduced Q factor for efficient pedaling
Knobby Kenda tires
Two adjustable hand brakes
Freewheel (free coaster brakes available upon request)
Safety Steering lock to prevent over steering accidents
Mud guards and bell included
7 fun colors to choose from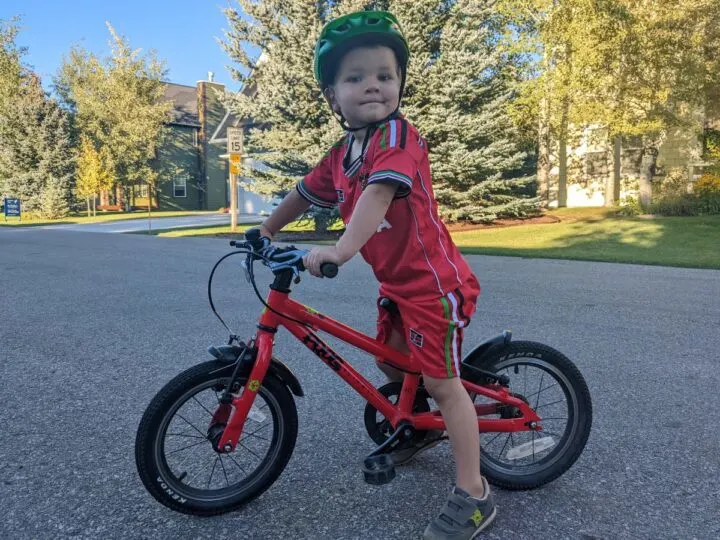 Frog 40 Sizing Specs
WHEEL SIZE
14″
RIDER HEIGHT
34″ – 42″
RIDER AGE
3 – 4 years
MINIMUM INSEAM
(Beginner / Experienced Rider)
16.0″ / 14.5″
SEAT HEIGHT
16.5″ – 19.5″
STAND OVER HEIGHT
14.5″
BIKE WEIGHT (with Pedals)
14.2 lbs
Make sure to measure your kiddo before buying to make sure it fits!
Lightweight Frame
If you're only 35 lbs, you probably won't have much success riding a 30 lb bike, which is common for big box store bikes. And while they might have Batman decals, those bikes are just plain hard for tiny kids to ride. The Frog 40 is nice because it's barely 14 lbs, which is much easier to handle for a 3/4 year old kid. Our little rider can fly on this lightweight frame, and the neighbor kids like to borrow it for the same reason.
Child Specific Geometry
With a stable and adjustable wheel base, 420 mm width riser handlebar and 102 mm crank arms, this bike is comfortable for kids. Frog also includes their house designed child specific (adjustable) saddle, sized for tiny hips. Our kiddo seems very comfortable on this bike. Not too stretched out, but with plenty of cockpit room to pedal and turn without bumping knees and elbows.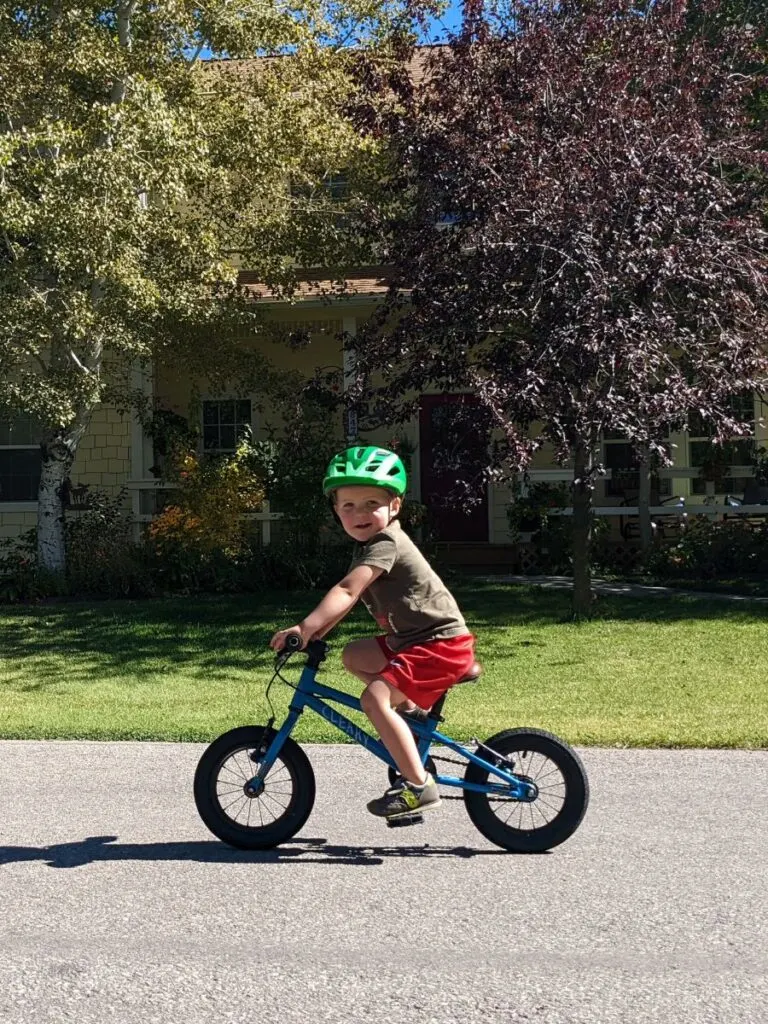 Compared to other tiny bikes, I'd say the Frog is closer to a mountain/cross country bike style geometry. For reference, the Cleary Gecko geometry (12 inch bike, pictured on the far left) is definitely more aggressive and suited for very confident riders, and the Woom 2 (14 inch, pictured on the far right) is very upright, ideal for timid riders. I'd say this bike is right in between the two. My 3 year old rider is also right in between those two styles, so this bike was perfect for him.
What's a Q Factor?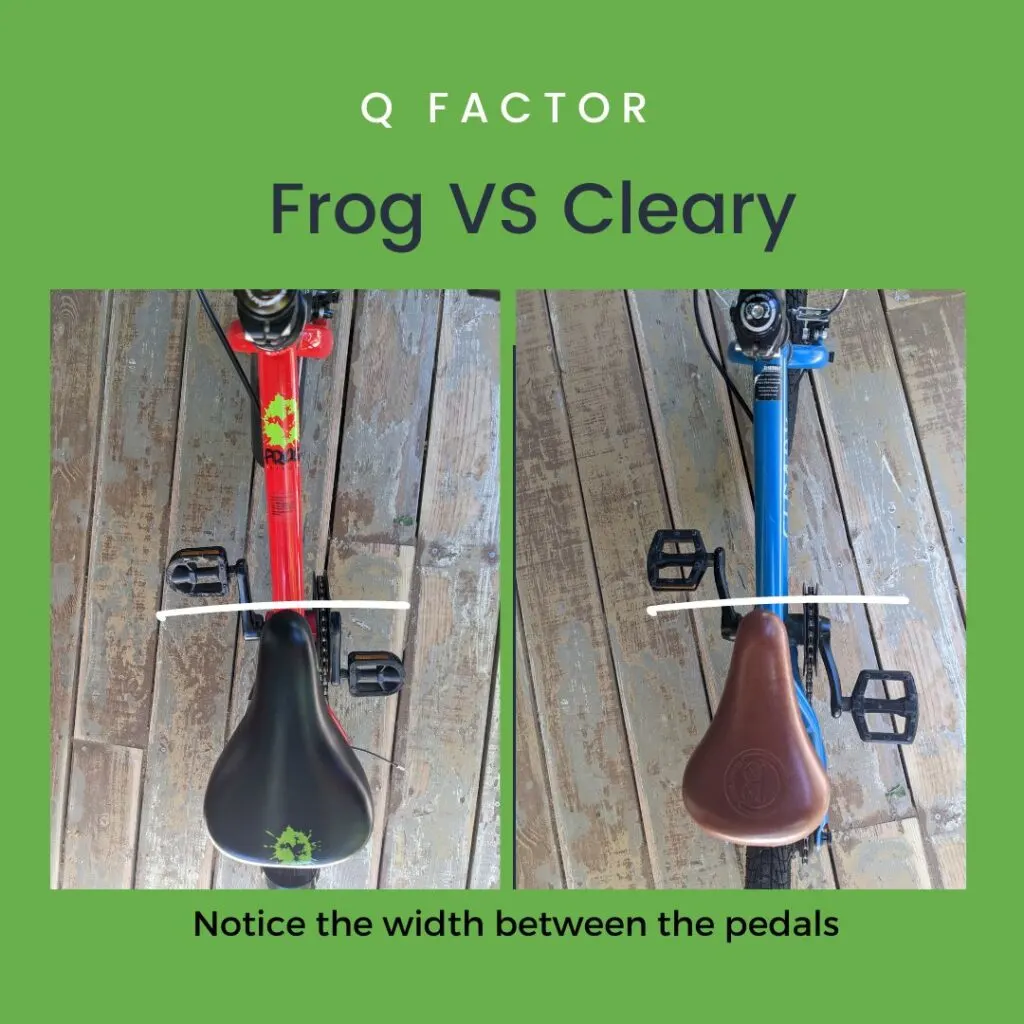 From their website: "Frog bikes are easier to pedal due to a unique crank design that reduces the Q-factor (the space between the pedals), allowing kids to push more directly down when cycling, thus converting more of their energy into motion."
This basically means the gap between the kids feet is narrower, making pedaling more efficient. Some bike brands, like Cleary, intentionally make their Q factor wider, believing this gives the child more stability in aggressive terrain, but the pedaling is less efficient with the wide stance.
Our kid has ridden both brands and there is a noticeable difference in his pedal power with the Frog vs. the Cleary. He goes further and faster on the Frog, which is nice for neighborhood riding with the family.
Tires/wheels
Most of the 'first pedal bikes' are 12-14 inch tires, with similar frame sizes. The 14 inch wheels may last a bit longer for this short stage of biking, as well as being able to roll over rocks and roots a little easier than a 12 inch wheel. In fact, unless your kiddo is a small but skilled 2 year old, 14 inch wheels might be your best bet. But as always, measure your child and check the bike specs to be sure.
Some parents, including myself, can be guilty of trying to rush kids to pedal. But if your kiddo is happy on their balance bike, don't put too much pressure on them to transition. Like anything else in the toddler/preschool years, you'll have more success if their progression is internally motivated.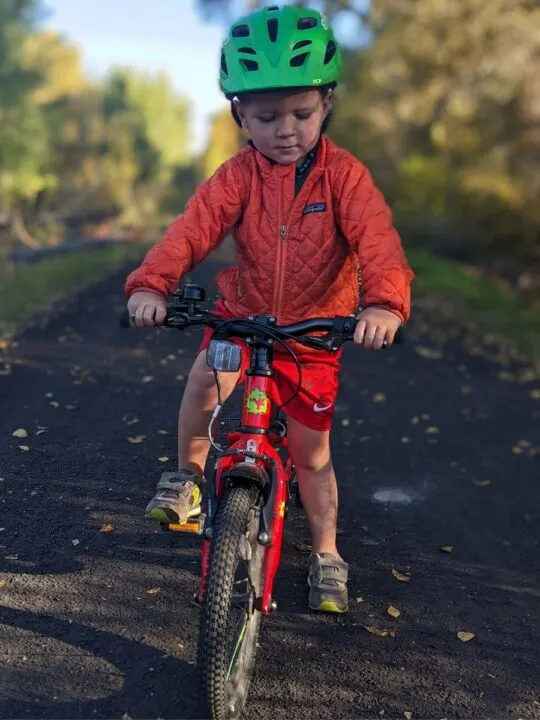 Frog has included knobby 14X1.5 Kenda tires with the bike, which provide decent traction on most any surface. They seem to be a kind of a do-it-all tire, and we haven't had any issues with traction. They are wide enough to provide stability, but comfortable on pavement. Our kiddo rides through dirt, grass, and mostly pavement and they've suited him just fine.
Safety
The Frog 40 is equipped with 2 hand brakes that are adjustable for little hands- high quality and responsive Tektro V brakes. Be sure to take some time to help your little one learn how to safely use hand brakes. We've got some great tips here!
Freewheels matter!
I love that it comes with a free wheel (this means there are no pedal brakes). It is much easier for kids to learn pedaling when they can push the pedals forward and backward while they figure out how everything works. Our little one is always spinning his pedals backwards, and I'm glad that doesn't slam his bike to a stop every time he does it!
The Frog also comes with a steering limiter (safety steering lock), which helps new riders not to over steer when turning, staying in control and preventing accidents. It doesn't seem to inhibit more experienced riders, which is nice.
Sizing
This bike is small. Inseam ranges between 14.5-16 inches depending on the rider. If you have a first timer or beginner rider, you'll want their inseam to be closer to 16 inches, so their feet can be flat on the ground. For more advanced riders, a minimum inseam closer to 14″ is fine, because they'll only need their tip toes to reach the ground. Think 3T or 4T clothing, but measure to be safe.
It is important to note that typically 12-14 inch bikes don't last more than a 1 to 1.5 years before kids grow out of them. However, it's also the most important time to invest in lightweight bikes. When your kid is small and just learning, it matters a little bit more to have a nimble and appropriately sized bike that helps them build confidence and skills.
Adjustable sizing for longevity
One nice thing about the Frog bike, is the sizing can last a bit longer than your typical 14 inch. You can make the wheelbase longer by adjusting the bolts in the rear, and move the seat forward or backward depending on rider height/reach.
However, kids grow fast, and if you keep it in good working order, the re-sell value is decent. Quality bikes are generally a good investment that can be passed down or re-sold.
Fun Extras
The frog splat decals are a hit with my kids. It is also nice that Frog includes touch up stickers should the cute paint job get damaged. The included mud guards and optional chain guard, as well as several reflectors, convince me they've thought of everything. They even offer a high quality kickstand if you want one. It's such a fun and cool little bike!
What we don't love about the Frog 40
We actually love just about everything about this little whip. I do wish it had quick release levers on the seat post (as opposed to bolts). With little kids growing in size and skills, (and kids borrowing/passing it around) the seat post needs to be adjusted pretty regularly, and it's annoying to have to get out a tool every time.
Pricey$$
My biggest issue is that the Frog 40 bike is expensive. At $430, it feels a little painful to spend so much on such a tiny bike. In fact, it is more expensive than both the Cleary and the Woom that I compared in this article.
As I mentioned earlier, it will hold it's re sell value, and can be passed down to likely several kids. If you are really passionate about family biking, and want to give the youngest rider a great learning experience, you will probably decide it's worth the price. And if you're flexible and thrifty, look for a used one!
Other than that we haven't had any complaints about this bike. It feels durable and functions just how it should. Things are easy to adjust and maintain, and unlike some big box store bikes, if things do break, they're very fixable.
Rider Experience
Our son began using this bike when he had about 3 weeks of pedaling experience, so he was a true beginner peddler. He has enjoyed progressing on this little whip, and is now quite confident and comfortable riding varied terrain. He loves the bell and the hand brakes especially.
He rides mostly bike path to and from town and around our neighborhood, but at the dirt pump track it handles pretty well also. It is worth mentioning that my older sons and a few neighborhood kids also play around on it, and it's held up to their abuse, which speaks to its durability.
Bottom line- we love the Frog 40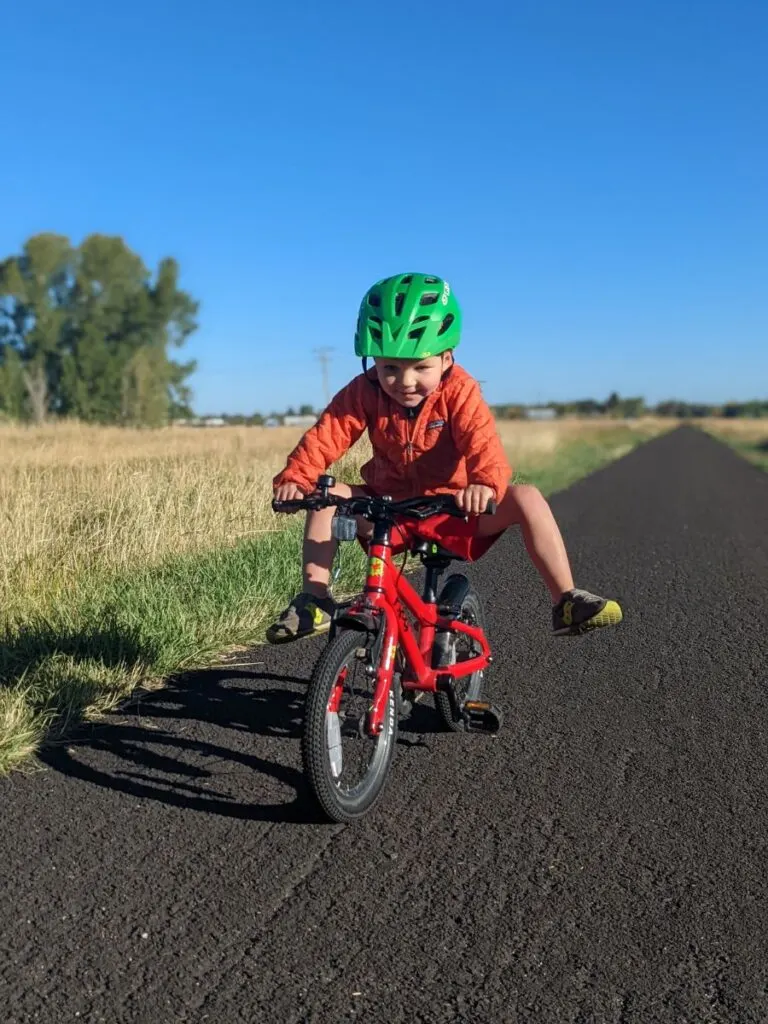 My kid loves this bike. He learned to ride on it very quickly, and we have not had any issues mechanically with it. It looks good, it's fun to ride, and more fun to see my little guy really get hooked on biking. He asks to go ride it first thing in the morning, and loves to show it off to all his friends.
We've loved being able to go on family rides and have the littlest kid be able to keep up on a bike that is sized just for him. Watching him gain independence riding around the block by himself has been such a joy.
As a family who uses our bikes daily, we love the high quality build, the lightweight frame, and the comfortable geometry. For cruising the local bike path and pump tracks, this bike is a great tool to get your preschooler to build life long riding skills.
Related Articles
© 2022, Kids Ride Bikes. All rights reserved. Republication, in part or entirety, requires a link back to this original post and permission from the author.