Family Biking in Bellingham
With temperatures moderate enough for riding year-round, some of the best dirt in North America, and an incredibly family-friendly mountain bike scene, Bellingham, Washington is hard to beat as a travel destination for two-wheeling families.
Whether your kids are just starting to use a balance bike independently or are leaving you in their dust on the regular, Bellingham is a fantastic spot to explore together on bikes.
For our best tips on teaching kids to bike, check out our Learn To Bike section here.
Getting Around Bellingham Trails
Before you head out on any rides, we highly recommend exploring the area on Trailforks. If you do a decent amount of riding outside of your hometown area, the subscription to Trailforks Pro ($3/month) is well worth it.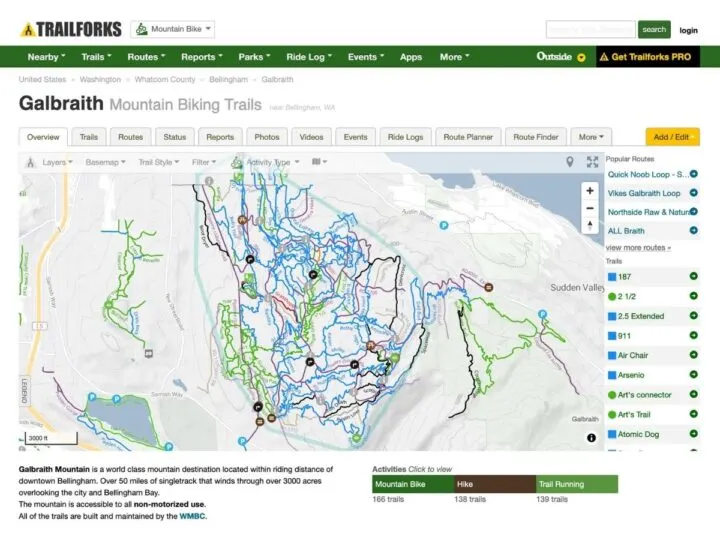 The subscription allows you to view trail maps wherever you go, download offline maps, and locate yourself in case you get turned around while riding in an unfamiliar area. It also has up-to-date conditions reports, lists of trail closures, and photos and videos of trails so you know what to expect.
If you prefer paper maps, you can support the Whatcom Mountain Bike Coalition (WMBC) by purchasing a paper trail map of Galbraith Mountain. WMBC does work year-round to maintain trails in Bellingham, and is a great organization to support if you want to say "thank you" for a positive experience biking in the area (donations are tax-deductible!).
Family Biking in Bellingham: Pump Tracks and Skills Parks
Pump tracks are tons of fun for riders of all skill levels, from beginning toddler balance bikers to older, more advanced kids who are looking for a challenge.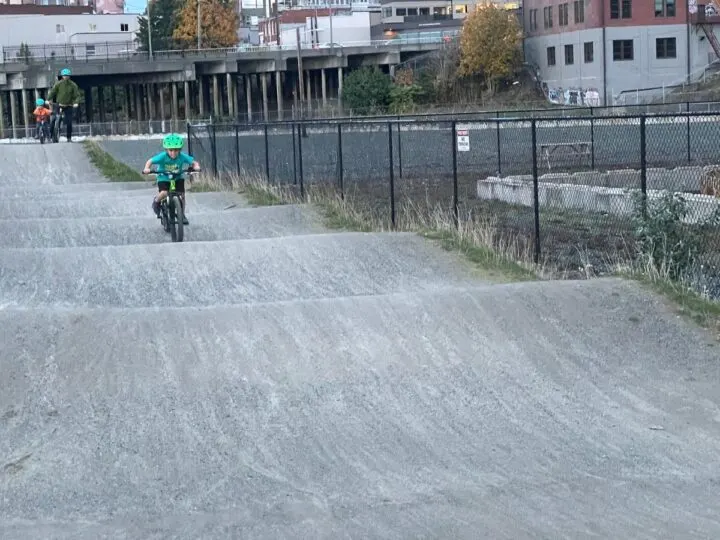 If you have kids who are at vastly different skill levels, this is a fun way to let everyone get in the kind of riding they want while staying together and having a central base camp for breaks and snacks.
This park is relatively new, and has quickly become one of the crown jewels of the Bellingham bike scene. Built on the site of an old paper mill, the track has been professionally designed and maintained and is so popular with biking families that an entire container village has popped up around it!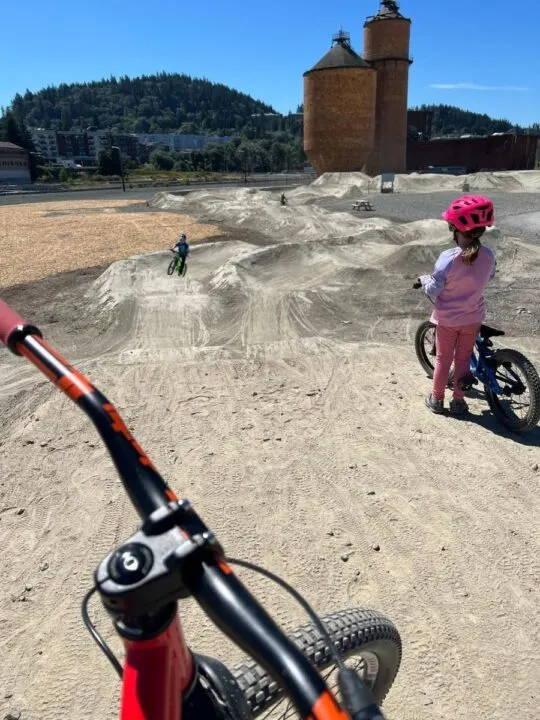 The pump track itself has several sections: a set of jump lines, a side-by-side racetrack, a more advanced jump and berm area, and a mellow kid-friendly straightaway. There is also a skills park area in the middle of the park, which consists of a network of wooden bridges and skinnies.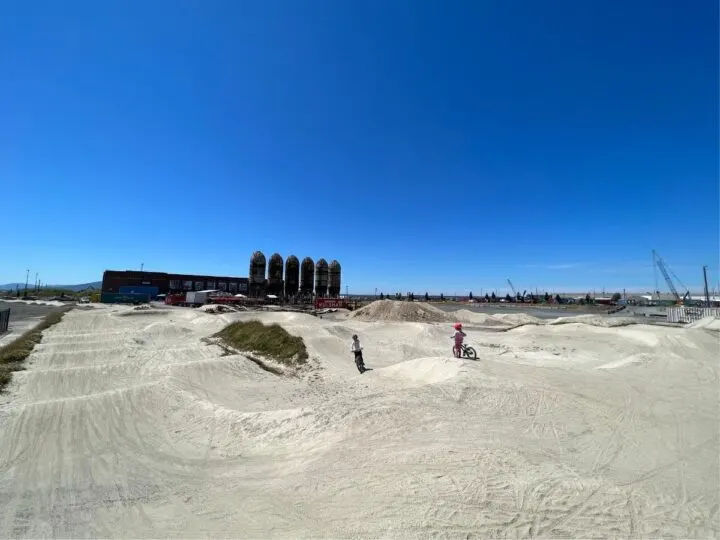 This is a great place to park your family for hours if you want a break from the trails or if you have younger kids with less stamina. There are restrooms, picnic tables, food trucks, and just across the parking lot next to the old Granary building is a small playground and rocky beach area.
The original Bellingham pump track gets much less use now that the larger track at Waypoint Park is in operation, but it's still a great place to practice skills and enjoy a change of scenery. Whatcom Falls Park is beautiful, and the pump track is located right next to a playground, basketball court, restrooms, and a well-shaded picnic area.
If you have young balance bikers, there is also a small circular toddler track that is separate from the main pump track which allows kids to experiment without worrying about them getting too many speed wobbles.
If it's especially wet or dusty, the asphalt pump track at Cordata Park is another great option for a morning or afternoon outing. If your kids are into more BMX style riding, there are also some more features on this track that are conducive to that.
In the summer (June 15 – September 15), Cordata Park has a splash pad that is open from 11am-7pm daily and is a great way to cool off.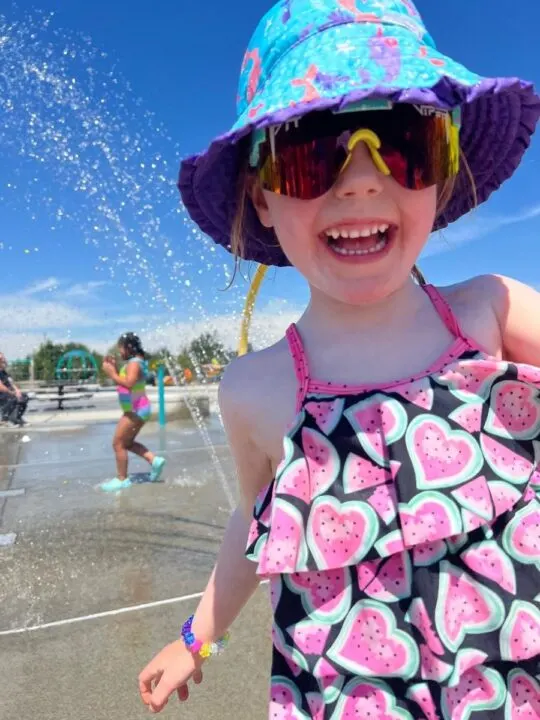 The park also has a picnic shelter, large playground, parkour area, and several loops of relatively flat gravel trails that are great for young kiddos still on single speed bikes.
Galbraith Mountain is an incredible playground for families of all skill levels, with a vast network of free, public access mountain biking trails maintained by the WMBC. Whether you prefer cross-country or downhill, flowy or technical, singletrack or wide open jump lines…Galbraith has it all.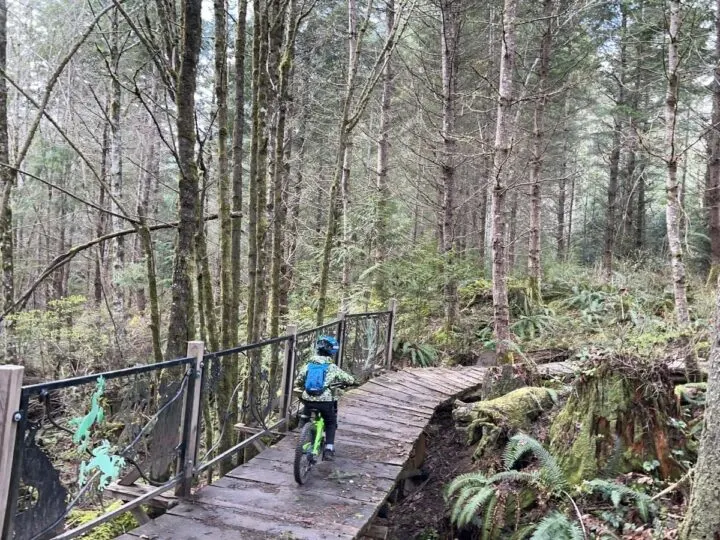 The trail network at Galbraith has evolved over several decades and is constantly adapting to the reality of existing in the middle of a working forest that is logged multiple times a year.
One thing you won't find on Galbraith, though, is shuttle access. So if you want to experience what it has to offer, you need to be prepared for some climbing (and be advised: e-bikes are currently not allowed on any of the trails or access roads).
Looking for a mountain bike for your kiddo? Check our all our Kids Mountain Bike Reviews!
South Side Galbraith Mountain: Best for Beginners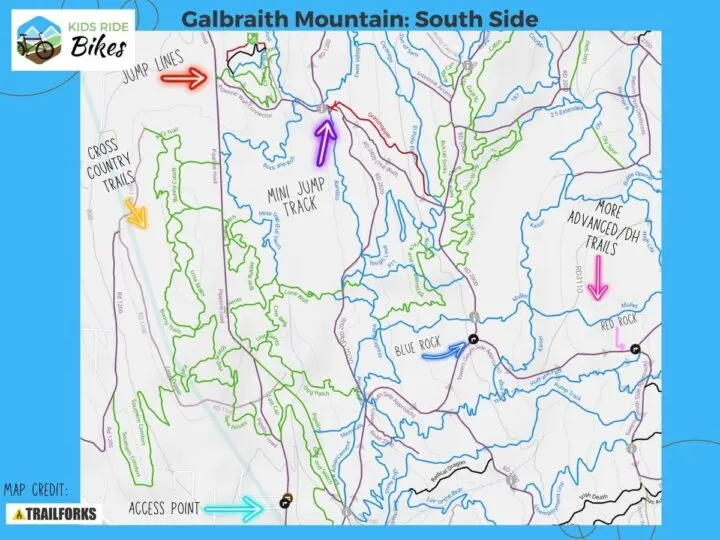 Parking and Trail Access
Especially with the recent addition of a significantly larger public parking lot in Spring 2022, the south side of Galbraith Mountain is definitely the most popular choice for family mountain biking in Bellingham. The new parking lot has over 140 parking stalls, but it does involve crossing a fairly busy road (Samish Way) onto Galbraith Lane.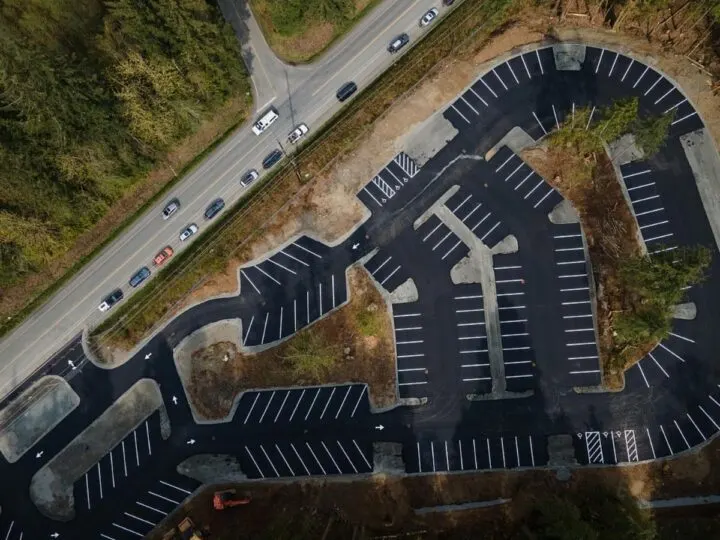 If you have smaller kids or want a more secure parking experience, turn left onto Galbraith Lane and keep your eyes open on the right side of the road for The Dollar Lot, a privately owned, very family-friendly parking area with picnic tables and a super clean porta-potty.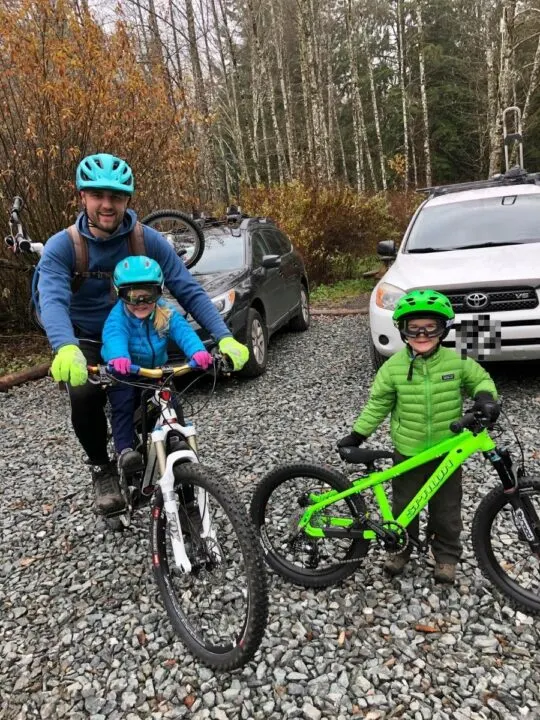 For $1 per adult (payable by cash or Venmo), you can park here as long as you like and hop right onto Galbraith Lane which sees much less traffic than Samish Way.
Depending on whether your kids can climb on their own or need a tow, there are plenty of route options from the relatively low key ascent up Galbraith Lane to Pipeline Road. Follow the signage for "mountain access" until you see a yellow gate across the road, and stop in at the WMBC kiosk to check out a map or hook kids up to a tow rope before starting the true uphill.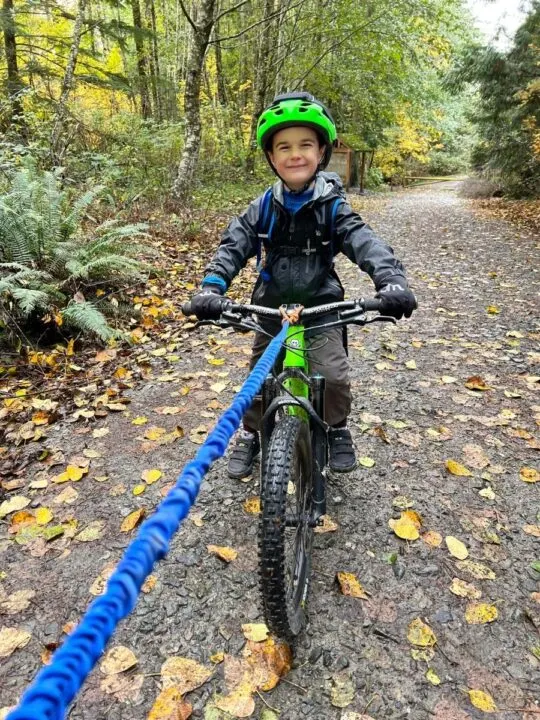 Galbraith Cross-Country Bike Trails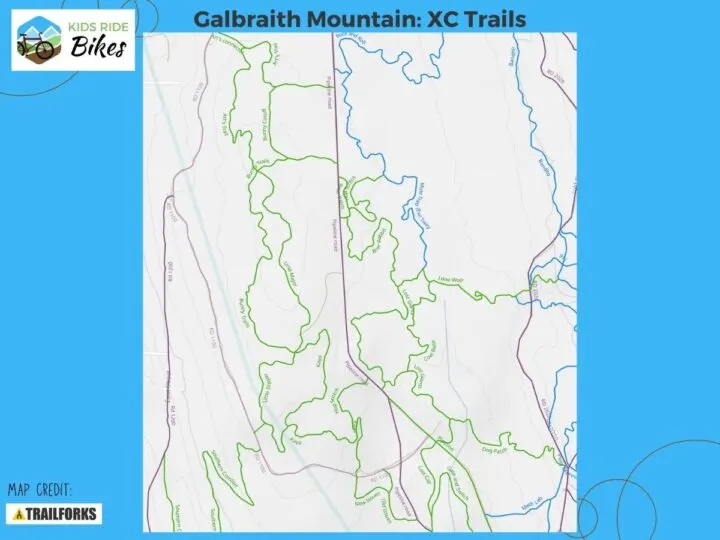 If you feel like more of a cross-country ride, you can loop your way around the green trails that spread out from both the right and left side of the Pipeline Road. These trails are all bi-directional unless otherwise posted, and don't have any mandatory jumps or drops.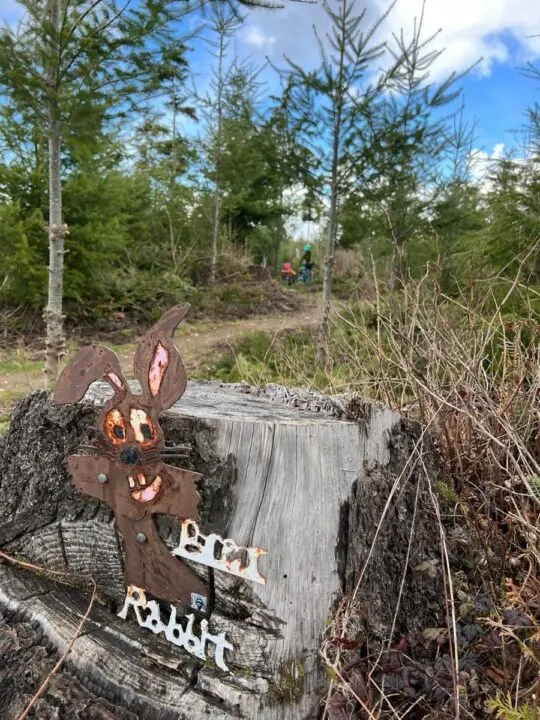 If your kiddo is still on a single speed 16″ bike, there will be some spots where they will likely have to walk up small hills or over roots, but a 20″ geared bike can handle pretty much anything this area has to offer.
Cow Belle is a fan favorite for most kids because there are actual cow bells hanging from the signs at either end of the trail that you can ring very loudly!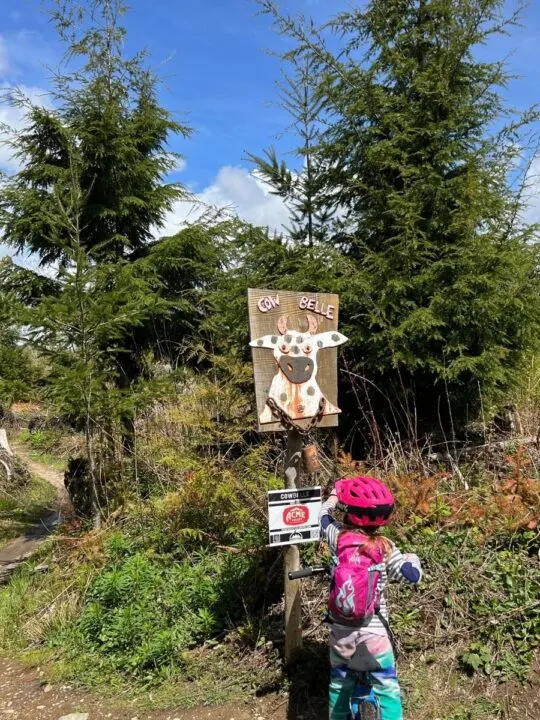 If you want to attempt a low key more "downhill" route, Dog Patch is a great option (although you will want to make sure your kids know to yield to uphill traffic as it is also used as a climbing trail).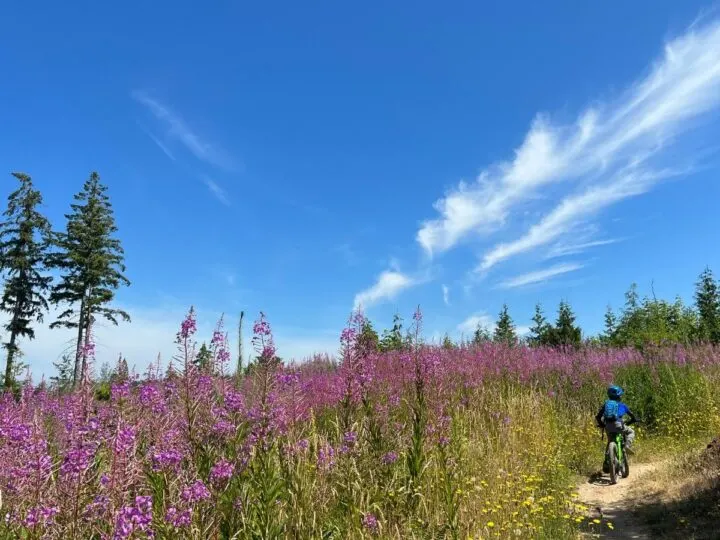 Bunny Trails, Art's Trail, Ursa Major, Little Dipper, and Kaya are especially beautiful once the wildflowers start popping in the summer and also have some excellent snack spots with gorgeous views.
Galbraith Mountain Jump Lines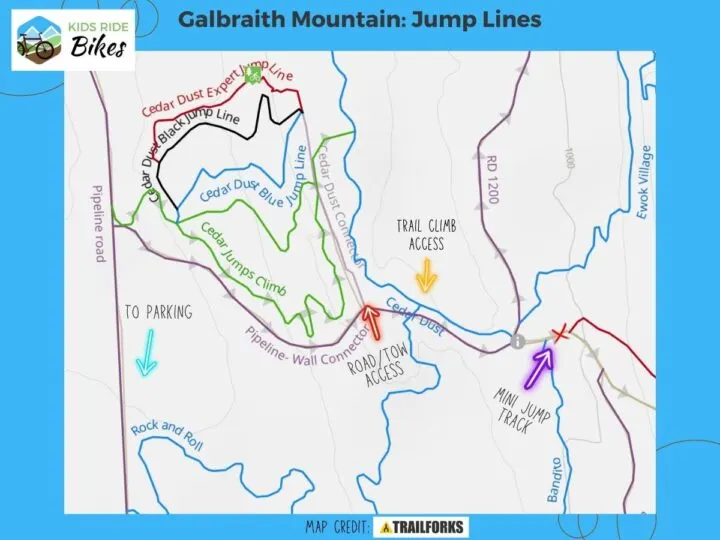 Another fun "something for everyone" area is the Cedar Dust jump lines. Cedar Dust can be accessed either by following the Pipeline Road (better for towing) or by hopping onto Rock and Roll and/or Mole Trap if you prefer a trail climb with some fun, challenging obstacles along the way. Both Rock and Roll and Mole Trap are bi-directional and also make great beginner-friendly downhill trails.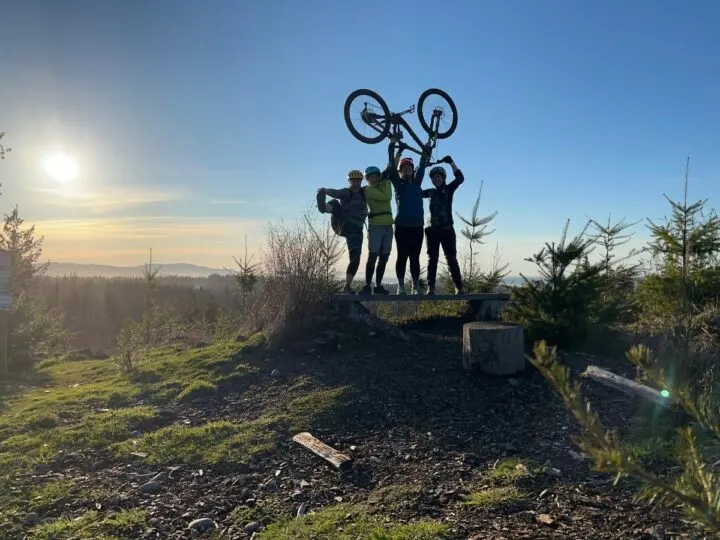 From the top of Rock and Roll you pop across Pipeline Road and take a left onto the main Cedar Dust trail. Once you're on Cedar Dust, keep an eye out for one of the connector trails to the left that will take you over to the jump lines.
There are four main lines that are clearly marked as beginner (green), intermediate (blue), advanced (black), and expert (red) and one climbing trail that loops back up to the top of the lines. Everything on the green line is rollable and super fun for younger kids, although they may need to walk back up some sections of the climbing trail.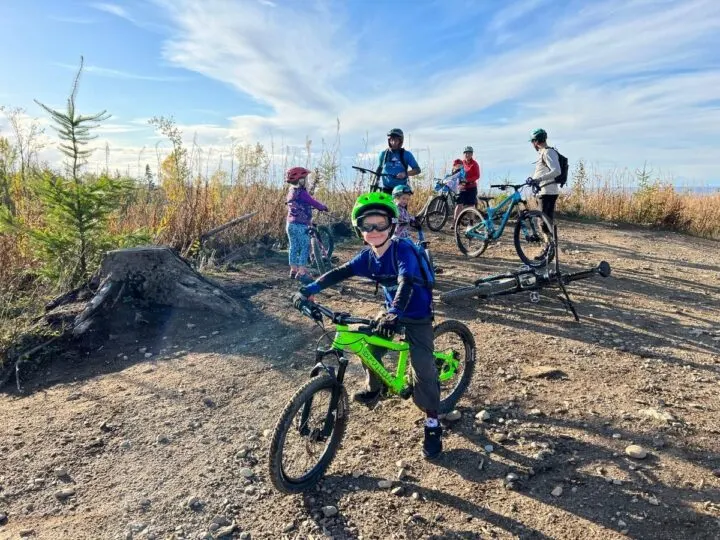 The blue line has some bigger drops and rock rolls, so parents might want to scout it before deciding if your kids are up for it. The nice thing about this area is that all the lines feed back to the same place so it's a great spot to grab a snack, enjoy the view, and trade laps!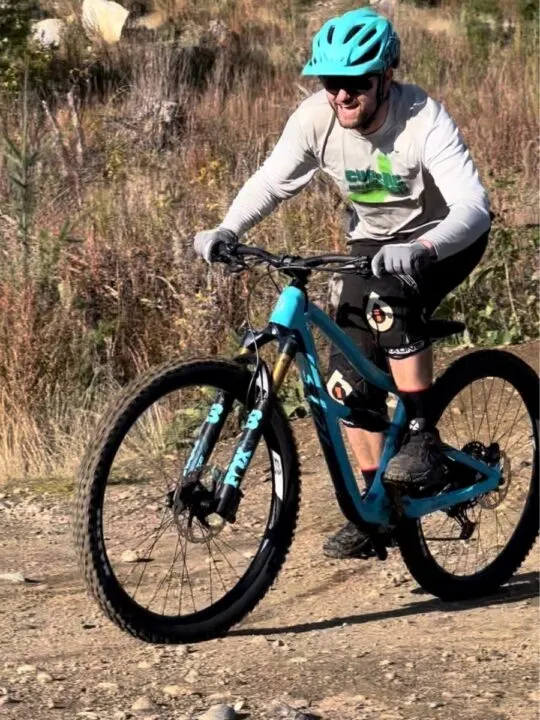 Curious about teaching your kids to jump? Check out our How to Jump a Bike post for some tips!
If you want another fun little jump track experience with less climbing, you can head back the way you came on the main Cedar Dust trail and follow it all the way to the end. Turn left onto the road, and after a short climb (you will pass the entrance to Bandito on your right), you'll see a little area to the left with a small jump track.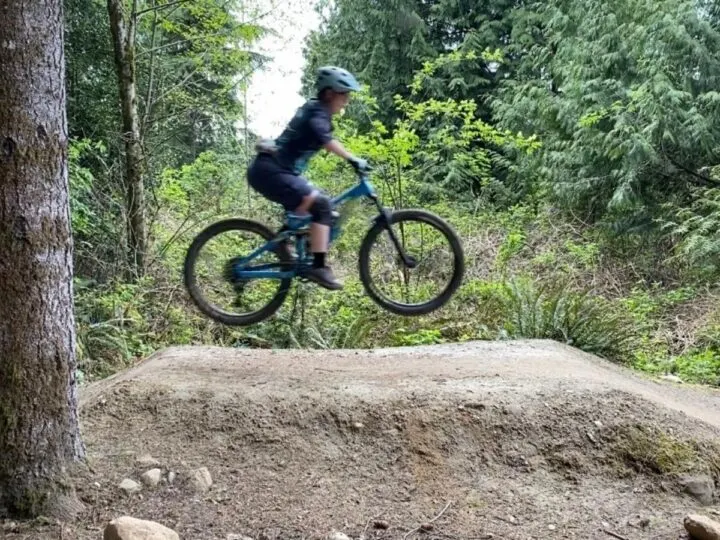 The track has a smaller drop-in and a few tabletops and is great for practicing jumping technique. It's also in the shade, so if you need a break from the exposure of Cedar Dust this is a nice place to hang out for a bit!
More Advanced/DH Trails
This is where Galbraith shines as a true "choose your own adventure" kind of destination. Especially if your kids can do a decent amount of climbing on their own (or with some towing), a whole world opens up to you.
If you're looking to explore more terrain and experience some steeper descents, you can head up the Pipeline Road, take a right onto Lost Giants, and follow that to Dog Patch (you'll see the sign once you turn slight left at the big stump at the end of Lost Giants).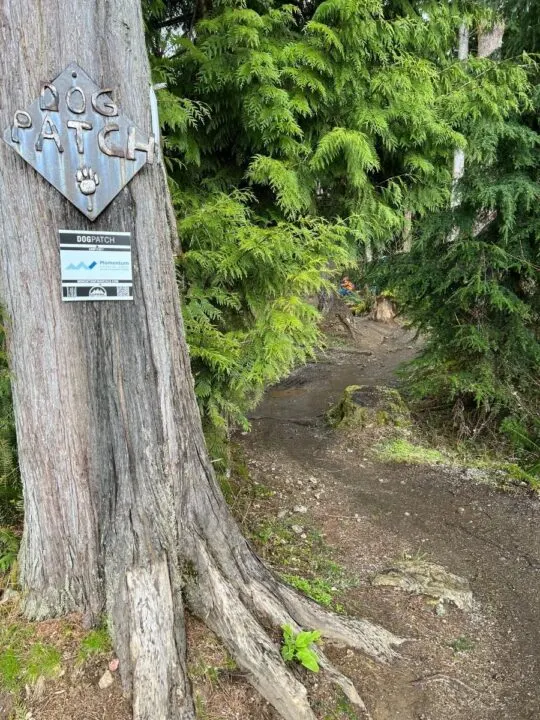 From the top of Dog Patch, either trail climb up Pony Express and Three Pigs (more technical), or take the more straightforward, tow-friendly climb up the Tower Road South Side Approach. Once you reach "Blue Rock" (a large rock painted blue with a bench, kiosk, and garbage can), stop and take a rest before deciding where to go next.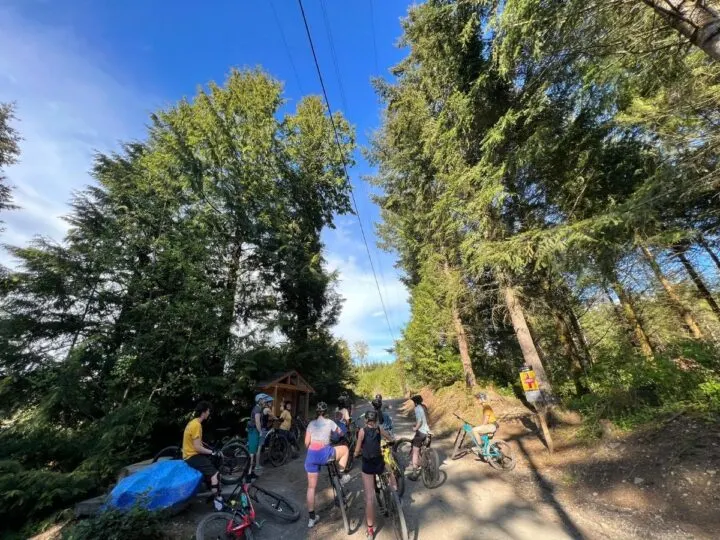 If you take a left at Blue Rock, you can either head downhill via Cheech & Chong's Wild Ride (intermediate), 911 (intermediate), or Jack & the Beanstalk (beginner). If you still have some climbing legs left, take a right at Blue Rock for a few more options.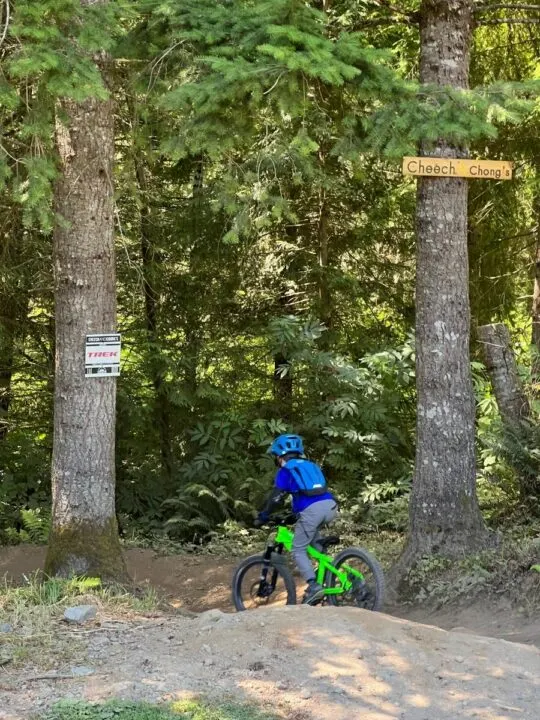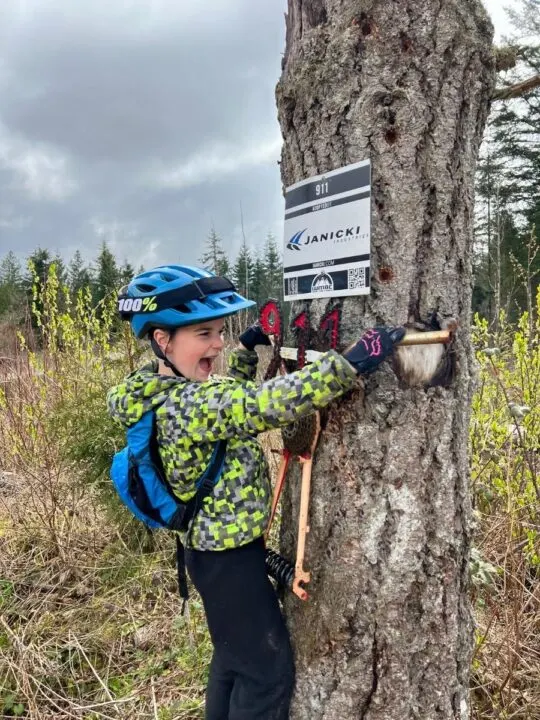 After a bit more road climbing, you will come to Red Rock (again, a large rock painted red).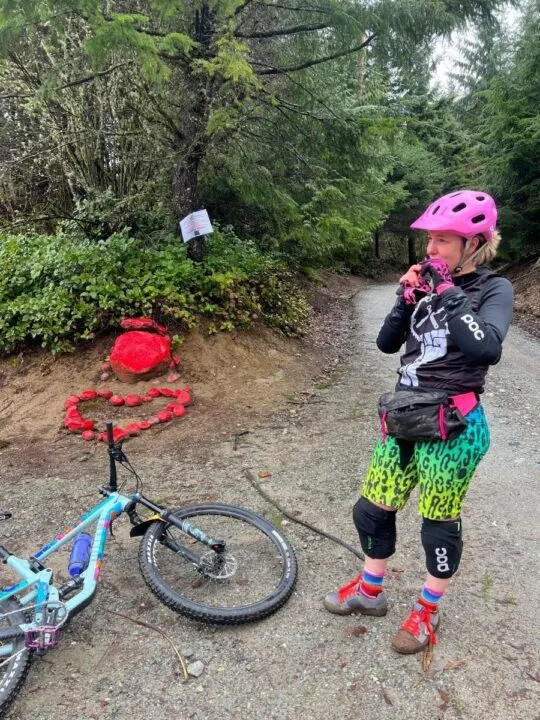 Here you can veer left to Mullet (which then connects into Cheech & Chong's Wild Ride or 911) or you can stay right to get to Galbraith's flowiest and perhaps most popular trail: Unemployment Line.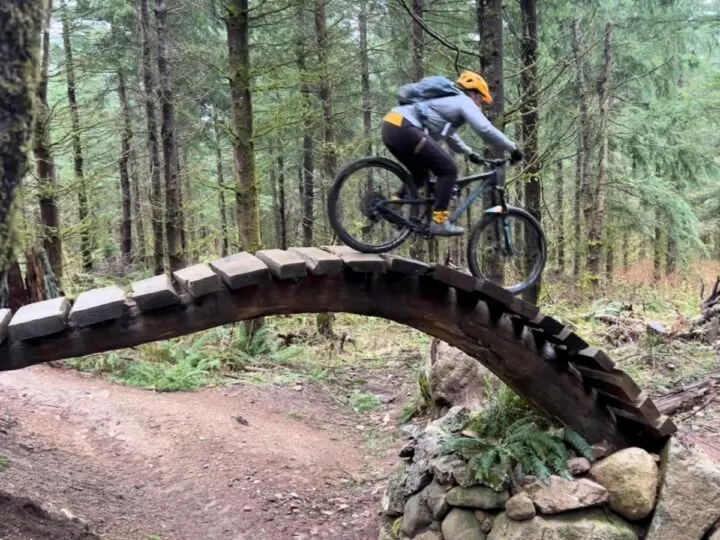 Unemployment Line is uniquely smooth for Galbraith, and also entirely rollable for less confident riders. This is a great trail for experimenting with getting off the ground, and is fun for all ability levels.
Just beware that more experienced riders will be moving FAST, so try to keep kids from stopping on the trail.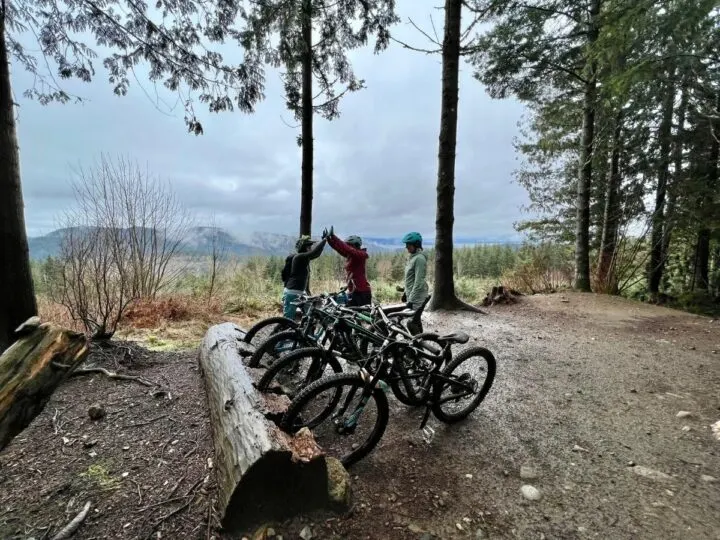 If flowy isn't your jam, Pump Track is the more technical descent option from that area (think: more roots, more uneven terrain, and a few steeper sections). Once you make it down either Unemployment Line or Pump Track, you can choose to descend further on Atomic Dog (more technical and advanced blue line with some drops and jumps) or follow the road past Atomic Dog and descend Three Pigs/Pony Express to Rank Advancement (less technical green line).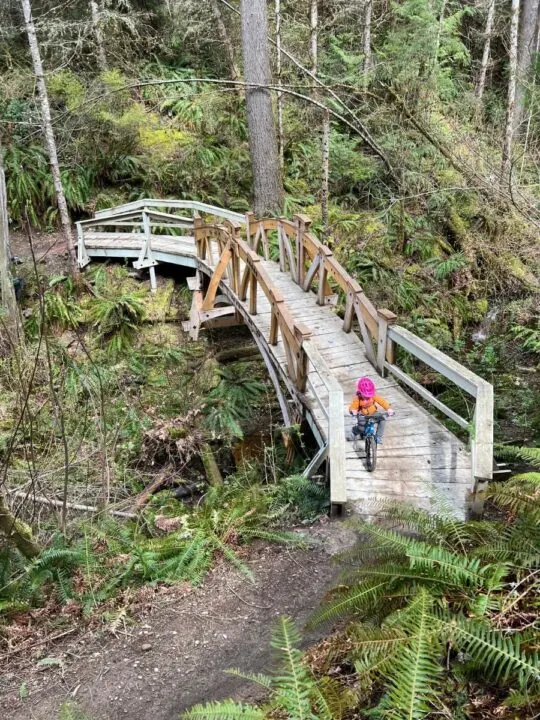 North Side Galbraith: Best for Families with Strong Climbers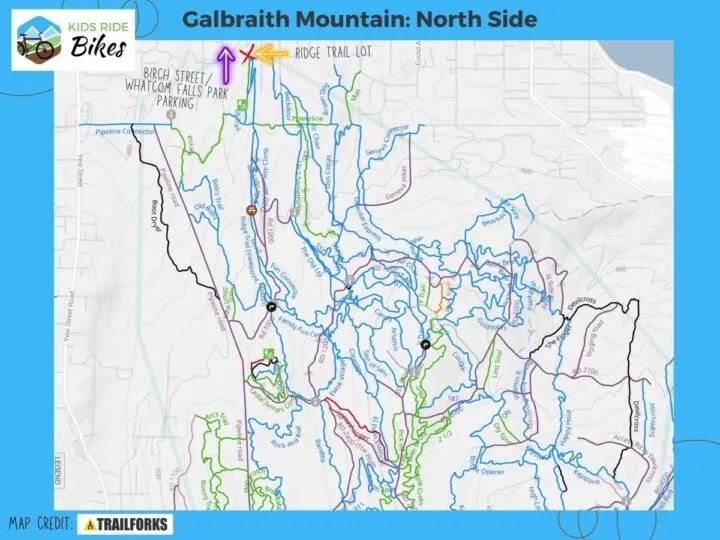 Galbraith Mountain North Side Parking and Trail Access
The only true dedicated parking lot for North Side access is at the base of Ridge Trail. It's a small, tight lot and definitely not ideal for larger vehicles (especially if you're hauling a rack full of bikes).
There is some street parking available along the side of Birch Street, but just be conscious of the fact that you are in a neighborhood and it may be tough to find a spot during busier seasons.
Another option for North Side parking is the Electric Avenue entrance to Whatcom Falls Park (the same parking lot you use for access to the Whatcom Falls pump track). From this lot, you will need to cross Electric Avenue (unregulated intersection) and Lakeway Avenue (stop light) before a fairly steep road climb up to the end of Birch Street.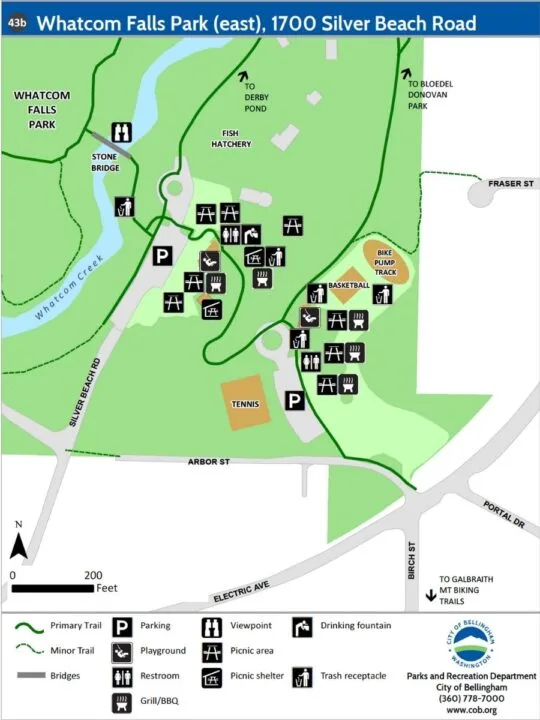 Depending on what trails you take down, you will have to weave back through the neighborhood to get back to where you parked. Plan your route before you go, otherwise you can get stuck on a busy road or end up getting turned around fairly easily.
Climbing Trails
The climbs from the North Side are no joke, and not ideal for towing. So if your kids are small or struggle on the uphill, just know that this may not be an ideal area for them.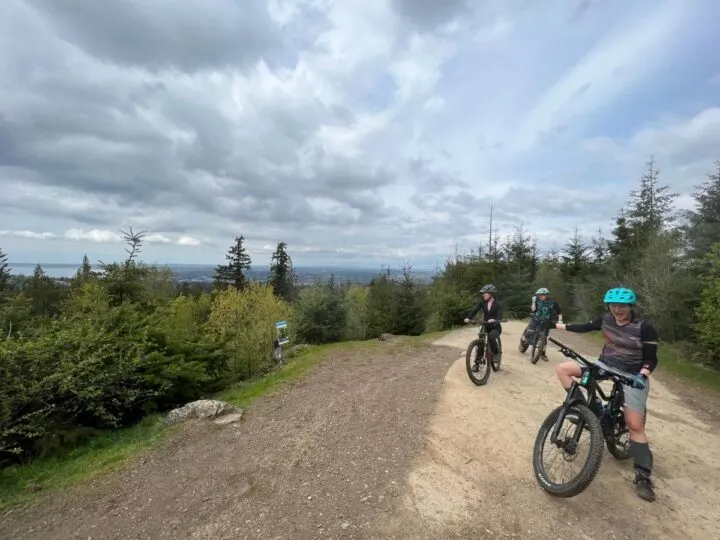 Both of the main climbing trails (Ridge Trail and Up 2 Something – Dos Copas) are pretty steep technical ascents, and unlike the South Side there is no straightforward alternative climbing route.
The North Side Pipeline Road has some steep sections that can get really hot in the summer and really wet in the shoulder and winter seasons, so it's just not ideal for younger riders who aren't confident climbers.
Downhill Trails
If you have teens or more experienced riders who are comfortable with significant climbs though, there are some super fun trails that are best accessed from the North Side.
As you can see from the map, this area has quite a few intermediate blue trails (fair warning: blue trails on Galbraith can still have some hairy technical sections!) and only a few beginner/XC green trails.
SST is an iconic trail with a little bit of something for everyone (technical and flowy, wide open and through the trees) and is one of the longer descending trails on the mountain. Bob's Trail is another Galbraith classic downhill trail for more confident riders.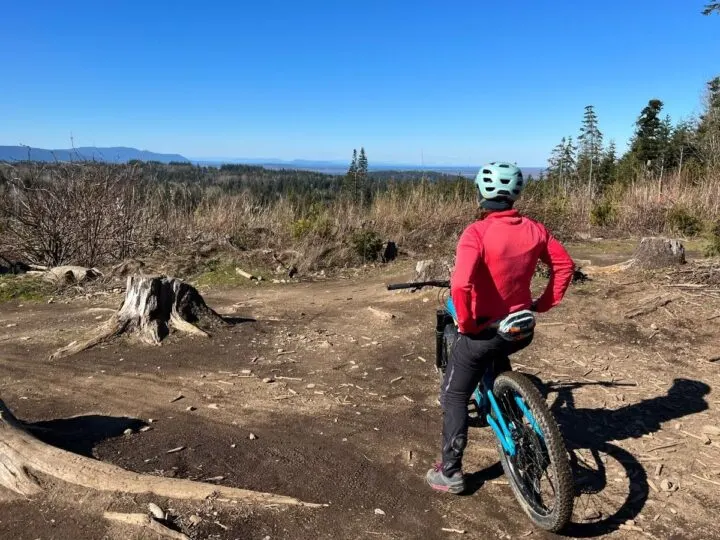 Both SST and Bob's are reasonably steep and have plenty of fun, challenging features! Most jumps and drops also have easily identifiable go-arounds so you can choose your own adventure if you have varying skill levels in your family.
Family Biking in Bellingham: Eats & Treats
The Portal
As mentioned earlier, there is an entire container village (The Portal) that has grown up around the Waypoint Park pump track. This area is both kid and dog friendly, and offers an ice cream shop, family-friendly beer garden, bike rentals, and multiple food trucks.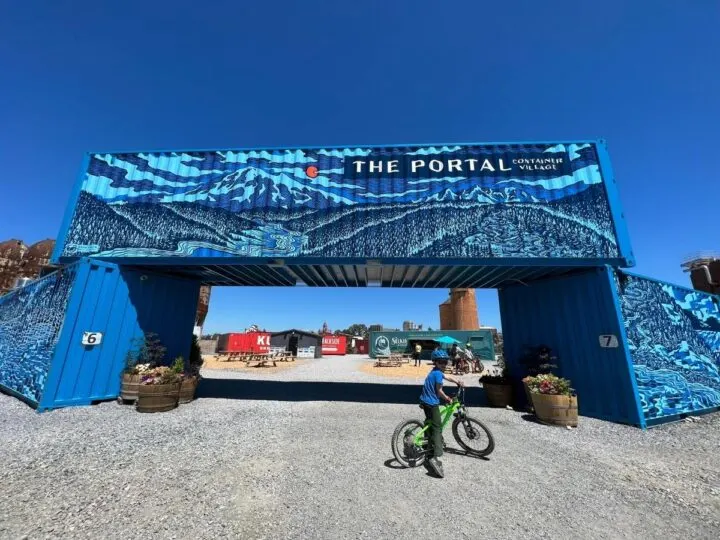 As a local and a parent, this is an absolute dream and where our family spends many summer evenings! You can often find live music there, as well as lawn games, hula hoops, and biking galore.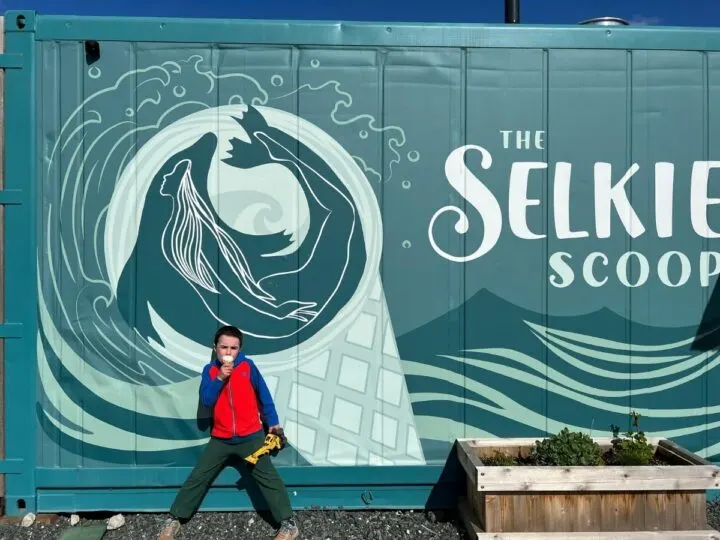 Post-Ride Treats in Bellingham
Another favorite Bellingham spot (and often our go-to after a Galbraith ride) is Boomer's Drive-In. Boomer's has great milk shakes and food, gluten free options, and the classic drive-in burger joint experience.
For a local sweet treat we recommend Mallard Ice Cream (lots of fun flavors to choose from!) and Pure Bliss Desserts (amazing cakes, cookies, cupcakes, and baked goods including vegan/gluten free options).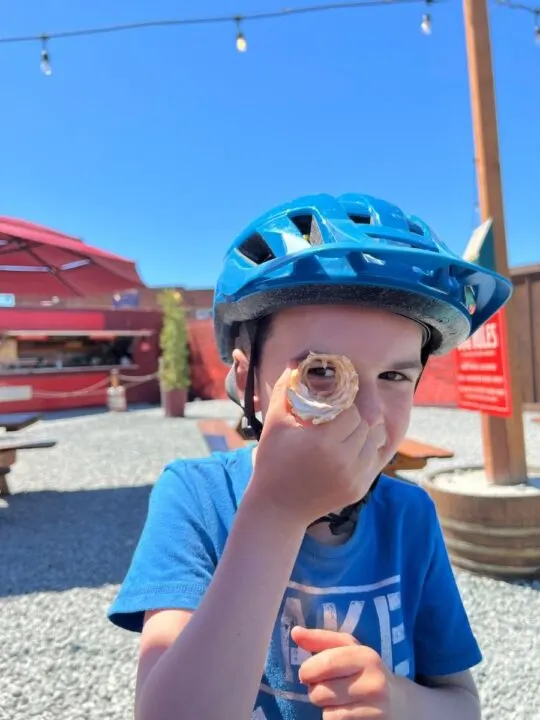 If you're looking for something more unique, you may want to try Sweet As Waffles! This adorable little food truck is permanently parked in the parking lot next to Stemma Brewing, and they have amazing sweet AND savory waffles. Bonuses: they put a little toy dinosaur on every waffle, they use entirely compostable tableware, and they have delicious vegan and gluten free waffle batter.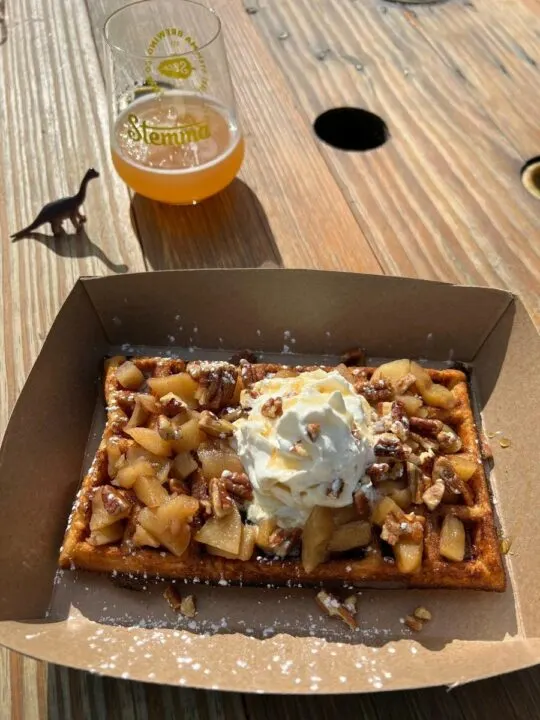 More Local Favorites
Need something quick before you head out in the morning? Try The Bagelry or a to-go pastry from The Mount Bakery (the best cinnamon rolls in Bellingham!).
Brandywine Kitchen is a great lunch or dinner option with plenty of kid-friendly and adult-friendly options and lots of locally-sourced food. And if you have a hankering for wood-fired pizza, Ovn is our personal favorite (although a bit on the pricey side).
The tacos from Black Sheep are fantastic, but the restaurant itself is 21+ so you'll have to order to-go and make yourself a picnic at one of the fantastic local parks (or at Trackside, which is all-ages and allows outside food).
Family Biking in Bellingham, WA
A true paradise for mountain biking families, Bellingham is a hard-to-beat destination for an adventure vacation. There are enough parks and trails to keep you occupied for weeks on end, regardless of your comfort and skill levels.
This is definitely a bucket list kind of destination – let us know what your favorite trails are in the comments once you've experienced it for yourself!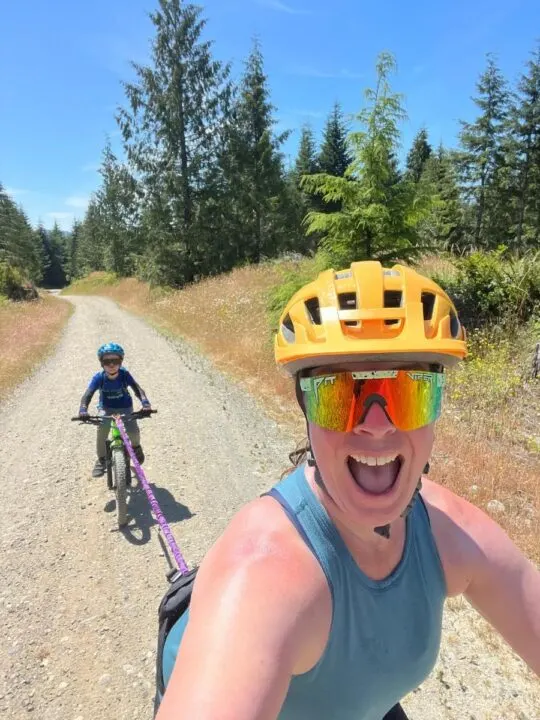 Related Articles:
Family Biking in Bellingham
©2022, Kids Ride Bikes. All rights reserved. Republication, in part or entirety, requires a link back to this original post and permission from the author.