Best Cycling Kits For Kids
As a gear junkie, I was stoked to find the odd kids jersey or gloves second hand when my eldest started cycling. Until my youngest started pedaling, we really only bought second cycling gear. Then my youngest fell in love with a Strider race and the bright pink jersey that matched her sister.
A few races under our belt and only one "girl" color meant we've had the pink Strider jersey in every size. Meaning over the last 5 years, every other picture of my youngest is in this pink jersey. Shockingly, it has held up better than another jersey or shirt we've owned.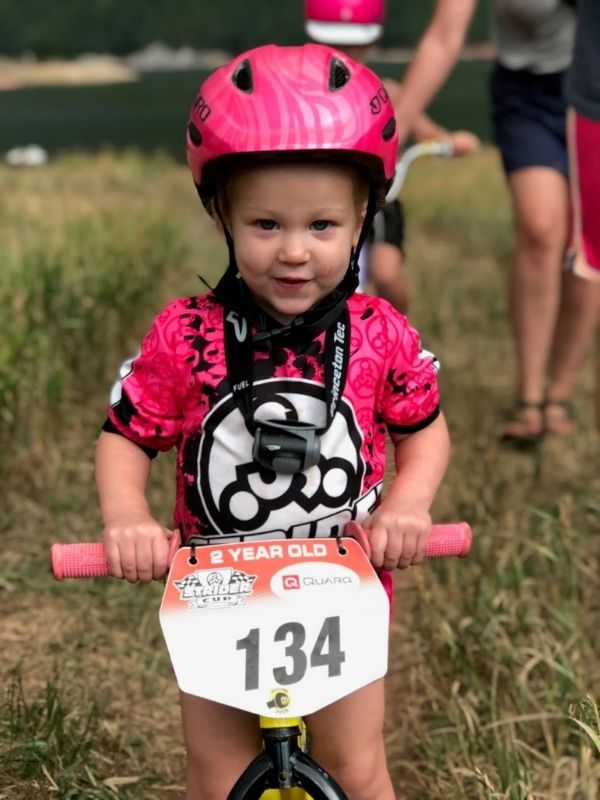 Fortunately the last few years have seen an explosion in kids cycling gear. Options range from packaged full kits (Jersey, shorts/bib, gloves and sometimes jacket/pants) to vibrant mix and match systems. Below I will discuss the benefits of a good cycling kit for kids, which necessities are essential, and how to pick.
Is a kids cycling kit really necessary?
Why buy cycling clothes for kids? Isn't a tee shirt and shorts enough?
It depends on your kid, how long and often they ride and their comfort. While its incredibly adorable to see your little kid proudly rep a look like mommy or daddy kit, often playground and neighborhood riding doesn't require spandex and padding.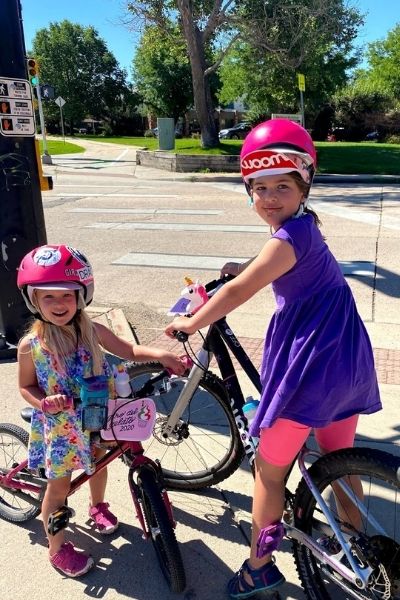 I've seen plenty of kids show up to weekly bike practice at their local club in cotton street clothes. I have more pictures of my girls riding in dresses, tutus, and costumes with cowboy or rain boots and capes around the neighborhood than anything else. When they are close to home, with friends and essentially playing they can ride in whatever is safe/comfortable.
Even if your kid is showing up to their 15th bike practice, non-cotton shorts and shirts are fine. Gloves are always a good idea but cycling specific clothes can wait. When practice moves from the bike park to the trails or the track these clothes get don't hold up as well and it might be time to upgrade to a proper kit.
Choose weather appropriate cycling gear for your kids
Weather is a big factor when deciding a good cycling kit. In hot weather, breathability and sun protection are the main concerns. In inclement weather, water-proofing and warmth will be essential to keeping your kid peddling happily.
With the exception of ice, there is no reason your kid can't ride through the winter. Since my girls aren't racing and don't generally overheat, regular winter outerwear has worked just fine. This will change as they become stronger riders and longer winter rides are possible. Till then, weather appropriate outdoor wear that is snug fitting (loose clothes can get caught) suffices just fine.
We've watched many cycling club snow practices in our backyard in Boulder. If your kid is up to ride in truly inclement weather where waterproofing and flexibility is needed then honor that commitment with dialing in a comfortable winter kit. These kits are expensive but are designed to keep kids dry, warm and comfortable while moving fast.
For the purpose of this article we will only focus on summer kits. We hope to review winter kits soon.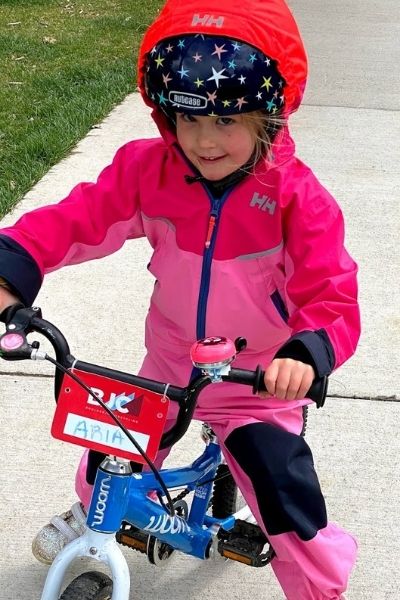 Often a kids rain jacket or light puffy coat is fine but if you kid is putting several miles in during inclement weather, a proper cycling jacket, water-proof/resistant tights and shoe covers can be very helpful. See below for winter kit recommendations.
Cycling Clothes for Kids: The Bare Essentials
Padding Shorts
Padded shorts are probably the most essential piece of a cyclists kit. Padded shorts will make long rides much more comfortable during the ride as well as getting back on the bike the following day.
My eldest is very sensitive to texture and didn't like that padded short diaper feeling. Initially she would refuse to wear cycling shorts, despite her sister wearing them daily. However, when our rides starting exceeding 10 miles she caved for comfort. She also realized she would be sore for the next ride after a big ride. This was especially true when we traveled for bike trips and would ride several times over a few days.
Bike Gloves
Bike gloves are tied for first place in essential pieces of cycling gear. Gloves protect hands from falls and pads paws for long rides. Gloves offer a lot of protection and utility for little cost. Unfortunately, this isn't a piece of gear I've been able to get my eldest to wear and we've ended up with a lot of unnecessary tears over scrapped hands. When kids fall on the bike, little hands take the brunt of the fall. Many clubs won't allow kids to ride without gloves. Gloves are the cheapest and easiest piece of kids cycling gear to find.
Bike jerseys for kids
Jerseys wick sweat, offer pockets to carry treats and come in some very cool (and easy to spot) prints. Generally speaking road cycling jerseys have pockets in the back and a zipper in the front. Mountain biking jerseys lack pockets and offer a more relaxed cut. That said, I know many kids like to mix and match. There are benefits to both styles and their function isn't exclusionary.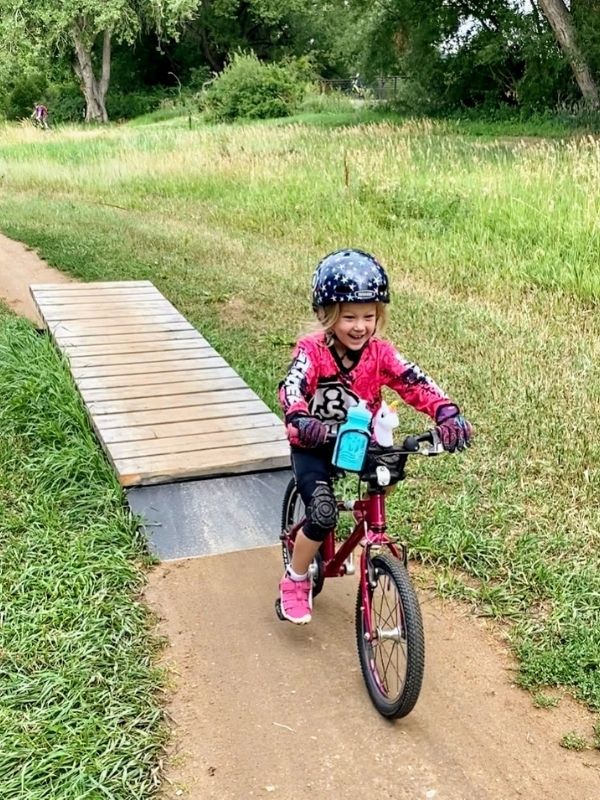 How to Pick a Kit?
Consider joining a club. There's a club out there for everyone. There are the traditional cycling clubs, as well as charity or non-profit clubs like triforthecure.
The jerseys I love the most speak to the journey I've traveled. I've brought my The Phoenix jerseys around the world 2x. I'm super stoked to sport my new matching Cyclists Fighting Cancer kit with my eldest.
Any cyclist will tell you, a good kit is worth its weight in gold. Comfortable kids stay on the trail longer and are more willing to put it on and get out the door. When we say kit we mean: gloves, jersey and shorts at minimum. Good kits also include, shoes, socks, jackets, face masks/neck gaiters, and helmets can also be included.
Some cyclists make it their life's mission to have a nicely matching kit head to toe. There's plenty of time to for your little grom to get kitted out in perfectly matching hues. If they aren't racing, this isn't really necessary. Comfortable gloves, shorts and a non-cotton shirt is generally enough to get started and have a good time out on the trail.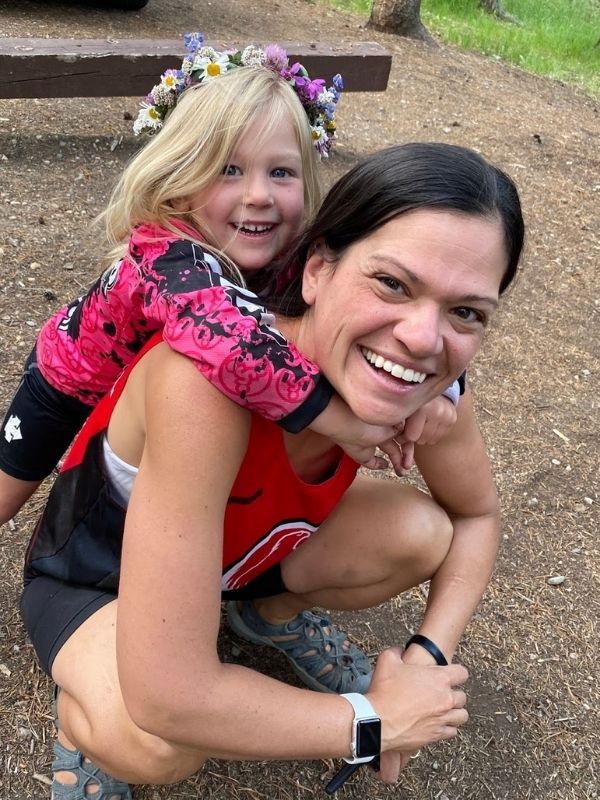 While I love my triathlon gear (in the above picture), I wouldn't recommend riding in a sleeveless tank top. I've had my fair share of road rash scaring. Scraping rocks and spiky things out of shoulders and chest is painful and avoidable. However, this particular bike with kids was very slow and easy but hot so I choose carefully and rode accordingly.
Please do not let your littles ride without proper coverage especially when pushing their comfort zones. Long sleeve and pants are always a good idea. A synthetic Target long sleeve is a great budget option for protection plus breathability.
Cycling clubs build community
A cycling club will help give your family the community to get out there and put some miles on that fancy new kit. Kids don't have to race to be part of clubs. Coaches offer invaluable insight and advice outside of racing. My girls love bike practice at the local cycling club as well as a local downhill kids club. Neither currently races.
After school clubs, all girl clubs, private coaching and other social media forums like Facebook groups are invaluable resources as well. Get to know you cycling community. Search for like minded parents to meet of the trail. Cool kits are fun but it's really about having fun with friends in the forest or desert.
I'm grateful for the advice, hand me down gear and encouragement all the clubs I've ridden with/for. We've learned the basics of safety, body position and rules to riding on the road all in club practice.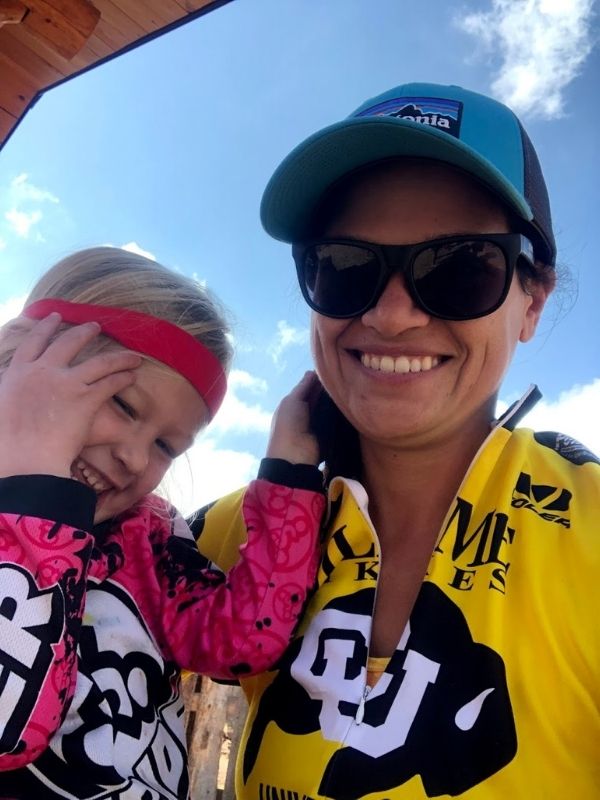 Some of my current favorite cycling jerseys are brands that are helping to create this community. I tell my girls the trick to getting cool new gear is giving away unused gear today. Gear isn't meant to be hoarded, if you're not using it pass it on to a family that can.
Cycling gear can be expensive and kids have more fun sharing with friends so why not share gear? A pair of gloves my kid can't handle is a great gift for a hesitant new rider. Some of the best jerseys are loved by more than one kid. They are full of hope, determination and growth from the prior owner.
Jerseys
Peal Izumi Junior Quest
There are an endless variety of cycling jerseys to choose from thus it was challenging to pick just a few. From the cheapest Kanu's Bike Cool Kitten Cycling Jersey at $14 (sizes 4-14) to the tried and true cult favorite like the Pearl Izumi Junior Quest, there is a jersey for every budget (sizes 6-14 years old). Honestly, The cheap Kanu jersey held up as well as the Pearl Izumi jersey. However the Specialized jersey was softer and brighter.
Kanu's high perforamance jersey with high tech fabrics are lightweight, with advanced wicking technology transporting moisture away from the body for optimal comfort and carry a UPF rating of 50+. The cheaper price tag isn't reflected in the attention to quality or multiple rear pockets.
Pear Izumi Junior Quest Lightweight SELECT Transfer fabric is made with 100% recycled polyester knit with nice touches such as a easy to adjust quarter zip and three very deep rear pockets hold snacks and toys.
Specialized Enduro Grom Jersey
We love the softness and bright colors of Specialized's Enduro Grom jerseys though find they are hard to spot online as they are not generally sold on the Specialized website. We've mostly found these jerseys (on a great discount) at our local bike shop. When I spot them, I buy multiples because they hold up so well and the kids really like them.
Endura Kids Hummvee Ray Mountain Biking Jersey
This Endura jersey Kids Hummvee Kids Mountain Bike jersey kept my eldest happy and dry on long road and trail rides last summer. It was easy to clean, easy to spot and comfortable for my texture sensitive kid. Any jersey that survives a long season and is ready for the next is a winner in my book. Available in size 7-12 years old.
Kanu Bike Cycling Jersey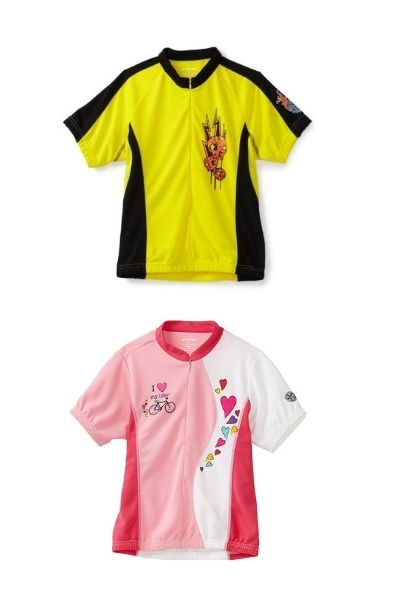 Kanu's Bike Cycling Jersey at $14 (sizes 4-14) is an easy pick. This jersey has held up to some serious daily wear and riding. We really appreciate the high performance, high tech fabrics that are lightweight, and boast advanced wicking technology which transports moisture away from the body for optimal comfort. They also carry a UPF rating of 50 and have 3 deep rear pockets which provide natural and easy storage for a young rider.
Shorts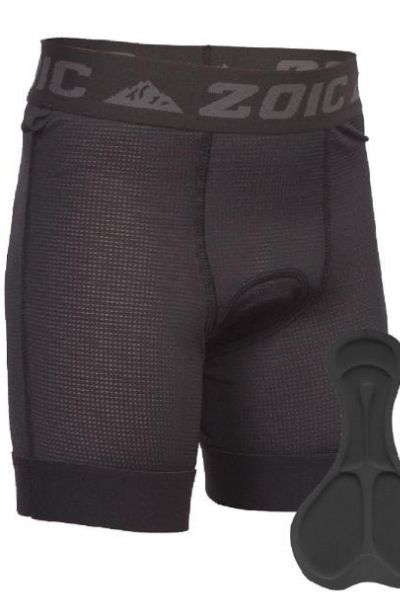 We used the Zoic Kids Komfy Bike Short ($30) consistently both under dresses and hiking shorts with pockets and on their own. These shorts are liners but they are not see through and look just like a regular pair of spandex shorts. The padding is sufficient but minimal reducing that diaper feel. ZO-Wick moisture transfer fabrics help keep you dry and a 6-panel construction ensures a performance fit. Available in waist sizes 23 through 30, roughly ages 3-10 years old.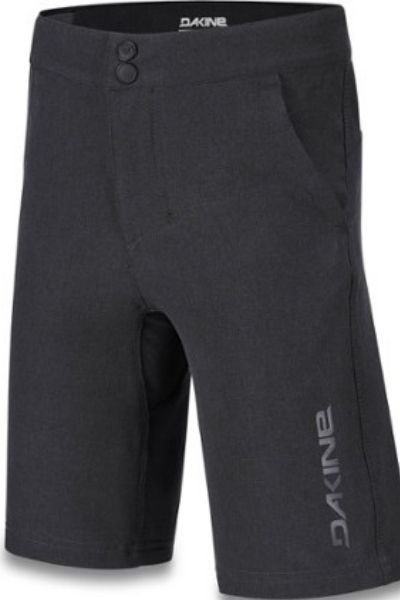 We recommend an outer short like the Dankin Prodigy Bike Shorts ($80) for kids that want more pockets, protection and style. As a bonus, these shorts come with their own removable and adjustable liner. Key features include an easy to adjust interior waist with double snap closures and a 4-way stretch build for natural and unrestricted movement on and off the bike. Available in size 6-10 years old.
Gloves
Chances are if you're kids have been riding for awhile, you've already been through a few pairs of gloves. Gloves are a very personal preference. Some kids prefer full finger over half finger but generally speaking short fingers are for road rides and full fingers keep hands a bit more protected on the mountain bike.
Our top choice gloves are the Giro DNDR Junior 2 and the Bravo Jr. We love the wide opening which allows even the youngest of riders to put them on with a simple hook closure to secure them. A durable Clarino palm offers just enough padding to reduce impact without compromising grip. Great for use on road or trail rides. Available in glove size 3-6 (ages 3-10).
We really love Woom gloves, both the Tens and the Warm Tens. They are great for cold weather riding, spring riding and fitting tiny hands. Available in size 4-6 (ages 3-10)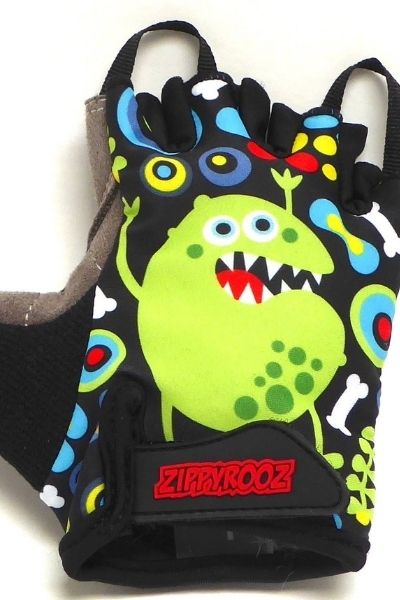 ZippyRooz are a great first glove for little hands. They are exceptionally easy to put on and my kids love using the loops to pull them off after a long ride. They wash well and come in several fun prints. These gloves are my go to birthday gift for little riders. Gloves get lost easily and often, having a few pairs of Zippyrooz is always helpful. We especially love the soft fabric on the thumb for wiping runny noses. $13.95 Available in ages 1-8 years old
Little Rider
Little Rider jerseys are popping up on pump tracks and bike parks all over the country fostering a community of support and creativity. Jersey's start at $36 and run in sizes 2-12 years old. Brightly colored long sleeve technical jerseys are high quality and comfortable, allowing your little rider to look cool & feel fast while they are out on their wheels.
Shorts have a 16″-30″ waist offering technical wear with added protection and durability on the trail or pump track. Plenty of pocket and an adjustable waist make these shorts great for all riders. Add a pair of matching gloves and you little ripper is ready for action.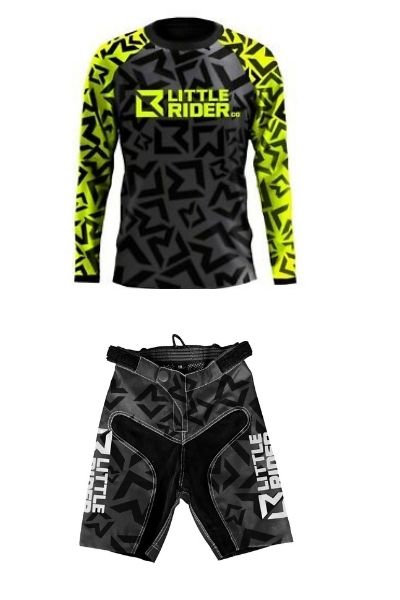 Bottom Line
Finding the right cycling kit for your little grom may take some trial and error. I generally always have a pair of rejected gloves or pads that need rehoming. I've also learned to let my kids pick out their own gear even if this means it's a jersey that's 2x too big.
It's about celebrating that magic that happens along the way. My eldest wore that bright teal and pink Specialized jersey daily last summer. After all the really hard rides she was rewarded with ice cream. I spent hours trying to get chocolate ice cream out of that jersey AND it survived! A great kit is one that a kid wants to wear every day.
The love for cycling doesn't come from a shiny new kit but being comfortable does foster the right soil for growing a life long love of cycling. We hope your crew finds a kit or set-up that encourages them to get out and there and have fun.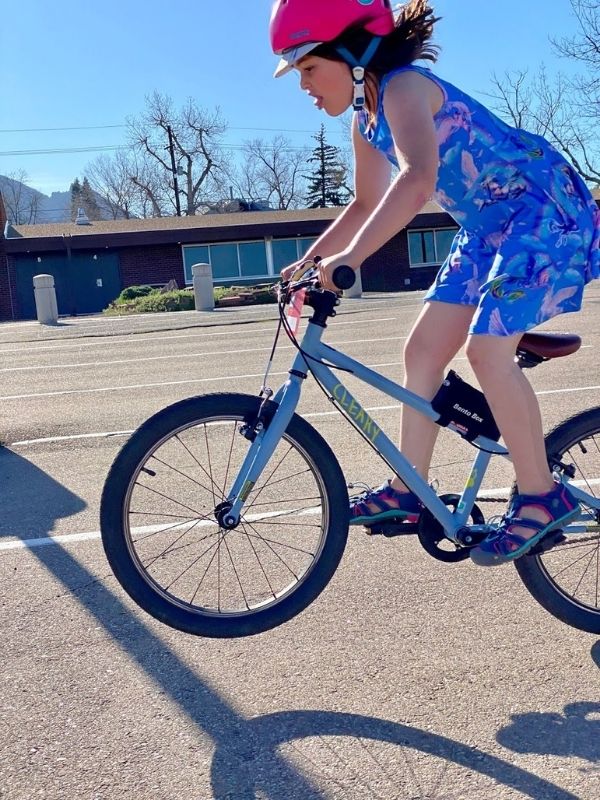 Related Articles:
Best Cycling Kits For Kids
© 2021, Kids Ride Bikes. All rights reserved. Republication, in part or entirety, requires a link back to this original post and permission from the author.