Burley Bike Seat
We've spent miles and miles reviewing the Burley Dash bike seat, and we must say- it's a staple. It's seen bike overnights and tours, hot weather, cold weather, rain and sun. It's held up beautifully and our little one seems comfortable and happy in it. In this article I'll go into more detail about what we loved, and what we'd change.
Burley has three styles of seats: the FM (frame mount), X FM (reclining frame mount), and RM (rack mount). Each one provides unique benefits for going on bike rides with your little one.
As a member of affiliate programs, we earn from qualifying purchases.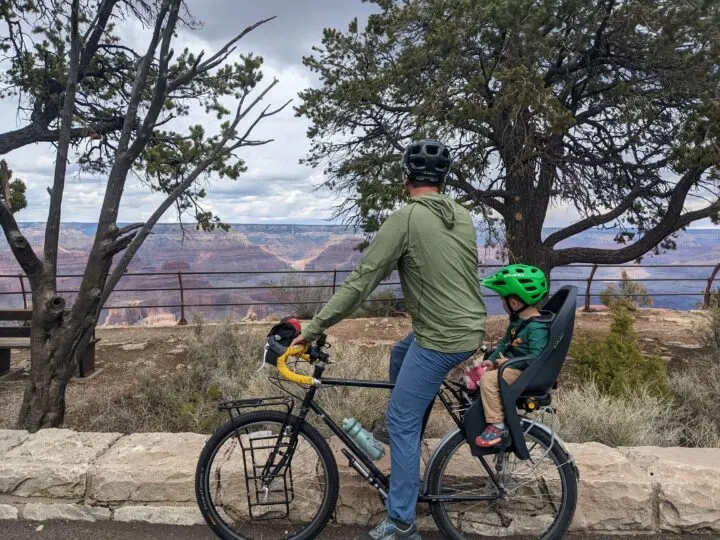 The Burley Dash Bike Seat is Best for….
Toddlers 12 months to 40 lbs
The Burley Dash fits toddlers best. Recommended for 12 months to 40 lbs, it's great for families looking to take small children on short bike rides. It's easily adjustable for different heights and girths, and the five point harness feels very secure for little ones.
Families who don't have a trailer
Bike seats are cheaper, easier to maneuver and smaller than trailers. Don't have space to store a trailer or hundreds to spend on a decent one? The Dash offers a smaller footprint and a friendlier price tag for many families looking to get out.
A more interactive ride
Riding with our kiddo in the Dash is a lot of fun. He babbles away the entire time, and it's fun to hear his dialogue on our rides, turning it into interactive family bonding time. There are front seats for smaller ones, but once they get heavier, it's definitely more stable to have them on the back. Also- it fits smaller riders a bit better than other seats we've tried, so if you don't want to invest in a front AND rear seat, this seat works great for smaller one year olds.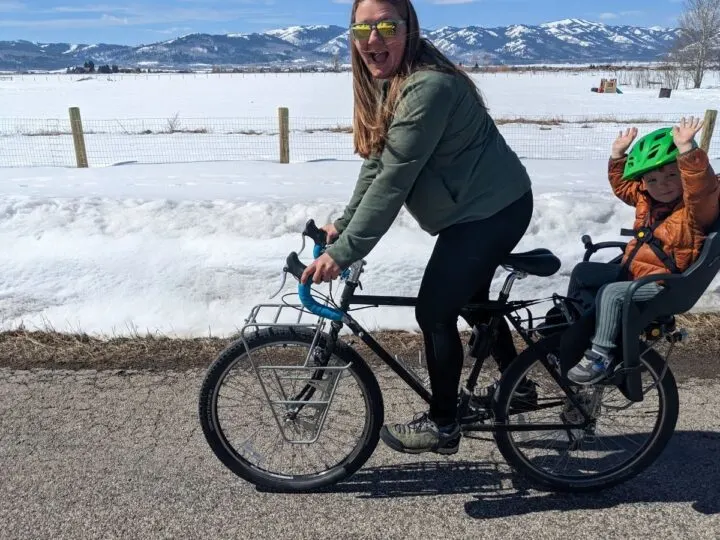 There are so many child bike seats out there- here are a few things we loved and didn't love about the Dash. I'll go into more detail on these later. But by the looks of it, the pros far out weigh the cons- we really do love this seat!
Pros
Nice Mid Range price point $159
Quality materials and comfort- this thing will last!
Easy to clean plastic and grippy seat pad- no slipping!
Five point harness that's easily adjustable
Easy and quick to install/remove
Handy storage compartment in rear of seat- carry wipes, wallet, etc. (Wish it were stretchy mesh though!)
Arm rests for little hands- we attached a bell to ours and the toddler LOVES it.
Lightweight and easy to balance- low center of gravity
Cons
Foot straps difficult to use
Not great for sleeping kids- no head rest, even with the recline
No ventilation in seat back
Not compatible with some cargo bikes like the Rad Wagon (the mount does not accommodate the width of the rack)
Three styles of Burley Dash Seats
The Burley Dash RM bike seat is the rack mounted version. This seat is very similar to the frame mounted versions, except it attaches to the bike via a clamp that goes around your pre-existing cargo rack. It goes on and off in less than 30 seconds, which was really convenient. It also switches between rack mounted bikes easier than the frame mounted ones, because there's not attachment clamp you need to switch.
I love how secure and solid it feels attached to the rack. There is a safety strap that clips around your seat post or frame in case the seat clamp fails, but it felt very solid to me. However, my kiddo did complain every time we hit a big bump or drop- there isn't any type of suspension or shock absorption for bumps. Also note there is no recline option, as in the FM-X. I did need to adjust my rack slope to get the correct angle on this seat.
The RM is also the lightest option from Burley, weighing in at only 6.4 lbs. That being said, it doesn't allow for the weight of the rack that's required to mount it. And for you fellow bike tourists or commuters- there is not any way to have rear panniers with the seat attached. The seat takes up the space where panniers would attach.
Be aware, and measure, because the RM must only be mounted to bicycles with racks that:
Comply with the ISO 11243 standard
Load Capacity of Rack ≥ 55 lbs (25 kg)
Width of Rack: 4.72 – 6.89 in (120 – 175 mm)
Tubing Diameter of Rack: 0.39 – 0.63 in (10 – 16 mm)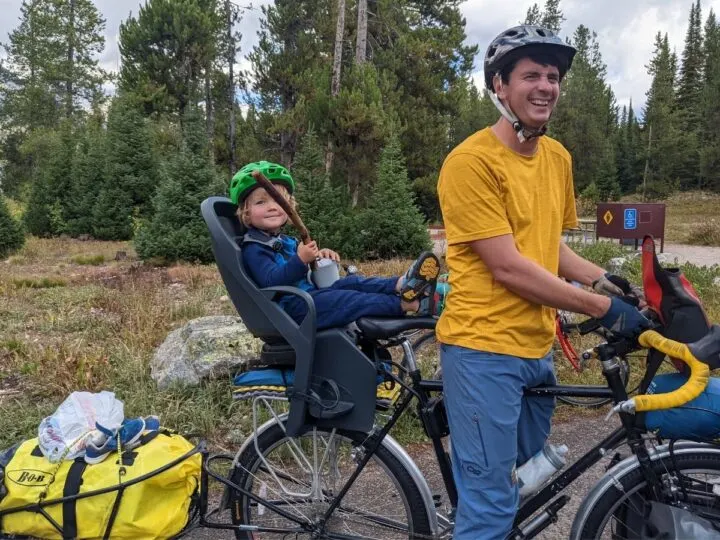 The Burley Dash FM seat is a frame mounted carrier. It mounts to the seat tube on your bike by a clamp mechanism that you screw on, and the seat attaches by inserting two steel prongs.
It has a quick detachment option for when you want to take the seat off for storage. The clamp stays on the bike, and the seat can be removed easily.
I love the fact that little green buttons pop out to show the seat is attached correctly and securely. It also has the safety tether. One thing I don't love- The mounting bracket does hit my thighs a bit when I pedal, which is annoying on longer rides.
The seat has a mechanism which allows you to slide the seat forward or backwards. I appreciated being able to decide how close to keep my little one.
The FM is the middle of the road in regards to weight. It weighs 7.5 lbs, which is noticeable, but very manageable.
The Burley Dash X FM is nearly identical to the FM, with the big difference being that it can recline to three different positions, the furthest being 20 degrees back.
I leaned my kid back to the most reclined position and he definitely seemed more comfortable than sitting upright like he does in the FM style. The 20 degree recline puts him in a very similar position as he would be in most strollers.
I hoped the recline option would help with sleeping in the seat (which my kid often does), but he wasn't really able to comfortably sleep, even with the furthest recline. Some kind of side head support would be handy.
Also, I noticed the recline seat seemed to bounce a bit when riding on bumpy or gravel roads, which kind of bothered me. But, after trying the rack mounted seat which has no cushion for bumps, I think this may be a bit more comfortable if you ride a lot of bumpy/gravel paths.
The X FM is the heaviest of the Burley line at 9.3 lbs. It's weight comes from the reclining base that it's mounted on. The ability to lean your baby back is definitely worth the weight!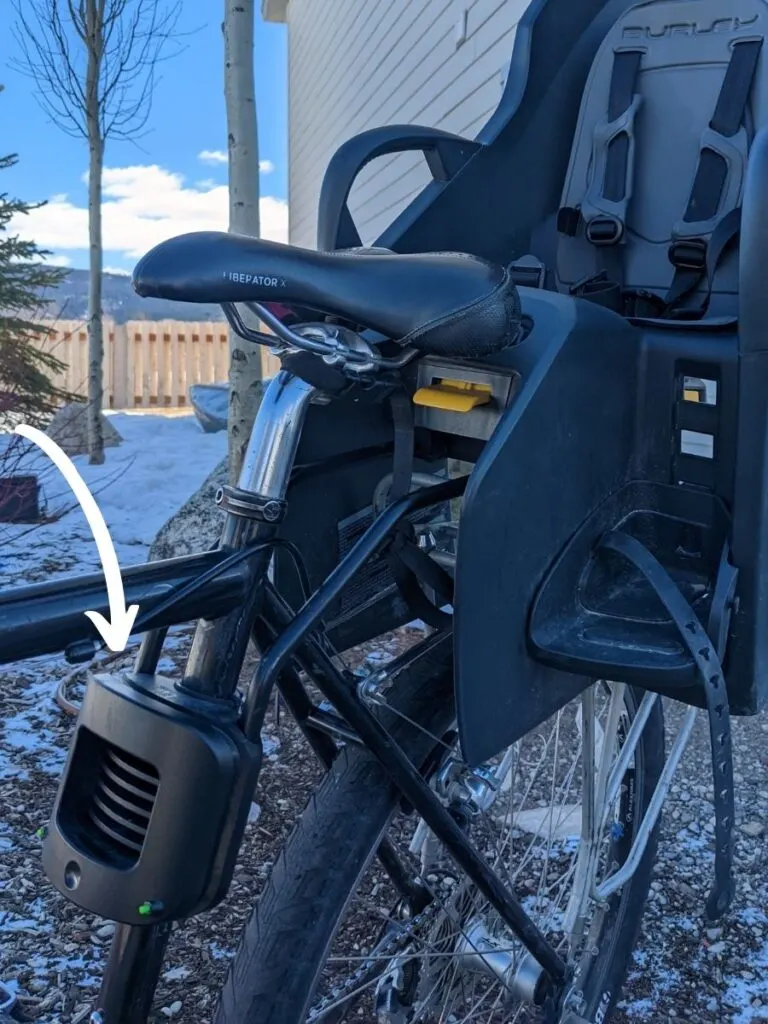 What we love about the Burley Dash
Easy to use
Using this seat is simple. The seat and attachments felt very solid and I didn't have any safety concerns while using the Dash. It's lightweight, user friendly, and goes on and off your bike quickly and easily. The reclining options are very convenient, and the rear storage compartment is clutch. It's nice to be able to bring a few items and not haul a bag.
Comfortable buckles & straps
All the Dash seats have a five-point harness system that buckles in the front, very similar to what you'd find on most strollers. It's definitely my favorite harness style. Most other seats we've tried had the ol' crotch buckle, which doesn't seem too comfortable in my opinion.
It's also really easy to raise or lower the shoulder height, depending on the rider. Some riders complain the straps don't tighten all the way down on the smallest kiddos, but they're still secure and your kid is not going to fall out. Also worth mentioning – the foot rests are easily adjustable as well.
Quality materials at a reasonable price
Thule Yepp vs Burley Dash
High end bike seats, like the Thule Yepp, can cost up to $260, and you get a quality seat but minimal features.
The Burley Dash comes in at only $160, giving you quality with lots of extras, like the storage in the rear of the seat, reclining options, a nice five point harness, and arm rests, for much less money. There are cheaper seats out there, but you do sacrifice quality and ease of use with them.
What we don't love about the Burley Dash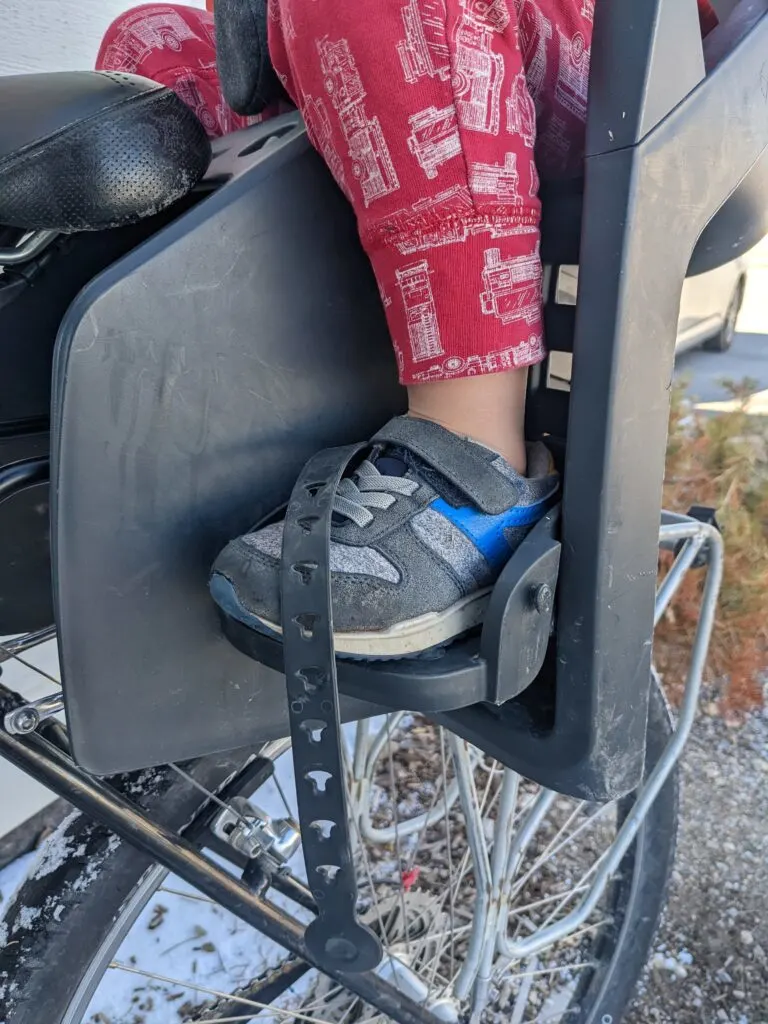 Foot straps are difficult to use
Most users we talked to (including ourselves) complained of the foot straps being very hard to secure. They are rubber adjustable straps, but they are so hard to actually strap and unstrap, we rarely use them. Our kid can easily wiggle his feet out of them anyway, so we just deal with the occasional foot in the back. Not to worry- the seat has leg guards so you don't need to stress about your little one's feet or legs getting caught in a tire or spoke.
No ventilation in seat back
Depending on where you live or ride, ventilation could be a problem. We love the Thule Yepp for all the ventilation holes and the rubber seat that doesn't hold moisture. The Dash doesn't breathe as well, so in hot and humid climates you'll deal with sweaty backs and bums. It actually pooled water during a freak rainstorm we cycled through. Not a deal breaker but something that could be improved.
No great sleeping solutions
I know rear bike seats are not made for nap time, but I do wish this seat has some side head support for the occasional snooze. We've actually put hundreds of miles on this seat bike touring as a family, and it would be nice if our little one could sleep without bobbing and cranking his neck. Most higher end seats do not have this option, but it is something I often want.
Bottom Line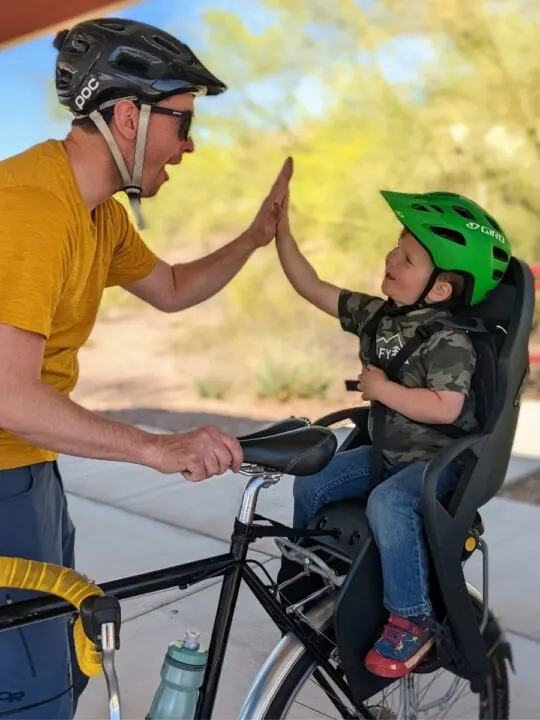 After putting miles on both the FM-X and RM seats, I can confidently say this seat is worth the price. It's comfortable, solidly made, and user friendly. It's lightweight, easy to maneuver, and looks good on the bike. If you're looking for an affordable option to ride with your kid around town, this is it!
Related Articles
Burley Dash Review
© 2022, Kids Ride Bikes. All rights reserved. Republication, in part or entirety, requires a link back to this original post and permission from the author.