Moab with Kids: Where to Bike
I have a special place in my heart for Moab and how family-friendly it is for little bikers. We have been taking our family of 5 (kids are now aged 3, 7, and 9) there regularly and they've grown up progressing on that iconic red dirt since they were on balance bikes. There's more to Moab than the famous, technical rides (read: Slickrock, Porcupine Rim), and these are our favorite kid friendly trails.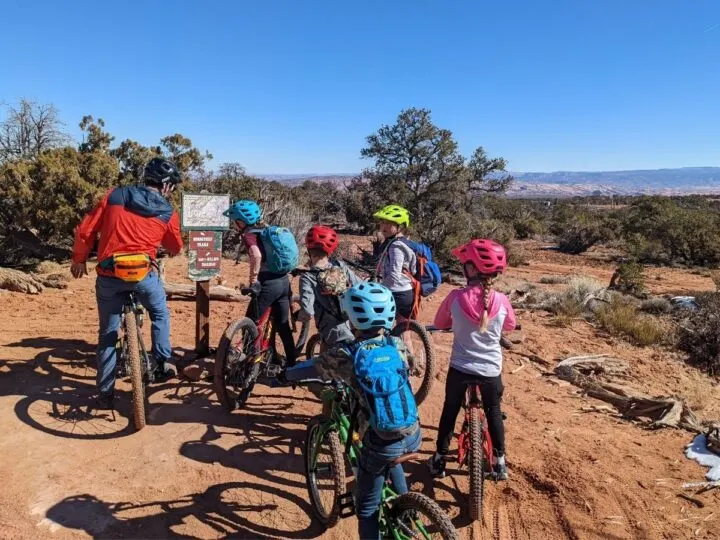 Tips for Mountain Biking with Kids in Moab
Be Prepared
Before you head out on any of these trails, it's important to make sure you're prepared. Research the areas you're going to, and make sure you know if you'll have cell service or a way to call for help in an emergency. Download maps just in case (Mtbproject makes it easy). Take a first aid kit; everything in the desert is sharp and abrasive, which you'll notice with little kids in tow. Make sure the trail is suitable for ALL the abilities of your family.
Pack the right gear
Pack lots of water & sunscreen (Moab gets HOT!) We love the Kids Camelbaks– easy to stay hydrated and space for snacks! Have helmets for everyone. I also like to put our kids in lightweight long sleeve sun shirts, to protect from sun and whatever else they run into. Closed toed shoes are a must, as a cactus, chain ring or boulder to the toe could ruin your trip! On that note, bike gloves are recommended, as they'll protect little hands in the event of a crash.
Have bike repair kits and a multi-tool and knowledge to use them. Pack extra tubes- everything in the desert is sharp!
As an Amazon Associate and member of other affiliate programs, we earn from qualifying purchases.
Mountain Bike Trails in Moab
Bar M Trails
The Bar M Trails are relatively new and are a great biking area for all abilities. It boasts 31 miles of trail, mostly singletrack and many loop options. EZ LAZY is a great beginner loop. There's also a 7 mile family friendly "Bar M' loop, which is mostly two track, with great views.
Just up the bike path is another short loop my youngest kids enjoy- Rusty Spur. The newly installed pump track and skills park allow for a nice warm-up for everyone before selecting a trail to ride. It's also conveniently located near the paved bike path. Set up a shuttle and take a mostly downhill cruise to town.
Getting there
Take U.S. 191 North out of Moab about 8 miles to the Bar-M Chuckwagon, turn right to enter the Bar-M private parking lot. Follow the road past the Chuckwagon, and to get to Bar M trails veer left at the paved bike path, or go straight along the bike path to get to the Rusty Spur (and a southern entrance to Bar M). This is a no fee area.
Horsethief Trails Mountain Bike Trails Moab
We LOVE the Horsethief BLM campground since it is slightly out of town (about 30 minutes or so), is also at a higher elevation (so cooler temps), and is surrounded by a huge network of mountain biking trails. In fact, we very often will go camp there and bike ONLY on those trails since they are enough. Every time we go it seems more trails have been added or improved – there really is something for everyone there.
Since the trails are also on BLM land, it means they are dog-friendly. Of course, it's imperative that everyone continues to be respectful with dogs on the trails, but I love that we can take the WHOLE family there AND wear everyone out. Beware of raw paws and cactus.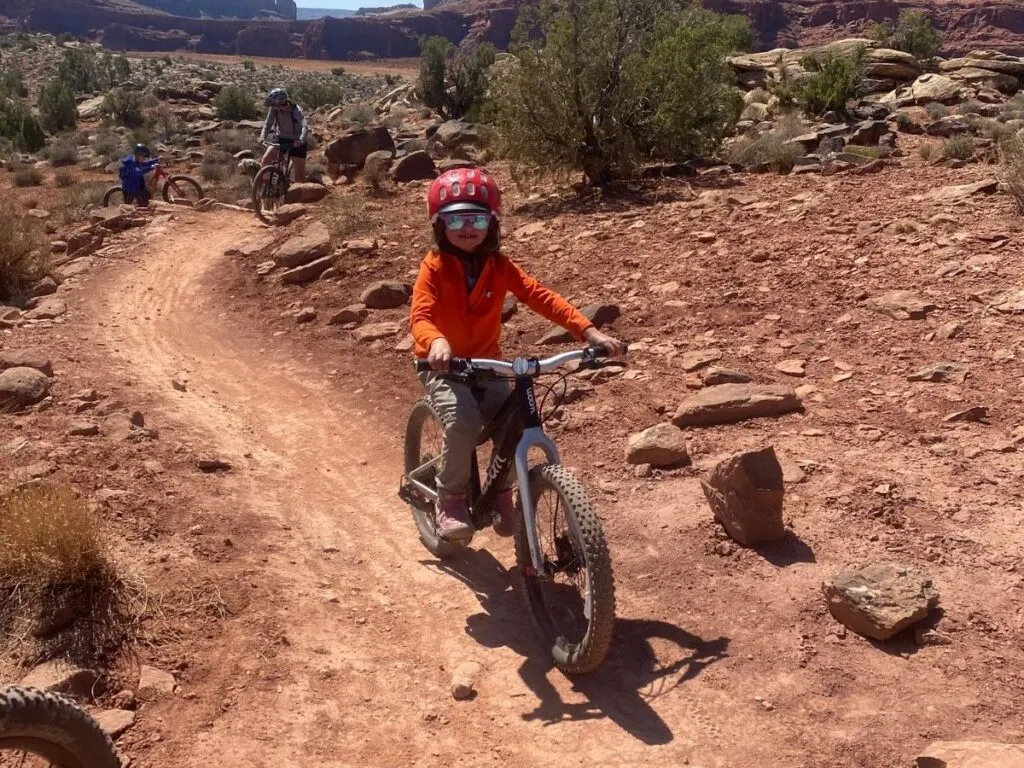 Wrangler and Rowdy
For beginners and kids on balance bikes, these are the best trails. Wrangler (.7 mile loop) is the easiest, but the couple of rock drops on Rowdy (.5 mile loop) are easy to walk around if needed. They run right along the edge of the campground and are easy to bail from if a kid's mood changes.
Chisholm Trail
The Chisholm trail is a much longer connector trail, but you can easily access part of it from the Horsethief campground to do a loop. It conveniently links to some of the smaller trails to just make them a little longer.
Getaway Trail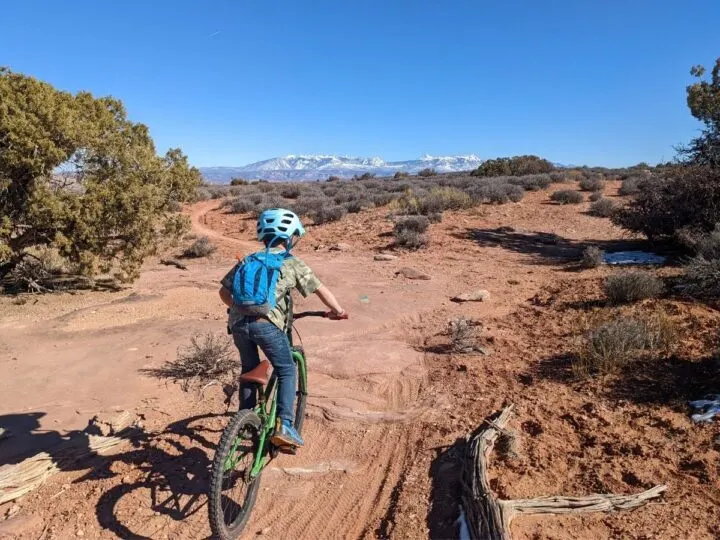 For slightly intermediate riders, this is one of our favorites. It's a fun one to shuttle, which gives you 7.8 miles of fun, mostly downhill practice. Lots of ledges to work on drops, with short climbs, some slickrock, and great views. It ends right near Gemini Bridges, which is a short walk out to some natural bridges.
Getting there
Take Highway 191 north out of Moab and head up highway 313 (toward Canyonlands NP). About 11.8 miles up turn right onto the campground road. There are a few different trailheads in this network, so your final destination depends on your trail choice, but they're all in this vicinity. To access Getaway trail, turn left on Gemini Bridges road from HWY 313 and park at the first pull-out on your left. To shuttle it, drop a car 8 miles down that dirt road near the Gemini bridges trailhead.
Klonzo Trails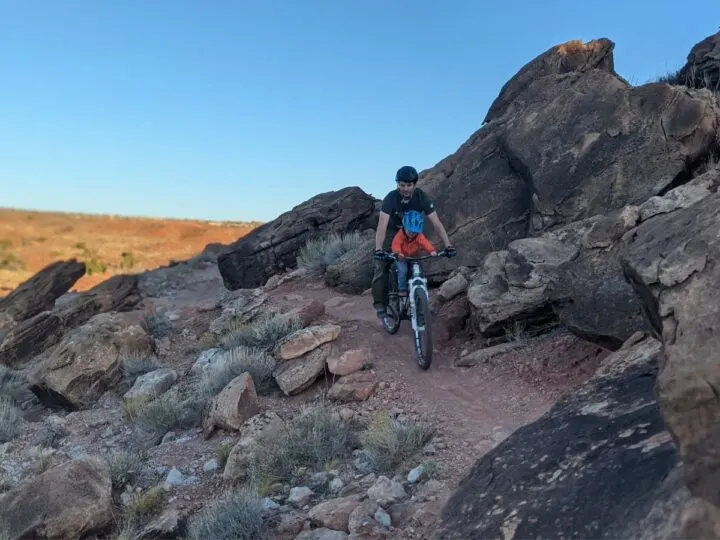 12 miles north of Moab, off Willow springs road is a network of trails that are great for beginners. Straddling both sides of Willow Springs road is a whole network of trails, many of which are short kid friendly loops. On the south side of the road are easier trails, and the north side is slightly harder, although still do-able for beginners willing to walk around a few obstacles.
There are trails that lead to some dinosaur tracks (faint, but there!), which my kids loved. We liked Hot Dog trail- short, not too much climbing, and distant views of Arches and the La Sal mountains. There is plenty of signage along the trails, allowing you to connect several loops or change course depending on attitudes, etc.
Getting there
To access this trail network, take Highway 191 north of town for just over 12 miles, until Willow Springs Road branches off to the right. Stay on the main dirt road for about 2.5 miles, and you'll see the main trailhead and parking area to your left. Note: the dirt road crosses Courthouse Wash, which may have deep, loose sand and sometimes requires clearance/4WD.
Klondike Bluffs Trails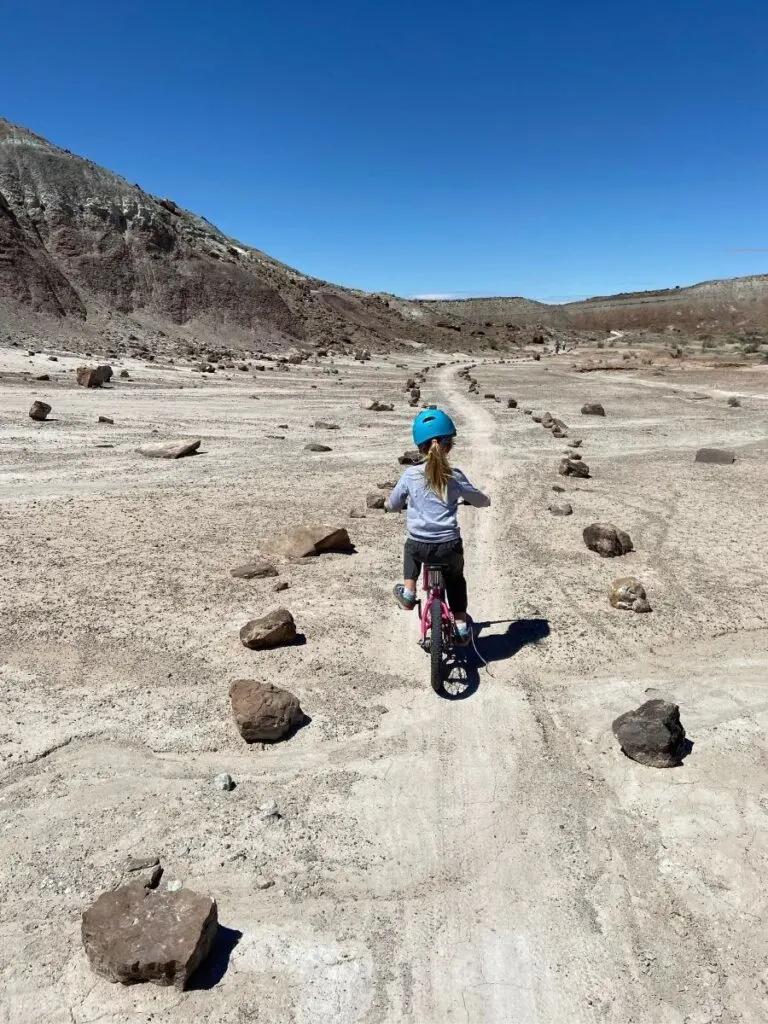 The most notable trail here for beginners is the Jurassic trail. 3 miles out and back, nice and smooth, essentially no elevation changes. It's a very good confidence building trail for timid riders. You may be tempted to hop on Dino trail to make it a loop, but for true beginners, this would turn into a trail of tears. Dino is quite a bit more technical. There is also an easy one mile loop called Chilkoot Pass.
Getting there
From Moab, drive 15 miles north to the Klondike Bluffs road on the right hand side of the highway. Drive 2.8 miles up this road, keeping left at the fork. There is a broad parking area by the fence.
Dead Horse Point Mountain Bike Trails
This is a fee area, in Dead Horse State Park. Very scenic, and 16.6 total miles of singletrack. You can ride out to view the Colorado River overlook and La Sal mountains, as well as miles of stunning scenery along the trail. Good for beginner to intermediate riders, but entertaining for expert riders as well.
Its fast and flowy, with a variety of ledges and drops, slickrock, sand, and some small technical hills depending on which loops you choose. Very good signage along the trail means you shouldn't worry about getting turned around. Probably ideal for 7-12 year olds with some biking experience.
Getting there
Take highway 313 to Dead Horse State Park, 32 miles from Moab. Park at the visitors center parking lot. The fee is $15 to enter the state park.
Paved Bike Trails/ Town skills parks in Moab
If you're staying right in Moab or in one of the campgrounds along the river, there is a great paved trail network for biking. Running from town up the Colorado river canyon, as well as all the way to Bar M trails, it is scenic and relaxing. Worth a ride, even if it's not mountain biking. Great for pulling a trailer or cruising with the tiny balance bikers.
Also, in Moab proper there are a few bike parks (jumps, skills parks) in town, not far from the main road. One is off 500 W, and more of a BMX style jump park with some pump tracks. If you find the hospital, it's right across the street.
The other is Robin Groff memorial park, just behind the Moab diner. It is great for building singletrack skills. Both are accessible from the paved bike path running through town, and a fun after dinner place to play.
More than you can fit in one trip
Moab is a dream playground for my kids. There are tons of options for biking, from beginner to expert, so if you have a family with a wide range of abilities, pick a trail system and trade off. You can easily ride half a day and still fit in a hike or some river time. We couldn't cover every trail in this article, but the ones listed are a great place to start. The possibilities are endless- so get out there an explore!
Related Articles
© 2021 Kids Ride Bikes. All rights reserved. Republication, in part or entirety, requires a link back to this original post and permission from the author.