Katy Trail Trip Planner: The Ideal Family Bike Tour
Looking for that perfect introductory trail for family bike touring/packing? Look no further than the Katy Trail! Stretching 240 miles across Missouri, this converted rail trail offers a totally car free cycling experience with several trail heads to customize mileage. Built to cater to cyclists, it runs through adorable historic towns with inns, campgrounds, cafes and bike shops.
As an Amazon Associate and member of other affiliate programs, we earn from qualifying purchases.
On a Family Biking Mission
Last fall (Sept. 2021), our family of five decided to bike the entirety of the Katy trail, hauling our gear and camping along the way. Late September was recommended by online forums for the best weather window.
So we, two adults, a two year old in a bike seat and six and eight year old on their own bikes, set off for the adventure.
Not sure how to start bike touring as a family? Start here!
The Katy Trail: An educational experience
Sections of the Katy are also part of the Lewis and Clark National Historic Trail (which made us feel better about pulling our kids out of school to ride it- hello road schooling!). Each trail head has informational maps/signage, as well as marked historical sites along the trail.
Our kids were also entertained by endless critter catching opportunities and creeks/mud to play in (read: field biology!)
The rail trail appeal
With our kids' ages, we are always looking for safe bike routes that are long enough to make into a tour. Rail trails are proving to be ideal, although they are often not longer than a few days of biking. That's what drew us to the Katy trail.
The Katy trail is the perfect length for an easy multi-day trip!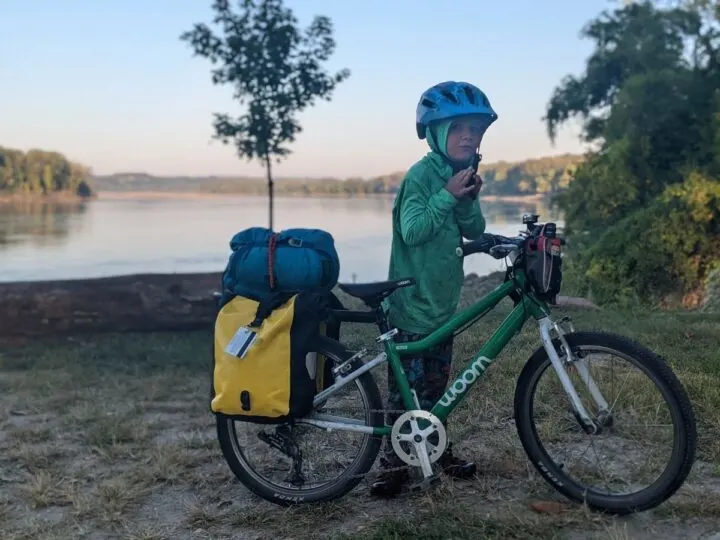 At almost 300 miles (the longest in the country), the Katy could provide us with a week or two of fairly flat biking without worries of traffic or route finding! It was still a bit tricky to map out daily mileage in regards to food and camping availability, but you've got to have some uncertainty and challenge to feel like an adventure, right?
Flexible overnight options on the Katy Trail
Because kids are unpredictable, we didn't want to commit to an itinerary and book lodging, so we packed a tent and opted for flexibility. However, the campgrounds and inns are similarly spaced out, and because of the flat, well packed trail our kids were able to cover the mileage needed easily. Truth be told, this handy tow rope helped our 6 year old when he ran out of steam before the rest of us.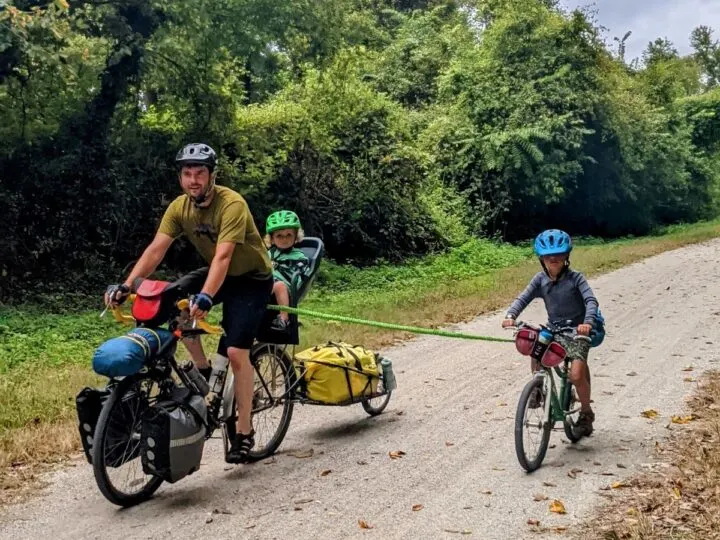 Katy Trail Kindness
After driving two straight days from Idaho, we arrived in Missouri far from home and a little nervous for the trip. We had no idea how many kind folks we'd meet along the way. People were impressed to see a fully loaded family, often cheering us on and boosting our spirits.
Helpful locals abound on the Katy Trail
Our first night we were welcomed by a friendly host who led us through the dark to a cabin with beds, showers, and a nearby gas station to grab celebratory ice cream cones. It was our first taste of the friendly spirit of the Katy trail. We would continue to be met with midwest kindness all the way through- from helpful locals giving directions to people going out of their way to buy us ice cream!
Trail Angels
One day we rolled into a town expecting a restaurant or store on a HOT day, only to find the gas station closed and a bar as the only option. With three small kids in tow we must have looked desperate, because a sweet lady pulled over and asked if she could drive to the nearest town and buy us something!
She ended up coming back with ice cream and cold water and we could not have been more grateful!
Katy Trail Weather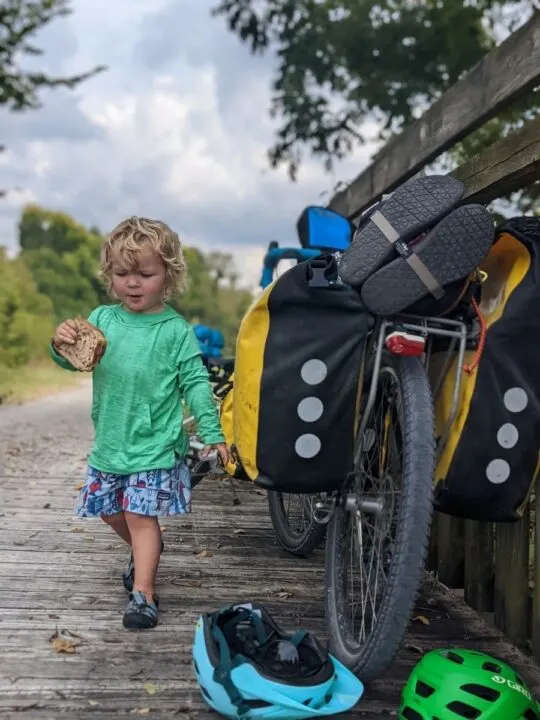 Humidity is a challenge on the Katy Trail
Being from the dry mountain west, we learned very quickly that the humidity was a challenge. With temps in the 90's and 90% humidity, the late September weather was hotter than usual and we wanted a shower every. single. night. Fall is generally the best weather to ride, but there are no guarantees.
Thunderstorms and flooding
With humidity, be prepared for rain/thunderstorms. There are not a lot of options for cover on the trail, so we were glad we had rain gear. We only had to cycle through one day of storms, but the thunder freaked our kids out. I've also heard reports of flooding on the trail in spring, so watch the trail reports!
Plan lodging around weather
Personally, I would probably have tried to book a cabin or inn every night, because climbing into a sticky sleeping bag in a stuffy tent was not my favorite. However, after 20-40 miles a day our kids somehow still had energy to burn at night, so it was nice to have space for them to run around and play and catch the billion frogs that were along the Katy corridor.
The Katy Trail is a Natural Playground
The highlight of the trip for our kids was definitely finding and catching critters- frogs, turtles, toads, lizards. They even managed to find a walking stick, praying mantis and a few late season fireflies. Because the trail follows the Missouri river, there are many creeks and tributaries that flow into it, and therefore lots of cool bridges to play under and around.
Rest stops: nature's babysitter
We made a deal with our kids that each rest stop or snack break we took had to be on a bridge. That way we could rest our bikes and backs against a railing, and the kids would immediately drop their bikes and scatter, returning later with hands full of frogs and feet full of mud.
Luckily, each trail head we passed had a water spigot we could spray them off with (and dump over our heads to beat that dang heat).
Frogs: Missouri's welcoming committee?
The kids joked that wherever there was water, even a puddle, there were frogs. We found them in nearly all the campground bathrooms/showers, which kept them giggling every time. To quote 6 year old Eli, "you might see a bull frog the size of four quarters in the middle of the trail, because I did!"
Katy Trail Trip Planner: Route and Logistics
Katy Trail Map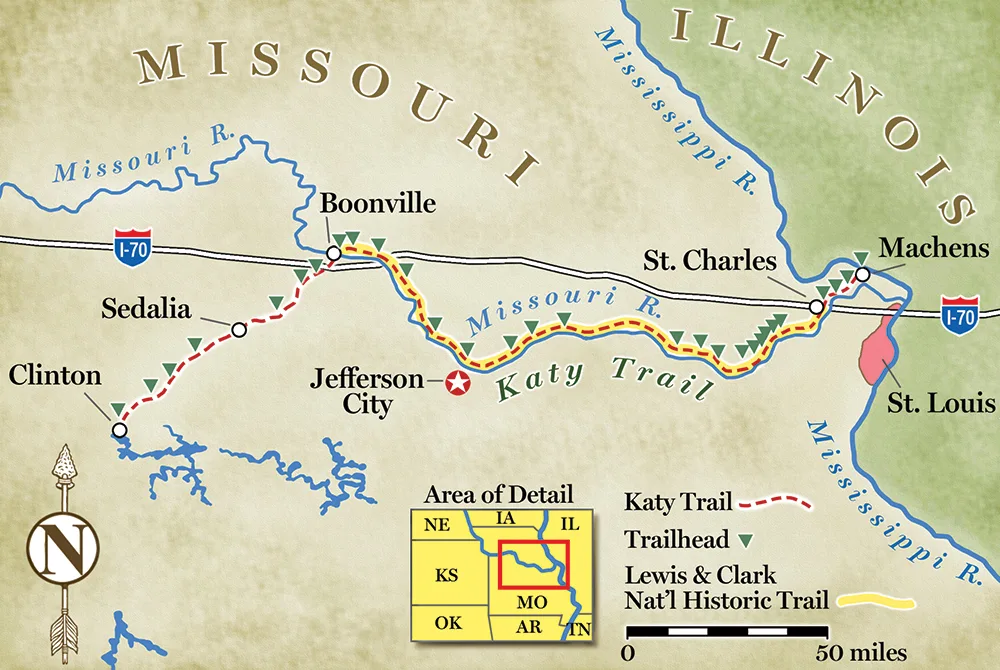 Trail heads on the Katy Trail are spaced roughly 10-12 miles apart, so you're never too far from a bathroom or water spigot. Most have a 'train depot' type structure, including benches and boards with maps/mileages, local history and information. They add a really fun rail trail feel to the place. It's very helpful to refer to this mileage chart.
Most popular Katy Trail Route – Clinton to St. Charles
Most people doing the length of the trail start in Clinton, MO and bike to St. Charles. There are several marked spurs you can bike to add mileage and adventure. The trail technically goes another 12 miles to Machens, but there's no parking lot or services there, so you'd have to turn right back around to St. Charles.
St. Charles is a suburb of St. Louis, with lots of restaurants, hotels, grocery and gas stations, etc, as well as a very cute old downtown area just off the trail. It's a great ending point.
Shuttle options on the Katy Trail
The shuttle can be done a few ways. There is a passenger train on a newer railway that runs essentially the same route as the Katy, so you can book one way tickets and leave your car on the other end, either biking from the train stop to your car or vice versa.
We had friends in Missouri who graciously shuttled our car from Clinton to St. Charles. There are also several bike shops and businesses that offer shuttle services on the Katy.
Katy Trail Conditions
The trail itself is awesome. It's crushed limestone, (not paved) but very hard packed and smooth. We did not have a problem riding it. We did have gravel tires, which probably helped.
If there has been rain, there may be some ruts to watch out for, and there were fallen walnuts all over when we rode but it was easy enough to dodge them.
Katy Trail: Welcome to the jungle
The trail is often lined with trees that grow together to form beautiful tree tunnels, interspersed with Missouri river views, limestone cliffs, and what felt like jungle. The hum of insects and the ivy draping everything in the nearby woods made it feel tropical at times.
In fact, our 8 year old wanted to share a word of caution: "Don't walk around in the bushes, because you might run into poison ivy or poison oak!" There may or may not have been some skin rash issues from getting too friendly with the local flora.
The highlights for me were the beautiful trestle bridges, tree tunnels, and several historical sites to stop at.
Lodging and Camping on the Katy Trail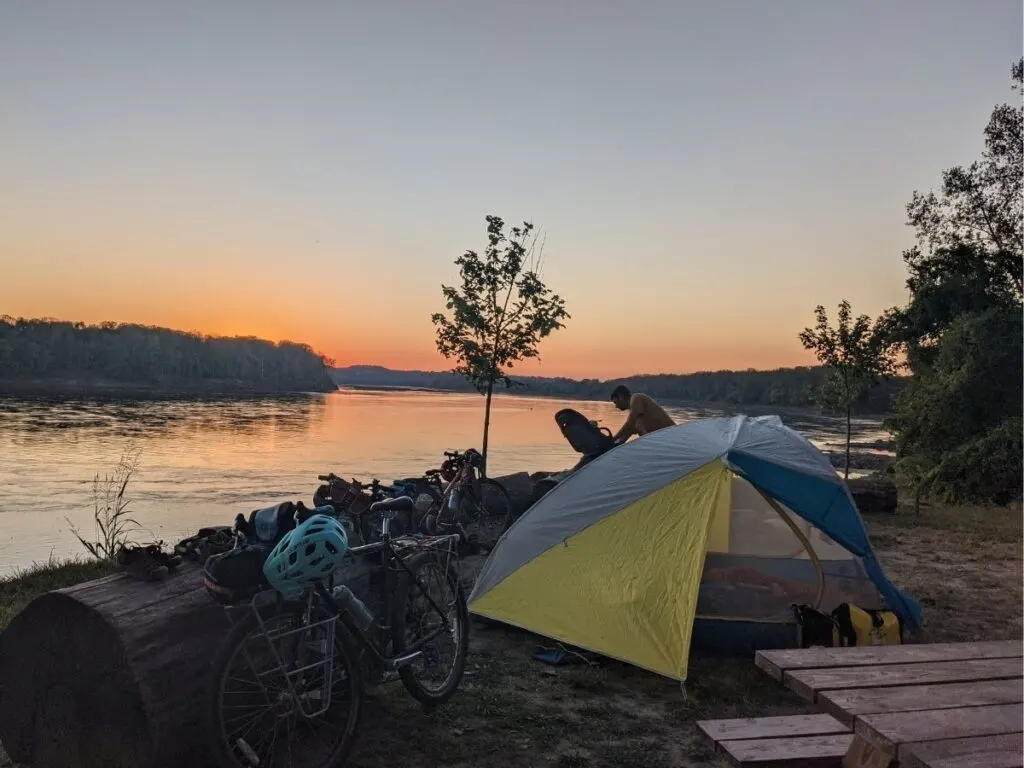 As far as lodging, there are many B&Bs, cabins, and campgrounds spaced along the trail. Inns will require advanced reservations, as they fill up quickly in the peak months, but they cater specifically to cyclists and generally have places to store bikes, etc. Campgrounds are more readily available last minute, but are not all created equal!
Best Katy Trail Campgrounds
For example, we camped at the Sedalia fairgrounds our second night. It was roomy, had showers and stores nearby, but was also busy and loud. We got a terrible night's sleep because there was traffic in and around the campground all night.
But, near Marthasville, we camped at an old caboose train car turned cafe with camp spots around it. It was quiet and comfortable, and bonus- the owner runs the cafe and gives you a free ice cream with the purchase of a campsite! It was a great experience chatting with the locals and eating great food we didn't have to cook.
Be Prepared to Bike the Katy Trail
There are many online resources mapping out stops with lists of campgrounds and places to stay, which I'll link here. It's very helpful in planning out your daily mileage/stops. In between towns it is forest, prairie, or farm land, and can sometimes feel quite remote.
Some of the towns listed did not have the services we expected, and I think that varies by season, so you'll need to be prepared in case there isn't a store open where you expect one.
Sample Itinerary for the Katy Trail for Families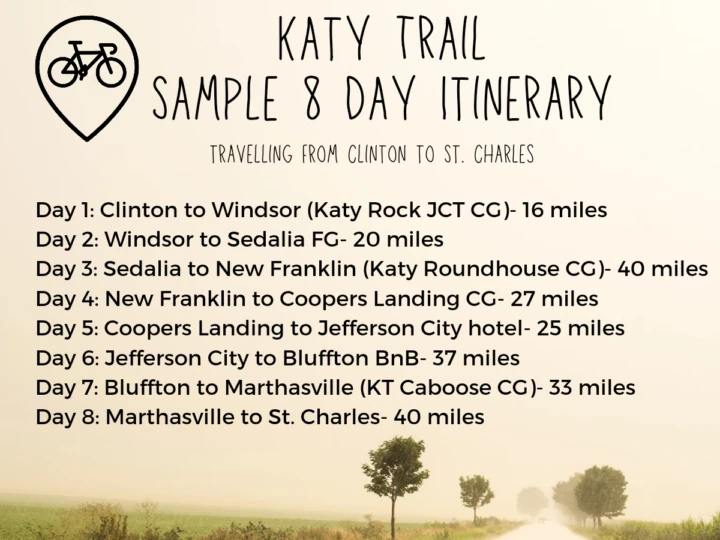 Our trip took 8 days of riding, but there are options to make it longer or shorter. We based mileage on our kids attitudes and abilities, combined with availability of camping/lodging. Refer to this link for a full list of campgrounds and lodging.
What should you bring on the Katy Trail for a Bikepacking trip?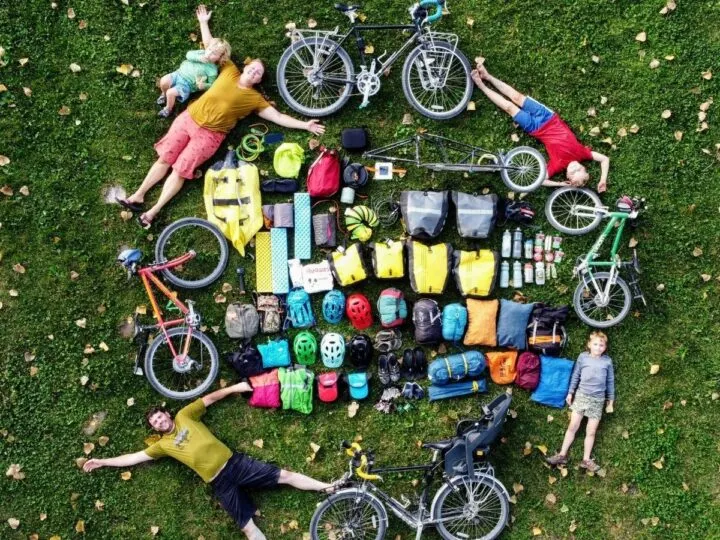 Here's a basic list of what you'd need to bike tour on the Katy or any place, really. This is a simplified list meant to give you an idea of what to round up. It is not exhaustive and would need to be personalized. One suggestion- make these things as lightweight as possible- you're carrying them all!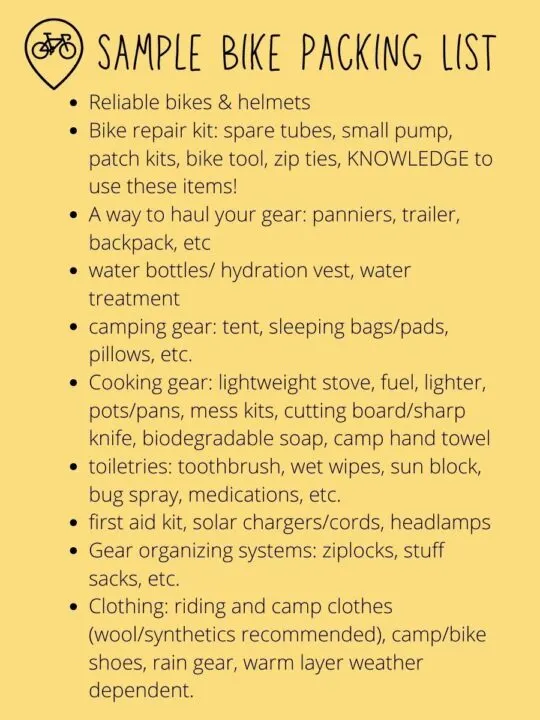 You'll never want it to end
Our kids literally tried to bike slower on the last day of our tour because they did not want it to end! If you're looking to get a taste of bike touring with kids, this trail is great. It's not perfect, but perfect is boring! It's less stressful than road riding, has fun detours and beautiful scenery. So what are you waiting for? Pack those panniers and get out on the trail!
Related Articles
Bike the Katy Trail with Kids
© 2022, Kids Ride Bikes. All rights reserved. Republication, in part or entirety, requires a link back to this original post and permission from the author.