Frog 55 Bike Review
Frog Bikes are a brand out of the UK, but less well known in the U.S. However, they should start getting more attention – these little machines are very high quality. We were able to test the 20 inch Frog bike, and our 7 year old LOVES it.
The Frog 55 is incredibly lightweight, has quality custom components, and fun colors and decals. Its perfect for cruising around town, along the bike paths, or on light dirt/trails, and your 6-8 year old will have no trouble controlling and maneuvering this ride.
As an Amazon Associate and member of other affiliate programs, we earn from qualifying purchases.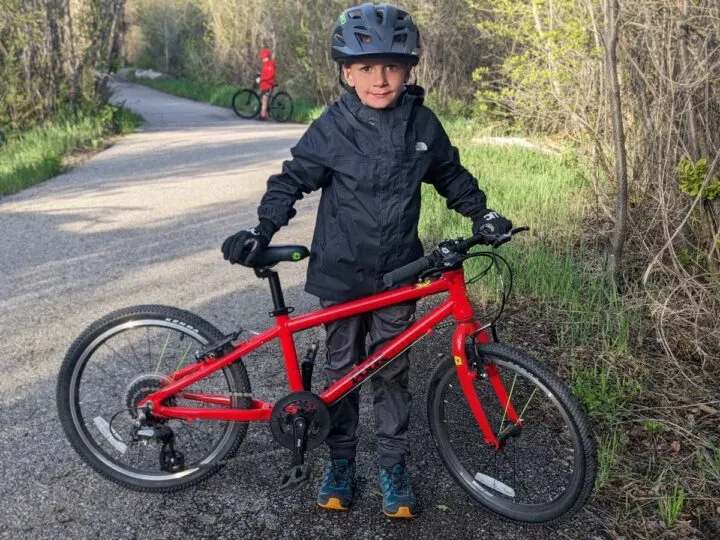 Frog Bikes
Frog has put an incredible amount of thoughtful work into their bikes, from their unique crank design (more on that below) to their matching touch up stickers to cover scratches. My amphibian loving kids all loved the fun frog decals all over the bike, and I loved the lightweight frame that helped them keep up with me on rides.
Key Features
Lightweight and easy to learn on
Kid specific geometry and design
Reduced Q factor for easier pedaling
Aluminum frame
Flat mountain bike style handlebars
Youth specific 8-speed Shimano trigger shifters & Tektro brakes
Quick release levers for easy adjustments
Mud guards and bell included
8 colors to choose from
Frog 55 Specs
Weight- 18.9 lbs
20 inch tires
Patented frog cranks (114 mm crank length)
Kenda knobby off road tires 20X1.5″
Tektro V brakes, with adjustable levers to fit small hands
44-55″ rider height (6-8 Y.O.)
Stand over height -21.4″
Min seat height: 23.7″
Max seat height 29″
Price: $580
Frog Bike: A worthy investment
Like most higher end kids bikes, the Frog bike is a bigger price tag for a kids bike, but it's worth it. Spending less on a department store bike might be easier, but they tend to be quite heavy and less repairable when they break.
Kid specific brands like Frog make learning and progressing on a pedal bike much more enjoyable for your child. Frog's lightweight build and design make it a really fun bike to ride. My 7 year old was able to ride more than 10 miles on his and didn't complain!
In fact, he rides it almost every day to school, around the neighborhood, and on our local single track. It's easy to maneuver and shift, and adds up to much less fatigue on his little legs.
Kid Specific design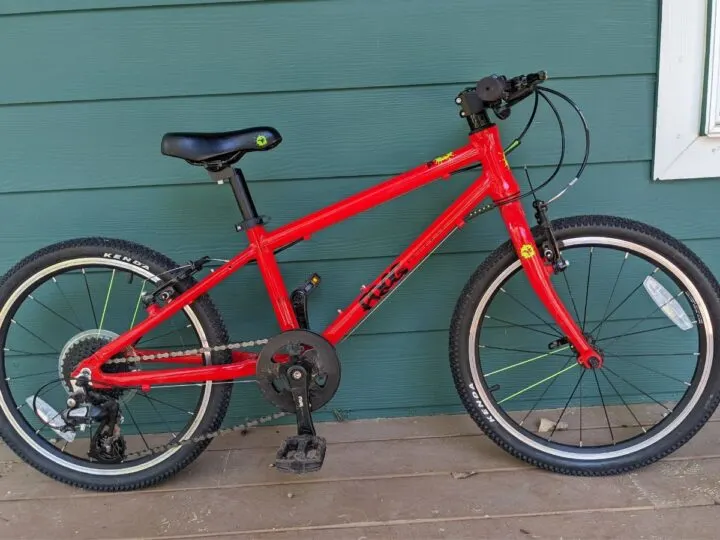 This bike fits kids well. The brakes and shifters are easy to reach and use (and adjustable), the frame is comfortable for small kids, the pedals are efficient. It's got a long wheel base for added stability.
The seat is narrow enough for kid sized hips and sit bones, and padded for comfort. Paired with the lightweight aluminum frame, these features are key for building confident riders.
Frog's custom cranks
Frog has outfitted their bikes with their own unique crank design, which reduces the "Q factor". This refers to the space between the pedals. With less space between the pedals (lower Q factor), kids can push more directly down when pedaling, giving them a more efficient pedal stroke and saving energy for longer rides.
We definitely noticed this with our son. He doesn't generally have much endurance (read: he's a typical whiny 7 year old ), but on our longer rides he kept up just fine.
Frog Bikes Thoughtful Extras
We loved all the extra touches on the Frog. The cute frog decals are stamped everywhere. The lightweight chain guard, the quick release levers for easy adjustments and tire changes, rear rack compatibility, and an optional mudguard kit that's included are some of the things I appreciated.
The tires included are small knobby Kenda tires, which worked great for pavement riding, but also functioned well for dirt/light trail use. Although not a mountain bike, the handlebars are flat mtb style, and my kid said they were comfortable to ride with.
How does the Frog 55 bike ride?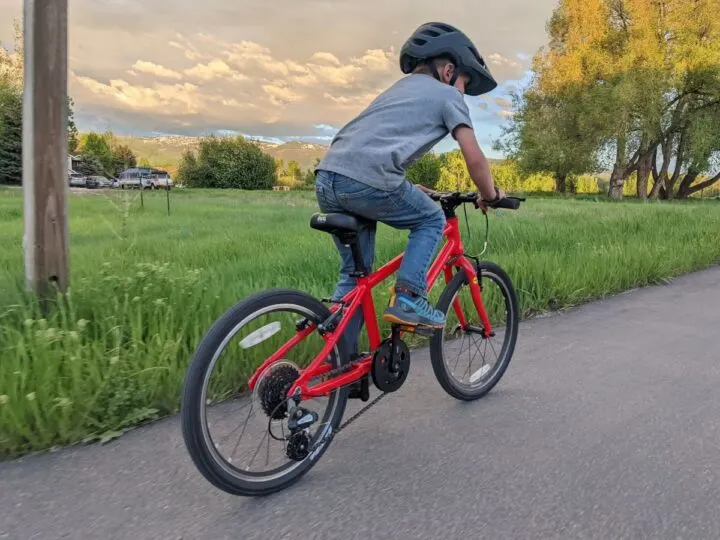 My very confident rider loves this bike. He flies around the neighborhood, and loves the smooth, fast ride. He says the skinny tires make him feel fast. It does remind me of a cute, tiny road bike.
We also tested it with timid, beginner riders and they loved it too. It seemed easy and stable to ride and they picked up a new confidence on the bike.
One thing to note, though: this bike does seem to run a bit small. Make sure and measure inseams, it may be better fit for the smaller rider.
A true Hybrid bike
We've ridden the Frog 55 on dirt trails and pump tracks a good amount. It performs well, and the tires are grippy enough to handle varied terrain, but it is not a mountain bike. I'd say it's a true hybrid bike. There is plenty of room to upgrade to bigger tires if you prefer. That said, our rider didn't have any trouble controlling and enjoying the pump track on the stock tires.
If you are a family who rides primarily on roads, bike paths, and neighborhoods, this would be ideal. You'll be fine on dirt trails, but if you're wanting a true mountain bike, Frog does make one, which you can check out HERE.
What we don't love about the Frog 55
There honestly isn't much my kid and I didn't love about this bike. Some might prefer disc brakes over the V brakes it comes with. Some may prefer bolts instead of quick release collars on the seat post/axles. However, I felt like those two features made it easier for me to service without the help of a bike professional. The only thing my son said he would change is to raise the handlebars for a more upright ride (which can be remedied). That and he wants a dropper post on his seat like mom. Nice try, buddy.
Frog 55 Bicycle for Kids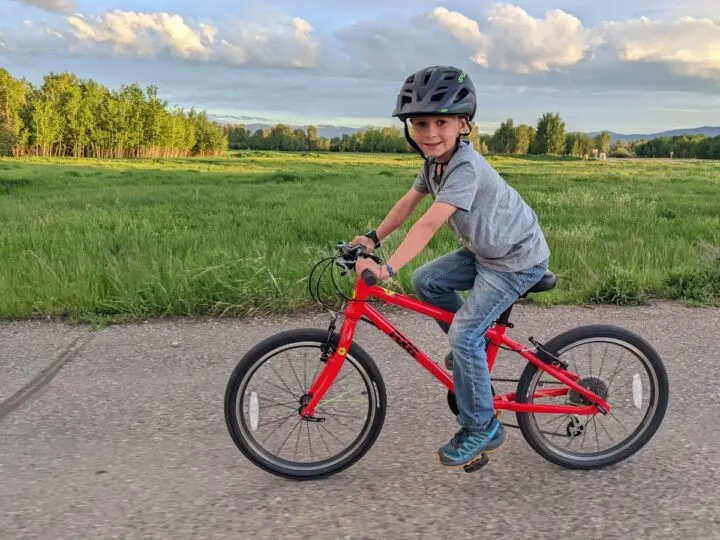 This little bike is a favorite of ours. My husband and I ride touring bikes; this bike has a similar feel and fits right in. It is capable and high quality, and ever better, my kid loves it. My kid doesn't care about the Q factor, but he does care about frogs and colors and fast rolling wheels, which makes it a win for both of us.
You can learn more about Frog Bikes directly from their site and purchase them in the US from Ready, Set, Pedal.
Related Articles
© 2022, Kids Ride Bikes. All rights reserved. Republication, in part or entirety, requires a link back to this original post and permission from the author.