Guardian Balance Bike Review
Guardian Bikes started on a mission to build safer bikes for kids after the founder's grandfather went head-over-handlebars and landed in the hospital. They invented SureStop brakes and designed an overall thoughtful bike for kids.
We are a die-hard balance bike family. Our oldest transitioned from her balance bike to a pedal bike just before her third birthday and the transition was a breeze. Our three-year-old transitioned to a pedal bike a few weeks after practicing with our new Guardian balance bike. The confidence he got from trying out a new "big boy" balance bike with brakes like his sister's bike really helped motivated him to move onto a pedal bike.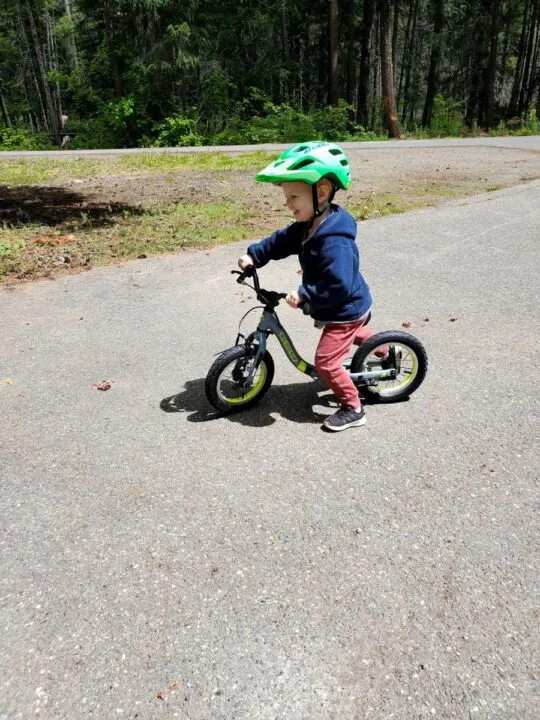 Guardian Balance Bike Review
The Guardian Balance Bike is a new line of bikes from the children's bike company, Guardian, best known for its SureStop Brake System offers toddlers a safer and easier way to stop their balance bike and is one of the few balance bikes on the market with a brake at all.
Guardian claims these brakes require half the hand strength of a normal brake so even the youngest riders can brake with confidence.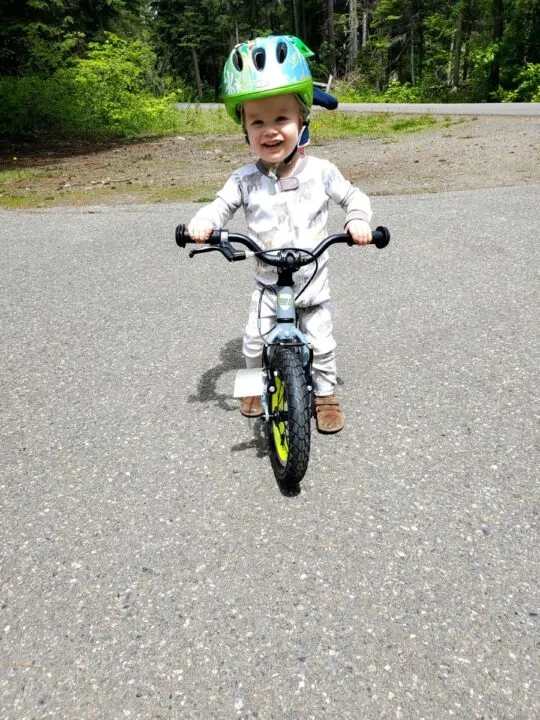 The bike comes in one size and is recommended for ages 1.5-4 years of age and heights from 33″- 40″. I highly recommend using Guardian's RideSizer tool to best gauge if this bike will be the right fit. To help with sizing my kids' ages and heights are as follows: brand new 2-year-old (33″), 3-year-old (38″), and 5-year-old (43″).
The Guardian Balance bike is available in three different colors: dark blue, grey with lime accents, and light blue with pink polka dots.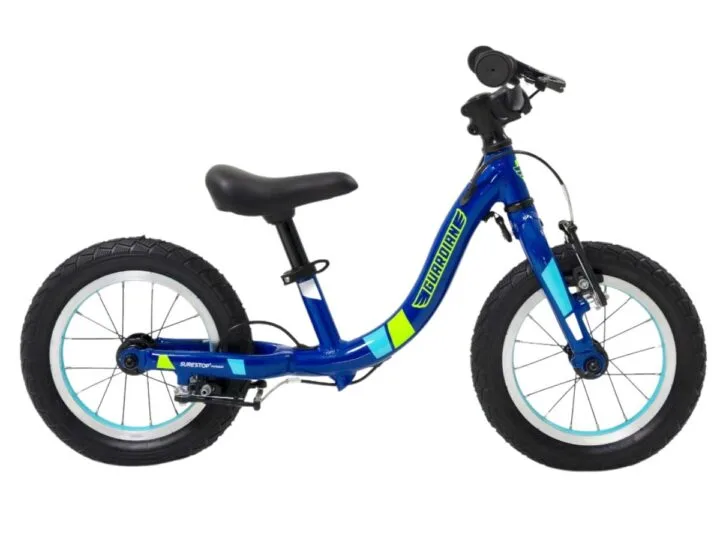 KEY FEATURES
Safer SureStop Brake System
Ultra-lightweight aluminum alloy frame
Geometry and parts engineered for kid's proportions
Quick-release adjustable seat that grows with your child
Wide wheelbase for better balance and control
Steering limiter to help prevent accidental overturning of the handlebar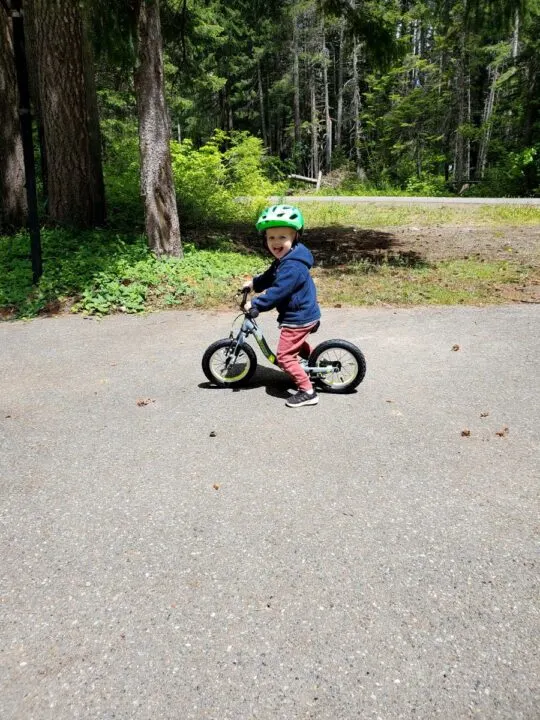 SPECS
12-inch wheelbase
Weight: 8.5 lbs
Seat Range: 12.5″-16″
Weight Limit: 90lbs
Designed for kids ages 1.5-4 years old (33-40″ in height)
Price: $199
Things We Love
Step-Through Bike Frame
By far my favorite feature, the thoughtfully-designed step-through frame allows even my littlest kid to get on and off the bike with ease. This is something he struggled with on his 12inch strider where I regularly had to help him mount and dismount the bike seat. This makes for a much more confident rider and is much easier on a mom who is pushing a stroller or baby-wearing a younger sibling.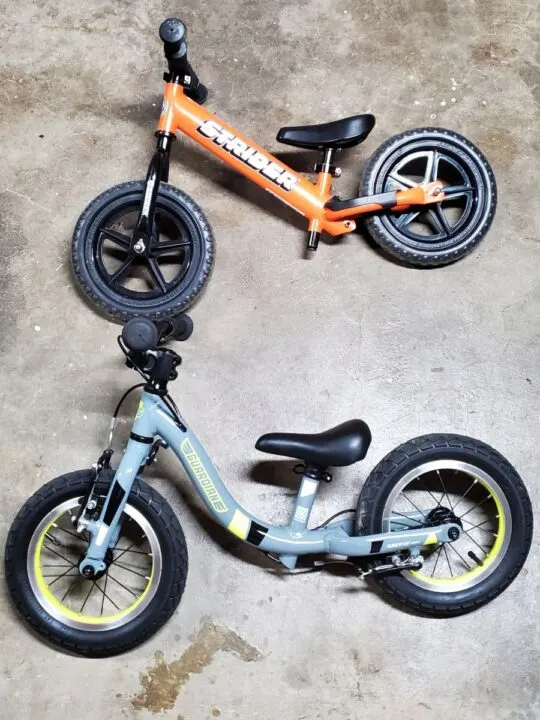 Air-Filled Tires
This is the third 12-inch balance bike our family has used and the only one we have with air-filled tires. This makes it much easier for more adventurous riders to hit the trails or do other off-road riding.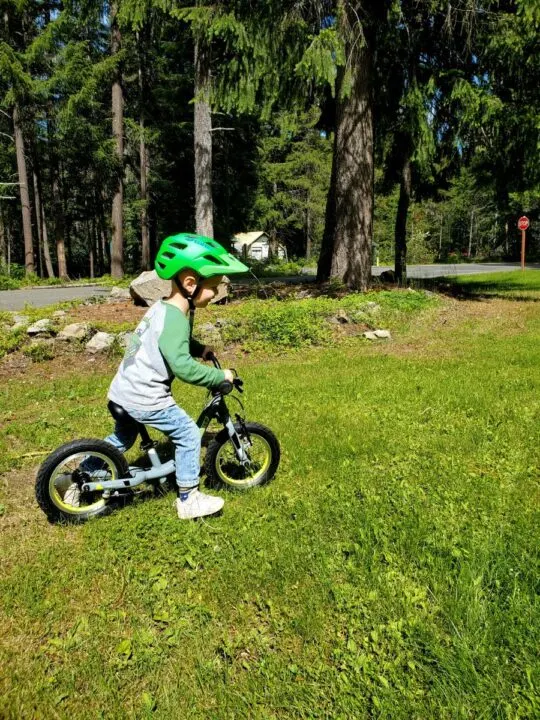 Steering Limiter
One of my favorite features as a mom! When my daredevils inevitably hit a rock this neat feature helps keeps their handlebars straight and prevents injury.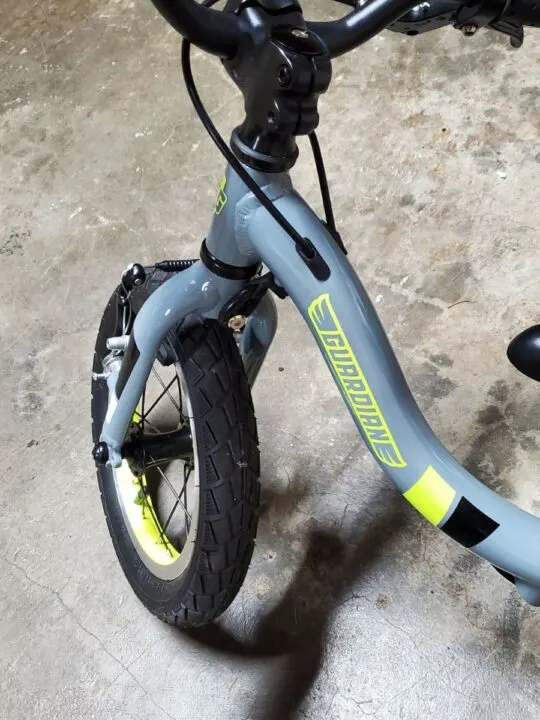 Things We Have a Love/Hate Relationship With
Hand Brakes
I really wanted to love these! My children's shoes have all been personally victimized from all the toe-stopping that occurs during the balance bike phase and I really wanted this to be the solution that saves their shoes.
My three-year-old will turn four in 2 months and with constant prompting, bribing, and sometimes threatening he is only using these about 25% of the time. It is a real stretch for him to reach the brake and it is difficult for him to pull it. However, I am still holding out hope that with more practice he will become better and better. On the contrary, my five-year-old was easily able to use the handbrake.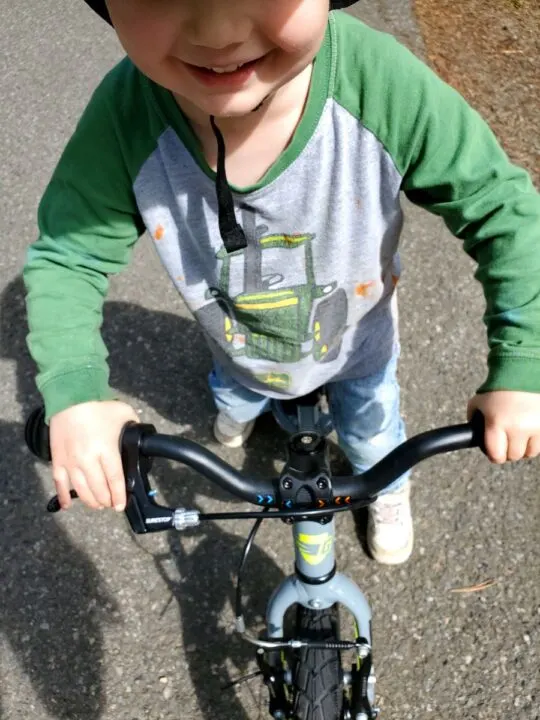 Weight
All the great features such as the air-filled tires and the handbrake mean this balance bike is heavier than others. While my three-year-old and five-year-old didn't notice a difference, my two-year-old definitely did.
He is in the beginning stages of learning to glide on the strider bike which weighs 6lbs 11oz, but is barely able to walk with the guardian balance bike.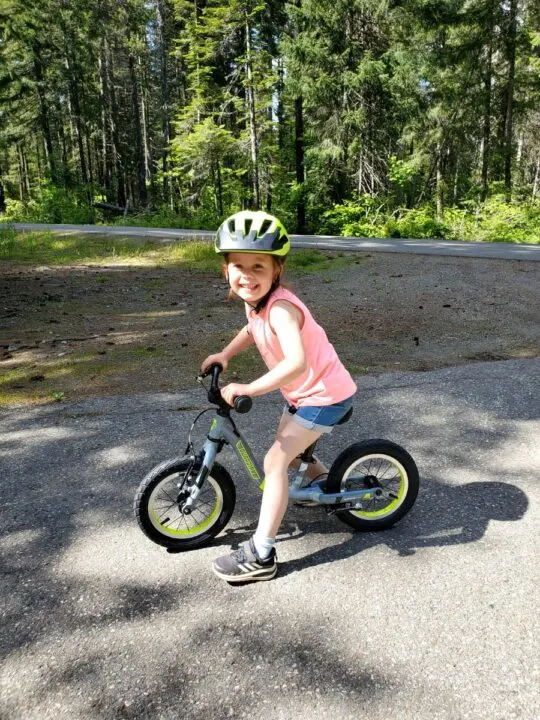 No Foot Rest
The best part of the balance bike is the balancing part. Allowing kids to master how to balance first eases the transition to pedals. Having a footrest encourages kids to bring their feet up to the bike when balancing rather than leaving them out.
My three-year-old kept trying to reach for the foot rest he was used to in his Strider and was frustrated when his feet would slip off. We really missed this feature in the Guardian bike.
A Great Balance Bike for An Older Toddler
The Guardian Balance Bike is an incredibly unique balance bike that is perfect for older toddlers who are ready to move on to bigger and better things. The addition of air-filled tires is a game-changer for smoother and longer rides on all sorts of terrain.
Compared to a standard kids' balance bike it is well worth the cost if you plan to introduce your older toddler to a balance bike and want a quick transition to a pedal bike later. In fact, we are seriously looking at purchasing the small frame 20-inch Guardian bike now that he has mastered pedaling. However, if you have a younger, smaller toddler in the 1.5 – 2-year-old range this may not be the bike for you.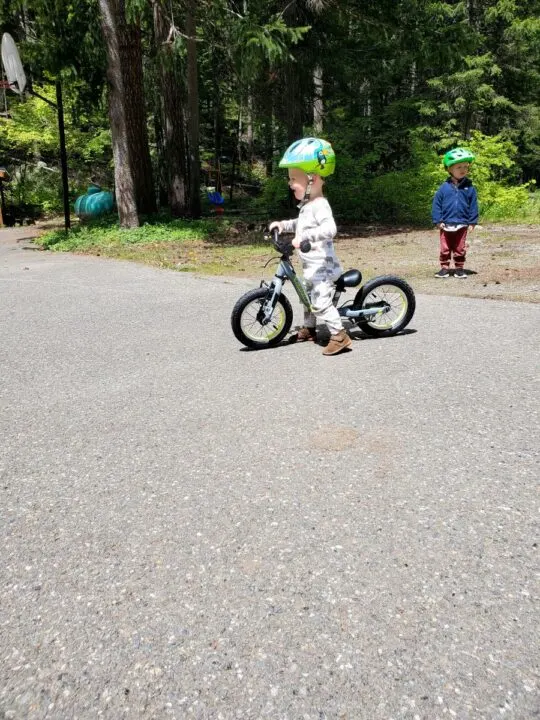 RELATED ARTICLES:
Guardian Balance Bike Review
© 2022, Kids Ride Bikes. All rights reserved. Republication, in part or entirety, requires a link back to this original post and permission from the author.