Cleary Meerkat 24 inch bike review
We've been testing out Cleary's 24 inch bike, the Meerkat, for a few months now, and so far my kids love it. Great for the neighborhood and bike path, but rugged enough for dirt or mellow single track, this seems like the ideal bike-of-all-trades for your grade schooler. We've tested it on our 7 and 9 year old boys, and they fight over who gets to ride it! It feels light, fast, and durable.
Not to mention it is a stunner. A sleek and simple paint job and a brown vegan leather saddle give it a classy look that turns heads around town.
As an Amazon Associate and member of other affiliate programs, we earn from qualifying purchases.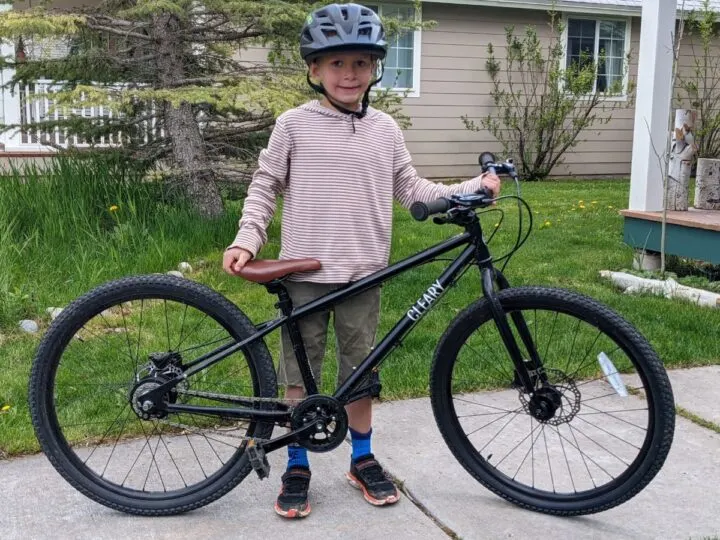 Lightweight 1020 Alloy Steel suspension corrected frame
5 speed gearing, with internal hub
Sturmey internal hub and trigger shifters
Alex tubeless ready rims
Tektro HD-291 junior disc brakes
Comes in 3 colors: Desert Green, Graphite, and Punk Rock Pink
Technical Specs
24 inch wheels
Fits tires up to 24X2.3 inches
600 mm/24 inch wide handlebars w 15 mm rise
Fits inseams of 22-26 inches (7-10 Y.O.s)
Weight: 28 lbs
Stand over height: 60 cm (lowest seat height 64 cm)
Price: $695
Cleary Meerkat Sizing
Aimed at 7-10 years olds, or kids with an inseam of 22-26 inches, this bike is comfortable for both my 7 year old, who is at the bottom end of that size, as well as my 9 year old, who has a 26 inch inseam. My 9 year old does seem to be at the top end of the comfortable fit, however.
Honestly, I think a 10 year old might be big for this bike, but it's smart to measure inseam before purchasing. Also nice to note- the seat tube is angled to move backward as you raise it, accommodating bigger kids for a bit longer (extending the length for taller riders).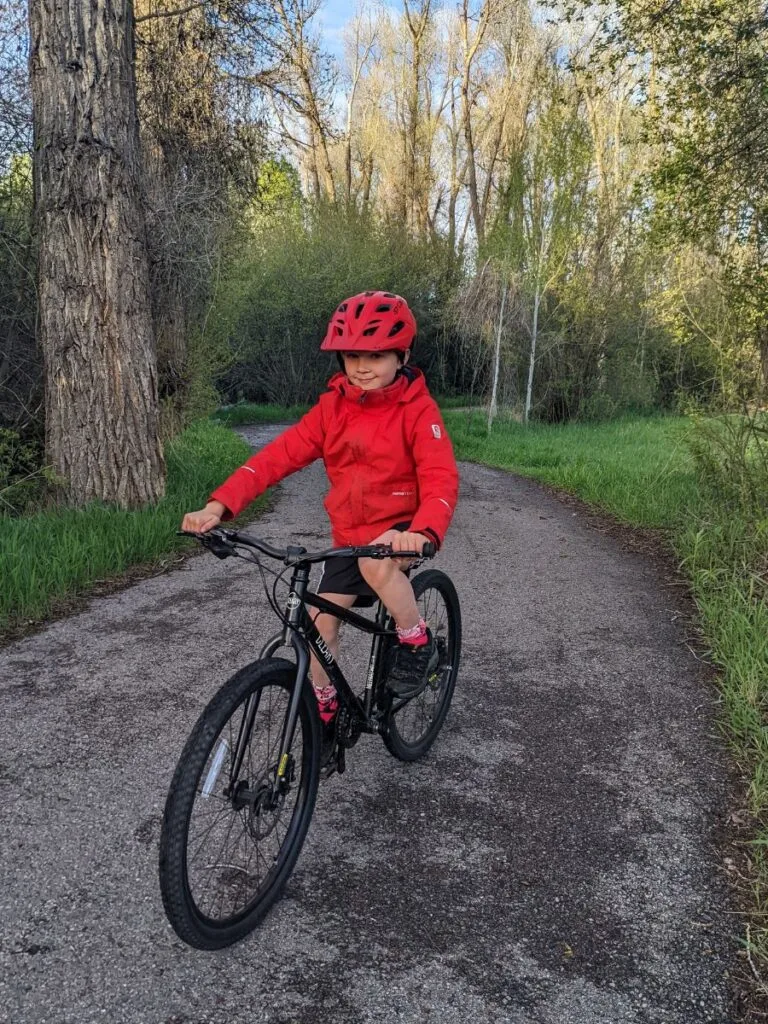 Weight
Made of lightweight 1020 alloy vibration dampening steel, this bike comes in at a weight of 28 lbs, which is on the heavier side when compared to similar 24 inch bikes (The Prevelo Alpha 4 for example, is 21 lbs.). You weight conscious parents might shudder, but my very slim boys had no trouble on pavement or trails riding this whip around. It would probably make a bigger difference in a very hilly area, but my riders both said it felt fast and light.
The extra weight comes from the steel frame and the internal hub. The steel frame smooths out the bumps and vibrations of rougher terrain, making for a comfortable ride on dirt or longer paved rides. But because of this, it may be suited for more confident or aggressive riders. Timid riders may find the extra weight intimidating.
Internal Hub
Included in the stock features are the 5 speed Sturmey Archer internal hub and trigger shifter. What this means is that there's not an external derailleur to get banged up or broken. It shifts very smoothly and my 9 year old said it made the bike feel really fast. The trigger shifter can be a bit stiff for smaller hands, but both my boys got the hang of it quickly. Note that it can be converted to a regular derailleur if preferred.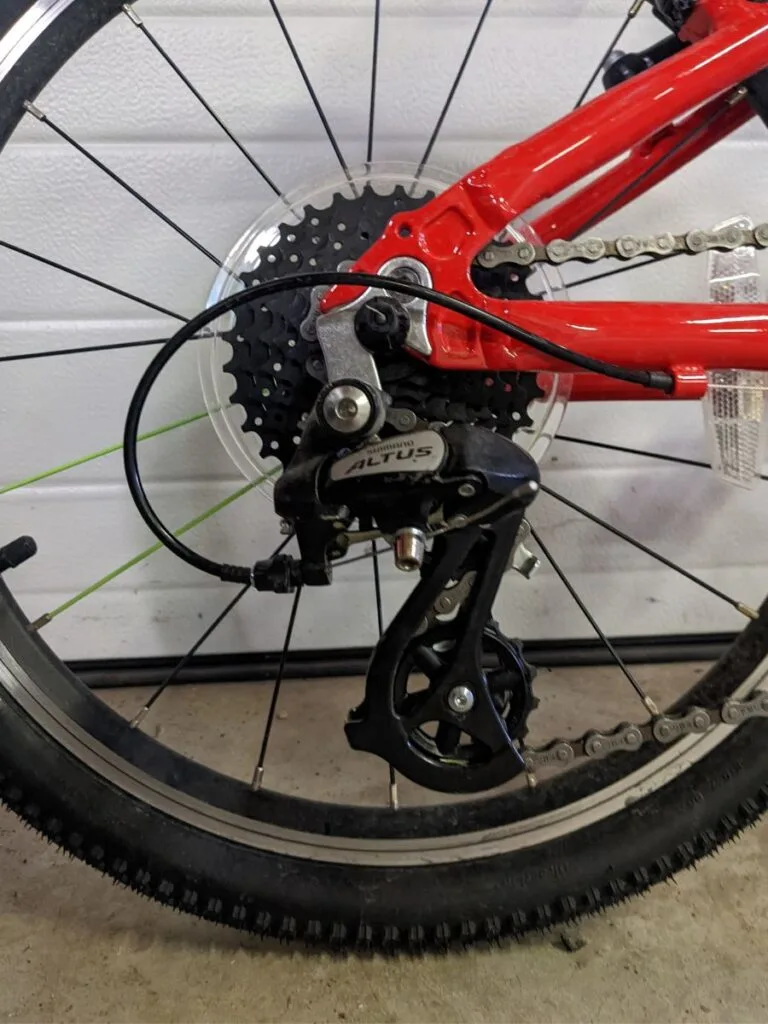 Bike packing/touring capability
It also comes with front and rear rack mounts, so it can be easily converted to a touring bike, or outfitted to carry any gear a kid might want to haul around (backpack, pool bag, etc). As a touring family, this makes me excited and appreciative of the thought that went into this feature.
Hydraulic disc brakes
Also included are Tektro hydraulic disc brakes, which make stopping quick and safe in inclement weather. They felt safe on steeper dirt hills and pump tracks, and in rain/wet conditions stopped my kids safely. Upon the setup, we had some issues with the brakes (they were complicated and tricky to get just right), but you-tube and my husband figured it out. A bike shop could also probably help with any issues during set up.
Tires/ Suspension-ready frame
The Meerkat comes stock with Alex tubeless ready rims and 24X1.9 inch Kenda tires. We've ridden these over pavement, mellow singletrack and dirt trails. They feel grippy and comfortable. You can upgrade up to 24X2.35 inch tires to give it a bit more of a mountain bike feel.
On that note, the frame is suspension corrected, meaning you can add a suspension fork and wider tires and easily convert it to a pretty rad mountain bike.
Cleary Meerkat Versatility
This bike performs well on dirt. While not a true mountain bike, it's steel frame, disc brakes, and grippy tires give it a very solid feel on the pump track or dirt trail. Again, because steel naturally softens vibrations from roads and trails, it makes bumpy trails feel smoother and more comfortable for the rider. This helps for longer road rides as well. We can't wait to try it out for a longer bike tour later this summer. It's a comfortable ride to school, the store, or across the state!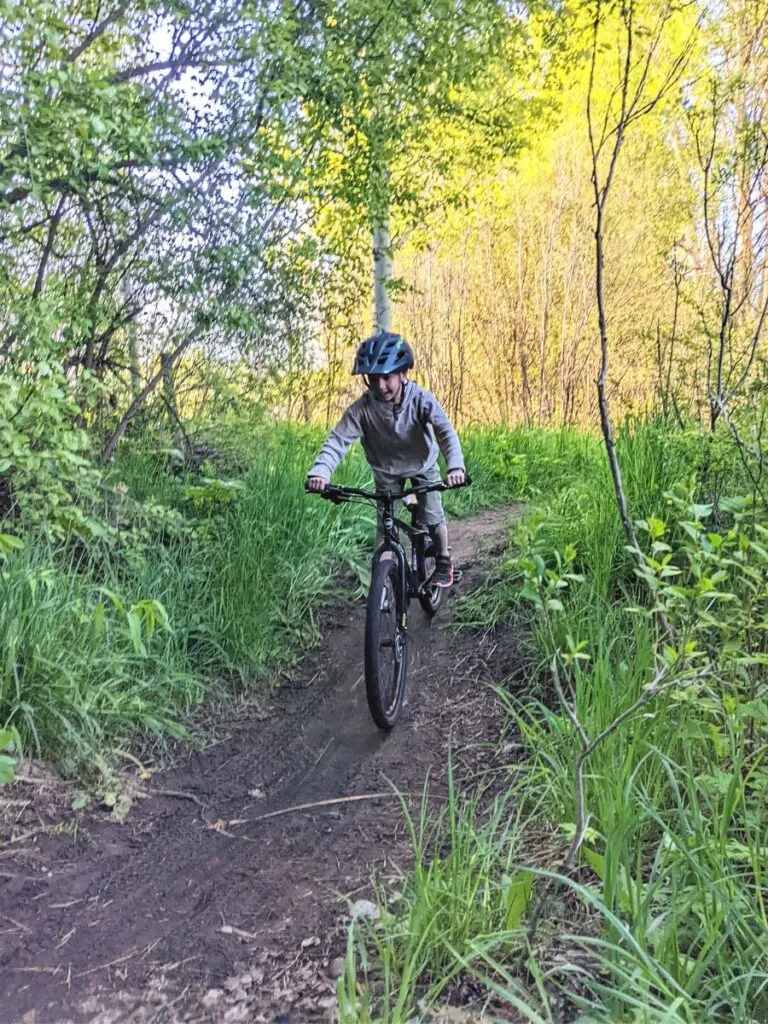 What we don't love about the Cleary Meerkat
While quite common on higher end bikes, I do wish the wheels and seat post had quick release levers instead of thru axles/bolts. Obviously they can be tightened tighter with a tool than just hand cranking, and are therefore technically safer, but for how often I'm changing seat heights or tires, I would love a quick release on the seat post at least.
The other issue we had were the cable clips (they clip the cables to the frame so they don't hang down). They broke almost immediately, and we had to replace them with zip ties. For the price, I think they should have been a bit more durable. That might have been the only part of this bike we found that wasn't bombproof.
The price could be a turnoff to many but the most dedicated cycling families. I understand it's tough to spend over $600 on a kids bike, but this one really is worth it in my opinion. It can be handed down to siblings and neighbors for years, and holds resale value well. So if you can get over the initial investment, it's worth the money.
Overall riding experience of the Cleary Meerkat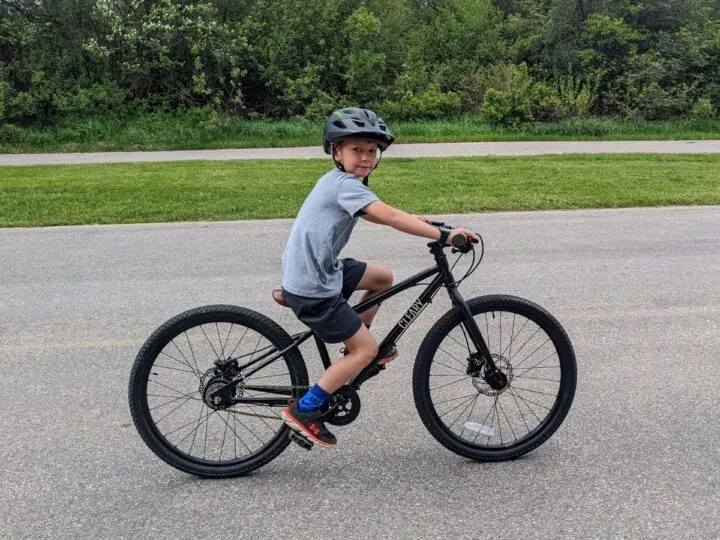 My kids love Cleary bikes. I love this bike. It's a beautiful yet rugged ride. The Meerkat is equally at home on the bike path, cruising through town to the farmers market, or on dirt trails and pump tracks. For durability, style and functionality, I would choose this bike over and over again.
Related Articles
Cleary Meerkat 24 inch bike review
© 2022, Kids Ride Bikes. All rights reserved. Republication, in part or entirety, requires a link back to this original post and permission from the author.