Bike Touring With a Toddler
My heart, soul, and relationship with my partner are all at their best when I'm physically exhausted and falling asleep outside. Pre-motherhood this meant long trail runs and sleeping in the back of our truck or multi-day backpacking trips that covered a few too many miles. We pulled off backpacking with our baby a couple of times the first summer but as he turned one and 20-something pounds, the effort to make it all happen edged out the potential reward. Bikepacking turned out to be our solution!
Bikepacking With a Toddler – You Can Do It Too!
For three days we followed Bikepacking.com's Moody Forest Loop. We rode 91 miles, over 90% of it on unpaved roads that passed through Idaho potato farmland and Targhee National Forest, towing our 18-month old son. We camped both nights, swam in a couple of pools, and were on our bikes all day.
Bikepacking.com's Local Overnighter Project is my go-to for short "overnighter" ideas. It's helpful for gravel options (which is where I feel safer riding as a family). Keep in mind that these are probably written by the people from the bike shop who are not towing their babies behind them.
The difficulty rating is meaningless, probably as are their suggestions for water stops and camping. You'll need to do your route research with your own pace in mind, but here's what I was grateful to have known and what we learned.
As an Amazon Associate and member of other affiliate programs, we earn from qualifying purchases.
Start With the Family Bikepacking Gear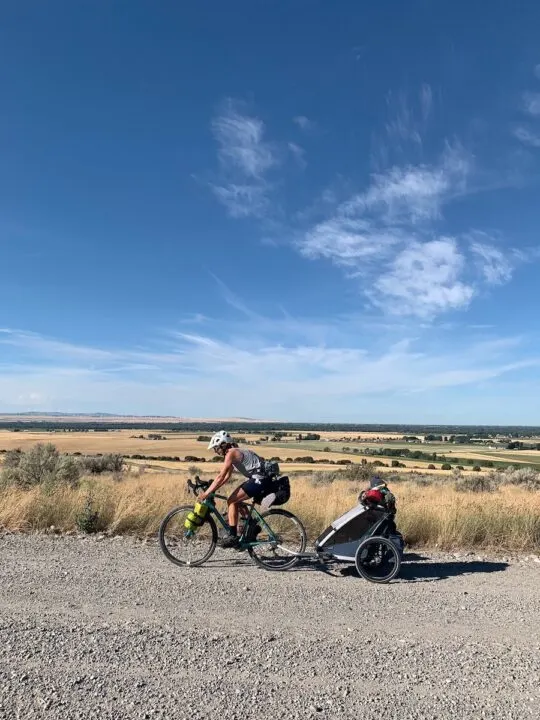 The Best Bike Is the One You've Got
We rode gravel bikes, Salsa Warbirds. Of our 90 miles, there was one stretch of rolling hills through dusty potato fields where I wished for something cushier. However, what we lost in feeling in our hands, we made up for in efficiency.
I imagine folks with suspension would have a similar short list of sections they would have traded for bikes like ours. Especially given the short distance and slow pace we're probably talking about, whatever you have will surely work.
However, tires are a different story: you want the widest ones you can fit on your bike. I rode 700×37; my husband, 700×42. His ride was less squirrely around some sandy switchbacks but given the loads we were carrying and variable road conditions, both of us would have felt more stable had we invested in wider tires.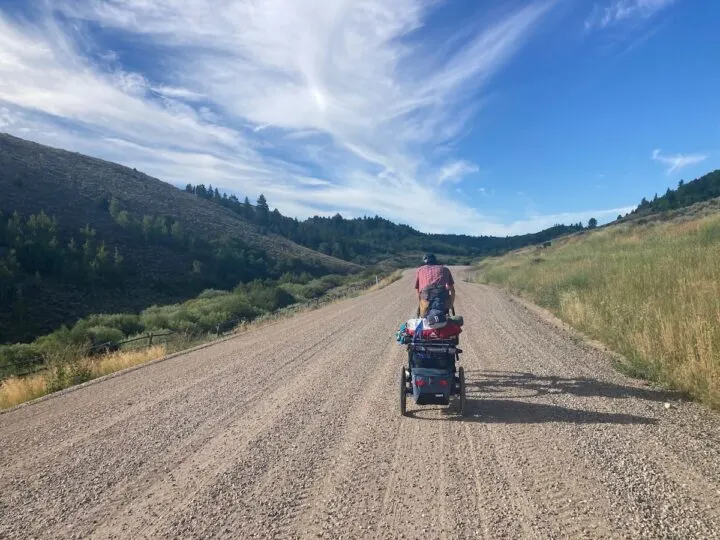 Bike Touring With a Toddler Trailer
We love our Thule Chariot Cross for its comfort for our baby, good suspension, and storage capacity in the back. It's also super easy to strap bulky items to the top. There are lots of good options out there, though – check out other bike trailers reviewed by Tales of a Mountain Mama.
Bikepacking Bags Are Designed for This and You Want Them!
You'll find blogs that encourage you to DIY your gear setup with drybags and a couple of ski straps. As someone reluctant to buy gear for one more sport, I almost fell for it. But there's enough potential for equipment failure on a bikepacking trip; manage the risk you can and enjoy velcro and buckles that snuggly fit your bag to your bike.
We both had seat post bags (like this Revelate Designs Spinelock 16L Seat Bag or Ortlieb's Seat-Pack Saddle Bag – 16.5L). The bike that wasn't towing the trailer was loaded up with a frame bag (ours is the Revelate Designs Ranger Bike Frame Bag) and carried sleeping bags and clothing tied onto a handlebar bag (the Ortlieb Handlebar Pack is sweet for strapping directly to your handlebars; we have the Salsa Top Load Kit and strap our own stuff sacks to the plastic cradle); these Salsa Everything Cages allowed us to strap stuff sacks filled with compact, heavy items to the front fork.
Keep Camping Gear Simple
We planned our route to stop at two campgrounds we knew served food. This allowed us to limit our cooking gear to only a JetBoil and food supply to breakfasts, lunches, and snacks.
We really like our MSR Hubba Hubba 3-person tent but there are lots of great family tent options reviewed here. The Munchkin Brica Fold n' Go was our prized piece of outdoor sleeping equipment before our baby was crawling a lot; it kept him in one place in our tent. The Morrison Outdoors sleepsack is a cool option (our son prefers the Little Mo 40' Baby Sleeping Bag with open hands so he can hold his water bottle), but ultimately we've got a kid who sleeps happiest in a lightweight snowsuit or fleece PJs and a giant sleepsack.
Check out the TMM team's favorite toddler camping gear!
Control the Logistics You Can
Have a Plan A – And B That Keeps It an Adventure
One of the trickiest transitions to motherhood for me has been accepting the adventure that happens and not considering the expedition failed if it doesn't unfold as the epic one I planned. Having a backup plan that keeps us out there is important for me to maintain this mindset – If the biking wasn't going to work, we were committed to keeping it an adventure by spending two nights at a campground; we were on a loop and knew that one of us could always ditch our gear and ride 40 miles back to the truck.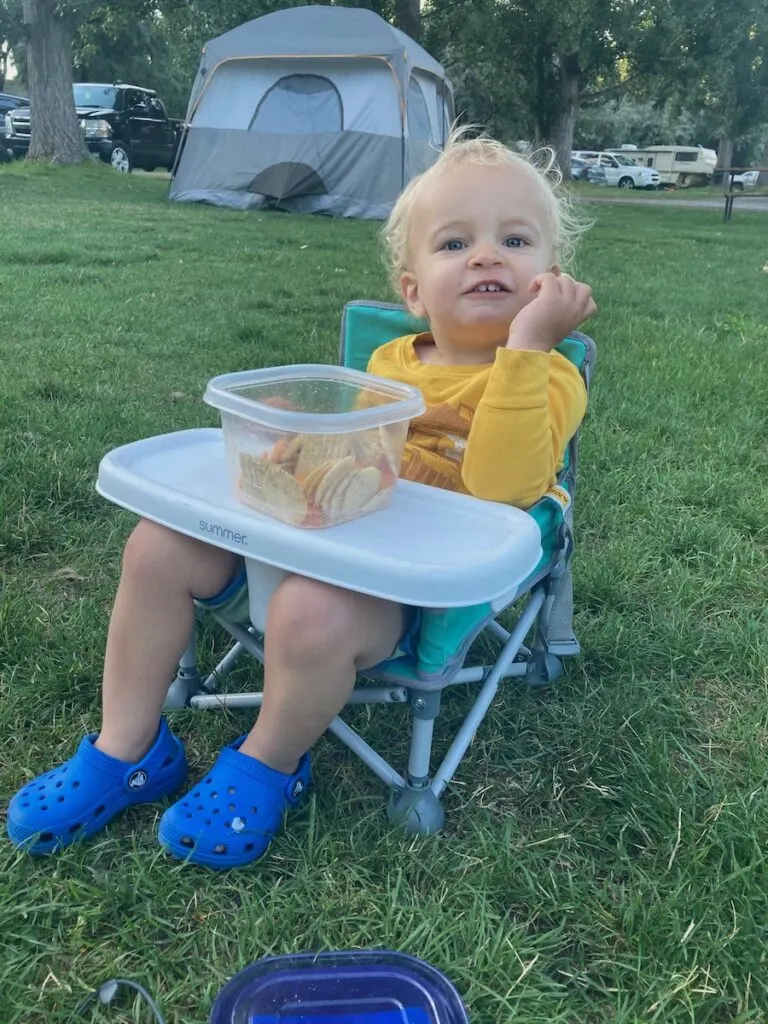 Campgrounds Make it Fun
Pre-babies, I loved bikepacking for allowing us access to remote, beautiful landscapes faster than backpacking – with the added luxury of quick detours through town for groceries when we needed them. Now, I appreciate the bonus access to established campgrounds.
We designed our itinerary to specifically stop at two campgrounds rather than finding dispersed campsites on National Forest land (which we would have enthusiastically done in a different lifetime). Campgrounds provide dumpsters, running water, cold milk, and hot food.
Pools and playgrounds provide entertainment too. It makes it less of a wilderness trip than we were used to (or maybe dreamt of), but campgrounds made this trip possible (and raised the fun factor by a lot).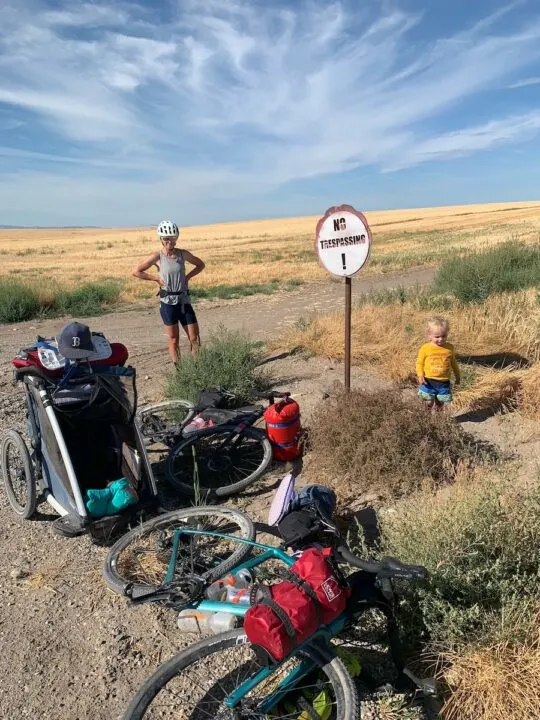 Pack Light
The most overwhelming part of preparation to me was the packing puzzle. It took us two days of practice in the basement to identify and find space for the critical (a case of milk boxes, 30 diapers, Starbucks instant coffee), what we could make fit (spare pair of socks, second tube of Desitin, smashed Kettle chips in a plastic bag), and what had to be left behind (that extra avocado).
We didn't nail the division of weight. The trailer was big and had the capacity to carry those awkward heavy items and it was too tempting to load it up. Ultimately we were able to carry everything we needed so that was a win – but it slowed the person hauling the trailer to at least half speed.
I'm not sure how to fix that without a second trailer to truly distribute the weight. Next time, we'll try for wider tires (to help our bikes move more efficiently over roads) and maybe a small backpack for the biker not towing the trailer. Ultimately, the two bikes will go at different speeds.
Bike Touring With a Toddler Packing List
For those of you who like a good packing list, here's what we brought for three days of bikepacking:
Toddler Clothing
3 pairs of shorts (with the plan to wash anything dirty at the campground and strap it to a bag to dry in the sun the next day)
3 shirts
Sneakers and socks
Crocs
1 set of PJs
Fleece jacket
Baseball hat
Winter hat
Bathing suit
Toddler Gear
Swimmies for the campground pools
24 diapers (I plan on 8 a day to be generous and safe)
3 packs of wipes
Sleepsack
Camp chair (arguably not a critical item – it was nice to hold him in one place while we were packing up in the morning)
Water bottle
Milk bottle
Gear for the Adults
Bike helmets
Sunglasses
1 pair of bike shorts
1 shirt for biking
2 pairs of socks
1 camp outfit (with the plan to sleep in it)
Windbreaker
Fleece jacket
Bathing suit
Flip flops
Baseball hat
1 towel for the family to share
Hydration packs
Bike Camping Gear
Sleeping bags
Sleeping pads
Tent
Headlamps
First Aid kit
Portable phone charger
Food and Cooking Gear
Jet boil
Coffee cups
2 breakfasts (instant oatmeal and coffee)
2 lunches (tortillas, avocado, cheese, tuna fish)
Snacks (apples, granola bars, pretzels, cheese its – stuff to keep everyone happy)
Milk boxes (they don't need to be refrigerated!)
Bike Repair Gear
This is not the most exhaustive list – we agreed that if we had an epic breakdown, one of us would go back for the truck.
Tire patch kit
Tire levers
Tire plugs
CO2 cartridges
Duct tape
Chain-breaking tool
Leatherman
Multitool
Zip ties
Chain lube
Embrace What You Can't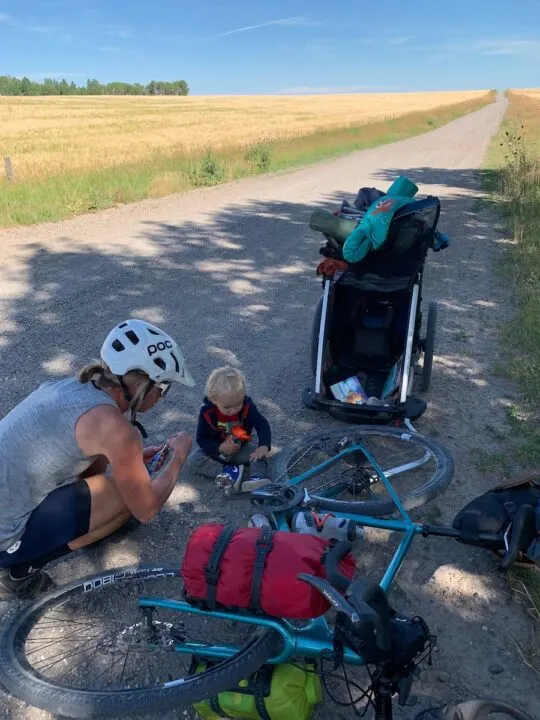 The Pace Is…Slower Than You Think It'll Be
Bikepacking is naturally a slow sport. Adding a toddler – and his gear – slowed it down even more. We consider ourselves experienced bikers but our 30 mile days took us six or seven hours and it was exhausting. Be ready to take your time.
We forced ourselves to stop every two hours for a snack break, time to run around, and a diaper change (it was hot – soggy diapers were a real challenge). I saved special snacks specifically for getting back into the trailer. Books, music playing on our portable speaker, and lots of other snacks kept him entertained once he got in there.
Naps Will Happen. And If They Don't It's OK.
At home, I'm devoted to our nap routine. I can think of very few reasons good enough to disrupt it. On a trip like this, though, I had to let the nap schedule go. Turns out babies will sleep when they're tired – or warm and full on snacks and rocked to sleep by the dirt road. We were fine.
Trust Your Partner
I've read this in other places but really embraced it on this trip: I can't control my husband and his actions. But as I watch him fly by on his bike, pulling the trailer down a wash boarded dirt road with our son squealing with excitement behind him, all I can do is trust him. As we push the boundaries of adventures as a family, the most important thing I can carry is confidence in my partner and trust in the decisions he and I will make together.
Bike Touring with a Toddler
Tired? Absolutely. Sleeping outside? Yes. Managing the logistics to get our baby out on an adventure that resembled the kind of thing we used to do as a couple took a lot of energy (and admittedly gear).
But once we were riding, there were times when I felt more relaxed than I had in 18 months. I was thinking about nothing but what I was doing: the potholes in front of me, whether I needed a snack, how I could adjust myself on my seat to be comfier. Sesame Street Pandora radio would bring me back to the present. Still, the lesson is learned: getting out to spend a night or two on your bike with your baby is doable – and worth doing.
Related Articles
Bike Touring With a Toddler
© 2023, Kids Ride Bikes. All rights reserved. Republication, in part or entirety, requires a link back to this original post and permission from the author.