Ohio to Erie Trail Bike Tour
We got really excited about riding the Ohio to Erie Trail (OTET) as a way to try out bike touring with the family in our own backyard. Once we started actually riding the trail we discovered how fantastic it is for seeing the diversity of scenery and culture in Ohio.
You ride through towns, cities, and farmland on a mix of roads and protected bike lanes; you can camp or stay at hotels and bed and breakfasts. Other than one ~35 mile road stretch and one ~10 mile stretch, the trail is nearly entirely off road. The riding is beginner to intermediate in difficulty, making it a great choice for families trying out bike touring.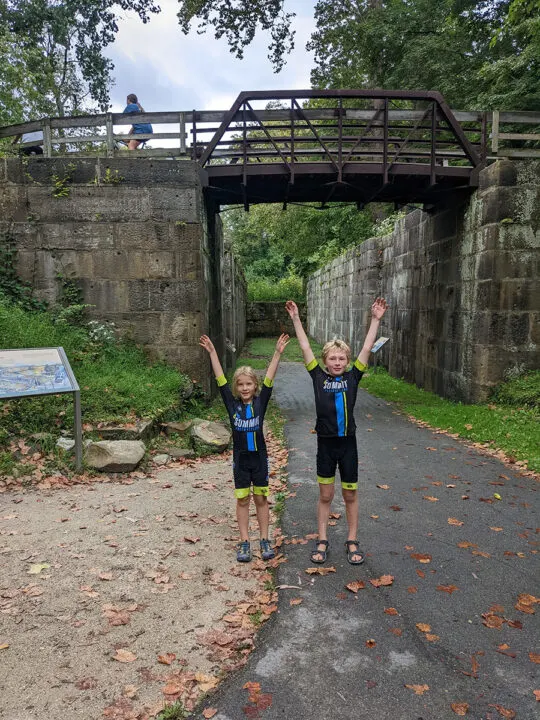 As an Amazon Associate and member of other affiliate programs, we earn from qualifying purchases.
Why the Ohio to Erie Trail?
Long distance tour with lots of services
The OTET traverses the state of Ohio from Cincinnati to Cleveland for a total of 326 miles. Although the trail is rural, and for about 50 miles it goes through a national park, you are never that far from services. So you don't need to carry lots of food or worry about gear mishaps. As a result, the trail is a good introduction to long-distance cycling.
Mostly off-road riding
There are two long stretches of road riding (about 35 miles in XX and 10 miles in YY) and several short stretches in cities and towns, but it is mostly off-road on car-free trails. So it's a great place to take your bikepacking kids.
Ride through part of Ohio you don't see on the highway
We were really surprised at the diversity of landscapes and communities we rode through on the OTET. From tree-lined bike paths in urban and suburban environments to the spectacular natural scenery of the Bridge of Dreams region to the rolling hills of Holmes County to the Cuyahoga National Park and Lake Erie, the OTET really showcases the best Ohio has to offer.
See the diversity of cultures in Ohio
We were really surprised at how many different types of communities we biked through. Sharing a bike path with horse and buggies and electric bikes in Holmes County (the county with the highest Amish population in the country) was a highlight for our kids. Riding through small towns, farm communities, and big cities gave us a better sense of the diversity of culture in our state.
Great historic signage along the Ohio and Erie Canal
Over 60 miles of the OTET are on the restored towpath of the Ohio and Erie Canal, much of which runs through the Cuyahoga Valley National Park. On this stretch of the trail, which was the first and last stretches we rode, we learned a lot stopping at the frequent informational signs posted along the trail. Our son, Colby, was particularly excited to learn how locks work on an early trip and then see a restored lock at Canal Fulton.
Friendly people
We met so many friendly people on the trail. One woman saw us resting at a gas station in Cincinnati on a very, very hot afternoon and asked if she could give us popsicles that she had run home to get from her freezer. On another day someone helped shepherd all of us down a busy road we had made the mistake of biking along (to get to a playground for the kids) because he knew it was dangerous and had poor visibility.
Preparing for your family bike trip on the OTET
The OTET is local-ish for us, but our planning was entirely with online resources, so it won't be much different if you are planning from somewhere right along the trail or from across the world. Prevailing winds are south to north, so it is more common to ride from Cincinnati to Cleveland than the other way around. Weather wise the fall is probably the best season, but people do the trail in spring, summer, and fall.
Trail maps
Signage is excellent along the trail and we rarely needed to consult maps while out riding. When on protected trails, it was really easy to follow the trail. Most towns had great signs. We had only one issue during the long road section in Amish Country and were able to sort it out with the resources listed below. We used maps extensively for planning and for checking on our routes when riding.
We used paper maps available for purchase from the official Ohio to Erie Trail website. They also have interactive maps that you can download to use on the Ride with GPS app. Because the app is a paid service, we opted not to do that as our main map source. We did install the app and click through the website to the interactive maps when we were confused.
We found the paper maps to be a little confusing to work with for the south to north ride because they are set to fold as you ride with them (super convenient). Because they fold from top to bottom and you are riding south to north (bottom to top on most map pages), it is a little mind-bending to work with the maps for planning. They are great on the trail though. If I were to do it again, I would consider buying the North to South set of paper maps and just folding them the other way as we rode. At least the planning would make more logical sense to my map-brain.
We also used google maps. We would put in our next campsite spot and simply look for the bike route from where we were to the next site. Occasionally this put us off the trail, but it was pretty easy to figure out where those issues were happening.
Itineraries
We took a total of five trips ranging from one to four days long. It was a total of about 12 days on the trail, but many of them were quite short. From what I've seen online, people take between 4 and 10 days to do the trail, with most people taking around 7. The fastest I've seen is 3 days, but that will require more than a century each day. We never did more than 55 miles in a day, but most days were quite a bit shorter.
People who take less time tend to stay in hotels while those taking more time camp. We stayed in a hotel only one night, in Columbus. This is because you need to be able to go ~80 miles from London to Mount Vernon to avoid a hotel in Columbus. We couldn't see a way around the single hotel stay with our bikepacking kids.
The OTET Facebook Group has a file with recommended north bound itineraries ranging from three to eight days. The three-day itinerary has 100 to 120 miles per day while the eight-day itinerary has 29 to 54 mile days. We rode 10-55 miles per day over our 12 days on the trail.
Getting to and from the end
Parking at either end
You can park in Cleveland at Edgewater Park, the northern terminus of the trail.
In Cincinnati we parked at the free, public lot next to Reser Bicycle Outfitters in Newport, KY and were able to get some gear and coffee before we started. They were great! We just biked down to the river and crossed the Purple People Bridge to get to the start of the OTET.
Parking at intermediate trailheads
We self shuttled, so we did a lot of driving back and forth. The only issue we had parking at a trailhead parking lot was in Centerburg next to the fabulous Kolacheez Coffee Bar. Someone reported our car as abandoned and the Centerbur police tracked the car down to Oberlin. The police called us and we explained the situation. The car was fine. The next time we parked there we just let the police know in case someone called again.
Shuttle services
Vega's Velos will shuttle distances up to the entire trail.
UHaul
I met people who had shuttled in a UHaul. They parked their car at Edgewater Park (Cleveland) and rented a UHaul that they drove to Cincinnati and returned to start the trail. That has the downside of only fitting two-three people in the front seat, but would work well for a small group. On the plus side, UHauls can definitely fit bikes and are cheaper for one-way rentals than rental cars these days.
Resources for planning
The Ohio to Erie Trail official website is a wealth of information. Their planning page has details about campsites, lodging, and businesses along the trail. I found the camping page particularly useful.
There is a really helpful Facebook group that I used for getting advice on parking and route options when we had to make a last minute change in plans following a major storm last May. The Facebook group also has some files uploaded with great information, such as sample itineraries.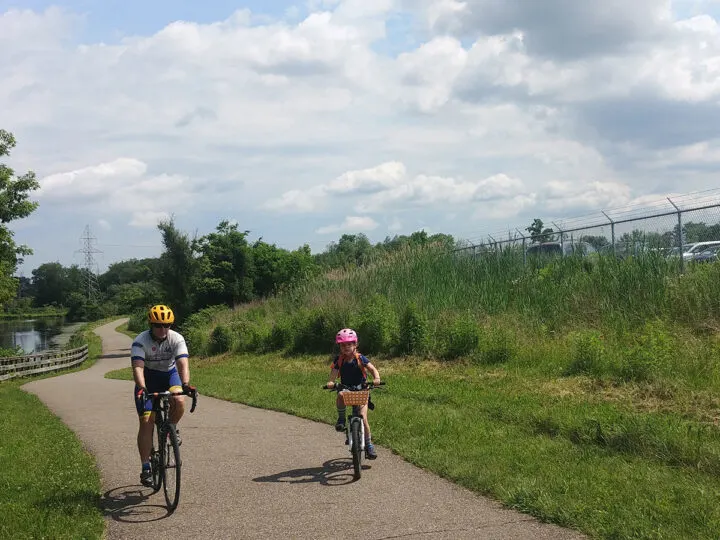 Family bikepacking the OTET
We took a total of five trips varying from 1-4 days long. All were special and have different highlights.
Trip 1: Dipping our toes into touring (Peninsula to Clinton and back)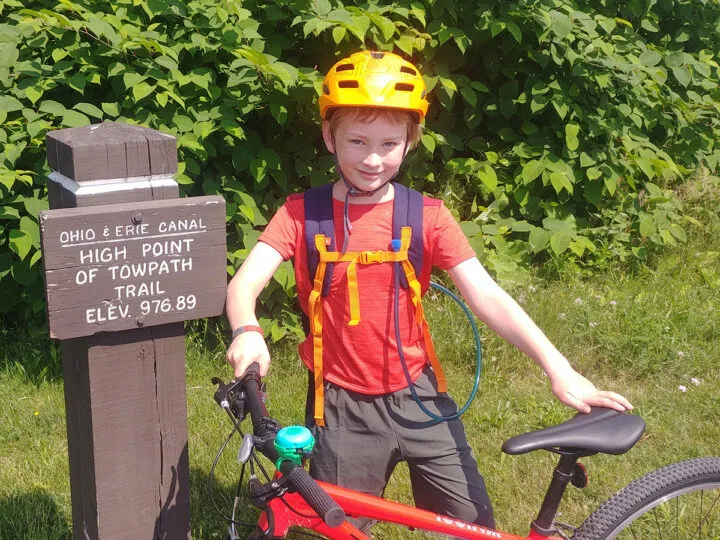 After taking the kids backpacking in summer 2020, I was excited to explore other ways for them to experience camping and nature for extended periods of time without either car camping or backpacking (since they couldn't carry a whole lot yet and we could only do ~5 miles/day). I found that Summit County has two free primitive campsites for cyclists and backpackers. At the time the Cuyahoga National Park had no camping.
With only 18 miles between the two sites, we planned an out and back trip for four days and three nights. The kids carried only their water and I hauled all the gear in a bike trailer. We biked from Peninsula to Big Bend Trailhead the first afternoon (10 miles). The second day we went from Big Bend through Akron to the Franklin Trailhead (18 miles, big uphill into Akron). We then reversed this for days three and four.
We tried to make this kid-friendly, so we stopped at all playgrounds we passed, read all the trail-side information signs, and stopped for ice cream going through Akron on day three.
The highlights of this trip were the wildlife (mainly herons and turtles, but we also saw many other birds) and the great educational signs in the Cuyahoga National Park. Our son, Colby, especially loved learning about how locks function.
Lowlights of this trip were the primitive campsite south of Franklin. There is no water at the site, but we didn't know that, and the place was swarming with mosquitos. We biked to Clinton (the next trailhead) to buy bug spray and a citronella candle.
Trip 2: Hot summer touring with gear issues (Cincinnati to Cedarville)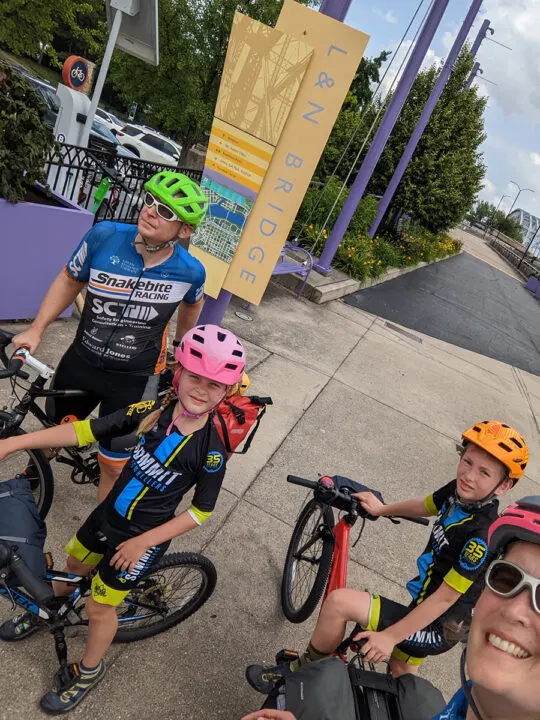 We planned for our second trip to be in central Ohio, but a bad spring storm took out power for much of that part of the state and we made a last minute decision to move the trip to the southernmost section. We started in Newport, KY (across the river from Cincinnati) and biked to Cedarville.
This was another four day trip. We went through Cincinnati to Milford the first day. We stayed at one of the city parks in Milford that allows public camping. The only water was the bathroom sinks, which wasn't ideal, but the grocery store was only a few blocks away, so it was easy for an adult to get food for the evening and next morning.
The second day we biked to Todd's Fork Adventures in Morrow, where we had a lovely campground entirely to ourselves. The owners let us use their canoes and tubes in the river, so we had a great time cooling off. The only grocery store around was a Dollar General, so dinner pickings were a little slim. But, a bonus was Miranda's Ice Cream Shoppe.
Unfortunately, we made the very bad decision the 2nd day to take the kids to a splash pad at a park only about a mile from the trail. To get there we had to cross a dangerous bridge and bike up a dangerous hill then cross a dangerous road. All round bad plan.
We made it there and had fun but getting to the trail was bad enough and then a spoke broke on my rear wheel. Fortunately, a lovely local man escorted us down the hill in his car.
I biked back to Loveland, where the Montgomery Cyclery was able to repair my spoke. With some faster riding, I was able to catch back up to the family in Morrow right before we all got ice cream.
We then biked to Constitution Park, one of the Greene County parks with camping; it was the only park with camping available that night with our last minute change in plans. They were right near an ice cream shop, which was an amazing treat. The kids also enjoyed the playground at Founder's Park.
The last day was an easy ride back to our car at Cedarville.
Highlights of this trip were the kayaks and river at Todd's Fork and lovely woman in Cincinnati who saw us getting water at a gas station, went home grabbed popsicles from the freezer, and came back to give them to us.
Lowlights of this trip were all on the first day. Biking through Cincinnati was the worst road riding of the trip. There were a few really scary sections to ride with kids. In addition, it was sweltering hot that day.
Trip 3: Rolling hills in Amish country (Centerburg to Clinton)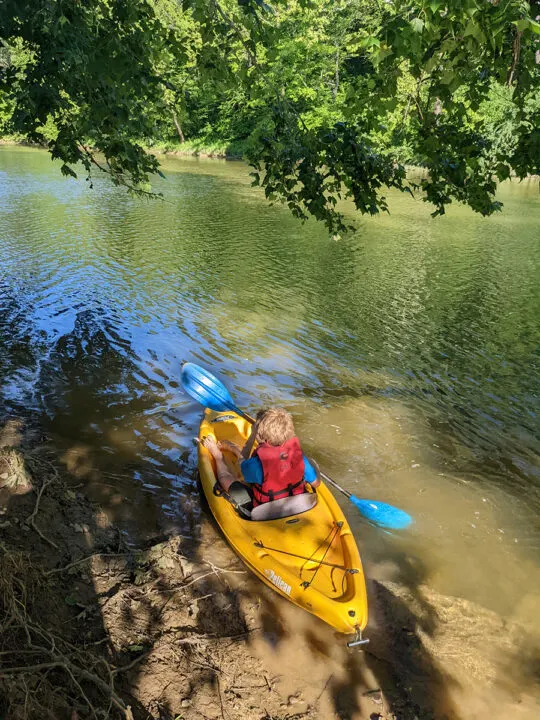 Our planned second trip became our third trip, but we had to rearrange a bit because a campsite was permanently closed after the June storms. Plus, we now knew the kids can ride at least 30 miles in a day.
For this trip we skipped across Columbus and started in Centerburg (right near the midway point of the trail). This was another four day trip, but with two trips already under our belts, we decided to do a little more mileage.
We happened to choose to start right next to Kolacheez Coffee Bar, so we started our trip with lunch from there. We had a lovely afternoon biking to the Kokosing Valley Camp and Canoe but got there right after they closed the pool for the day. The 2.6 miles from the trail to the campground was pretty scary for the kids. If we were to do this again, we would stay at the Danville Primitive Campsite, but we didn't know about that site at the time.
The second day we biked into Holmes County, which has the largest Amish population in the country. Most of the trail through Holmes County is multi-use for cyclists and horse and buggy, so that was kind of exciting. We stayed at Turkey Hollow Campground, which is up a LONG 1.5 mile hill from the trail. That hill felt especially long when I had to go back to buy a new lighter at the Walmart. Lovely campground though.
Our third day we biked to River's Edge Campground, which was a ~40 mile day. It was the longest day the kids had ever done and had the longest road stretch of the trail (~20 miles) following a long climb after the Bridge of Dreams.
The road riding was beautiful but somewhat hard for the kids. Josh had to push Lua (8, on a 20″ wheeled mountain bike) up a few of the hills. Amidst this we found a few playgrounds to play at and, going with our theme for the summer, ice cream from the Dalton Dariette.
The last day was an easy ride from Massillon to Clinton, the furthest south we got on our first trip.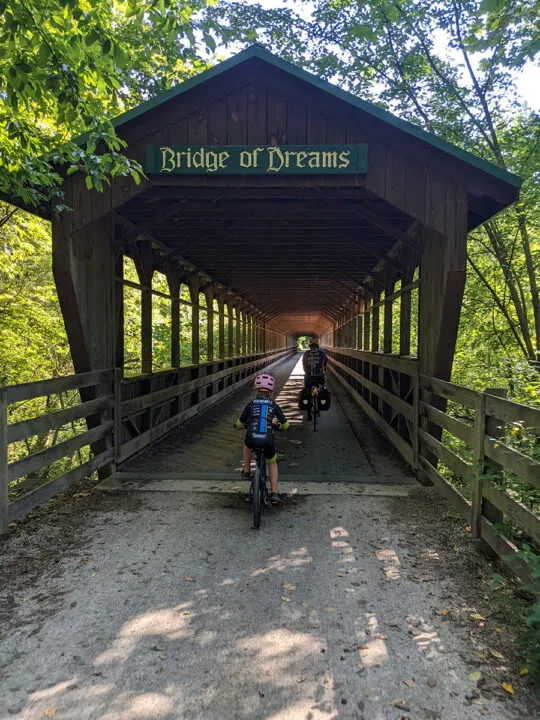 Trip 4: No camping around Columbus (Cedarville to Centerburg)
We had been putting off this trip because it was a weird distance from Cedarville to Centerburg. If we camped one night, we could have short-ish days, but would need to haul camping gear for just a single night. On the other hand, doing it as a two day trip would require a pretty long day into Columbus.
In the end we decided on the two-day option. We were unable to find a host with WarmShowers, so I researched hotels and decided we would stay near the airport (instead of near the stadiums downtown). This made for a longer first day and shorter second day, which worked a little better for us.
An added part of the decision making was a bike upgrade for Colby to a 26″ bike, which put Lua on a 24″ bike instead of a 20″ bike.
The riding was interesting for this trip: we started riding through rural areas and farm towns then found ourselves in Battelle Darby Metro Park, which has backpacking just a short distance from downtown Columbus. A lovely support lady for an organized bike ride fed us lots of water and snacks as we went through there.
Columbus itself was easier and safer riding than Cincinnati. I'm sure this partly has to do with riding there on a Sunday afternoon during a holiday weekend, but overall it felt totally manageable, even with kids.
We stayed at the Staybridge Suites, Columbus Airport, where we had two beds, a fold out couch, and were given two lockable closets in the hall for the bikes. The pizza delivery dinner, free breakfast and indoor pool made this a dreamy trip for the kids.
It rained the second morning, but the kids were comfy in their new Reima outerwear. It was warm, so Josh and I opted to just get wet. Later in the day we ran across a town Labor Day festival and enjoyed some good lunch food and ice cream.
Highlights of this trip: great urban trails through Columbus and the indoor pool at the hotel.
Lowlights: I had a really scary moment with Lua trying to cross traffic to get to the hotel in the evening while it was raining after riding 55 miles.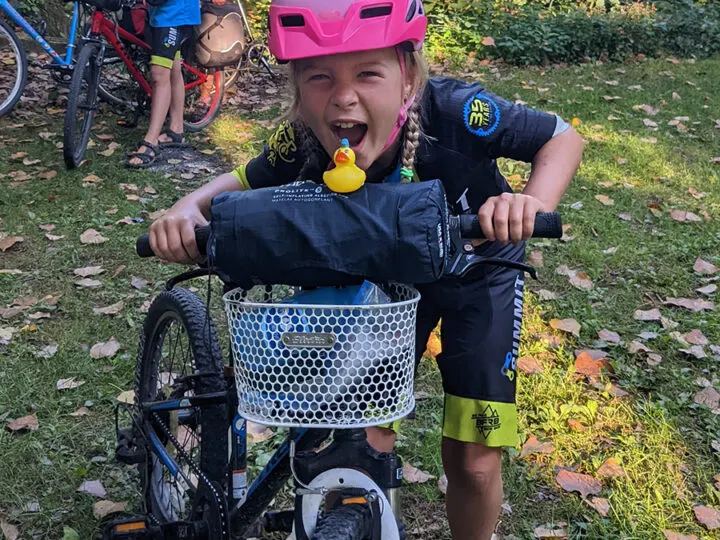 Trip 5: Day trip to finish up! (Lake Erie to Peninsula)
Our last trip was to finish the trail by riding between Peninsula and Cleveland (Lake Erie, Edgewater Park). We planned for a weekend out and back ride from the lake to Peninsula and back again so we could have the entire trail ridden in one direction.
Unfortunately, Josh's pedal broke a few miles into the ride, so he had to go back to the car, drive home, replace it, and then drive back. He opted to drive to Peninsula and bike north to meet us, so we finished our trip at the same spot in Peninsula where we started.
Highlights for our last day: Ice cream (of course!), wildlife, and seeing parts of the Cuyahoga National Park we hadn't previously visited.
Lowlights: Josh's mechanical and route finding in Cleveland before we entered the National Park.
Some tips for a successful bike camping trip with kids on the OTET
Don't carry food further than you need to but remember the snacks
This isn't a wilderness trip, so even if you are cooking for yourself, you don't need to carry food for long distances. However, we often found ourselves without snacks or lunch food at times we needed them, so that wasn't ideal.
Lunch food was particularly hard to find on Sundays and in some of the smaller towns. We should have purchased lunch food every day when we got our dinner food so that we didn't keep finding ourselves carefully divvying up the last few graham crackers from the previous nights s'mores.
Pay attention to water, especially for campsites
We stayed at two campsites that had no water and one where bathroom sinks were the only source of water. Obviously this wasn't ideal. Planning ahead and knowing where to get water (or buying it) helped as we did more trips. The OTET Campsites spreadsheet helped a lot.
Special treats
As is probably clear at this point, ice cream was a frequent special treat for the kids. We did most of our trips in the summer, and it was pretty hot. Ice cream shops are even noted on the OTET maps, so it was easy to plan for this.
We thought that splash pads would be a great treat for the kids, and they enjoyed a few of them. However, it turned out that they were less interested in most splash pads than the playgrounds near them, so we could have spent less time looking for splash pads and more time stopping at playgrounds.
Xenia Station was a hit for both a splash pad and a good playground. Downtown Akron also had good playgrounds along restored sections of the Ohio and Erie Canal.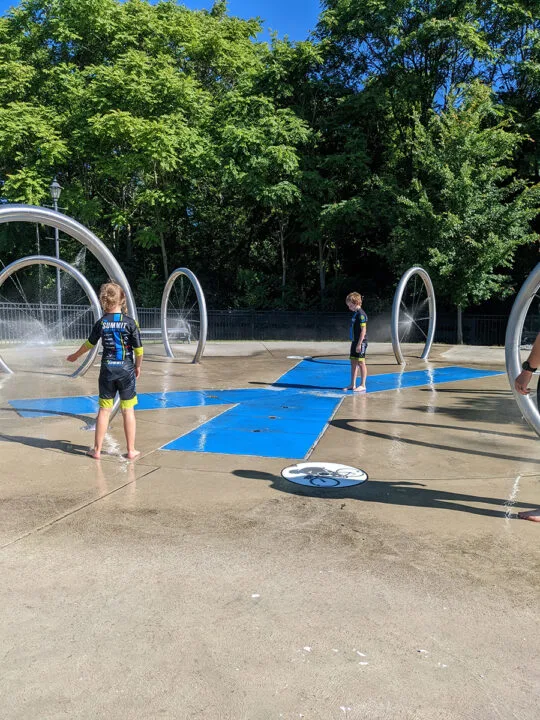 Logistics for bikepacking the OTET with kids
Camping and lodging
Camping
We camped for all our trips except for the one through Columbus. With the exception of approximately 80 miles through Columbus (London to Mount Vernon) campsites are under 35 miles apart from one another, making this doable even with kids.
Campsites along the OTET are a mix of private and public, with some of the public ones being free and others being pay sites. Many of the sites require registration and sometimes reservations, so it is worth planning ahead for this.
Hotels
When you aren't carrying camping gear, it is possible to ride further each day. Most people we met who were going to take less than a week on the trail were traveling fast and light without camping gear. The official OTET website has lodging information for all sections of the trail.
WarmShowers
WarmShowers is a cyclist community for providing space for cyclists to camp on your property. You do have to pay to join, even if you aren't looking for places to stay. So far we have hosted one rider but been unable to find places for our family to stay when on trips. Others report better luck.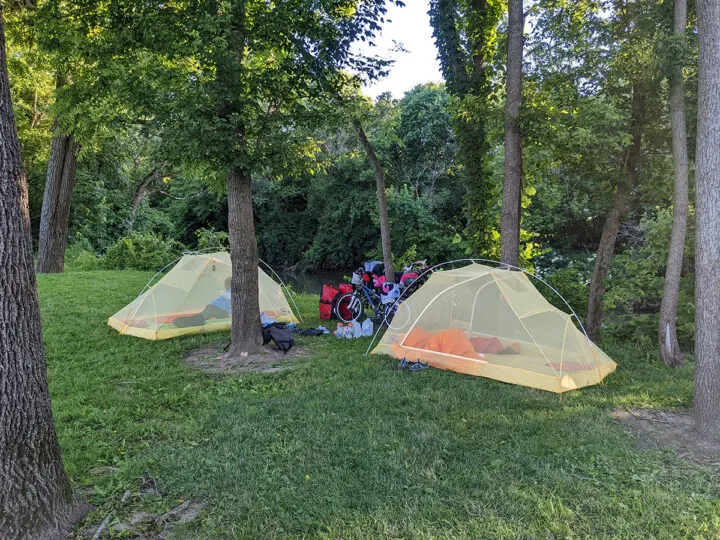 Food
Self-catering
We mostly self-catered for our trips. Each day we would stop at the grocery store nearest to our final destination and buy food for dinner, breakfast, and the next day's lunch and snacks.
Dinner was a little confusing to buy for at first. We were cooking on a camp stove but could actually cook food that wasn't dehydrated. We usually made some simple main dish (e.g., beans and rice) and a side vegetable (veggie sticks or cooked frozen veggies.
Some campsites had fire rings and wood for purchase. At those places we cooked over the fire to make it more exciting for the kids.
We eventually realized that it was better to carry some bulk foods to save on waste (money and trash). We carried hot chocolate, instant coffee, oatmeal, oatmeal toppings, and hot chocolate from home.
Lunch and snacks were a problem for us. We usually carried some trail mix and often leftovers that would last.
We stopped for ice cream at least once on each trip.
Restaurants
Many people do this ride and eat entirely, or nearly entirely, at restaurants. More popular parts of the trails have frequent trailside cafes.
Even though we mostly self-catered, often we stopped and bought some snacks (usually sweet or friend) at trailside restaurants.
The biggest food problem we ran into was that it was hard to find food on Sundays. In addition, at least one small town had the general store close since the time our map was printed, so we didn't know there wouldn't be food or water.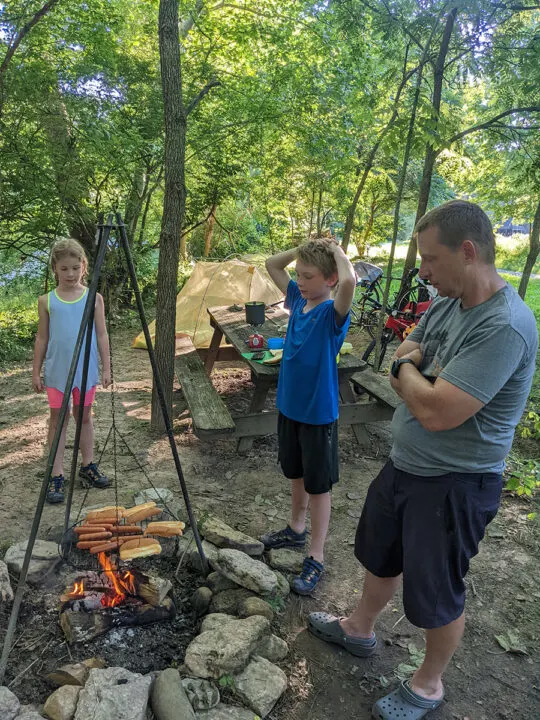 Bike repairs
There are many bike shops along the route, so there is no reason to carry a really extensive repair kit. That being said, we had a number of mechanicals (I had four mechanicals on our second trip), so it's a good idea to be prepared.
We carried flat repair stuff and a multitool. A spoke tool would have been a good idea since I broke two spokes on one trip. Fortunately neither of them caused my wheel to go so far out of true that I couldn't get to the nearest shop (or our car the second time).
Injured kids
It is definitely a good idea to carry a first aid kit. I forgot ours on at least one trip. Of course that was the trip where Lua randomly fell off her bike, Colby got stung by a wasp, Colby fell in gravel after a car scared him, and a bee flew behind my glasses and stung me on the eye.
Gear for bike touring the OTET with kids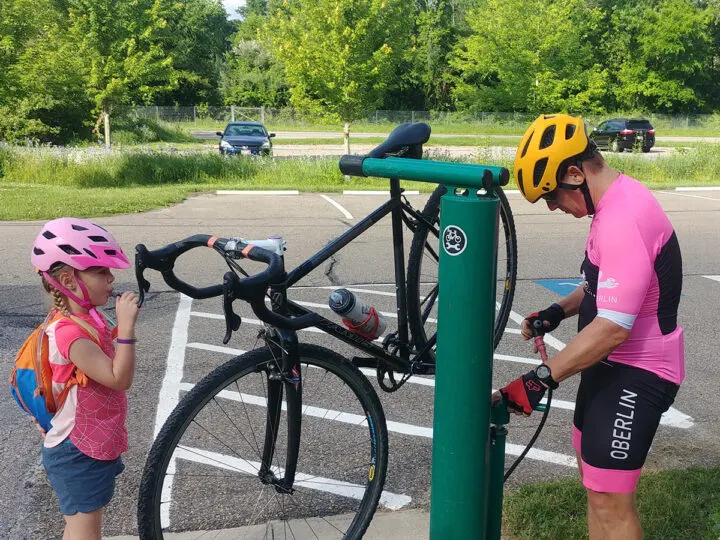 We had an evolving set of gear that we took on the trips, below is an attempt to summarize that. Note that we upgraded a lot of gear between the first and second years. We have specified that where relevant.
How do bikepacking kids and their parents carry all the stuff?
We carried all our gear in a very old two-kid Burley trailer on the first trip. Because after the first afternoon, Josh's bike wouldn't pull the trailer without popping the rear wheel off, I pulled it most of the way.
We decided to go with only rear panniers for future trips. I already owned a (very very old) set of REI panniers that we had Colby use for the second trip. We were able to borrow a set of Bontrager Town Panniers and a set of Ortlieb Back Roller Classics.
After that trip we bought two sets of the Ortliebs for the adults and this past winter got a set for each of the kids.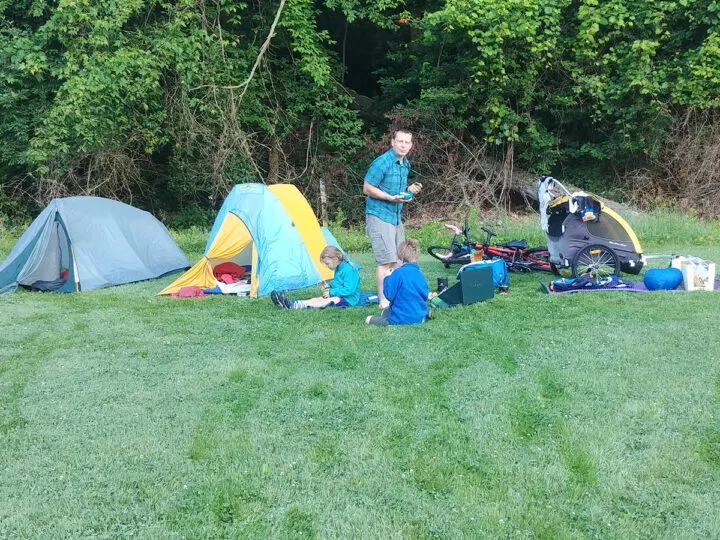 Bike camping with Kids: What did you take?
Sleeping bags
Josh and I have Feathered Friends Vireo sleeping bags, which weigh about one pound, but don't have a zipper so sometimes we get really hot in the summer. The kids started out using Marmot Sorcerer Jr 15 degree bags, but those are overkill for summers in Ohio.
We eventually settled on buying Big Agnes Fussell UL Quilts for the adults and letting the kids use the Vireo bags when it is warm enough for us to use the quilts. This reduced our summer sleeping equipment weight significantly, but the quilt is really only comfortable to about 55 degrees.
Sleeping mats
The first trip we started with Ridgerests for the kids, but they are HUGE and had to be attached to the outside of the trailer. We bought them women's small Prolite Thermarests. I already had something similar.
Josh doesn't sleep well when camping, so he has a Big Agnes Air Core Ultra.
Stove
The first trip we took both a Jetboil Flash Java Kit and a Coleman Two-burner Classic Camping Stove. Great for cooking (except we ran out of Coleman fuel) but there was no way that would work with panniers.
Between the first and second trips we bought an MSR Pocket Rocket Stove Kit, which I love except for not having a windscreen. I made one from a kit for a different stove and now have no complaints. It is less efficient than the Jetboil but much better for a family.
Tents
We learned on the first trip that the kids can't share a tent. They. Don't. Sleep.
So, we generally have a girls' tent and a boys' tent. The first trip we had a (20 year old) Eureka Timberlite (sort of like this Timberline 2, but not quite) and a similarly old Sierra Designs Clip Flashlight. My beloved 20-year-old Black Diamond Megamid had already been vetoed by Josh for not having a floor.
After that trip and an unfortunate event with a leaky Megamid during a rainstorm, we upgraded to two Big Agnes Tiger Wall MtnGlo UL3 tents. Totally amazing. We loved the screen only option on really hot nights. We did not get the bike touring option because we wanted to save the slight bit of weight and don't need to hang the tents off our handlebars.
Clothes
Each kid has only one set of cycling clothes, so they wore that set (with underwear) during the day and wore long underwear or camp clothes in the evenings. They also had LL Bean classic mountain fleeces with them. They wore sneakers or close-toed sandals.
Adults wore cycling clothes and carried one spare set each. We had camp clothes for around camp and long underwear for cold evenings. We wore cycling shoes and carried camp shoes. I always carry a thin beanie and a down jacket because I can get cold at night, especially with the ultralight sleeping bag.
Rain gear
We carried rain coats but only had rain the forecast for the one trip through Columbus. We carried full rain gear for that one (jackets and pants for everyone), but only the kids used it. Josh and I decided we were going to be too hot.
The kids have Reima Lampi jackets and Oja pants. Josh and I have Outdoor Research Gore-Tex rain gear.
Pillows
We (mostly) like to use camp pillows. Colby and I have Klymit X pillows and Josh has a Nemo Fillo pillow. Lua insists that clothing makes a better pillow.
Entertainment
We carried the card game Ecologies on most trips and pulled it out during many rest stops, especially when waiting for one adult to grocery shop.
We all read books we borrowed from libraries on phones using the Kindle app. After breaking a kindle screen on a backpacking trip, we let the kids use old phones (with no service and in airplane mode) to read books when we are on camping trips.
We always carry a few small back up batteries for charging the phones and our GPSs.
GPS
Josh and I both have Garmin watches. I have a Fenix and Josh has a Vivoactive 4. I also have a Garmin Edge 840, which can show maps, making it still kind of useful.
Eye mask and ear plugs
The sun sets late in the summer in Ohio and the trail, and the campsites, is often near the road. We convinced Colby to use an eye mask and he has never looked back. I use one as well. We use the Walmart Spa Bella and have had to pick up replacements along the way more than once. I also carried ear plugs for everyone.
Headlamps
We have an assortment of very old headlamps that we carried. The most useful is one that has a red mode, which lets us use it while the kids are going to sleep. It doesn't bother them the way the brighter white light does.
Who carries what?
After the first trip where I pulled everything, we divided gear up by ability to carry weight. We strapped a sleeping mat to each kids' handlebars. Colby carried sleeping bags and adult sleeping mats. Lua had a small basket in which she carried our map, a water bottle, and, on one trip, a rubber duck. Josh and I carried everything else. We had under seat pouches for our tools and most repair stuff. Everything else went in the panniers, although one trip we strapped the tents to our racks and on another trip we managed to get them into the bags with only poles on the racks. I'm not really sure what was different.
Bikes for bikepacking with kids
Josh works in a bike shop, so our bikes are not stock bikes.
Josh and I rode our cyclocross bikes. I have a Kona Queen Anne, which was made for their women's pro cyclocross team back in the early 2000s. It has Bontrager parts from a Trek that had an unfortunate run in with the top of a garage door.
Josh's cyclocross bike is an equally old Jamis Nova with an assortment of used parts.
Colby rode a 24" Trek Wahoo for the first three trips. He then upgraded to a Trek 4900 (no longer made) with an assortment of parts.
Lua rode a 20" Trek front suspension mountain bike (something like the Precaliber) until Colby upgraded and she got the Wahoo.
Safety when family bike touring
Be sure to carry first aid kits. We didn't on several trips and ended up making lots of runs to stores to buy appropriate supplies. On the plus side, there were usually stores around.
Be sure to kids know how to ride safely around cars. We had two scary run-ins with cars: one when Colby slipped and fell on gravel trying to avoid a car and another when Lua was unsafe crossing a kind of busy road in the rain near the Columbus airport. We didn't have good systems in place for the kids and could have avoided both problems.
You should get out and bike tour the OTET with your family
It was a lot of effort and time to do so many trips and shuttle two cars so many times across the state, but the kids loved it. They are so proud to tell people that they (and their bikes) rode across the state of Ohio.
Colby and Lua now expect to do a bike tour each summer and are disappointed we can only ride the Great Allegheny Passage from Pittsburgh to Cumberland, MD this summer and can't also ride the C&O Canal the rest of the way to Washington, DC.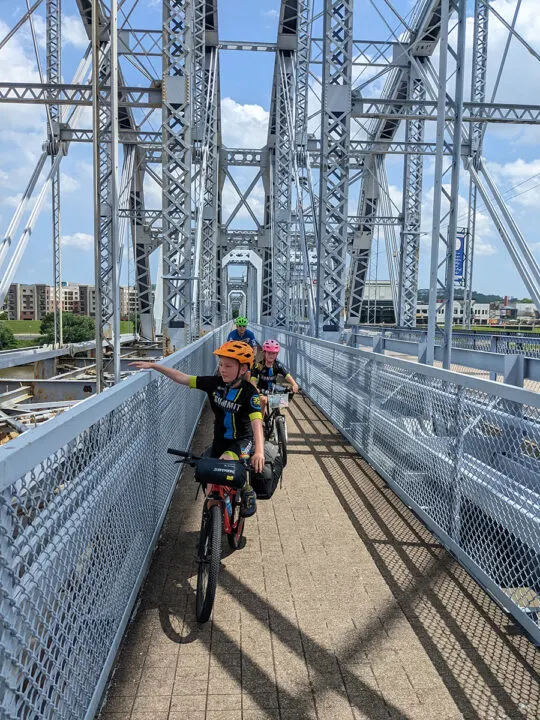 Related articles
Ohio to Erie Trail Bike Tour
© 2023, Kids Ride Bikes. All rights reserved. Republication, in part or entirety, requires a link back to this original post and permission from the author.