Byclex Bike Ramp Review
Byclex is a Lithuanian company dedicating to providing exceptional bicycle accessories for beginners, kids and mountain bike enthusiasts around the globe.
The product line is extensive with builds geared towards teaching several different skills required for mountain biking. From a root run and rock garden to a hop'o'meter, manual and triangle Byclex has thought far beyond the basic kicker.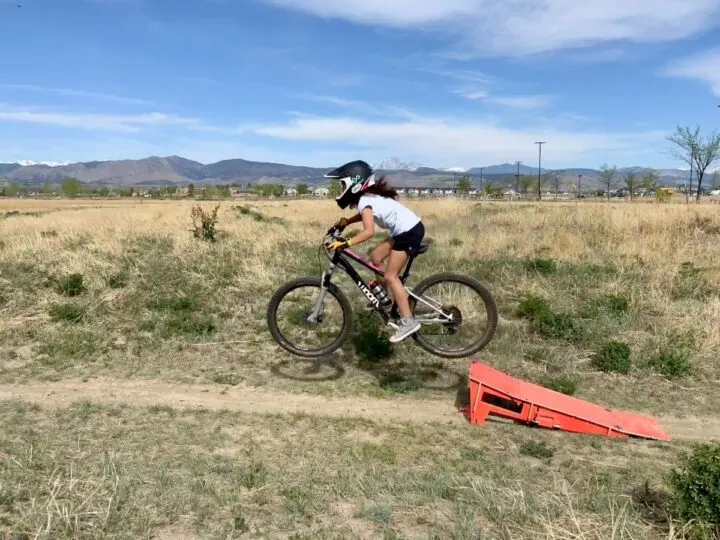 Best Bank for Your Buck
Byclex is the best bank for your buck on the market right now. The design is basic but sturdy and very functional, best of all every piece folds flat.
What I love most about Byclex beyond their quality and extensive line of products is that they've managed to offer so many price points. Not everyone can afford a $400 ramp, but a $60 kicker? That's just the tool a kid can use while they save for the next ramp.
Byclex Construction
Most wooden ramp manufacturers are using birch water resistant plywood. Byclex uses 6.5-12mm thick plywood with zinc plated nuts, rivets, screw, washers and hinges (though some hinges are steel) and elastic rope.
The quality of the materials are sound and the construction durable. Left in the rain continuously or out in a driveway, this ramp won't stand a chance but well cared for ramp will last years.
I admit I was skeptical about Plywood and Zinc but the ramps arrived very sturdy and much higher quality than expected. They are on par with other ramps tested and the best on the market for beginners.
We have been fortunate enough to test the Go Table Top Bundle and it has been the most used ramp during our review by far. This entry level ramp is perfect for all riders from balance bikes to adult bikes (max rider weight 330 lbs).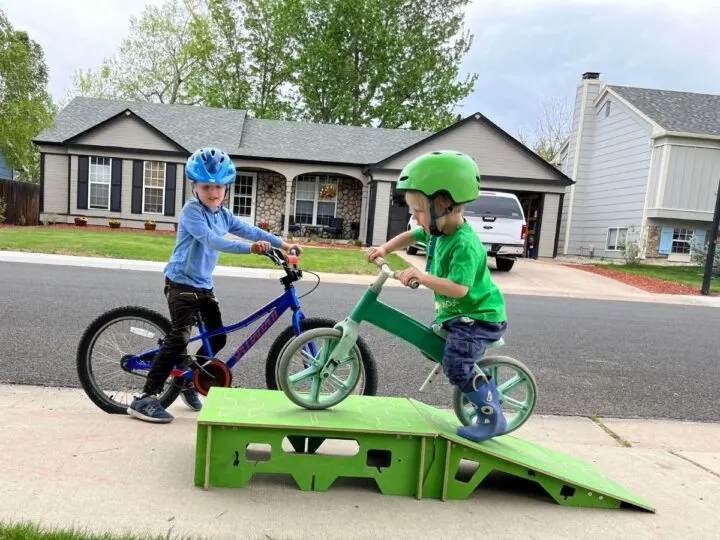 The Perfect Beginner Playground
The Go Ramps are only 8.5″ which is perfect for a rider new to jumping a bike. The Table Top is 89″ long and 19″ wide which offers even the most nervous riders plenty of space.
I watched a few kids ride of the side due to distraction or lack of speed and all were fine because the drop is so small. They didn't even fall off their bike.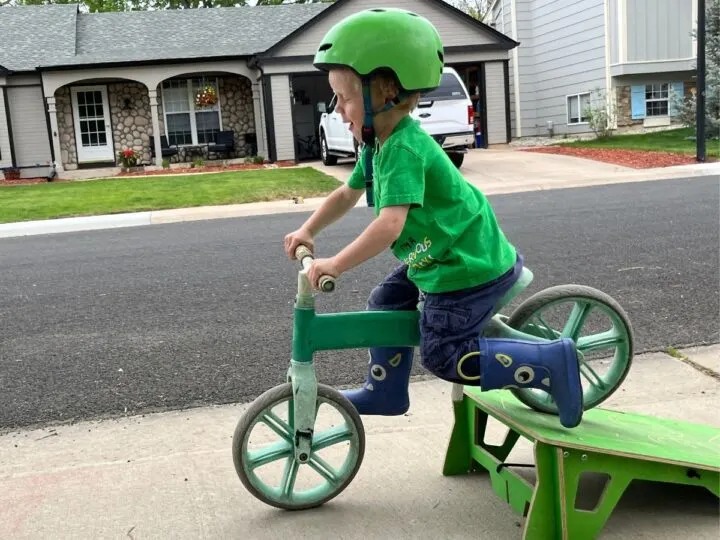 Assembly
The pieces attach easily and the set up simple and quick. The Table Top was much easier to assemble than The Comet. The design is straight forward and instructions easy to follow.
All three pieces fold flat and can be carried by a strap which is sold separately.
Be careful to store your ramp in the same spot every time so the adapters do not get lost. Secure attachment is essential to the safety and function of the ramp. I wish Byclex had attached them with a bungee cord as seen on The Comet though the set comes with three adapters in case one gets lost.
Choose Your Adventure
The set comes with three pieces, two Go Ramps and a table top box. This modifiable system allows you to turn the table top in to a gap jump, triangle or a drop. The possibilities only limited by imagination.
We were able to change the set-up in seconds to accommodate different levels of riders.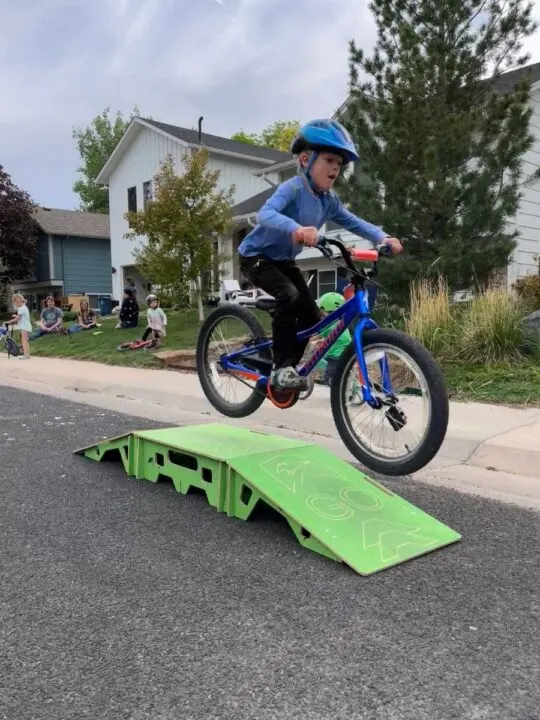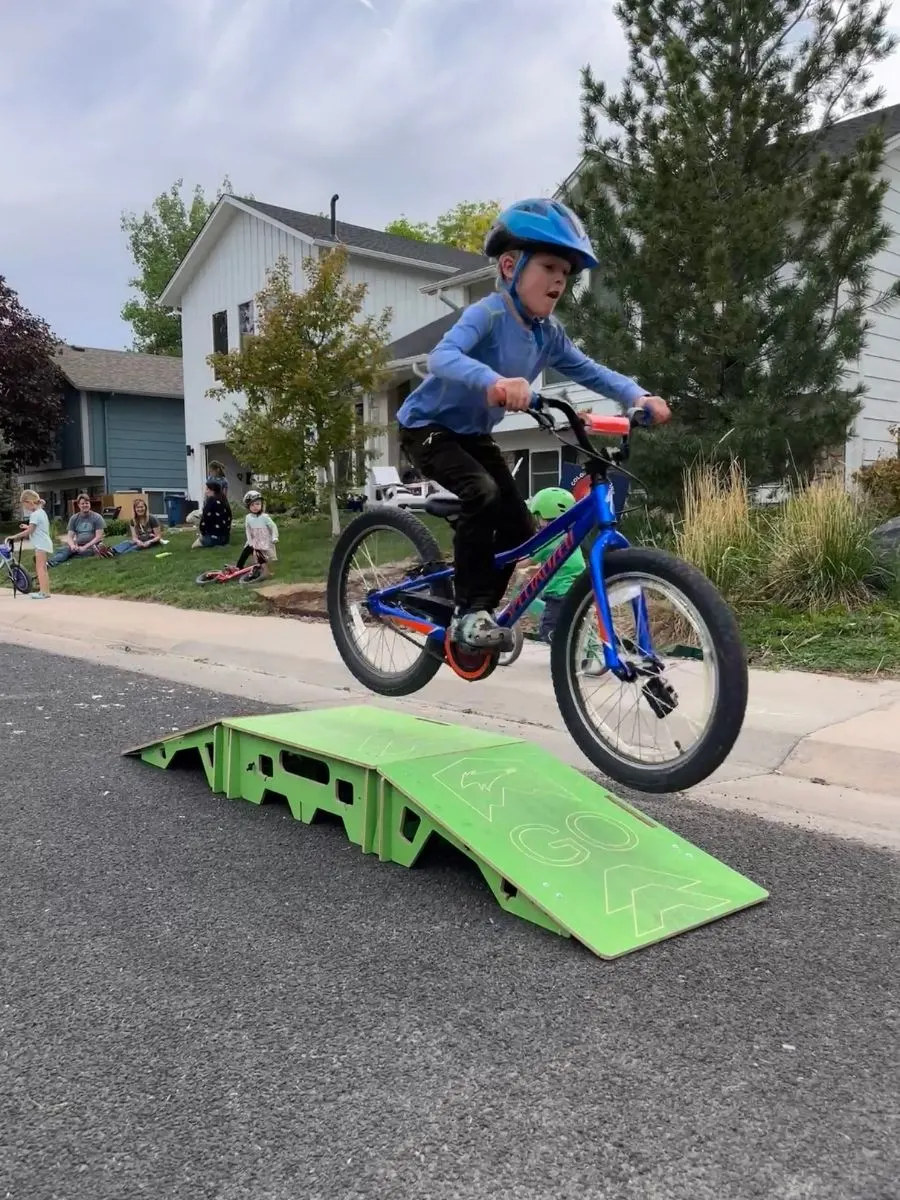 The Comet is Byclex's entry level full kicker offering 13″ jump or a 16″ jump with the extension legs attached. It's only 12.5 pounds to boot making it the lightest of its competitors with one of the highest max rider weight of 330 lbs.
The Comet is portable with carrying straps sold separately and folds down to about the size of a carryon suitcase. The design is sound and sturdy.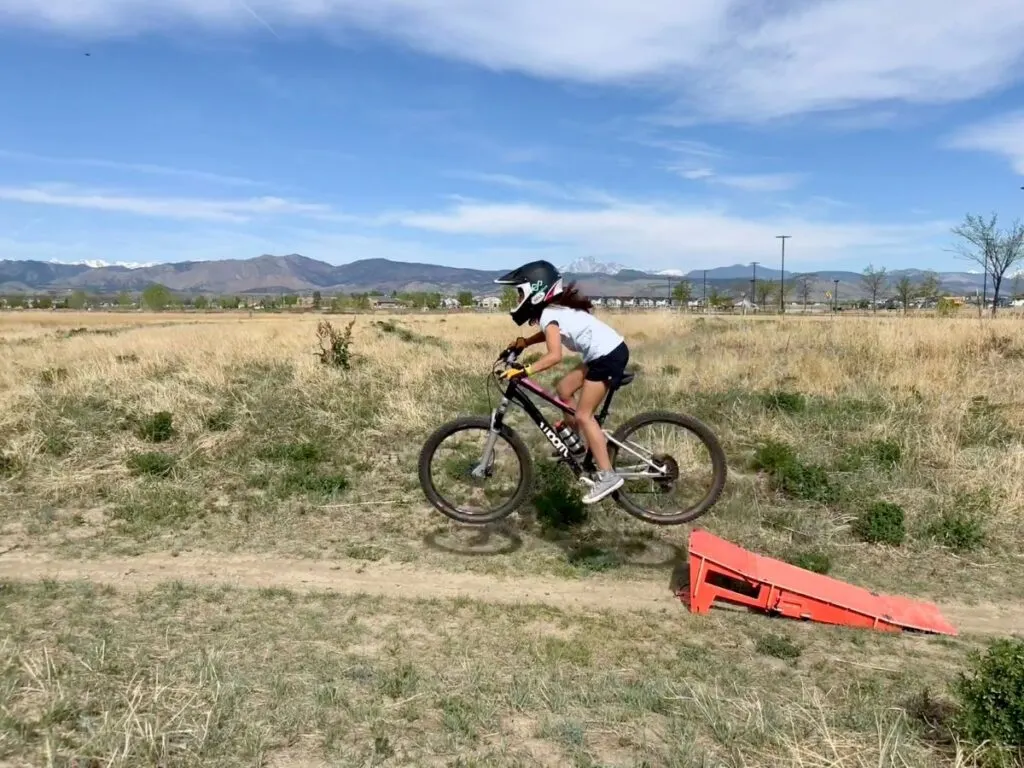 Assembly
The Comet is very easy to setup though I did struggle initially because I was sent instructions for a different ramp but figured it with a glance at the website.
Assembly is as easy as locking in the side supports (see below) and sliding them into the main frame. It really is just a few pieces that slide together like a puzzle.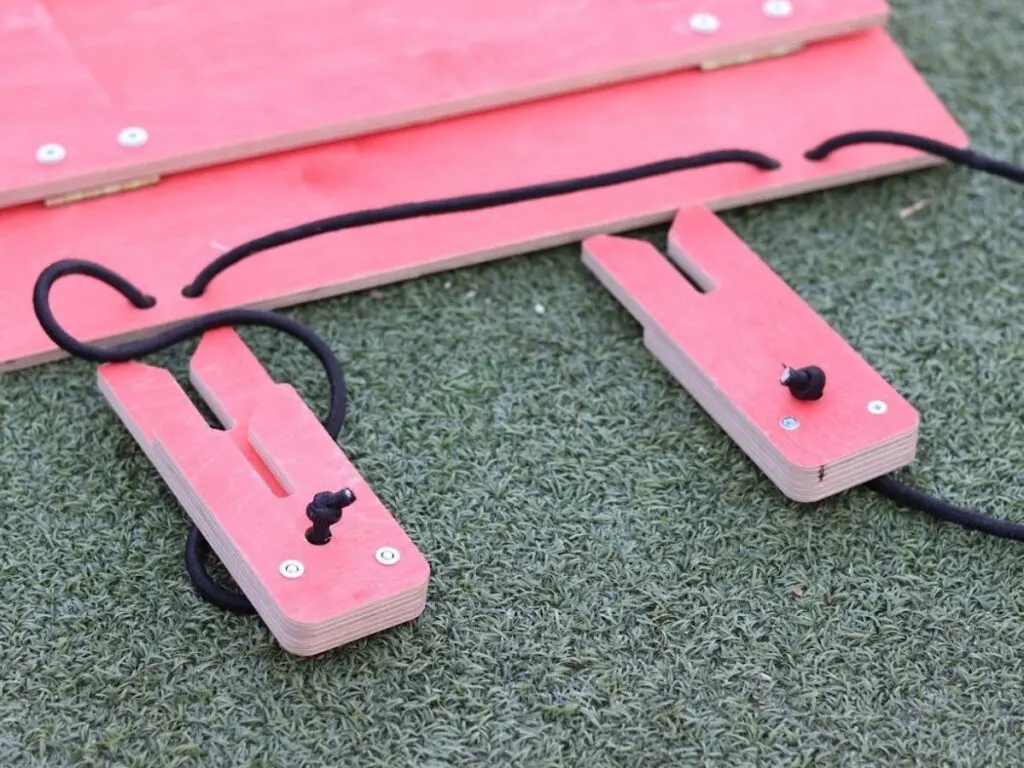 I had to really force the pieces to get them to click in all the way the first few times I set up the ramp. Each time it got a little easier.
A Little Elbow Grease Required
This ramp doesn't not set up as easily as their more expensive counterparts. My hands were left with splitters after I struggled to get it together the first time. Once I figured it out, I didn't have to touch the wood so much.
The pieces don't glide in smoothly, be ready to push and wiggle.
Not a Beginner Ramp
The Comet is a great mid level ramp with just a bit of radius before the lip to give your rider that desired pop with a nice arch. Two heights allow a rider to level up when they are ready but simply adding the extension legs.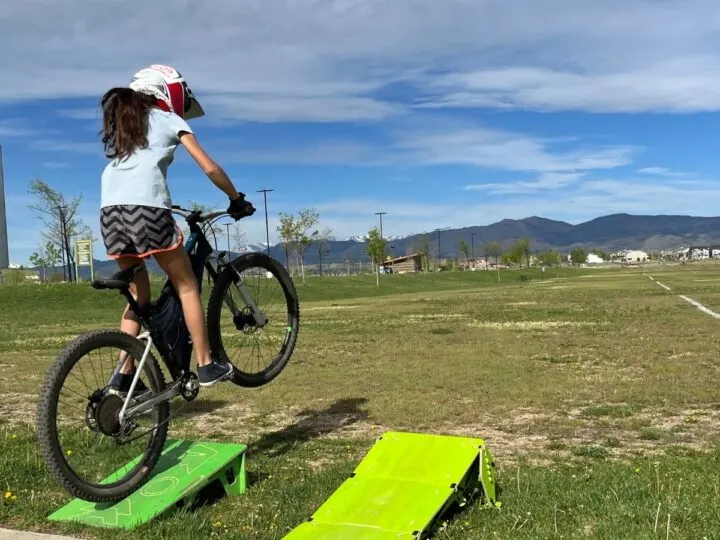 It's tempting to think this is an entry level ramp because it's the cheapest and they pitch it as a beginner ramp but we don't recommend beginners jump over 10″ to start.
This ramp is a great investment for a kid who is already sailing off small kickers with proper body position and is looking to take jumping to the next level.
The main drawback of The Comet is that it does wiggle upon takeoff. Unfortunately, the feet aren't as stable as Ninja ramps but it's a minor draw back to the almost $300 difference in price. The wiggle isn't unsafe or unsettling, it's ever so slight but worth noting.
Encourage your kids to pick up the ramp when moving it. My kids dragged it around on cement and two screws and a washer fell out.
It's an easy fix but a bit of a hassle. If you kids are rough on equipment, I would add another hinge and screws for added durability.
Protect your Investment
Covering the wood with PVC free decking solvent would solve this problem and waterproof your set up a bit, though I would leave the side supports alone at the attachment points for safety reasons.
Transporting Your New Ramp
Transporting a ramp used to be a 3 man (or lady) job. Now ramps fold up nice and can be stored in trunks, under beds (I'm looking at you van lifers) and easily on a garage shelf.
I really appreciated Byclex doesn't use bungee cords to keep their ramps together. It's a fool proof design. You can't take it apart or ruin it in this way.
We found that folding down the jump wasn't always necessary even when transporting it in our bike trailer.
Byclex Shipping/Returns
If you bought the wrong ramp or don't like the size, you have 14 days to return the product in it's original packing for a full refund, but shipping is costly and is hard to considering wanting to return a ramp without being able to try it.
If you do use it and still want to ship it back, a restocking fee will be applied and if the ramp is not resalable they will ship it back to you at your own cost. It's not ideal but it's the risk you're taking with a small business across the sea.
If you are buying the ramp for a child, check in with their current ability. Do not buy up, they will not grow into a ramp.
Start small and offer skills drills so they can master one skill at a time. Make an educated investment and there won't be a need for return.
Warranty
Byclex offers a typical one year warranty which covers any defects in parts or workmanship under normal use and well as broken components. They will not cover items damaged due to an unauthorized modification, negligence or natural disaster.
Store You're Ramp in The Same Spot EVERY Time.
Please, please store the ramp in the same spot every time. Many ramps die an early death left in the street or driveway. Make a ritual of putting it away and your won't need to worry about warranty.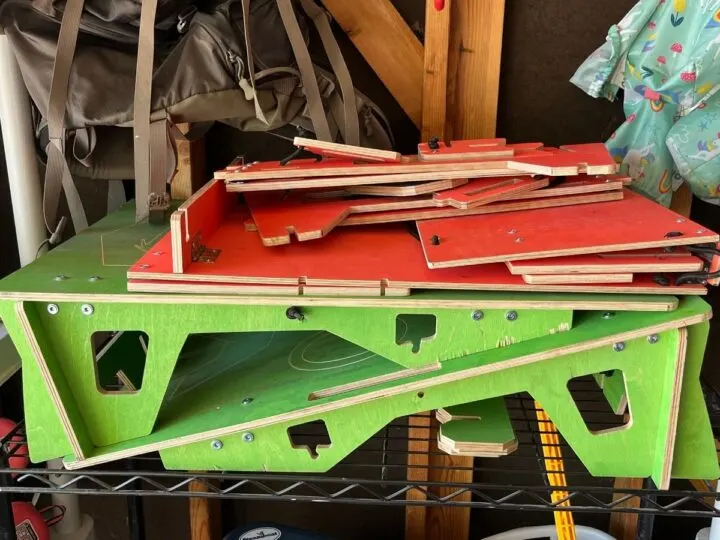 Byclex Bike Ramps: The Bottom Line
While Byclex doesn't have the bells and whistles other brands offer, they do offer an exceptional product for the price. Their entry level products are great for young kids and a solid investment.
I fail to see how their $400 kicker matches up to the adjustable designs from their competitors but overall their products offer much value to the mountain bike market. I understand their return policy needs to be stricter due to import fees and shipping but not being able to use it is a little silly.
That said, make sure you know what size is best for your rider's ability. Beginners should start with the Table Top or the GO wedge or even better the Manual Trainer.
Learning to manual before jumping is very helpful. Learning to lift the front wheel with compression is essential to hitting any jump.
Byclex ramps are a solid investment and great bang for your buck. Treat them well and they will bring joy for a long time.
Related Articles:
Byclex Bike Ramp Review
©2022 Kids Ride Bikes All rights reserved. Republication, in part or entirety, requires a link back to this original post and permission from the author.