Since 2017, the visionaries behind Kids Ride Shotgun have been driven by a shared mission: to design exceptional products that bring families closer and to nurture a deep appreciation of the great outdoors.
Among their impressive creations are top-of-the-line seats, allowing young ones to accompany their parents on thrilling mountain bike adventures. Now, building upon their success, Kids Ride Shotgun has unveiled their latest innovation: the finest balance bike, the Dirt Hero, tailored specifically for mountain biking, setting a new standard in its class.
Balance bikes teach fundamental balance and coordination skills from an early age, empowering children with confidence and a sense of control over their movements. With a low center of gravity, balance bikes offer a safe and enjoyable way for kids to explore the outdoors, promoting a healthy lifestyle and a lifelong passion for biking. Read more about why we love balance bikes in this post.
As an Amazon Associate and member of other affiliate programs, we earn from qualifying purchases.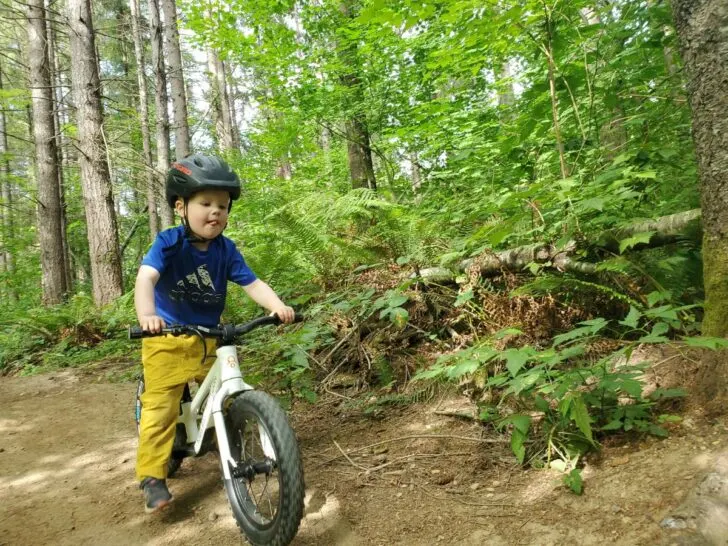 Dirt Hero Overview
The Dirt Hero off-road balance bike is the ultimate scaled-down mountain bike, tailored exclusively for young enthusiasts eager to venture beyond the confines of the driveway and explore the thrill of off-road riding.
Crafted with meticulous attention to detail, the Dirt Hero balance bike is designed for kids aged 2 to 5 years, ensuring a perfect fit for the little riders. Its 12 – 14" convertible size (additional wheel kits sold separately) allows for easy adjustments as they grow. The bike is equipped with air-filled grippy tires, delivering excellent traction and stability on varied terrains.
Safety is paramount in the design, evident with the ability to add the Magura hydraulic rear disc brake featuring a child-safe rotor guard. This ensures that young riders can confidently control their speed and navigate tricky trails with ease. With trail-ready mountain bike geometry and impeccable build quality, the Dirt Hero balance bike provides a genuine off-road experience for kids, promoting a love for mountain biking from an early age.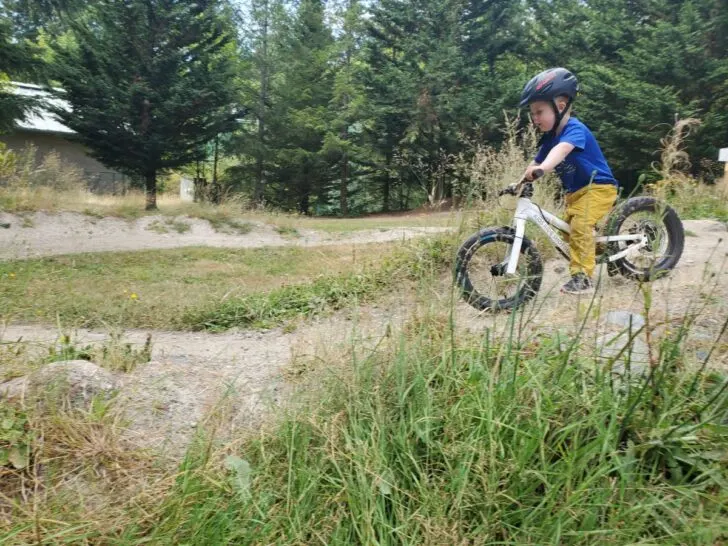 What the Dirt Hero Comes With
Kids Ride Shotgun makes sure your balance bike is delivered with care, arriving in secure and professional packaging. Their attention to detail was evident in the protective measures taken to ensure the bike's components remained undamaged during transit.
The package arrives with a lightweight frame and your choice of 12-inch, 14-inch tires, or both. An additional disc brake is shipped in a separate smaller package if you choose this add-on. Putting it together was a breeze, thanks to the provided tools and instructions. But what my kids loved the most were the three cool bike skins to pick from, and the fun temporary tattoos that added a playful touch to the unboxing experience.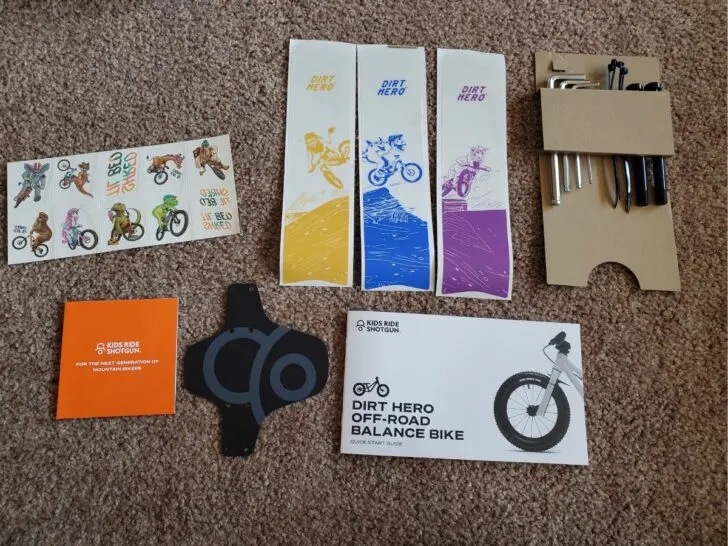 KEY FEATURES
Designed ages 2 – 5 years
Frame fits both 12 – 14" wheels (additional wheel kits sold separately)
2.25" Vee Tire Crown Gem pneumatic tires
Magura hydraulic rear disc brake with child safe rotor guard
Trail ready mtb geometry & build quality
3 x mtb skins included
SPECS
All Aluminum frame and fork
Air-filled tires to increase traction and reduced bounce
Cost of Disc Brake: $150 ($99 if bundled with bike)
12-inch wheels
Cost: $340
Ages: 2-3
Weight: 8.8 lbs (9.7 lbs with brakes)
Minimum Seat Height: 12.5 inches
Maximum Seat Height: 15.8 inches
14-inch wheels
Cost: $360
Ages: 3-5
Weight: 9.25 lbs (10.14 lbs with brakes)
Minimum Seat Height: 13.8 inches
Maximum Seat Height: 17.2 inches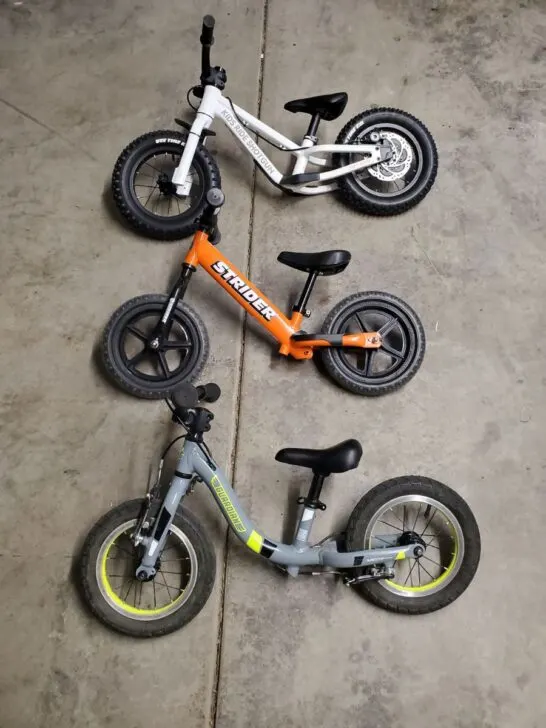 What We Love
2.25" VEE TIRE CROWN GEM TIRES
The air-filled tires on this balance bike are truly impressive. They are the beefiest and grippiest I have ever seen on a balance bike, and their impact on performance is remarkable. To be honest, I didn't expect such a significant difference compared to the tires on our other balance bikes, but when we hit the trails and pump track, I was pleasantly surprised.
My brave three-year-old was fearlessly exploring new terrain, confidently navigating tight corners, riding up on berms, and conquering bigger bumps with ease. He even started asking to ride his "squishy wheel bike," a testament to the exceptional comfort level this bike offers compared to his others. When compared to the Strider 14x and Guardian air-filled tires, these tires outperformed them by a mile.
The exceptional performance is not the only highlight of this balance bike. Its durability and comfort play a vital role in creating an enjoyable riding experience. The tire quality ensures that it can withstand the rigors of off-road adventures and rough play, while the comfortable ride keeps young riders happily engaged for extended periods. The combination of outstanding performance and comfort makes these tires our favorite feature.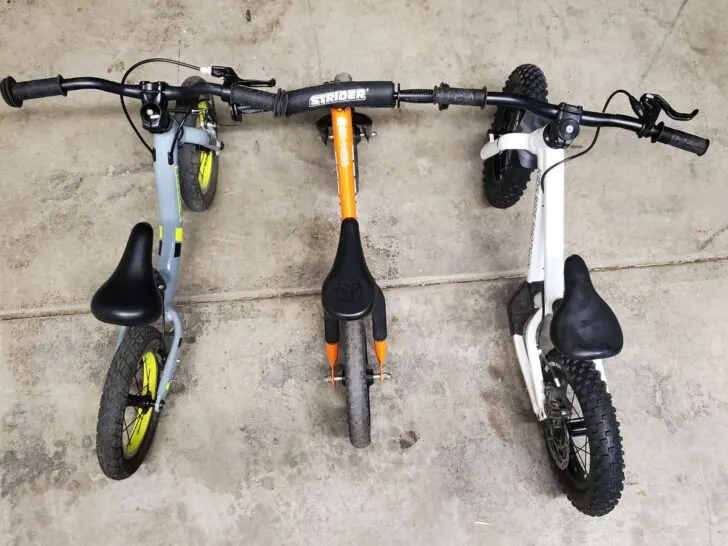 MAGURA HYDRAULIC REAR DISC BRAKE
My love for this brake system comes from two significant features. Firstly, the brake lever design is exceptional. It's the only lever that my three-year-old can confidently keep his fingers on while riding, allowing him to safely slow down and stop without removing his hand from the handlebar. This feature provides an added layer of security and control, making it a perfect fit for young riders mastering their biking skills.
Secondly, the quality of the disc brake itself is outstanding. When the lever is pulled the bike comes to an abrupt stop with no slow down period. This level of precision and responsiveness brings immense peace of mind, especially when my older kids join in the fun.
All three of my older children have fully tested the braking system as they joyfully and repeatedly skidded to dramatic stops. The combination of safety, control, and sheer enjoyment makes this brake system an invaluable asset to our biking experience.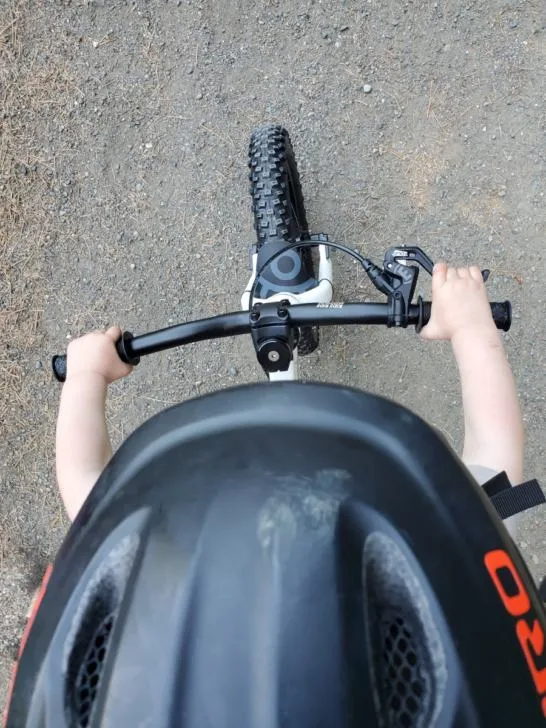 ONE FRAME FOR TWO DIFFERENT-SIZED WHEELS
Kids grow at an astonishing pace, particularly during their early years. When our eldest child began her biking journey, we made the mistake of purchasing two separate balance bikes – first a 12-inch size, only to find ourselves buying a 14-inch size just a year and a half later as she outgrew the first one.
That's why I am absolutely thrilled with the ingenuity of Kids Ride Bikes in addressing this challenge and providing an incredible solution with a bike that grows alongside your little one. Switching from the 12-inch wheels to the 14-inch ones was a breeze and took us no more than ten minutes. It's truly a game-changer, and will save you from having to invest in multiple bikes as your kiddo grows.
BALANCING FOOTREST
Mastering balance is a fundamental aspect of learning to ride a bike, and that's precisely why our team is so enthusiastic about balance bikes. We believe in providing our little ones with the perfect tool to develop their balancing skills, ensuring they'll be well-prepared for riding a pedal bike when they grow older.
That is why I love the Dirt Hero balancing footrest. The convenience of having a designated place to rest their feet on the balance bike is an added bonus that enhances the whole learning experience making it more like a pedal bike by bringing the feet under the body and toward the frame.
What We Don't Love
NO QUICK-RELEASE SEATPOST CLAMP
It's unfortunate that this bike lacks a quick-release seatpost clamp, especially considering how rapidly kids grow. Having to resort to using tools every time you need to adjust the seat height can be quite inconvenient.
This becomes even more frustrating when sharing the bike with a friend or a sibling, as frequent adjustments are often required. A quick-release mechanism would have been a practical and user-friendly solution to this issue, ensuring a smoother and more enjoyable riding experience for everyone involved.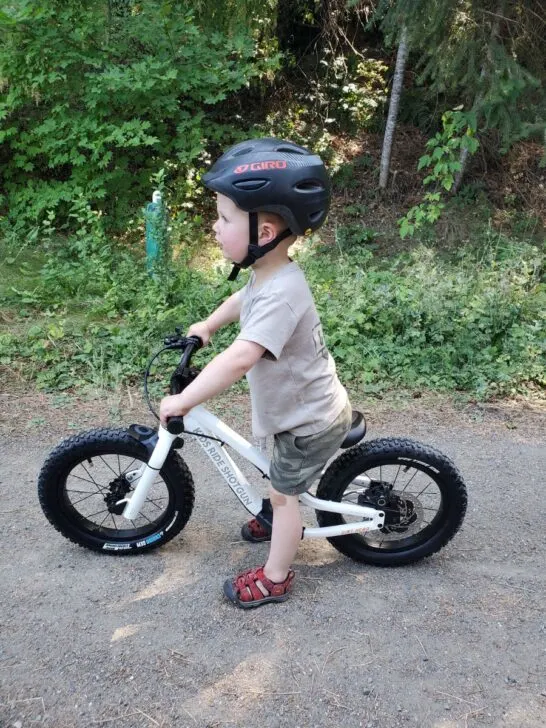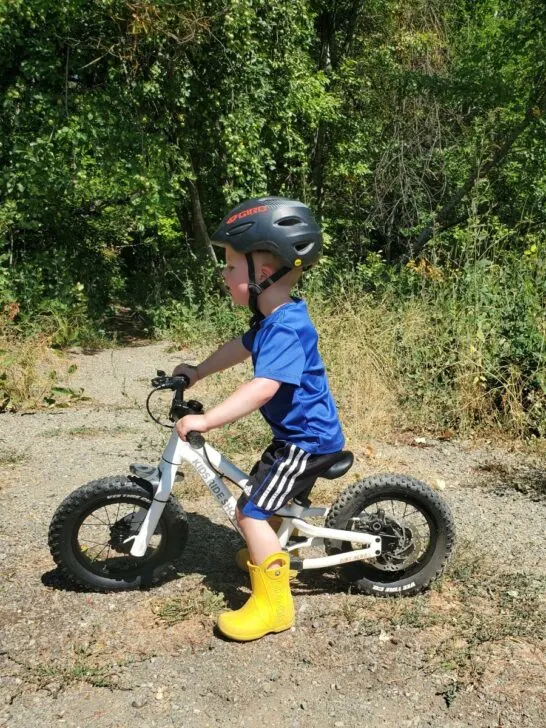 HEAVIER
While I don't consider this bike to be excessively heavy, it's worth noting that there are lighter options available in the market. Given the additional features, size, and tire tread, it's likely the manufacturers have kept it as lightweight as possible. However, for parents of really young kids, the weight can make a noticeable difference, and that's important to keep in mind.
Let's compare it to other 12-inch wheel bikes: it is only 0.3 lbs heavier than the Guardian balance bike, 2.1 lbs heavier than the Strider, and 2.2 lbs heavier than the Woom. Of course, it's essential to remember that these bikes may not have the same set of features.
That said, the weight could be a significant factor for a two-year-old rider, but I must mention that my three-year-old handles this bike excellently, if not better, despite the extra weight. Ultimately, it boils down to individual preferences and the specific needs of each young rider.
COST
Without a doubt, the biggest aspect of this bike that gives us pause is its cost. At a price point exceeding $600 (if you purchase the frame, both sets of wheels, and the disc brake), it undeniably falls into the category of a higher-end balance bike. Comparatively, other renowned brands like Woom offer balance bikes for around $300, and Guardian's models are priced around $150, both equipped with air-filled tires and hand brakes.
However, the key distinction lies in the exceptional feature of the Dirt Hero that sets it apart – its ability to grow with your child. Unlike its counterparts, this bike ensures that you won't have to invest in separate 12-inch and 14-inch bikes as your little one grows. Additionally, the true mountain bike feel of the Dirt Hero is unmatched, elevating the riding experience to a whole new level of excitement and adventure.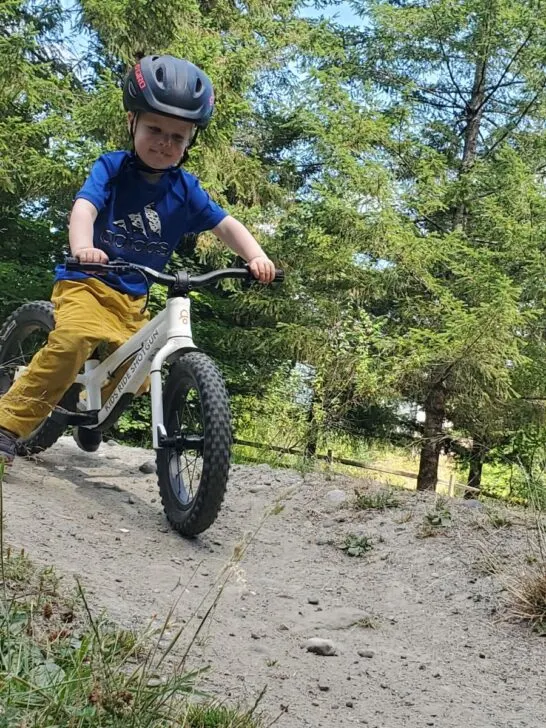 A Great Balance Bike For Dirt Bike Families
The Dirt Hero off-road balance bike boasts an array of top-notch features that truly set it apart. From its distinctive ability to grow alongside your child to the 2.25″ Vee Tire Crown Gem pneumatic tires, the Magura hydraulic rear disc brake, and trail-ready MTB geometry, this bike delivers an authentic mountain biking experience.
Though it may come with a higher price tag, its innovative design and unparalleled performance make it a standout choice for families seeking a balance bike that can adapt to their child's growth and perfectly embodies the spirit of mountain biking.
While it might not be the ideal fit for casual neighborhood riders, the Dirt Hero fills a unique gap in the market, making it the perfect bike for families passionate about mountain biking. For those whose little ones are eager to join in on the thrilling adventures, this exceptional bike is a game-changer, ensuring that young riders can confidently tackle challenging terrains and embark on unforgettable journeys alongside their mountain biking family.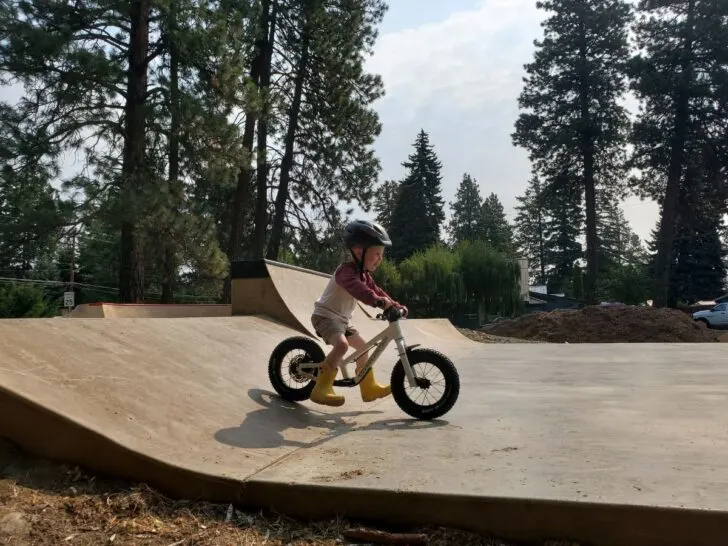 RELATED ARTICLES:
Dirt Hero Off-Road Balance Bike Review
© 2023, Kids Ride Bikes. All rights reserved. Republication, in part or entirety, requires a link back to this original post and permission from the author.