Kulie Bike Bags
Bike commuting with the kids kids in tow is my preferred mode of summertime transportation But with work, summer camps and everyday adventures, we end up with a lot of stuff to haul. Kulie Bags are a great solution for carrying gear safely and securely, leaving more room for the kids.
As an Amazon Associate and member of other affiliate programs, we earn from qualifying purchases.
Kulie Bags is a women-founded startup based out of Seattle. They make durable, functional bike bags that are designed to carry all your gear, whether you're a daily commuter like me or a family venturing out on a long distance bike tour.
I tested the 25 L Kulie Convertible Hard/Soft Twin Pannier bag. For reference, each bag holds one fully loaded kids school/camp backpack with no room to spare. The bag is not huge, but it's perfect for our needs.
If I need to stop at the store on the way home, I make the kids wear their backpacks and fill the Kulie Bags with groceries.
I also tested the Kulie Kid's Bike Bag, and my daughter was thrilled to have a place to put her stuffies on bike rides.
This small waterproof bag attaches to the handlebars, and also has a removable cross body strap.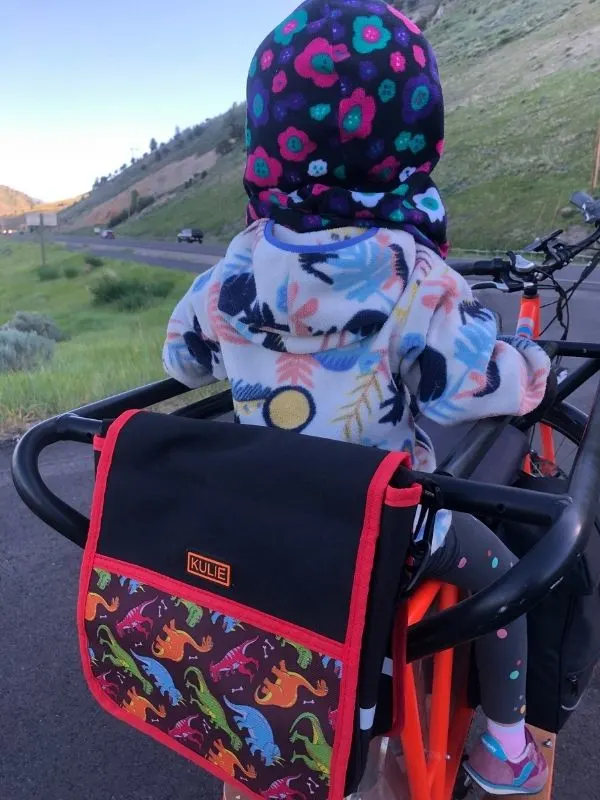 I actually use the Kids Bag on the back of my bike's cargo rack and it's the perfect spot to stash my kids water bottles for easy access while riding.
Volume: 25 L (per bag)
Bag dimensions w/ panels: 12.5″ high, 11.5″ wide, 5″ deep
Weight with panels: 1.5 Kg
Weight without panels: 1.2 Kg
Materials: Constructed of waterproof, durable polyester
Sturdy 4-point velcro attaches to rear rack
Comes in regular rack or e-bike/wide rack widths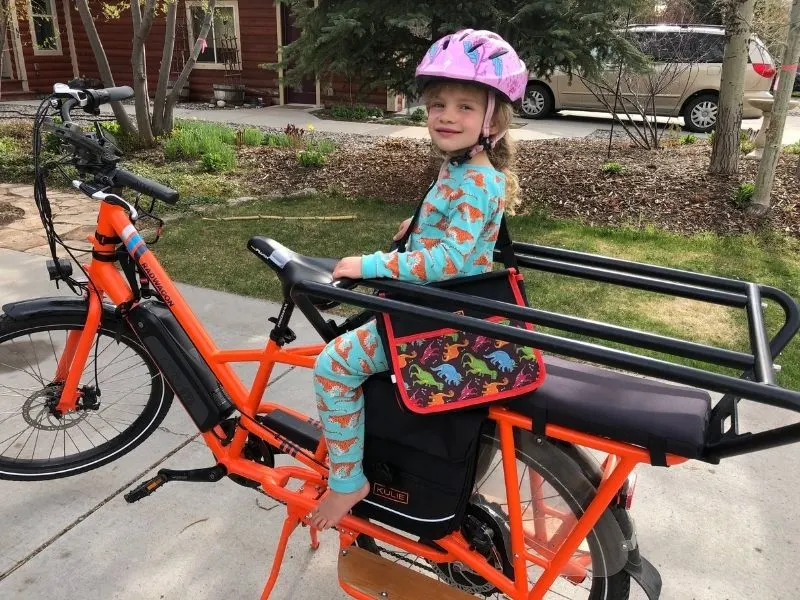 Features
Six hard plastic panels to convert the pannier from soft sided to hard sided
External zipper pockets for little things like keys and phones
Top handle for easy carrying off the bike (i've never taken it off the bike though)
Minimalist design fits all your stuff but doesn't take up the entire cargo rack area
The Convertible Hard/Soft Twin Pannier is ideal for daily bike commuters who have kids gear or personal gear to haul. We use it for:
School and work backpacks
Snacks and water bottles on longer rides
Groceries
Beach towel and beach toys when we ride to the lake
Storing helmets when the bike is parked (leaving helmets out in the hot sun is bad for them)
Extra warm layers in case the weather changes on our ride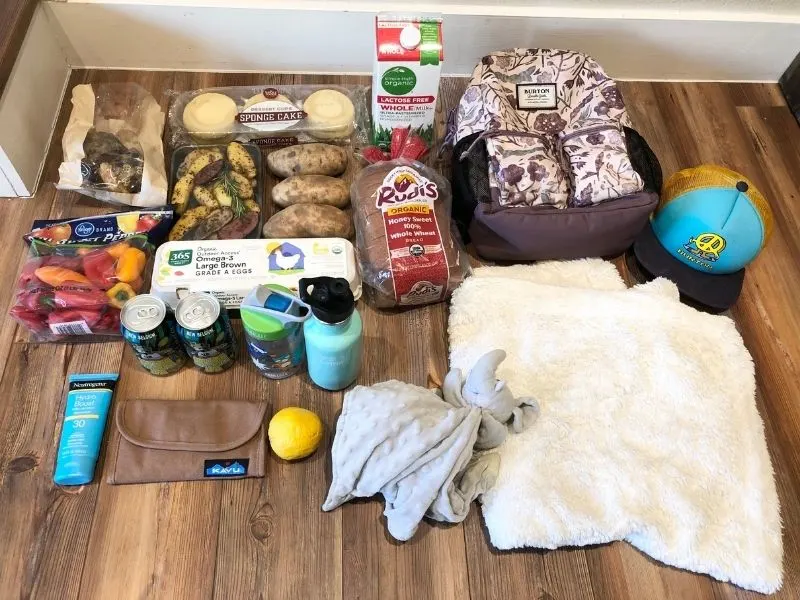 Things I love
I love that even though the bags are not huge – I can fit a lot of stuff in them. My rear cargo deck comfortably fits two kids, but the bag only takes up about half of their leg space.
Looking for a bigger bag? Check out the Kulie 32 L Soft Case Twin Pannier available in regular and wide rack/e-bike sizes.
Mamas will love this: The bags are made of a thick waterproof polyester material and they really are waterproof.
My daughter dripped ice cream over the top and down the side of the bag, and I hosed it down full blast. It washed off beautifully and the inside of the bag stayed dry.
The bags have just one large buckle, which makes getting in and out of them quick and easy. There is a small zippered pocket on the outside which is where I put my keys and phone.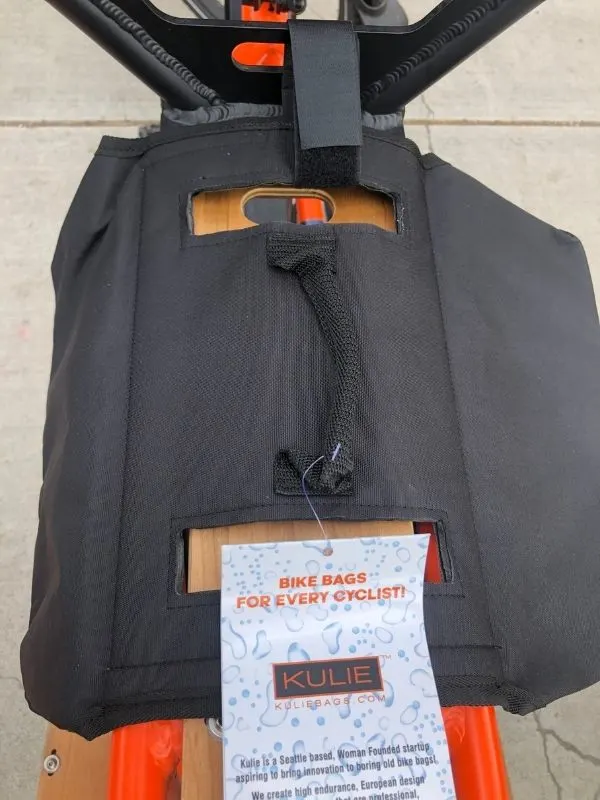 Another thing I love is these were incredibly easy to install.
I removed the seat pads off the cargo rack, draped the bags over, and replaced the seat pad. It was a 5-minute install.
Since I have seat pads on top of the bag, I don't ever remove it. But there's a convenient top handle if you wanted to carry the bags with you.
You may be wondering about "Convertible Hard/Soft" part and what that means. I wondered this too.
The bag comes with six hard plastic panels, three for each side. The plastic panels slip into internal sheaths in the bottom, front and back of the bags.
Having the plastic panels installed converts the bag into a hard-sided pannier.
Having the bags set up as hard-sided is great if you're hauling things that shouldn't get squished, like fruit, laptops and art projects that your kids make in school.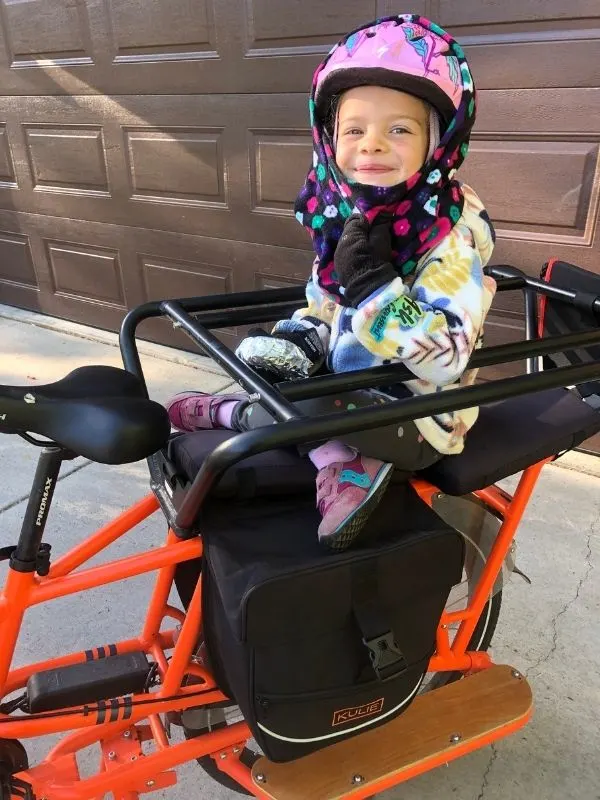 The downside to a hard-sided setup is that the bags stick out 5″, which can be uncomfortable for little legs to straddle (if you're hauling kids).
When we ride long distances, the kids often have to pull their legs up or sit cross-legged for a little bit to give their legs a break from rubbing on the bags.
Removing the plastic panels converts the bags back into soft-sided. With the panels removed, the bags have a much slimmer profile.
This is more comfortable for the kids yet you can fit gear, groceries and things that can be squished – like school backpacks.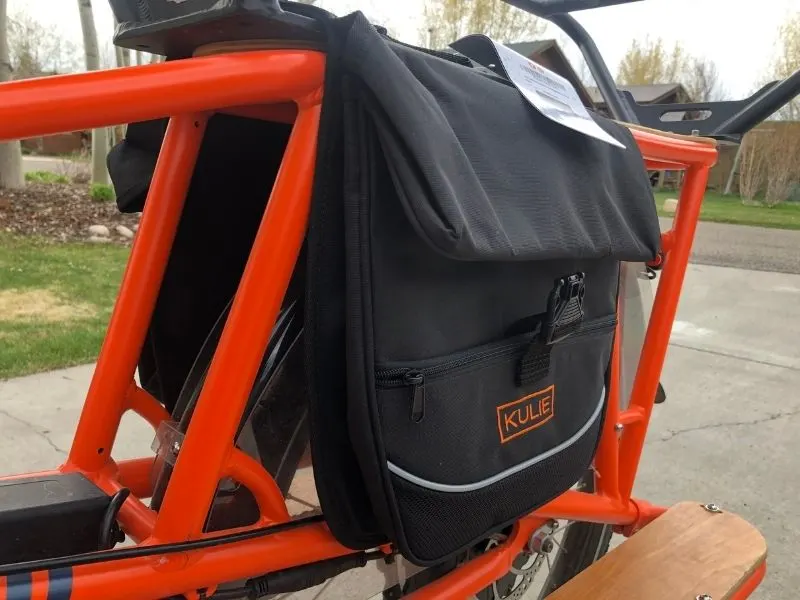 Areas for Improvement
I would love to see Kulie design a pannier bag that is comfortable for kids legs to straddle.
A bag that is shaped like a triangle, with a narrow top and wider at the bottom, would be way more comfortable for little legs.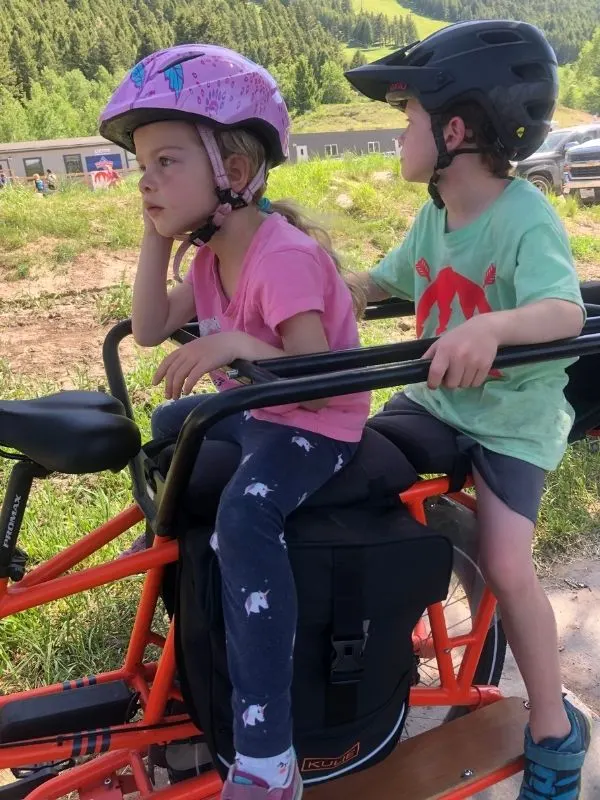 If we are traveling short distances, my kids are totally fine. But on the 20+ mile days, they do complain that their legs are sore.
The Bottom Line
Before I got the Kulie Pannier, I was the classic bag lady.
I would wear a shoulder bag full of my work stuff, and my kids would each have their school backpack on.
Often, i'd even have a bag tied onto the rear cargo rack. And my kids were so squished, and more than once a bag would fall off and i'd have to backtrack to find it!
Talk about a junk show.
Carrying gear in pannier bags is not only more convenient but it's safer, too. My bike handles much better with the weight low and over the rear wheel (not bopping around on my kids backs).
The Kulie Convertible Hard/Soft Pannier has been a real game changer in my daily bike commuting with kids.
The kids are so much happier when they aren't squished together on the rear rack with backpacks on. And less whining makes me a happier mom!
Related Articles:
Kulie Bike Bag Review
© 2021, Kids Ride Bikes. All rights reserved. Republication, in part or entirety, requires a link back to this original post and permission from the author.