Bike the Katy Trail with Kids
The Katy Trail spans 237 miles east-west nearly the whole width of northern Missouri. It is America's longest trail created from a former rail line by the Rails-to-Trails Conservancy and is a great place to explore with the family.
The eastern 165 miles of the Katy Trail follow the Missouri River and are an official portion of the Lewis and Clark National Historic Trail. It is also a part of the 6,800+ mile coast-to-coast American Discovery Trail.
As an Amazon Associate and member of other affiliate programs, we earn from qualifying purchases.
Biking the Katy Trail with Kids
While the Katy Trail is open to hiking, running, and even horseback riding on some sections, this is our favorite local trail to bike on as a family since its an easy ride.
The relatively flat, smooth trail makes it very popular for cyclists and it is great for hooking up the bike trailer and heading out to adventure together.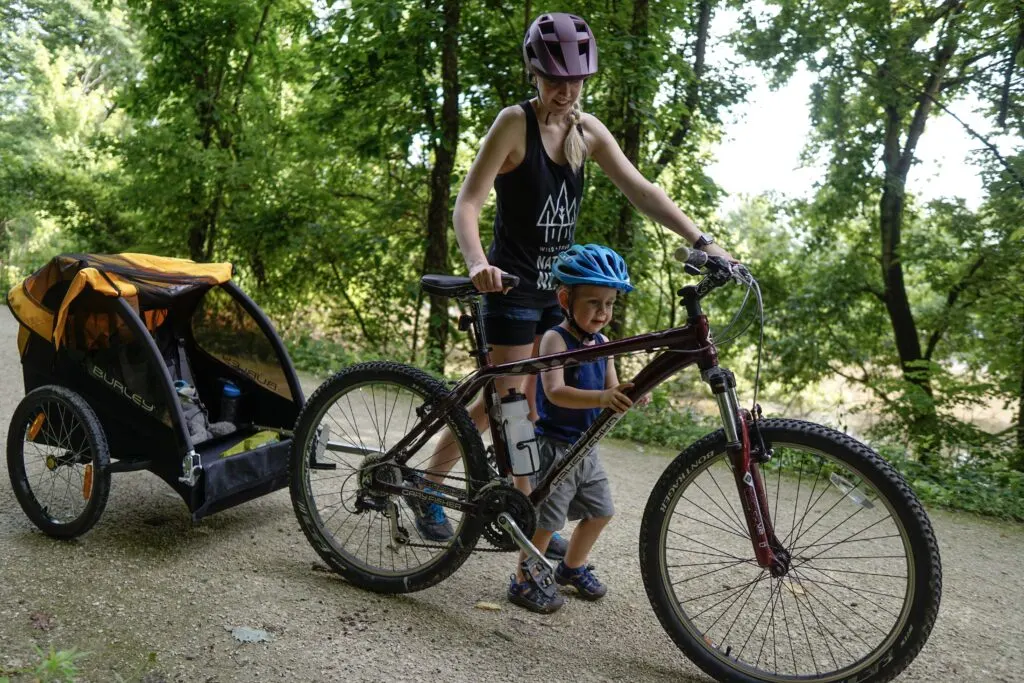 Fortunately, it's easy for us to leave at a moment's notice because we leave the cargo bin of our Burley Bee packed with necessities. In fact, the huge cargo space is probably my favorite thing about this bike trailer, and boy do I keep it full: water, snacks, rain gear, snacks, first aid kit, snacks, a few toys, snacks, helmets, and more snacks.
Anything we can do to make getting out the door easier, I'm all for it!
Katy Trail Scenery
Since the Katy Trail is so long, the landscape is obviously quite varied. Riding out from our local trailhead, we get a mixture of forests and farmland and we also get to see some really beautiful limestone bluffs that are my favorite feature in our area.
We like to take opportunities to stop and explore, and the bluffs make for some fun scrambling and are also home to bald eagles which are often spotted nearby. Plan on making stops often as you go for kids especially to stretch their legs and adventure.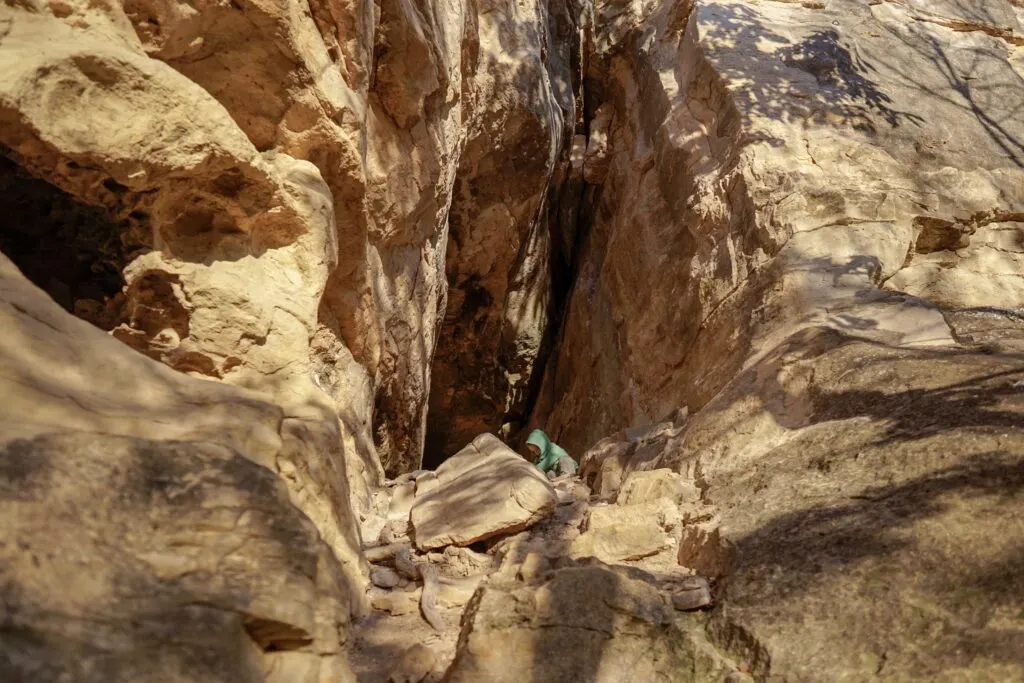 Katy Trail Wildlife
Bald eagles aren't the only wildlife you'll see on the Katy Trail! Watch for deer, snakes, birds, and turtles. This weekend it was all I could do to keep my bike tires from smushing all the baby frogs that were hopping across the trail.
While we typically leave the wildlife observed but undisturbed, we had to stop and take advantage of the opportunity to say hello to Mr. Turtle as he made his way across the trail. (Sorry, kiddo, but he can't ride home in the bike trailer with you.)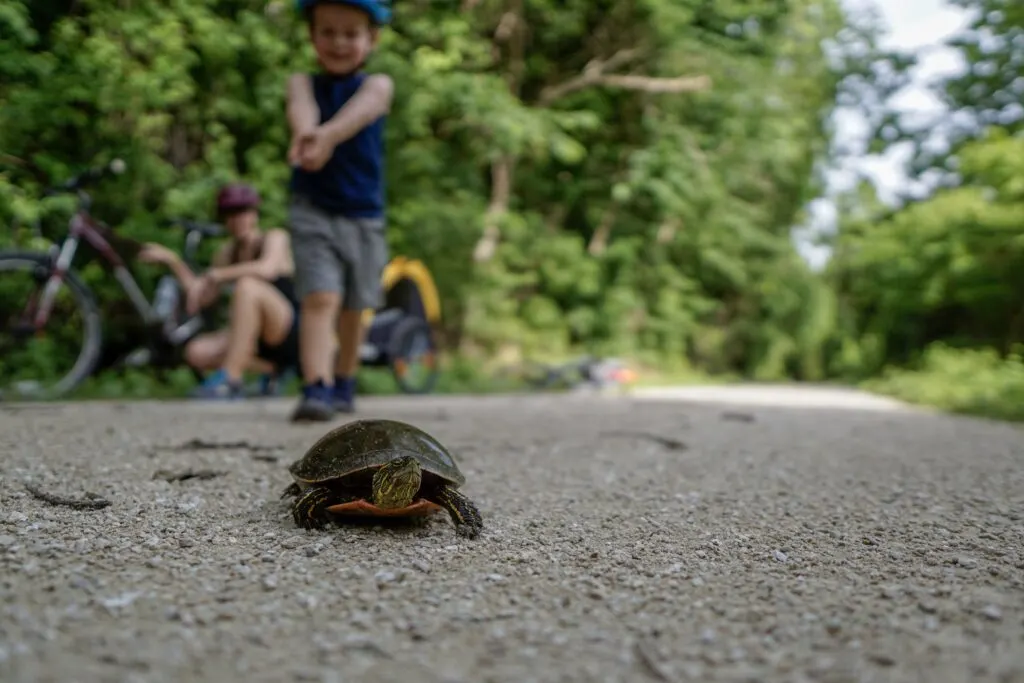 Katy Trail Weather Precautions
We felt lucky to have a break in the stormy weather, and extra lucky that the trail was open in our area. Since much of the trail borders the Missouri River, the rain has caused several closures recently. Be sure to check the trail conditions before you go.
We could see how the trail had been flooded in places, and the river still came right up to the side of the trail at several spots. We stopped to check out the high water and Trail Baby had to pull out his binoculars to assess the damage, as well as his foam sword because #boys.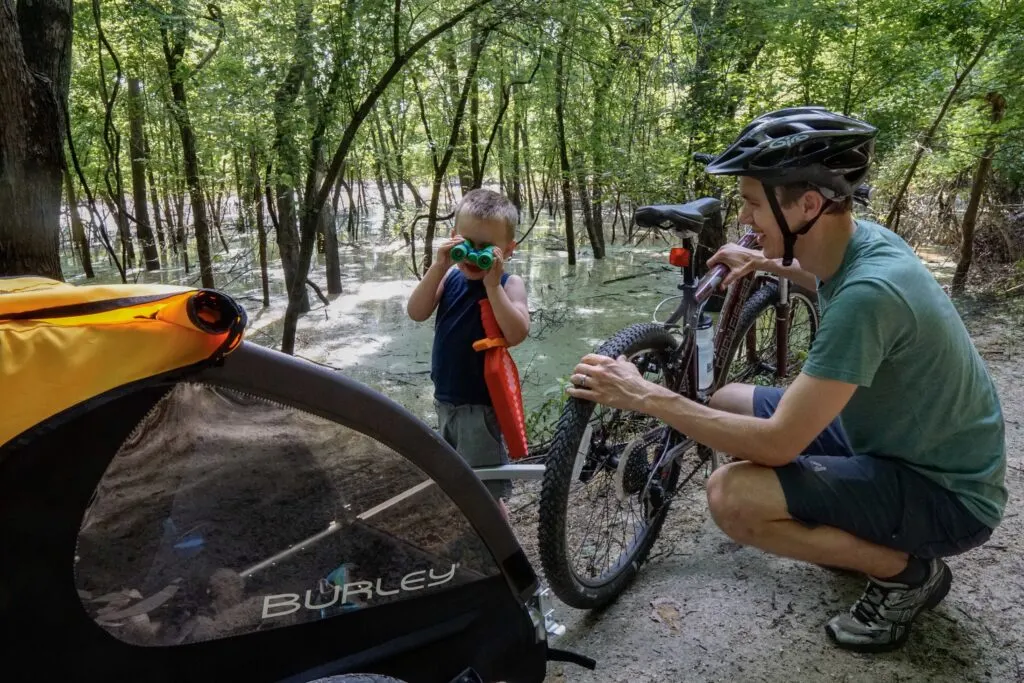 Despite the flooding, the Katy Trail and the state park are well-maintained and we didn't have any problems on our ride. In fact, we have to give a shout-out to the Missouri Park Rangers for being awesome.
Once on the Katy Trail we had a flat, and a patrolling park ranger not only stopped to check on us, but he also gave us a spare tube, stayed to chat, and gave Trail Baby a Park Ranger badge sticker. Super nice!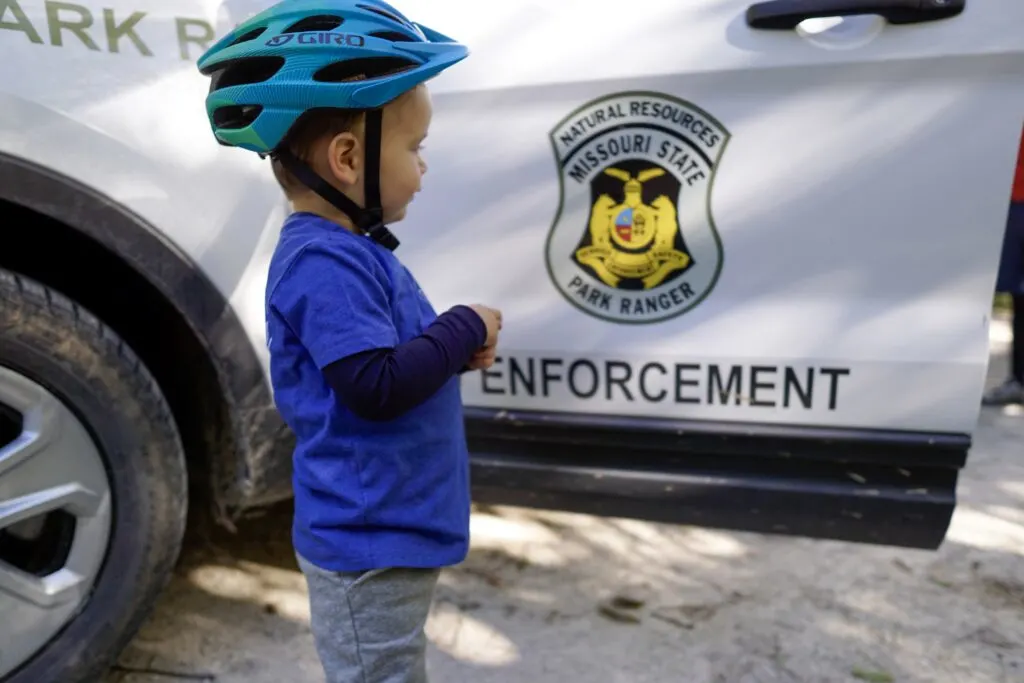 Biking the Katy Trail with Toddlers
As I mentioned, we stow an epic amount of snackage in our Burley Bee, so of course we had to make stops for eats as well. In fact, this is a major part of any adventure we go on these days. Toddler life is snack life.
Also, I've found that toddler life is sharing life… FOR ME. Any other moms feel me on this? I have to sacrifice the right to have my own stuff. Of course Trail Baby needs water from MY water bottle, even though he has his very own water bottle right there in his handy-dandy pocket by his seat in the trailer.
I can't even bask in my resentment because when we go home I'm going to have to read "Llama Llama Time to Share" six times in a row before bedtime. Huff.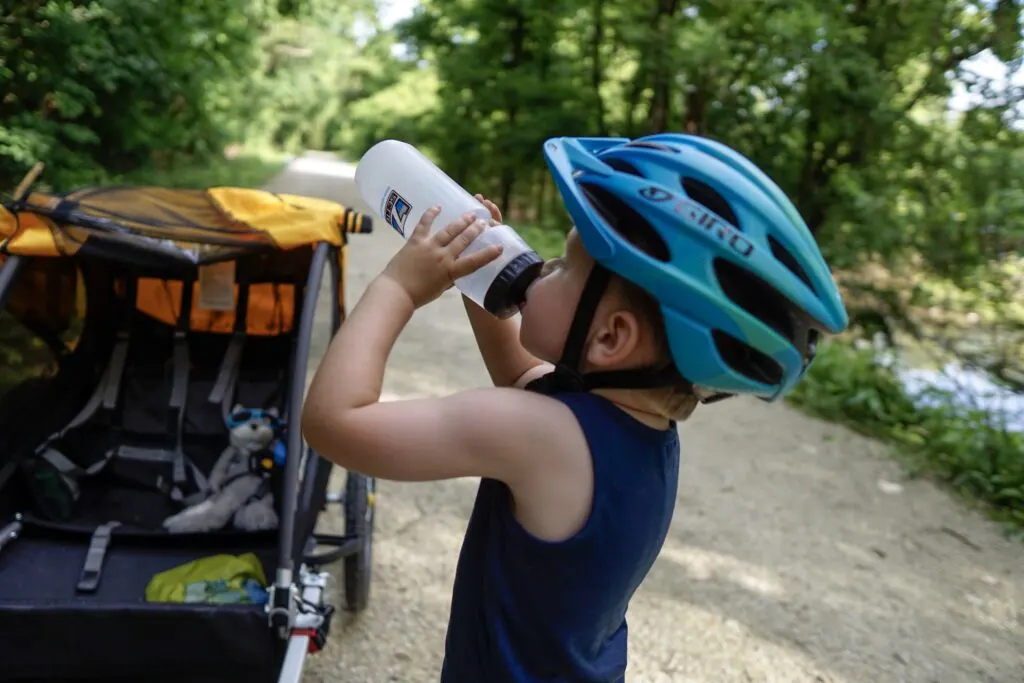 While snacks staved off most of the toddler grumpies, we did have to deal with Trail Baby wanting to switch between Mama's bike and Daddy's bike. Luckily, it's super easy to swap the hitch over for the bike trailer, so we were able to avoid any meltdowns on that front. (And mama won't complain about getting a little break for me ol' thighs…)
We took some time at our turn-around point to get his wiggles out and throw some rocks off the bridge, then headed back to the trail head.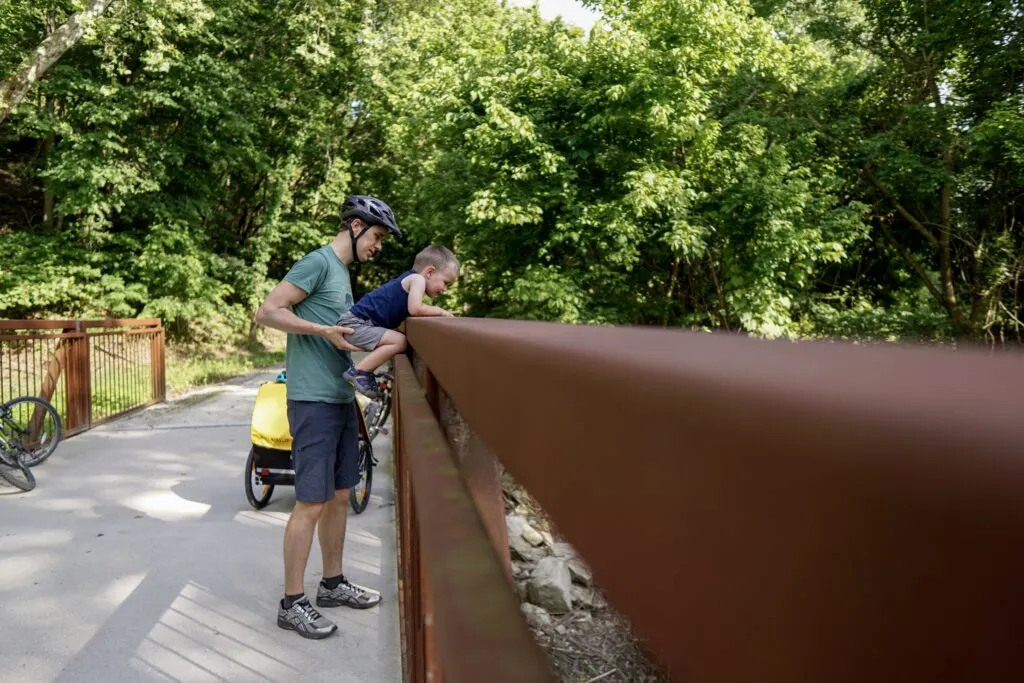 Katy Trail Dining
Since the Katy Trail is popular for through-hikers and bikers, there are some nice bed and breakfasts and diners to be found at many of the trailheads.
If you're ever in the area, we highly recommend planning a stop at the Meriwether Café and Bike Shop in Rocheport for some locally-sourced vittles from scratch.
Pedal right up to the shop and enjoy a meal out on the patio. It's a perfect end to an afternoon on the Katy Trail.
Related Posts:
Bike the Katy Trail with Kids
© 2021, Kids Ride Bikes. All rights reserved. Republication, in part or entirety, requires a link back to this original post and permission from the author.