Family Cargo Bike: Rad Power Wagon Review
We are a biking family, and always have been. However, our kids are now too big for trailers and we live too far away from town to realistically manage family biking there often. We have been pondering what to do about this for years now, and were thrilled for an opportunity to test out a RadWagon 4 this summer.
Quality electric bikes are an investment, but Rad makes them comparatively affordable to other bikes on the market and therefore very popular.
As an Amazon Associate and member of other affiliate programs, we earn from qualifying purchases.
RadWagon 4 Cargo Bike
The RadWagon 4 is the biggest of Rad's line up, with room for an adult and a few kids, or gear and kids, or just gear.
It has a max speed of 20 miles per hour, but is able to maintain that speed fairly easily as it goes through 5 levels of pedal assist.
Range: up to 45+ miles
Weight capacity: 350 pounds
Motor: 750w
Minimum 24.5″ bike inseam
Bike weight: 76.7 pounds (with battery)
7 gears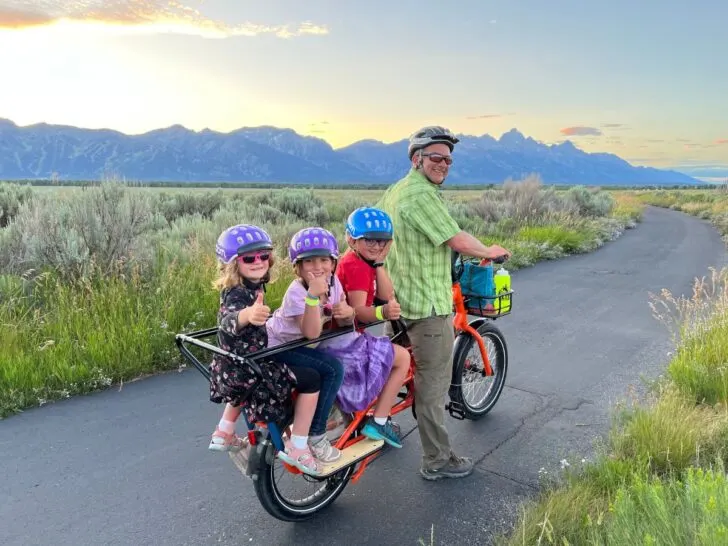 Riding a Cargo Bike
I have to admit that was I very timid when we first got this bike. I stand (barely) 5'3″ and have a short inseam. Hauling moving cargo (wiggly kids) and a heavy bike was incredibly intimidating to me. Throw a motor on there giving me not 100% control and I left the initial testing to my husband and kids.
However, once I got brave enough I quickly realized that the RadWagon is built to allow for easy on and off AND managing previous cargo. Three inch wide wheels coupled with a low center of gravity help with stability. We have another brand of e-bike and find the Rad Power bike to be much easier to ride.
What I love about the Rad Wagon 4
Easy to ride
With a low center of gravity, geometry that puts you in a more upright position, and wide tires, the RadWagon 4 has a smooth, stable ride.
Lots of accessory options for more hauling
Since the RadWagon 4 can haul up to 120 pounds of cargo (350 pounds total), there's lots of room for adding accessories. We chose the following:
Medium Front-Mounted Basket
The medium front-mounted basket (currently out of stock) is big enough to throw in smaller pieces of mail or a bag of snacks. Honestly, if we did it again, we would just go with the large size to maximize carrying capacity.
Running Boards
When you're hauling kids, running boards are pretty necessary. They give a place for kids to safely rest their feet, and also allow easier loading and unloading.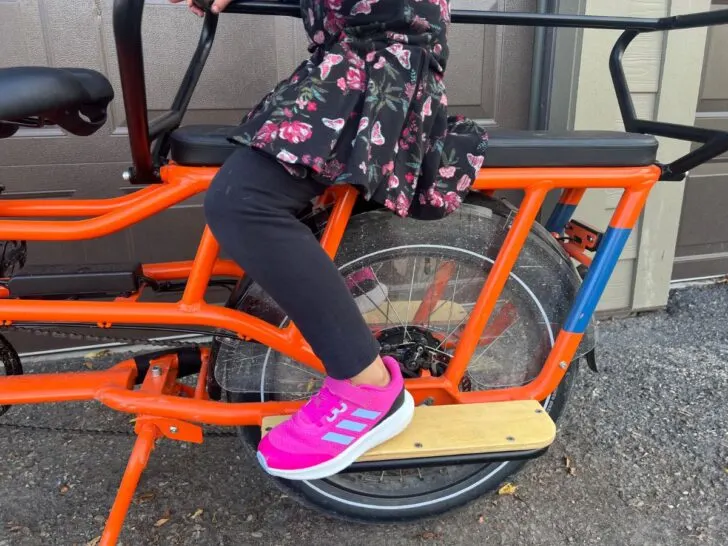 Caboose
Also necessary for stability with kids (unless they're riding in buckled seats), we love the caboose. The width bars can be moved for smaller and larger kids.
Deckpad
The deckpad is nice for a cushier seat, but it's not totally necessary if you're trying to save money. If you plan to do shorter trips around town, kids can easily just sit on the wooden boards.
Adjustable for a wide range of heights
The RadWagon 4 works great for inseams ranging from about 24.5″ to 36.25″ or heights ranging from 5'1″ – 6'4″. However, while not condoned by Rad, our 12 year old son who is under 5′ tall is able to pedal and manage the bike even with a sister or two onboard. I think that says a lot about the ease of management.
The photo below shows how he is able to easily stand over the bike.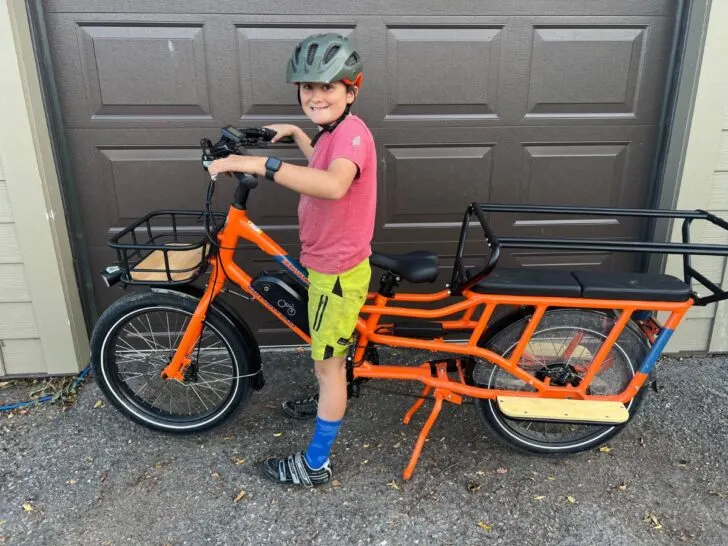 Car replacement
While it doesn't necessarily work for our family of 7, the RadWagon 4 could easily replace a car for a family with young kids. You can not only haul babies and kids, but crates and bags of gear. I found that a milk crate sits well in the deckhand space which keeps groceries, mail and gear contained.
Stable both standing and riding
While we never leave the bike unattended when kids are loading, the hefty double kickstand really does a good job on keeping things stable for loading and unloading.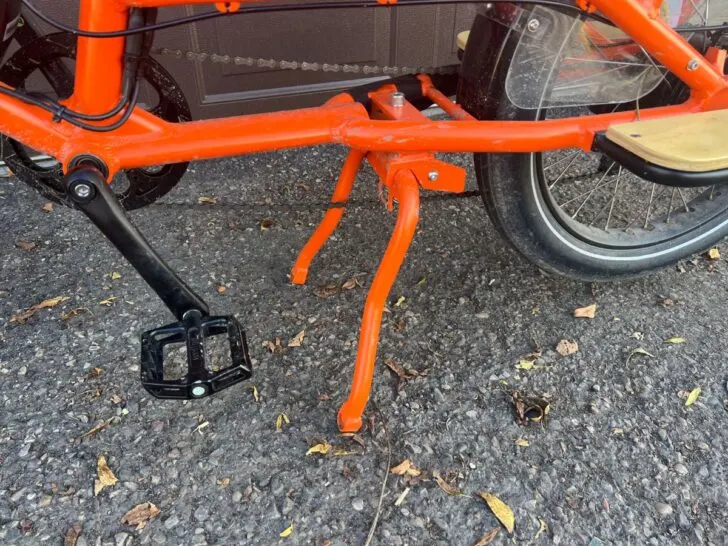 When kids are getting and out, it's important to have the bike stabilized. Kids are often tempted to get in without help, which can tip over the bike, so watch them carefully.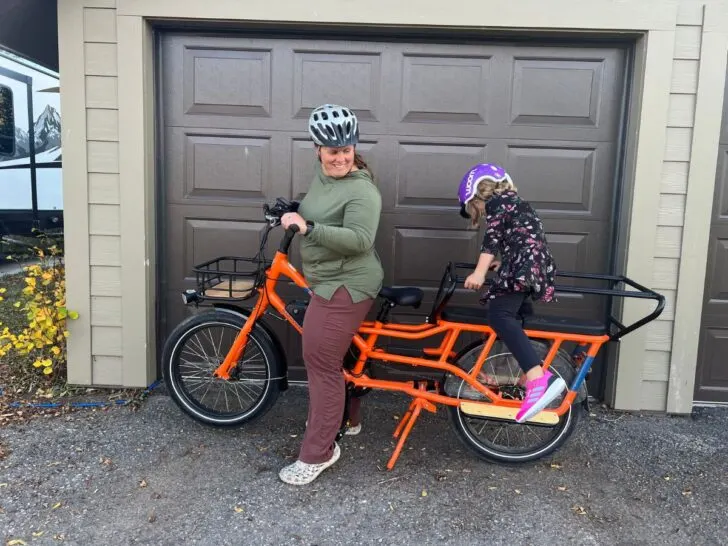 Decent power and a wide range of gears
We don't live in a super hilly place, but haven't had any issues getting up hills (we have a few big ones) with the RadWagon 4. That said, lots of hills with big loads obviously zap the battery quickly so consider that on hilly, long rides.
The RadWagon 4 uses a standard chain-drive mechanism offering 7 speeds on one ring. We found it easy to shift through those gears as we pedaled. I like that the motor supports pedaling vs. it being a completely throttle-driven.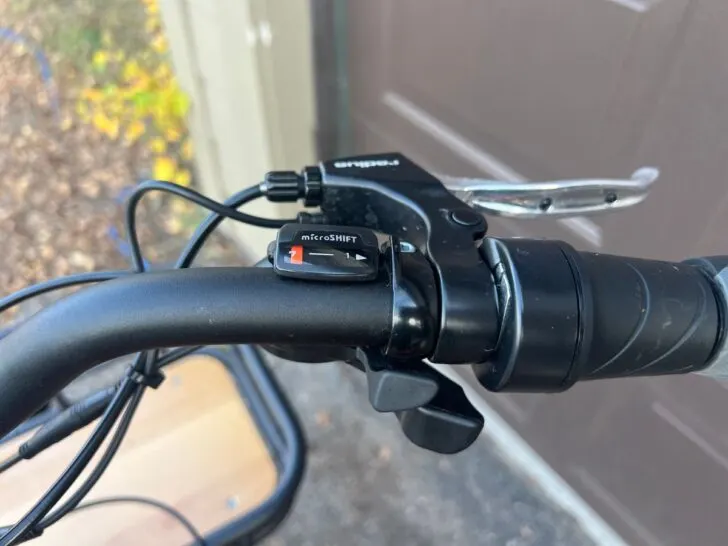 Great braking
I was impressed how well this heavy bike braked, even in wet conditions.
Consider Assembly
While assembly was fairly straightforward, it did take a good chunk of time (over an hour for us). If you don't feel confident with bike assembly, you could also always take it to a local bike shop. Because of the size, it's much easier as a two-person job.
Front and back lights
The RadWagon 4 comes with rear and front lights for safety that can be turned on and off. These are another must with e-bikes, in my opinion. I was slightly disappointed with the brightness of the front light, but it worked well enough.
What I didn't love about the RadWagon 4
Battery range
We have a unique situation in that our home is 17 miles from town. That's a long way for a bike battery, especially when it's loaded down. We decided to test the bike with Dad + 3 kids (admittedly slightly over the 350 pound weight) and managed to get just about 40 miles. Unfortunately, after some miles in town, that meant that Dad was pedaling without an assist that last couple miles. I really wish we could depend on closer to 60 miles fully loaded.
I would love to see an option to add in a second battery pack. We could, of course, of just hauling a second battery with us, but haven't done that yet.
Most families who I know that own RadWagons opt to just charge daily.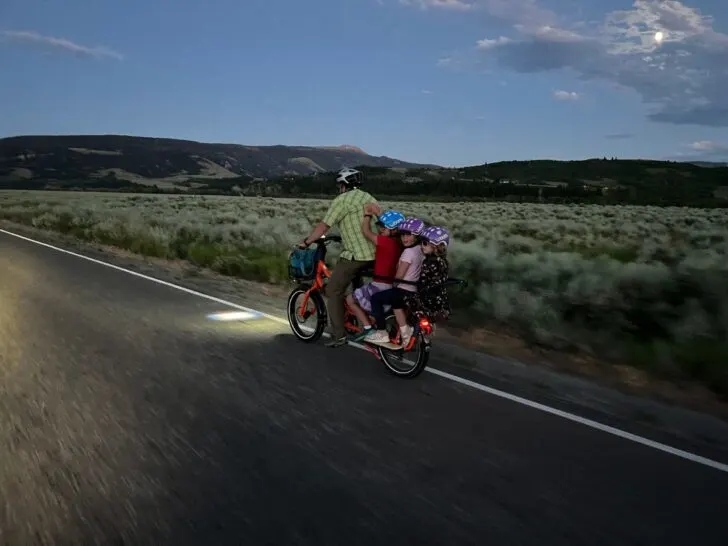 It takes some getting used to
While the bike is totally manageable once you get going, it takes a little practice to balance as you get started. I recommend starting to ride with no passengers first and then add them once you feel comfortable. We also talk a lot about riders sitting still for the safety of everyone.
That said, the bike easily goes from a stop to a smooth start thanks to the 750W geared hub motor. This was the hardest part for me to trust as a new rider, but I was pleasantly surprised how well it worked.
Odd tire size
The tires are a custom 22 inch x 3 inch size, which makes for great stability, but finding spare tubes a little tricky. Rad Power Bikes does stock them for sale.
Troubleshooting Tips
Battery fuse
We did have a battery that wasn't working within the first week of getting the bike. Thankfully, thanks to the info on the Rad website, we were able to troubleshoot that it was due to a bad fuse. We were able to get a new one cheap at the local hardware store and it ended up being an easy fix.
Battery Key
We sort of have a lot of moving pieces in our home and had to get used to taking care of the key like it's a car key. If you lose it (don't ask me how I know), you lose the ability to use the bike since it turns the battery on and off. Thankfully Rad was able to send us a new one.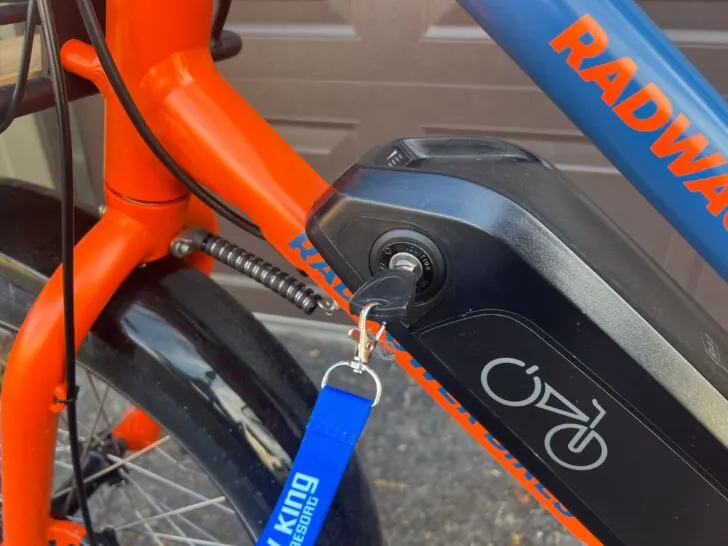 RadWagon 4: Is It for Me?
For the relatively affordable cost, stable ride, and ability to haul a good amount of gear and/or kids, we think the RadWagon 4 is a great choice for families.
More than anything else, we would love to see a better battery life and the option for some of the accessories to be included in the cost.
The bike is heavy (70 pounds), so takes some muscling around when you're not riding it, but is a stable and smooth ride.
Where to Buy
RadWagon tends to run some great sales with a 1 year warranty, so I recommend buying direct from them. They do have some store fronts in various cities that can be found here.
Related posts:
Rad Wagon Review
© 2023, Kids Ride Bikes. All rights reserved. Republication, in part or entirety, requires a link back to this original post and permission from the author.