1Up USA 2″ Heavy Duty Double Rack Review
When we were researching bike racks for our family vehicles, a friend of ours drove up with a 1Up USA 2″ Heavy Duty Double Rack on the back of her minivan. When we asked her how she liked it, she unloaded and reloaded her mountain bike in less than 2 minutes as we watched in awe.
If you know someone who owns one of these racks, you probably know someone who will never own another bike rack in their lifetime. The 1Up racks are clean, sturdy, stable, intuitive, and simple to operate.
Our 6 year old can basically load and unload his bike on his own, with a little help from a grown-up to make sure it's properly secured. Bikes as small as 16″ can be transported quickly and safely without requiring superhuman strength or an advanced engineering degree.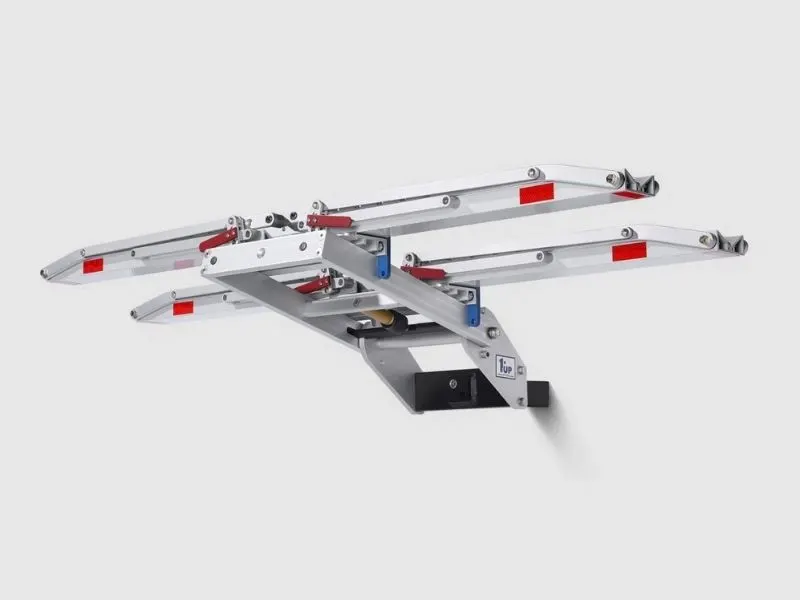 1Up USA 2″ Heavy Duty Double Rack: Specs & Features
Fits 16" – 29" wheels, up to 3.1" wide
Increase bike capacity to 4 bikes max with additional Add-Ons (sold separately)
Total carrying capacity of up to 200 lbs (50 lbs per bike spot)
Accommodates up to 54" wheelbase
Rack arms close to secure tires without touching the frame
Weight: 46 lbs (without add-ons)
Hitch bar has built-in anti-wobble mechanism
Rated for off-road, RV, and trailer use
Fits 2" receiver
Made in the USA
1Up USA 2″ Heavy Duty Double Rack: What It's Best For
The team at 1Up USA has honed in on a very specific mission: help you enjoy biking more! They have accomplished this by building a simple, sturdy, quality rack that is intuitively designed and easy to use. Less time loading and unloading bikes means more time on the trails.
With a maximum carrying capacity of 4 bikes (if you purchase 2 additional trays to extend the standard 2 bike capacity of the Heavy Duty Double), this rack is best for smaller families who mountain bike regularly.
The 1Up USA 2″ Heavy Duty Double is also a great choice for families with younger kids, as the rack adjusts easily as kids (and bikes) grow in size. No adapters needed for these adjustments, just a few basic tools and a couple of minutes!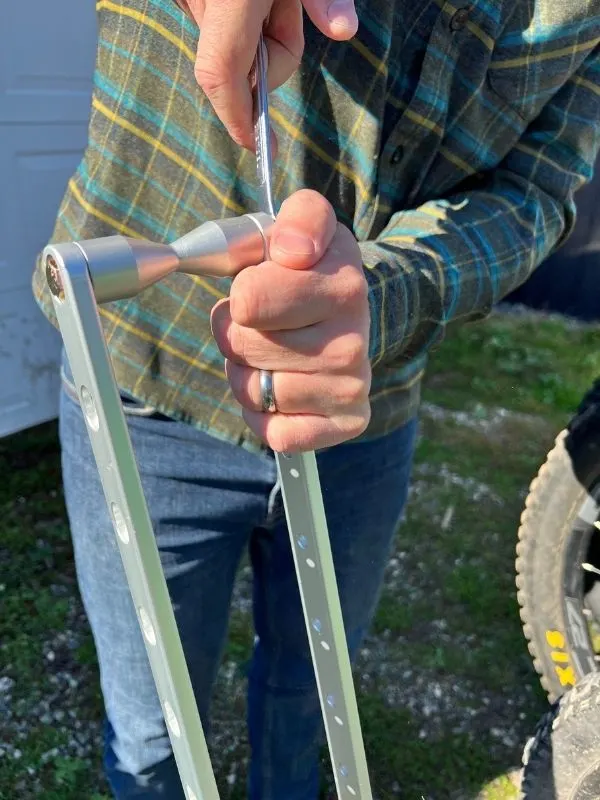 1Up USA 2″ Heavy Duty Double Rack: What We Love
Super easy to load and unload
This was the biggest selling point for us on this rack – it is unbelievably simple to load and unload. Simply lift the bike into the tray, center it so that no part of the bike is touching the vehicle or other bikes, and press in each of the two side arms.
It can be slightly awkward at first to load adult-sized bikes by yourself as you figure out how to stabilize the bike while you get the arms secured. But once you've got that dialed, it takes less than a minute to load and unload a bike.
Holds wide range of bikes securely
The 1Up USA 2″ Heavy Duty Double is capable of carrying bikes with tire sizes from 16″ up to 29″. With two simple adjustments (one on each side arm) that take less than 5 minutes total, you can be ready to transport bikes for the whole family.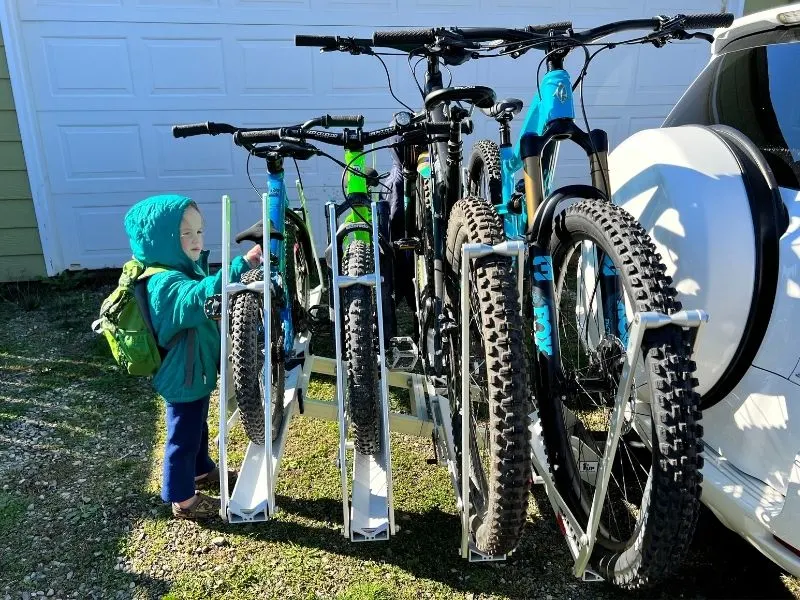 As seen above, our family fleet encompasses the 1Up's entire range. We can haul a 16″, a 20″, a 27.5″, and a 29″ bike with no problem and no pedals or handlebars touching each other. We also love that no part of the bike's frame has to touch the rack! All of the pressure is on the tires.
Highly adjustable
Another feature we love about the 1Up 2″ Heavy Duty Double is how adjustable it is. When you're carrying a wide range of bikes, it can be tricky to keep frames and pedals from causing damage to each other.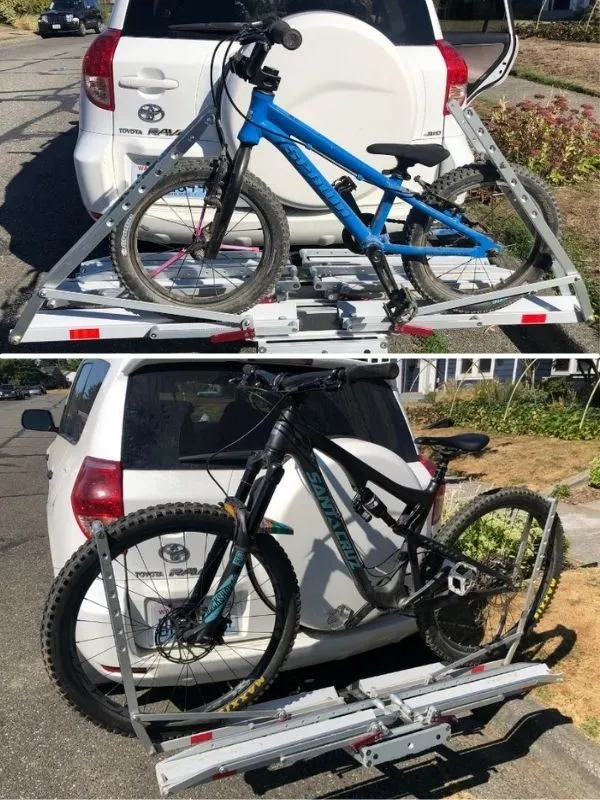 The side arms of this rack have so many different possible positions, it's a breeze to adjust bikes from side to side to make sure you don't have any parts compromising each other.
Folds up well for storage when not in use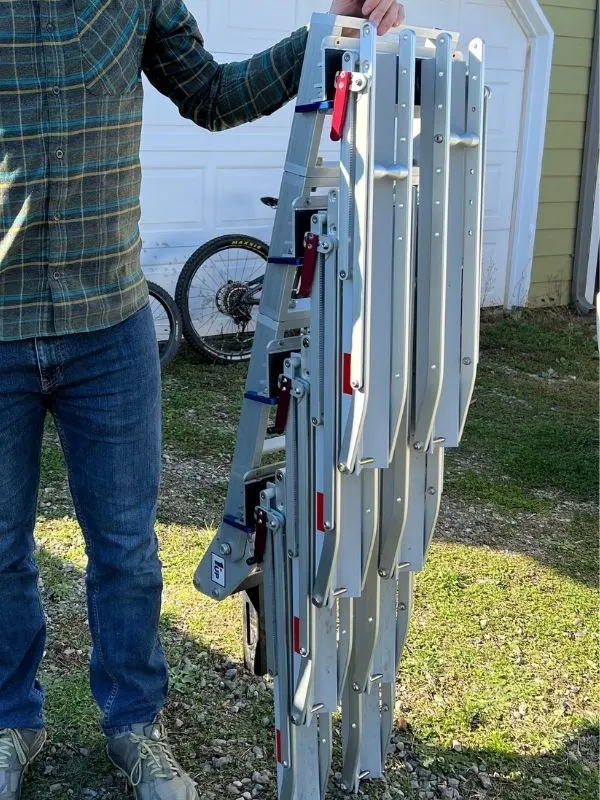 For a rack that holds 4 bikes, the 1Up USA 2″ Heavy Duty Double is surprisingly compact when stored. The design is genius, allowing the side arms to fold in and stack on top of each other.
If you're looking for a rack that is easy to take on and off your vehicle and also doesn't take up a ton of garage space, this is a critical feature.
1Up USA 2″ Heavy Duty Double Rack: What We Don't Love
Requires an additional lock to keep bikes secure when parked
This isn't a game changer, but it can be annoying if you're going out to grab a bite to eat after a ride and forgot to throw in an additional chain or cable lock.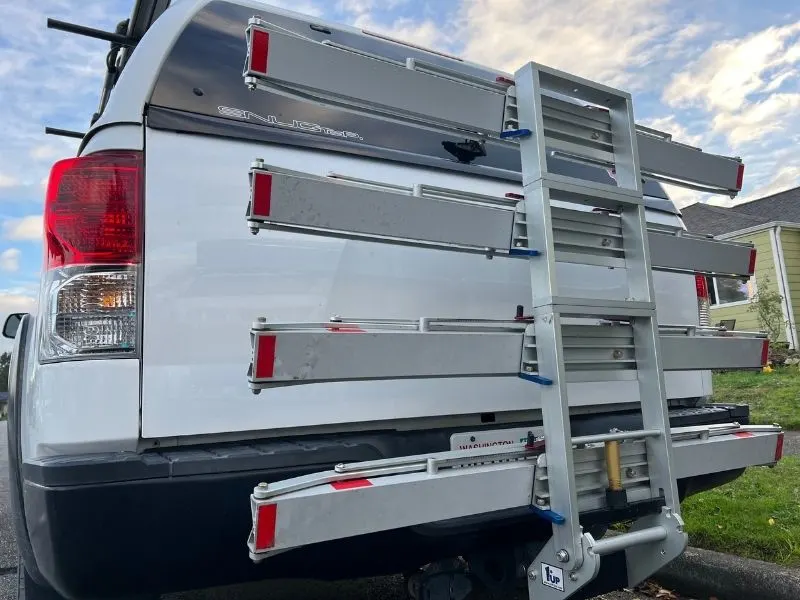 1Up does sell a few different security options, including wheel locks that attach to the side arms, but if you're wanting to lock up multiple bikes that can start to get spendy and annoying.
Restricted access to rear hatch
Any rear hitch rack is going to make it tricky to access the cargo area, especially when it comes to slightly older vehicles like our 2008 Toyota Rav4. The side swinging door on our vehicle scrapes against the second tray, even with no bikes loaded on the rack.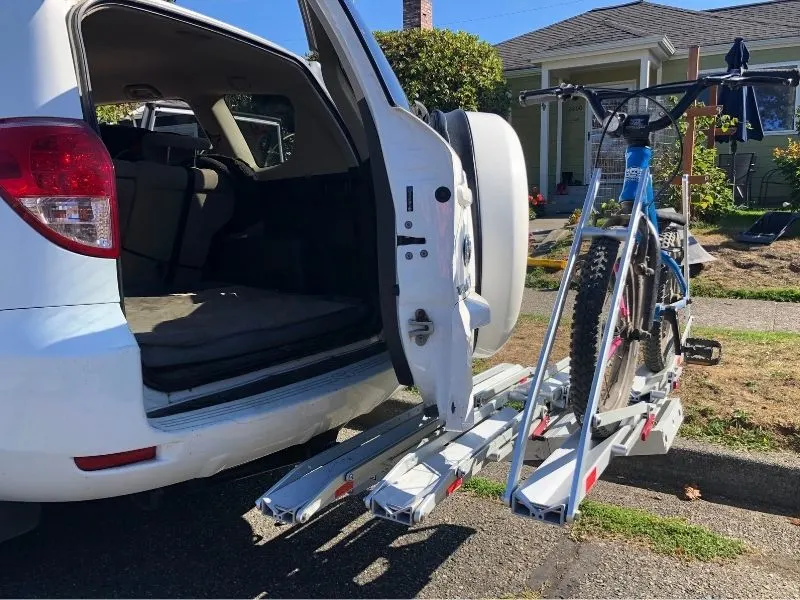 We can still access the hatch if we only open it partway, but accidentally bumping the door can cause the bottom of the door to scrape on the rack and damage the paint which we don't love.
Can't hold more than 4 bikes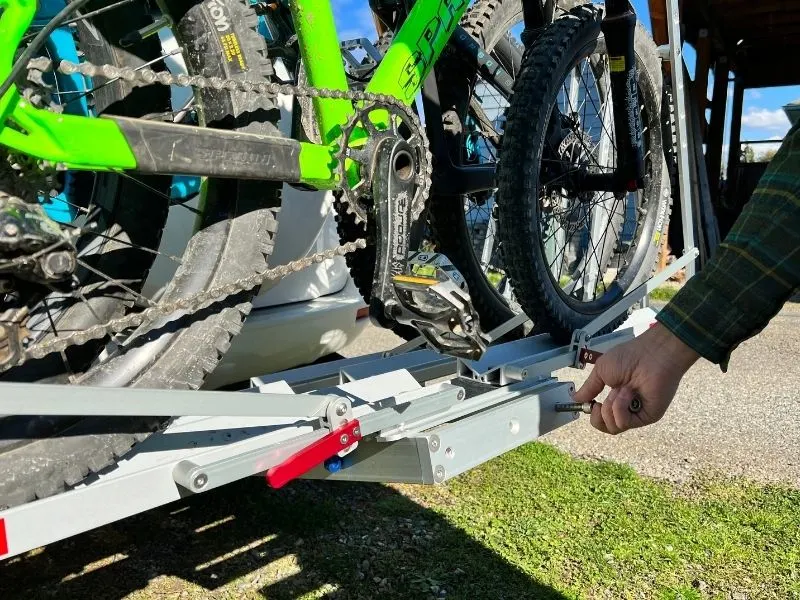 The maximum capacity of the 1Up USA 2″ Heavy Duty Double is 4 bikes, so if your family is larger you won't be able to fit all of your bikes on the rack. Larger families will either need to haul additional bikes on a roof rack or look for a rack with a larger capacity like the VelociRAX.
1Up USA 2″ Heavy Duty Double Rack: Bottom Line
If you have a smaller family and spend a lot of time transporting bikes to and from mountain bike trails, the 1Up USA 2″ Heavy Duty Double is an excellent choice.
Once you've loaded and unloaded bikes from this thing a few times and experienced how quick and simple it is, you will be hooked.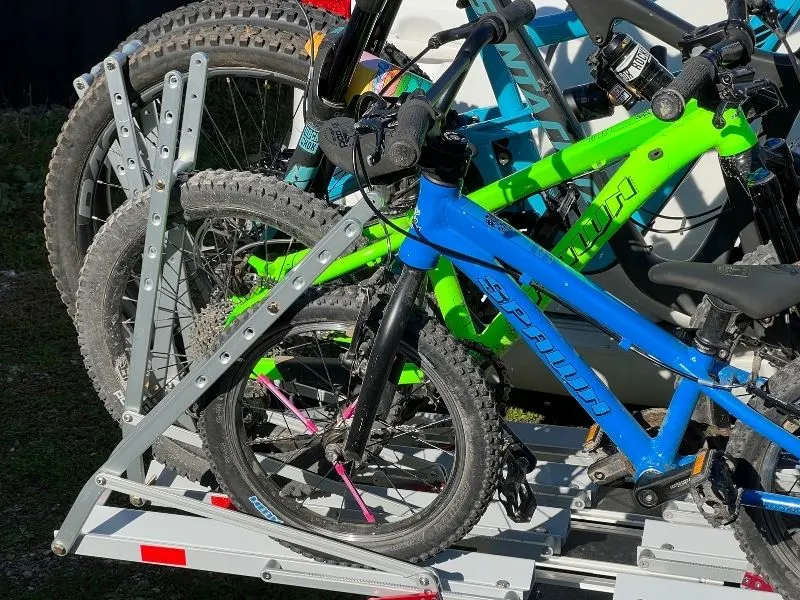 A rack that accommodates such a wide range of bikes with just a few easy adjustments is a game changer, and will allow your family to avoid having to purchase another rack or set of extensions as kids grow.
1Up USA 2″ Heavy Duty Double Rack: Where to Buy
The 2″ Heavy Duty Double Rack is available to purchase directly from 1Up USA's website. MSRP is $595 for the silver finish, and $649 for the black finish. Add-ons to hold additional bikes can also be purchased from 1Up USA for $229 each (silver) or $259 each (black).
More bike rack reviews:
Related Articles:
1Up USA Heavy Duty Double Rack Review
© 2021, Kids Ride Bikes. All rights reserved. Republication, in part or entirety, requires a link back to this original post and permission from the author.