Hornit AIRO Review
Meet the Hornit AIRO – the lightest kids 12″ balance bike we could find with air tires. Fun colors, sturdy frame, and a super sleek design make AIRO a great balance bike pick for kids who love to cruise along. It offers wide cushy tires, a comfortable seat and footrests that don't get in the way.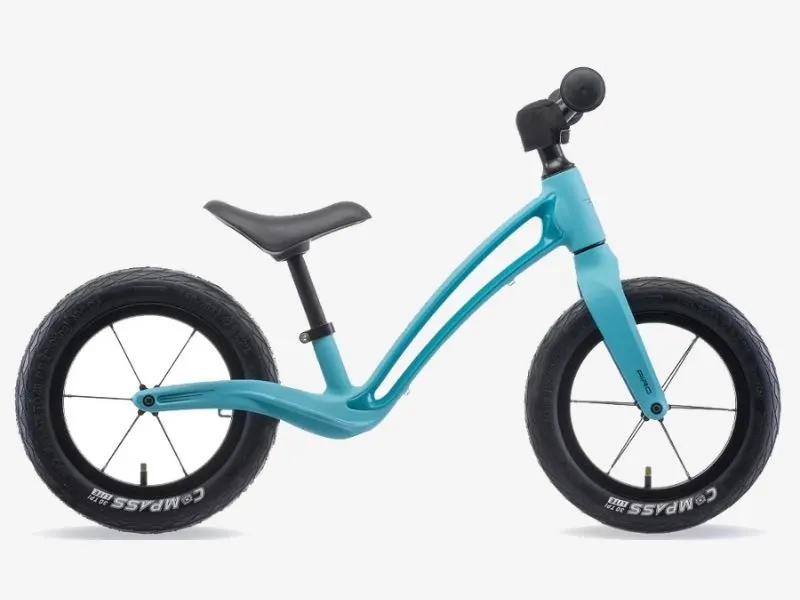 As an Amazon Associate and member of other affiliate programs, we earn from qualifying purchases.
Out of the box the Hornit AIRO is pretty easy to set up. Everything is assembled, but the handle bars are twisted to make it flatter for shipping. Just pop out of the box, follow the simple instructions to adjust the handle bars, tighten up the 3 bolts with the included hex key and you are good to go.
We love that it comes in 6 fun, bright colors and like the matte finish on the paint.
Here are some of the other features of the Hornit AIRO.
Weight: 6.5 pounds
Material: Magnesium Alloy Frame that comes in 6 colors.
Wheels and Tires: 12.5″ x 2.25″ wide air filled tires on aluminum frame
Features: Footrests that are nicely built in and not in the way of biking. Curved and cushy seat to keep those tiny bums on the seat and comfy. Neoprene stem cover to lessen any impact to the area. Opening in the frame doubles as a handle.
Lifetime Warranty:
With proof of purchase the frame and forks are automatically warranted for 3 years from the date of purchase. You can upgrade to a lifetime warranty for the frame and forks by registering your details by visiting Register Your Warranty. The lifetime warranty is valid for as long as the original purchaser owns the bike.

Hornit
Who the Hornit AIRO is Best For
Bigger bikers:
The longer wheel base and larger tires make this a good bike for some of our bigger balance bikers. With the lowest seat height at 11.4″, this bike would need a rider with at least an 12″ – 12.5″ inseam. However, at the lowest seat height the bottom of the seat post is pretty close to the ground giving only 1.4″ of clearance over rocks, bumps etc. which can be hazardous.
I suggest that you don't have the seat at the absolute minimum, and keep it raised at least 1/2″ to give you almost 2″ of ground clearance. This then raises the minimum rider inseam to almost 12″.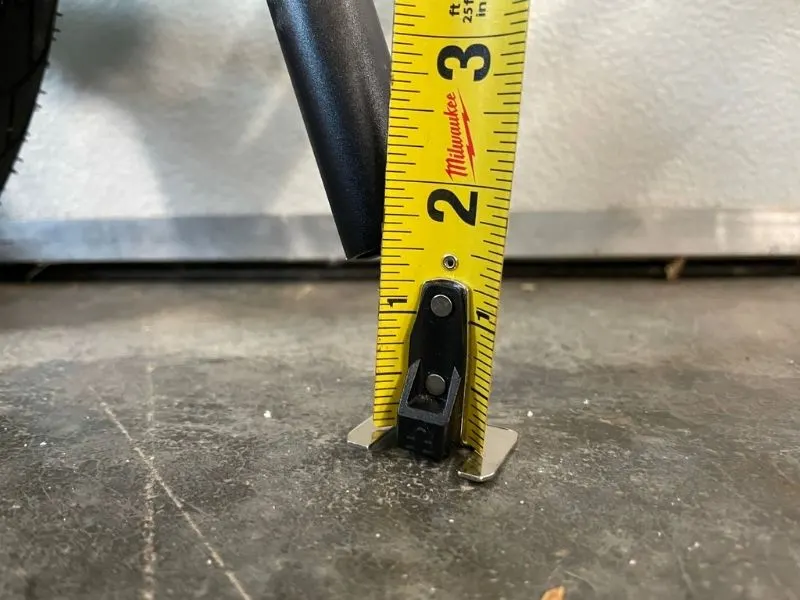 At 21 months, this minimum seat height would have been a little tall for my petite rider and it would not have fit her well as she only had an 11.6″ inseam when she started riding.
The longer wheel base and larger wheels also lead to a longer reach or your kiddo will have a more aggressive stance. This won't be as noticeable on bigger toddlers as the bike will fit better.
If you have a petite rider, make sure to check out our top pick for littlest riders, the Woom 1 balance bike.
Bikers who like to coast:
This bike is FAST. The lightweight design combined with super smooth bearings and slightly bigger tires make this bike cruise. Sometimes a little too fast for my comfort level with my no-fear toddler.
On a quick test in my garage, these bike wheels spun freely for 30 seconds longer than our Woom 1 balance bike. That is a lot of extra coasting time, combine with a little downhill and a kid who wants some speed, they can be cruising (and potentially headed for a high speed crash).
I appreciate that they used quality bearings, but this bike does get moving a little too fast for my comfort with my adventurous toddler. If you have a biker who loves to coast with little work, but not push themselves full steam ahead… this is a great pick.
This is another reason this bike is better for a little bigger rider who maybe has more control.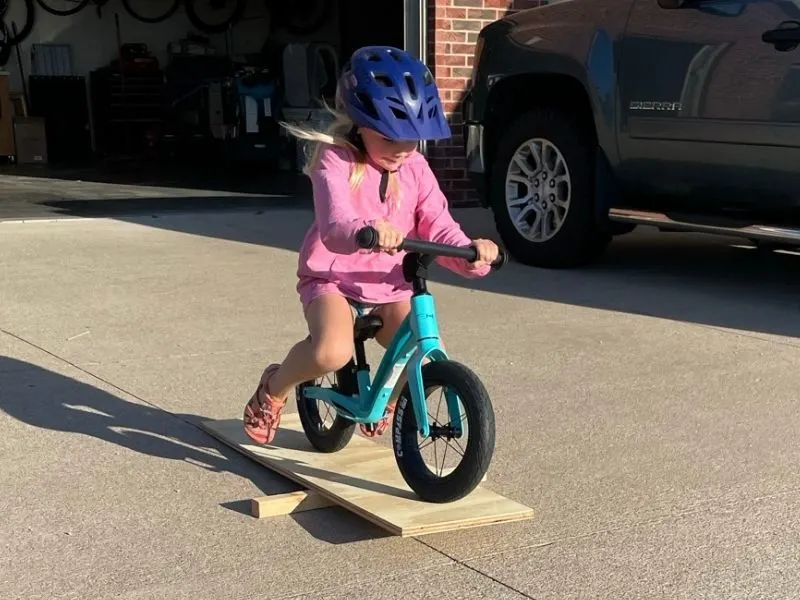 What We Love About the Hornit AIRO
Lightweight
Weighing in at 6.5 pounds, the only balance bikes that are lighter seem to have foam filled tires (like the Bixe 12, weighing in at 4.6 pounds).
The smaller the kid, the more important a lightweight bike is. Ideally you don't want a bike weighing more than 30% of your child's bodyweight. At 21 months when my youngest started riding, she only weighed 21lbs. This bike just made the 30% mark. At 2.5yo she is up to 27 pounds and this bike weighs in at 24% now.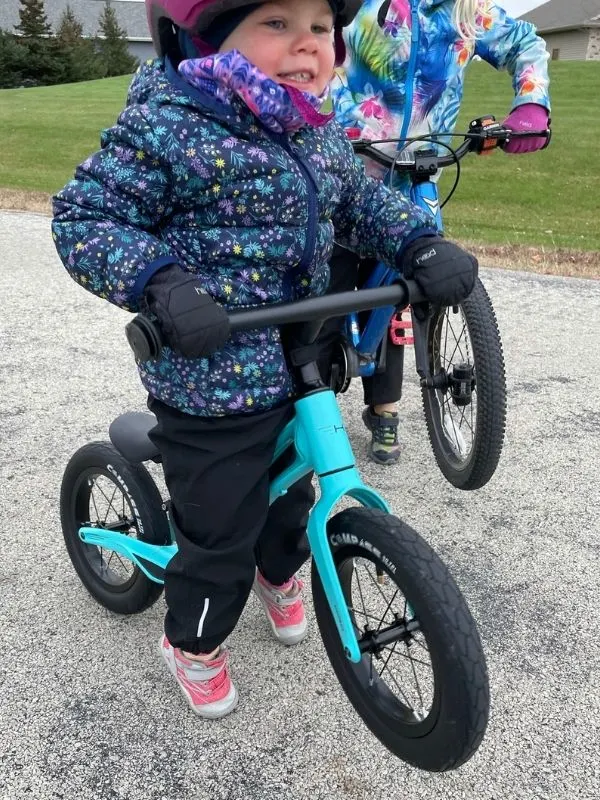 Wide Seat Post Height Range
With its lowest seat height at 11.4″ (29cm) and the high point at 17.3″ (44cm) you have almost 6 inches of room to grow so this bike should last from 18M to 4/5 years old.
2.25″ Wide Tires
The 2.25″ tires help cushion the bumps a little better and provide a little more stability since there is more surface area in contact with the ground. The tires are also a 12.5″ tire instead of a typical 12″ which helps with rolling over objects.
What We Aren't So Crazy About on the Hornit AIRO
No handbrake
As my balance biker is getting older and bolder I would love for her to have something more than just her feet to stop her, especially since this bike gets moving. I would also love the ability to have her practice the handbrake before she gets to a pedal bike and using feet to stop are not an option. For the price point, I think this should be a feature.
No steering limiter
Although steering limiters don't help riders who are at higher speeds, they are great for beginners to help them keep the handlebars in the right direction. Balance bike handlebars are easily spun around backwards since there are no cables, etc. to keep them in the correct direction, a simple steering limiter prevents any accidental backwards riding.
This would be a big help for the littles that put their bikes down, grab the handlebars to pick it up and before you know it they are headed down the driveway hill with backwards handlebars.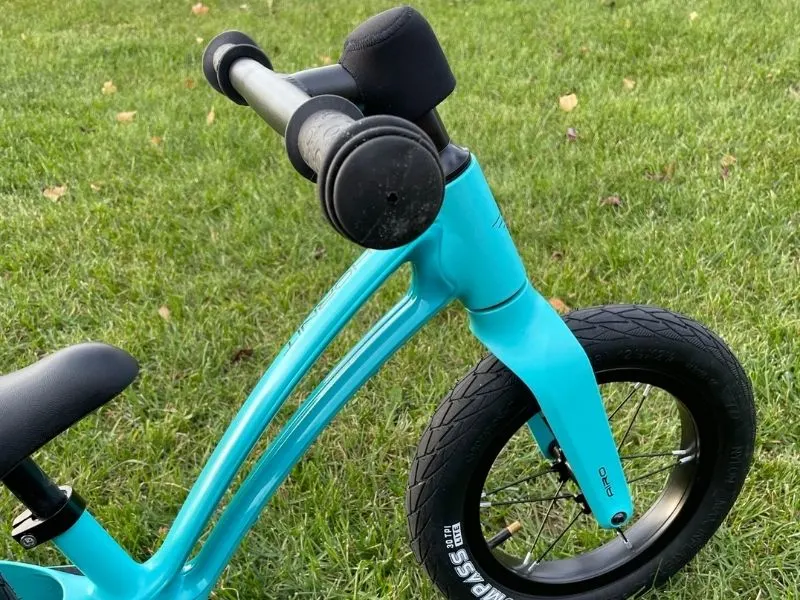 What we would love to see…
We would love to see a quick release on the seat post. The 5mm hex bolt is already stripping in the head with only a few seat changes.
A "paint protector" in the rear axle area would also be a great addition. A few times with the bike hitting the pavement and the rear axles are already dinged up and paint is chipped to the metal.
A bent valve stem would also be handy as it was a tight fit with our floor pump.
We have both the Hornit AIRO and Woom 1 in our garage right now, so let's see how two lightest balance bikes stack up to each other. Both bikes have quality rubber, air filled tires.
The Hornit AIRO has great bearings, fun color options, and bigger tires for a cushier ride. Overall the bike is a little bigger in size compared to the Woom 1. The longer wheel base and higher handle bars make it a great pick for bigger kids. It also features a sleek footrest that isn't in the way.
I do like that the Woom 1 has a hand brake, and it only adds a little bit of weight in comparison. The Woom seat also goes just a little lower for those smaller riders and at its lowest height still has better ground clearance. I think the Woom 1 is a better pick for smaller or more timid riders.
| | | | | | | |
| --- | --- | --- | --- | --- | --- | --- |
| Bike: | MSRP: | Weight: | Seat Height: | Hand Brake: | Wheel Base: | Tire Size: |
| Hornit AIRO | $185 | 6.5 lbs | 11.4″ – 17.3″ | No | 22.9″ | 12.5″ x 2.25″ |
| Woom 1 | $199 | 6.6 lbs | 10″ – 14.4″ | Yes | 21.8″ | 12″ x 1.35″ |
Bottom Line on the Hornit AIRO
The Hornit AIRO is a good pick for a little taller biker who likes to coast and not ride too fast that they would be out of control. We would love to see the addition of a hand brake, especially since this is a speedy little bike.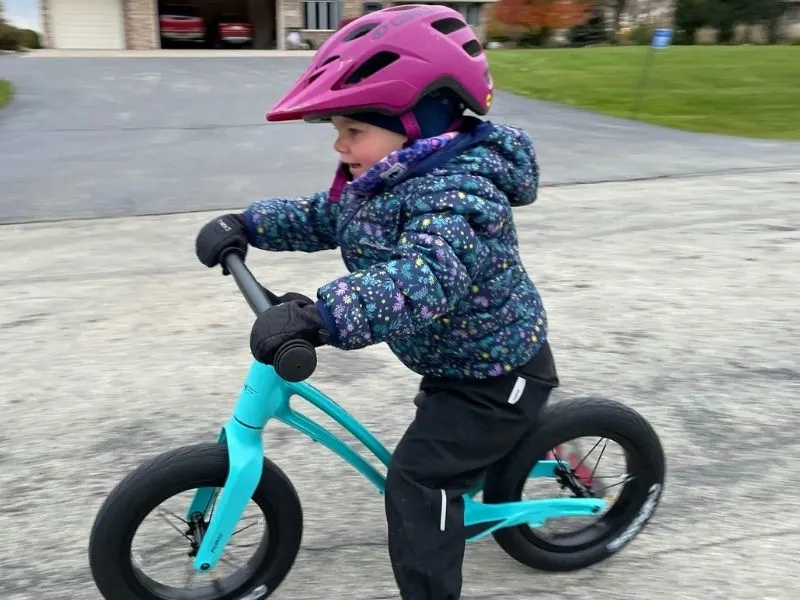 Where To Buy the Hornit AIRO
You can purchase the Hornit AIRO Balance Bike on Amazon.com.
Hornit also makes a minimalist bike storage cube call the Clug that stores kids and adults bikes easily. Kids can easily pull their bikes out, but the littles may need help getting it back in. Make sure to measure your tires to get the right size.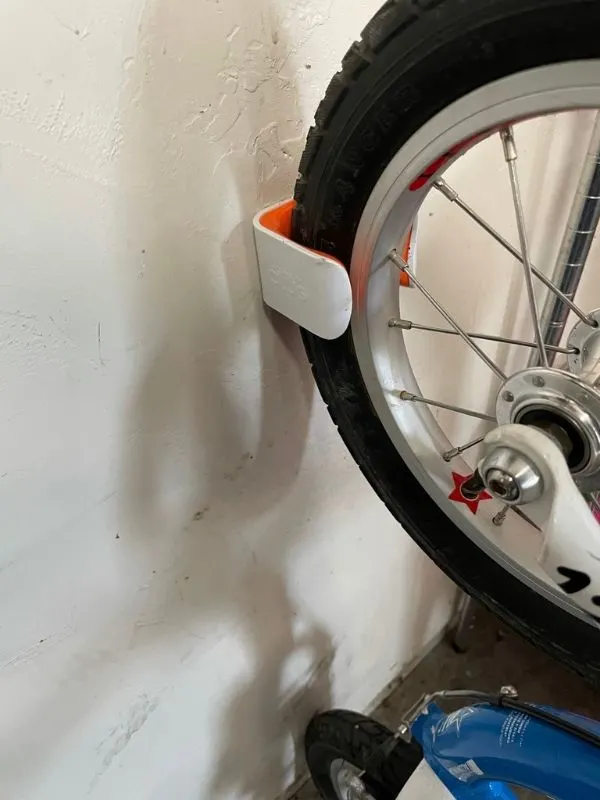 Other Balance Bike Reviews:
Hornit AIRO 12″ Balance Bike Review
© 2021, Kids Ride Bikes. All rights reserved. Republication, in part or entirety, requires a link back to this original post and permission from the author.