Stacyc 12eDrive Balance Bike Review
Owned by Harley Davidson, Stacyc Stability Bikes are an introduction to motorcycles, bmx riding, mountain biking, and eBikes for young kids.
Designed with a 3-speed electric-powered mode, and completely un-powered mode, you can ease your kids from learning to ride a balance bike, all the way to higher pedal-speeds on one bike. While the 12eDrive Balance Bike is designed for kids 3-5 years old, Stacyc also makes a bigger and more powerful, 16″ version of this bike, for 5-7 year old kids.
Stacyc 12eDrive Starting Out
We have been using the Stacyc 12eDrive for about 6 months with our 4-year old, who is already proficient on his pedal bike, as an introduction to motorcycling and mountain biking. He uses it primarily at the park, trails, and in the yard, since those are all places he struggles to go on his pedal bike.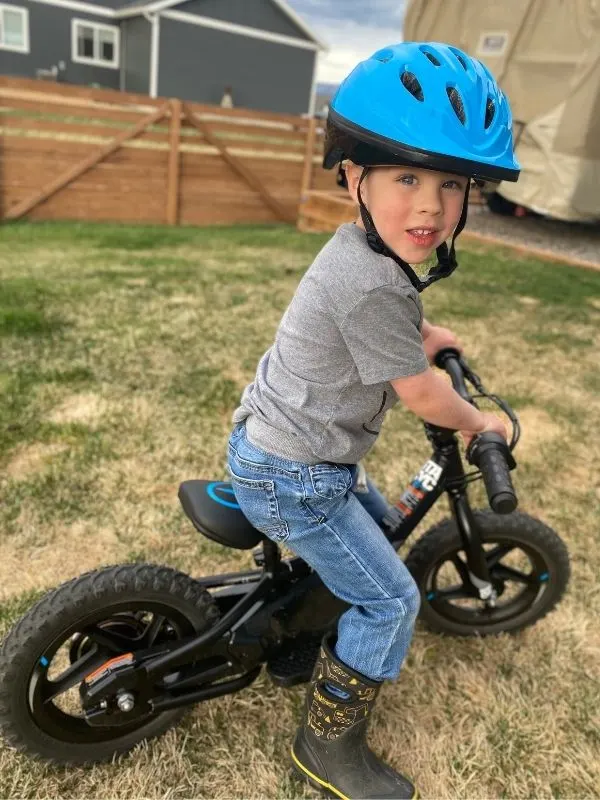 I was worried the 12eDrive would be too small for him, since he already rides a 14″ Woom 2, but with the extra weight of the battery, the 12e is just the right size and power for him to handle on his own.
He loves his "motorcycle" and, despite a few hiccups in learning, it is helping him gain confidence with riding off-road and at speeds and has him excited to graduate to a real motorcycle or mountain bike some day.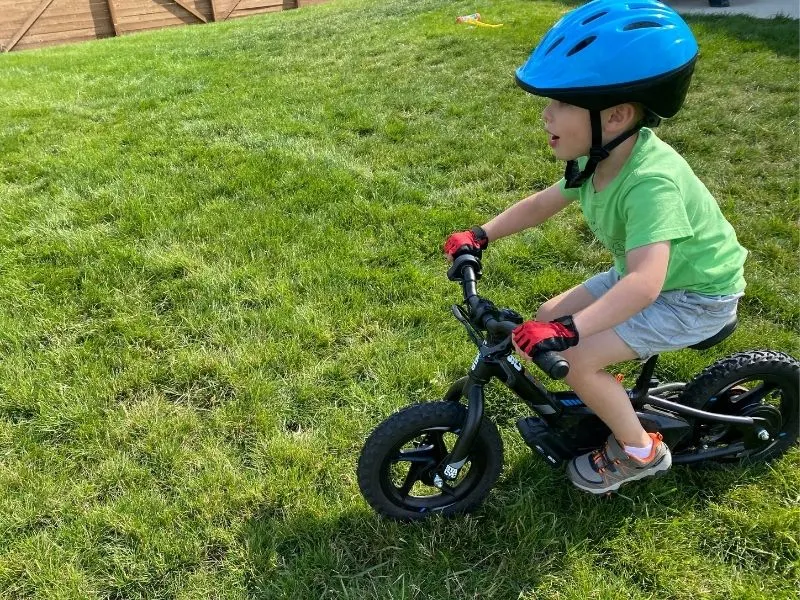 Who is the Stacyc 12eDrive Best For?
As a balance bike, this bike can be used to teach young kids how to balance and ride a bike. It is heavier with the eDrive motor, however, so fits an older recommended age rage (3-5 years) than a standard balance bike (2+).
While an eBike might seem unnecessary for kids who can already ride a pedal bike, it is actually a perfect first step for kids with families who ride motorcycles or ATVs. The Stacyc teaches the youngest riders how to safely control a throttle and use hand brakes.
As a dirt-biking family, we are anxious to get our little guy on his first motorcycle. His experience with the throttle and the weight of the Stacyc will help him to graduate quickly and with confidence to a motorcycle or an eBike.
As a mountain biking family, this bike is also a perfect introduction to riding on dirt. The tires are wider and have excellent traction, and it has the power to go on trails and deeper gravel, where our 4-year old on a 1-speed pedal bike would normally not be able to ride for more than 20 yards. He is learning to let the wheels move under him, adjust his balance, and read the terrain for obstacles.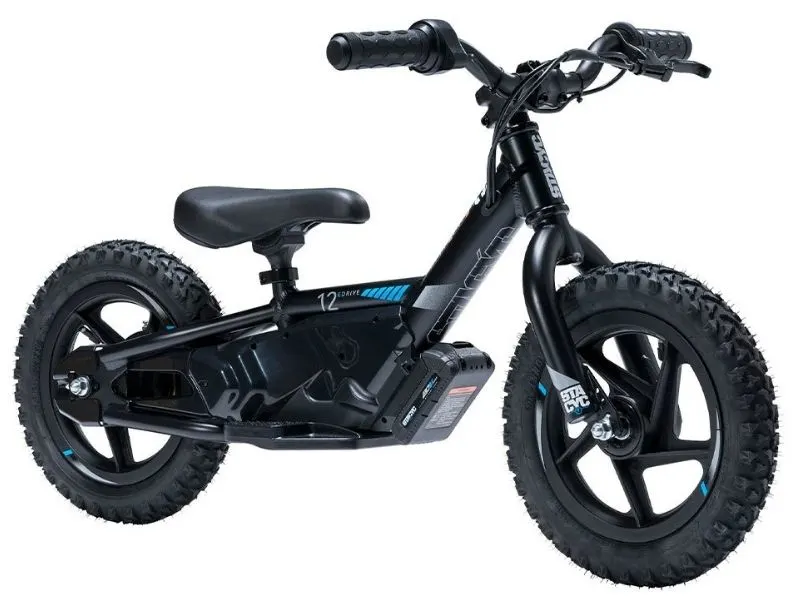 Stacyc 12eDrive Balance Bike Specs
For riders 3-5 years with 14-20″ inseam
Aluminum TIG welded frame
Steel BMX-style fork
12″ composite wheels with pneumatic tires
Rear hand brake with enclosed drum brake
Footrest
3 drive speeds: Low (5mph), Med (7mph), High (9mph)
Thermal protection for motor and controller
Fully enclosed BMX chain and freewheel
Quick connect, 20v 2Ah lithium ion battery
30-60 minute run time, 30-60 minute charge time
17lbs with battery
What We Love about the Stacyc 12eDrive
Wider Tires
The 12″ version of the Stacyc balance bike has wider tires with fairly aggressive tread, to provide excellent traction in grass, dirt, gravel, and up steeper hills. This makes for a stable and confident ride, and allows our little guy to ride this balance bike in places you wouldn't often find a toddler riding.
Hand Brake
While this hand brake isn't as adjustable as his regular Woom 2 pedal bike, the brake is small and light enough for his little fingers to reach without grabbing hard.
The rear disc brake has adequate stopping power for the higher bike speeds (if only he ever wanted to stop).
Footrest
When my husband first talked about getting one of these for my little guy, I couldn't quite fathom what he would do with his feet on an electric balance bike. Would he just drag them along? Were there footpegs?
The footrest on the Stacyc eBike is actually pretty roomy and reminds me a bit more of a moped than a regular balance bike. My child can easily put his feet up and down, without missing the plate on the way up or getting hung up on the way down.
It provides a comfortable and balanced upright position for him while riding. With a handlebar riser, he could even work on his standing balance.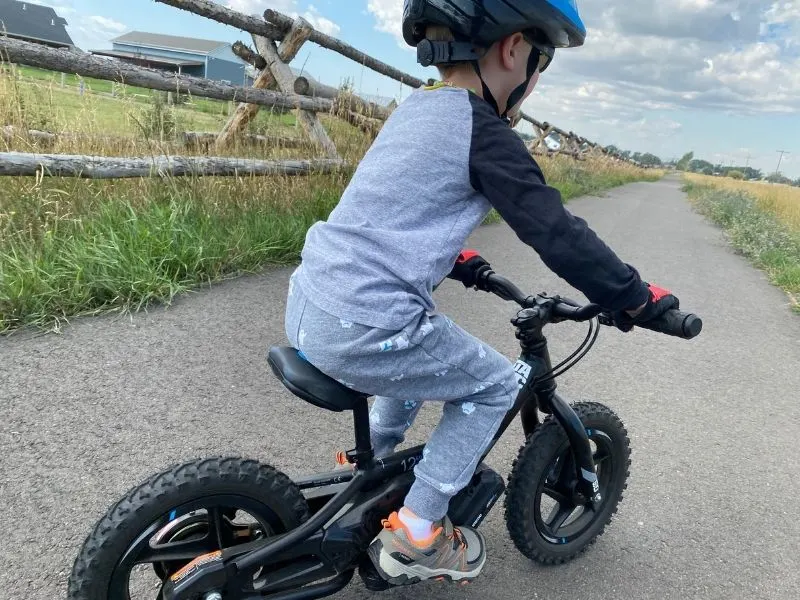 Battery Life
The Stacyc 12eDrive uses a rechargable battery, which had me worried out of the gate. Would it run out of charge on a longer ride?
Happily, this battery seems to have plenty of life for neighborhood rides and short days on the trail. We've taken it 3-4 miles at a time and never had a problem. Honestly, my 4-year old would get tired or start whining if we were riding for more than an hour anyways, so the 30-60 minute battery life is just about right.
We've only run out of battery once, after over an hour of laps around cones in the yard. The battery recharges quickly, and is back up to full strength in about an hour. You can also buy a second 5Ah battery, to have as a backup, or change out for longer rides.
If you do run out of battery on an outing, you can easily switch the bike into manual mode (it's just a switch) and your child can ride it as a regular balance bike.
Power Levels
One of the best features of this bike is the adjustable power levels. Your child can start in the unpowered mode and learn to ride it as a standard balance bike. When they are ready for pedals, just turn on the power and let them learn throttle control in the low-speed mode.
The lowest speed is very manageable for most kids (~5mph) and if they crank hard on the throttle, the bike won't get away from them. In the medium speed, the bike will get up and go quite a bit faster (~7mph), so make sure your kids are ready for it and can roll the throttle on slowly before dialing it up. The top speed (~9mph) has some zip when your kid only weighs 40lbs, so they might pop a wheelie if they don't know how to roll on the throttle yet.
Be patient and wait until your child is really showing throttle control before dialing up the bike speed. Grandpa got too excited and dialed up the power too fast for our little boy. After a few spinouts and wrecks from cranking the throttle too hard, our little guy wouldn't ride the bike again for a while and we had to adjust it back down.
One note is that the power levels are a bit of a pain to change, and require following specific steps, as listed in the manual. This is good in that your kid can't accidentally make the bike go too fast, but would be annoying if you needed to make a change between kids, on the fly.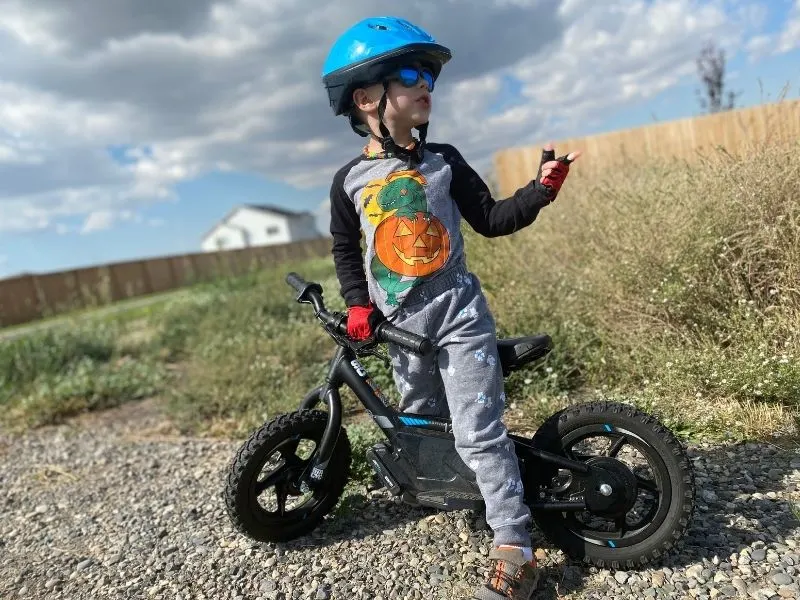 What We Are Not So Crazy About the Stacyc 12eDrive
Weight
While this bike is super lightweight for an eBike, at 17lbs, it's pretty heavy as a balance bike for young kids. That makes this balance bike suitable only for older kids. Stacyc recommends it for ages 3-5, but honestly I think a younger 3-year old would have trouble picking it up by themselves.
That said, it's extremely light when compared to a minibike/kids motorcycles, and provides a lot of stability for the weight.
Cost
Be ready for some sticker shock… $650+ is prohibitively expensive for many people for a bike you will only get a couple years of use out of. That said, if you have multiple kids who will use the bike, it is tough and will hold up well to years of use. The resale value of Stacyc bikes are also really good, so factor that into your calculations!
If you are an avid mountain biker, dirt biker, or you ride an ATV or an eBike, the price tag might be worth it to get your little shredder out there with you.
Adjustability
I really wish the seat post had a quick-release for easier adjustments. Kids grow fast and it's annoying to take the tools out to make height adjustments.
It Can't Get Wet
Like many eBikes, this is a fair-weather bike.
Per the manufacturer, the eDrive motor is designed for dry environments only. That means you won't be able to ride it through big puddles, on rainy days, or on muddy trails without potentially damaging the battery or motor.
Stacyc 12eDrive Balance Bike: The Bottom Line
If you are looking to introduce your kids to motorized sports or mountain biking, this bike will be just the ticket to get them started at a young age and is totally worth the price tag.
Motorcycle and ATV families, in particular, will not find a better (or lighter) tool for teaching kids throttle control and dirt skills at that age. Of course, your kids will be inspired to learn and be just like mom and dad!
Even if you aren't a motorsports family, this bike is incredibly well designed and FUN for young kids. If you just want them to keep up on family rides, or if you want to start getting them out on trails, the Stacyc 12eDrive Balance Bike is a great option for little rippers.
Where to buy the Stacyc 12eDrive Balance Bike
You can find both the 12eDrive and the 16eDrive on the Stacyc website. Because they are owned by Harley Davidson, many powersports dealers also sell them. You can find a list of dealers on the Stacyc website.
Related Articles
Stacyc 12eDrive Balance Bike Review
© 2021, Kids Ride Bikes. All rights reserved. Republication, in part or entirety, requires a link back to this original post and permission from the author.