Ninja MTB Ramp Review
Ninja MTB Performance originally started as a mountain bike coaching company. They partnered with MTB Hopper to deliver the lightest, smallest and easiest to assemble ramps on the market.
Easy to understand number coded assembly pieces slide together like a puzzle, allowing ramps to fold back up into the size of a suitcase. Even better, they added straps so you can easily carry it home.
We had the pleasure of putting their ramps to the test this month. Of all the ramps tested, Ninja offers the best design with the highest quality materials. Two unique features stand out: Easy to adjust legs with feet that grip the earth and their ability to be folded up and carried so easily.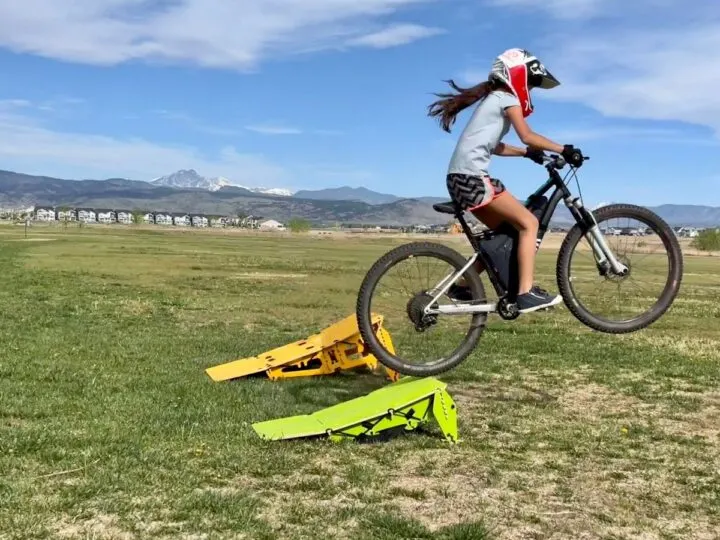 Quality That Counts
There are many unique features that set these ramps above the rest, like the strong, manuverable feet that grip just about any terrain with adjustable legs that offer incremental progression as well as the ability to really level the ramp.
High quality Birchwood cut with CNC precision, is treated with enhanced grip coating to make a light yet extremely durable ramp.
Adjustable Legs and Feet
The adjustable legs change how much pop a rider feels upon takeoff. The smaller the legs, the further you go forward. The more you raise the ramp, the higher (more pop) but shorter your jump.
The ability to change the amount of pop depending on terrain is an excellent learning opportunity especially as riders progress to side hits, tricks and gap jumps.
These key features are included on all the ramps and are what make Ninja MTB Performance one of the best on the market. No other ramp has feet that are able to level and grip almost any terrain.
If you're looking for the most sturdy or stable ramp, Ninja is your best bet.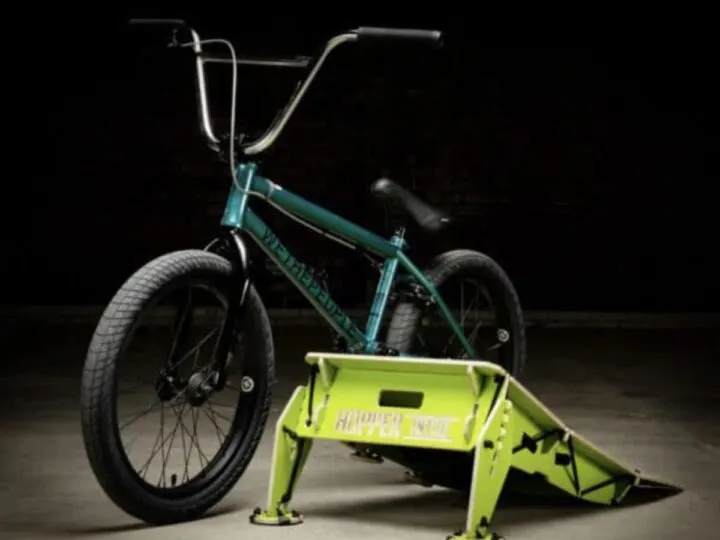 The Intro is Ninja MTB Performance's lightest and easiest to assemble beginner ramp. Ranging from a 10-12″ high, the ramp is the perfect height for both kids and adult beginners. A smooth surface is also less intimidating for beginners.
The Intro's solid surface also mean it can be used for pretty much any wheeled sport. From scooters to one wheels, there are many ways to ride this ramp. You can even launch a remote controlled car. How fun!
The Intro folds to 6.5″ x 17.5″x 25.5 which is about the size of a suitcase, all folding into itself nice and flat. The 2022 version of the Intro has back pack straps. You don't have to fumble carrying the rack and your bike to your favorite jump spot, now you can carry the ramp while you RIDE your bike. How cool is that?
The straps are functional only as they are meant to carry the ramp and bike to and from a car, maybe a mile or two to a park. I highly recommend adjusting the straps at home as I really had to really wiggle a screwdriver in to loosen the straps enough to adjust.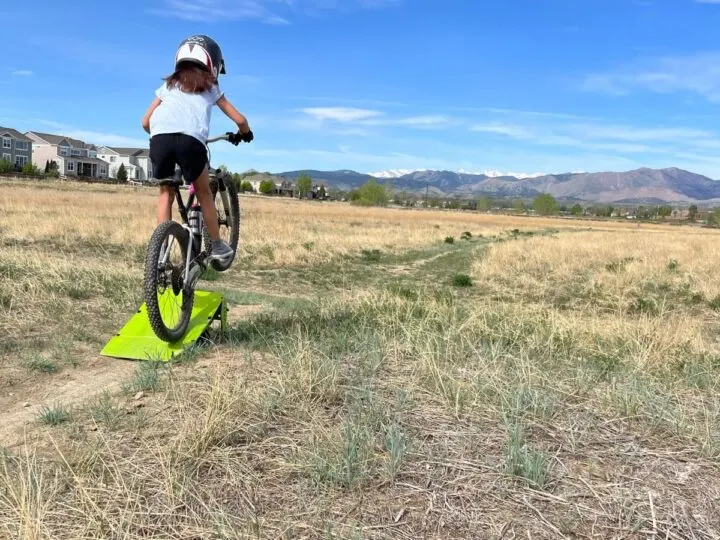 The Intro is pitched as a beginner ramp. When I think beginner I think kids on balance bikes and smaller wheels. While I know many kids, especially on our team that would happily send this ramp on their tiny wheels most kids will find the smallest setting too high.
I'd love to see another notch to go smaller. One way to make the ramp more accessible to nervous riders is set it against a small hill or curb that offers a shorter landing.
Check out Bike Ramps for Kids: A Beginners Guide to see which ramps are great for beginners.
Bottom Line
The Intro is a great ramp for the avid beginner who has the basics of attack position and a bit of courage. The non-aggressive radius is great for kid learning timing and compression.
Use code: KRB10 for 10% off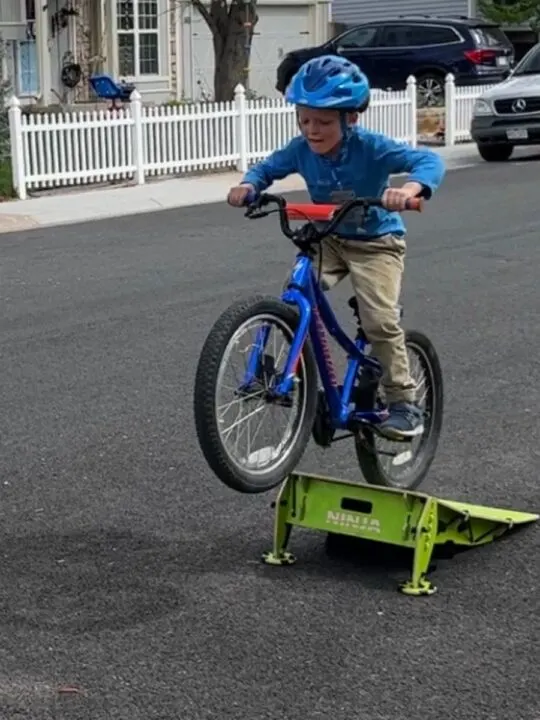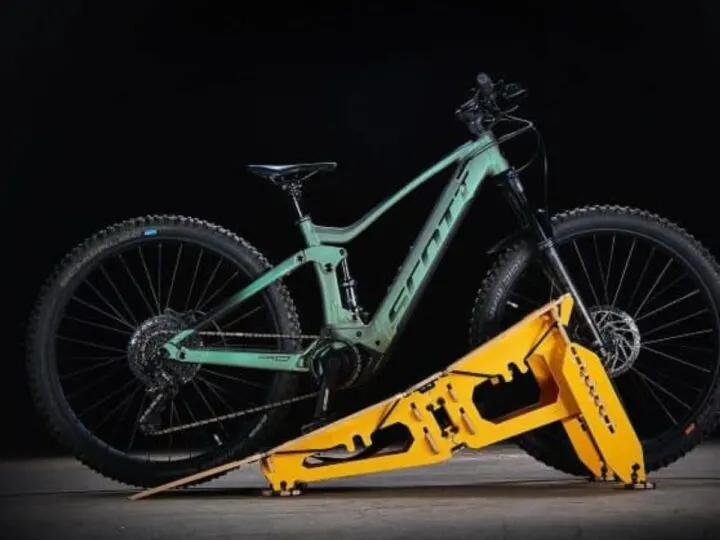 The Lite is Ninja's mid level ramp with a significant jump up from The Intro, The Lite measures 17″-20″ tall. This little ramp packs a big punch for just 16.5 lbs. The ramp was made for low to medium speed jumps clearing 10-15 feet. It folds up to 20.5″x 15″x 4.75″ which is about the size of a briefcase.
It's light, portable and sets up in less than 5 minuets making The Lite on of the most popular ramps on the market.
The Lite is super fun and great for families with multiple ability levels. The 3″ legs are easy to adjust for multiple kick angles, this allows a rider to not only adjust the ramp based on ability but also in accordance with the terrain.
The Lite is a great ramp for the kid that's already hitting small jumps and wants to take their riding to the next level. The added radius is also very helpful in teaching the timing of compression.
Traveling to and from your favorite location with the backpack straps is a novel improvement. The solid surface allows for a multitude of activities, including roller blading/skating, one wheels. scooters and even remote controlled cars!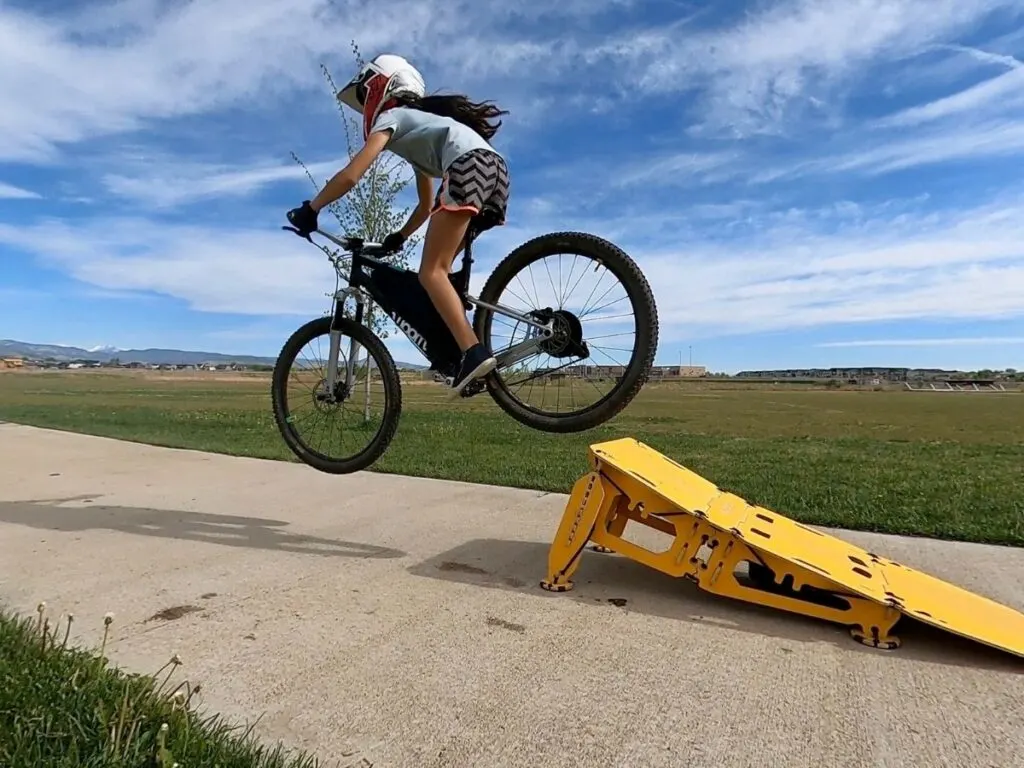 I'd love to see a smaller notch on The Lite as well. The jump form 13″ to 17″ seems too big. I had many kids very excited to hit The Intro but very hesitant to try The Lite. Those that did The Lite realized it wasn't such a big difference but still felt more comfortable on The Intro.
The Lite is a great tool for the intermediate to advanced rider. The hefty price tag is reflected in the ease of use, quality and weight of its components and adjustability. There are several ramps on the market at this price point, The Lite holds it's own and more against them.
The most similar competitor is the Sender Ramps Advanced Progression ramp for $450. This ramp is double the weight of The Lite but comes with three settings to change the angle of the ramp in addition to be able to adjust the height from 13″-19″ high. I'd love to see Ninja add this feature.
Being able to change the radius of a ramp allows for beginner riders to start on a straight jump. Once a rider is comfortable sending a straight jump, you can add a little angle to begin practicing a nice stomp. It's not essential but a nice feature.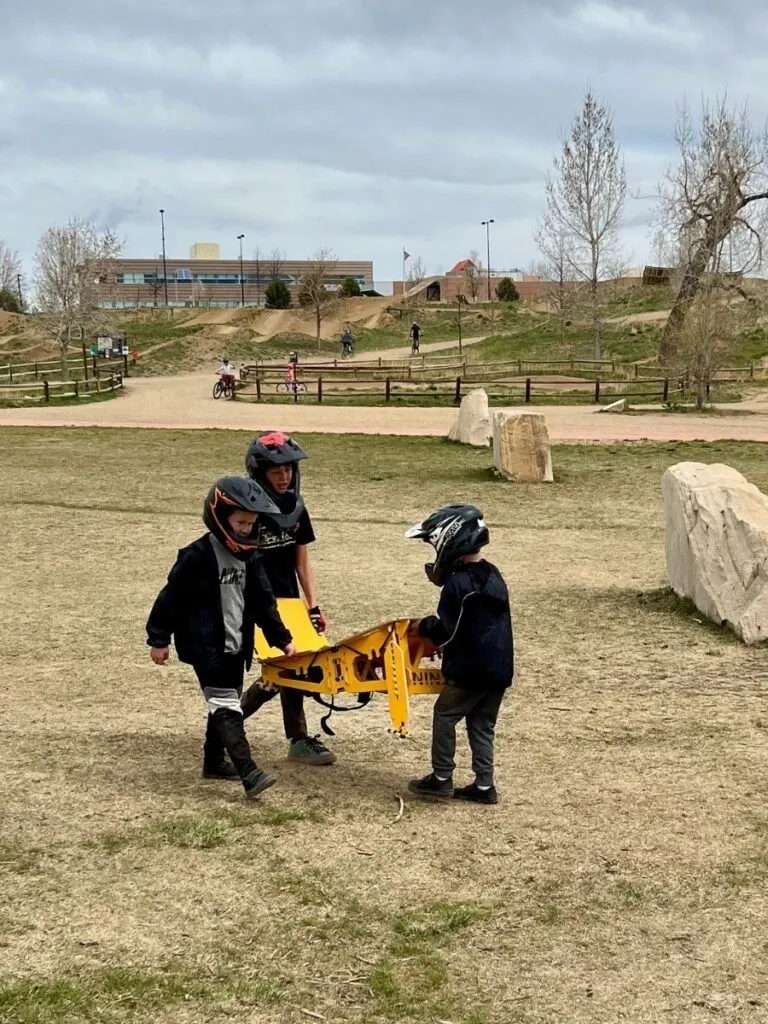 If having a ramp that is small and portable is more important than the number of adjustments, The Lite will be a fantastic addition to your bike tools. It's a toy but it's also an invaluable tool.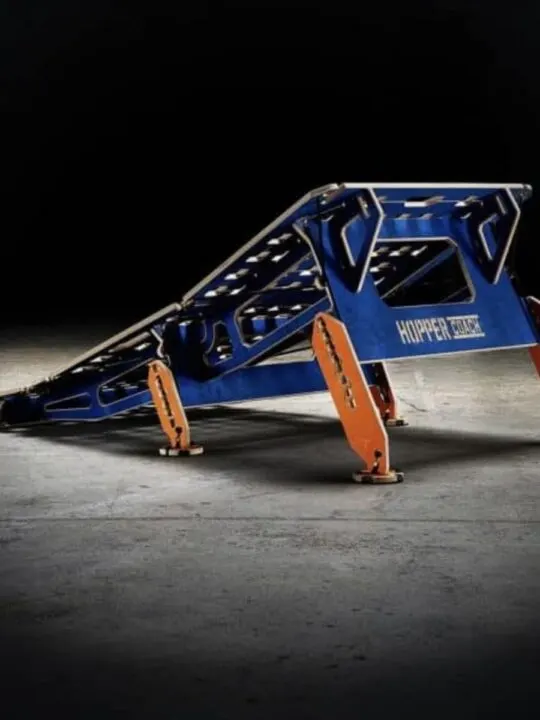 A Solid Foundation: Meet The Founders
12 years ago Richard Hall was racing his mountain bike professionally in San Diego when he began offering mountain bike skills clinics. As more riders joined, Ninja was born.
A few years later his parter Hannah built out the team of a whopping 160 mountain bike instructors teaching over a thousand top notch camps and clinics nationwide every year.
They have become the biggest provider of mountain bike instructors. As programing grew, the need for beginner friendly jumps grew especially when local terrain lacked natural features so Ninja provided instructors jump ramps.
The most common question after a clinic was where can the ramp be purchased so they established a relationship with MTB Hopper to have Ninja branded ramps that are identical to their European counterpart. This partnership allows US shipping and warranty which we can all celebrate.
While they have racers in their clinics, their passion is teaching people how to mountain bike and giving the skills and tools to be successful. From riding off the curb to hitting a gap jump, they just want to make sure people are safe and have the proper form to be successful.
Dedicated to Improvement
Ninja has shown a commitment to improving ramp design as seen in updates made over the last few years. The size of the ramp got smaller, easier to assemble and straps were added.
Ramp Care and Management
Ramps should be stored in a garage or covered space, not in a driveway or left out in the rain but if that does happen Ninja asks that you to take it apart to dry. The wood will swell and just needs time to dry out properly. That said, if it's continuously left out in the rain, it will rot.
Care for your investment and you can resell it and/or do something really cool like donate it to a local junior cycling team.
Store your ramp in the same place every time!!
If a jump is left behind a car or out in the street, it will likely get run over. They see this a lot. Bad news, this isn't covered by warranty. Good news, Ninja will happily help you replace parts or offer a discount on a replacement.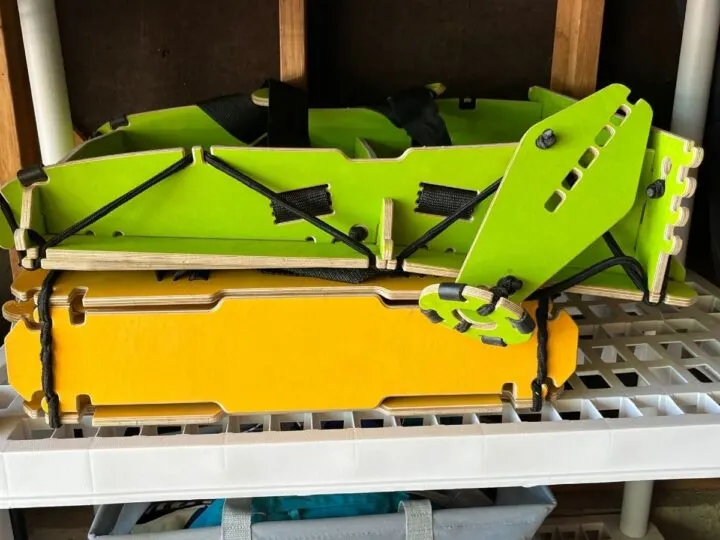 Ninja offers a full parts warranty for a year. Make sure you kid puts it away in the same place every time. If it does happen, don't sweat as this now Oregon based company will help out with discounted replacement parts.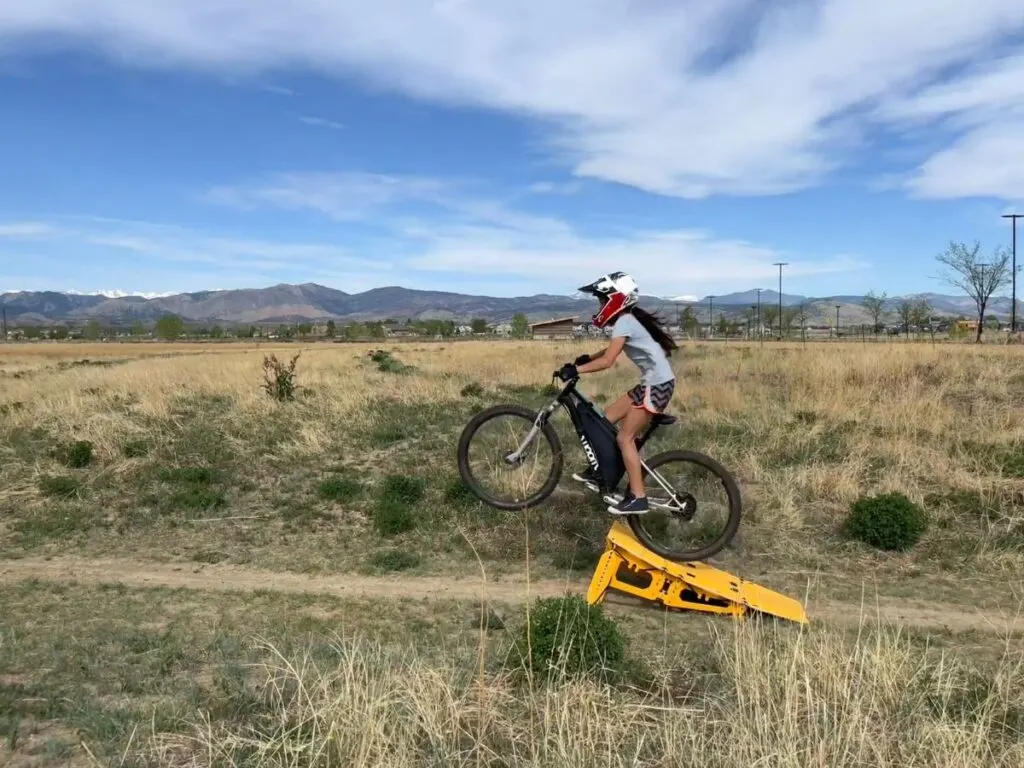 Ninja MTB Performance started as a mountain bike coaching company. They are now the biggest mountain bike coaching company in the US, offering either half-day or weekend long camps and clinics. They even have camps for kids!
There are specific skills you can learn to practice jumping. Nothing is better than having a coach walk you through anxiety or bad habits.
Oh Snap! What We Didn't Like About Ninja Ramps
The soundness of the design is solid but the materials have been called into question. One ramp arrived with the nylon fraying and I managed to crack another.
What Was That Crack?
I was shocked to hear the wood split the 2nd time I hit the ramp. I'm only a 130 pounds, well below the 225 pound weight limit and I was only attempting to roll it. Hannah at Ninja MTB Performance insisted it was a fluke and very apologetically sent out a ramp the next day.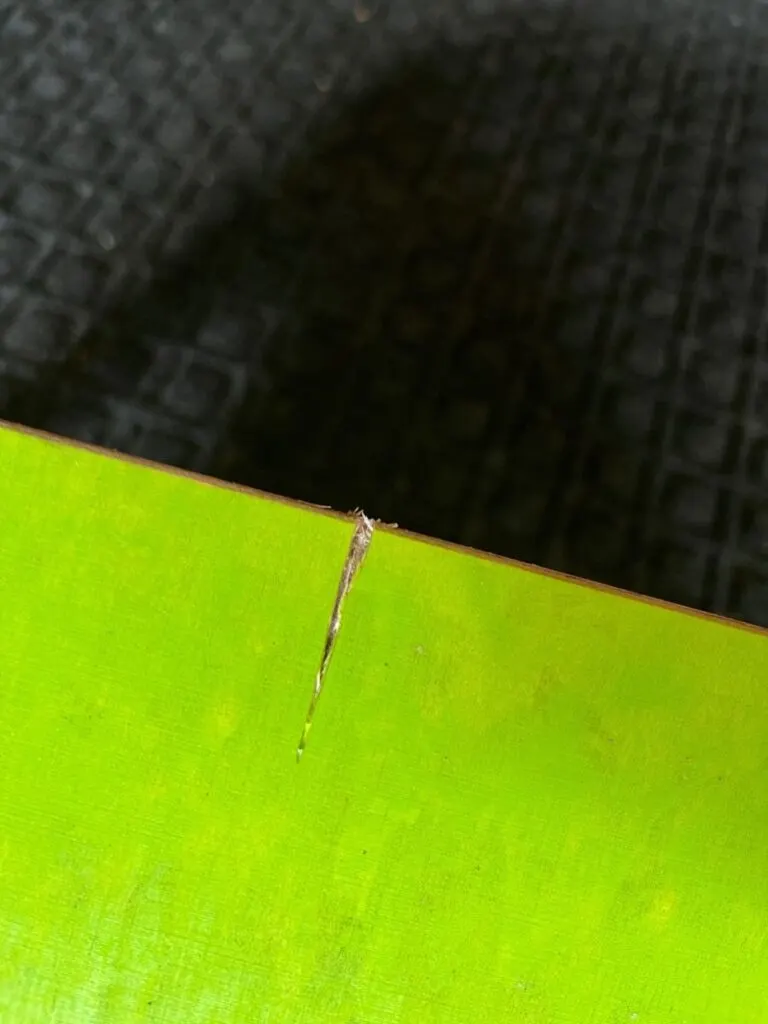 I was told this has never happened before but friends pointed me to this video of Sam Pilgrim splitting/busting his ramp. To be fair Sam does state it's an old ramp and he is hitting it with a dynamic load (not just his body weight and bike but also the speed and power of the two previous jumps).
The way he broke his ramp turns out to be the exact opposite of how I cracked mine. I didn't have the space in my backyard to get enough speed so I just rolled it. I think the unusually slow speed stressed the wood. The video shows a wiggle that I have yet to see again and the ramp has been hit well over 50 times. I do believe it was a one off. Either way, it's something to keep an eye on.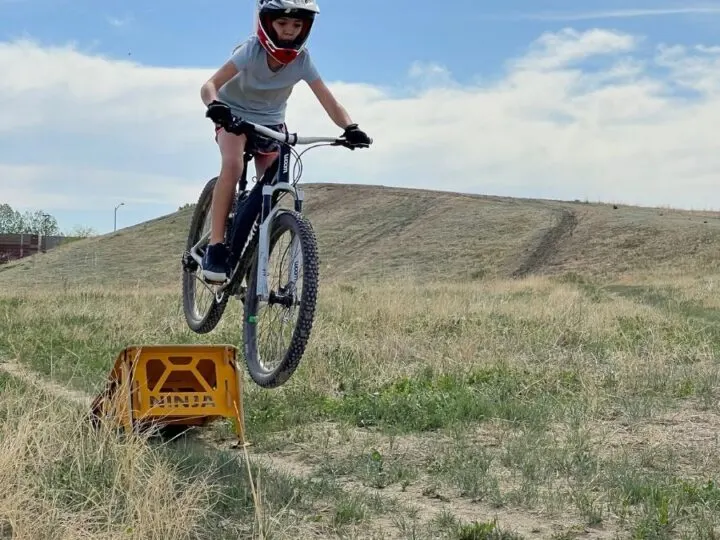 Sam's still a huge fan of Ninja MTB Hopper ramps and so am I. Things are going to get shady the more you push the ramp to its limits. Just like any other tool, it has a life span and limitations. A professional cyclist jumping on a ramp daily will wear it out over time. It's still just plywood and bungee cord.
When putting away the ramps, I first put away the Lite which has bungee cord that you take off to store it. I then went to break down the Intro forgetting I wasn't supposed to take off the cord.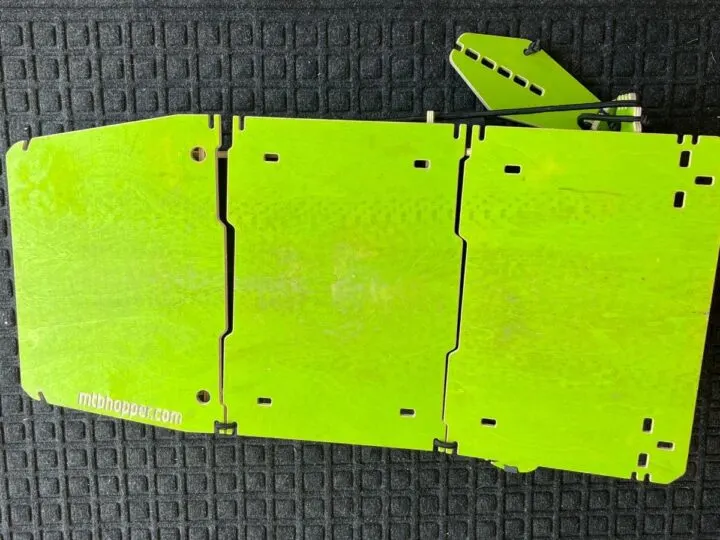 Ninja explicitly states the bungee cord should not come off and in taking it off, I've voided the ramps stability. I tried my best to put it back. It's now sitting unused until I can ship it back to Ninja.
I highly doubt this would happen if we only had one ramp but having two with opposite systems is tricky. Having a tool/toy in your house that can be broken easily by kids might not be the best idea.
Ramps Get Dirty-Protect it or Let it Go
The bright colors and solid runway mean the Intro and Lite got dirty very quick. Most bike junkies see stripes as a sign of pride.
Use grip tape or PVC free deck paint (good for waterproofing) and get creative in how you want to protect your investment. One must be careful not to cause more friction or slip.
Portable is Relative
It's portable but not light enough for a kid to carry very far. They might make it a few blocks but it's still 30 lbs. As an adult I can ride about 20 mins with either The Intro or The Lite on my back with straps. I would cut this in half for a kid under 12 years old.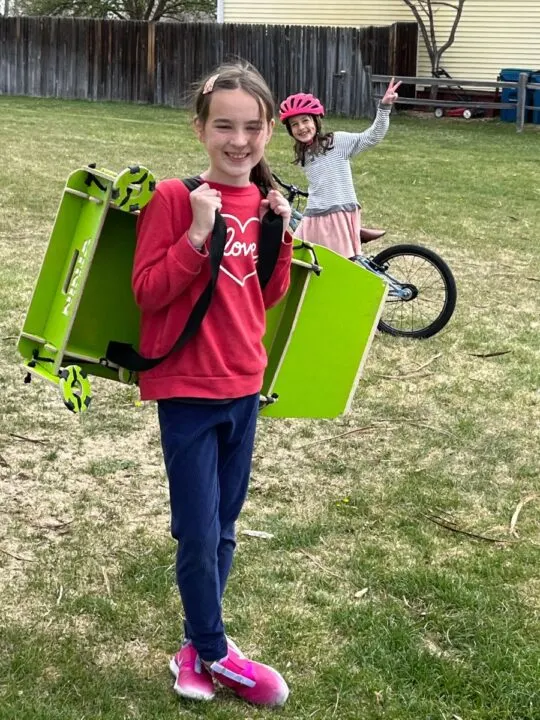 My kids had better luck loading the ramps in an old baby trailer we use for groceries. They are very small and easy to fit in a trunk. You can bike with them, I just wouldn't expect to get very far.
The ramps do fold up super tiny which is great for van lifers, road trippers and bike crazed kids who want to take the ramp everywhere. I found I didn't even need to fold them up!
Not long ago, you had to own a van or truck if you wanted to transport a ramp. The fact that I can fit one easily into an suv/car is thrilling.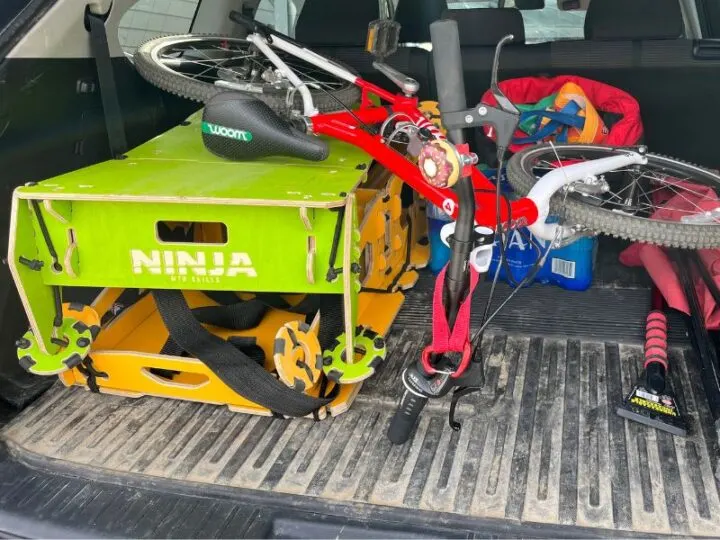 Ninja Mountain Bike Ramps: Bottom Line
The design is unique, durable and easy to assemble. It's pretty incredible how much all the ramps are able to progress with a rider. There is equal opportunity for fun for both novice and pro.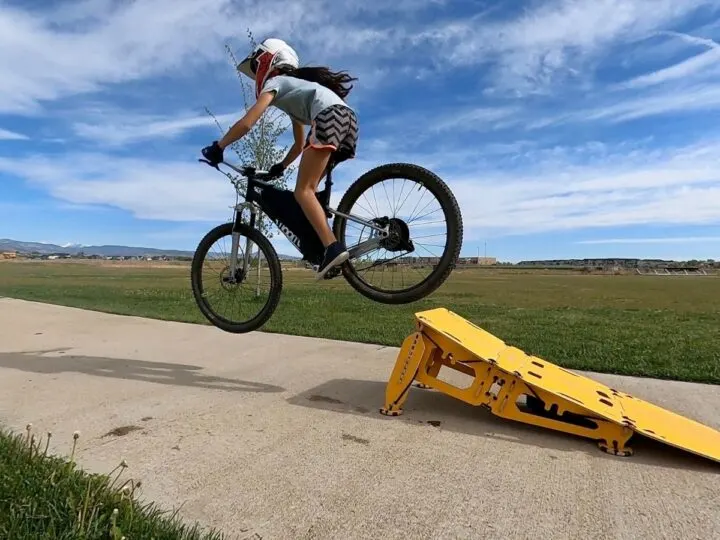 Any ramp made of plywood has the chance of splitting or cracking. I will continue to use the ramp with a small crack. The soundness of the ramp is solid, the feet grip well and the take off is silent.
Ninja MTB Hopper ramps are a sound investment in your rider's progression. Have your kids store their investment in the same place every time. Look at it often to check for damage. Ninja will happily replace any faulty or damaged product, up to a year.
Use Code: KRB10 for 10% off your next ramp or camp. *Insider tip: sign up for their newsletter and check out some of the sweet deals on their camps.
Want to learn more about other ramps on the market? Check out Byclex Bike Ramp Review.
Related Articles:
Ninja Mountain Bike Ramps
©2022 Kids Ride Bikes All rights reserved. Republication, in part or entirety, requires a link back to this original post and permission from the author.