Guardian Bikes AIROS 24 inch
Guardian Bikes is a relative newcomer to the bicycling world. The company was started less than 7 years ago by the founder, who created an invention called Sure-Stop technology in 2013.
Sure-Stop technology helps to prevent a misapplied front brake, which helps to prevent the bike from flipping. Initially the founder just focused on selling the Sure-Stop technology to other bike brands.
As an Amazon Associate and member of other affiliate programs, we earn from qualifying purchases.
Why Guardian Bikes
Guardian Bikes was founded when the owner decided that there was a need for kids' bikes with better design and better braking. The company focuses on building ultra safe, ergonomic, and fun bikes for children.
These bikes are all designed to fit in the recreational bike category. All of their bike models are designed to be a classic kid bike. Guardian bikes are perfect for long family bike rides, exploring rail trails, and biking around the neighborhood. Unfortunately, Guardian does not yet have bikes designed for mountain bike trail use.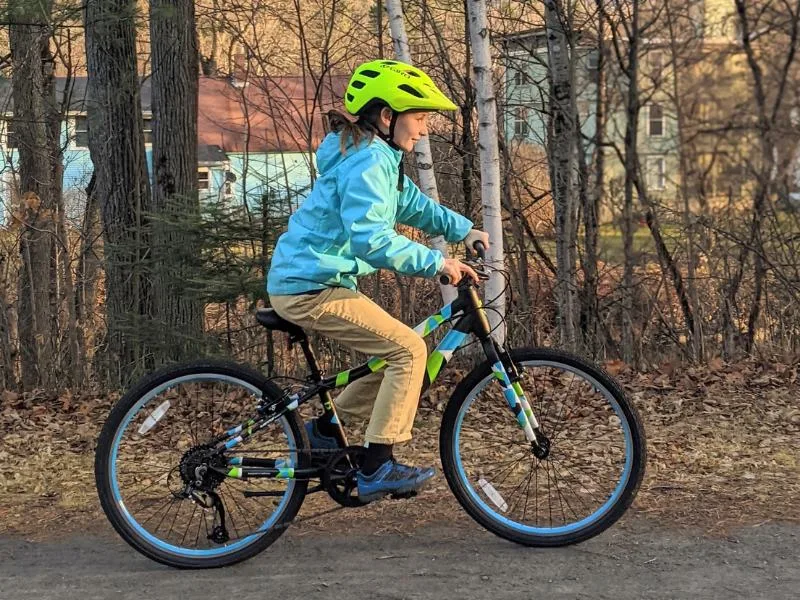 Guardian Bikes AIROS 24 inch testers
We tested out the Guardian AIROS 24 inch Bike (formally "Original"). My 9 year old son and my 9 year old niece were our guinea pigs, and we tested the bike on the trails and roads near our home. As a family, we love to bike the rail trail and gravel paths and roads near our home in Vermont.
My son who tested the bike also is a mountain biker, so we did test the bike with that in mind. He is a good bike tester since he makes sure to try all the tricks, speedy turns, and fast braking.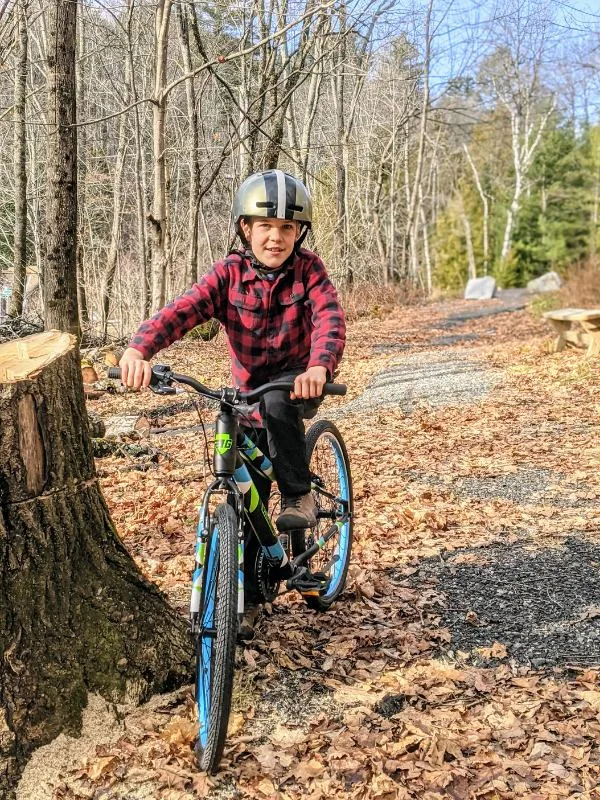 Review snapshot
Technical Specs and Features of the Guardian Bikes AIROS
Safer SureStop Brake System
Ergonomic design for easier control
Internal cable routing
Aluminum frame with premium heat-transfer decals.
Geometry and parts engineered for kids proportions
Quick release adjustable seat grows with your child
7-speed premium Shimano shifting
Weighs only 23 lbs
Kickstand for easy parking
Delivered with all tools for final assembly
What we love about the Guardian Bikes AIROS 24 inch
Intuitive Sure-Stop Brakes
Children new to biking can cruise along without having to juggle which brake handle to press. Additionally, the brake levers are designed for children's hands to grab comfortably.
Quick Release Seat Post
My kids often change their seat level while riding, depending on the terrain. Having a quick release seat makes it so much easier for them to do themselves!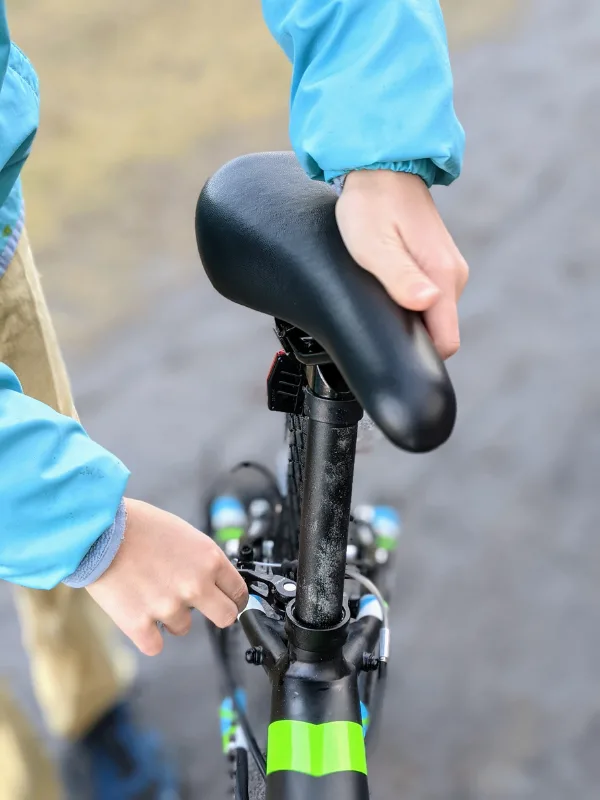 Easy Assembly
Guys, my 11 year old son was able to put this bike together in less that 15 minutes. My husband did make the final adjustments, but still! I was shocked by how easy the assembly was.
Weight
My 9 year old testers were able to lift this bike up with one hand! My testers also said that it almost felt "too easy" to pedal because it was so much lighter than their regular bikes.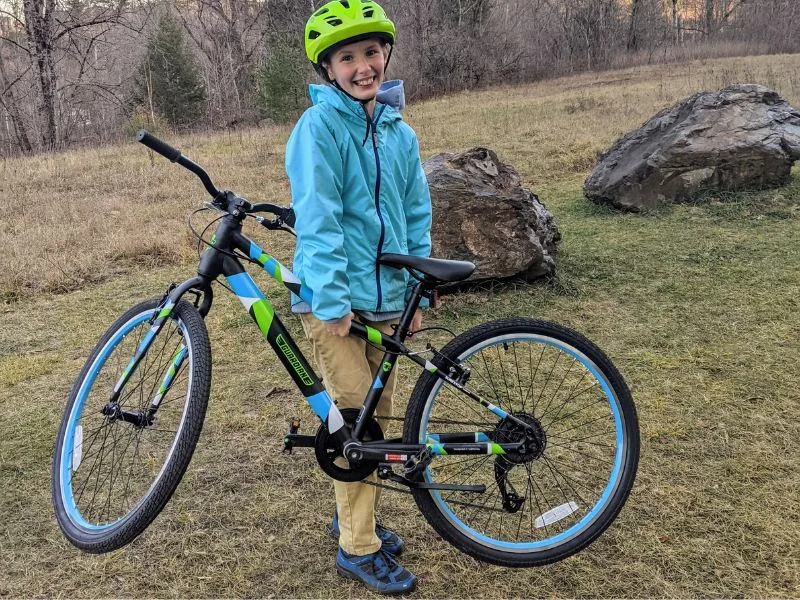 Single-handed Shifting
Lets kids focus on riding and having fun instead of toggling gears back and forth.
Frame Geometry
This bike has a low stand over height, which makes getting on the bike a cinch. The bike also has a low center of gravity compare to other 24 inch bikes, which helps with balance around corners.
What we weren't so crazy about the Guardian Bikes AIROS 24 Inch
No Quick Release Wheels
Sometimes we need to take the wheels off our bikes to transport them. Having quick release makes that nicer, but it isn't a deal breaker.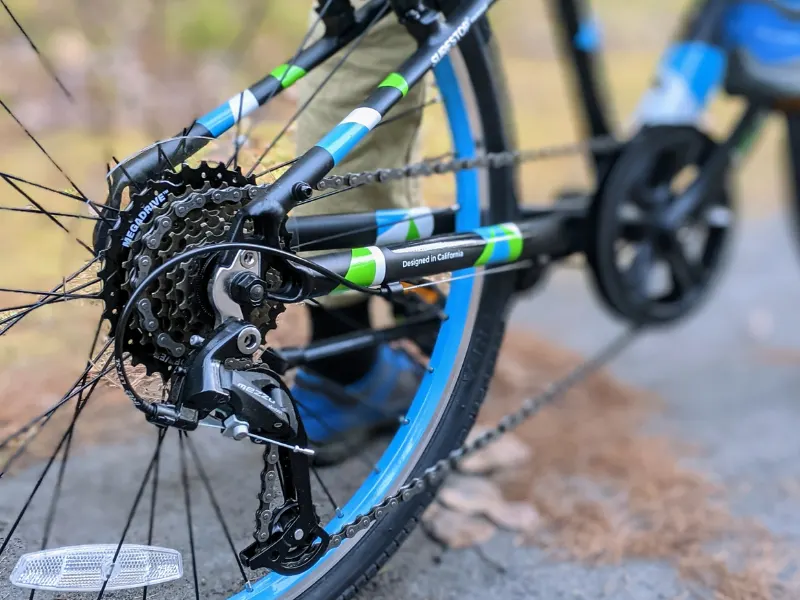 Not Designed for Dirt Trail Use
This is us being super picky, but we would really love it if nubbier tires were an available option for the bike, since we bike on rougher trails a lot.
Wider Handlebars Would be Nice
Because my son usually rides a mountain bike, we found the handlebars to be a bit narrow on the bike. Wider handlebars make turning smoother. Again, this is not a deal breaker, and for newer bikers, the narrower spacing is easier.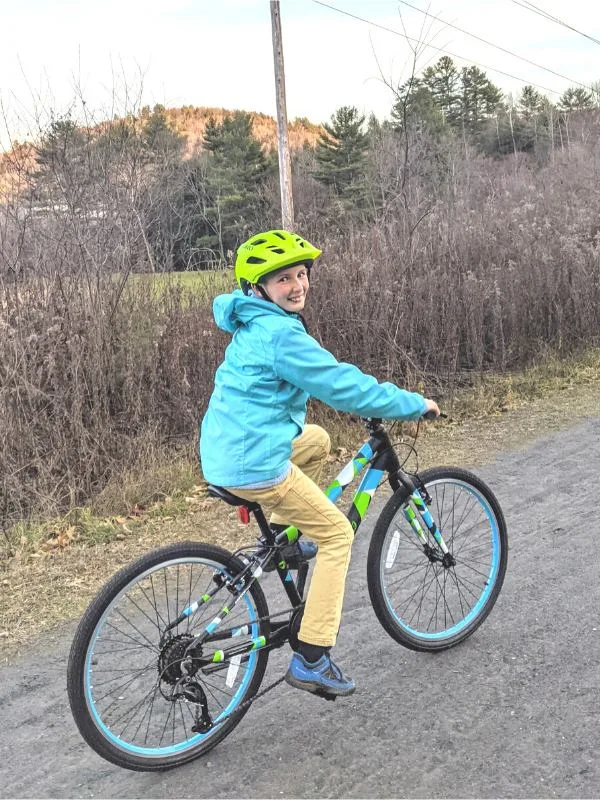 Assembly
For this review, Guardian Bikes shipped the bike to us in a large box (the box does reveal the contents). Guardian prides itself on being so easy to assemble that it only takes 10 minutes! They weren't lying! My 11 year old put most of the bike together the day it came. It only needed the handlebar, front wheel, and brakes to be set up on the bike.
My husband took about 5 minutes to make sure everything was attached properly and safely. If you have any trouble with set up, they have an easy to use page on their website for looking up detailed assembly questions.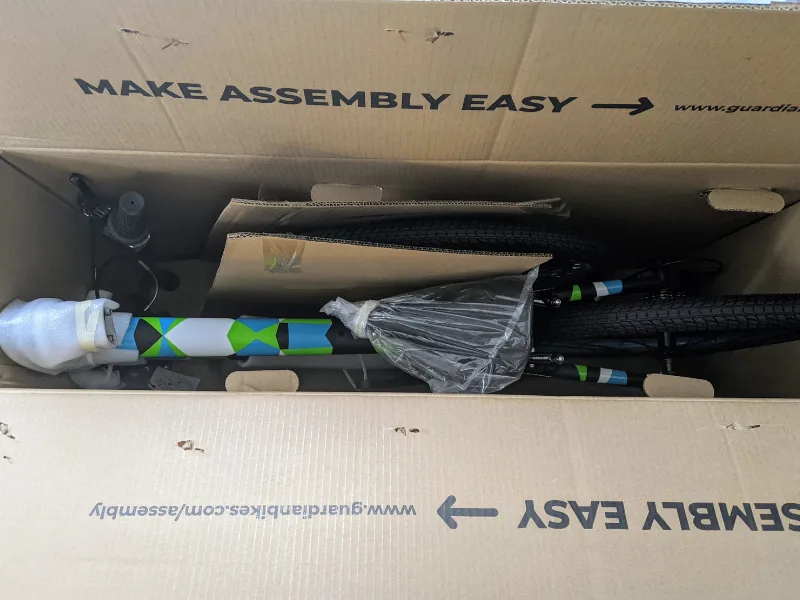 Components
I loved that this frame is made of aluminum. This makes it lighter for the kids, and less prone to corrosion and rust. The welds on the frame are all smoothly done. The paint job is vibrant and bold, and the method used to apply the decals is designed for super durability.
My husband really appreciated the internal cable on this bike. Having the brake and shifting cables run inside the frame instead of clipped to the outside keeps them from dragging, getting tangled, and cracking.
The brake lever is designed to be easy to reach for small hands. It is also easy to engage. The shifter operates smoothly as well, and even has a cool visual indicator for which gear to use depending on the slope.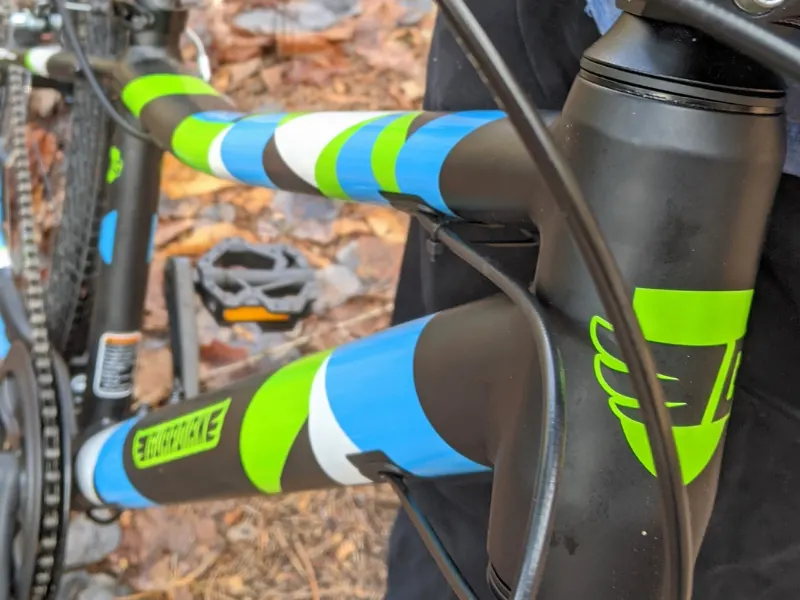 Field Review
Sure-Stop Brake Performance
When I read about this innovative system, I wasn't sure what I thought. I had never heard of bike brakes with just one hand to activate both the front and rear brakes. However, the idea is definitely a good one. Many children have trouble remembering which brake to use, and as a result, will have crashes resulting from using the front brake improperly.
Guardian's patented Sure-Stop system aims to prevent those types of crashes. Guardian's Sure-Stop braking system combines both the back and front brake into one brake lever. I had assumed that the cabling would simply put equal pressure on the front and rear brake at the same time, which I wasn't crazy about.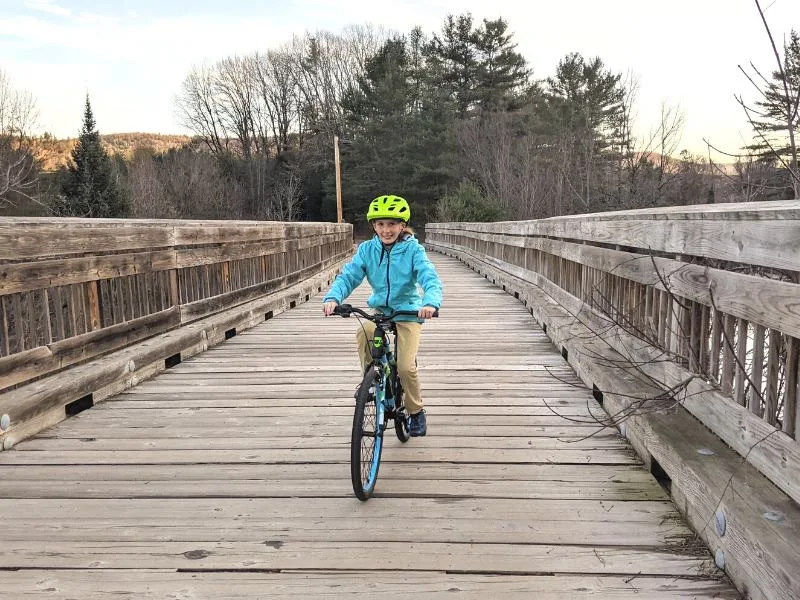 The Sure-Stop system is more sophisticated than I expected. When the biker pulls the brake lever (located on the right hand), the cabling engages the back brake first. However, if the bike continues to move forward, the momentum then engages the front braking as well, which leads to a smooth, safe, braking experience.
Many kids already have the right vs. left handed braking figured out. However, children more tentative or new to biking often get very confused. My son is a very confident biker, and knows how to use both brakes properly. Despite that, he did really enjoy having one hand to worry about for braking and shifting.
My niece who is a less aggressive biker than my son really enjoyed the simplicity of the brakes. They made her feel more confident.
Both of the 9 year old testers were able to confidently reach and pull the brake lever. My 13 year old daughters also found it simple. Even my 7 year old daughter rode the bike and was able to reach the levers and pull them.
Traction and Tires
The bike comes with standard tires ready for paved and packed gravel trails. They have good traction for their intended purpose. We wish that the tires had a bit more traction. We do quite a bit of trail or mountain biking, and we wouldn't be able to use this bike on those trails. Of course, that is a minor problem–Guardian Bikes doesn't advertise this bike as being for dirt trail use!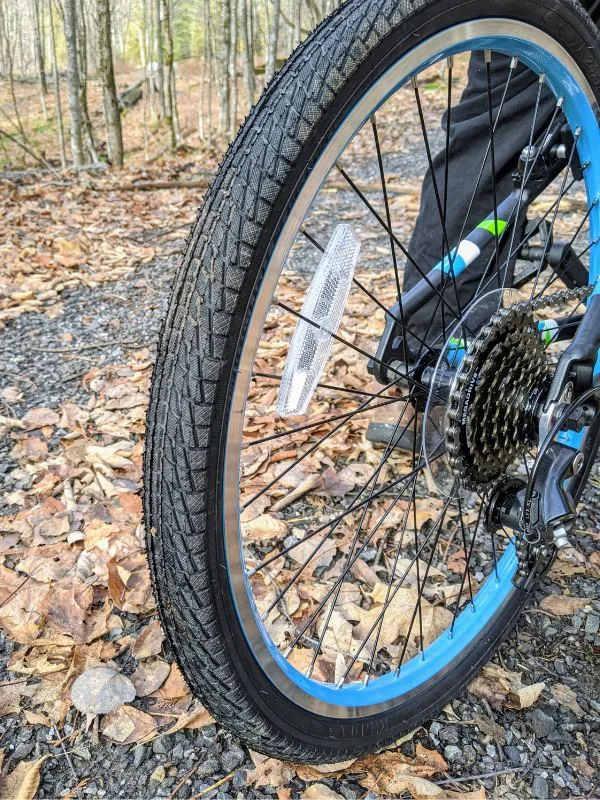 The rims are double walled, making them more durable and less susceptible to damage. The rims are standard-sized, and we plan to put more aggressive tires on them for use on the trails next summer.
Shifting
The shifting was very smooth, thanks to the Shimano shifter. Even cooler is that there is a visual display for kids. The icon helps them learn which gear to use depending on the terrain. All 7 gears shifted up and down without hitches or issues.
My niece said it was almost too easy to shift!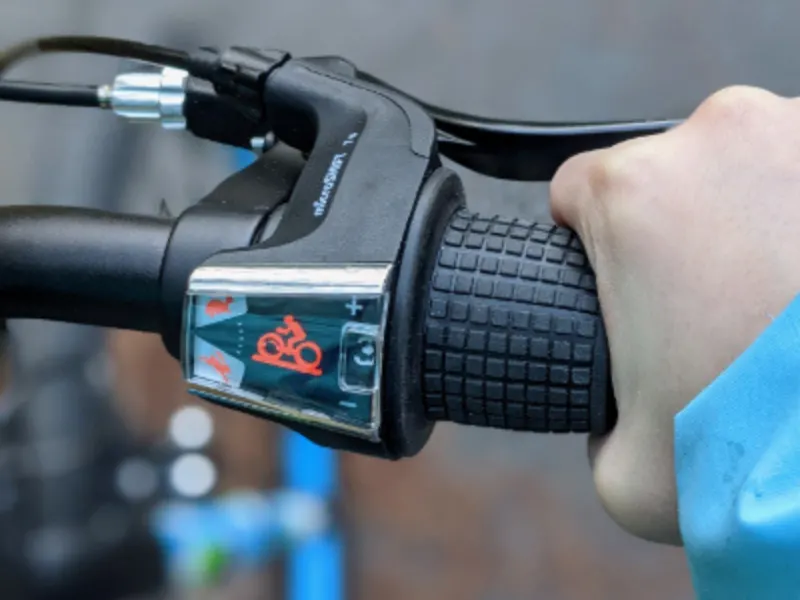 Comfort
Guardian Bikes worked hard to make this bike comfortable for kids. Many bike manufacturers just "shrink" adult sized proportions into a kid sized bikes. Big box store bikes are notorious for bad design, but even other bike companies do it.
"Miniature" adult bikes are not comfortable for kids to use, and often their weight and sizing is discouraging for young riders. Guardian designs their bikes from the ground up with children's, not adults, dimensions in mind.
The stand-over height for this bike is very low. The stand-over height is the distance from the ground to the top of the top tube. My son and his cousin both had several inches of clearance above the bar when they stood over the bike. This makes the bike safer and easier for the child to get on and off of.
Low stand-over height also lowers the bike's center of gravity, which makes it take corners better, balance better, and feel less tippy to the rider.
My son is used to biking in a more forward "mountain biking" stance, which he immediately tried did with this bike. He had no trouble balancing over the bike saddle as he did his best to rip up the trails on the bike. He said it was comfortable and easy to change his position.
My neice said the bike seat was comfortable, and she was able to easily reach the handlebars and brake levers from a fully seated position.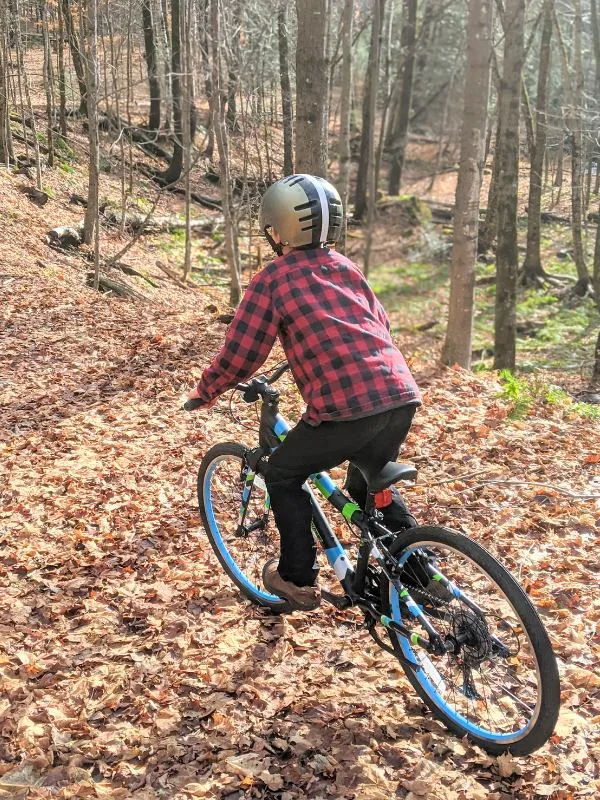 Guardian Bike AIROS: The Bottom Line
Guardian's 24 Inch AIROS bike truly shines for the purpose it was built for. Guardian has designed a bike that is safe for kids to operate, rolls smoothly, and will last to hand down to siblings or resell.
While this isn't the bike for ripping up mountain bike trails, it IS a great bike for almost any other purpose. Need a bike for a ride to the park? This is the one! What about a bike for going exploring on your local rail trail? Yes–this is the bike for that too!
This isn't the cheapest bike on the market, but there is a reason for that. Comparably sized biked at big box stores weigh nearly 20 lbs more than this bike. That is a huge difference for kids. This bike is still lighter, even when compared to similarly priced bikes from name brands. To be fair, there are a few other bike companies making lighter weight bikes than Guardian, but not by a lot.
Where Guardian really stands out is in their innovative Sure-Stop braking technology. It affords tremendous peace of mind the the average biker or family. A bike is really only as good as its brakes, and Guardian as done an excellent job making sure that the brakes are reliable and easy to use.
Overall, I can highly recommend this bike, and its younger sibling, the 20 inch AIROS. They will last through multiple kids, while also being a joy to use. A good quality bike that a child can handle themselves is empowering and confidence building, and Guardian definitely is an easy to handle, quality bike that will develop your child's confidence and biking skills.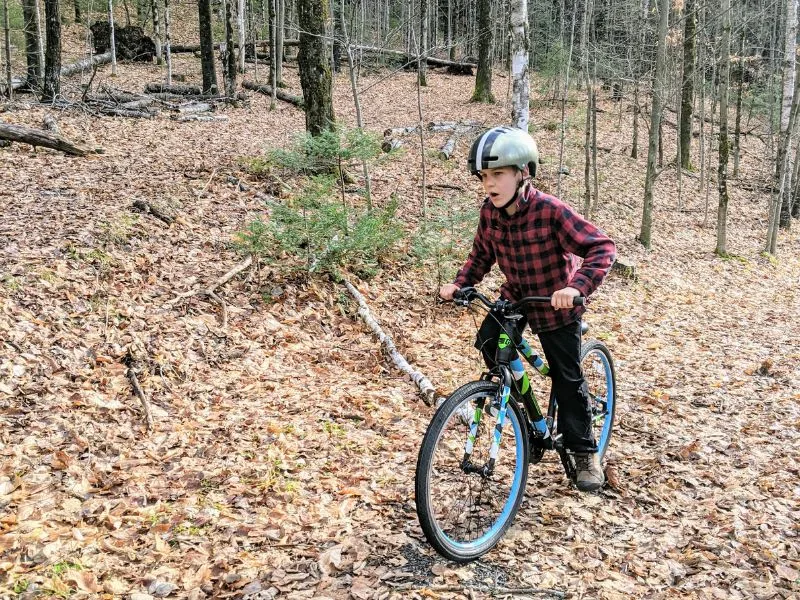 Related posts:
Guardian Bikes AIROS 24 inch
© 2021, Kids Ride Bikes. All rights reserved. Republication, in part or entirety, requires a link back to this original post and permission from the author.