Burley Encore X Review
The Encore X is Burley's mid-range double stroller/trailer: a mix of ease, durability and versatility for active families. Before the Encore X, I had only used strollers and baby carriers for our outdoor adventures. The Encore X not only got us back on the bike, but also totally replaced my double stroller.
As an Amazon Associate and member of other affiliate programs, we earn from qualifying purchases.
1-Wheel stroller kit to convert from biking to strolling easily
2 seats
20″ push button wheels
Detachable seats
Rear window ventilation
Sunshade
Rear cargo trunk
Compatible with stroller, jogger, and ski conversion kits
Height adjustable handlebar
Weight – 24.7lb
Burley Encore X: Best for Versatility
The Burley Encore X is a great stroller/bike trailer for families who want a smooth ride for one or more little kids. It's a two-kid stroller, but now that I'm mostly just toting one kid around, I still enjoy having the extra space for blankets, books, and sports equipment. The stroller is durable, and held up well to being outside in lots of different whether conditions.
The Burley Encore X is an all-around quality trailer, but it's really best for families who are looking for versatility. While it's an all-in-one bike trailer/stroller as is, it is also compatible with a jogging kit, ski kit, and two-wheel stroller kit.
Burley Encore X: What We Love
Ease of use
The ability to go switch between bike trailer and stroller is a key feature of the Burley X. The Burley X is far easier for me to push than my double stroller.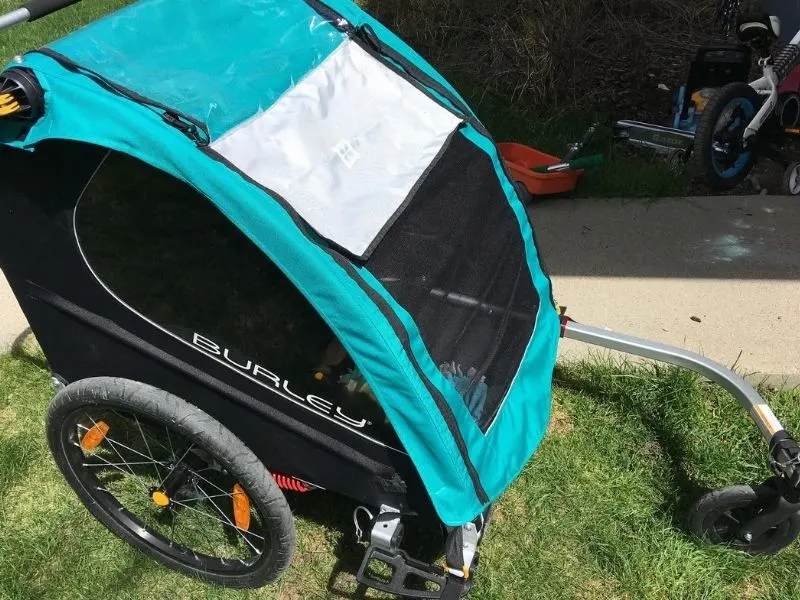 After the initial set up, it only takes a minute to attach or detach it from my bike. And once it's detached from my bike, it takes just a second to turn it into a stroller using the included wheel.
Taking the wheels on and off could not be easier. I love how simple it is to push the yellow button to get them to pop off and on.
This beast is also durable. With three kids, our outdoor gear doesn't often get treated with kid gloves. Because we use it so often, our Encore X doesn't get stored inside often. After a few years, there's only a little bit of sun-fading but no other signs of wear.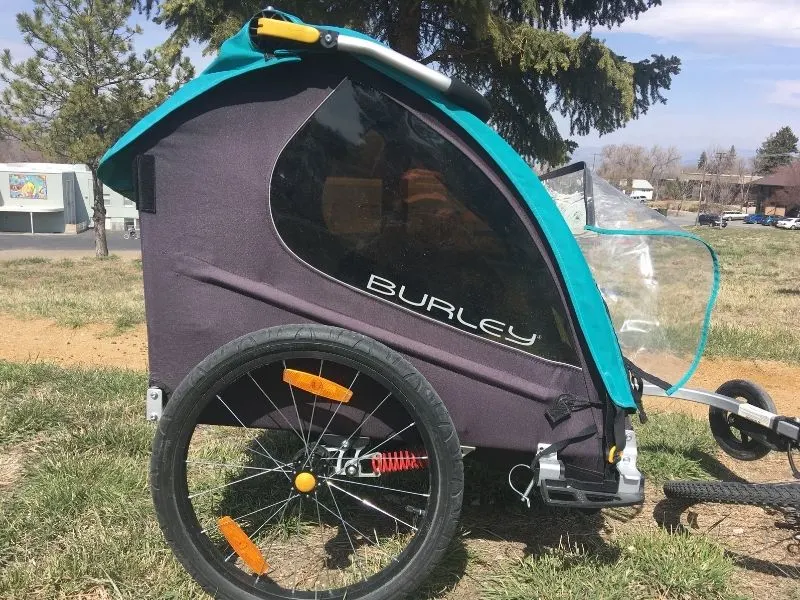 It's not perfect as a stroller, granted. The jogging wheel (more on that below) is necessary if you want do some significant walks. But the flexibility is key. It's no effort at all to switch from stroller to trailer and back agin.
Suspension System
The suspension system on the Encore X is fantastic. My 4 year old described a ride on a gravel trail as "bumpy but fun" and my 1 year old fell asleep, so I assume it works well enough.
Burley used to have an Encore with no suspension and they actually discontinued it (which makes sense to me!)
The 20″ tires (which easily pop on and off with only the push of a button) also help provide a smooth ride.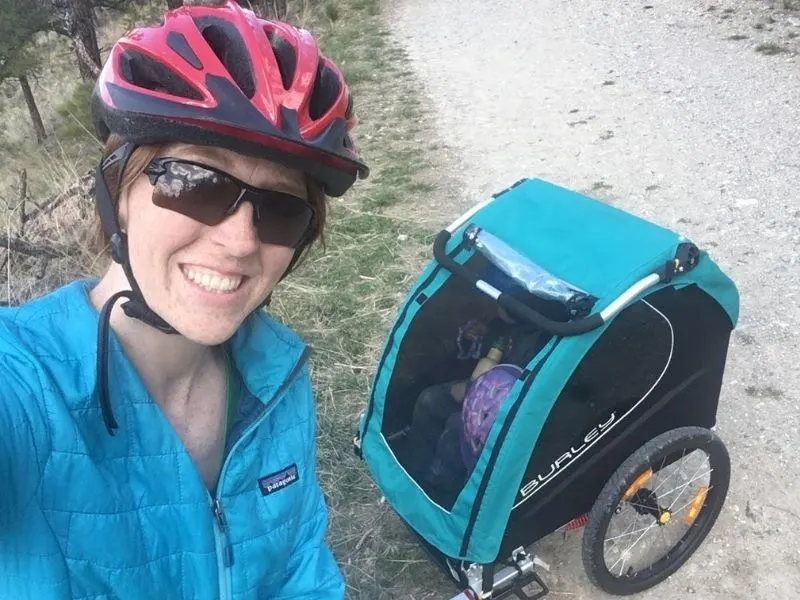 Large back trunk
The sizeable back "trunk" of the Burley was a significant bonus. It was plenty big enough to toss backpacks in there going to-and-from school. It's a small detail but is one of my favorite features. We ALWAYS have lots of extra gear.
There are two mesh pockets at the top of the cargo area, meaning for once in my life I wasn't absent-mindedly tossing my keys into a great abyss only to spend hours digging around my diaper bag for them later. It was also perfect for holding a water bottle.
The kids love that they have their own mesh pockets by their seats for water bottles, toys, snacks etc. by their seats.
The Encore X also features an opening in the back to allow for more airflow without letting in rain. This has been handy on hot days, and the kids have never complained about the temperature being uncomfortable.
Fully adjustable handlebar
The handlebar of the Burley is fully adjustable. Some days I wanted it higher, some days I wanted it lower. It was great to move it to exactly where I wanted it.
It folds over the trailer when biking to act as a roll bar, a feature I thankfully have not had to test out. Check out this great article from Burley on how to tell if your trailer is safe.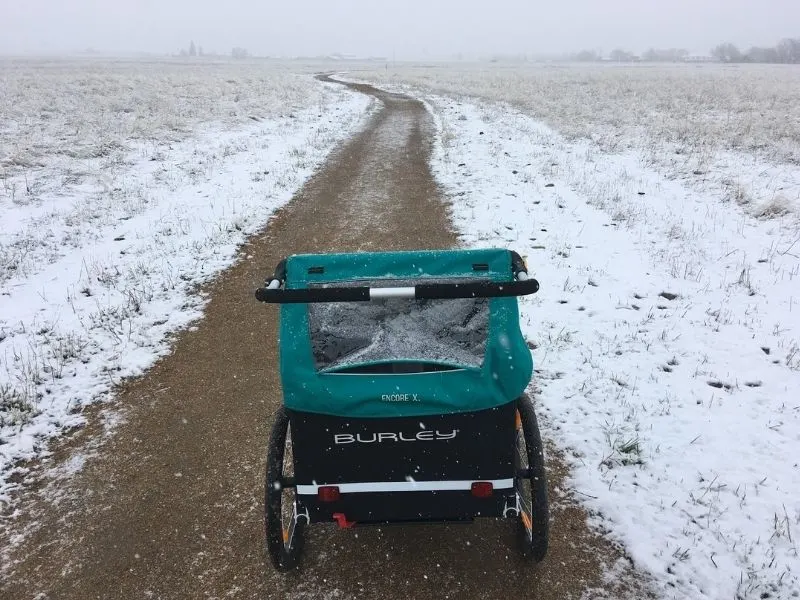 Burley Encore X: What We Don't Love
The cover
This was one of the biggest problems I have with the Burley Encore X – the elastic loops that hold the cover together while rolled up were nearly impossible use in any meaningful way. It just doesn't work. I find myself awkwardly draping it over the back a lot instead of fully attaching it. It works for most situations.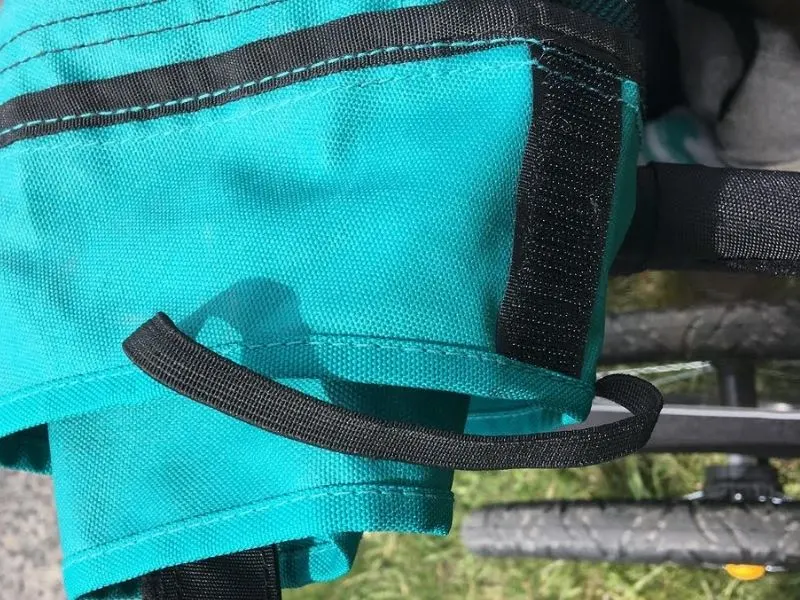 The loops for rolling up just the rain cover work just fine however. And I did love that multiple options for the cover, which included a sunshade, a rain cover, and a screen.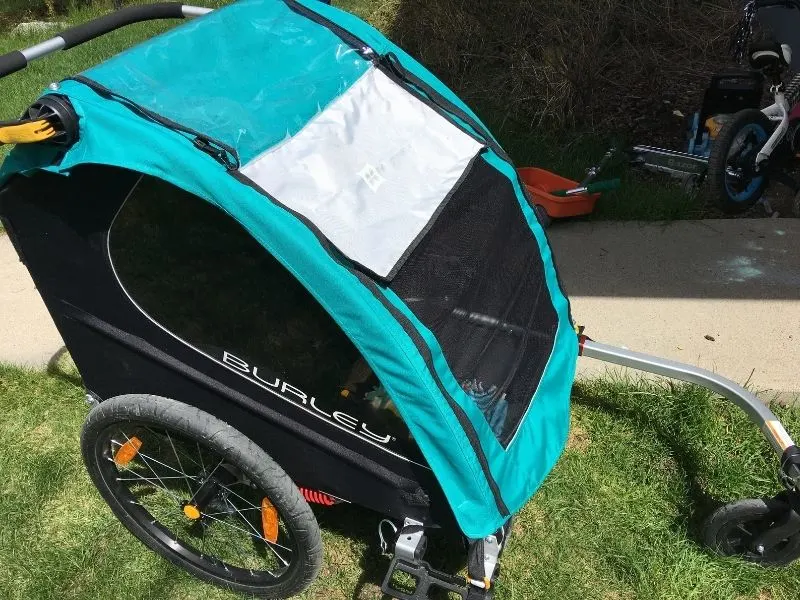 The set-up of the Burley Encore X was tough!
The greatest amount of frustration I had with the Encore X came within the first ten minutes of getting it out of the box. Setting this thing up is a beast. For the most part, the set up is fairly simple – the wheels pop off and on easily and setting up the tow bar doesn't take any effort.
But getting the metal frame to lock together is a completely different story. It took me twenty minutes to lock into place before my husband had to help.
I called customer service to see if I was misreading the directions, but they assured me that the fabric is very stiff the first few days. They recommended that once you lock it into place, leave it for a few days to allow the fabric to relax.
I've had it for a few years now, and occasionally have trouble getting it to lock in place. It rarely takes more than a few minutes though. Like most bike trailers, this one just needed some "breaking in".
Tip: If you approach it from the front, pushing the bottom bar into the top one from that angle rather than trying to squeeze them together from above, it is much easier. After a few weeks, it only took about 5 to 10 minutes to set up the whole system, including unfolding, attaching wheels and tow bars, hooking it to the bike, getting helmets on kids and getting them buckled in.
Seats
By no means is the Encore X an uncomfortable ride. But it is definitely a snug ride for two kids, making it a wonderful opportunity for them to overcome their differences and bond for life. I mean, I hope.
Although there were some unintentional elbows-to-noses while buckling kids in, I never heard any complaining about being cramped once we got moving. I don't think it's a drawback of the Burley Encore X necessarily, but its something to keep in mind if you are deciding between it and the Burley D'Lite, which has curved windows for more room.
The seats are nominally "reclinable" via an adjustable strap behind the seats, but I never actually adjusted the seats this way. Whether or not the kids leaned back adjusted it far more than the strap did.
Stroller wheel
The flexibility of the stroller wheel is great, but if you're going to do a long walk, using the jogging wheel certainly makes for a much more pleasant ride. The wheel that is included is a pretty bouncy and noisy on its own.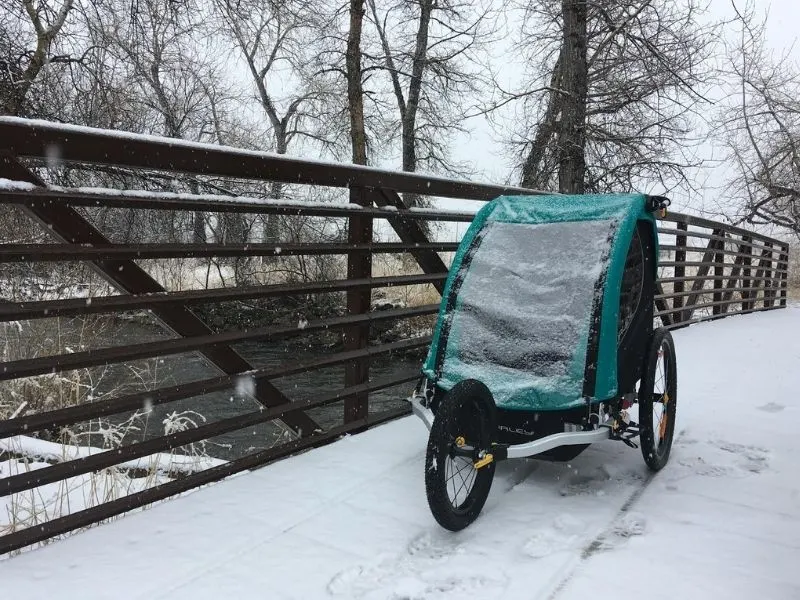 But the jogging wheel installation is a bit fiddly. I find myself adjusting it a lot. If you plan on using your trailer as a stroller a lot, it definitely is much better than the single strolling wheel. But it is a lot of money at $150 for a feature I didn't love. Burley also offers a two-wheel kit.
Burley Encore X: The Bottom Line
At its core, the Burley Encore X offers a comfortable ride for the kids, and was easy for me to push and pull. As a trailer, it was not difficult at all to tow two kids. As a stroller, the one-wheel stroller kit makes it super easy to switch from biking to strolling. What I really love is the spacious back trunk for gear and its durability.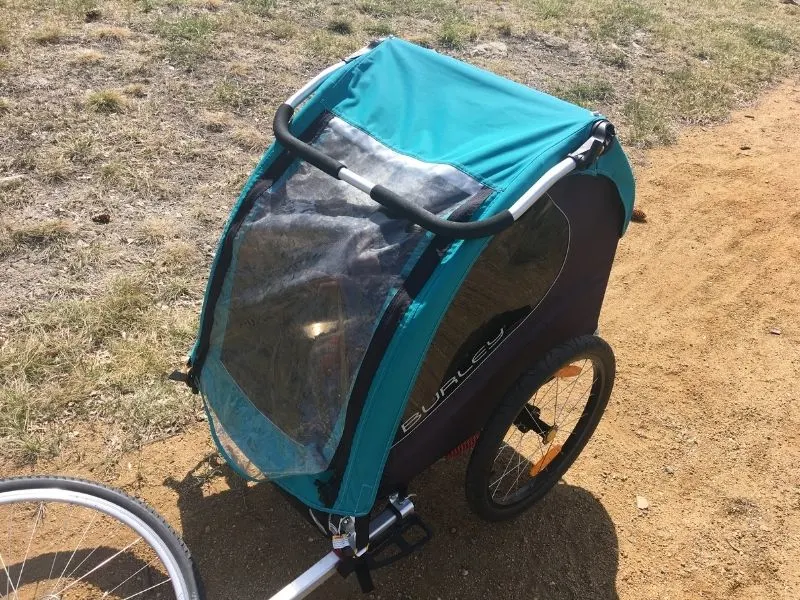 While it's an all-in-one stroller/trailer as is, the added ski, jog, or two-wheel stroller kits are needed to maximize its versatility. Burley's lower-priced trailers don't have the same options for flexibility, and these kits will bump up the price of this already higher priced model.
But if you have more than one kid, are looking for extra space, or want to do all the sports the Burley Encore X is a great option.
Burley Encore X: Where to buy
The Burley Encore X is available for $599 from the Burley website. The jogging kit is $149.99, the two-wheel stroller kit is $99.99, and the ski kit is $199.99.
The Encore X is also available at REI and Amazon.com.
Related Articles:
Burley Encore X Reviews
© 2021, Kids Ride Bikes. All rights reserved. Republication, in part or entirety, requires a link back to this original post and permission from the author.